24

Aug

Southern Events Products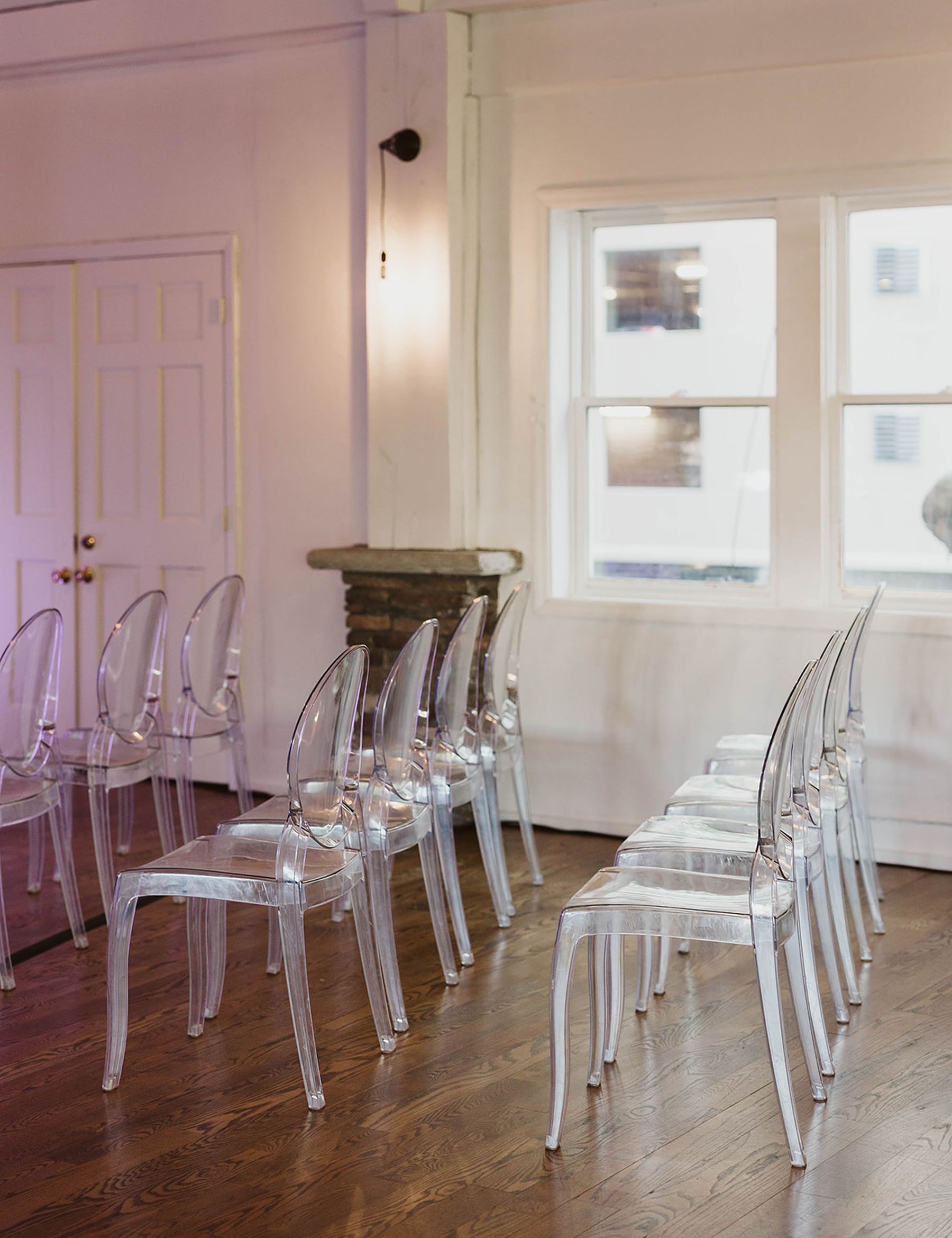 Are you planning a conference or convention and want to make sure your event stands out as both professional and stylish? Look no further than Southern Events for on-trend event furniture! Whether it's comfortable seating, stylish staging, lounge areas for networking, or cocktail hour essentials, we have everything you need to create a memorable and successful event. Let's dive into the must-have event furniture for conferences and conventions that will make a lasting impression on your guests and boost attendance in the years to come.
Comfortable Seating
Comfort is a crucial aspect of any conference or convention. Attendees can spend hours seated, listening to speakers or presentations. Ensure they have a pleasant experience with our extensive range of comfortable seating options. From ergonomic Acrylic Ghost Arm Chairs to simple Folding Chairs with padding, we have a variety of seating solutions to suit your event's needs and theme. If your conference includes workshops or requires attendees to take notes, don't forget about the importance of providing sturdy and spacious tables. Our inventory boasts a diverse selection of event tables, including classic rectangular ones and contemporary round tables, perfect for taking notes and supporting laptops or other materials. Hosting a sizeable convention? Not to worry! We stock plenty of furniture rentals for large events.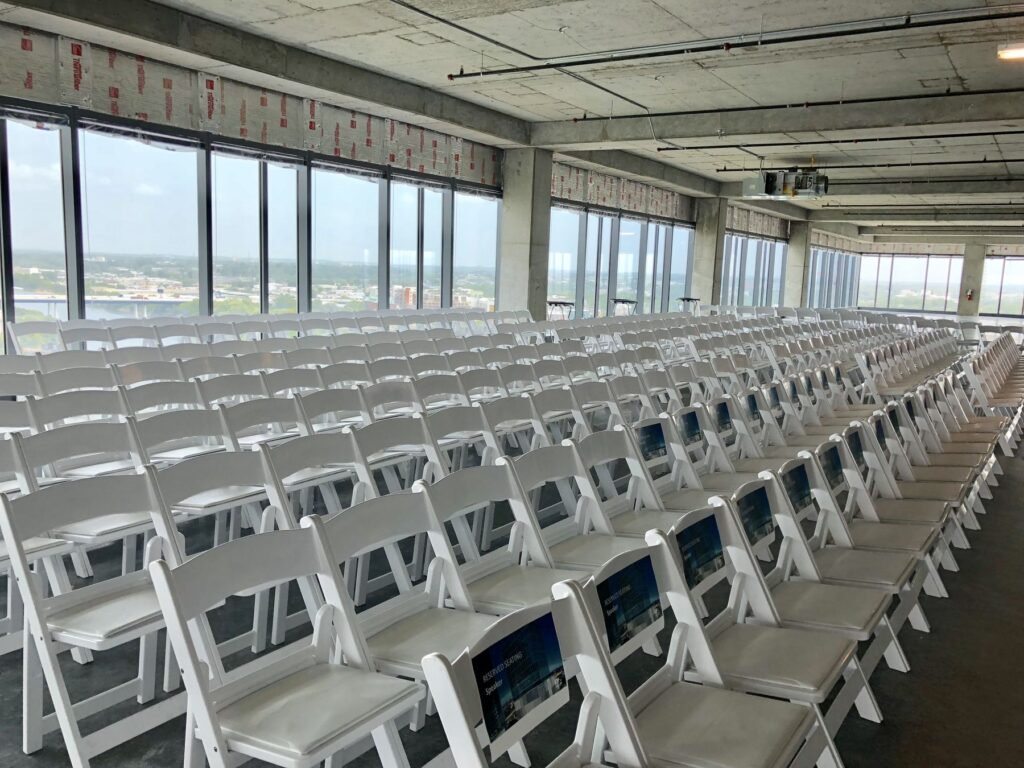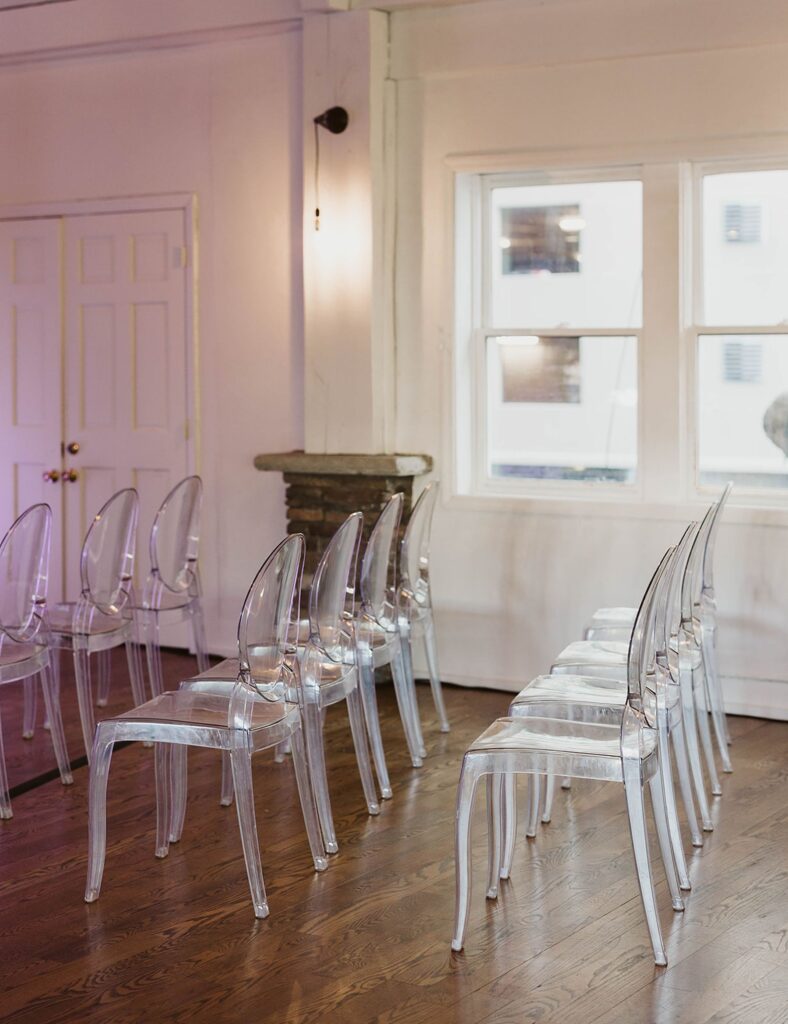 Stylish Staging & Podiums
Impress your attendees and elevate the overall look of your event with our stylish staging and podium options. A well-designed stage not only provides a focal point for speakers and presentations but also adds a touch of professionalism. Especially our Acrylic Podium! We can also provide skirts, for a more cohesive look. And to make the stage even more captivating, consider using our Boxwood Walls as backdrops. These versatile walls will add a touch of greenery and elegance – to avoid the mundane corporate vibe. However, they can also be customized to feature event sponsors or display important branding elements. As well as serve as a photo opportunity!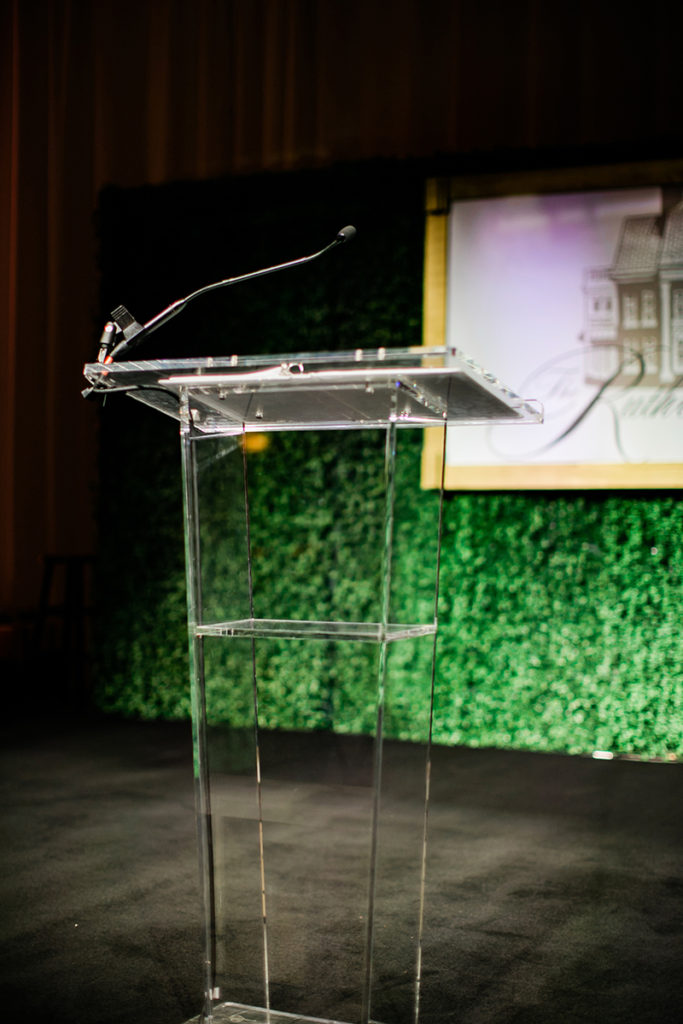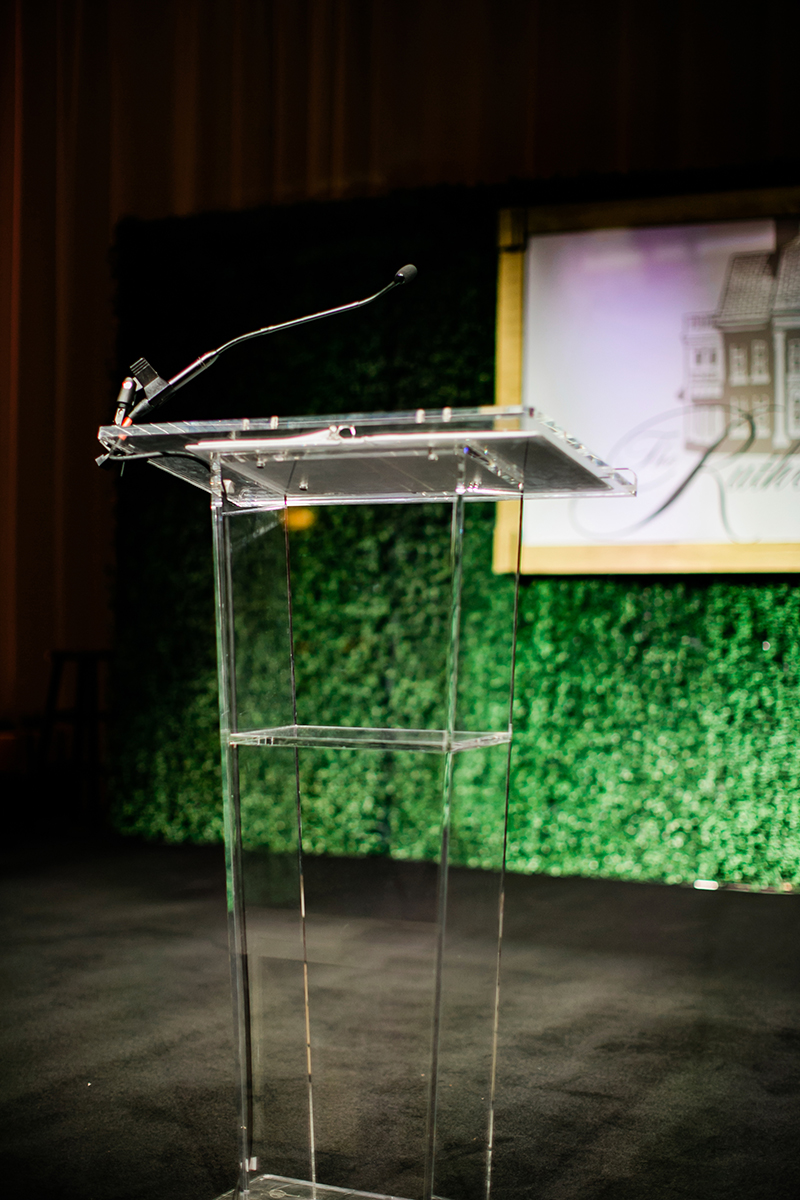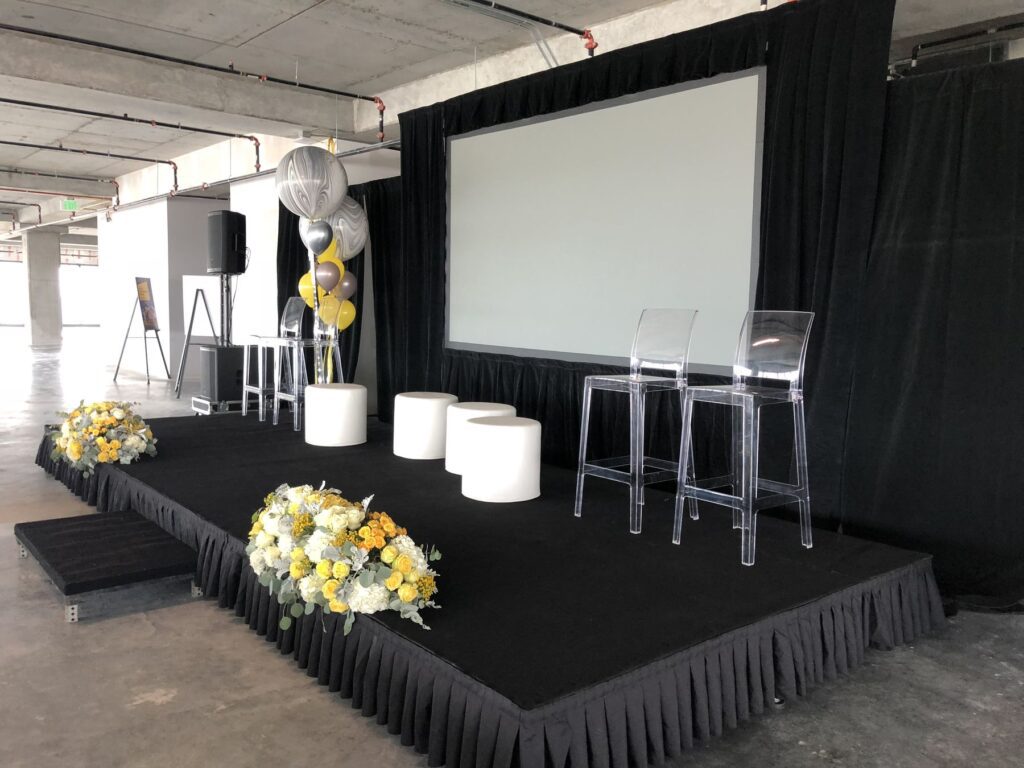 Lounge Areas for Networking
Networking is one of the primary benefits of attending a professional conference or convention. To give your attendees ample opportunity to foster connections, encourage mingling in lounge areas. Our event furniture includes plush sofas, cozy armchairs, and elegant accent tables. Perfect for attendees to unwind or mingle and network between sessions or during multi-day events. These pieces will allow them to take a break and recharge before diving back into the conference. Take a look at our curated Lounge Packages, or mix and match pieces to create a one-of-a-kind lounge. Just don't forget to complete the look with a rug!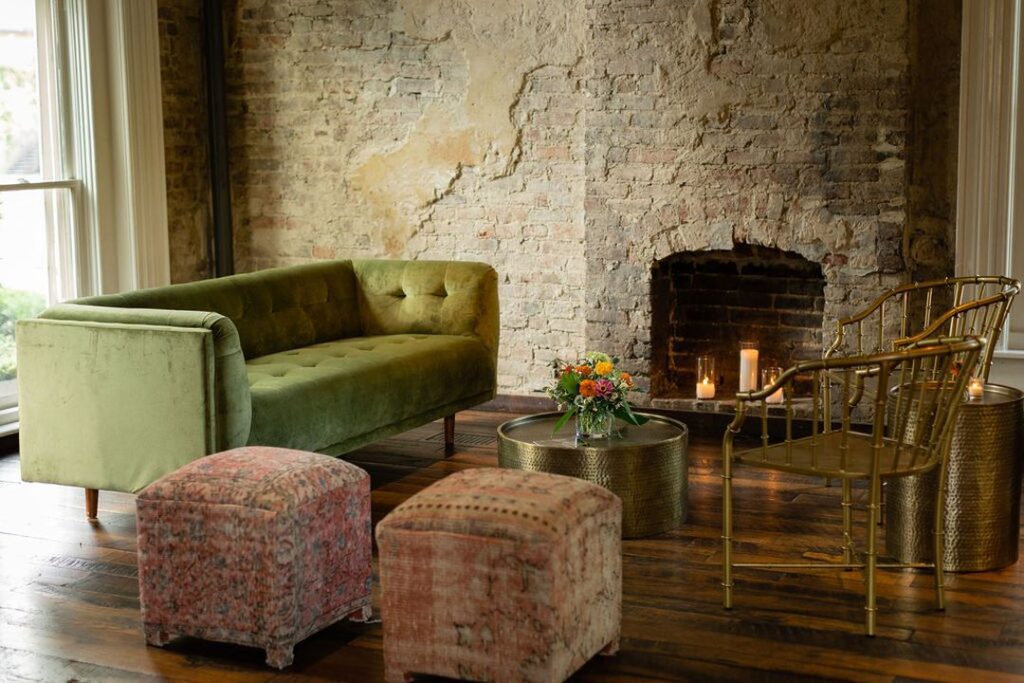 Cocktail Hour Essentials
End your conference on a high note with a stylish cocktail hour! Our event furniture for conferences includes bars and storage that are functional and will add a touch of sophistication to your gathering. Consider our contemporary Sorrento White Bar or the elegant Collins Black Wood Bar. Either of which paired beautifully with the Black Barback Shelf or Gold Bookcase. To complement the event bar, ensure you have on-trend glassware that suits your menu. From modern wine glasses to bold beaded tumblers, we have a wide selection to choose from. If needed, add on a set of cocktail tables where guests can comfortably enjoy their drinks.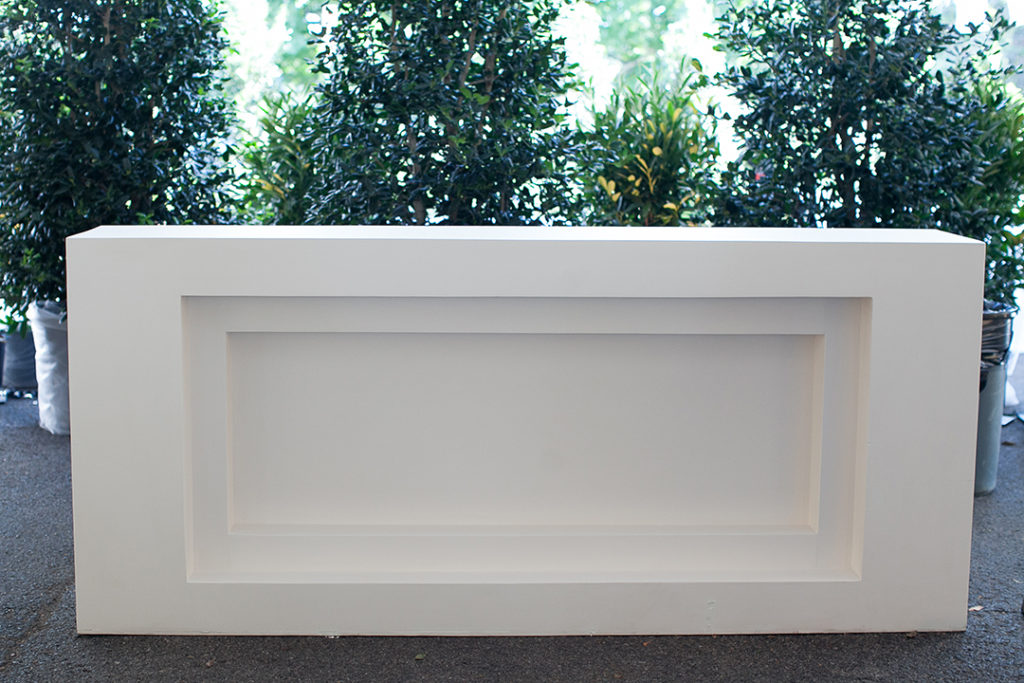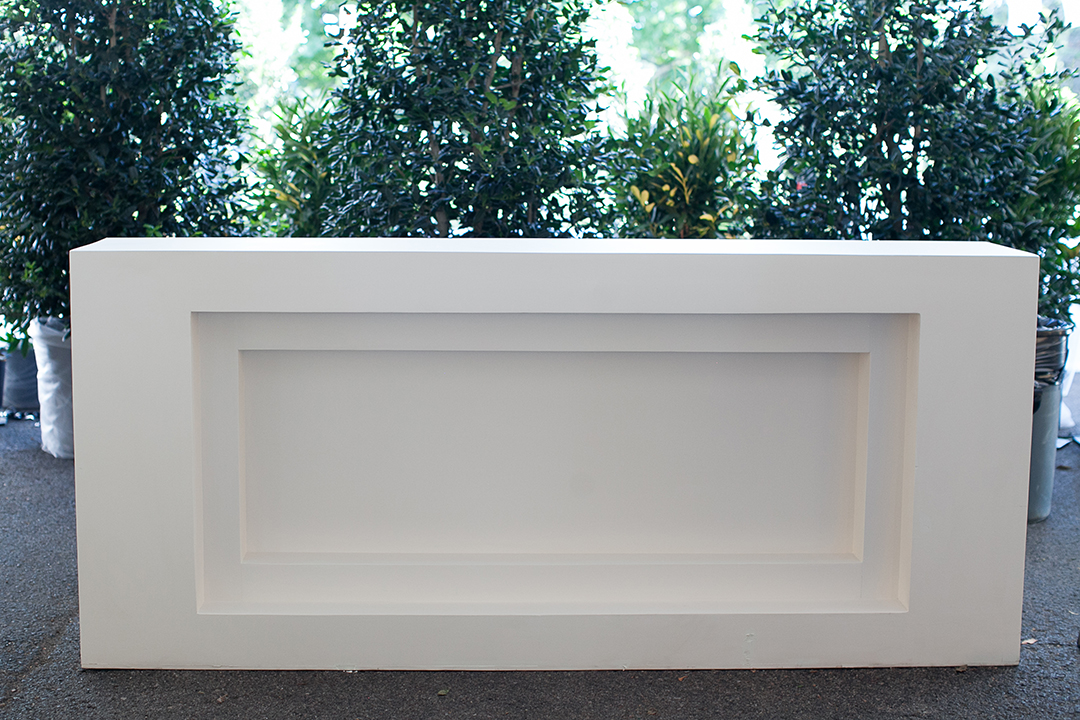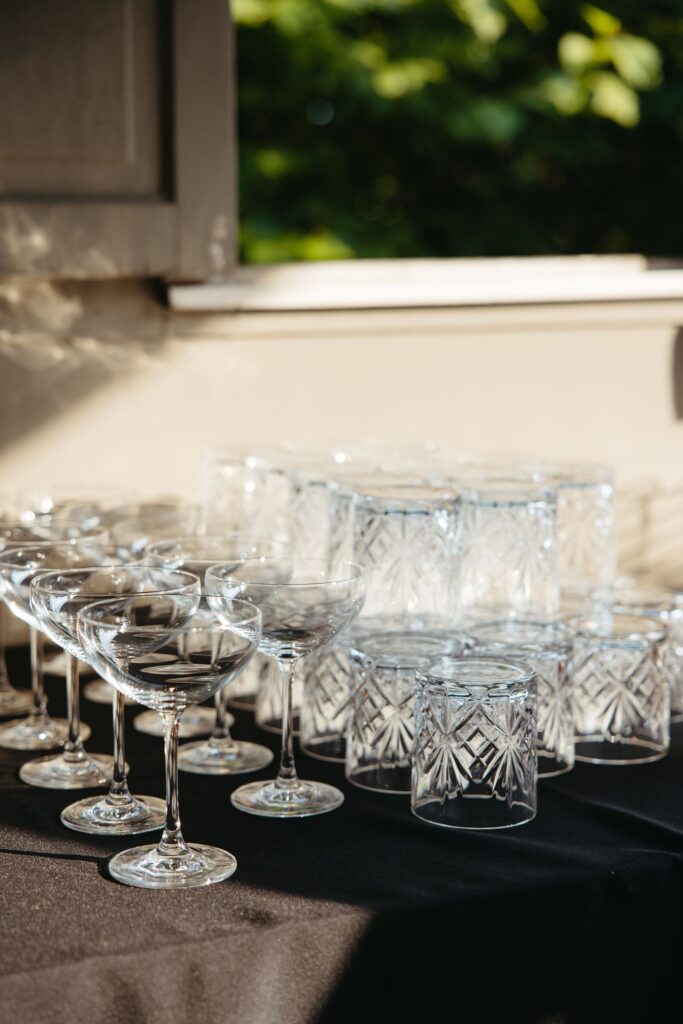 Planning a successful convention requires attention to detail, and event furniture for conferences can make all the difference! From seating to staging and cocktail hour essentials, Southern Events has everything you need. Contact our team to start planning or for additional event ideas and inspiration.
TAGS | Event Seating, Lounge Furniture, Staging, conference rentals, corporate event, corporate event design, corporate event rentals
FEATURED RENTALS | Acrylic ghost arm chairs, folding chairs, event tables, staging, acrylic podium, boxwood walls, sofa, armchairs, lounge packages, accent tables, rugs, collins Blackwood bar, black barrack shelf, gold bookcase, Sorrento white bar, cocktail tables,
---
16

Mar

On Trend, Southern Events Products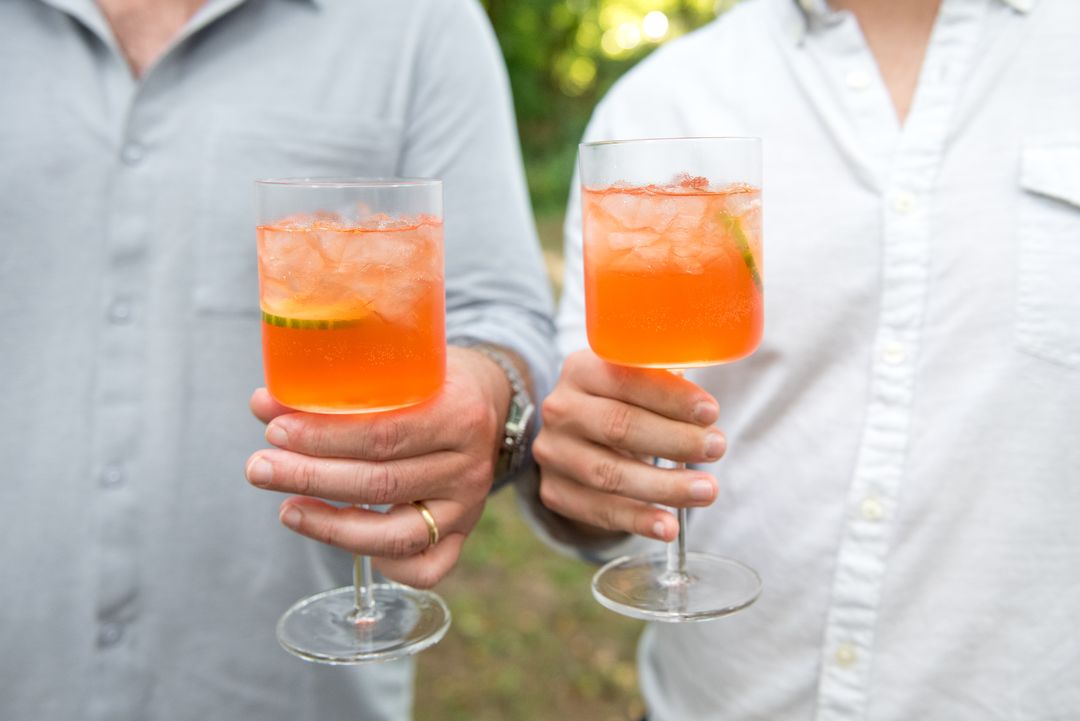 As the weather warms up there is no better time to host a corporate event. Blue skies and sunshine open up a world of possibilities in terms of creative entertainment and event design. At Southern Events Party Rentals Online, we have a little something for every occasion and celebration! From stylish cocktail hour essentials to cozy event lounges. Perfect for toasting an anniversary, thanking partners and clients, or treating your employees. Get inspired by these unique corporate event themes, perfect for the spring and summer seasons!
Spring Has Sprung
The season of new beginnings, spring is a fitting time to treat your employees to a party that will leave them feeling reenergized. This is one of the more simple corporate event themes, yet it is sure to be a memorable event. We recommend hosting outdoors, to make the most of the seasonal foliage – think of it as natural decor! Scatter a mix of bistro and round tables on the lawn, dressed up with Peaches N' Cream Poly and our elegant Harlin Dining Chairs. For additional seating, feature a chic neutral lounge area made up of our Bennett Leather Sofa, Adeline Dining Chairs, Chocolate Poufs, and a Navy Rug. To encourage guests to stay awhile, provide them with a stocked Franklin Antique White Bar and grazing boards served up on Wood Melamine Trays.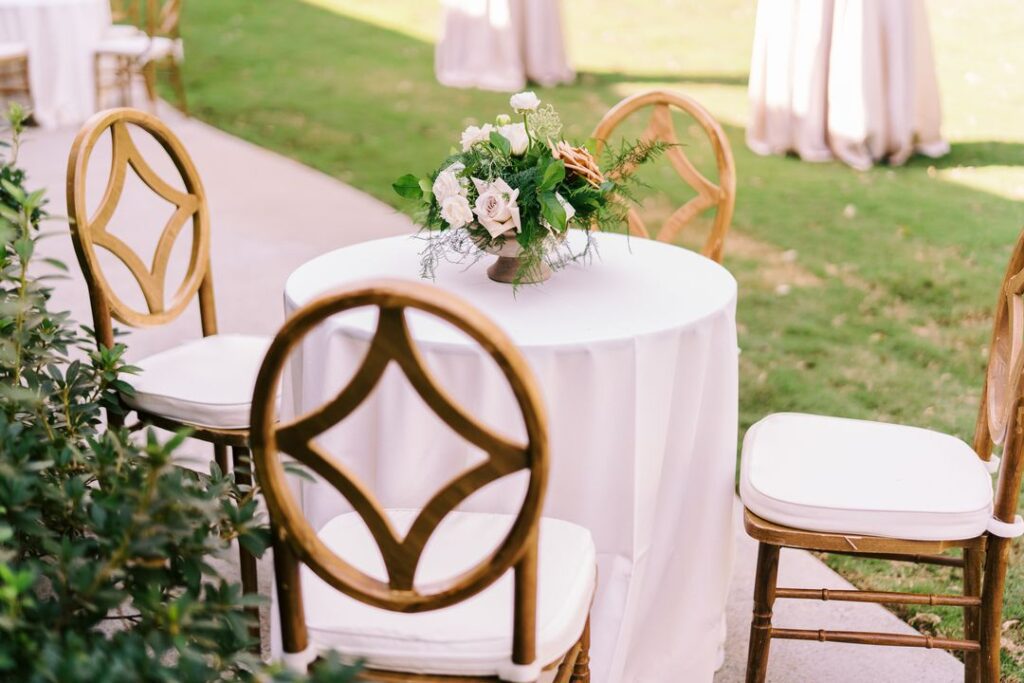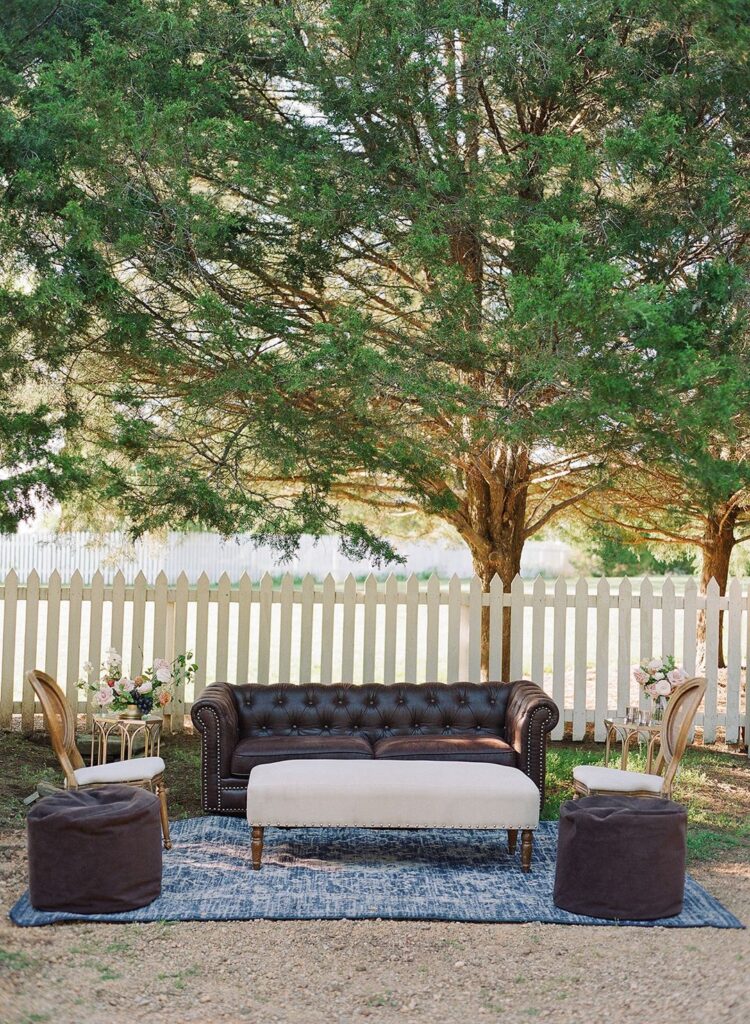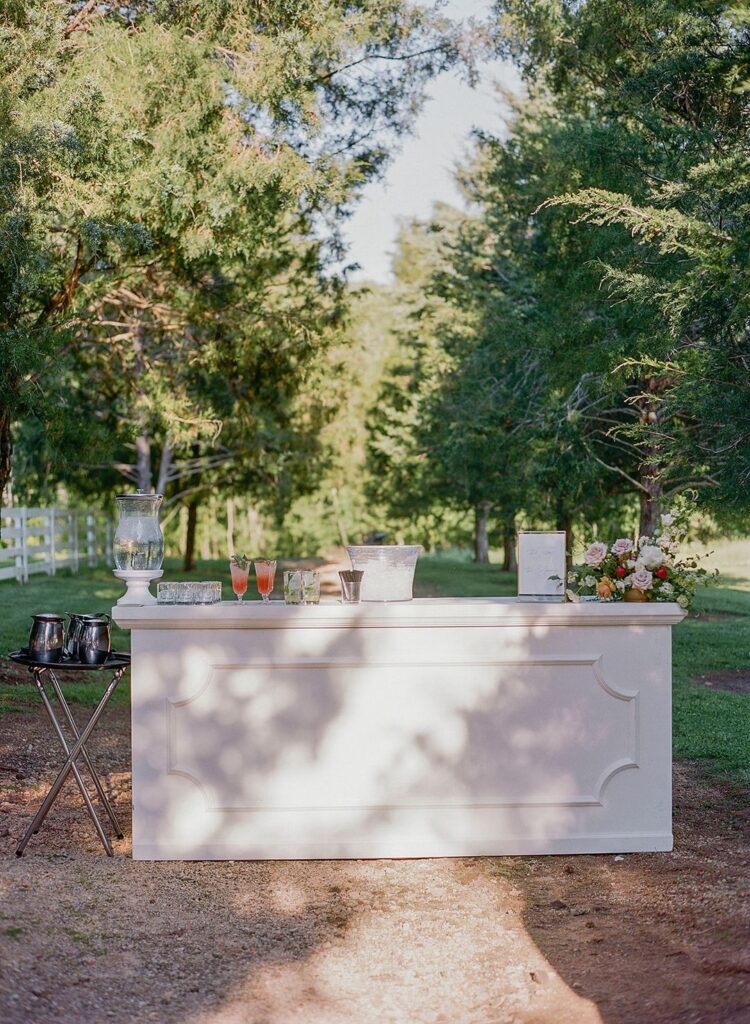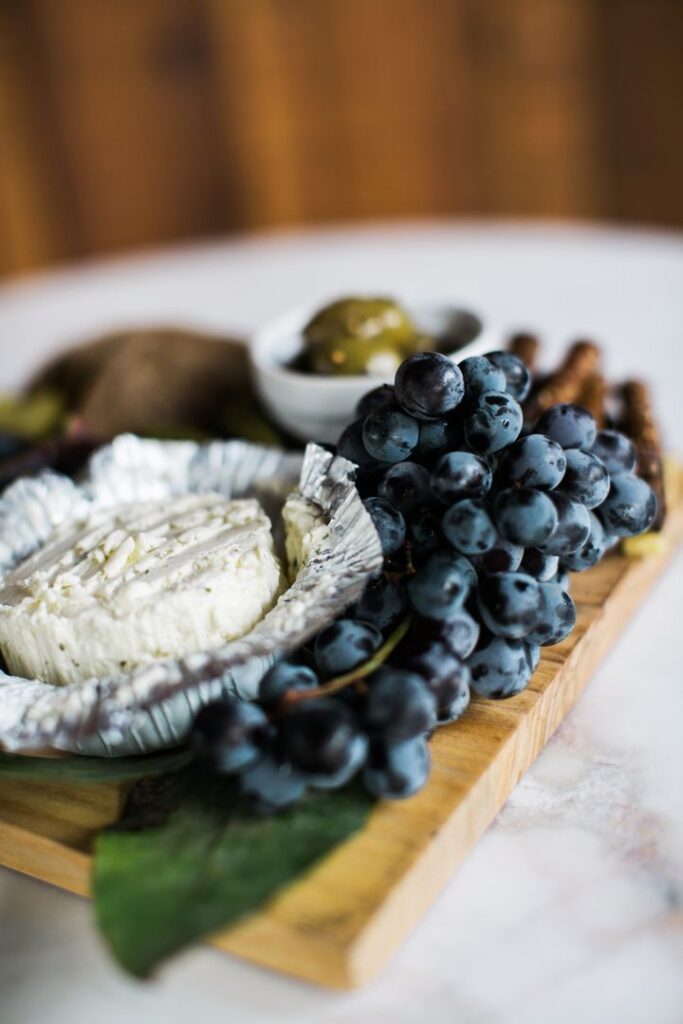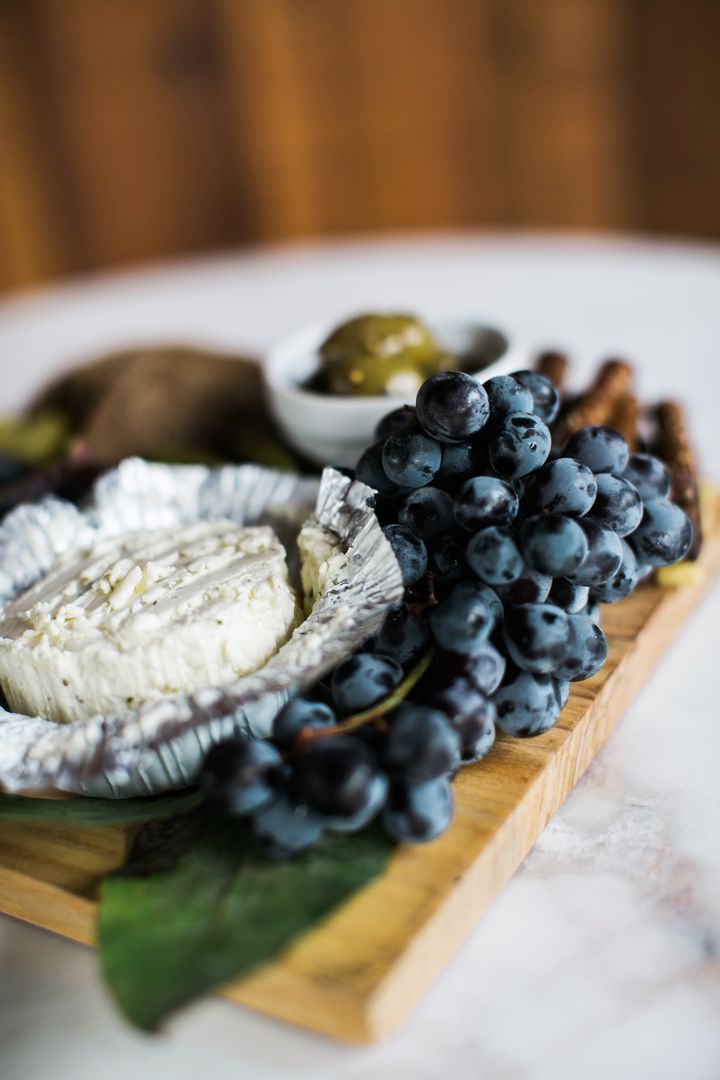 Off to the Races
The Kentucky Derby may only last two minutes, but it is a highly anticipated and celebrated sporting event. In terms of themed corporate events, there is no better time to host a party. Running with existing events or holidays makes it easier than ever to piece together a theme, and a high-class Derby Party is one of our personal favorites. Start with stylish bistro tables, like a classic bistro table dressed up with Cherry Red Poly Linens. Or the Loren Gold Bistro Table with a Black and White Striped Runner and Acrylic Ghost Barstools. Place an artificial grass rug beneath them for a fun spring touch! A fully stocked bar is essential – try Harpeth customized with your business logo – set against a pair of Boxwood Walls. Classic glassware, like Mint Julep Cups and Davis Rocks Glass, is perfect for serving up bourbon-based cocktails.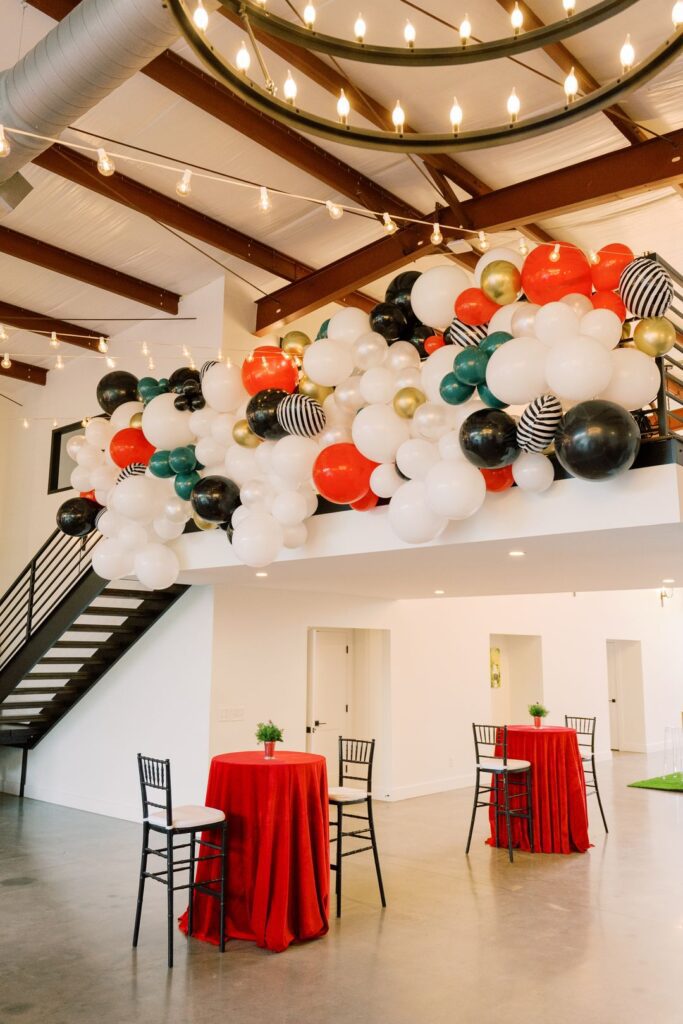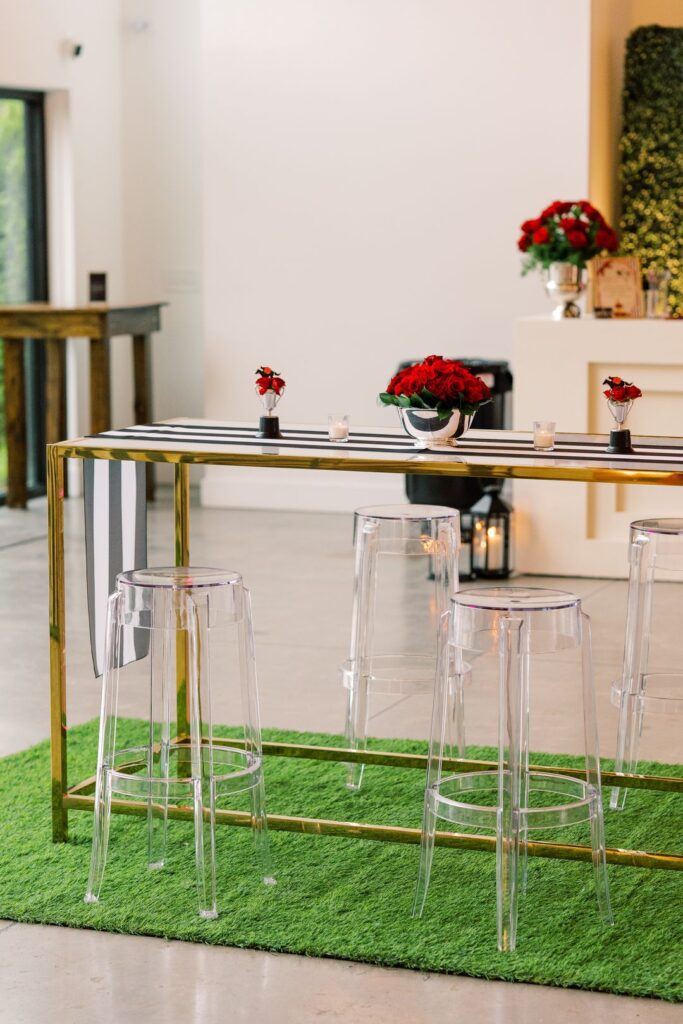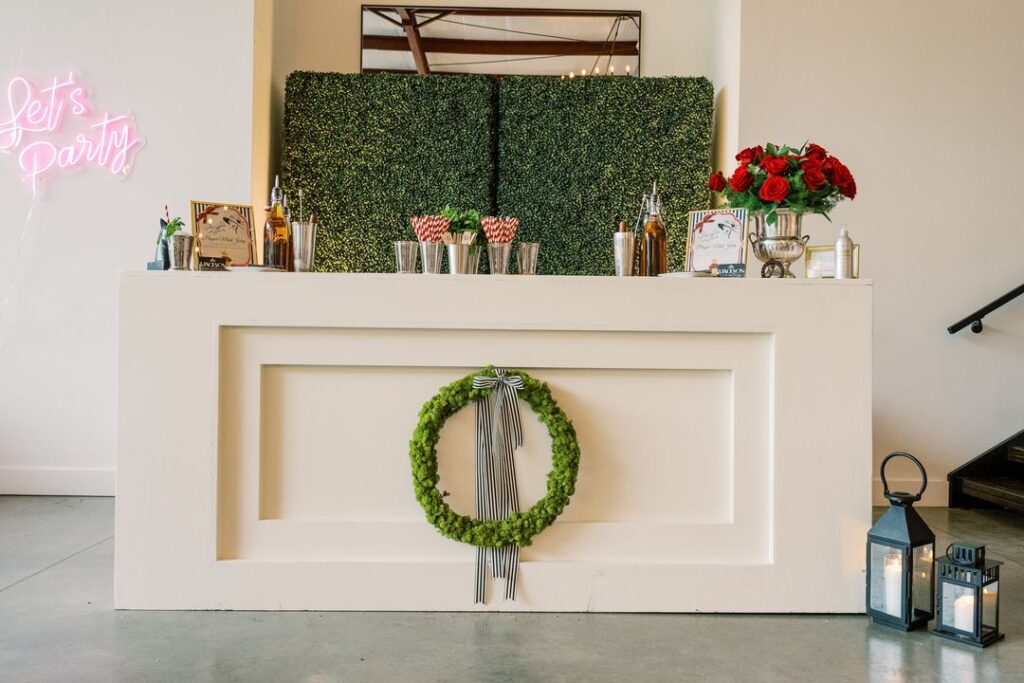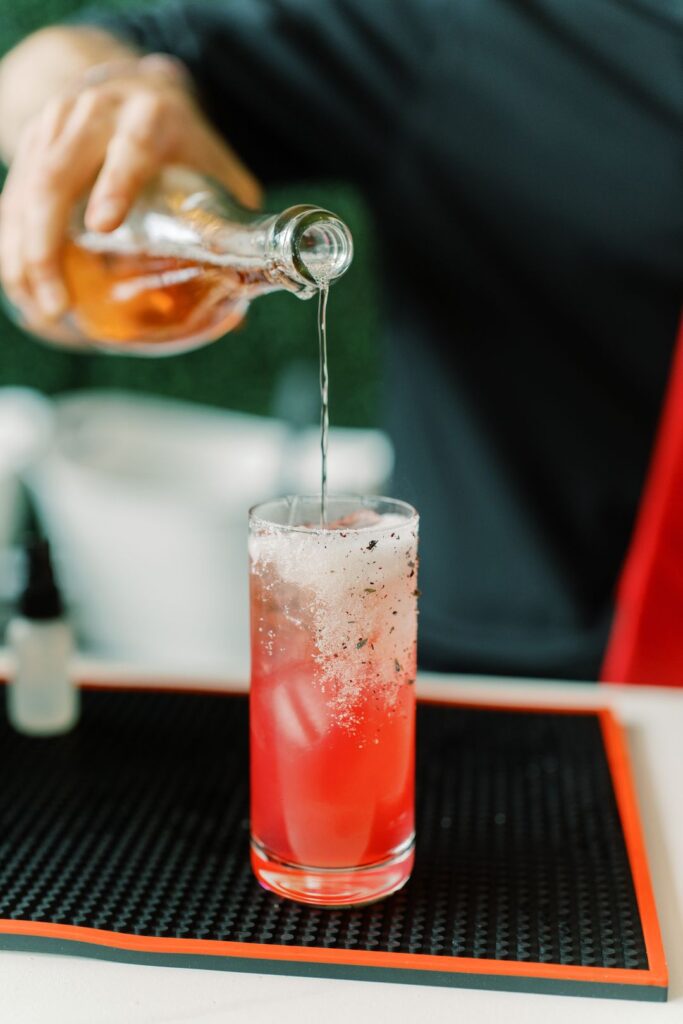 Upscale Summer BBQ
A simple but always exciting event theme idea is a classic summer BBQ. A backyard BBQ is fitting for a casual celebration, say an employee appreciation day or even 'just because'. You don't need a reason to get together and grill out! Set up picnic tables with Red & White Check Linens. If kids are attending, check out our children's furniture. For some contrast, feature our Earthen Onyx China and crisp White Napkins. Should you need serving trays, check out our family-style serving pieces. Whether you want a self-serve bar or food display, opt for our Whiskey Barrel Barnwood Bar. For added colors, a mix of vintage rugs will create an extra cozy vibe! Moreso should you feature a fire pit surrounded by poufs and rustic benches.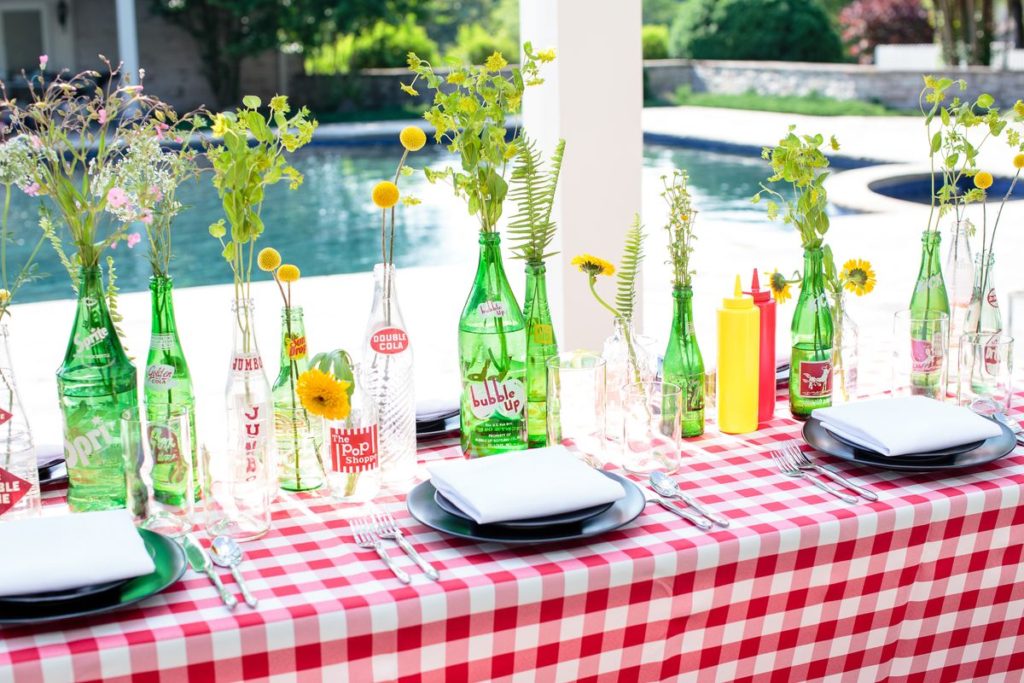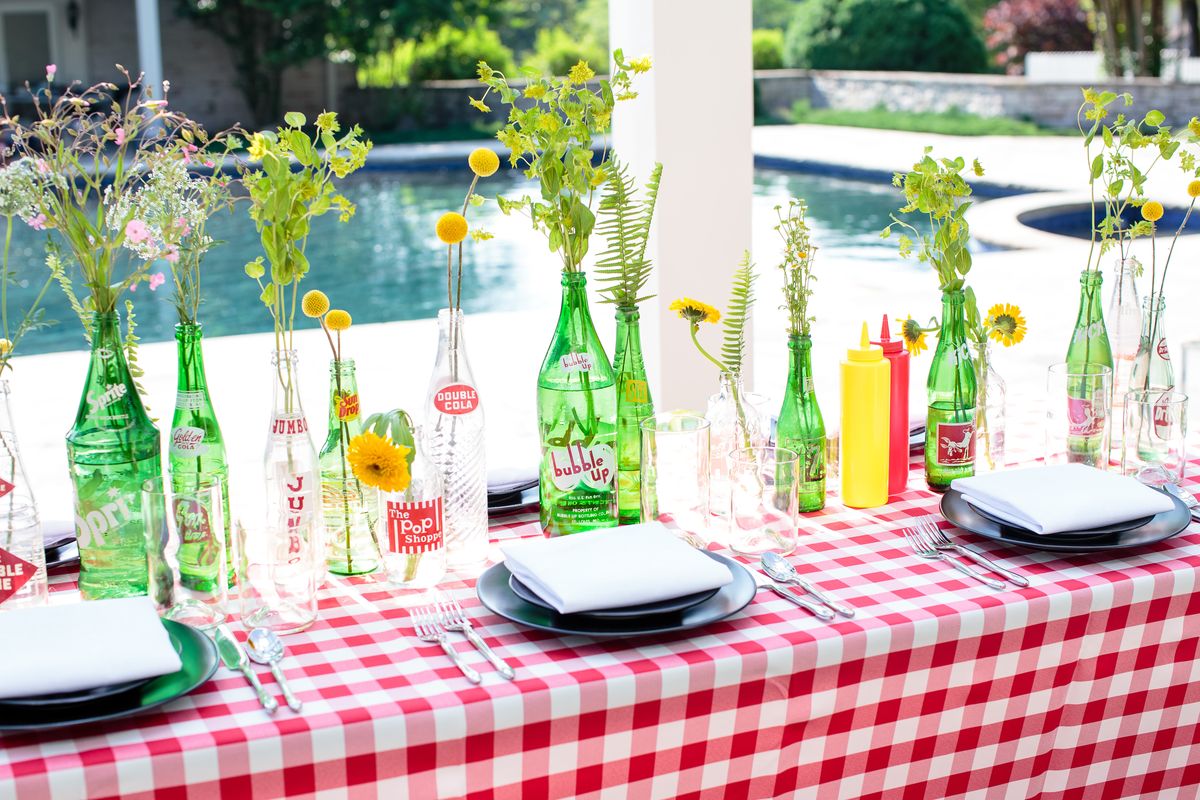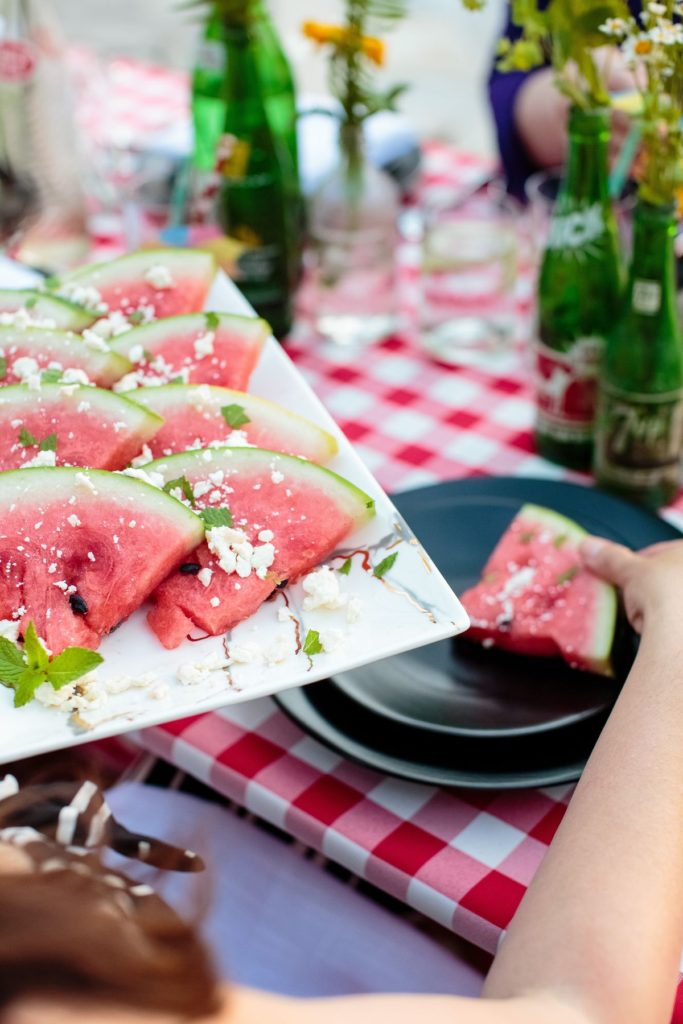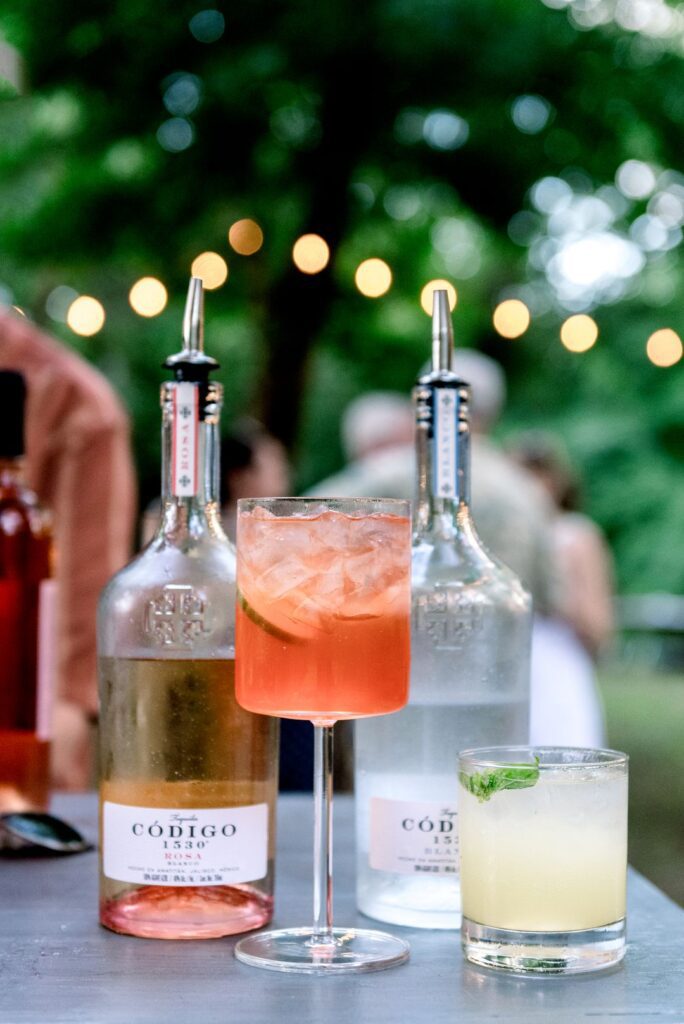 Black and White Party
If you are hosting an elegant corporate party, you can't go wrong with a black and white event theme. A grayscale color palette will also make it incredibly easy to put together a cohesive look. Start with classic bistro tables outfitted in our beautiful Black Nova Linens, paired with Mid Century Black Barstools. If you'll be toasting to the occasion, you'll need a stylish bar and glassware to match. Our Black Franklin Antique Bar is a bold choice, as is a White 6-Tier Serving Tower. Should you need additional storage space, be sure to grab a set of barback shelves in black or white. For glassware, take a look at our Cybil Champagne Glasses or trendy coupe glasses.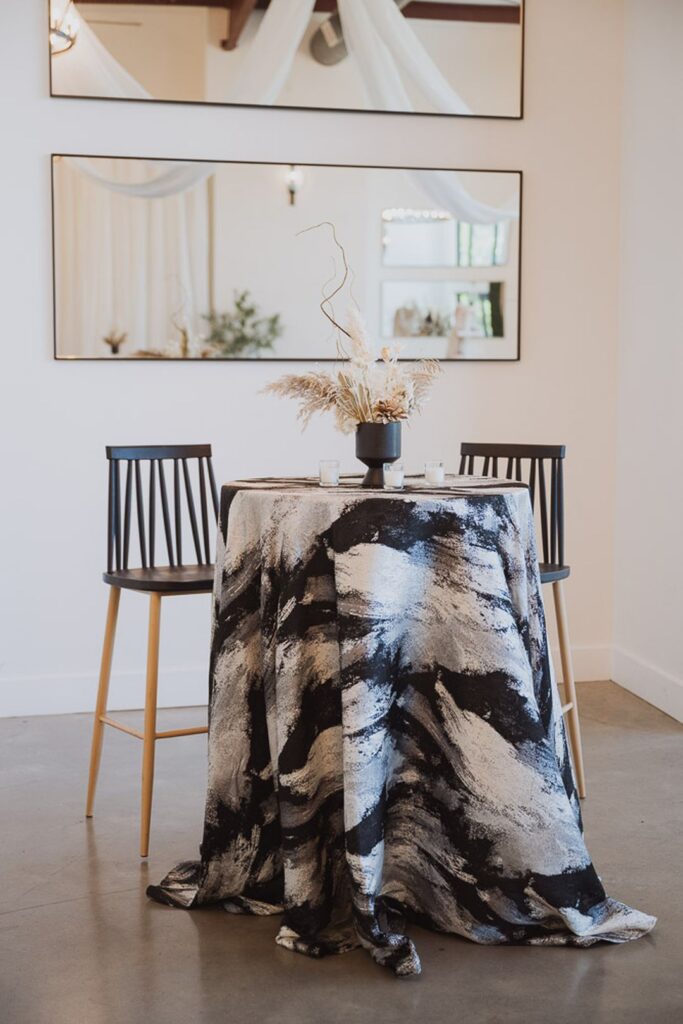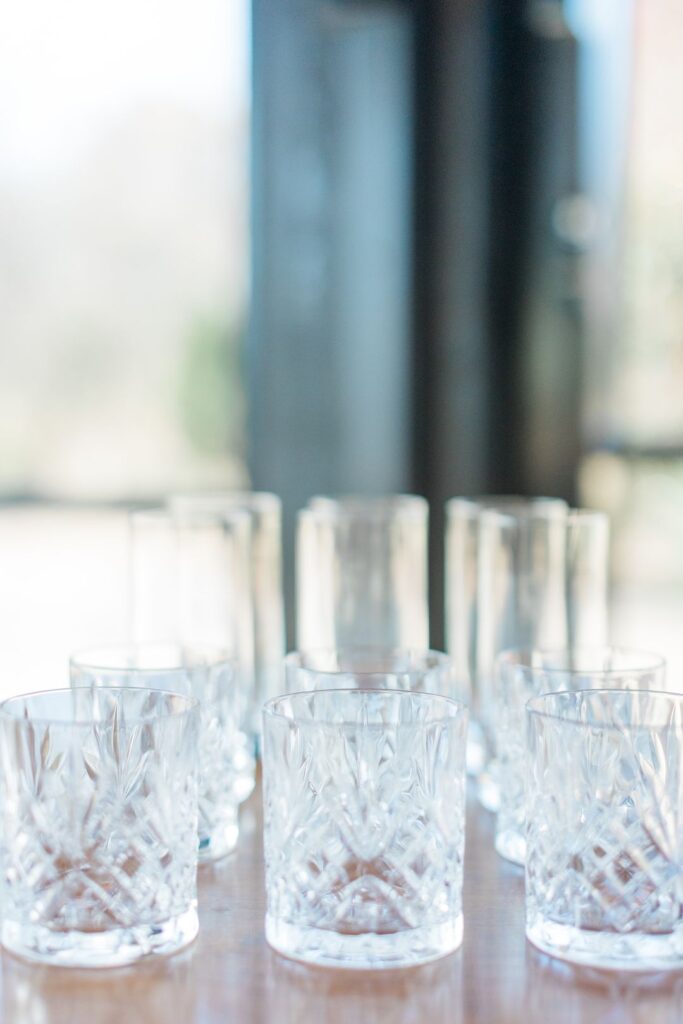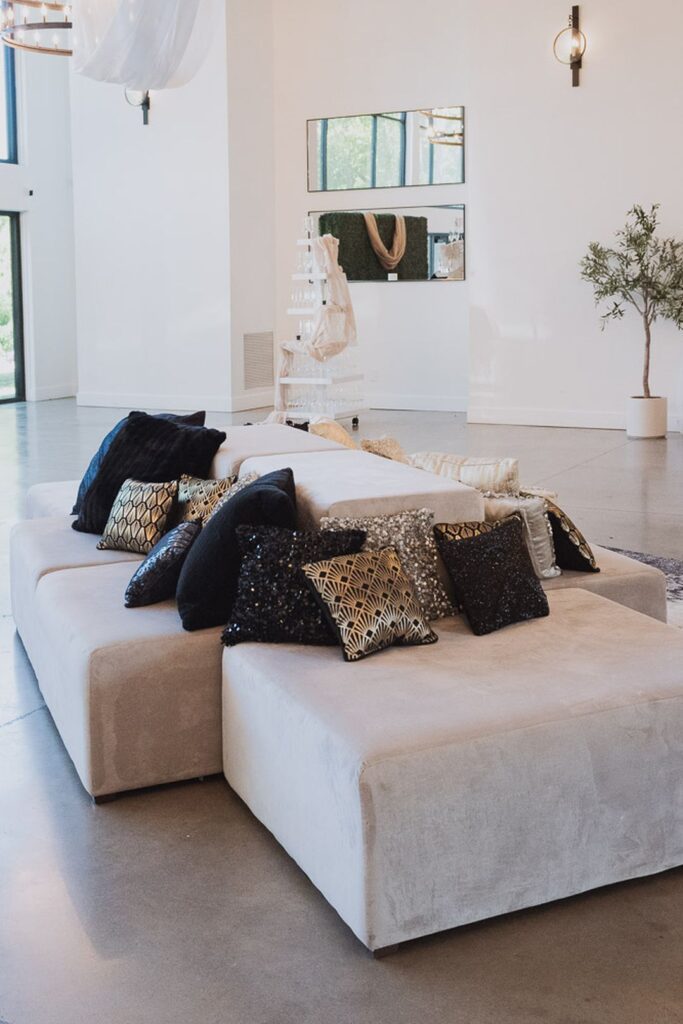 Book Your Unique Corporate Event Rentals Today!
Love one of these corporate event themes? Send us a message at info@southerneventsonline.com and a member of our team would be happy to help you recreate it for your upcoming event. Or let's work together and come up with unique corporate event themes that are one of a kind! And in case you missed it, don't forget to check out the newest additions to our catalog.
TAGS | Cocktail Party Rentals, Lounge Furniture, cocktail hour, corporate event design, corporate event rentals, corporate event style, corporate parties
FEATURED RENTALS | Picnic tables, red and white check linens, earthen onyx china, family-style serving pieces, whiskey barrel barnwood bar, rustic benches, sutton collection, Wood Melamine Trays. Peaches N Cream Poly, Harlin Dining Chairs, Bennett Leather Sofa, Adeline Dining Chairs, Chocolate Poufs, Cherry Red Poly Linens, Loren Gold Bistro Table, Black and White Striped Runner, Acrylic Ghost Barstools, artificial grass rug, Harpeth Bar, Boxwood Walls, Mint Julet Cups, Davis Rocks Glass, Navy Rug, Wood Melamine Trays, Franklin Antique White Bar,
---
10

Jun

On Trend, Southern Events Products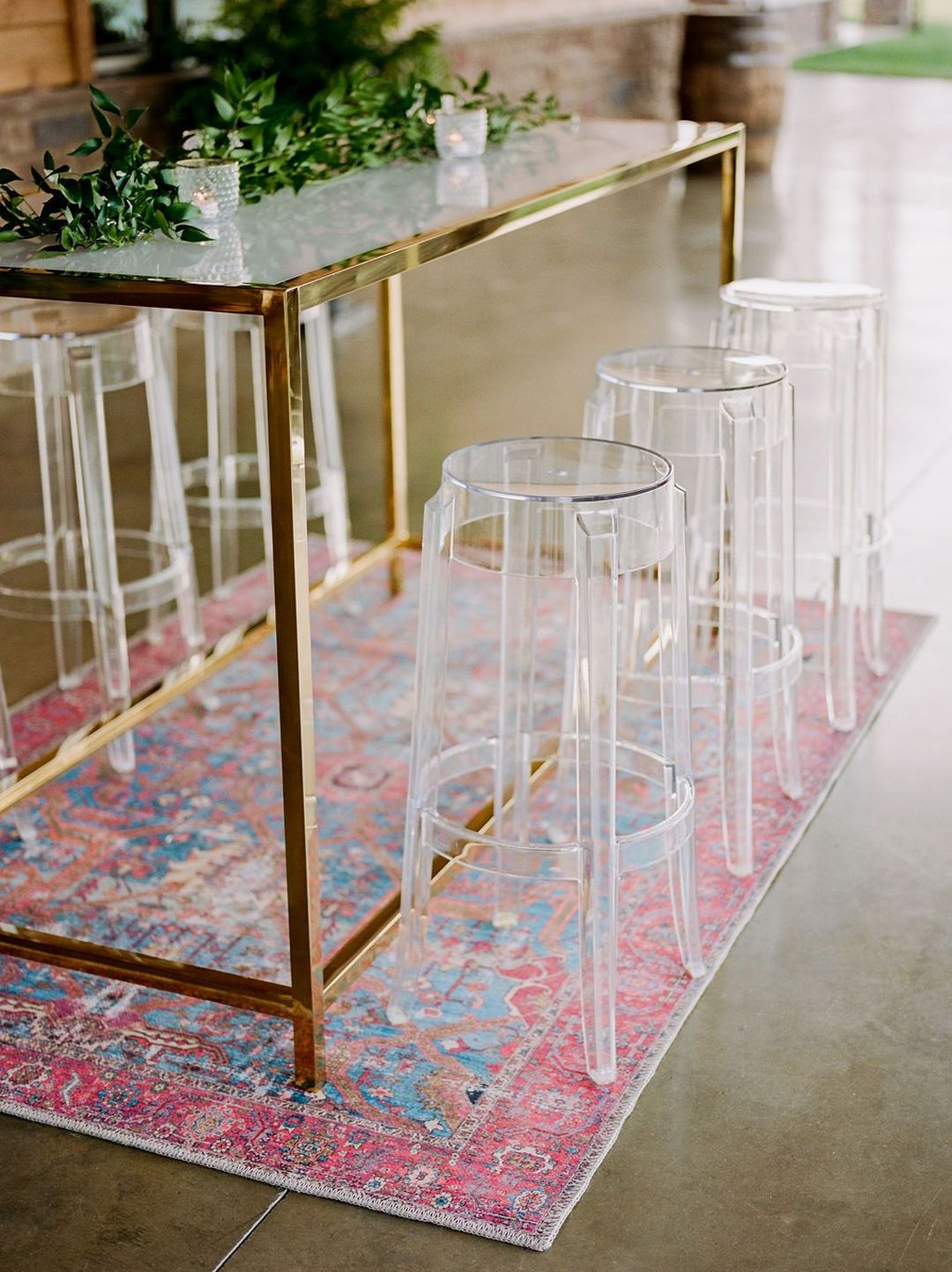 Functional and stylish rentals, Southern Events offers a range of area rugs for events & weddings. Although simple, a beautiful decorative rug will lend to an all-around cohesive event space. Whether they are used to line an aisleway or placed beneath the featured furniture. You go to major lengths to decorate and furnish the space in a way that aligns with your event, and the floor is the foundation! Take a look at our in-stock area rugs and how you can feature one or several at your upcoming Nashville event.
Tie it All Together
Area rugs are more than just decoration. Take for example the use of layered rugs as an aisle runner. Our Brown & White Cowhide Rug and Dark Brown Cowhide Rug are perfect for a trendy urban desert wedding ceremony. Meanwhile, our vintage-inspired rugs look stunning for a cozy, boho-themed affair. Feel free to layer them up or use one standalone alongside a ceremony backdrop.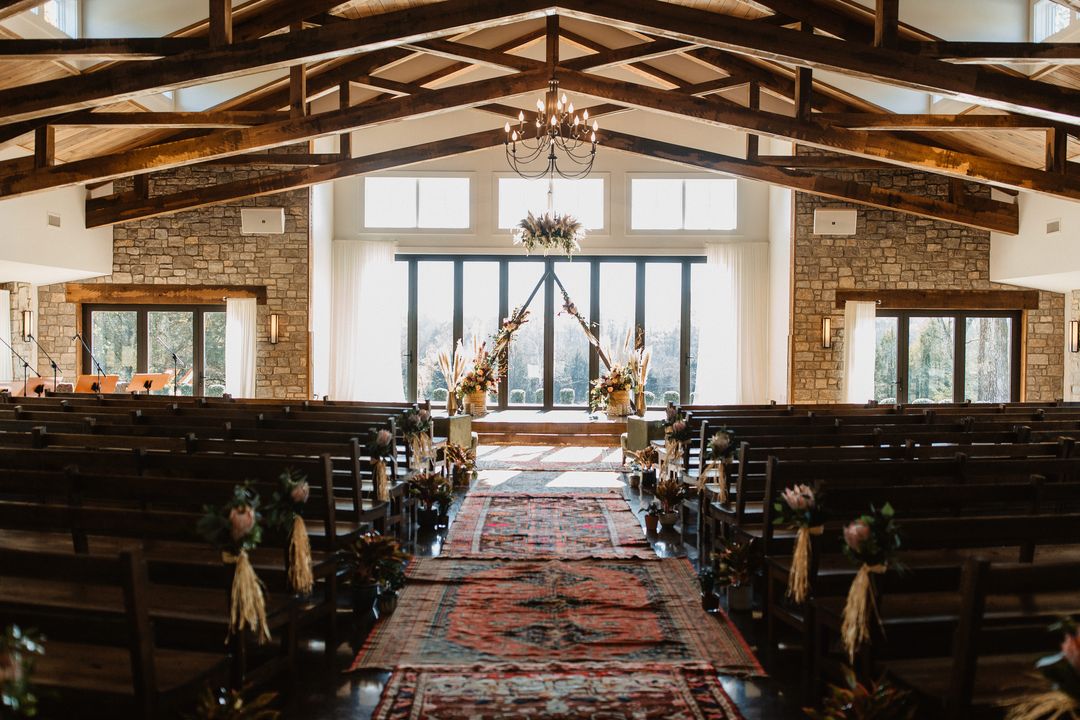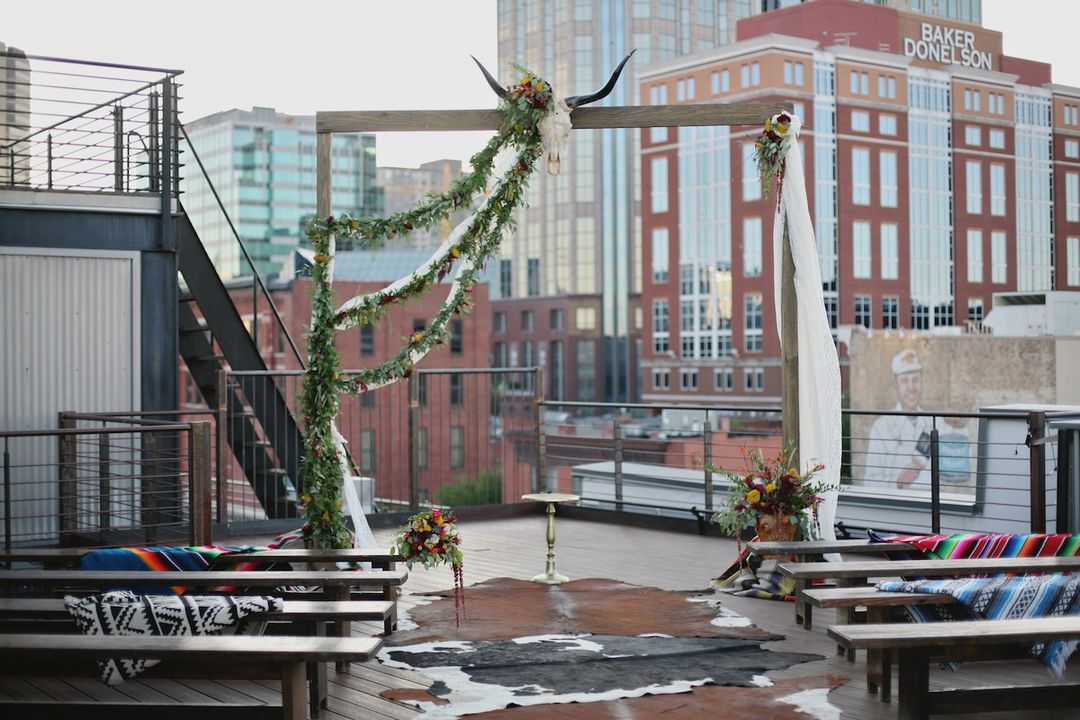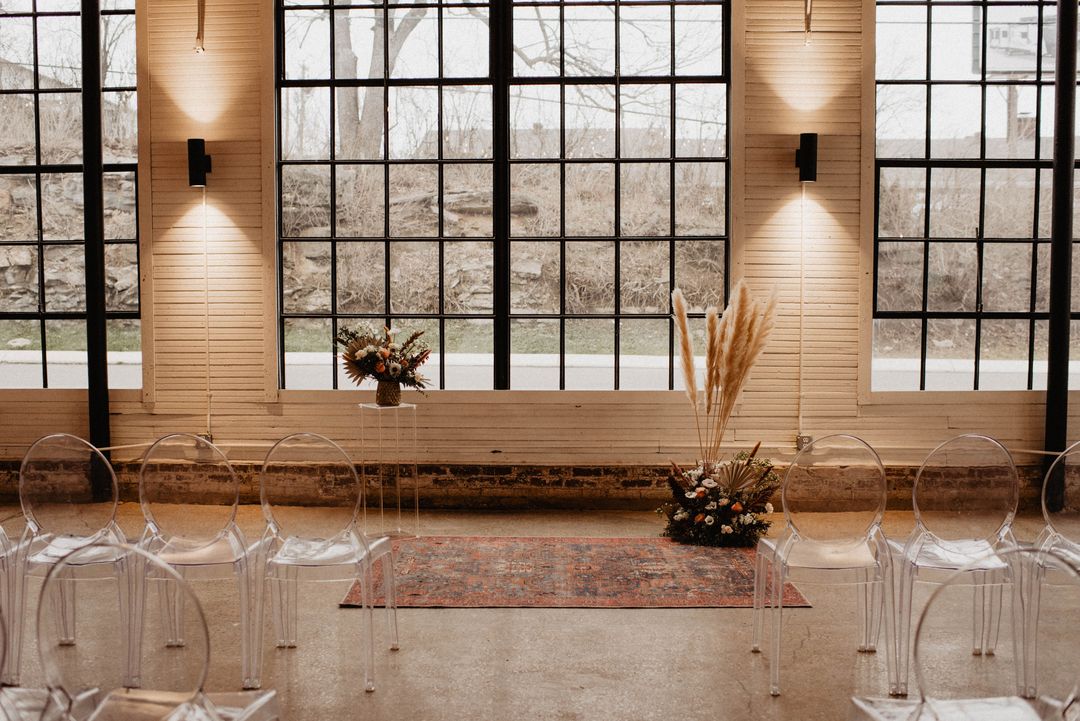 Photo by Renrose Photography
Frame a Space
Rugs assist in creating a frame in which to place the furniture. A trick that is especially useful for social areas, like a cocktail lounge. Consider using a rug to lead guests from the bar to a lounge area. It will help prevent your guests from huddling around the bar and encourage them to sit down, get comfortable, and stay for a while. See how our clients have used a range of area rugs for events & weddings, including our Navy and Aqua Rugs.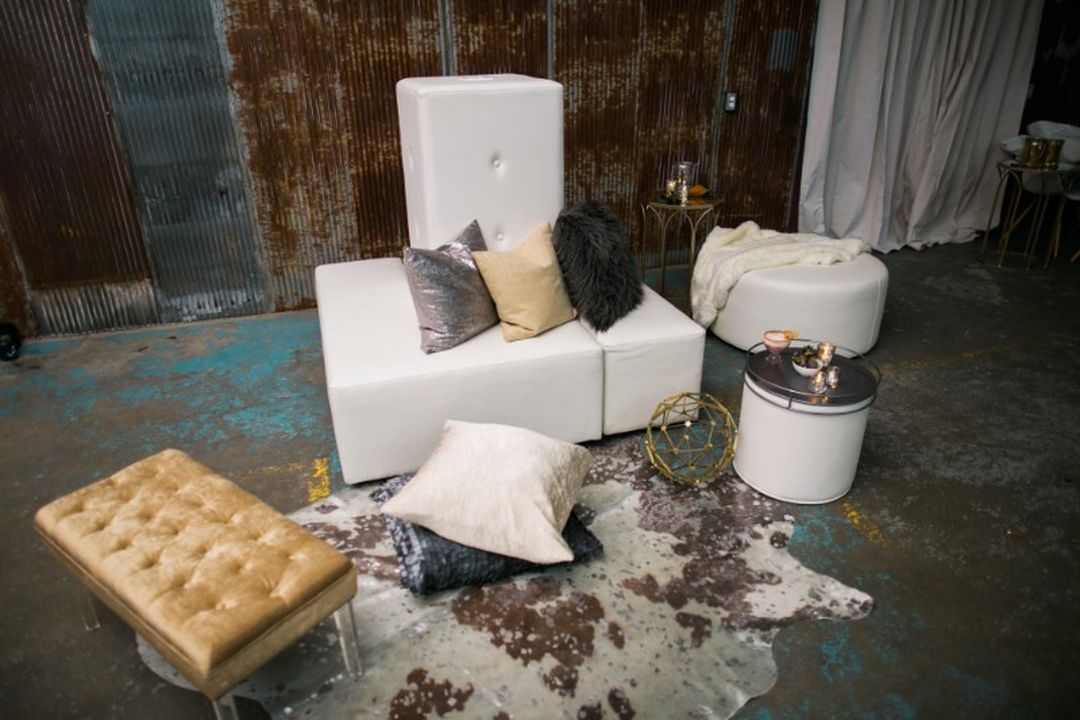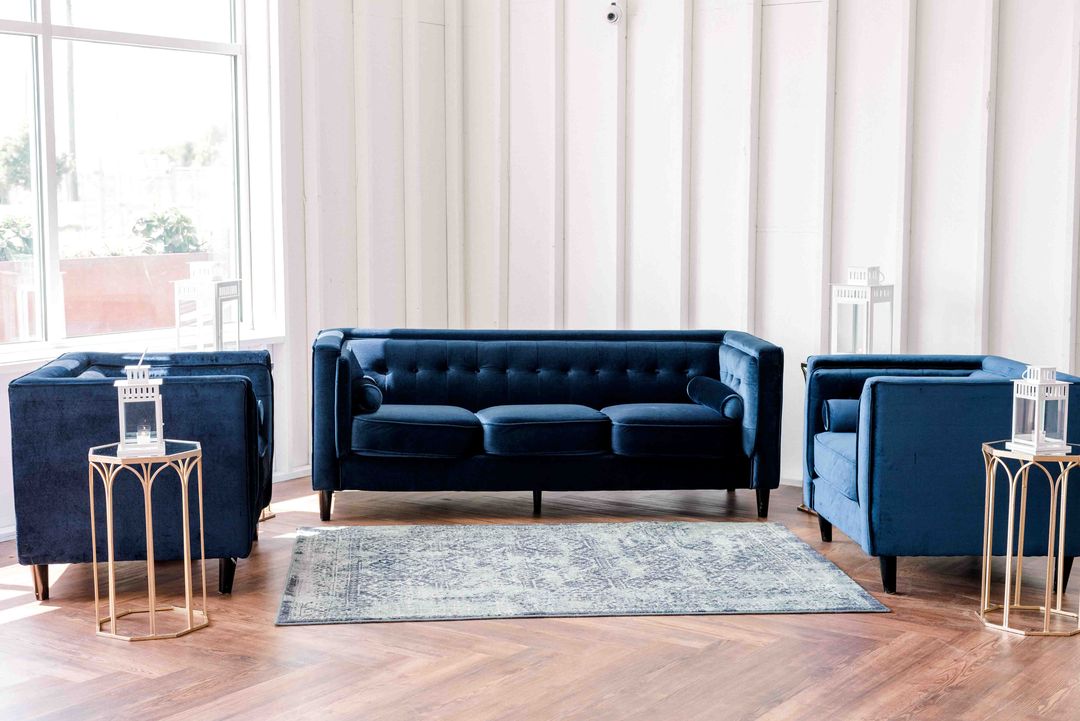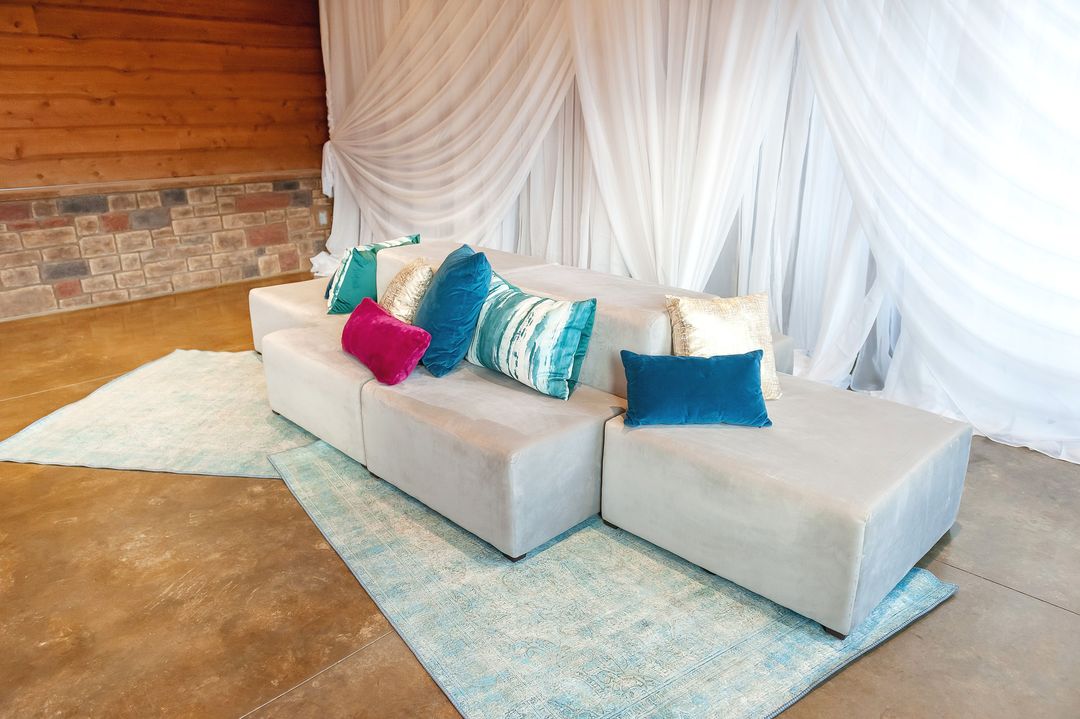 Photo by Megan Stark
A Cohesive Design
Similar to cocktail lounges, rugs can be placed beneath standalone furniture to help create a more cohesive aesthetic. Without one, it can feel as though your furniture may float away! A rug can also help tie different areas together that would otherwise look out of place. Featured below, our vintage Blue-Red Rugs were used to accent a whiskey-barrel bar and create a charming buffet area. And to create a stylish outdoor cocktail area, it was placed beneath our Loren Gold Bistro Table.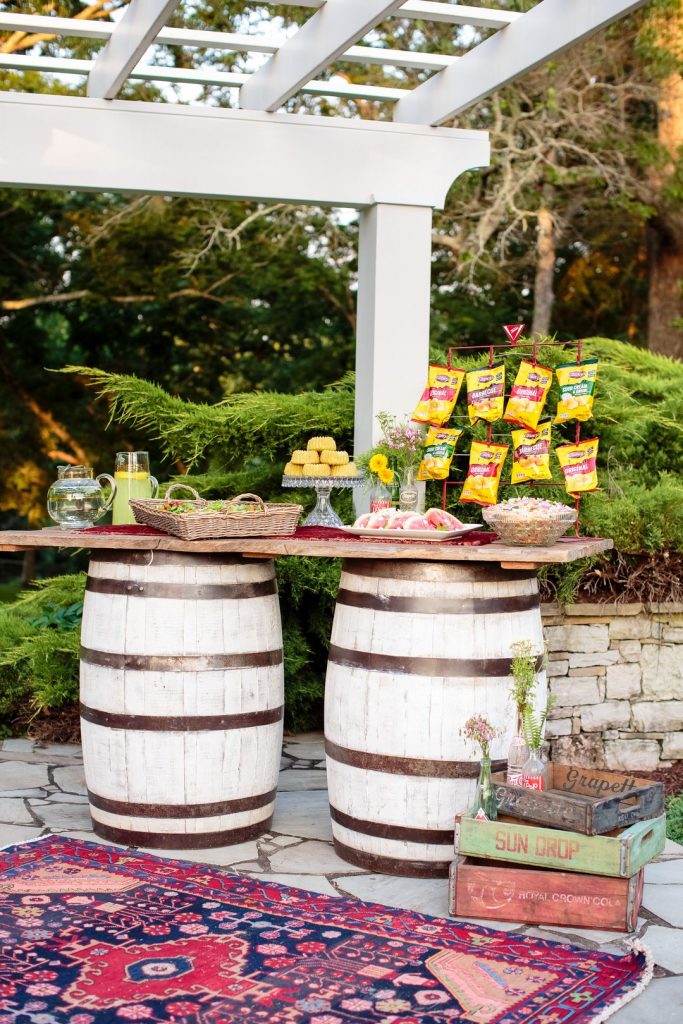 Photo by Erin Lee Allender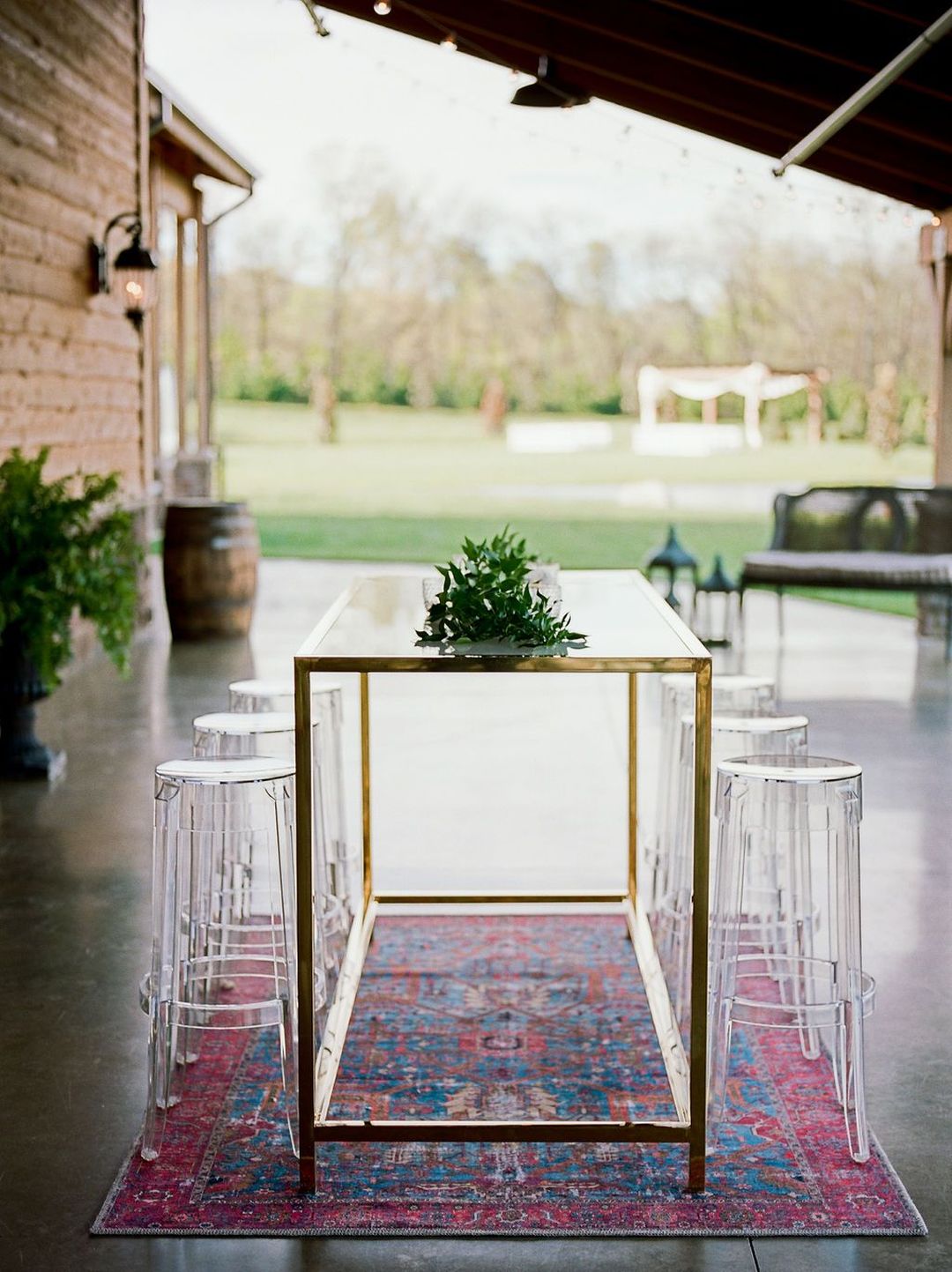 Photo by Jenna Henderson
Want something that provides more stability than a rug? Our Dura-Trac Flooring is a great option! It is made of high-quality materials and can be customized to fit any size you may need. Plus it is a safe, slip-resistant surface that can be used over a variety of terrains. Plus, you can still place one or more of our trendy area rugs on top to create a cozy atmosphere.
If you have an upcoming event and are looking to create a unique space with area rugs we'd love to chat with you! Send us a message at info@southerneventsonline.com for help or additional event inspiration!
TAGS | Area Rugs, Boho Wedding Nashville, Cocktail Party Rentals, Cow hide rug, Nashville Corporate event Rentals, Nashville Event Rentals, Nashville furniture rentals, Nashville party rentals, Vintage Rugs, cocktail hour, corporate event design, corporate event rentals, cowhide rugs, wedding event design
FEATURED RENTALS | Blue-Red Rug, Brown/White Cowhide Rug, Dark Brown Cowhide Rug, Gray Cowhide Rug, Navy Rug, Metallic Cowhide Rug, Loren Gold Bistro Table, Pearce Modular Lounge,
---
30

Apr

Southern Events Products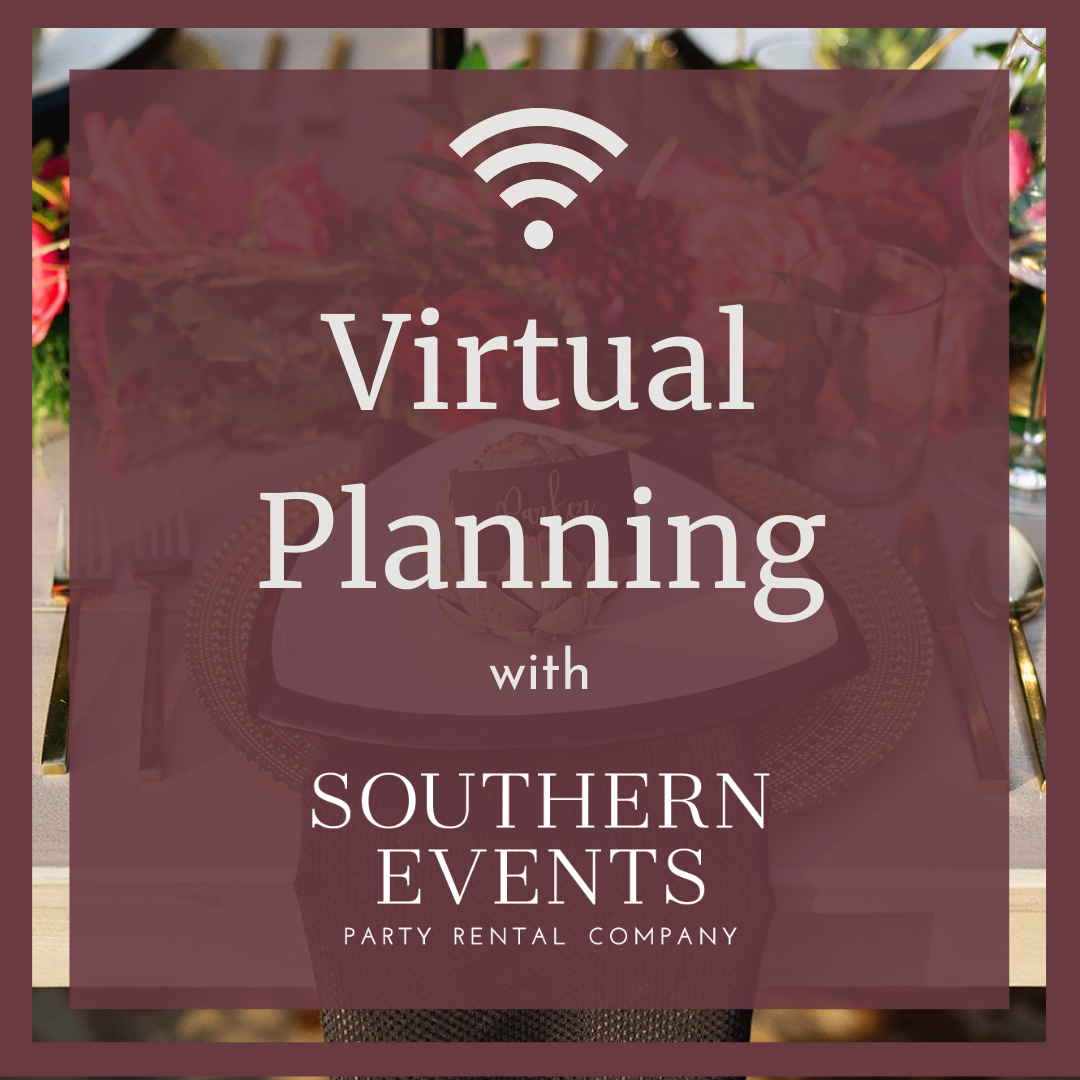 Plan your event from anywhere! Customer experience is our top priority and is why Southern Events is proud to offer virtual planning services. Using these services, improved web features and communication channels, you can now design your event and book rentals from the comfort of your home.
Virtual Meetings
Whether you are planning your event from out of state or simply lack the time to visit our showroom, we've got you covered. We are glad to offer virtual meetings as an alternative to in-person meetings, at which time we can discuss and hone in on the details of your event, collaborate on the design and determine the most suitable event rentals.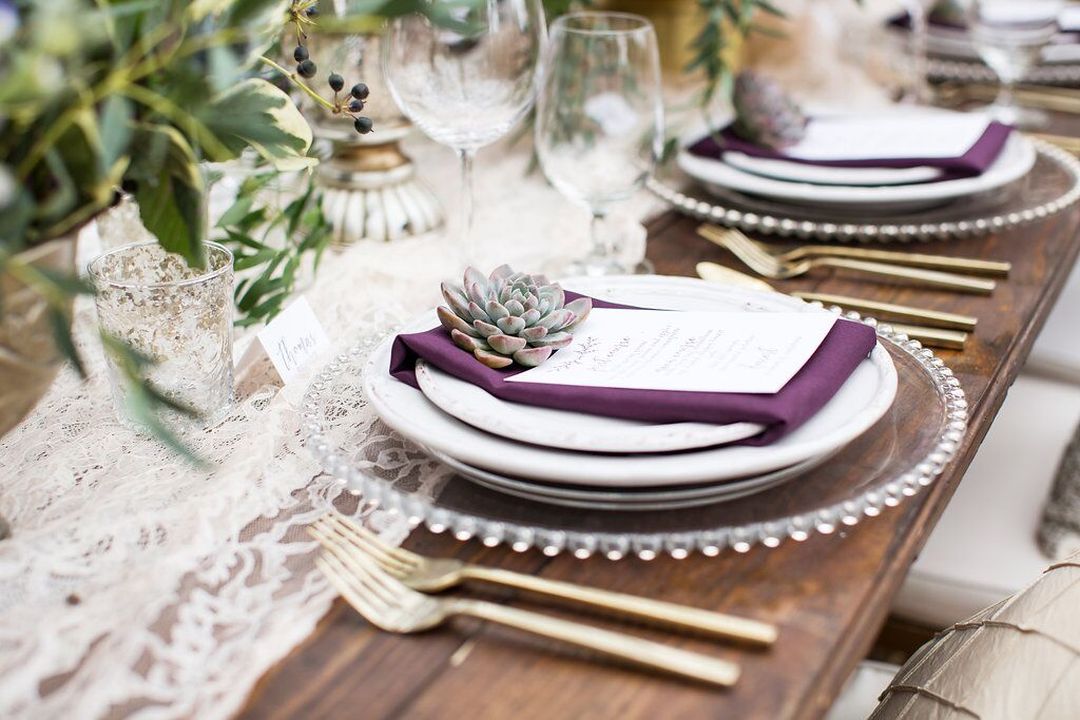 Photo by Jen and Chris Creed
Design Boards
Put your Pinterest board to good use! Send inspiration photos to our on-staff Event Consultant and receive a custom design board. Using your photos we will recommend rentals that align with your vision to assist you in creating a cohesive and aesthetically pleasing event design.
Event Layouts
With a venue booked, our Event Consultant will walk you through different floor plan options. We will discuss the most functional layout for the space, while taking into consideration the type of event you are hosting. In addition, we will be able to recommend rentals, from tables to chairs and staging options, that can be used to achieve your room layout.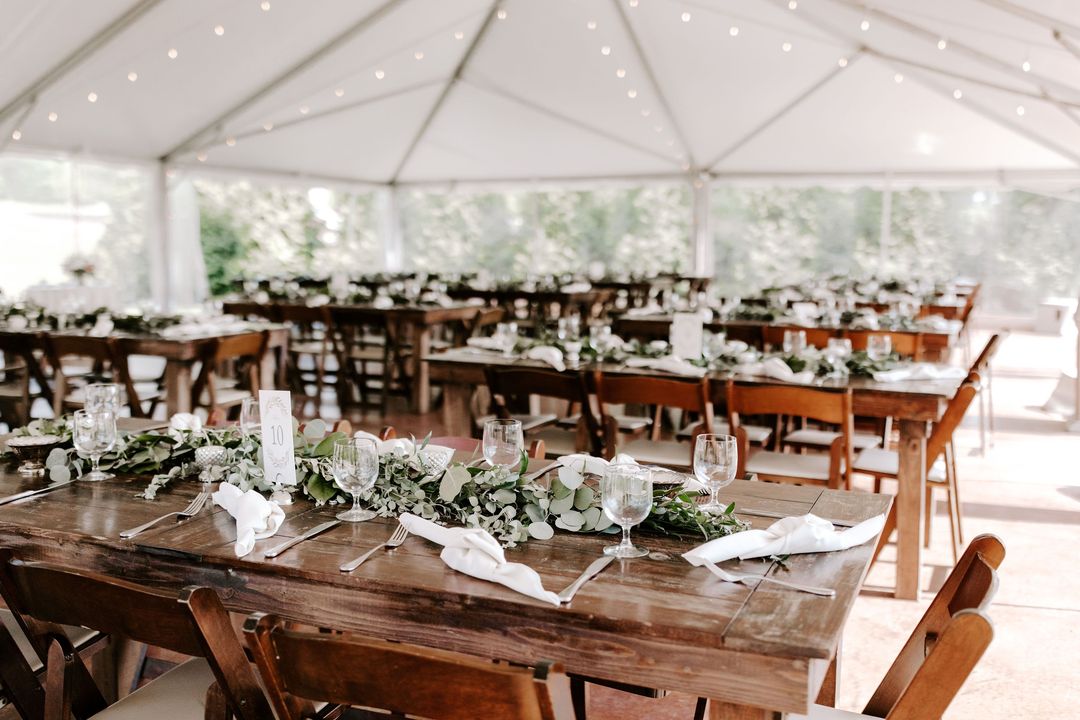 Photo by Wind and Gold Photography
Live Chat
We understand that time is of the essence. Using the live chat feature on our website, you can get quick answers to your questions in real-time. Our live chat is a quick way to reach our team, whether you are having difficulties locating an item or need additional information on an item. You can find the chat bubble in the bottom right of your screen. Click it to get in touch!
Shopping Cart
If you already have an event design or style in mind, go ahead and browse the rental items on our online product catalog. When you have found the perfect piece simply add it to your shopping cart. Once you are finished you will be able to quickly and easily submit a quote request for pricing and availability. Keep an eye out for the follow-up email from our team where we'll be your guide in finalizing an order. Easy as peach pie!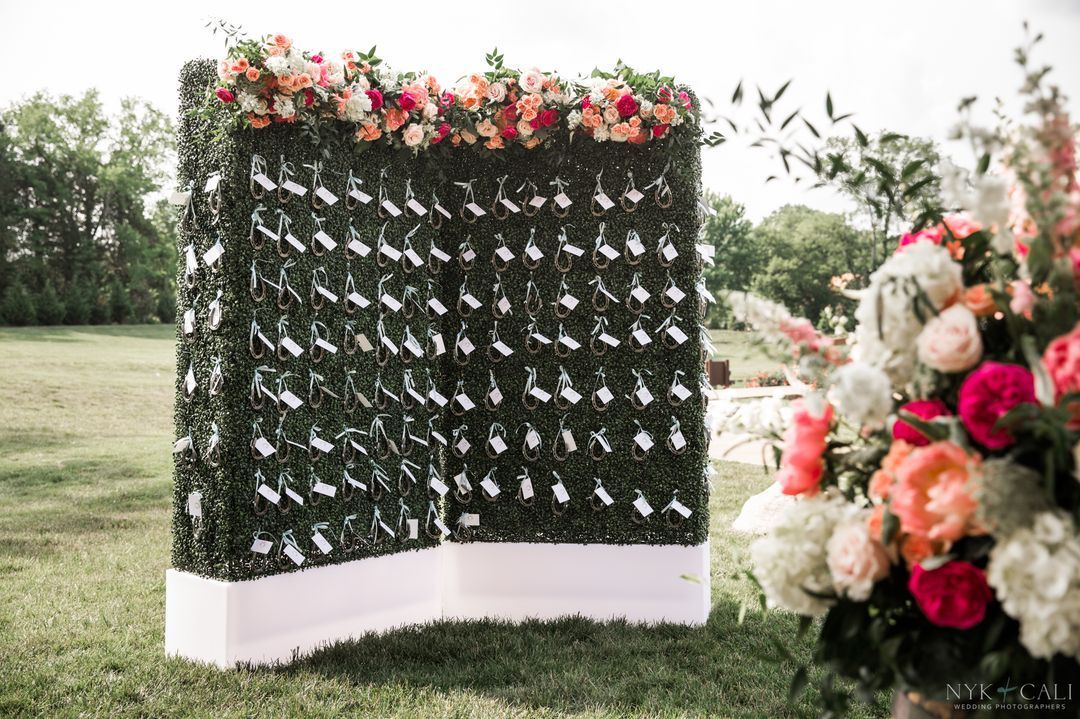 Photo by Nyk + Cali Photographers
Are you ready to start your virtual planning journey? View our full online rental catalog or reach out at info@southerneventsonline.com to get started!
TAGS | Nashville Wedding, Nashville corporate event, Wedding Planning, Wedding Planning Advice, Wedding Planning in Nashville, corporate event design, corporate event rentals, event consultant, virtual planning
FEATURED RENTALS | Austin Flatware, Fruitwood Farm Table, Boxwood Wall, Artisan China, Belmont Charger, Purple Linens, White Linens, Bradley Flatware
---
26

Mar

Events and Style Shoots, Southern Events Products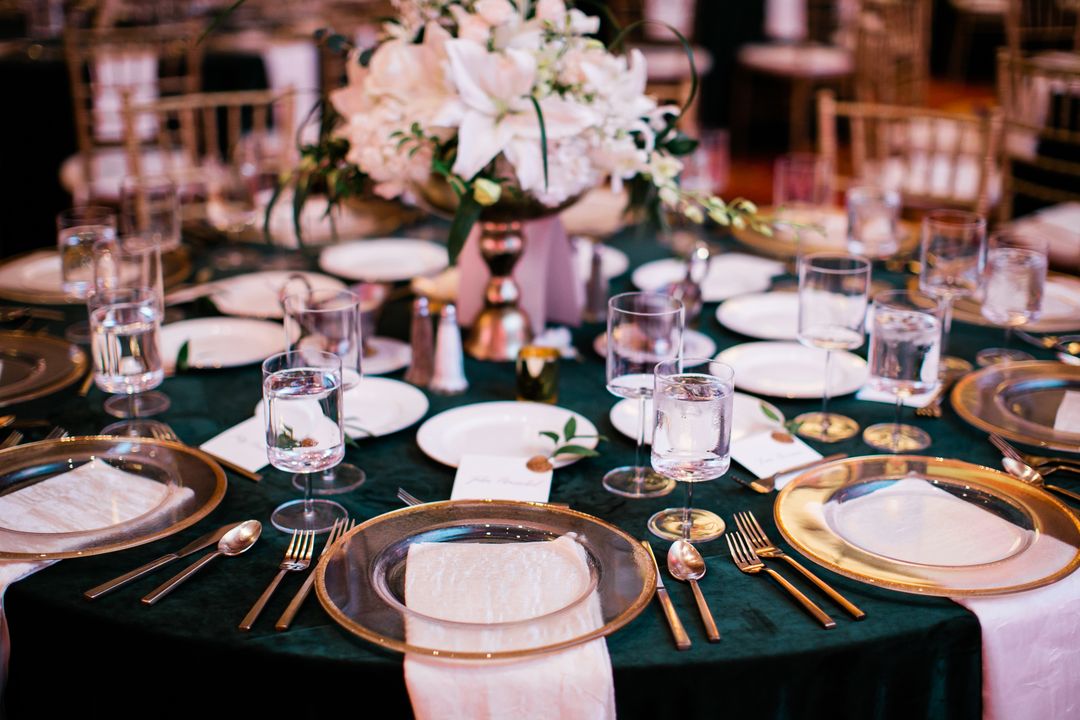 Emerald and gold speaks to opulence and set the tone for the event design at the 13th Annual Rutherford Society Gala. A black-tie affair, the Embassy Suites by Hilton Nashville in southeast Murfreesboro was transformed into an elegant affair. A mix of vibrant and deep greens, white furniture and golden accents made for a luxurious setting.
It is easy to take emerald and gold event design and end up over the top. With beautiful but simple pieces, a chic and functional space is possible. Alongside a pleasing aesthetic our aim is to eliminate any feelings of claustrophobia. It is a cocktail hour after all! Pieces like our Pearce Furniture, a chic modular lounge, and bistro tables will prompt guests towards social areas for a drink well throughout the evening.
The elegant layout and grandeur spilled over to the main ballroom for a 3-course meal. Paired with rich velvet tablecloths and white linens are the perfect amount of gold metallics to make it all pop! This includes Chiavari Chairs, gold-rimmed Athena Plates, and Austin Flatware. A touch of fresh florals in clear glass vases goes on to add some natural beauty.
Images courtesy of Jen and Chris Creed Photography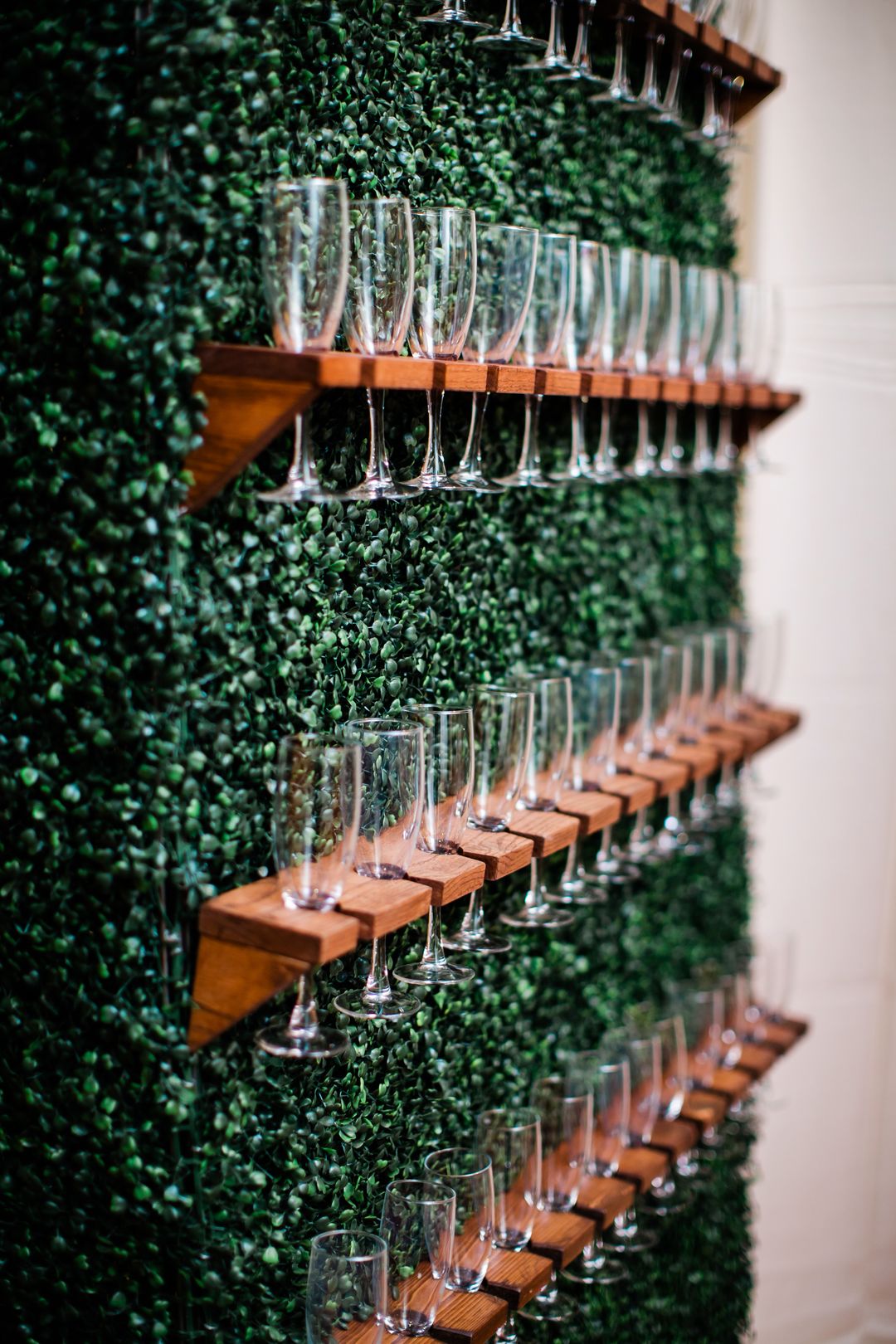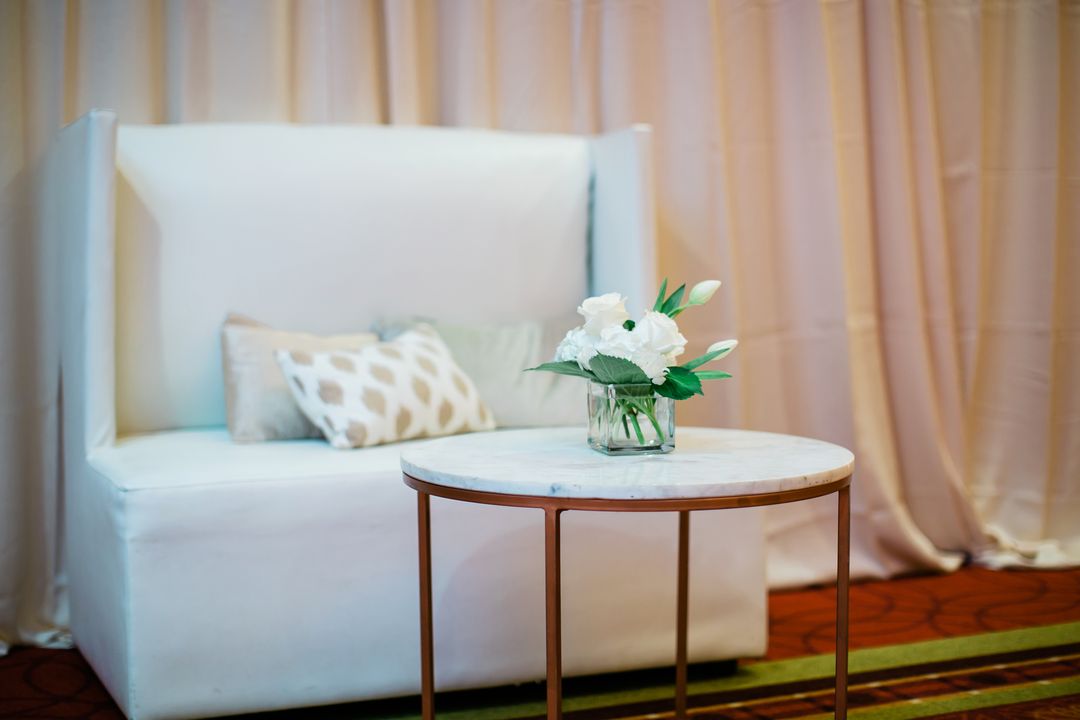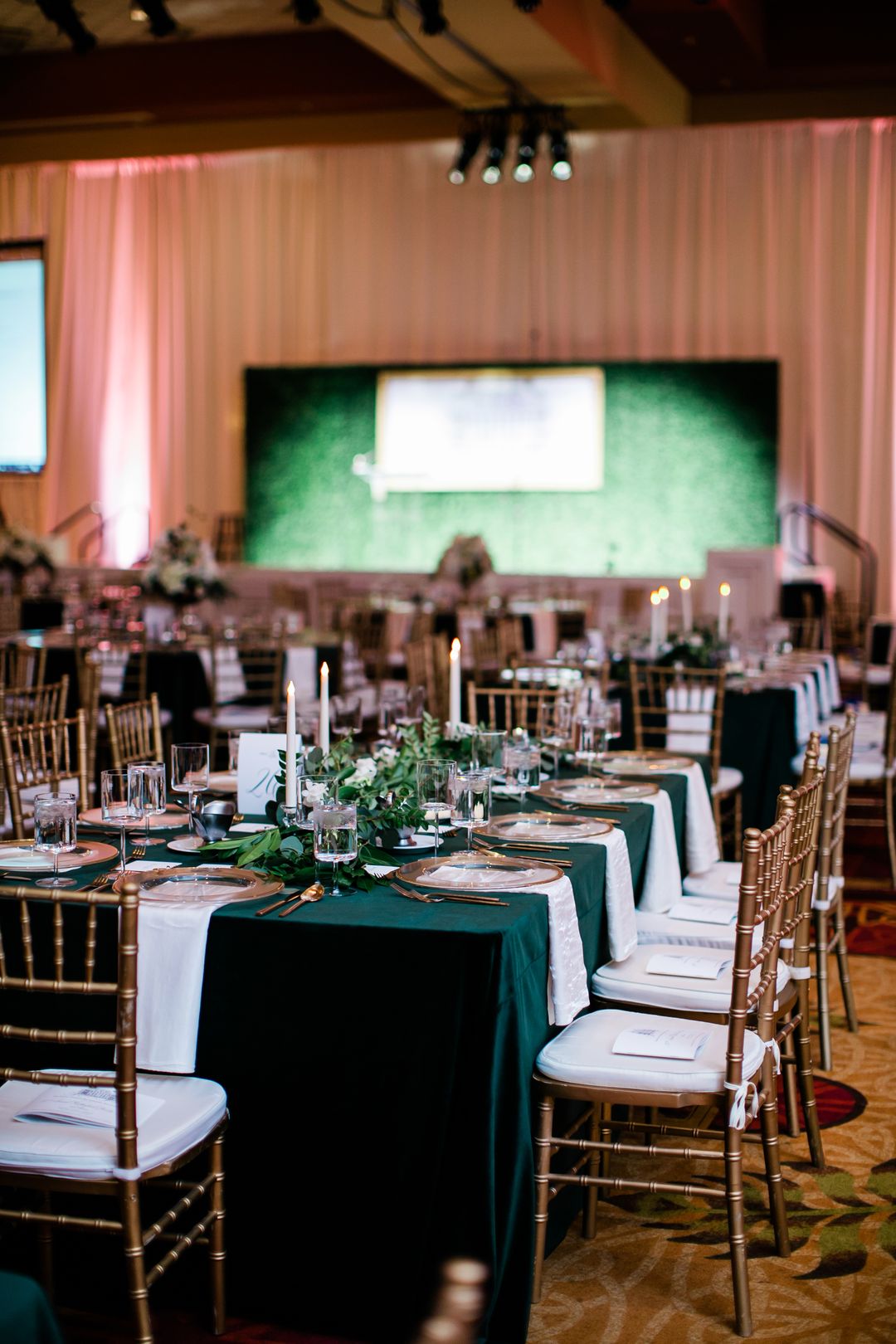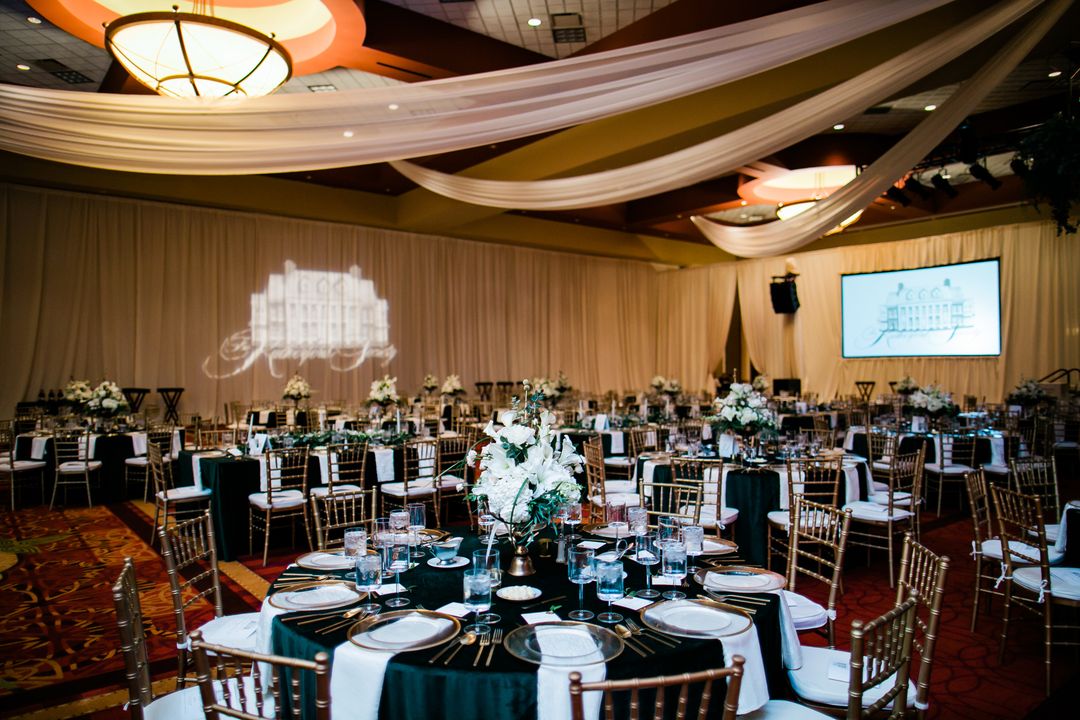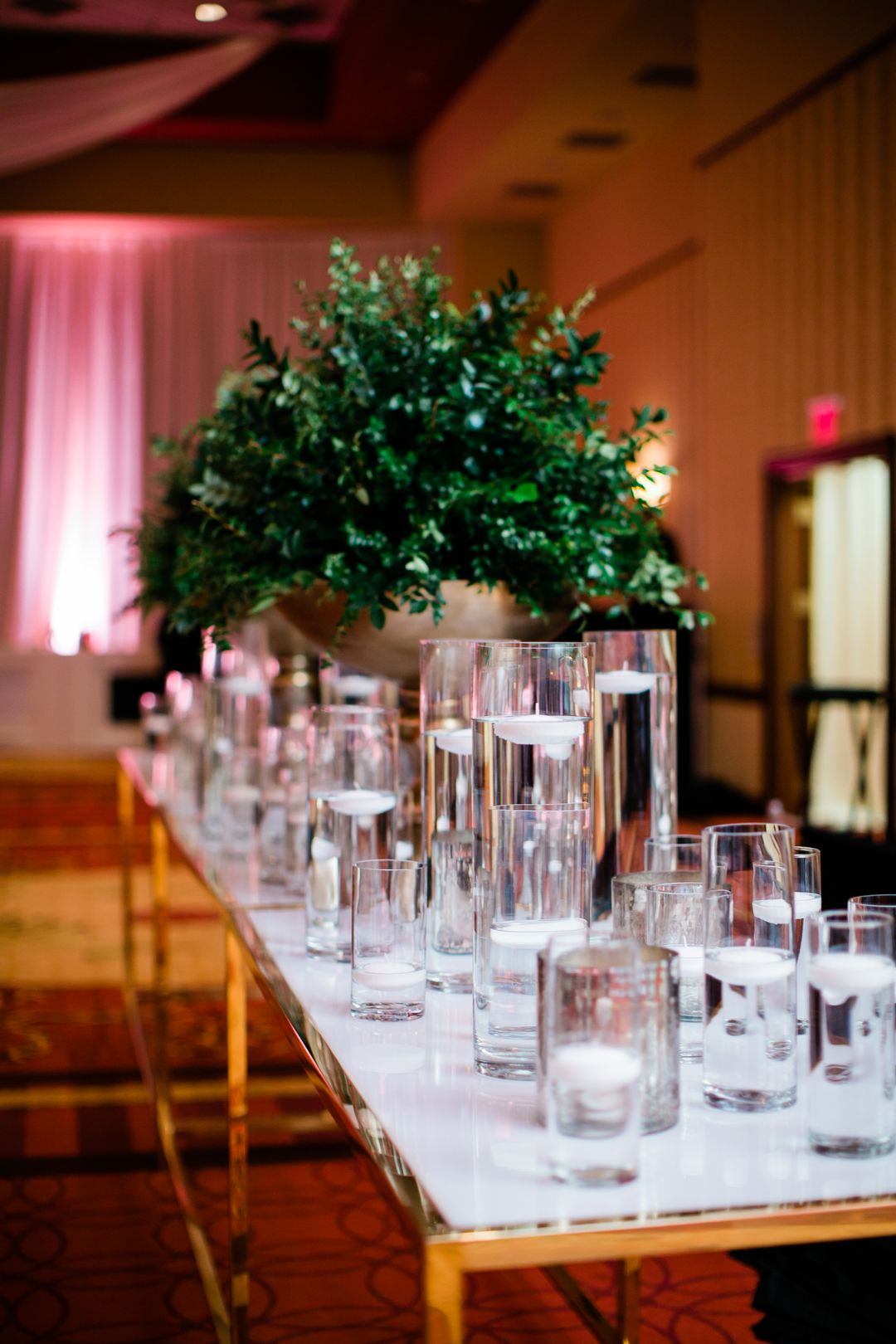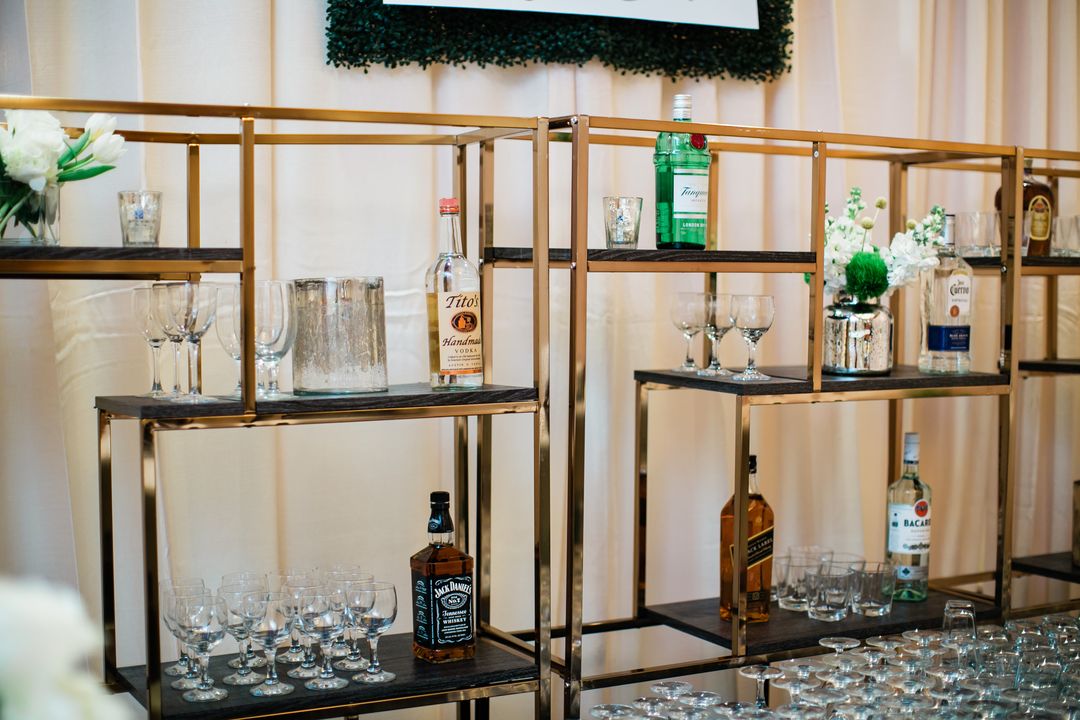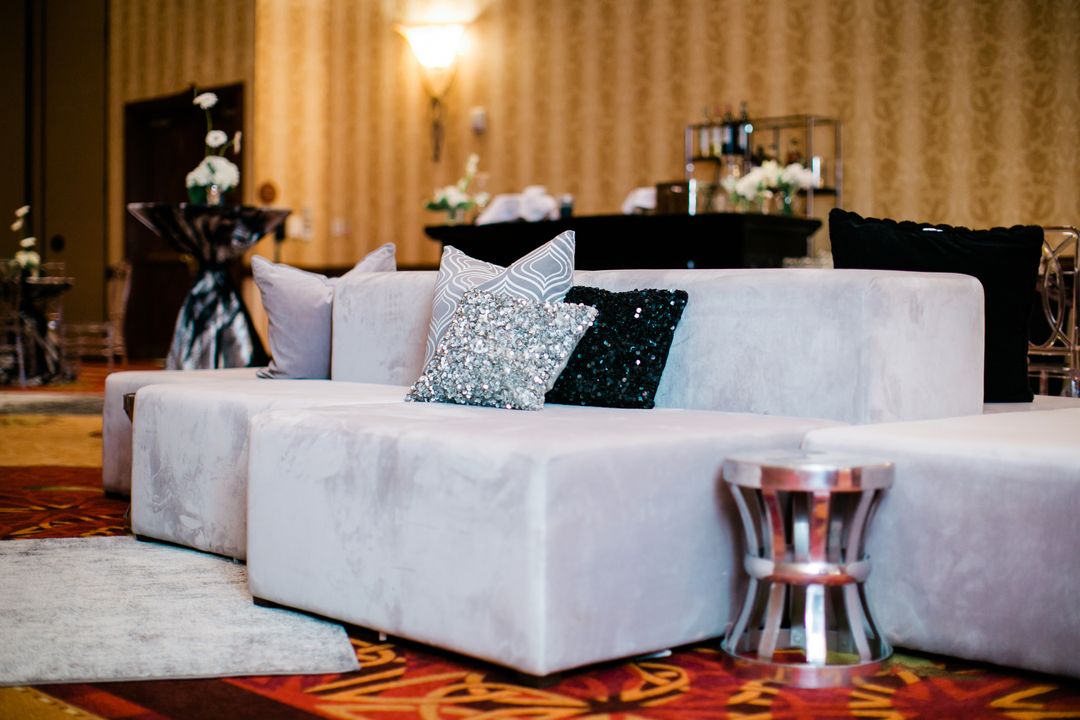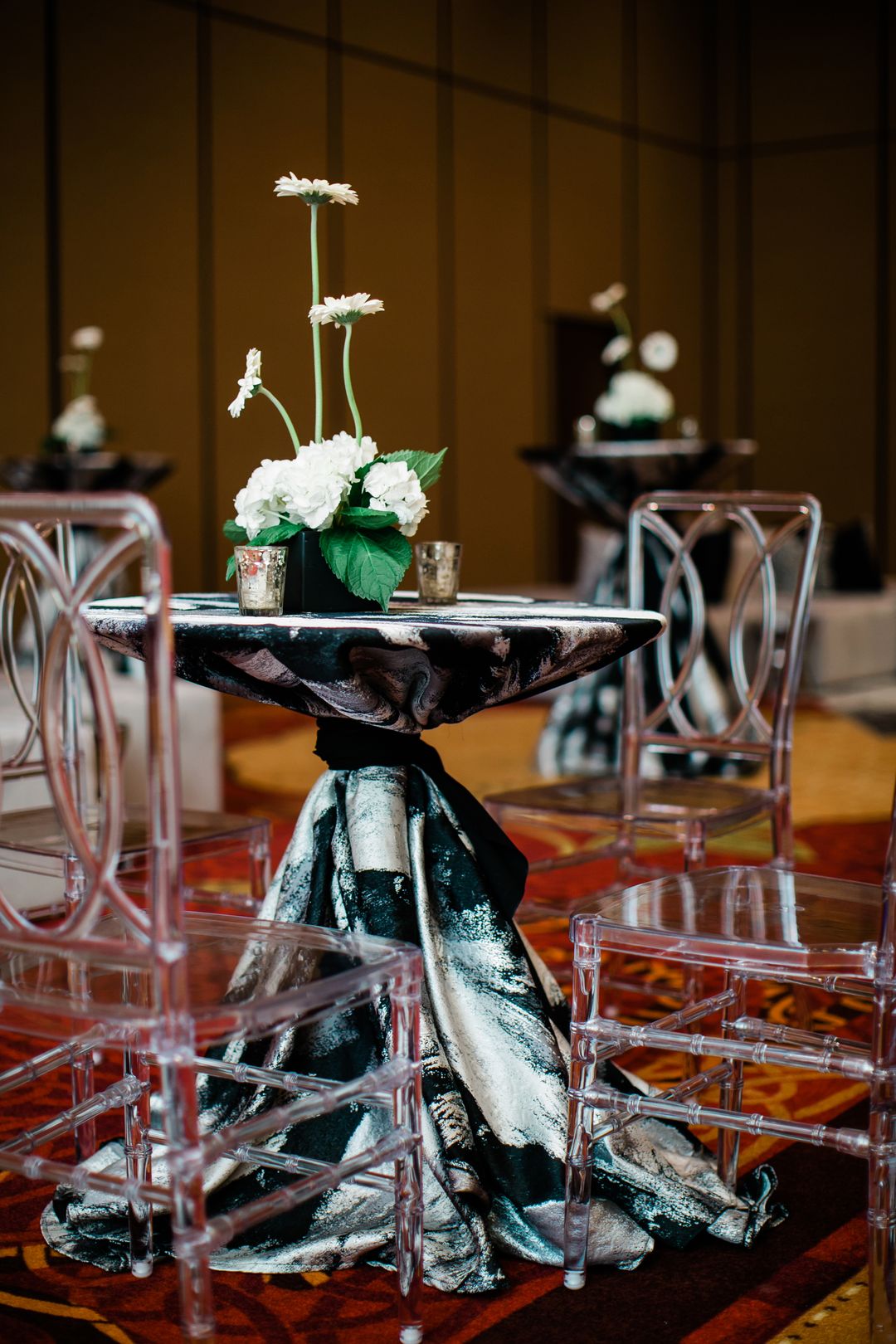 Want to feature emerald and gold event design at your next event? Send us a message at info@southerneventsonline.com.
TAGS | Athena China Plates, Boxwood Hedge Wall, Cocktail Party Rentals, Emerald and Gold, Event Catering Rentals, Gold and White, Nashville Event Rentals, Nashville party rentals, Southern Events Party Rental, corporate chic, corporate event design, corporate event rentals, event style trends
FEATURED RENTALS | Black Nova Linen, Chiavari Chairs, Austin Flatware, Loren Gold Bistro Table, Acrylic Carrigan Side Chair, Capriano Marble & Copper Accent Table, Black and Silver Rug, Gold Avenue Bar Back Shelf, Harpeth Bar, Athena China, Boxwood Walls
---
13

Jul

On Trend, Southern Events Products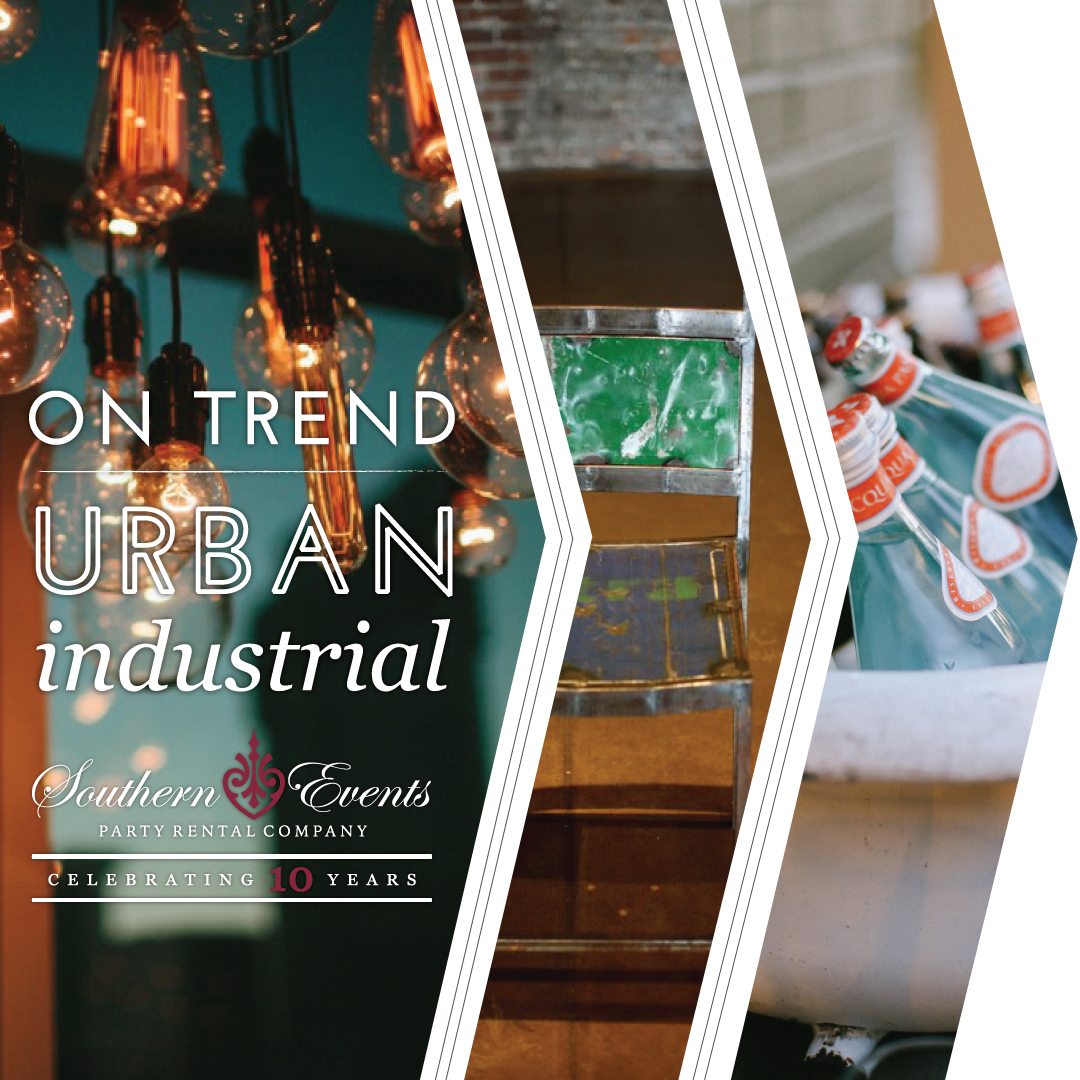 Industrial lofts, downtown rooftops and once abandoned warehouses.  These event spaces are now highly sought after, driving Nashville's Urban Industrial event trend.  Perfect for a corporate mixer, cocktail party or birthday celebration for the special man in your life, Urban Industrial combines bold colors, distressed finishes and masculine details. The event space at Acme Feed & Seed provides the perfect industrial backdrop for this design.  Start with our Urban Furniture Collection, featuring one-of-a-kind pieces for your event lounge including our Urban Dining Chairs. Then mix in unexpected shapes with our Triangle China and Como Flatware.  Fill our Hungarian Baby Baby (or Galvanized Tub) with a chilled beverages for a party your guests will remember!
Product details: Urban Dining Chairs, Fruitwood Farm Table, Remington Gunmetal Bistro Table & Barstool, Como Flatware, Triangle China, Wedgewood Blue Poly Linens, Hungarian Baby Bath
Planning an event with an industrial design?  Check out our Urban Industrial Collection or email us at info@southerneventsonline.com to reserve these rentals for your next event.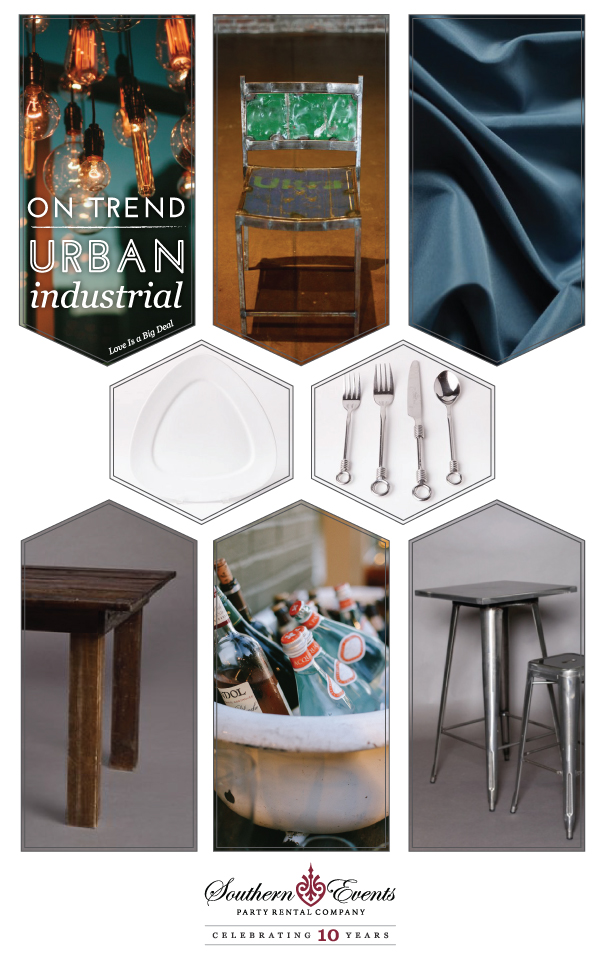 TAGS | Industrial Furniture, Nashville party rentals, On Trend, Southern Events Party Rental, Southern Events Party Rental Company, corporate event design, corporate event rentals, corporate event style, urban furniture, urban industrial furniture rentals
FEATURED RENTALS | Urban Dining Chairs, Fruitwood Farm Table, Remington Gunmetal Bistro Table & Barstool, Como Flatware, Triangle China, Wedgewood Blue Poly Linens, Hungarian Baby Bath
---
10

Mar

On Trend, Southern Events Products
We've gathered opulent, elegant details that would be perfect for a corporate conference, awards ceremony, gala, or fundraiser. Gold details, from the china to the linen patterns and flatware, will add opulence and warmth to any drab conference center or neutral space. Our Fruitwood Bistro Tables are a unique alternative to the standard bistro or cocktail table, with a natural surface that keeps the overall event design fresh and on-trend. Add our Casablanca Lanterns and a few florals, and the scene is set for an elegant evening!
Product details: Hamlet & Ophelia Gold Rimmed China, Austin Gold Flatware, Gold Aurora Designer Linens, Shangri-la Faux-Silk Champagne Napkins, Madison and Carly Glassware Collections.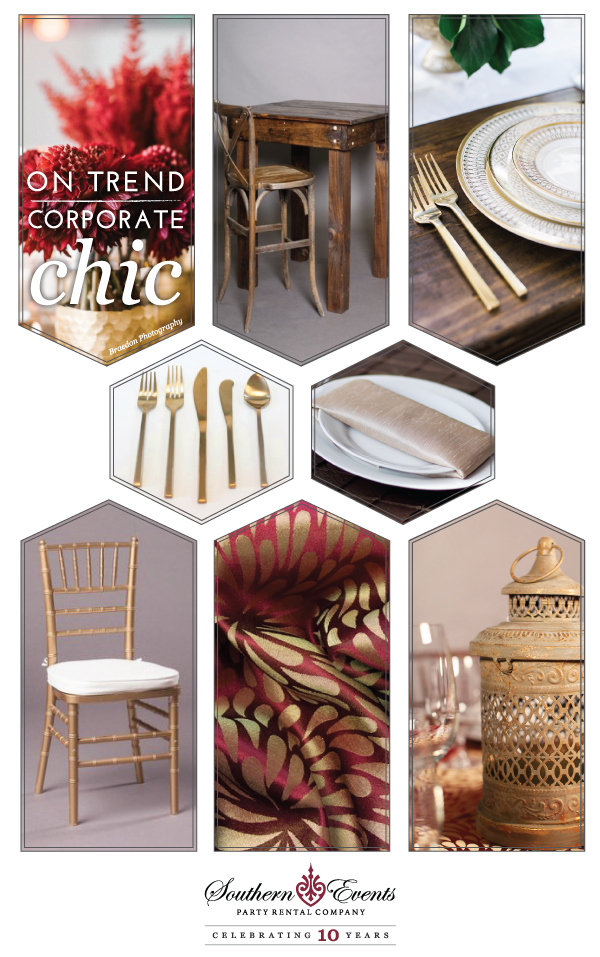 TAGS | Nashville Event Rentals, corporate chic, corporate event design, corporate event rentals, corporate event style, event rentals nashville, gala event design, gala event rentals
FEATURED RENTALS |
---