30

Sep

Nashville Venues, On Trend, Southern Events Products, Trends and Inspiration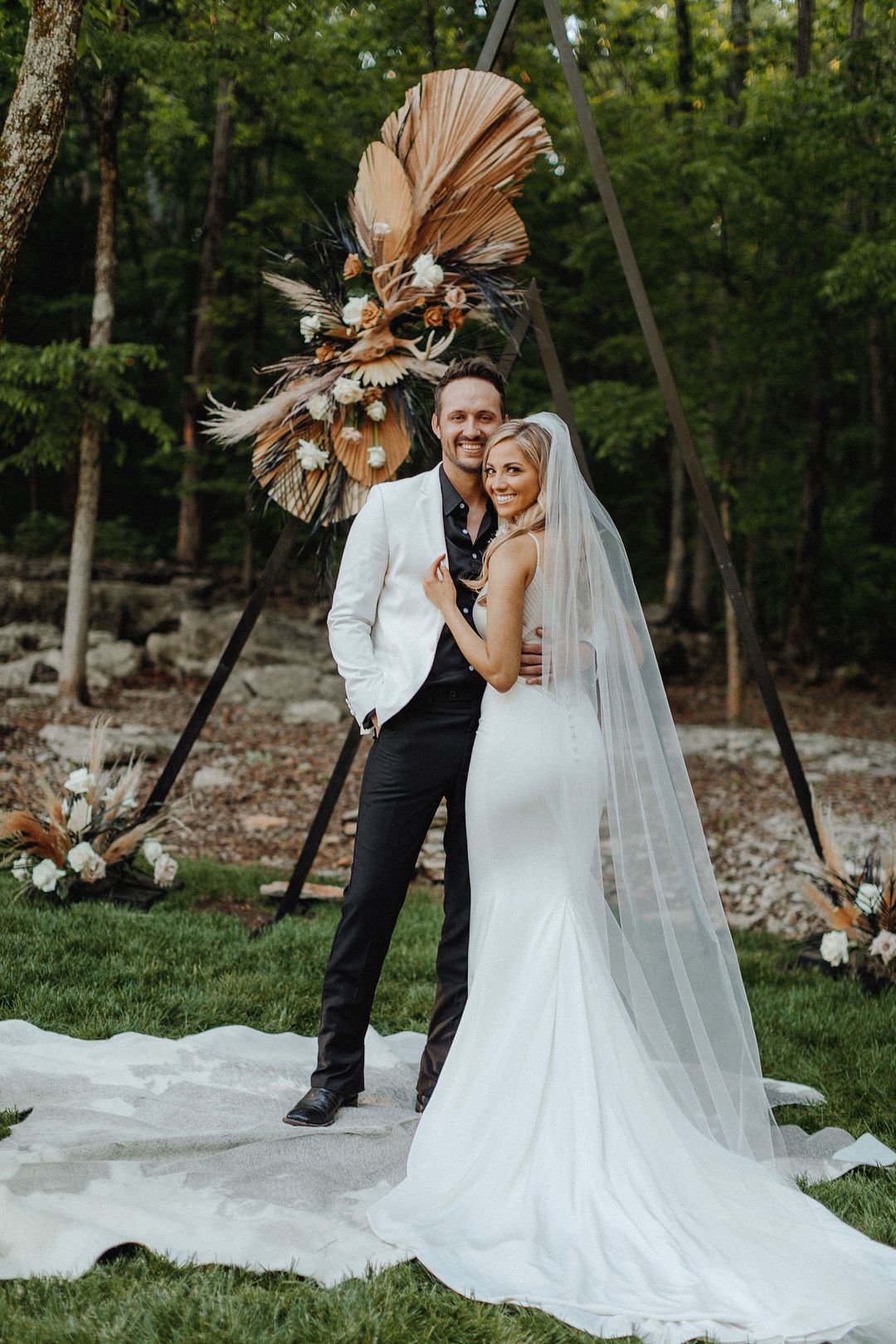 If you've been dreaming of an event that is equal parts moody and elegant, then you won't want to overlook the boho luxe style. Featuring beautifully contrasting colors and geometric details. Keep reading for some boho luxe inspiration from a recent wedding we participated in at Saddlewood Farms in Tennessee.
Hosted on the grass lawn, the wedding ceremony was a classic bohemian affair with luxe decor. Guests were seated in our simple White Folding Chairs. While the aisle was lined with Cowhide Rugs and arrangements featuring dried palms and fresh roses. For a backdrop, the two opted for a solid black Triangle Wedding Arbor. It was the perfect choice to ensure that the two stood out against the lush forest.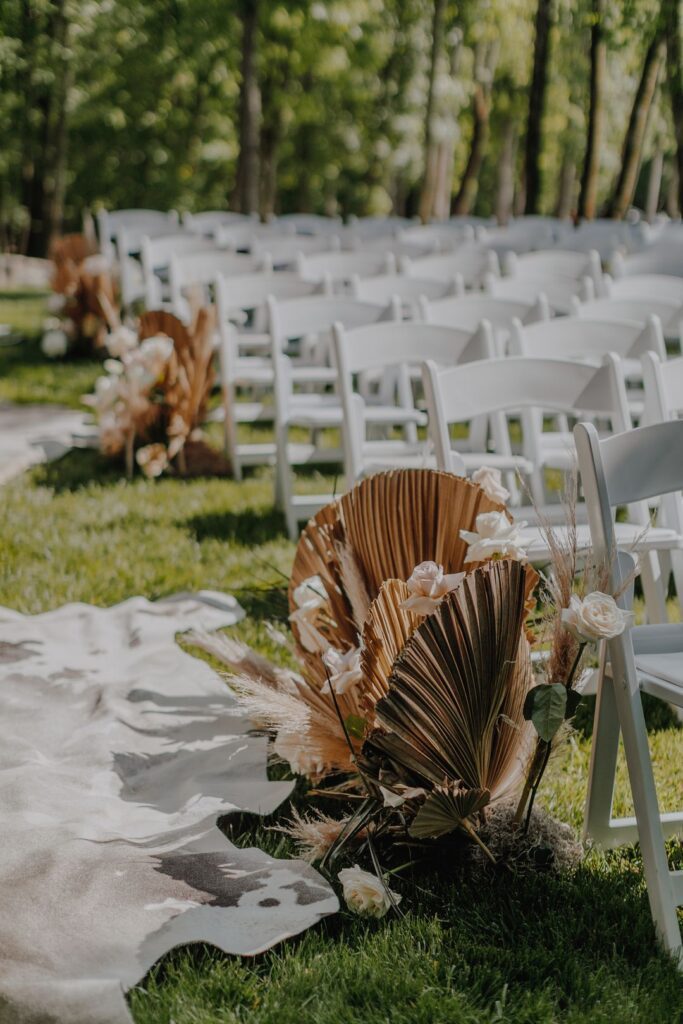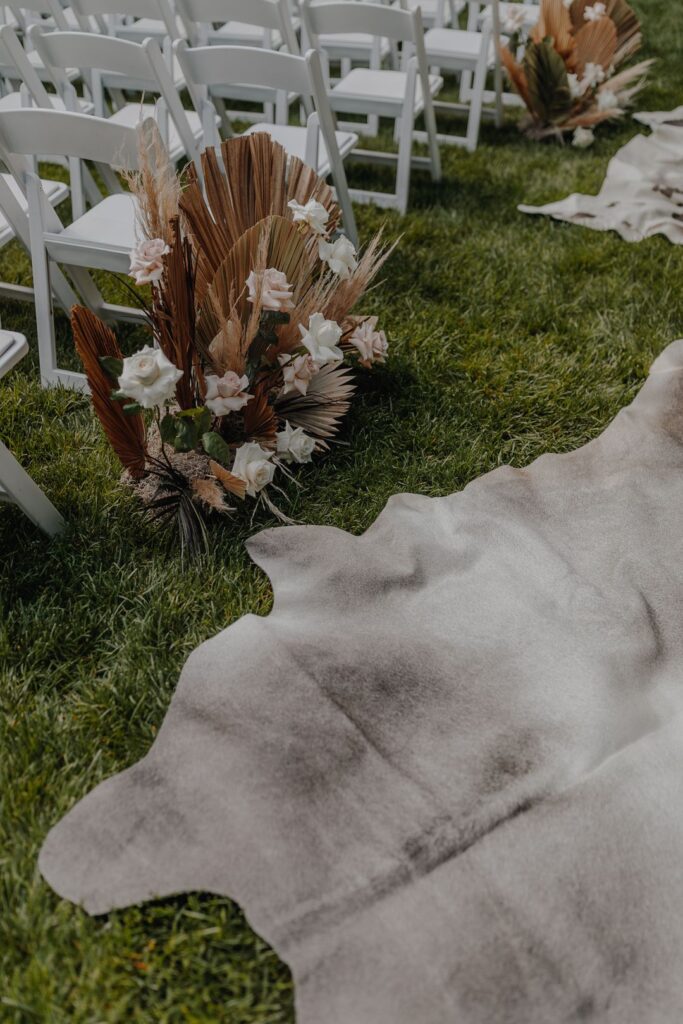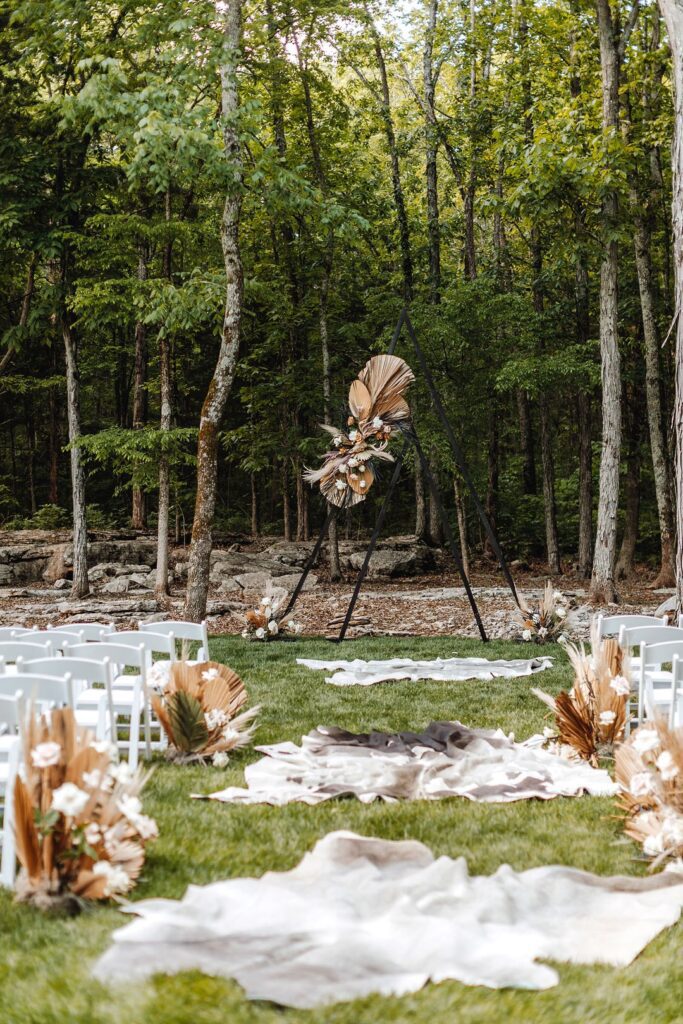 Afterward, they retired to the large reception bar, where string lights dripped from the ceiling and walls. The space was practically glowing, with the most beautiful soft light. Guests were immediately greeted by our white Harpeth Curved Bar, making it approachable from any side. For a one-of-a-kind look, don't forget to opt for a custom bar sign!
The dinner tables were outfitted in slick black linens with short floral centerpieces that lent a fun touch of texture. They were set with our Classic White Square China, Hammered Flatware, and Davis glassware. For linens, they opted for our stunning Azalea Poly, a moody yet feminine color. The couple's sweetheart table was equally luxe, featuring our Fruitwood Farm Table with Ghost Acrylic Armless Chairs. Davis Glass Cylinders sat on the floor with pillar candles, making it especially romantic.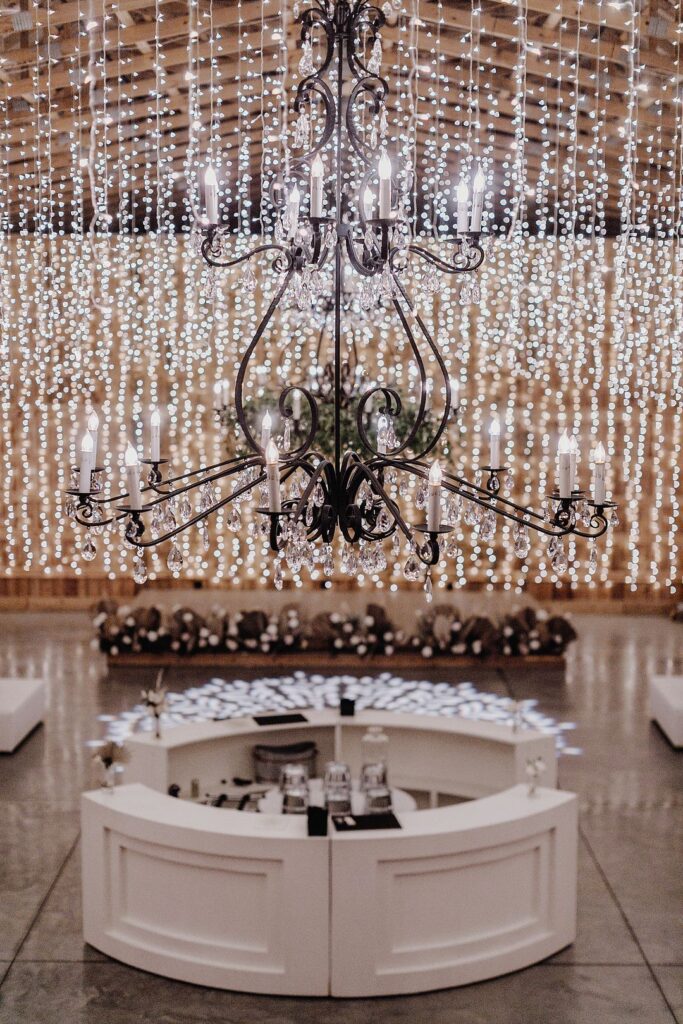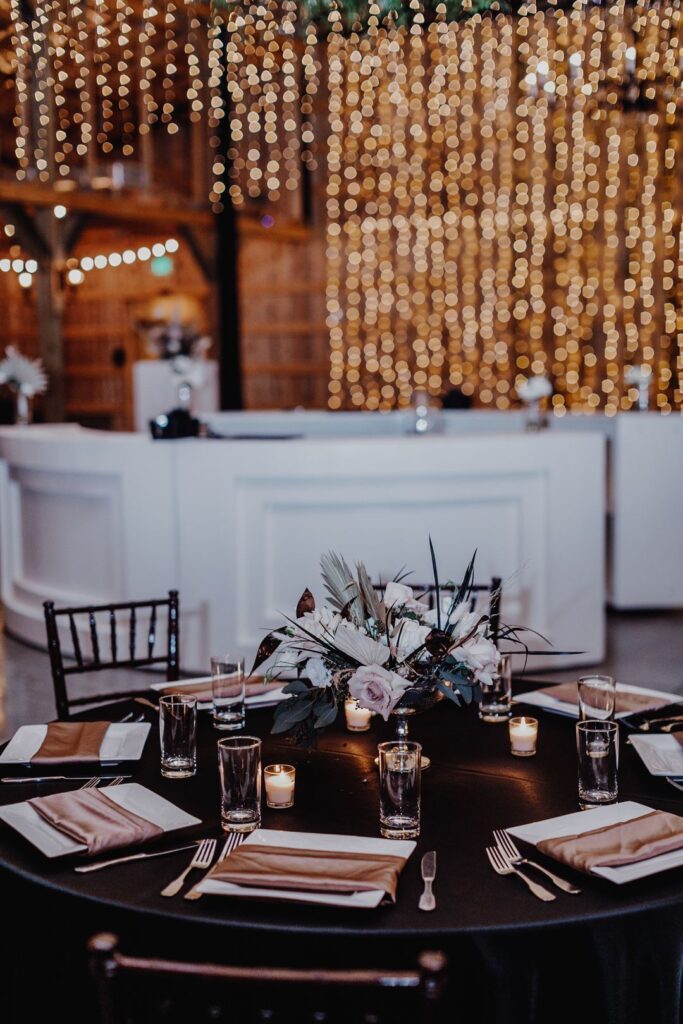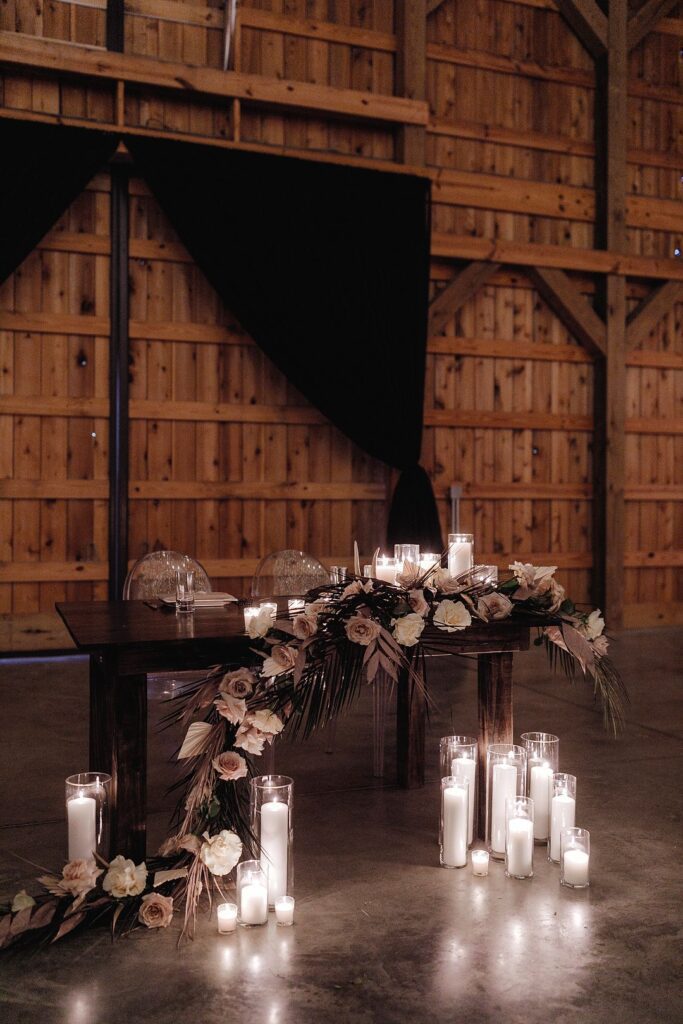 Of course, what is a wedding without designated areas for mingling? Flanking the bar was our sleek white Mercer Lounge. It was topped with matching florals and soft pillows – to make it extra cozy! To ensure guests could make full use of the lush event space, other small lounges sat just outside the barn. Including small accent tables, where people could set their food and drinks. They were decorated with pure black linens that manicured lawn.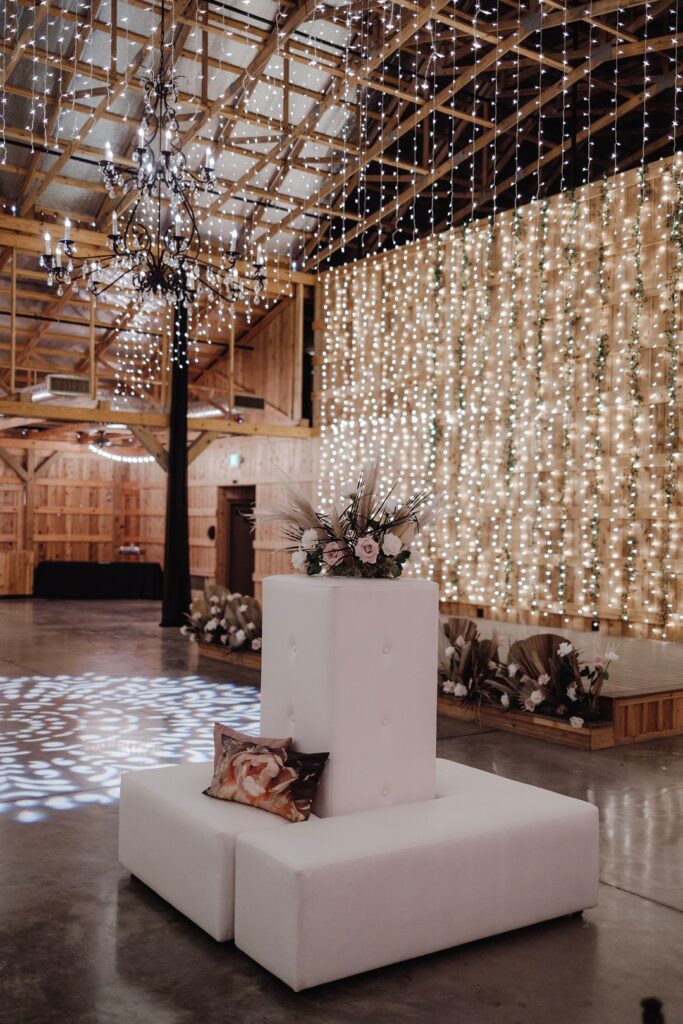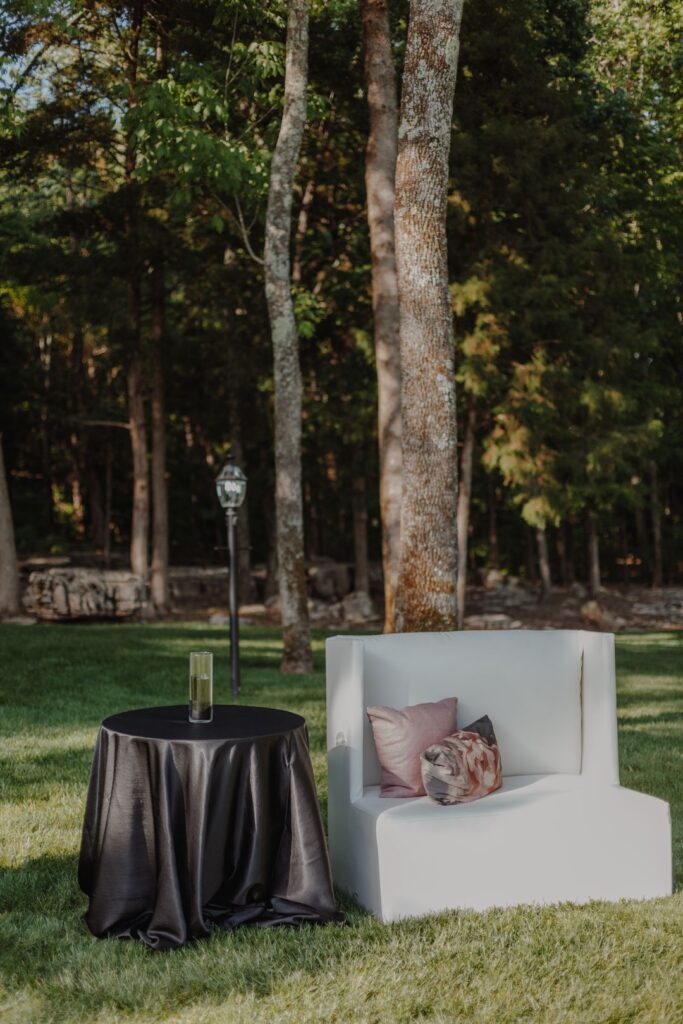 Special shoutout to Brasspenny Photography for sharing the images from this pair's day with us!
Love this boho-luxe inspiration? Contact our team at info@southerneventsonline.com & let's start planning your own event! Or for more event inspo, take a look at our blog on bold boho diva or modern retro rentals.
TAGS | Boho Luxe Event Decor, Boho Wedding Nashville, Saddlewood Farms, boho wedding style, luxe event rentals, luxe outdoor wedding, southern boho style
FEATURED RENTALS | White Folding Chair, Cowhide Rug, Triangle Wedding Arbor, Harpeth Bar, Square White China, Black Farm Table, Mercer Lounge, Acrylic Ghost Chairs, Davis Glass Cylinders, Davis Glassware, Bradley Flatware,
---
10

Jun

On Trend, Southern Events Products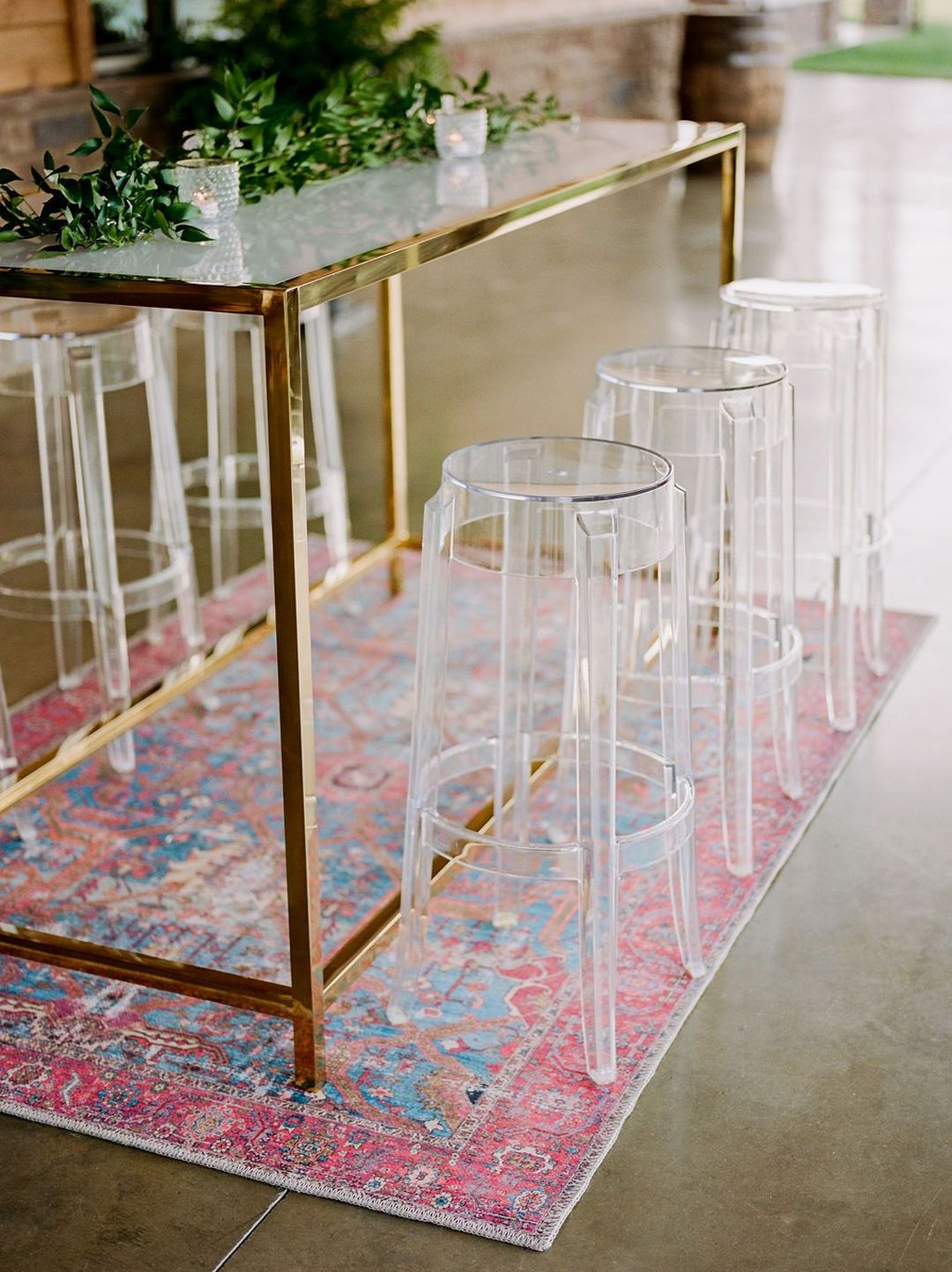 Functional and stylish rentals, Southern Events offers a range of area rugs for events & weddings. Although simple, a beautiful decorative rug will lend to an all-around cohesive event space. Whether they are used to line an aisleway or placed beneath the featured furniture. You go to major lengths to decorate and furnish the space in a way that aligns with your event, and the floor is the foundation! Take a look at our in-stock area rugs and how you can feature one or several at your upcoming Nashville event.
Tie it All Together
Area rugs are more than just decoration. Take for example the use of layered rugs as an aisle runner. Our Brown & White Cowhide Rug and Dark Brown Cowhide Rug are perfect for a trendy urban desert wedding ceremony. Meanwhile, our vintage-inspired rugs look stunning for a cozy, boho-themed affair. Feel free to layer them up or use one standalone alongside a ceremony backdrop.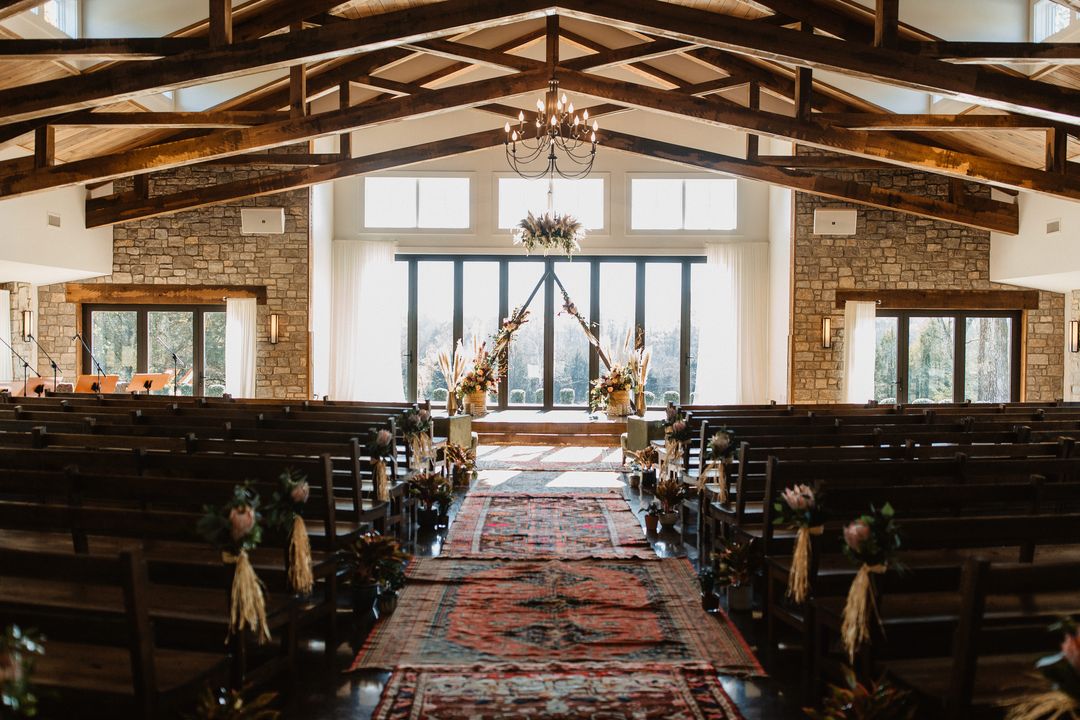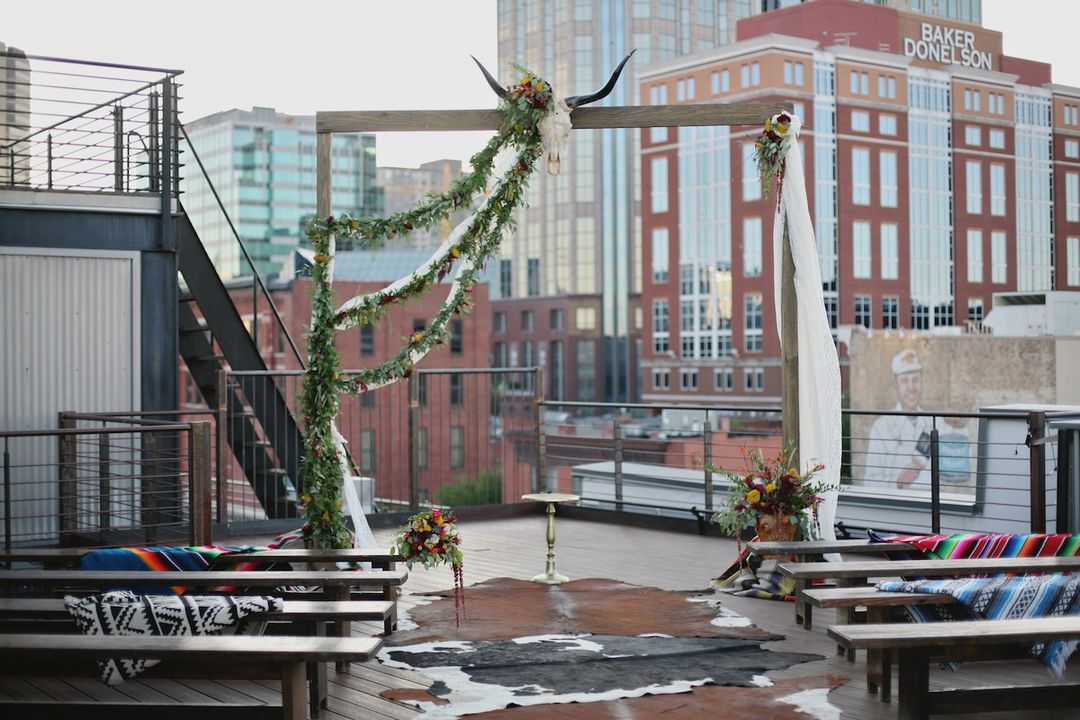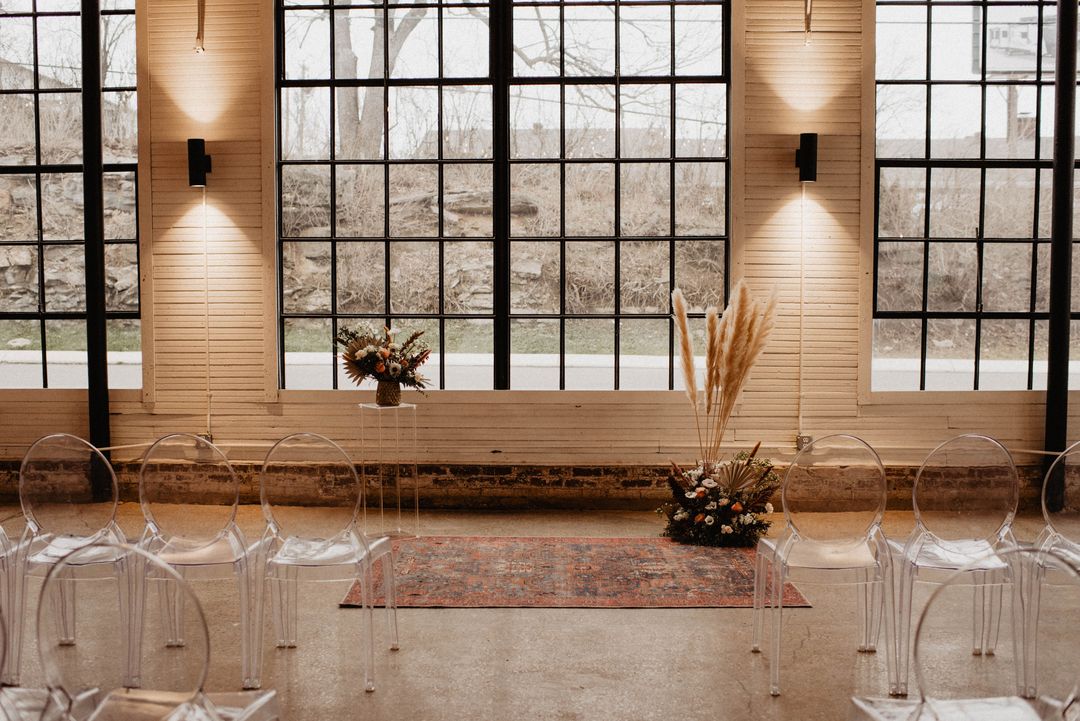 Photo by Renrose Photography
Frame a Space
Rugs assist in creating a frame in which to place the furniture. A trick that is especially useful for social areas, like a cocktail lounge. Consider using a rug to lead guests from the bar to a lounge area. It will help prevent your guests from huddling around the bar and encourage them to sit down, get comfortable, and stay for a while. See how our clients have used a range of area rugs for events & weddings, including our Navy and Aqua Rugs.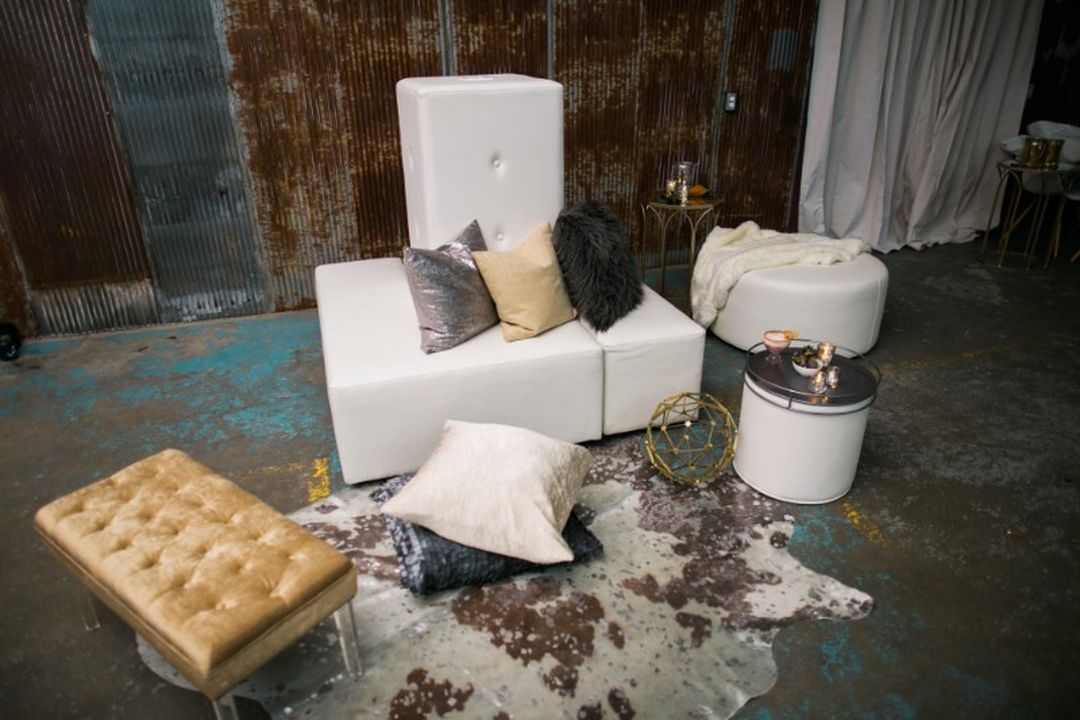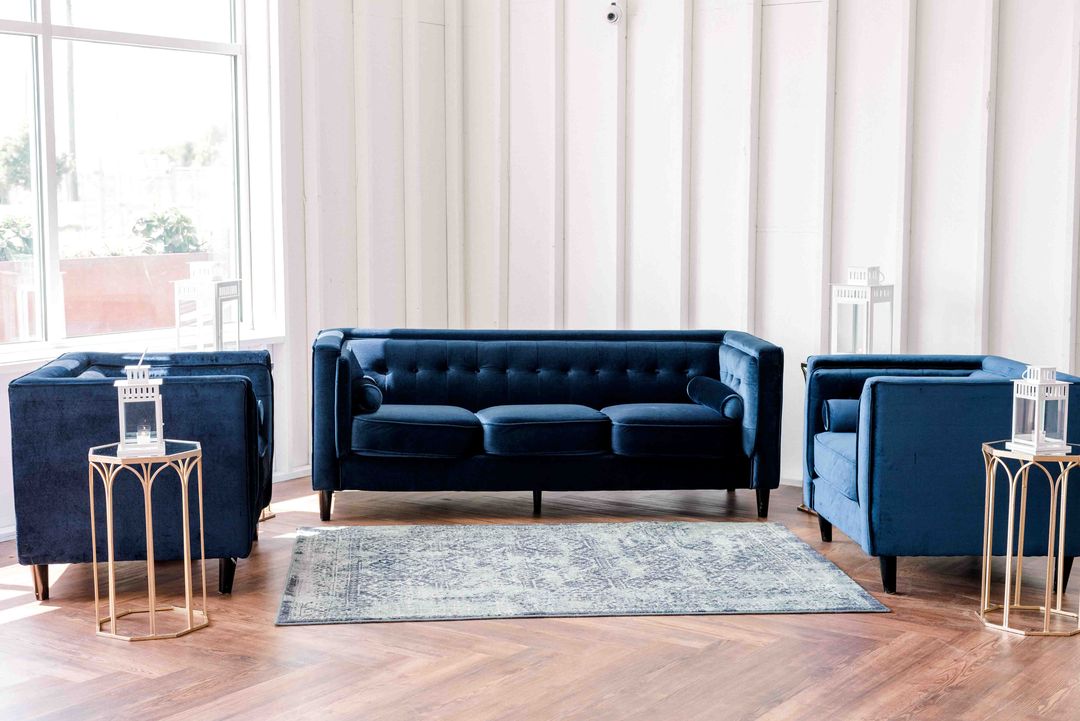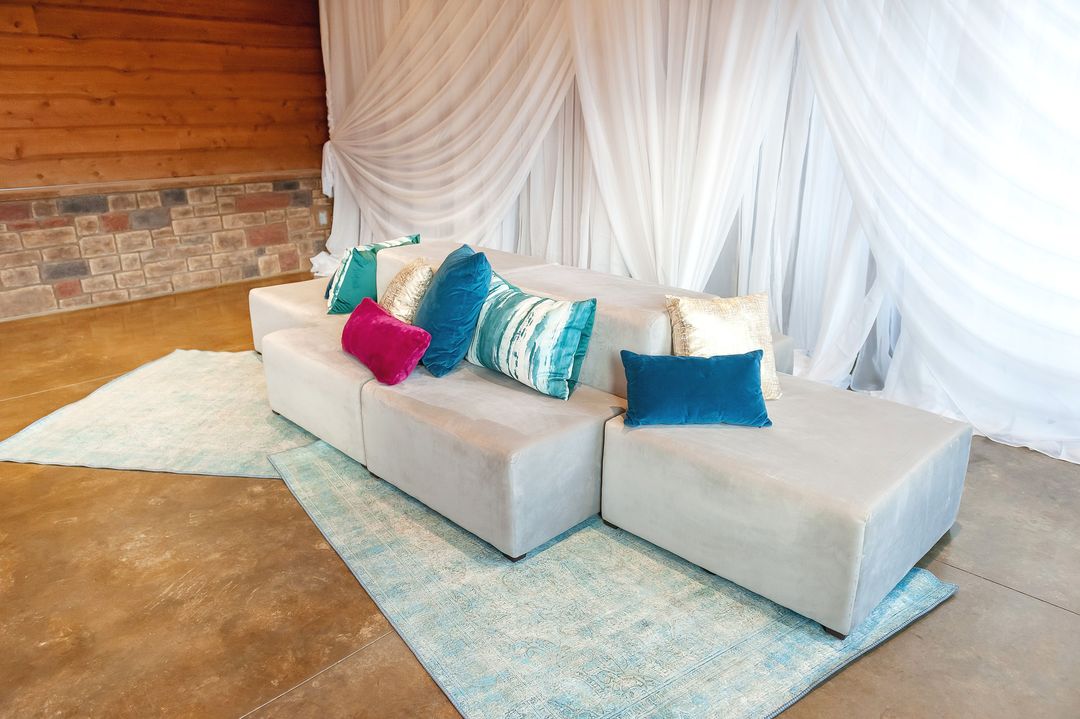 Photo by Megan Stark
A Cohesive Design
Similar to cocktail lounges, rugs can be placed beneath standalone furniture to help create a more cohesive aesthetic. Without one, it can feel as though your furniture may float away! A rug can also help tie different areas together that would otherwise look out of place. Featured below, our vintage Blue-Red Rugs were used to accent a whiskey-barrel bar and create a charming buffet area. And to create a stylish outdoor cocktail area, it was placed beneath our Loren Gold Bistro Table.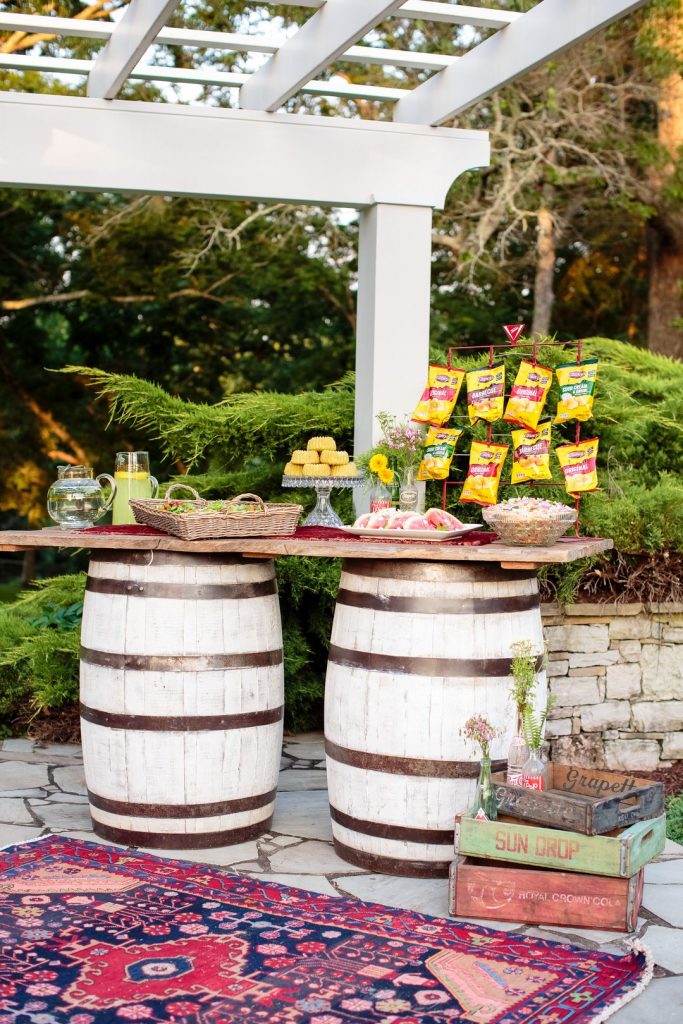 Photo by Erin Lee Allender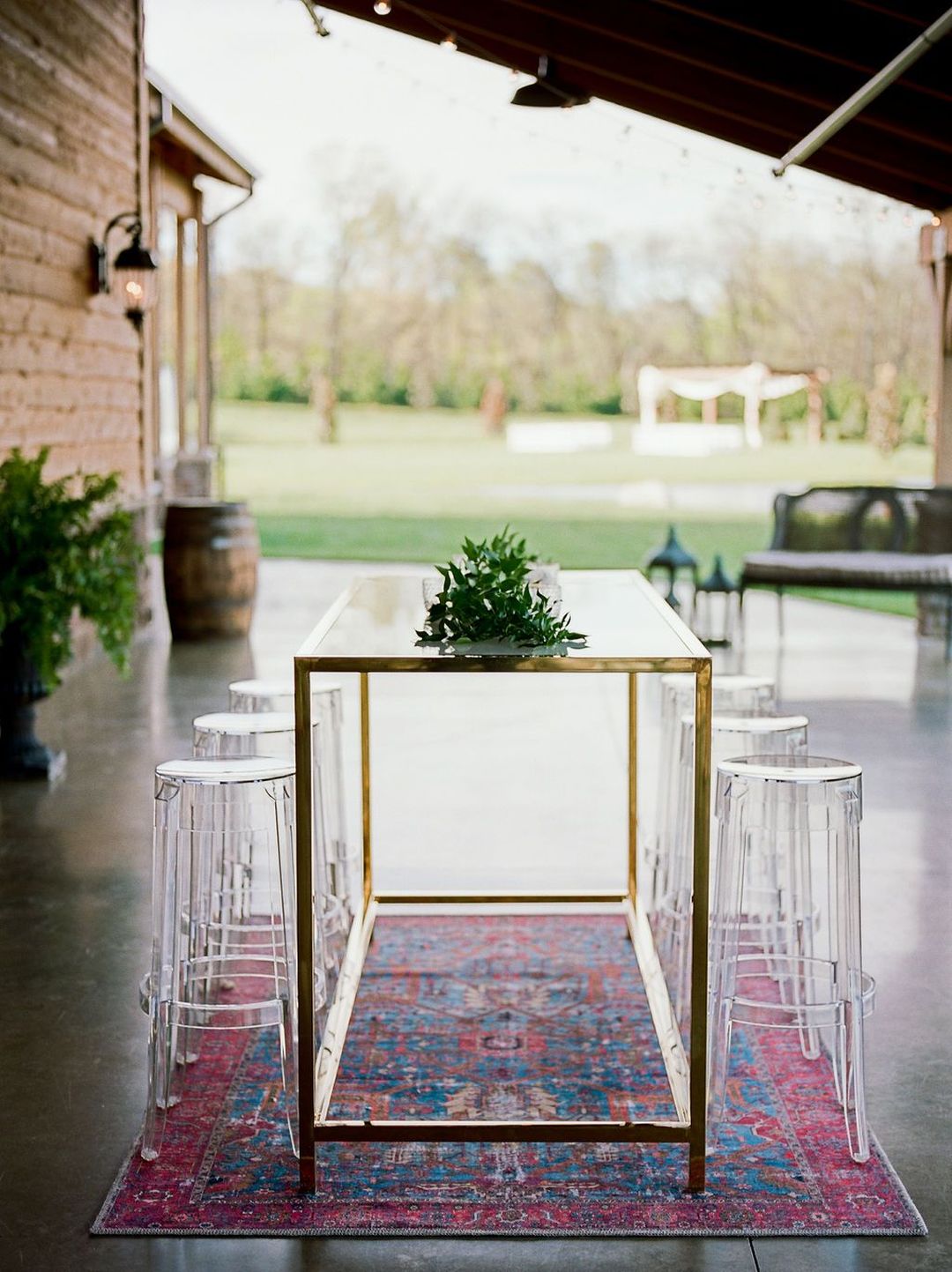 Photo by Jenna Henderson
Want something that provides more stability than a rug? Our Dura-Trac Flooring is a great option! It is made of high-quality materials and can be customized to fit any size you may need. Plus it is a safe, slip-resistant surface that can be used over a variety of terrains. Plus, you can still place one or more of our trendy area rugs on top to create a cozy atmosphere.
If you have an upcoming event and are looking to create a unique space with area rugs we'd love to chat with you! Send us a message at info@southerneventsonline.com for help or additional event inspiration!
TAGS | Area Rugs, Boho Wedding Nashville, Cocktail Party Rentals, Cow hide rug, Nashville Corporate event Rentals, Nashville Event Rentals, Nashville furniture rentals, Nashville party rentals, Vintage Rugs, cocktail hour, corporate event design, corporate event rentals, cowhide rugs, wedding event design
FEATURED RENTALS | Blue-Red Rug, Brown/White Cowhide Rug, Dark Brown Cowhide Rug, Gray Cowhide Rug, Navy Rug, Metallic Cowhide Rug, Loren Gold Bistro Table, Pearce Modular Lounge,
---
30

Dec

Real Nashville Weddings, Southern Events Products
Jill and Jacob's were wed at Wren's Nest, the perfect setting for a relaxed, woodland wedding full of vintage and rustic details. The Bride & Groom were seated in our Constance Vintage Chairs, while dinner was served on our Heirloom China. Guests lounged on our Rosie + Christopher Ivory Vintage Chairs and Barnwood Couch, paired with our Leona Vintage Coffee table. Props to Enchanted Florist for creating those lush, beautiful floral arrangements – we love those gorgeous garlands draped across the banquet tables! All of the details really came together to create an romantic, woodsy scene for the happy couple to commit their love.
Thanks to Krista Lee Photography for capturing the day so perfectly!
TAGS | Boho Wedding Nashville, Enchanted Florist, Krista Lee Photography, Outdoor Wedding Ceremony, Southern Events Party Rental, The Wren's Nest, Unique Wedding Rentals
FEATURED RENTALS |
---