14

May

Southern Events Products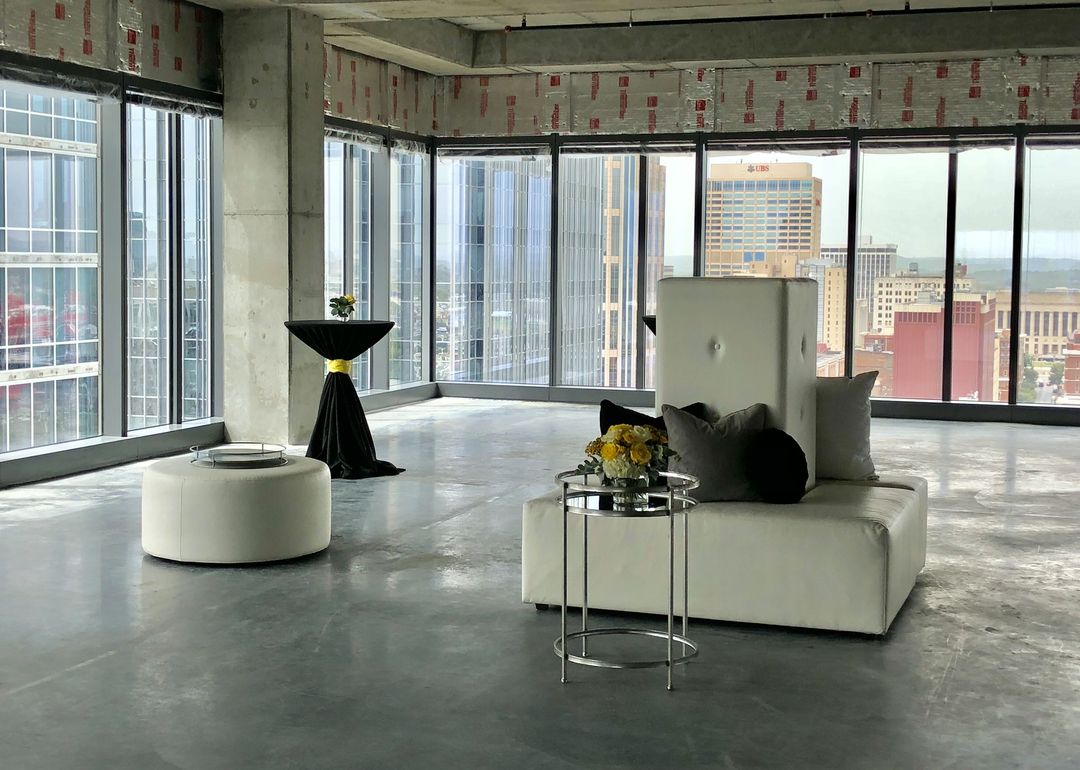 Furniture with sleek features, straight lines, and smooth and shiny surfaces – hello modern event lounges! Modern furniture design often focuses on simple geometric shapes rather than heavy or excessive ornamentation. The following event lounge packages are free of busy lines and color schemes, which lend a simple, elegant and refined look.
Chic & Sleek
White, blue velvet and gold are a gorgeous trio in this chic and sleek modern lounge package. It features our stunning Saylor Navy Velvet Sofa, with its rich color and geometric tufts. The slender legs of the Rory Navy Velvet Chair complement the Rhodes Coffee and Side Tables. The stark white tops are a beautiful contrast next to the surrounding sea of navy.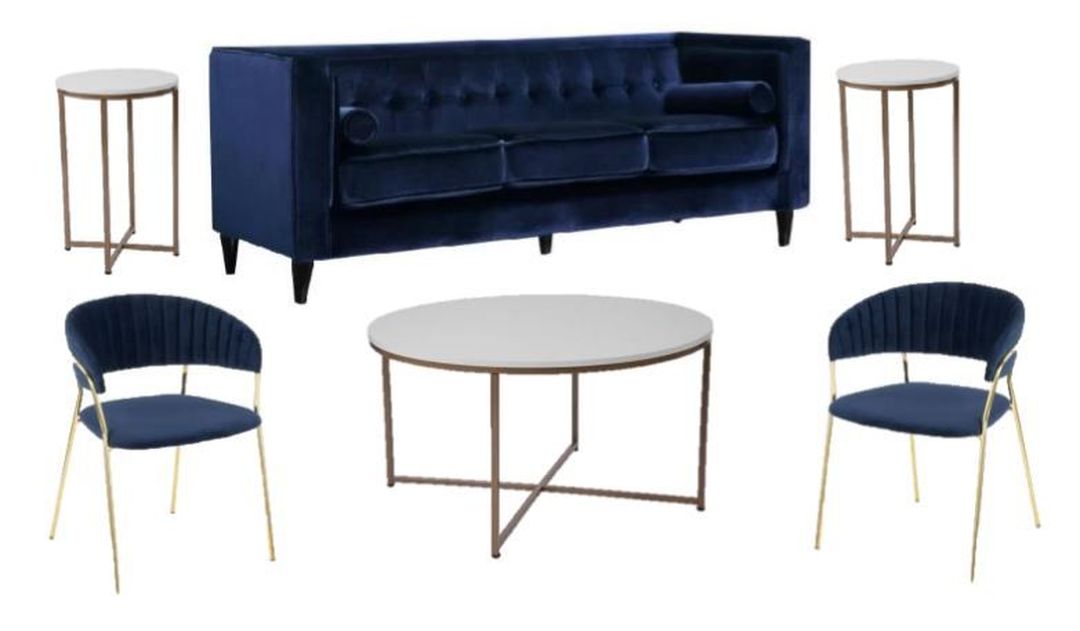 Classic Black & White
If you are looking to make a statement, this black and white event lounge is a bold choice. The sleek Black & White Stripe Cabana Benches, striking and sharp, pulls from the Regent Black Velvet Sofa. This pattern adds a unique punch of character to the otherwise plain lounge area. Meanwhile, the Rhodes Coffee Table and Rhodes Side Table add a subtle but luxe gold accent into the mix.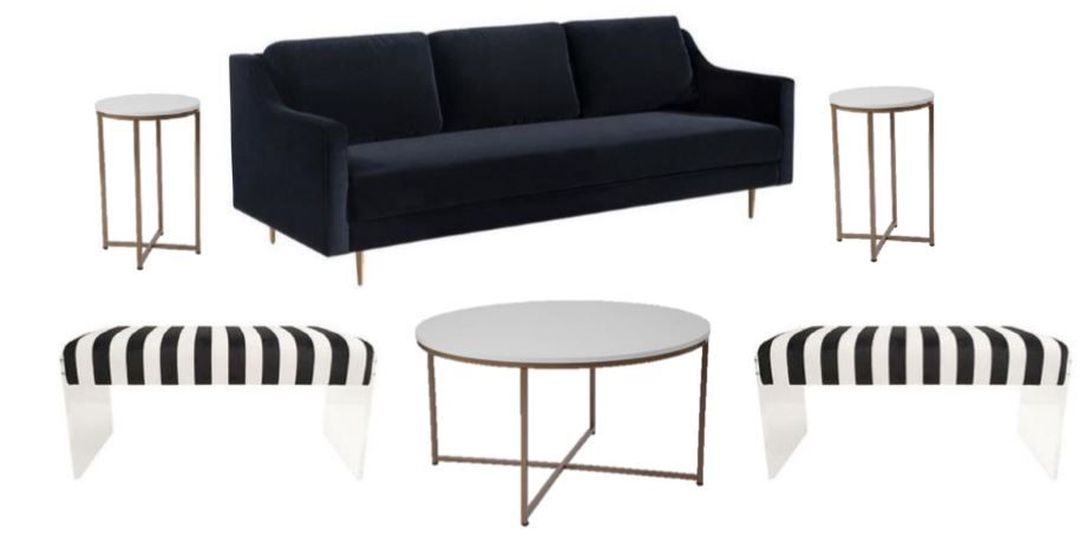 Modern Glam
Featuring black and white, this modern glam lounge is sleek and a little flashy. Blocky furniture, like the Santorini Off-White Sofa and Santorini Off-White Loveseat, appears visually sharp yet is cozy – promise.  It pairs perfectly with our white Siros Coffee Table. The cylindrical shape of the Echo Silver Mirror Side Table provides a bit of relief from the geometric dominated space, while a Black-Silver Rug ties it all together. (Learn why rugs are essential for creating a functional space!)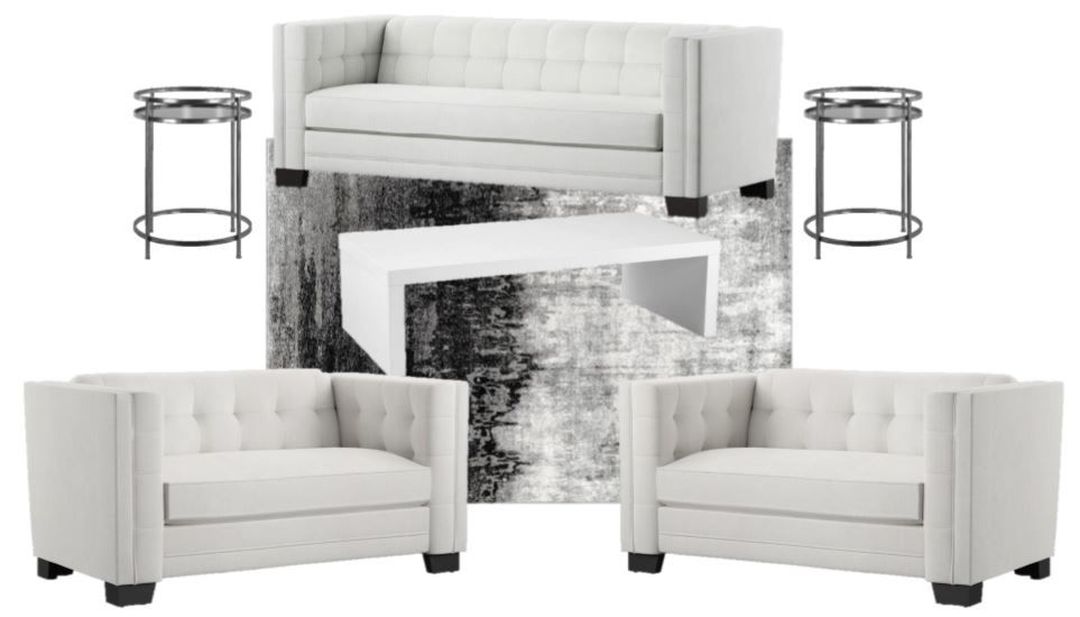 Simplistic
Primarily functional, this simplistic modern event lounge setup features neutral tones with a touch of gold. The Regent Black Velvet Sofa is clean but inviting, with its plush velvet cushions. One of the most popular modern furniture designs, the White Eiffel Arm Chair will tempt all of your guests, with its unique shape. Each piece is subtly connected, via solid colors and geometric angles, such as the legs of the Rhodes Coffee Table.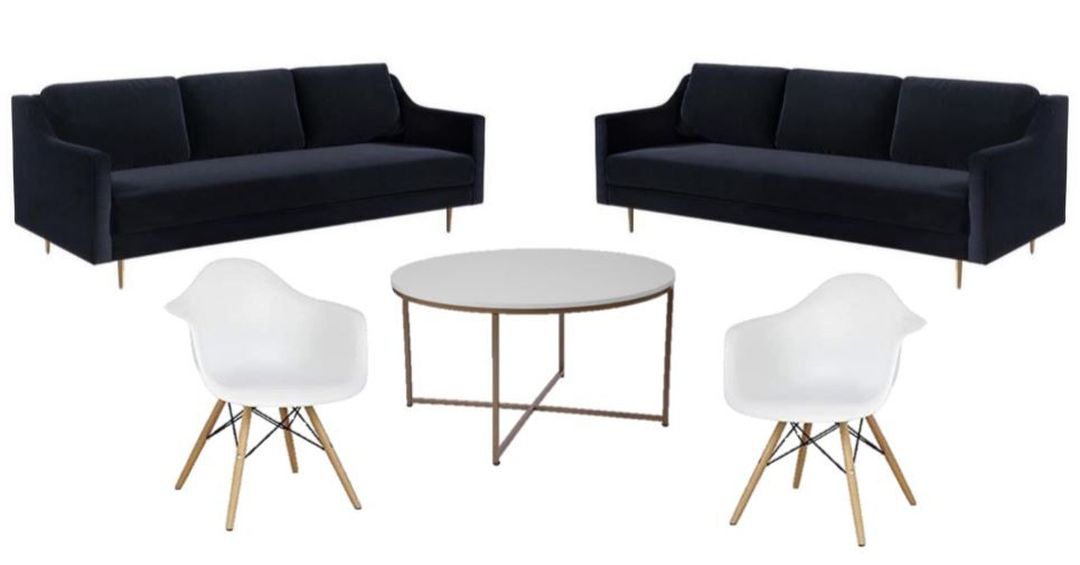 Contemporary
With a mix of unique shapes and textures, this social area will be a big draw. It consists of the Mercer White Leather Couch, Mercer White Leather Ottomans, Acrylic Ghost Arm Chairs and a Nickel Grey Bench. This package is the definition of contemporary, with simple geometric shapes and smooth surfaces. We are especially fond of acrylic elements, such as the armchairs and bench legs, which are sleek and stylish.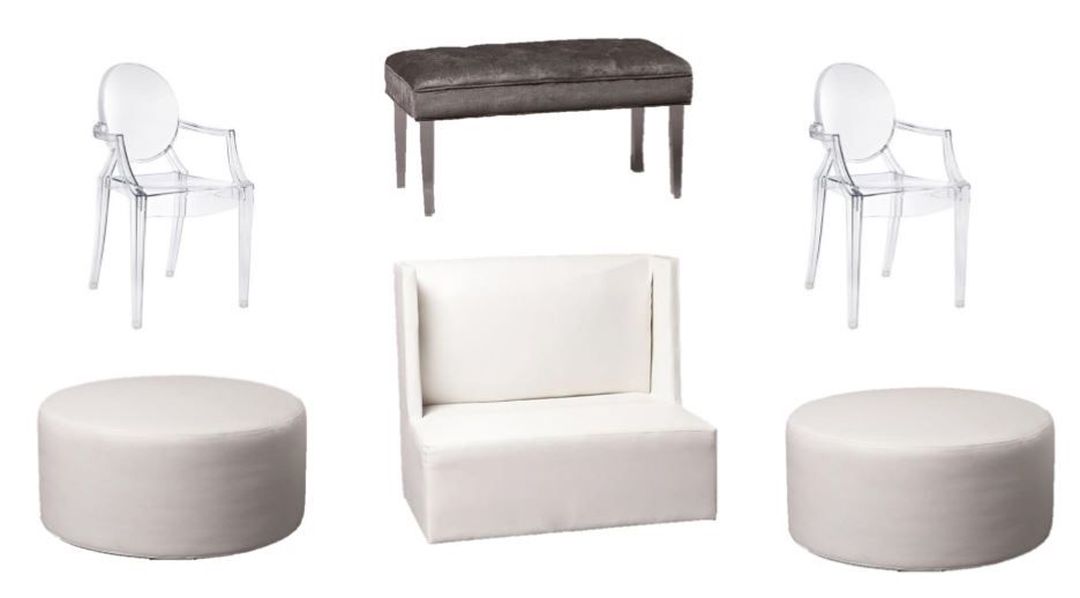 Loving these sleek and modern event lounge designs? See more options event lounge packages or contact our team today to book one for your wedding or event!
TAGS | Lounge Furniture, Lounge Furniture Packages, Modern Event Lounge, Modern Lounge Furniture, lounge, lounge areas
FEATURED RENTALS | Regent Black Velvet Sofa, Black & White Stripe Cabana Bench, Rhodes Coffee Table, Rhodes Side Table, Saylor Navy Velvet Sofa, Rory Navy Velvet Chair, Rhodes Coffee Table, Rhodes Side Table, Navy Rug, Santorini Off-White Sofa, Santorini Off-White Loveseat, Siros Coffee Table, Echo Silver Mirror Side Table, Black-Silver Rug, Regent Black Velvet Sofa, White Eiffel Arm Chair, Rhodes Coffee Table, Mercer White Leather Couch, Mercer White Leather Ottoman, Nickel Grey Bench, Acrylic Ghost Arm Chair
---
27

Jul

Southern Events Products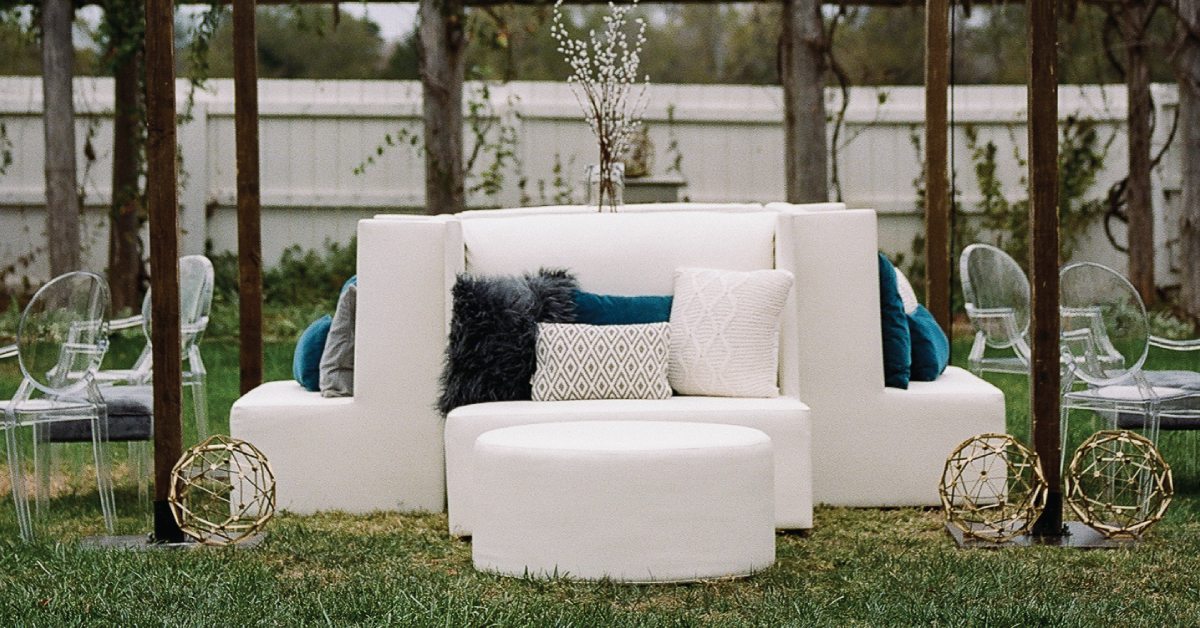 Adding a lounge area to your next meeting or company gala is no longer just a fun design element to include – it's now an anticipated staple for any modern event. The perfect place for your guests to mingle and relax, lounge areas bring people together and adds personality and intimacy to a large event space. Whether your guests are enjoying cocktails or conversation, they can more easily do so in comfort and style with lounge furniture.
Excited about the design addition, but lost when it comes to styling your own? We've made it effortless to add a lounge area to your next event with our Southern Lounge Packages. Whatever event is next on the docket – meeting, galas, wedding or cocktail parties – we've curated our most loved styles for your event lounge!
Formal Corporate Events or Galas
Our Lounge Package One combines clean lines, tufted accents and chic chrome for a buttoned up, black-tie event. With simple and neutral details like this, this package can be easily customized with pillows or florals to match your overal decor. Perfect for your next charity gala or formal corporate party.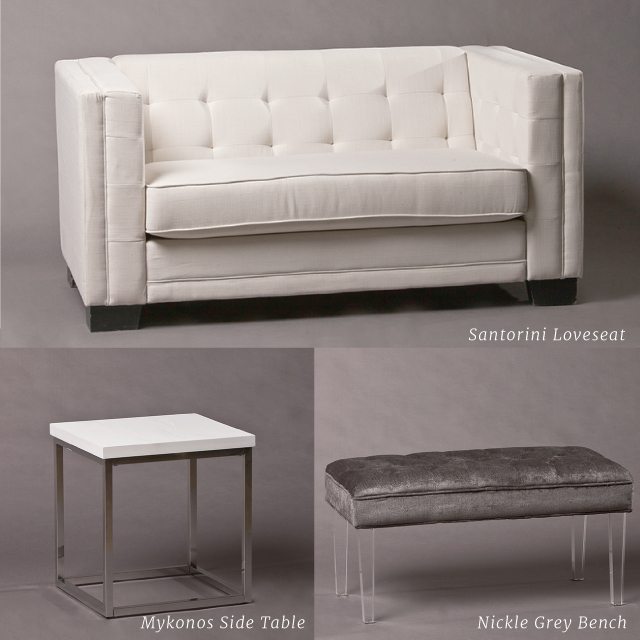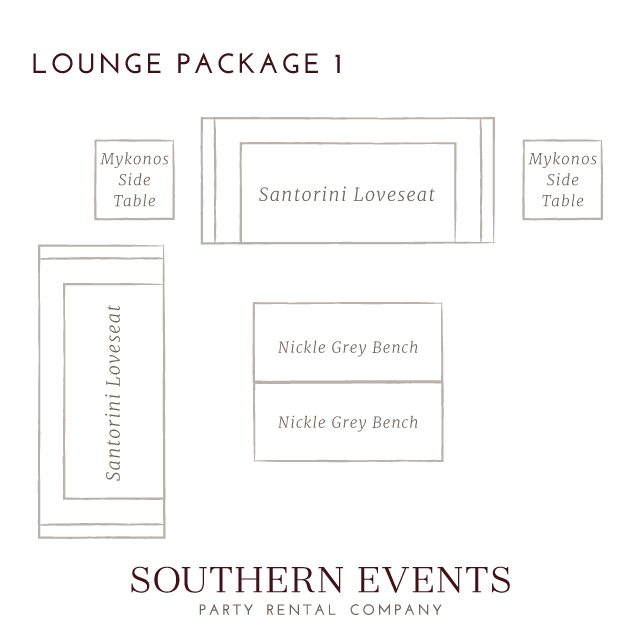 Or take black-tie to the next level with a black and white statement bench and silhouetted tables. Black and white chic gets a little more stylish with Lounge Package 20 – we especially love how elegant the Cece side table looks paired with the Chippendale chair.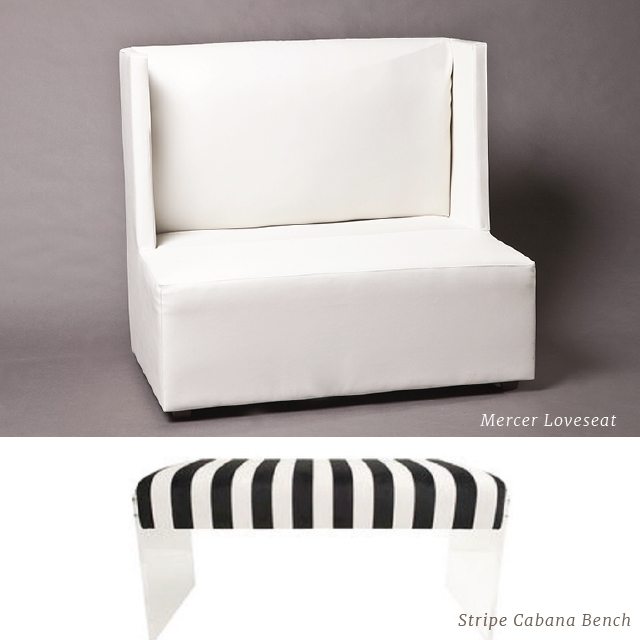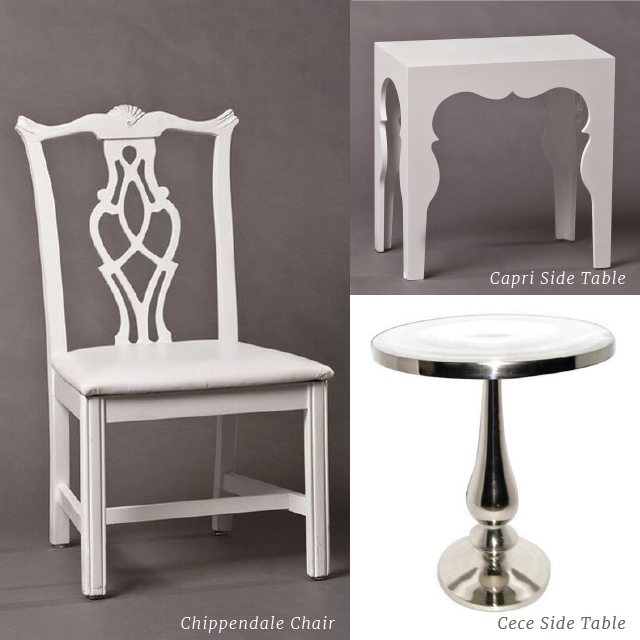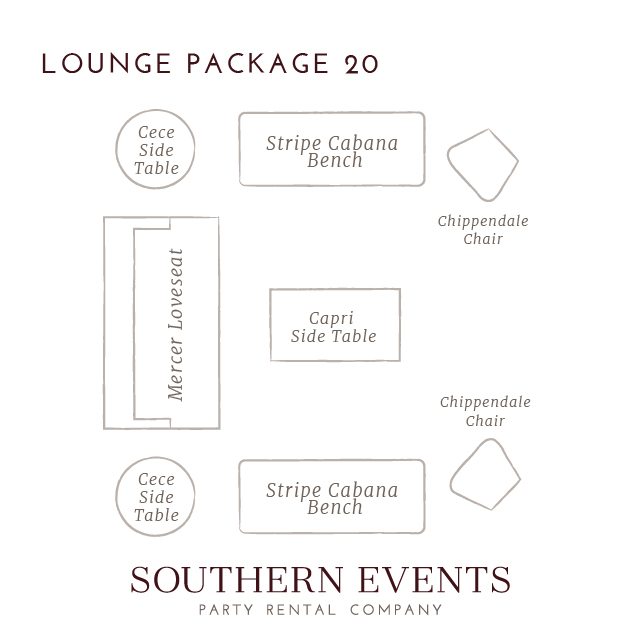 Have something else in mind? View the rest of our Lounge Furniture Packages or contact info@southerneventsonline.com for more information.
Meetings or Conferences
Sleek white leather matches nearly any company's logo colors, making these next Lounge Packages the ideal fit for your next corporate event.
Our Mercer L-Shaped benches are ideal for large corporate gatherings that need to provide comfortable, informal seating for guests in between panels, or trainings. More than that, these benches allow your colleagues to sit on either side which makes it easy to put in the middle of the venue since you know that sight lines will remain uninterrupted.
Pair them with our Mercer Ottoman and Cylinder or Mykonos Coffee Table for a simple and chic lounge area.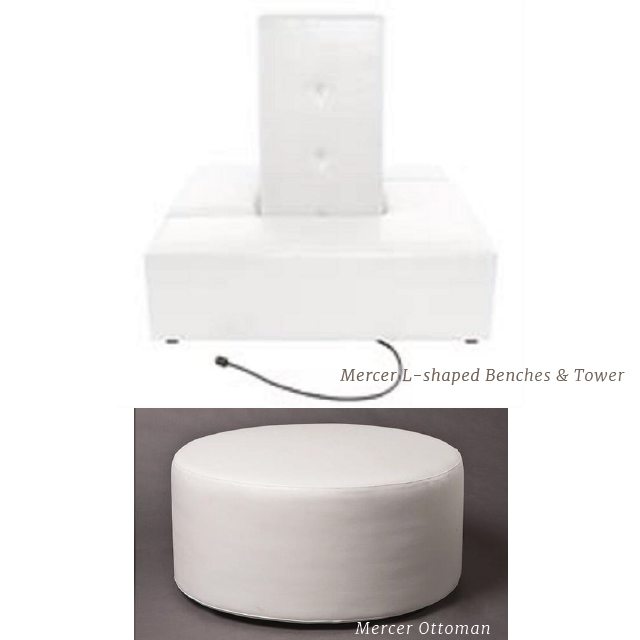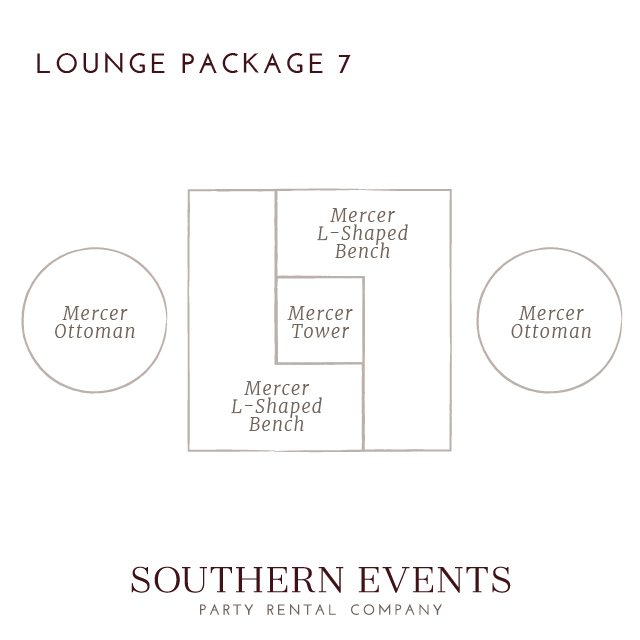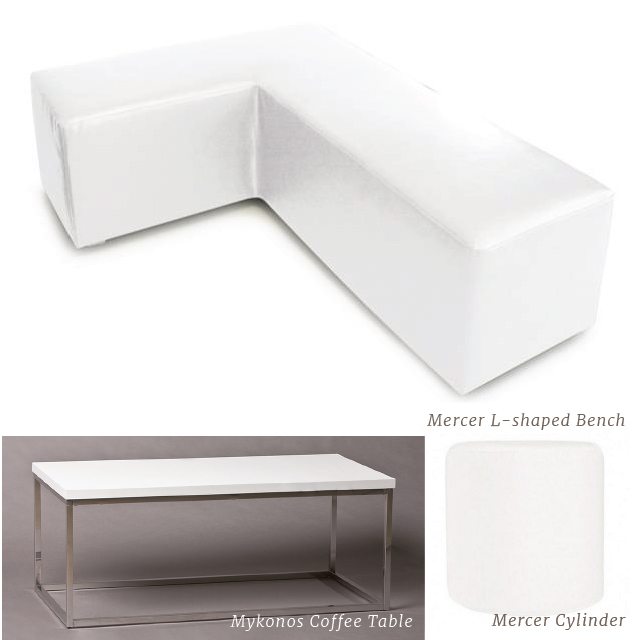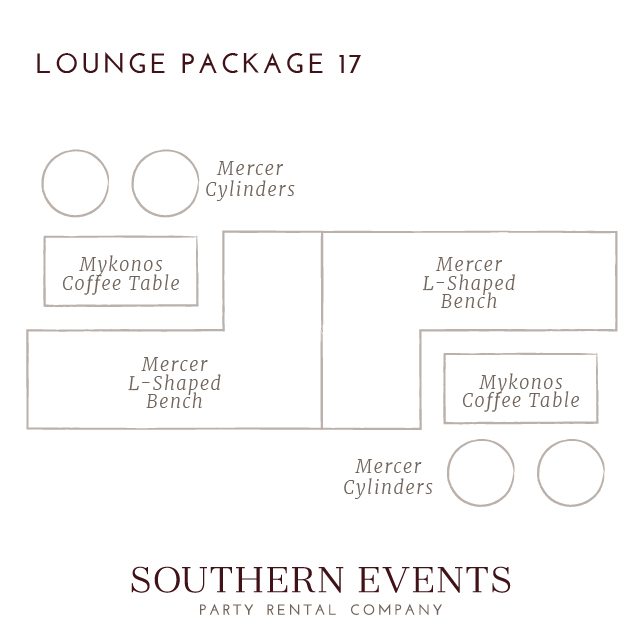 Have something else in mind? View the rest of our Lounge Furniture Packages or contact info@southerneventsonline.com for more information.
Company Cocktail Parties
Cocktail parties are a great way to show appreciation for your employees while allowing them to build camaraderie. Get people to do more than stand and sip – allow them to sit and socialize with a thoughtful lounge area! Our comfortable London Loveseat next to gold accented side tables is a stylish way to welcome guests, while the Eiffel Arm Chair adds an unexpected touch of modern flair to the design. Or, give your lounge a masculine feel with our Bennett Leather Sofa – perfect for a more rustic event venue.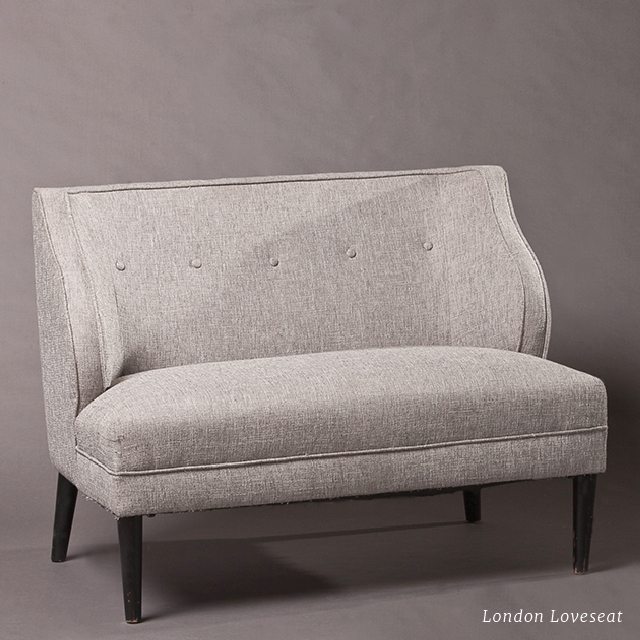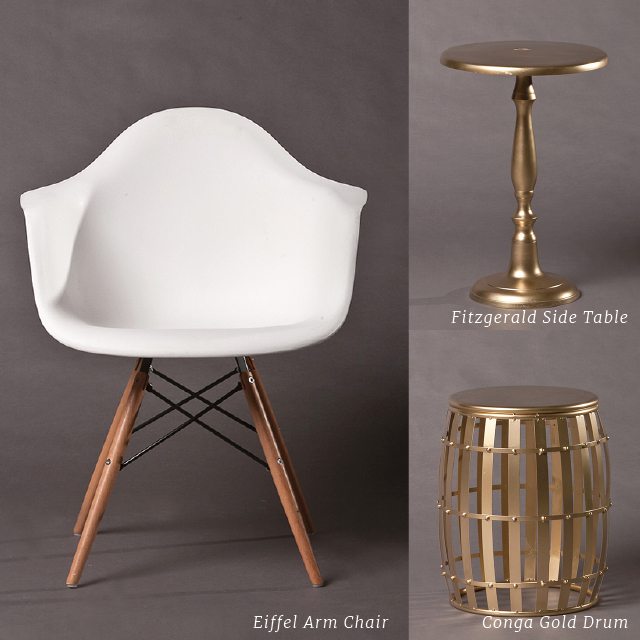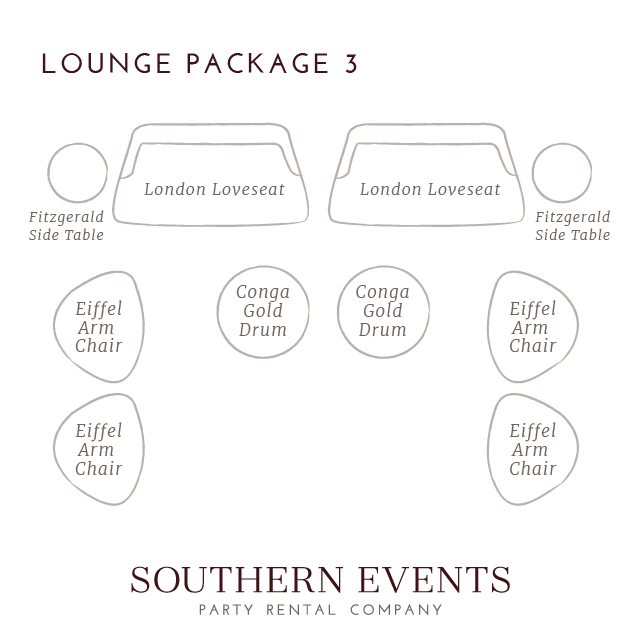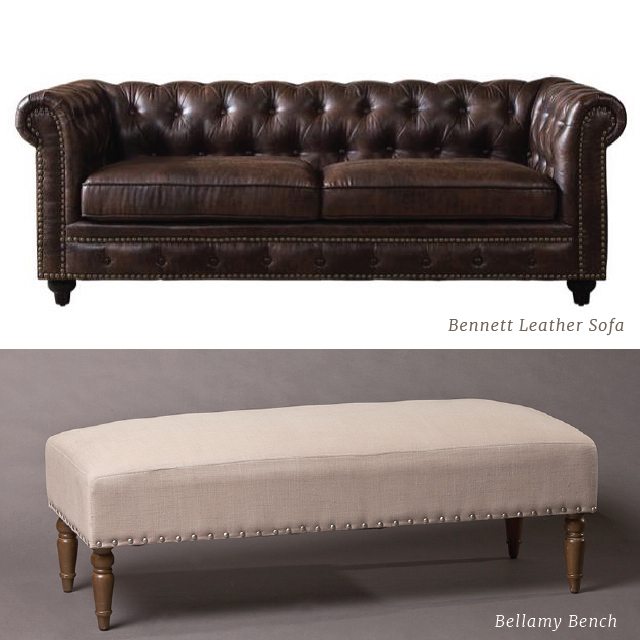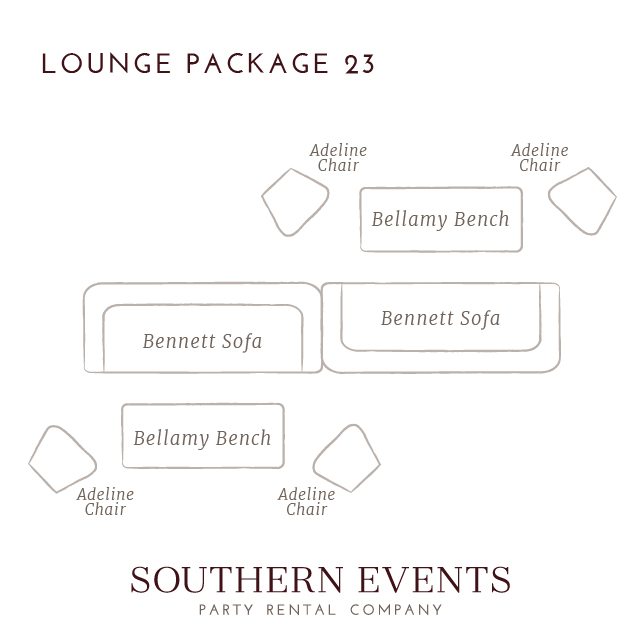 We're pleased as punch to be offering these new Lounge Furniture Packages in Nashville and thrilled to offer special pricing to celebrate! Book by August 15th, 2017 and receive special pricing for events through Nov 30, 2017. Contact our team at 615.595.8508 or by emailing info@southerneventsonline.com for more information!

TAGS | Adeline Chair, Bellamy Bench, Bennett Leather Sofa, Capri Side Table, Cece Side Table, Chippendale Chair, Conga Gold Drum, Eiffel Arm Chair, Fitzgerald Side Table, London Loveseat, Mercer Cylinder, Mercer Loveseat, Mercer Ottoman, Mykonos Coffee Table, Mykonos Side Table, Nashville Event Rentals, Nickle Grey Bench, Santorini Loveseat, Southern Events, Southern Events Party Rental, Southern Events Party Rental Company, Stripe Cabana Bench, cocktail hour, corporate event rentals, corporate events, corporate lounge furniture, corporate parties, gala, lounge, lounge packages, meeting
FEATURED RENTALS | Mykonos Side Table, Santorini Loveseat, Nickle Grey Bench, Mercer Loveseat, Stripe Cabana Bench, Chippendale Chair, Cece Side Table, Capri Side Table, Mercer Ottoman, Mercer Cylinder, Mykonos Coffee Table, London Loveseat, Eiffel Arm Chair, Bennett Leather Sofa, Fitzgerald Side Table, Conga Gold Drum, Bellamy Bench, Adeline Chair
---