9

Jul

Southern Events Products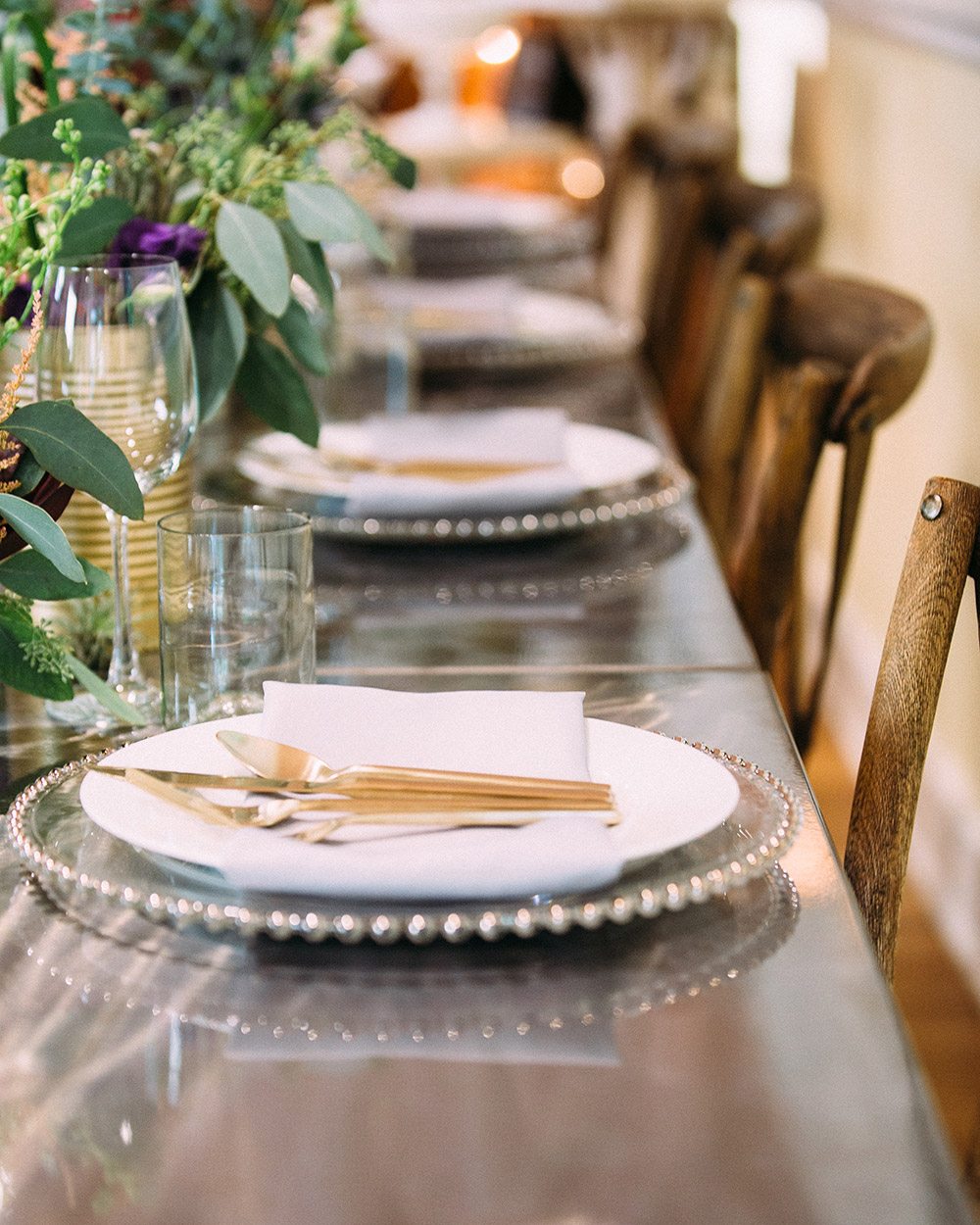 When hosting an event it is your responsibility and should be your goal, to provide a safe and comfortable experience for your guests. Check out some of our rentals that can be used to host safer Tenneesse events, plus get some helpful design ideas.
Use Rugs to Create More Space
In a post-corona world, you can expect guests to be wary about being in cramped quarters. Create more space by using rugs to widen aisles and walkways. This is especially helpful for common areas, such as entryways. You might also use a rug to block out space, say 6 feet, between lounge seating. Even better, rugs will lend a more cohesive look to your event, since they double as decor.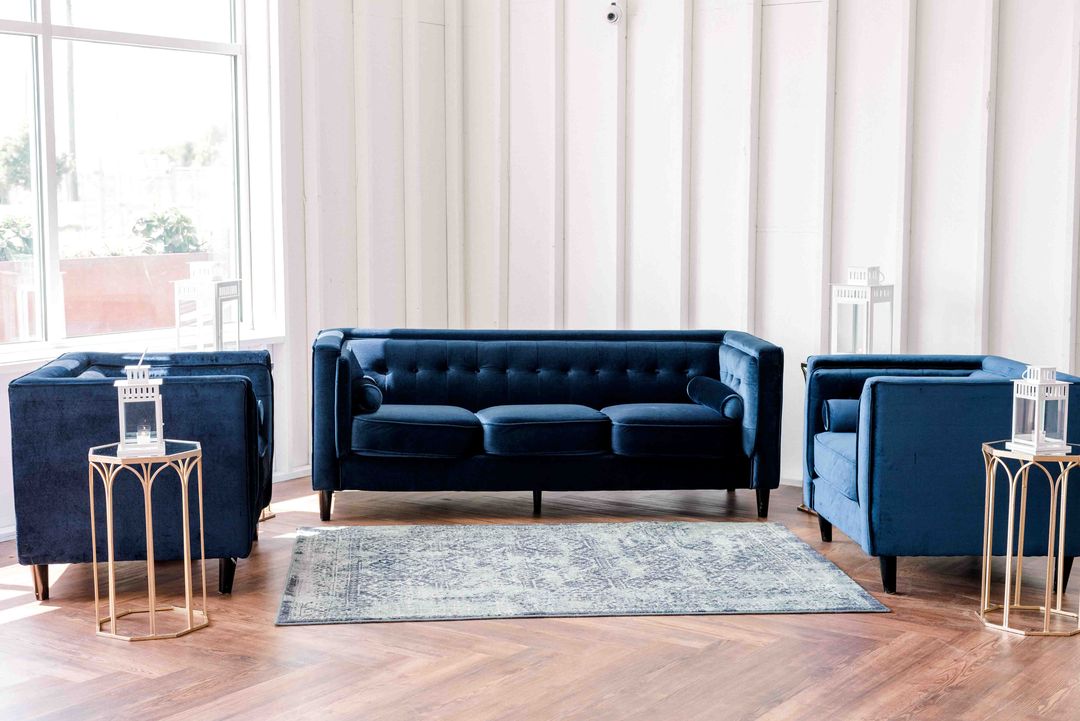 Photo by Sierra Dyer
Level Uneven Surfaces
If you intend to host your event outdoors, creating an even surface is essential. Whether your event space consists of a lumpy lawn or a warped concrete pad, our slip-resistant flooring options make for overall safer events. We have everything you need, from dance floors to heavy-duty Dura-Trac. When it comes to our gorgeous vinyl flooring, we offer a variety of color options, including natural woods and intricate tile designs.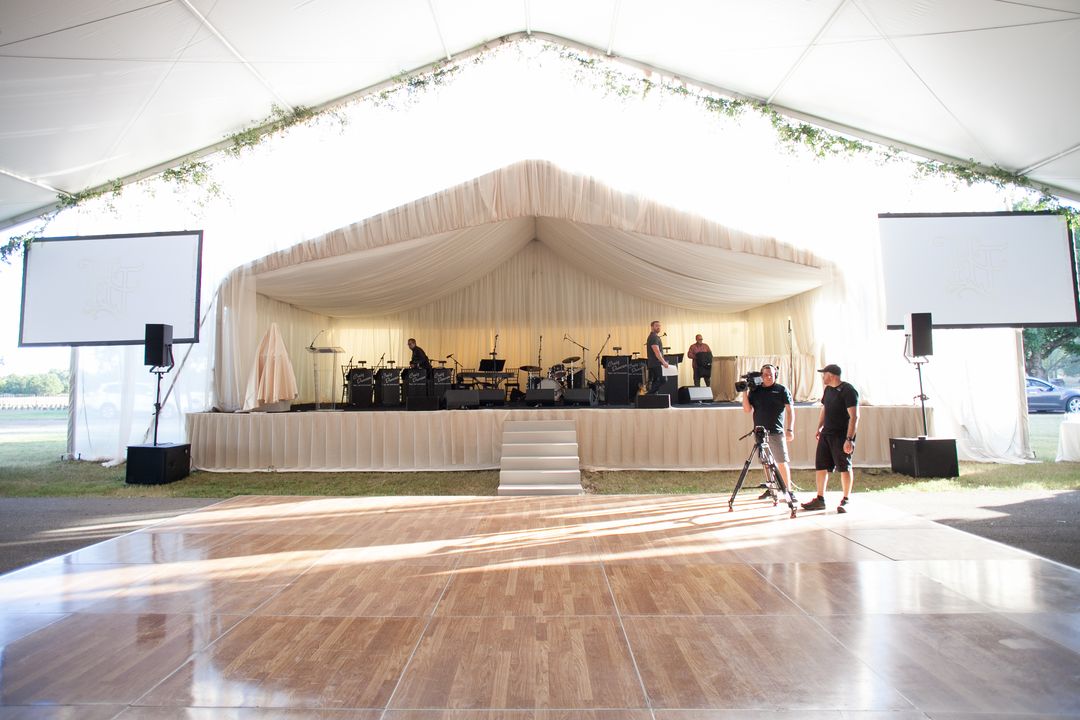 Photo by Phindy Studios
Encourage Good Hygiene
Going forward, hand sanitizer stations are not only encouraged but expected. Even before COVID-19, hand sanitizing stations made guests feel safer. You can encourage proper hygiene at your events with careful placement of our touch-less hand sanitizing stations. This may include entryways and exits, close to public restrooms, and at the head of the buffet line. In addition, consider adding signage throughout the space, or reminding guests of sanitizer station locations and other safety guidelines.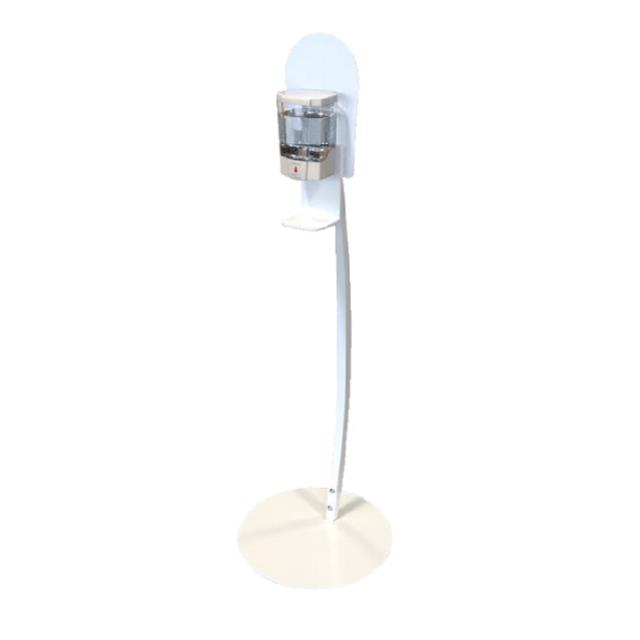 Space Out Table Seating
One of the simplest ways to create safer events is spacing out table seating. Whether you are hosting a dinner or a seminar, consider seating fewer people at each table. Although our round tables can seat 8 guests, limiting each table to 6 guests will allow everyone to be more comfortable.
Need help crafting a safer event with rentals for your upcoming event? Contact our team today!
TAGS | Event Rentals, Event design, event rentals in franklin tn, event rentals in nashville, safe events, southern events products
FEATURED RENTALS | dura-trac flooring, vinyl flooring, touch-less hand sanitizer stations, round tables, rectangle tables, rugs,
---
2

Jan

Trends and Inspiration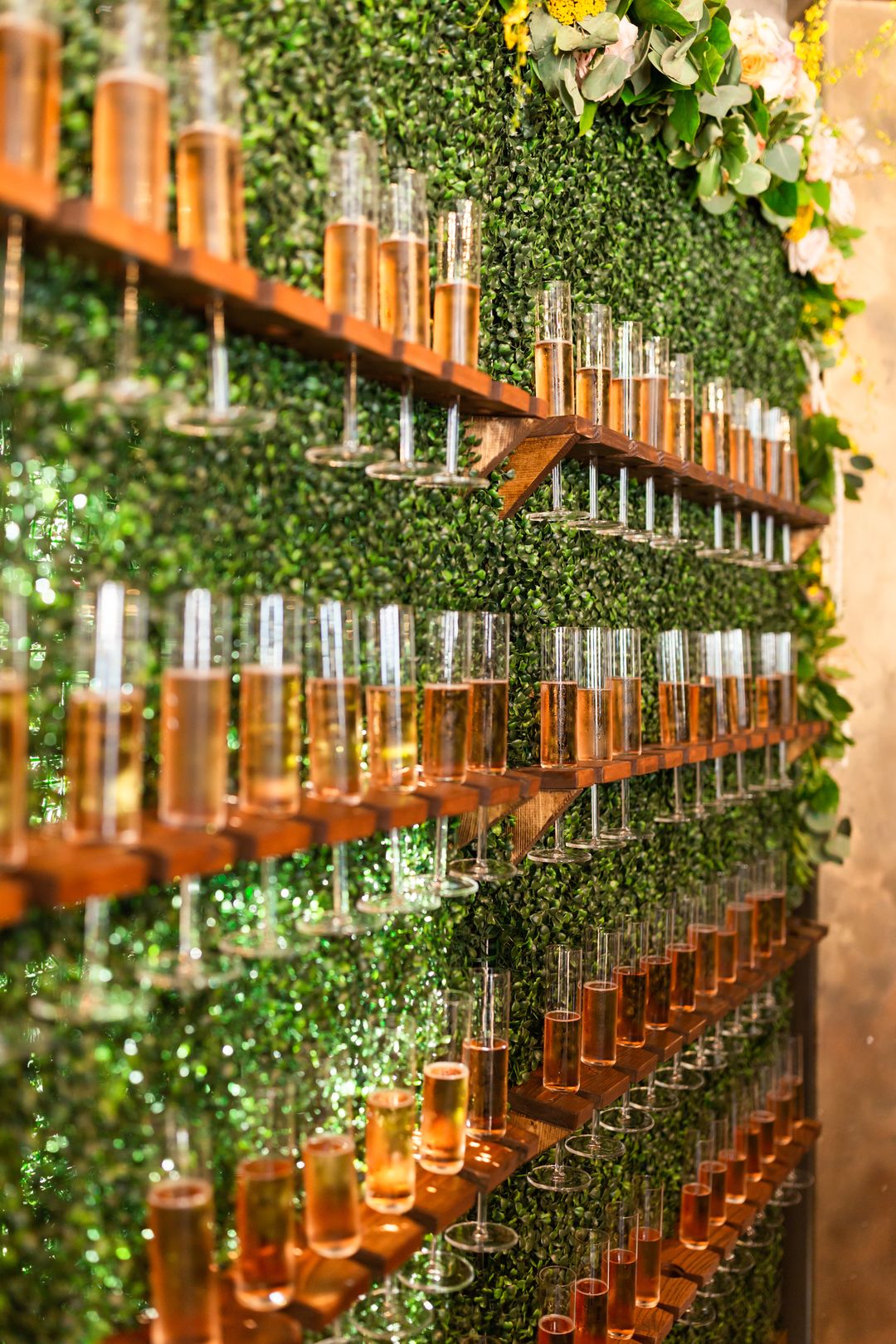 A new year always brings new event trends, and we are loving these event rental trends for 2020! From monochromatic color palettes to interactive displays, we'll show you how to wow guests with stunning event rentals from Southern.
Looking for a full-service team to help style your event? Reach out to schedule your personal tour of our Franklin showroom, info@southerneventsonline.com.
Monochromatic Decor
We've been crushing on monochrome schemes for a while, so we're all in with this event design trend. Go for the drama with a monochromatic palette in all black, mixing textures to create depth – ie: All. The. Velvet! Create an elegant event lounge with our Black Velvet Sofa and Black and Silver Rug, or layer our matte Onyx Earthen China with Black Velvet or Dupioni Linens for a chic table setting.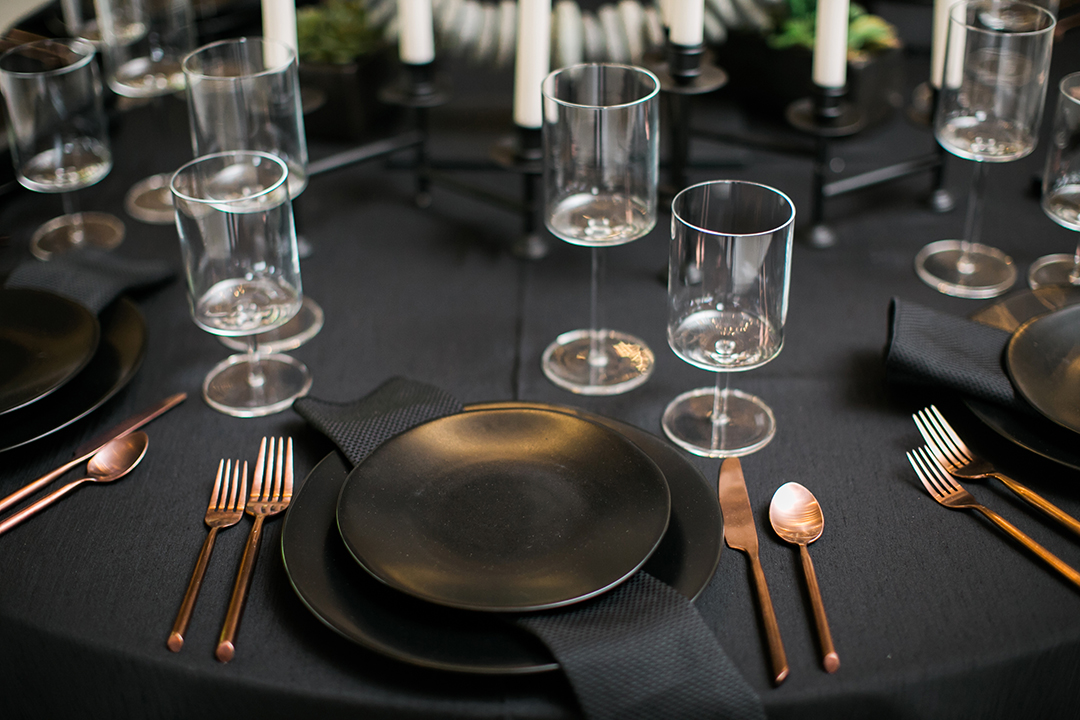 Photo Credit | Jen & Chris Creed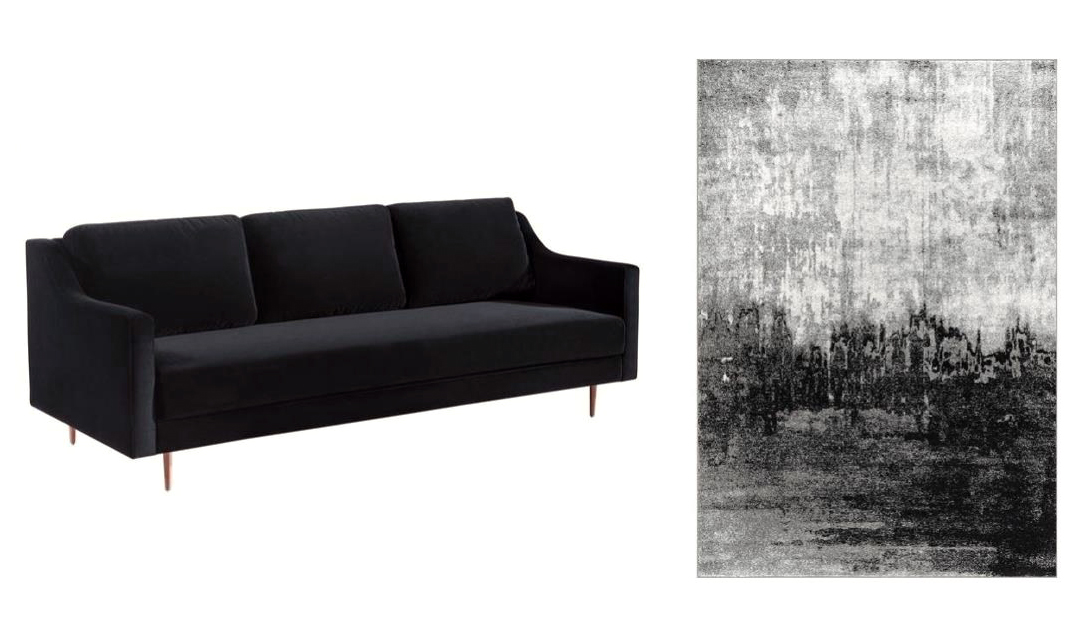 Art Deco Blues
Update traditional Art Deco event themes with Pantone's 2020 Color of the Year – Classic Blue. For a Tennessee twist, think blues instead of jazz with event rentals like our Navy Blue Velvet Linens, Saylor Navy Velvet Sofa, Rory Navy Velvet Chair, and Meridian Blue Tumblers.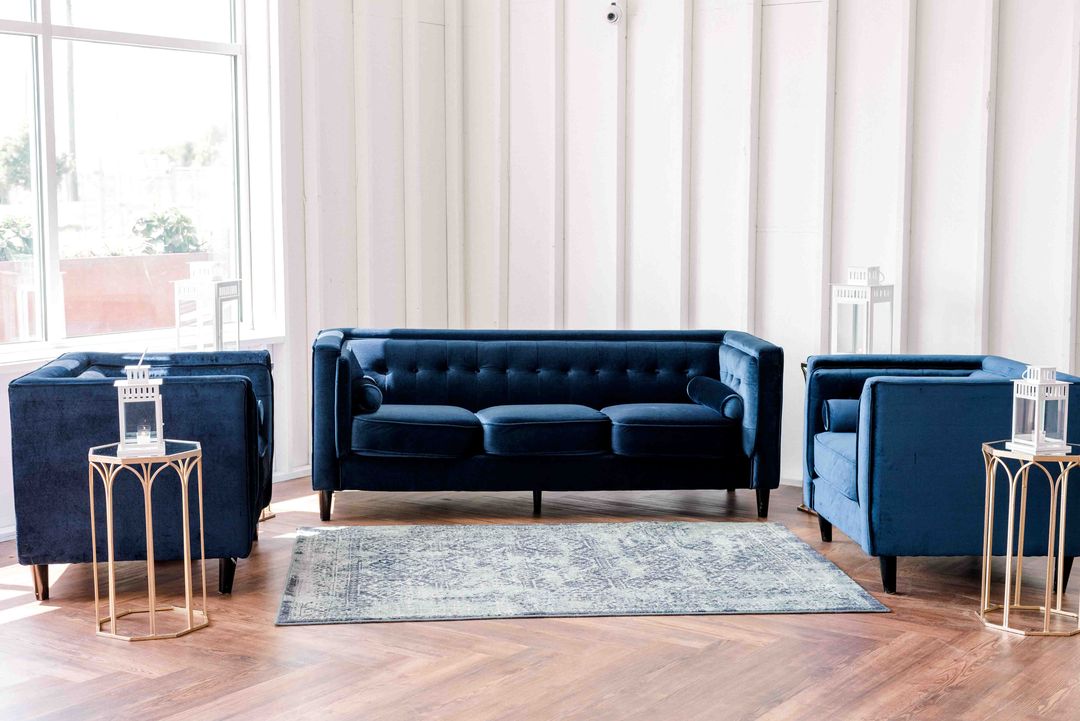 Photo Credit | Cee Cee Photography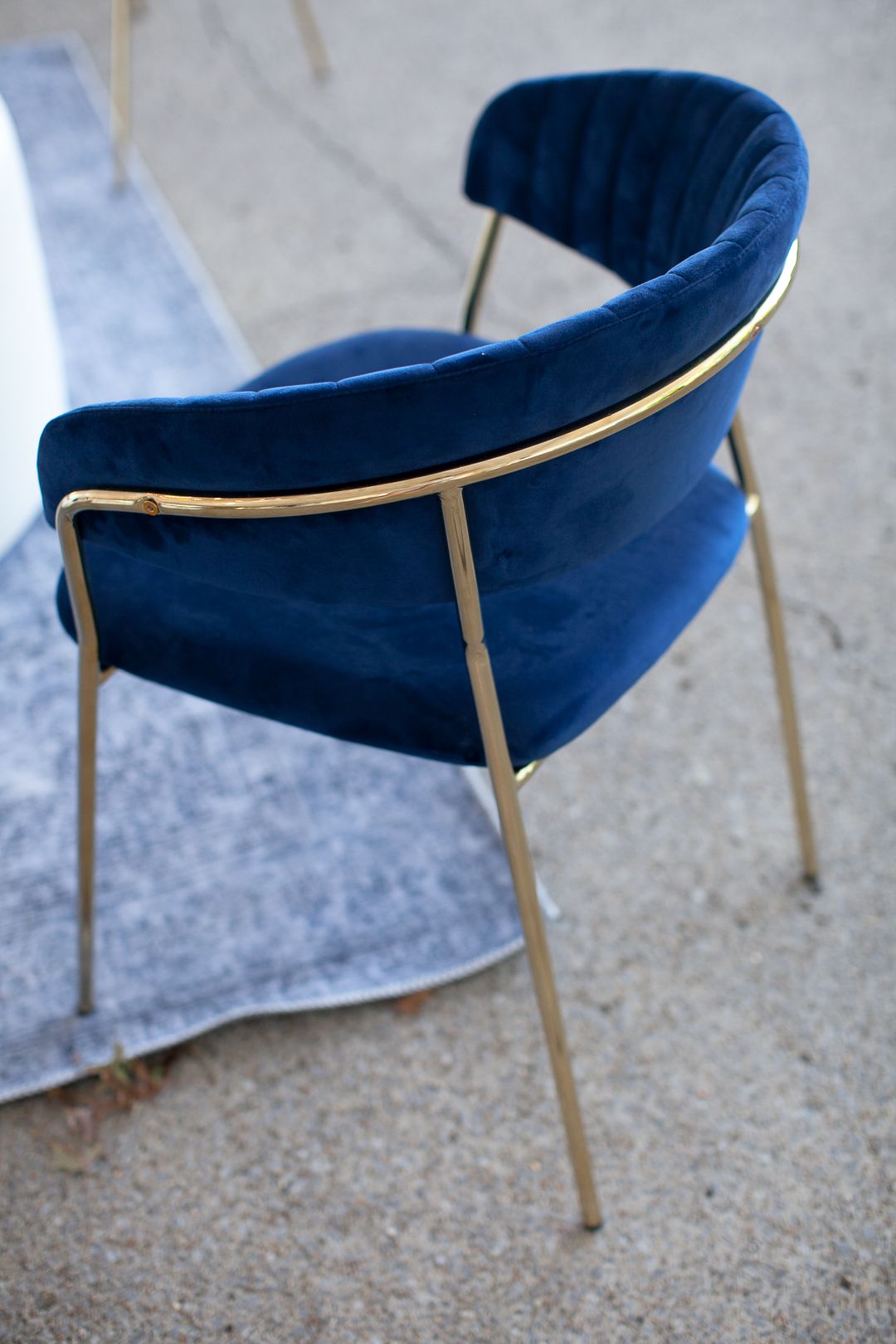 Photo Credit | Phindy Studios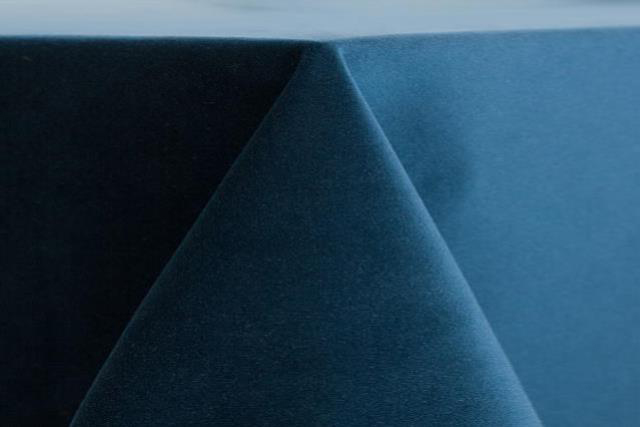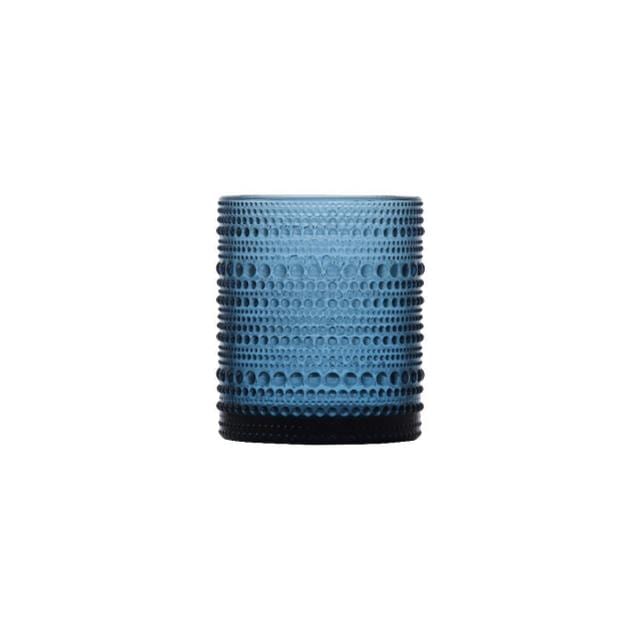 Bold Lines
Make it modern and graphic with clean lines and minimal fuss – and a little metallic never hurt! Keep your rentals simple and streamlined like Loren Bistro Table and Acrylic Ghost Barstools for cocktail hours, and deck out your event bar with our geometric Avenue Bar Back Shelving, Harpeth Bars, and Gold Bar Cart.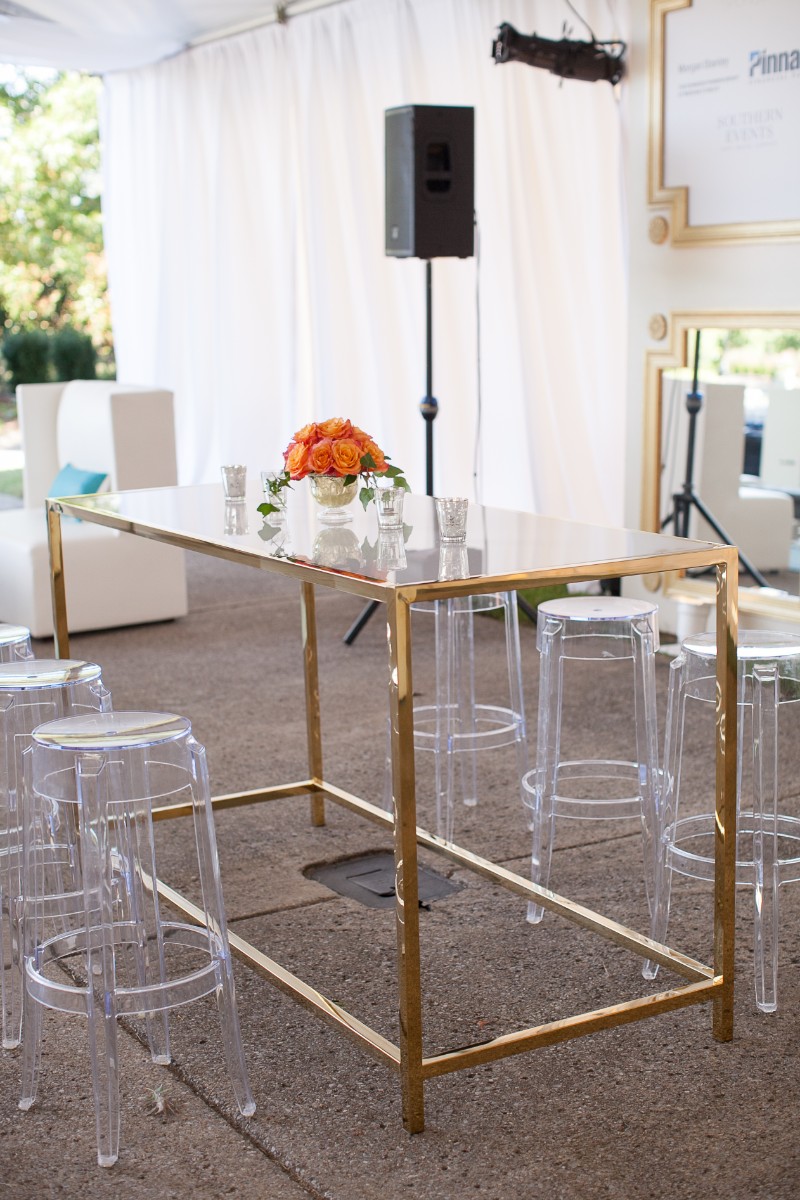 Photo Credit | Phindy Studios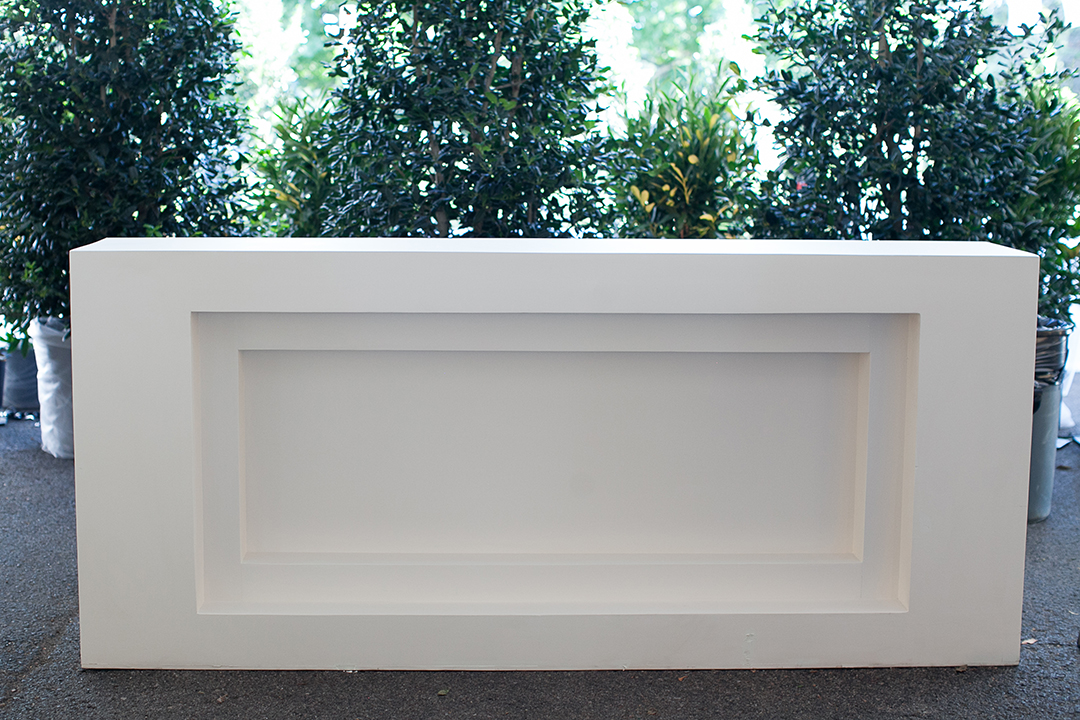 Photo Credit | Phindy Studios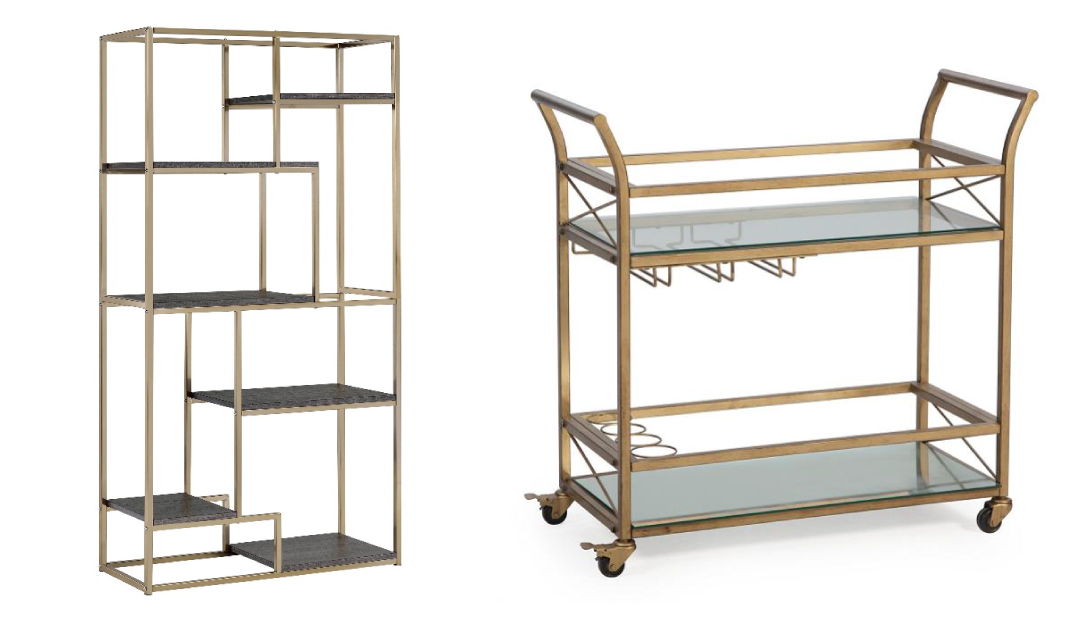 Warm Tones
Warm-up your 2020 events with earthy tones and cozy textures like velvet (again, we are so. in. love!) – from dusty rose, peach, terra cotta and, of course, gold! Take a note from City Winery's open house and mix linens for a more interesting look – like our Cameo Blush or Merlot Velvet Linens with the neutral and glamorous Furrow Gold Linens. Bring in another trend with the modern, clean lines of our Acrylic Carrigan Chairs and Midas Gold Benches!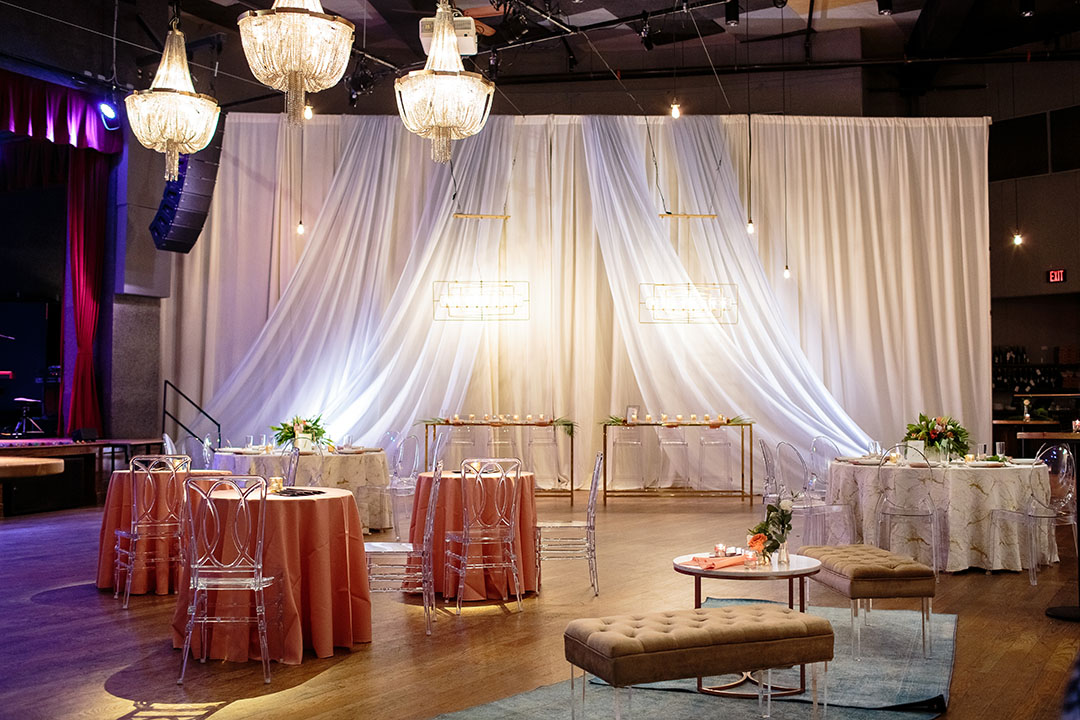 Photo Credit | Erin Allendar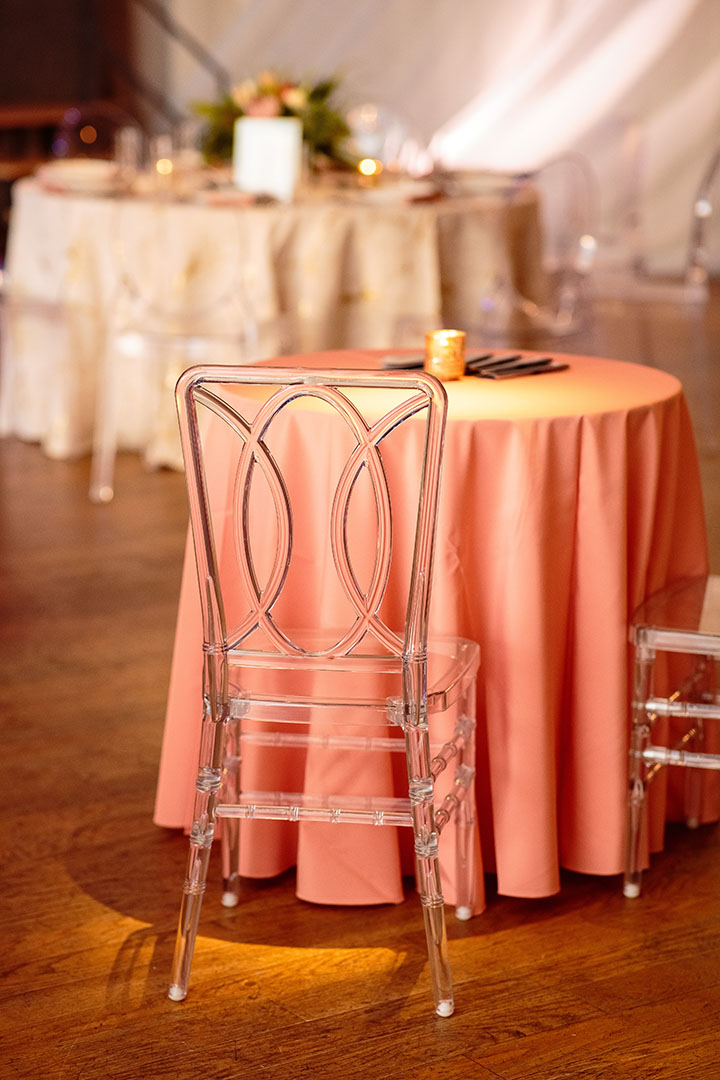 Photo Credit | Erin Allendar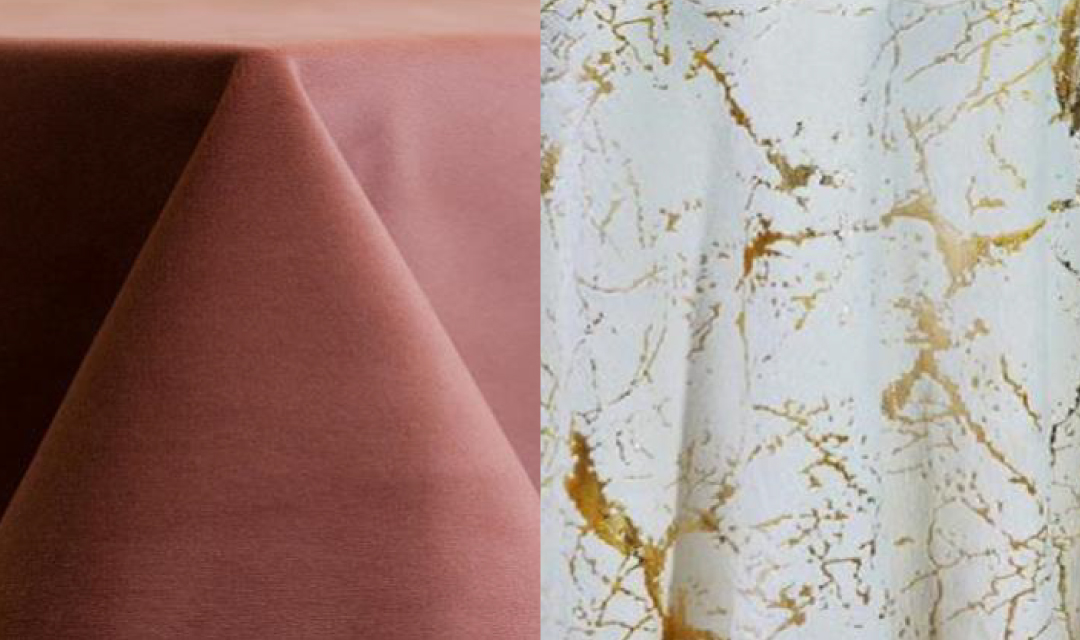 Experiential Moments
Our Boxwood Walls are perfect for creating a show-stopping moment for guests. Whether it's a unique seating chart or a fabulous champagne wall to kick off cocktail hour, these interactive displays are huge on impact!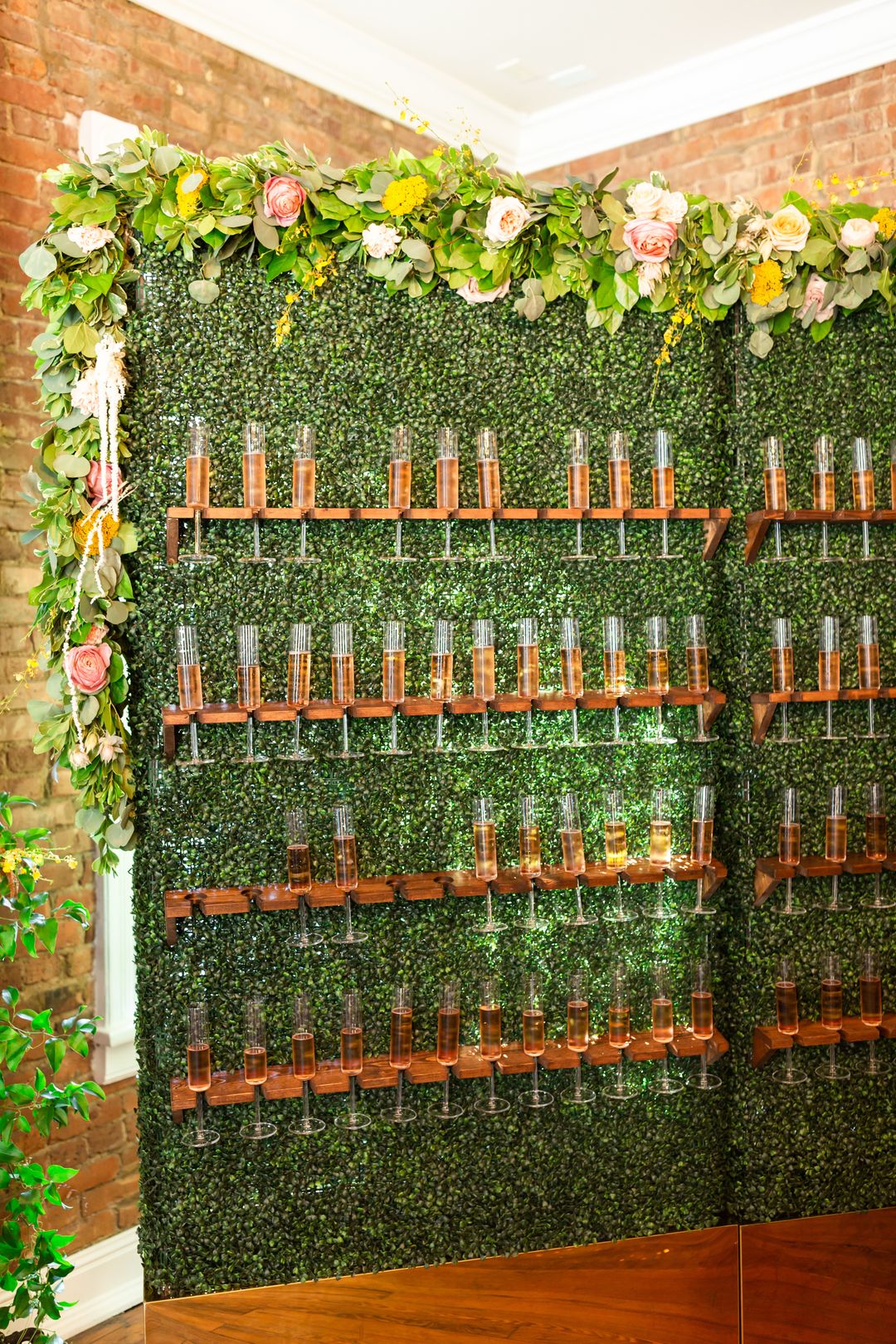 Photo Credit | Honeysuckle & Wine Photography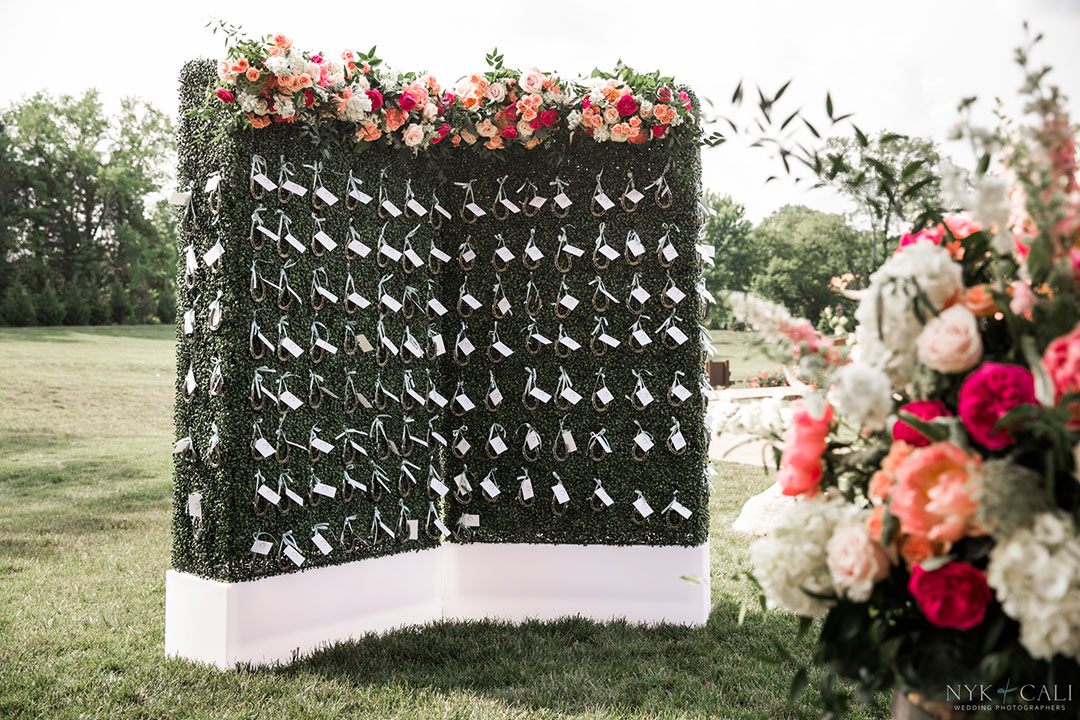 Photo Credit | Nyk & Cali Wedding Photography
We'd love to create a show-stopping look for your wedding or corporate event. If you're feeling inspired by these event trends, send us a message at info@southerneventsonline.com.
TAGS | 2020 Event Trends, Event Rentals, Interactive Drink Station, art deco event rentals, black event decor, drink, event rentals in franklin tn, event rentals in nashville, gold and black event decor, modern event decor
FEATURED RENTALS | Black Velvet Sofa, Black and Silver Rug, Onyx Earthen China, Black Velvet Linens, Black Dupioni Linens, Navy Blue Velvet Linens, Saylor Navy Velvet Sofa, Rory Navy Velvet Chair, Meridian Blue Tumblers, Loren Bistro Table, Acrylic Ghost Barstool, Avenue Bar Back Shelving, Harpeth Bar, Bar Cart, Cameo Blush Velvet Linens, Merlot Velvet Linens, Furrow Gold Linens, Acrylic Carrigan Chair, Midas Gold Bench, Boxwood Walls, Cybil Champagne Flutes
---
9

Nov

Southern Events Products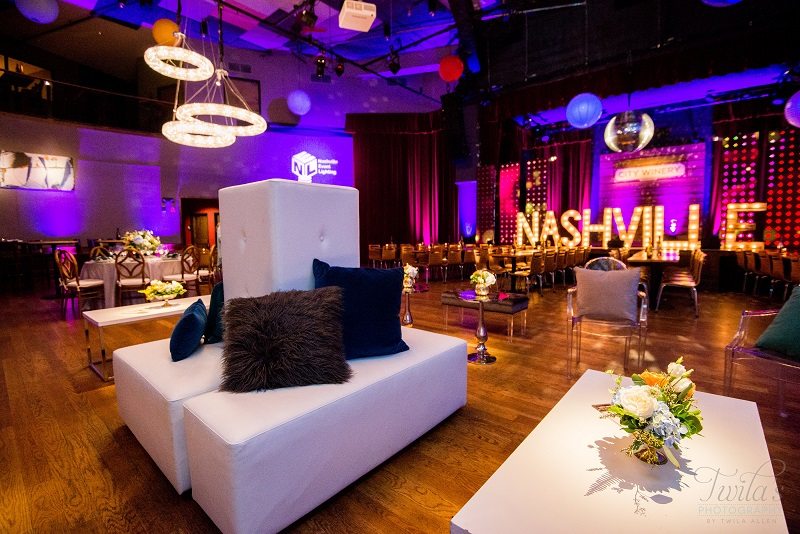 Our most recent corporate event transformed Nashville City Winery's concert and event space into a sleek and sophisticated space for networking over cocktails and dinner. The open house utilized a variety of our comfortable seating options, including the Rhapsody in Blue Side Chairs, our Nickel Grey Bench with acrylic legs, and Ghost Arm Chairs with plush pillows for a stylish lounge area. Seating was accented by our white and chrome Mykonos Coffee Table and chrome Cece Silver Side Tables, keeping the style sleek and sophisticated.
Our new White Leather Mercer Tower with L-Shaped Benches were highlighted and with good reason.  The "L" Tower is powered, meaning it can be used as a charging station for guests! Busy professionals, who come to corporate events with work still on their minds, love this feature. And giving guests an extra charge surely showcases Southern hospitality – who doesn't appreciate a central spot to charge their phone?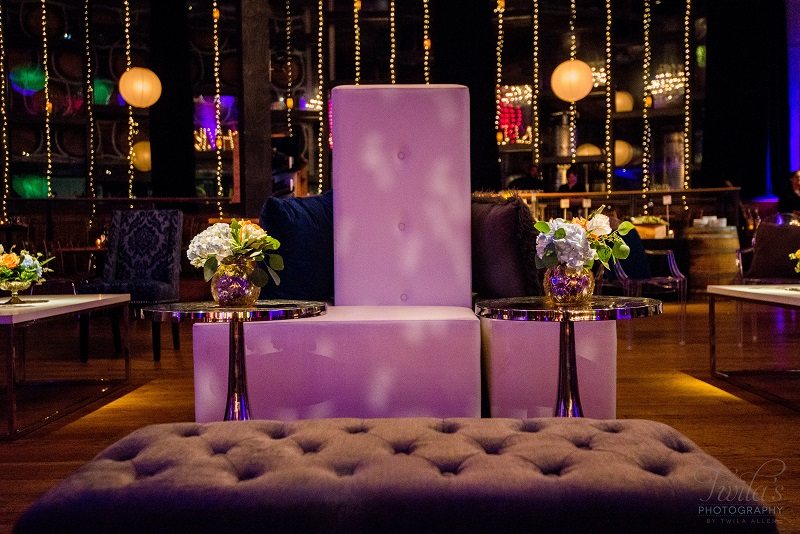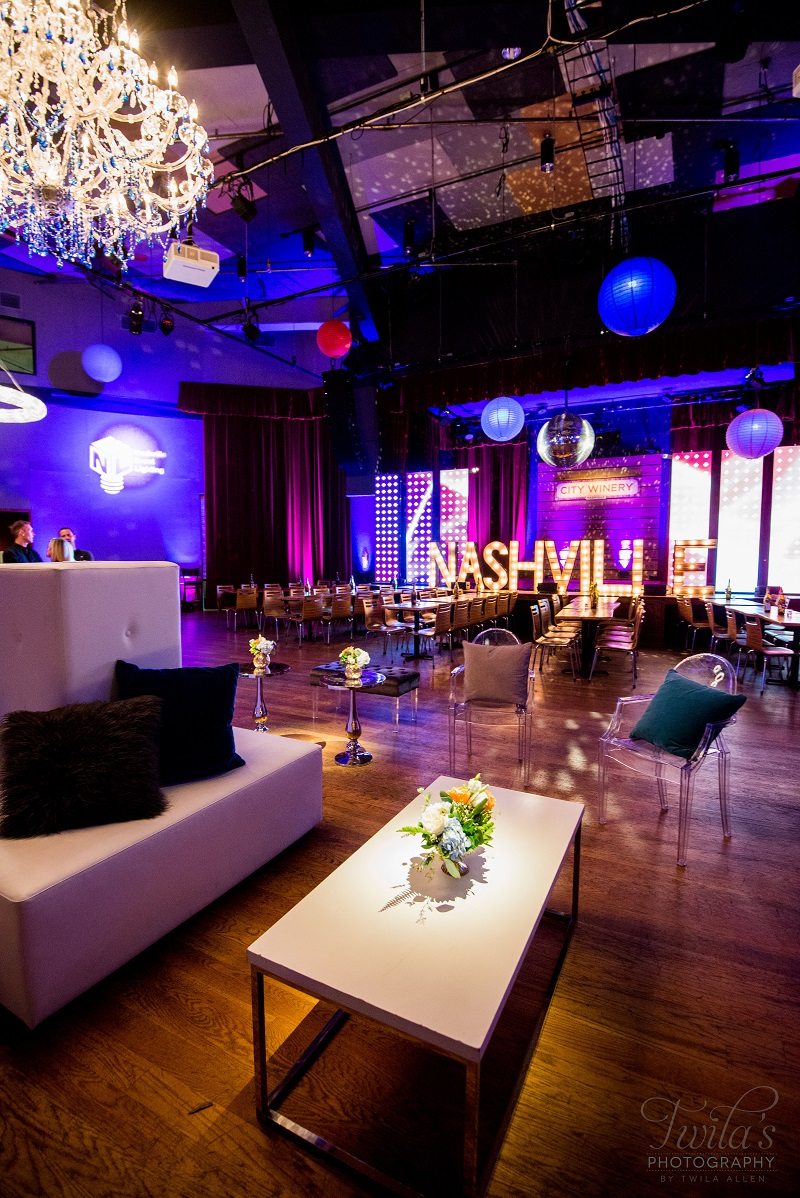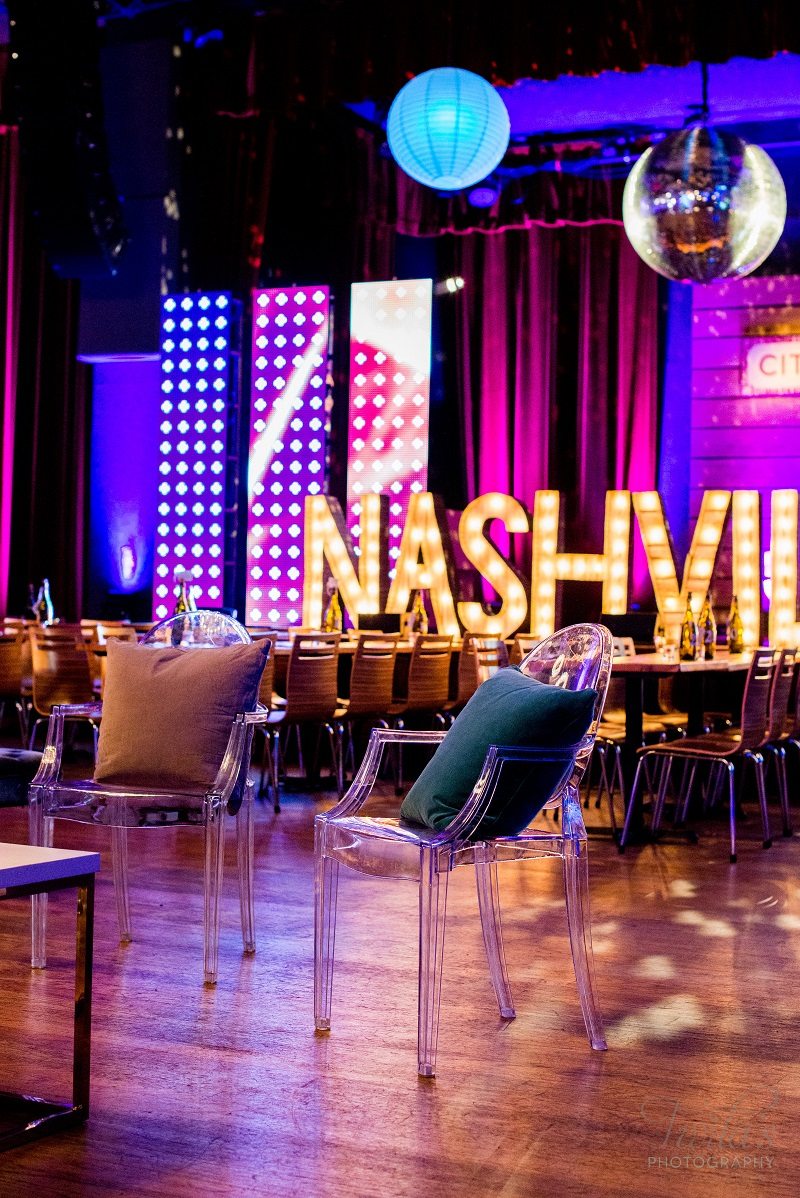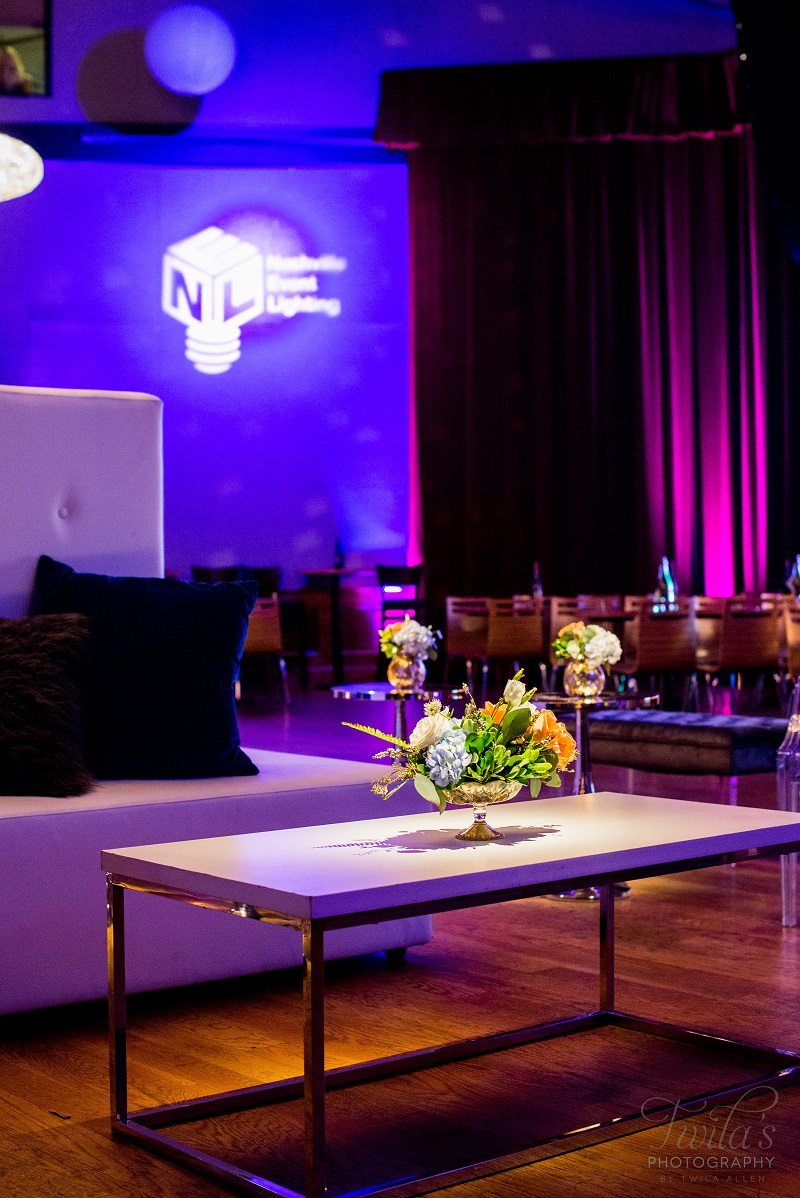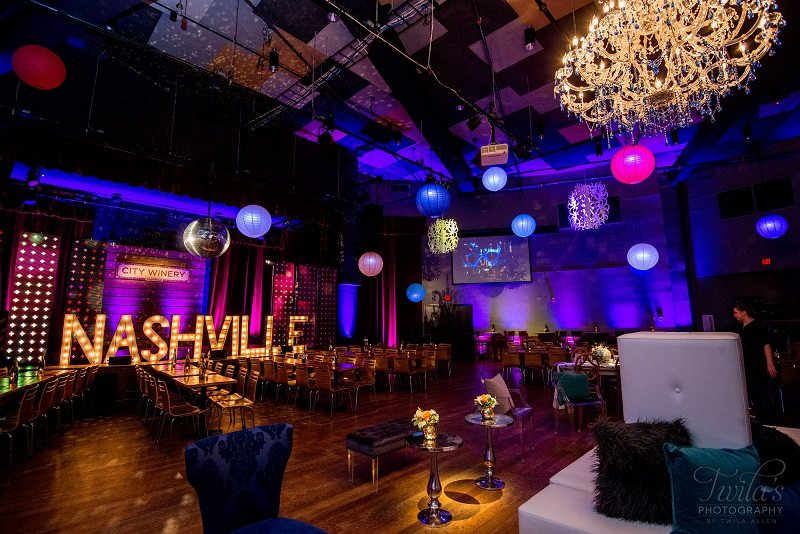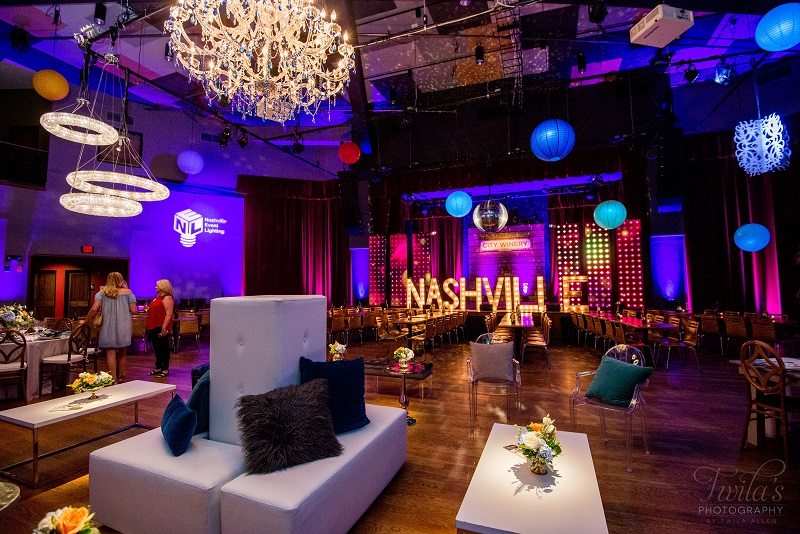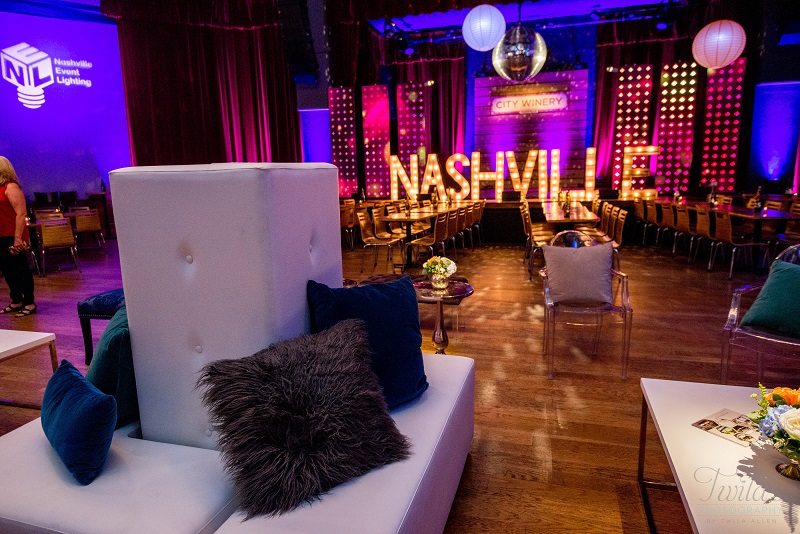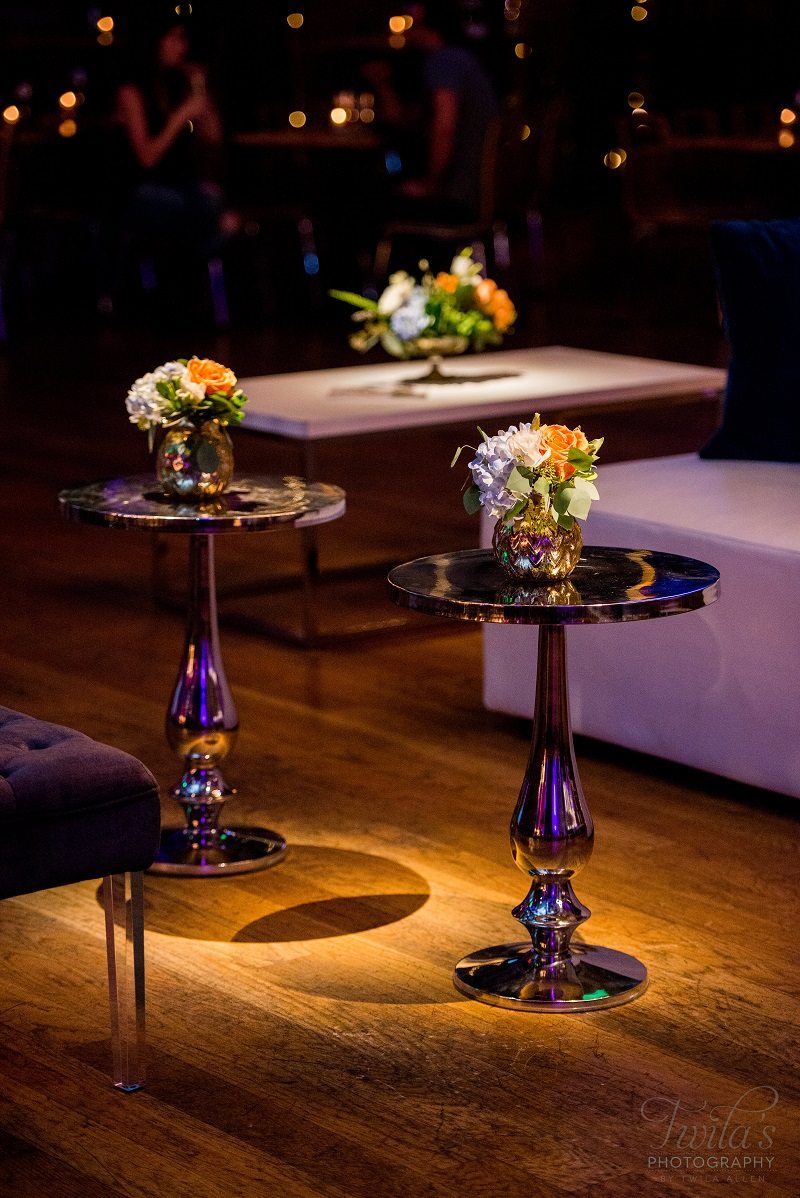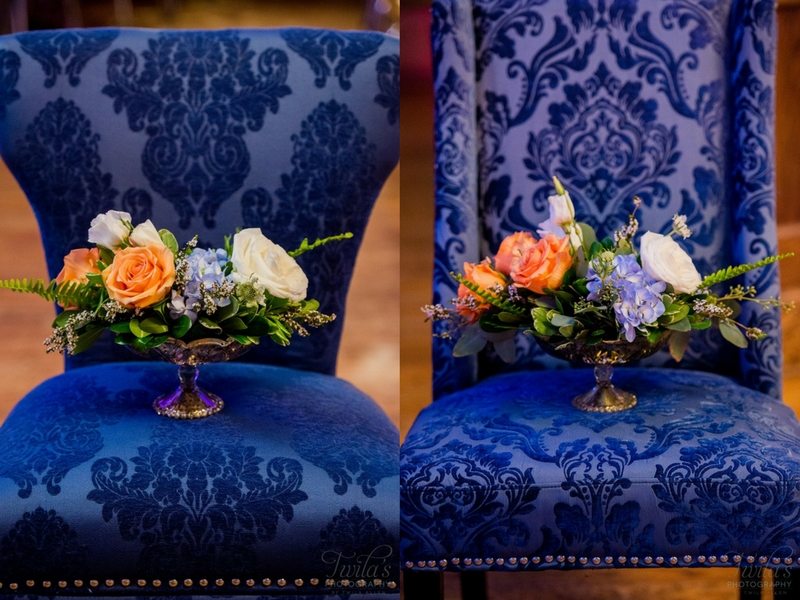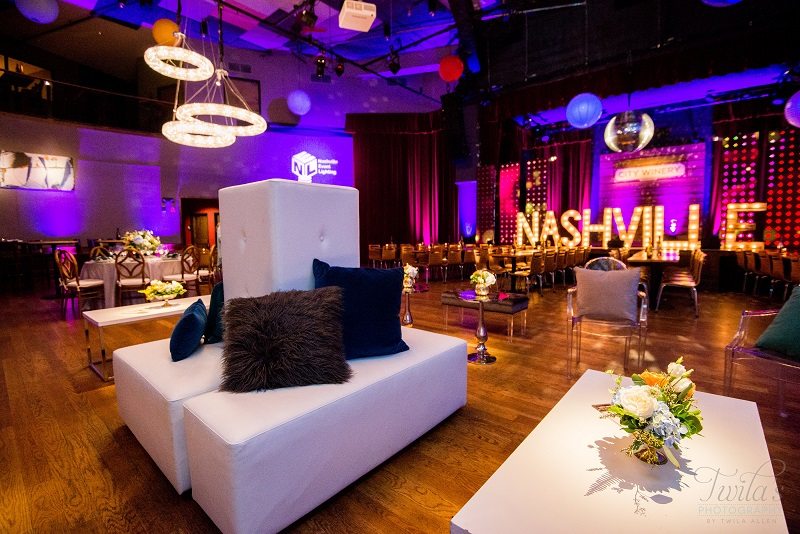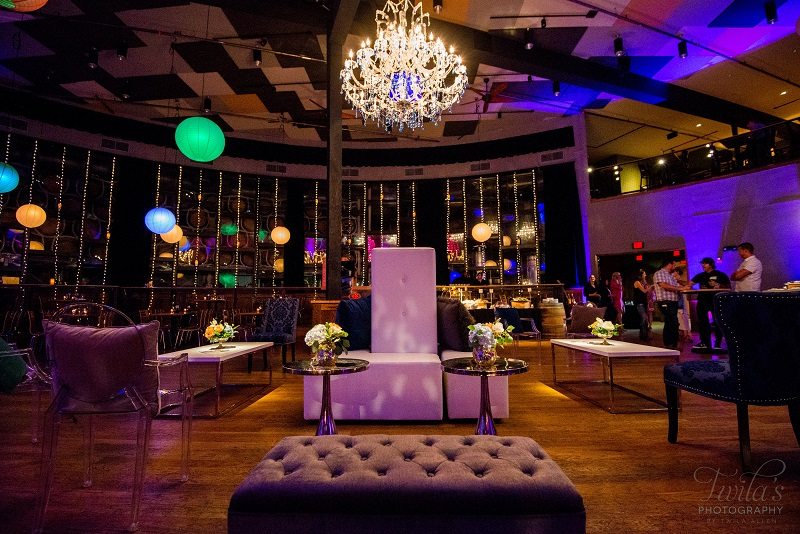 City Winery has tables and chairs of its own so we create a few inspiration tables for guests These paired the ever-popular Grayson Farm Tables with Chiffon Runners and the new Harlin Dining Chairs for a sleek and Southern design. Gold Austin Flatware was placed next to Glass Chargers with Gold Rim, along with our Darcy White China dinner plates and our new Gold Accent China Plates in Coronado and Laguna designs.
Shout out to Nashville Event Lighting for heading up the event and their stunning lighting design – it really made the space shine!  And thanks to Twila's Photography for the photos.  Such a wonderful event – we can't wait for all the events City Winery will hold!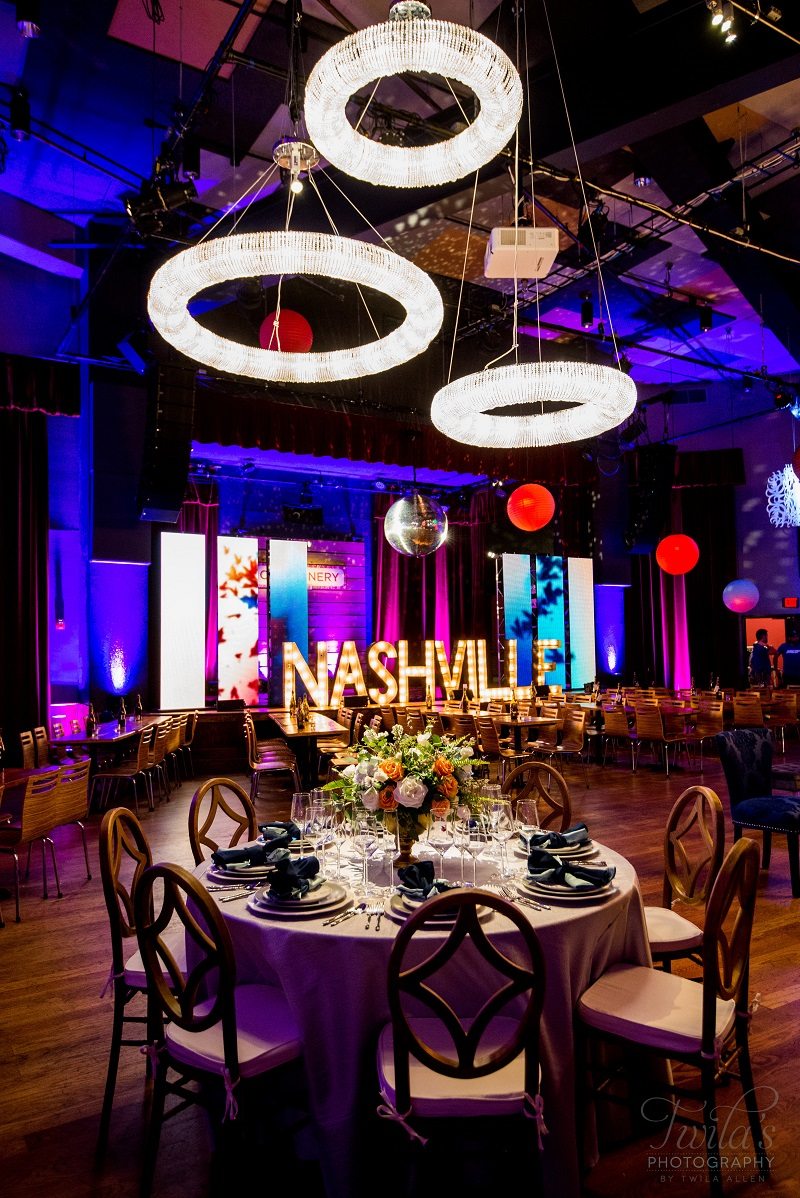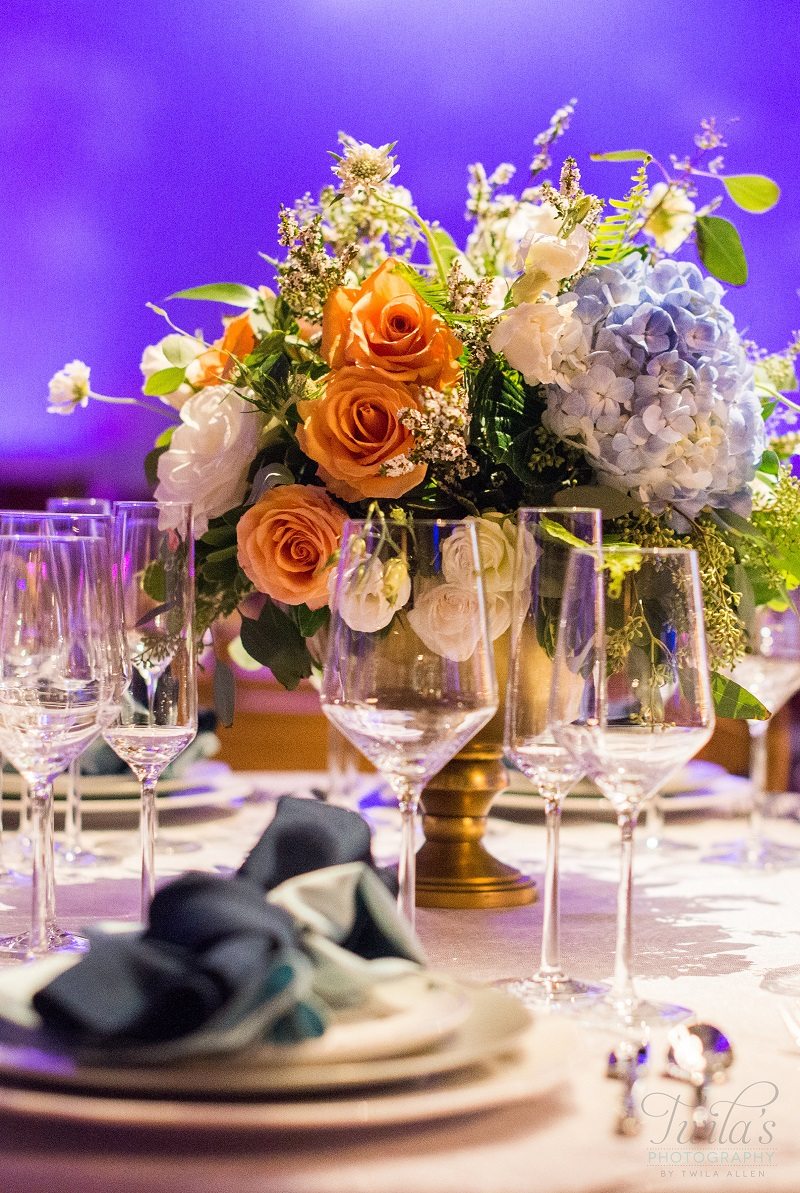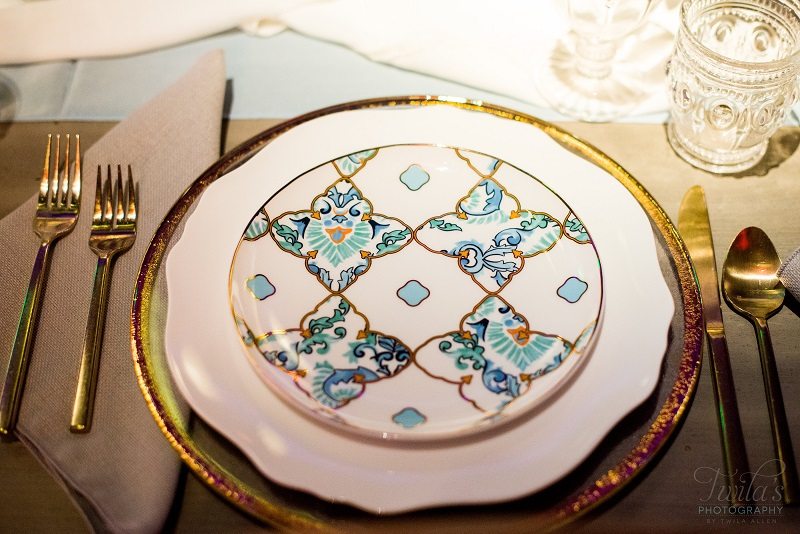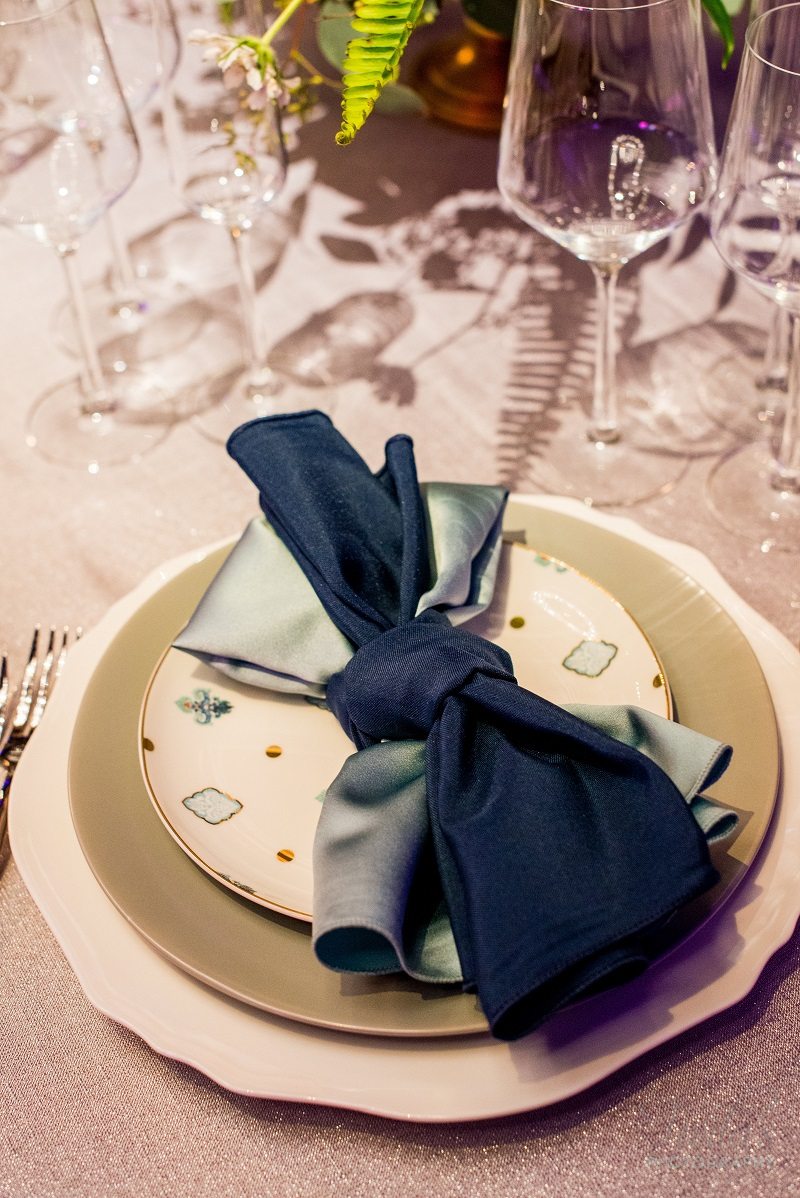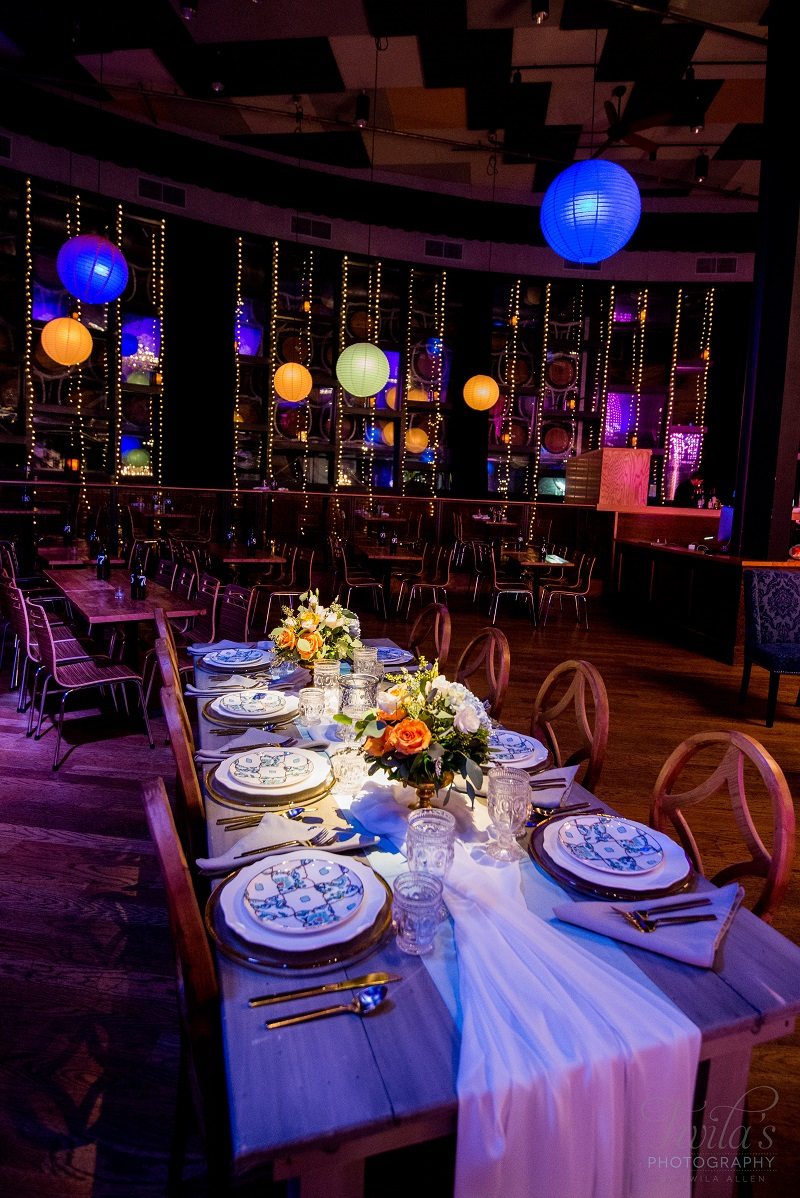 TAGS | Austin Flatware, Chiffon Runners, Darcy White China, Ghost Arm Chairs, Glass Chargers with Gold Rim, Gold Accent China Plate Coronado, Gold Accent China Plate Laguna, Grayson Farm Tables, Harlin Dining Chairs, Nickel Grey Bench, Rhapsody in Blue Side Chairs, White Leather Mercer L-Shaped Benches, White Leather Mercer Tower, city winery, corporate event rentals, event rentals in franklin tn, event rentals in nashville, southern event rentals, southern events online
FEATURED RENTALS | Rhapsody in Blue Side Chairs Nickel Grey Bench Ghost Arm Chairs White Leather Mercer Tower White Leather Mercer L-Shaped Benches Grayson Farm Tables Chiffon Runners Harlin Dining Chairs Austin Flatware Glass Chargers with Gold Rim Darcy White China Gold Accent China Plate Coronado Gold Accent China Plate Laguna
---