27

Jan

On Trend, Southern Events Products, Trends and Inspiration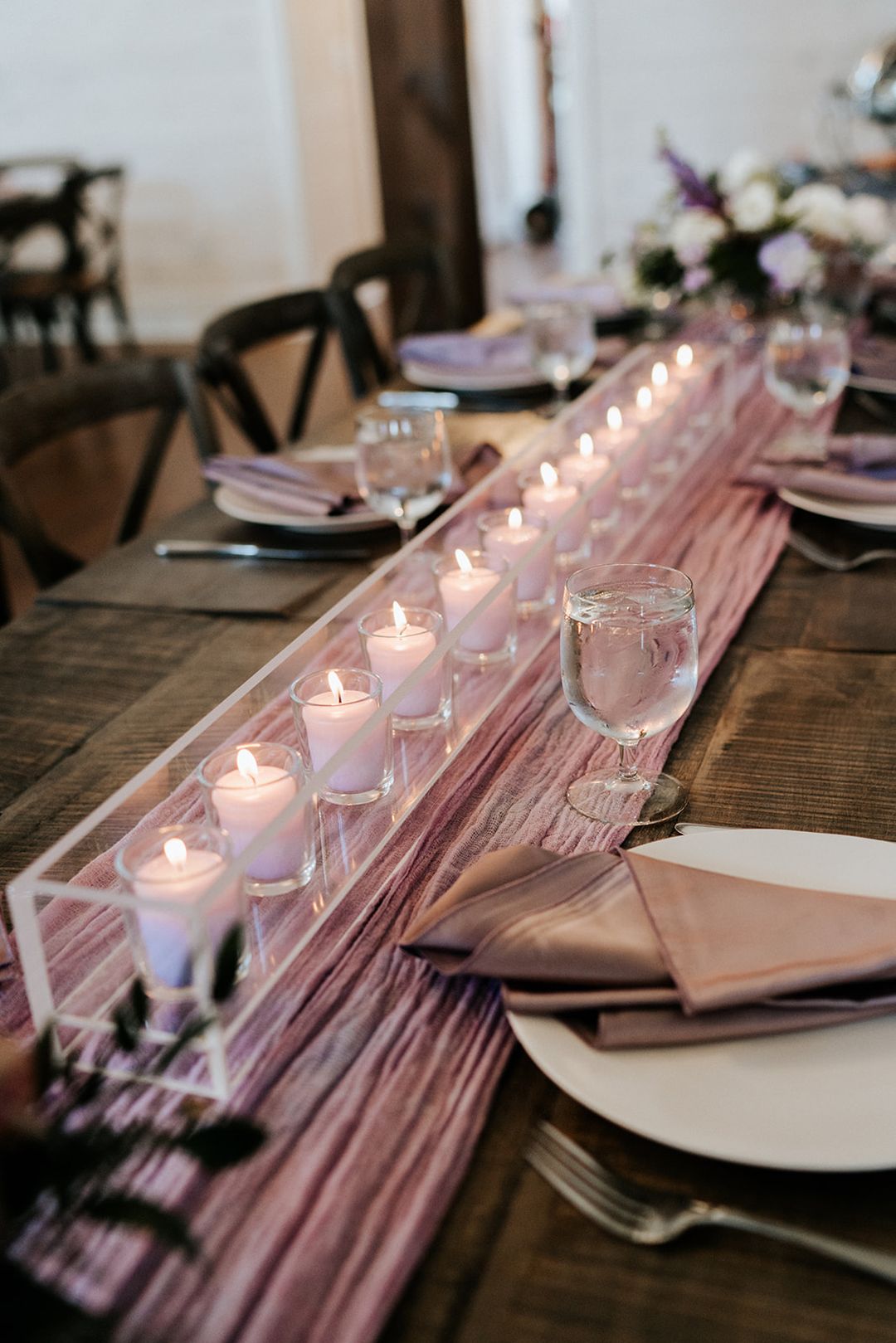 If you love event design that is creative and confident, then you'll fall head over heels for the 2022 Pantone Color of the Year, Very Peri! A soft blue with violet-red undertones, PANTONE 17-3938 Very Peri is described to have a "spritely, joyous attitude and dynamic presence". And for a year where event trends include vintage-inspiration and luxe details, what color could be better? To help you plan an a memorable and photo-worthy event, get inspired by event design incorporating Pantone's color of the year.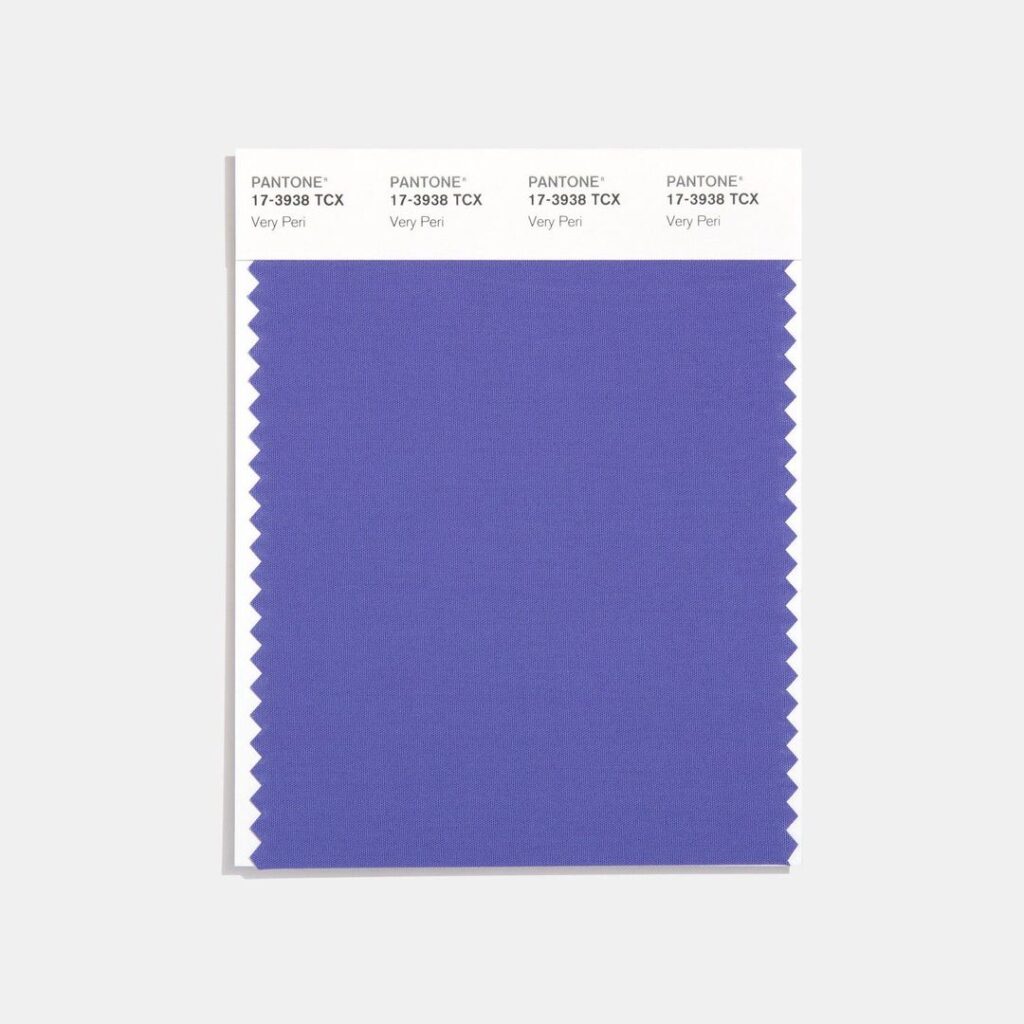 Whimsical Event Design
By far our favorite aspect of this color of the year is the whimsy that it lends to an event! A unique mix of blue and purple, Very Peri oozes youthful luxury. Therefore, when featuring this color at your event, we recommend opting for rentals that are equally lighthearted. For example, complement any dining table with our classic Antique White Bentwood Chairs. Or create a contemporary twist with any of our on-trend acrylic chairs, such as the Carrigan Side Chair.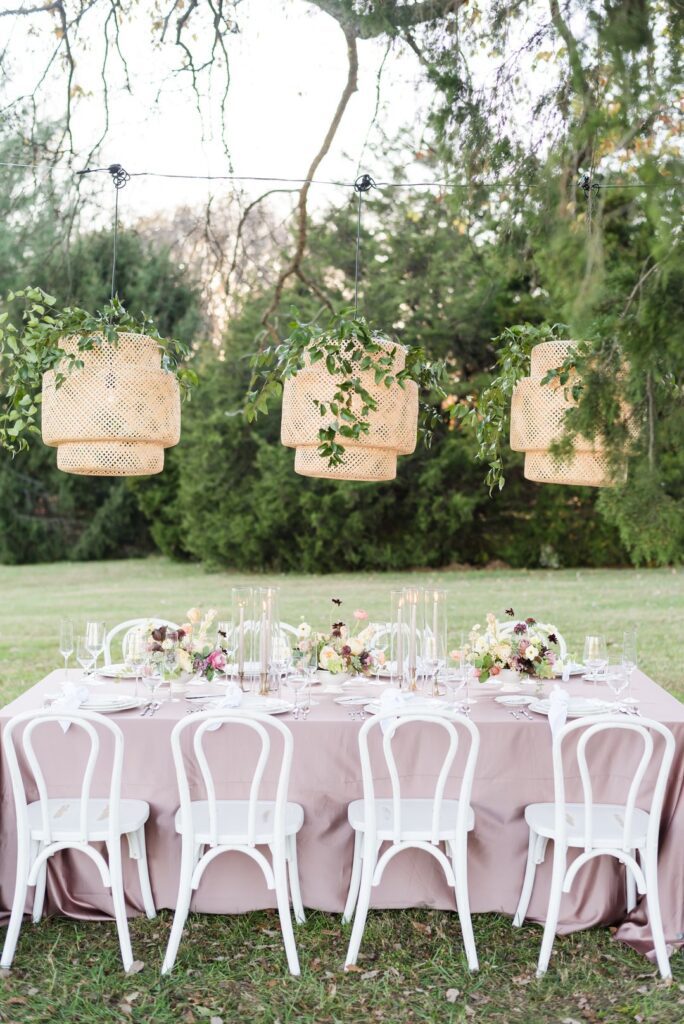 Perfect Very Peri Linens
If you're looking for an easy way to feature this fun color, without overwhelming, our top is to run with a set of colorful linens! Easy to build on top of, even for an amateur host, it can be used to create a variety of different table settings. A few of our current favorites include Wisteria Satin and Lilac Poly. For an extra luxurious pop of purple, you might also consider our Lavender Velvet – even just for napkins.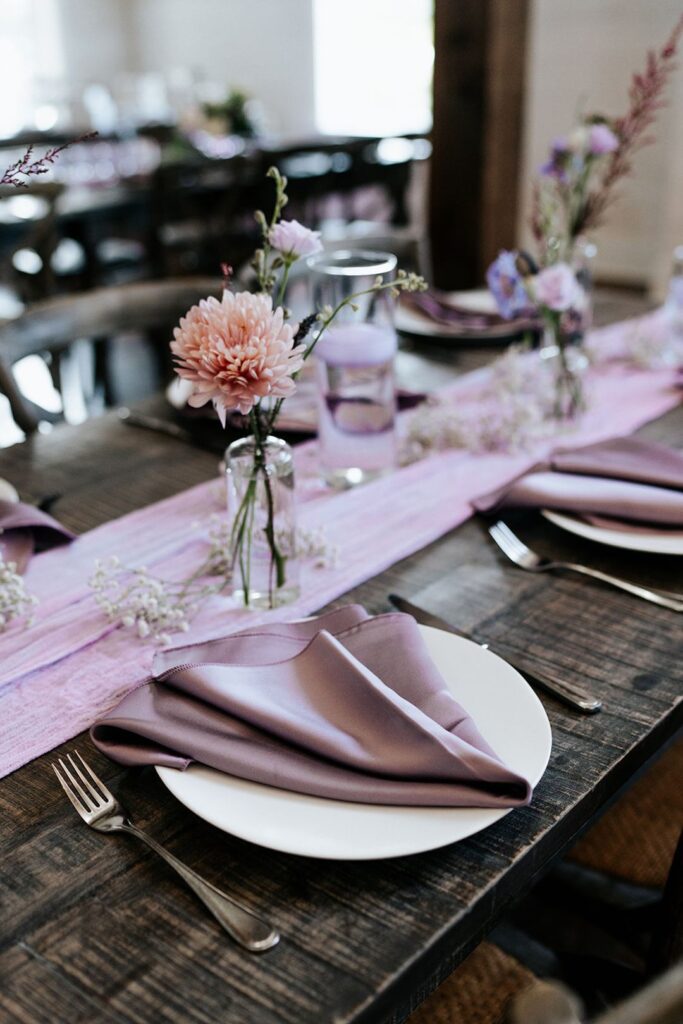 Colors That Lend Contrast
Although beautiful, Very Peri is a color that in large quantities can be overwhelming. To break it up be sure to feature a mix of contrasting colors. To keep your overall event palette light and airy, go with a classic and crisp white, as shown with our delicate Darcy China. If you prefer a theme that is bolder, then go big with our stunning Onyx Earthen China. Of course, don't be afraid to add more color! Our Amber Goblets feature a vintage design and unique color, perfect for a unique bohemian look.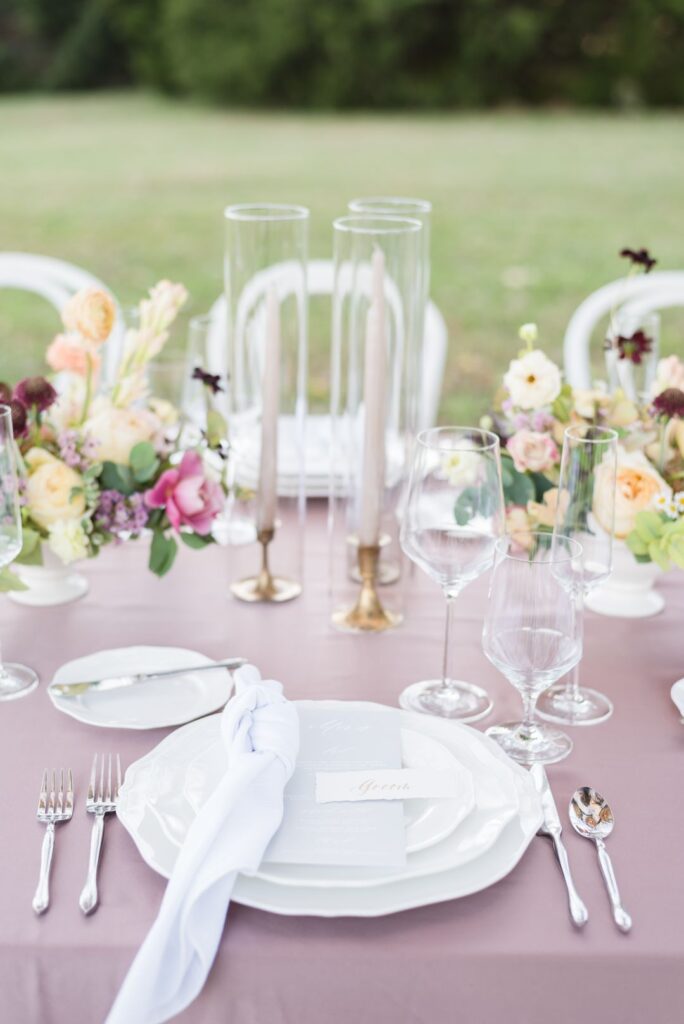 Feeling inspired by event design incorporating Pantone's color of the year? Contact our team today, at info@southerneventsonline.com, and we'll help you create a one-of-a-kind look featuring this stunning color.
TAGS | Bright & Colorful Rentals, Colorful Wedding Decor, Event Rentals, Event design, Nashville Event Rentals, On Trend, Pantone Color of the Year, style trends
FEATURED RENTALS | Antique White Bentwood Chair, Carrigan Side Chair, Wisteria Satin, Amber Goblets, Onyx Earthen China, Darcy China, Lavender Velvet, Lilac Poly,
---
22

Oct

Events and Style Shoots, On Trend, Southern Events Products, Trends and Inspiration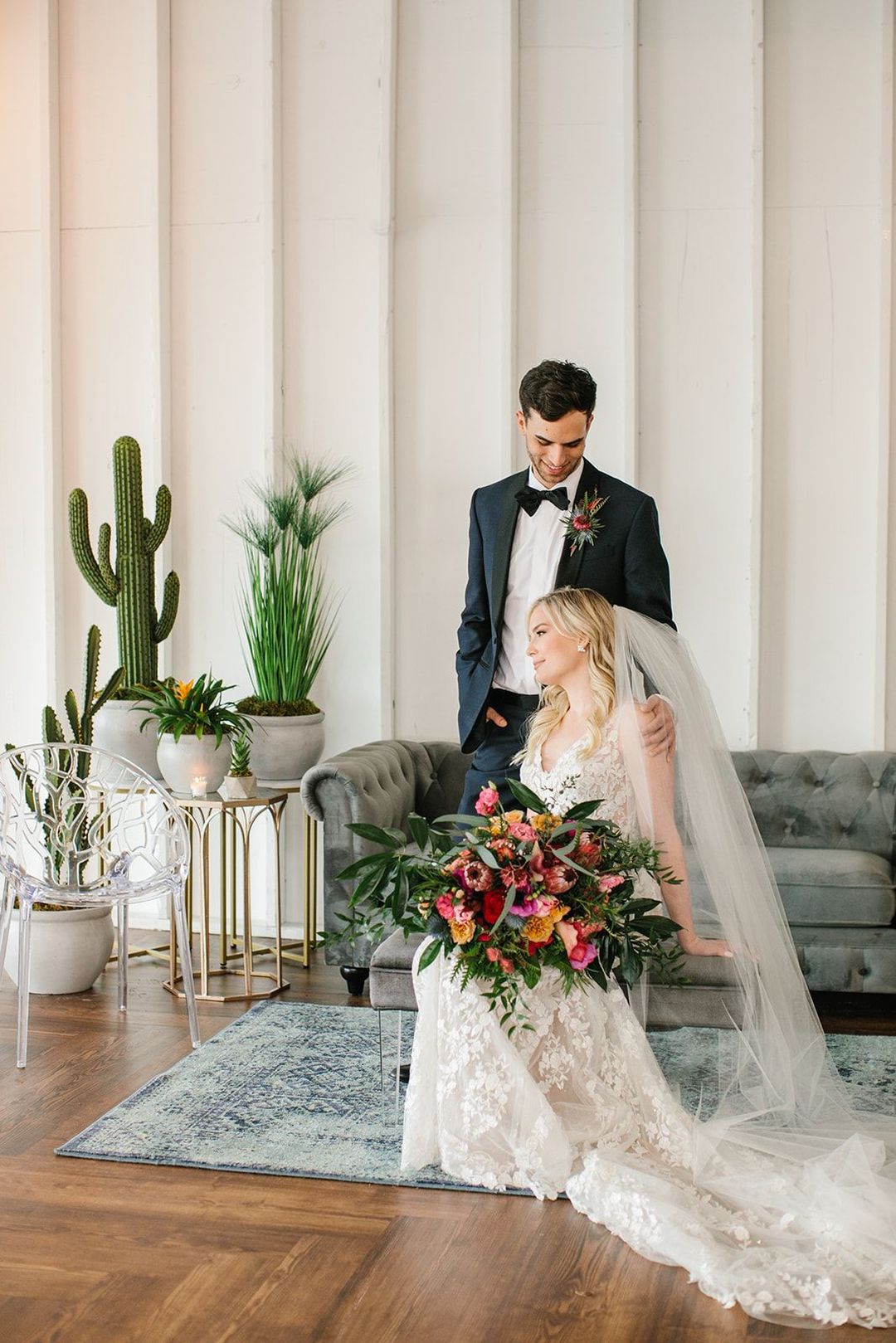 If you're looking for a bright and chic look for your upcoming wedding, look no further! Earlier this year our team at Southern Events collaborated with other local vendors for a fresh and fun desert bloom themed style shoot at 14Tenn in Nashville, Tennessee. Enjoy the breathtaking image by Gray Kammera Photography as we show off some of our featured rentals!
For the intimate indoor reception, we opted to use our modern Acrylic Ghost Armless Chairs. Meanwhile, our Davis Glass Cylinders with white pillar candles lined the aisle way, extending the airy look and creating a warm ambiance. Of course, the floral backdrop created by SS T Villager Designs stole the show! Their bright whimsical florals took this reception set up to another level, with lush greenery and bold colors.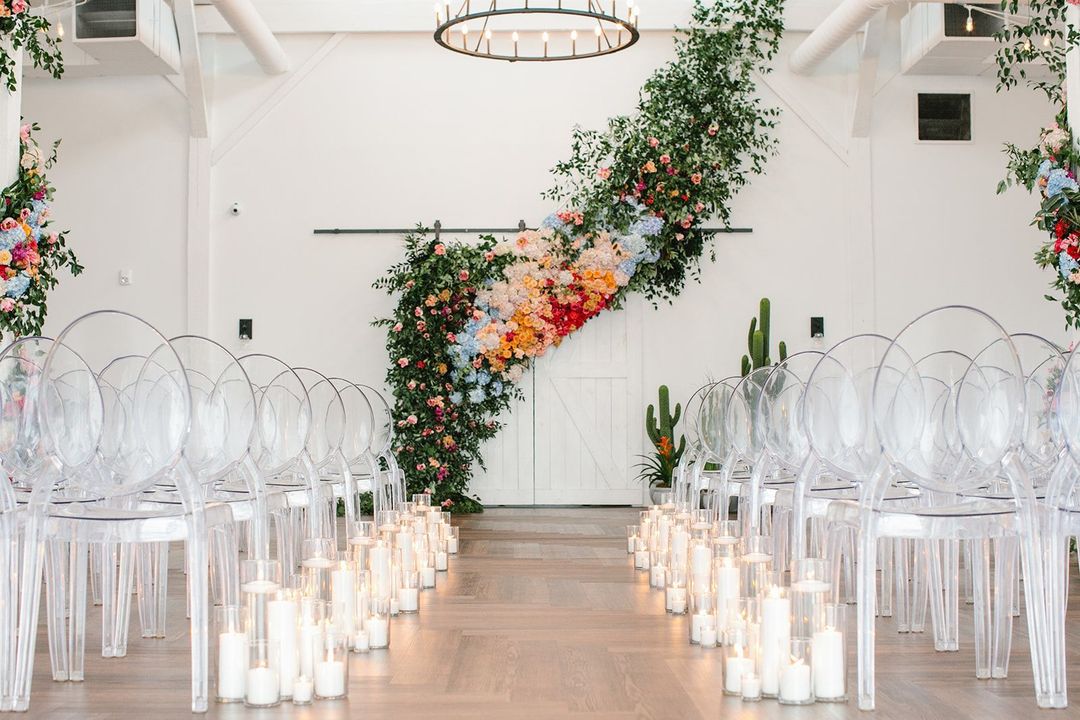 Shifting to the reception, we featured more of our popular acrylic furniture. This time our Acrylic Carrigan Side Chair. A mix of contemporary and industrial/rustic furniture makes this set-up stylish yet inviting.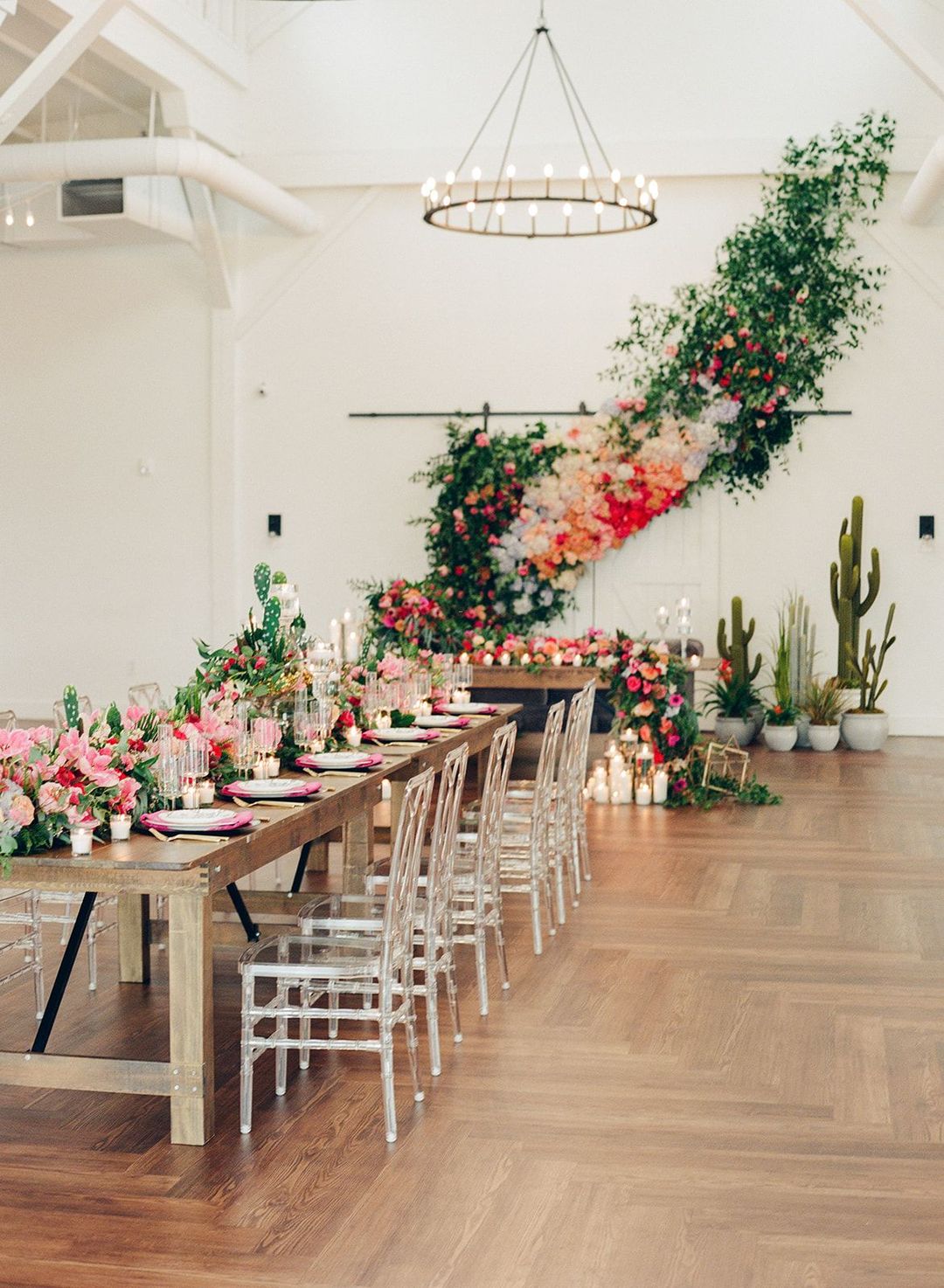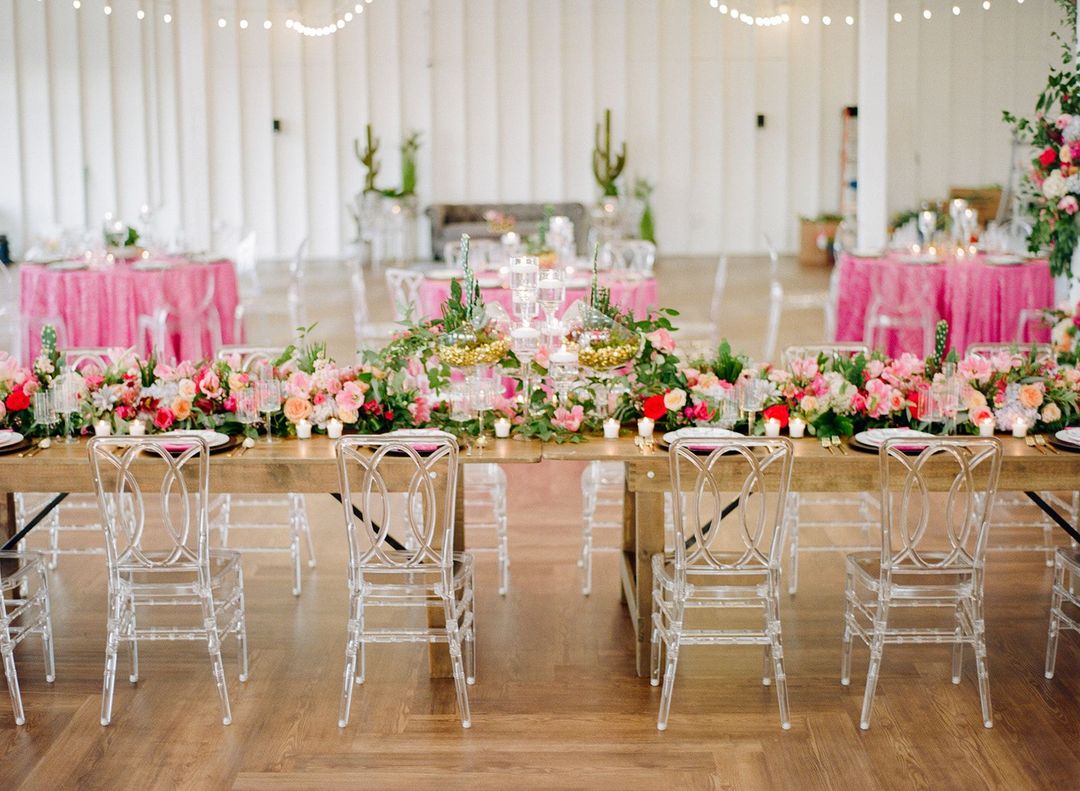 On the long dinner tables, we created place settings using our Coronado China, Athena China, Faux Wood Round Chargers, and Austin Flatware. Our Fuchsia Etched Velvet Napkins brought a POP of color that complimented the bright floral centerpieces. For drinks, we selected our classically elegant Cybil Glassware.
Also, note the beautiful calligraphy escort cards by Fanciful Ink!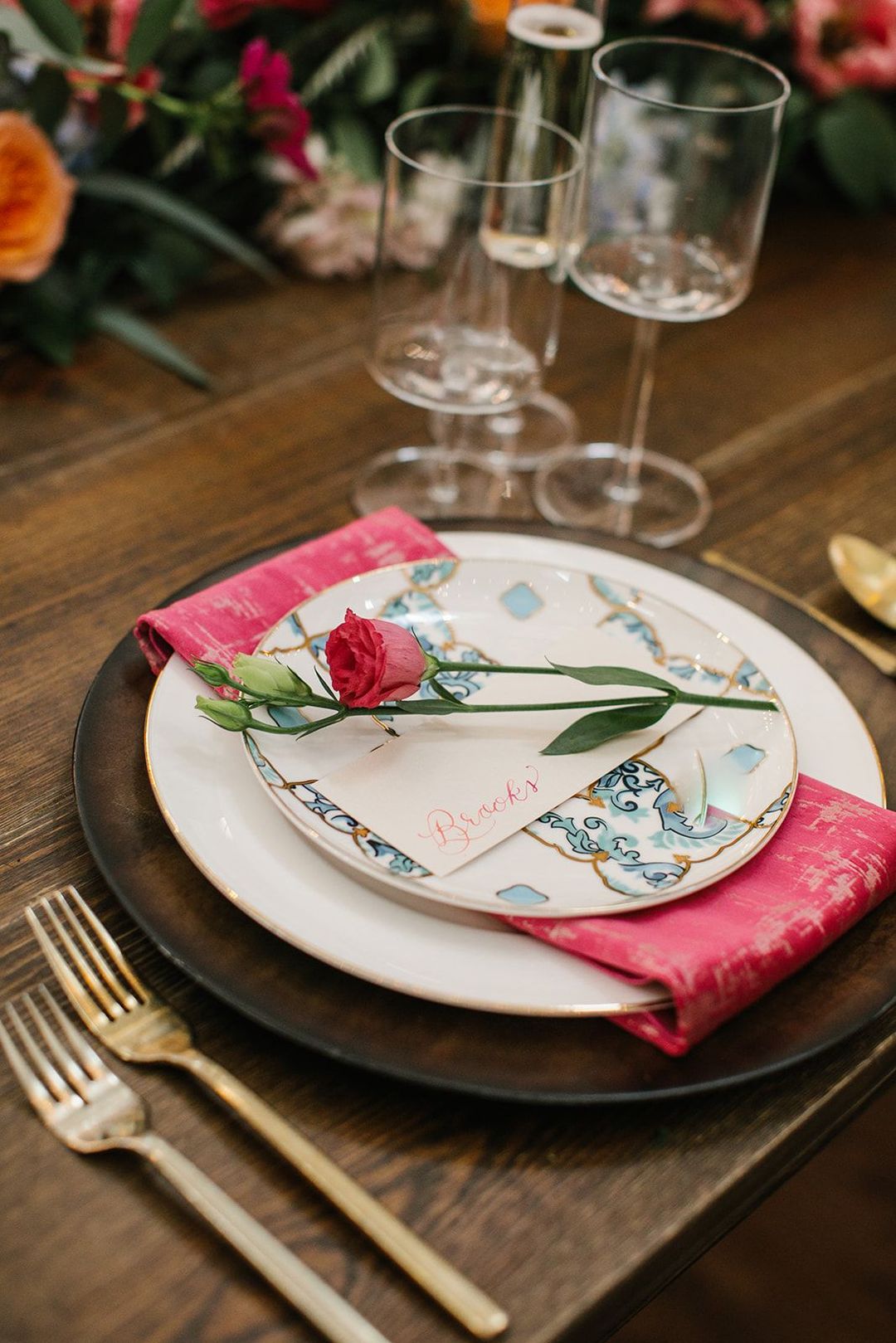 When styling the bride and groom's table, we always like a little extra drama. The bold florals dripped all the way to the floor where they met our Gold Metal Intersect Cube and Davis Glass Cylinders, for a warm and luxe look.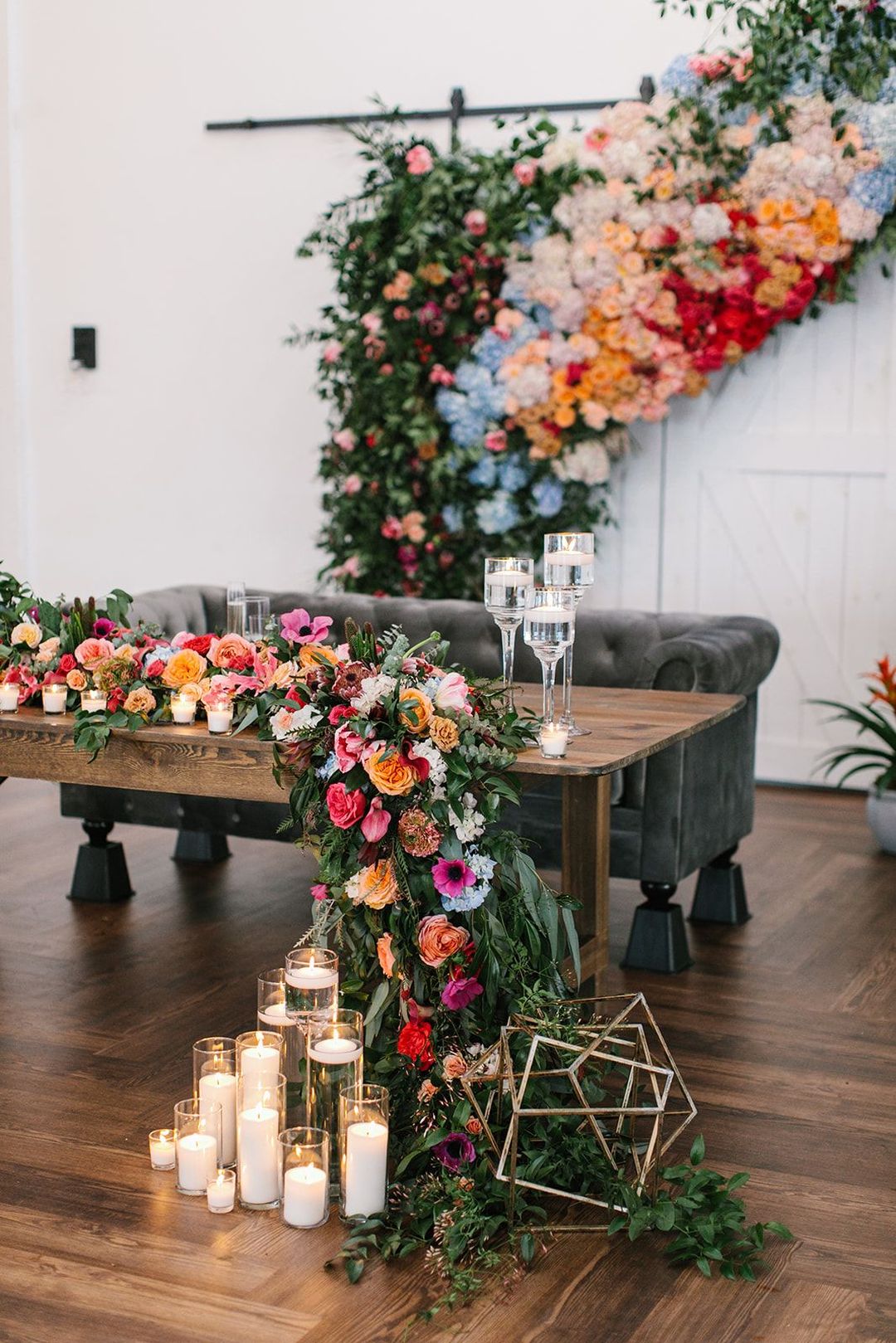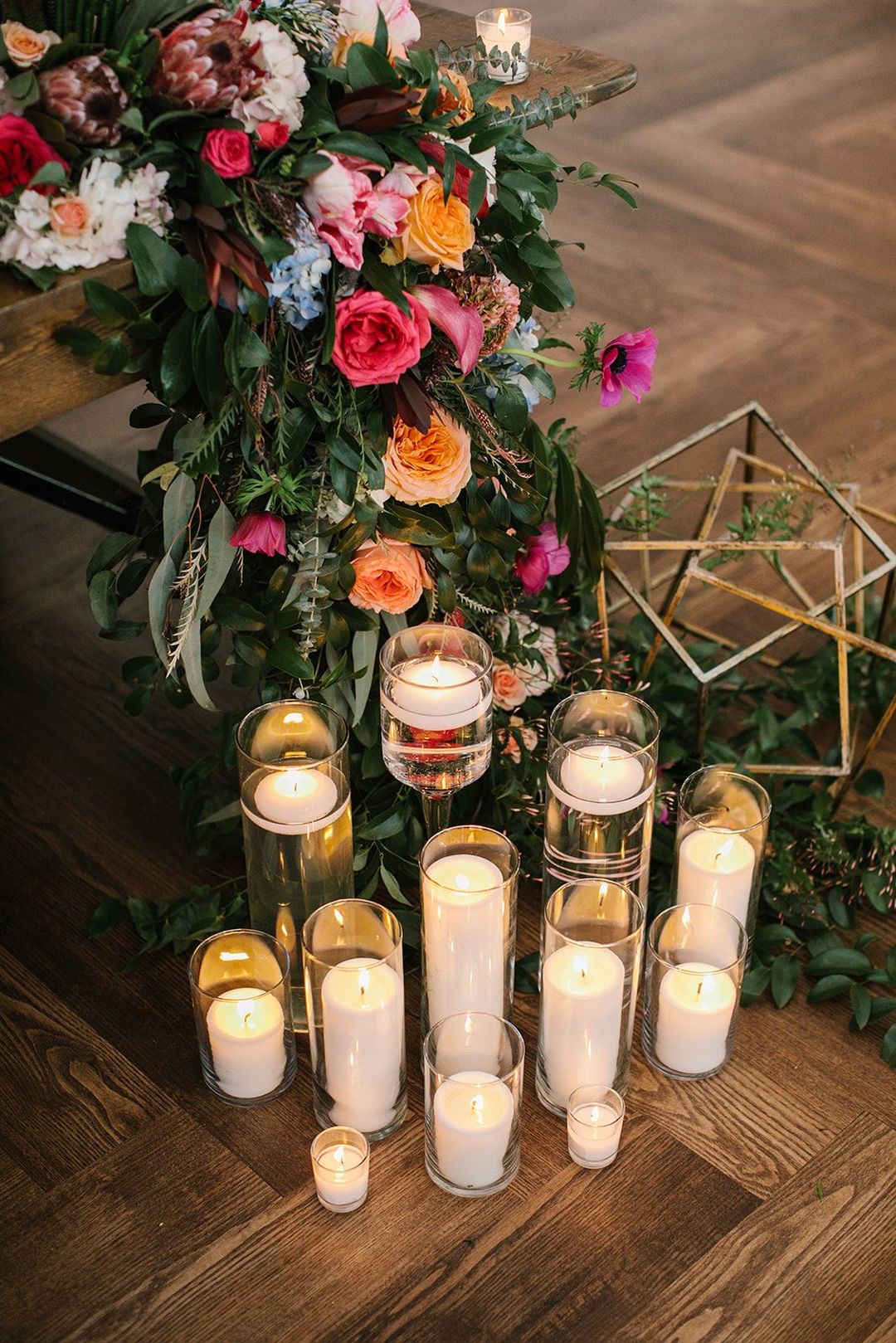 In addition to long dinner tables, we also used round tables. For these, we selected our stunning Fuchsia Etched Velvet Linens. A mix of our acrylic chairs were featured, for that popular mix and match vibe.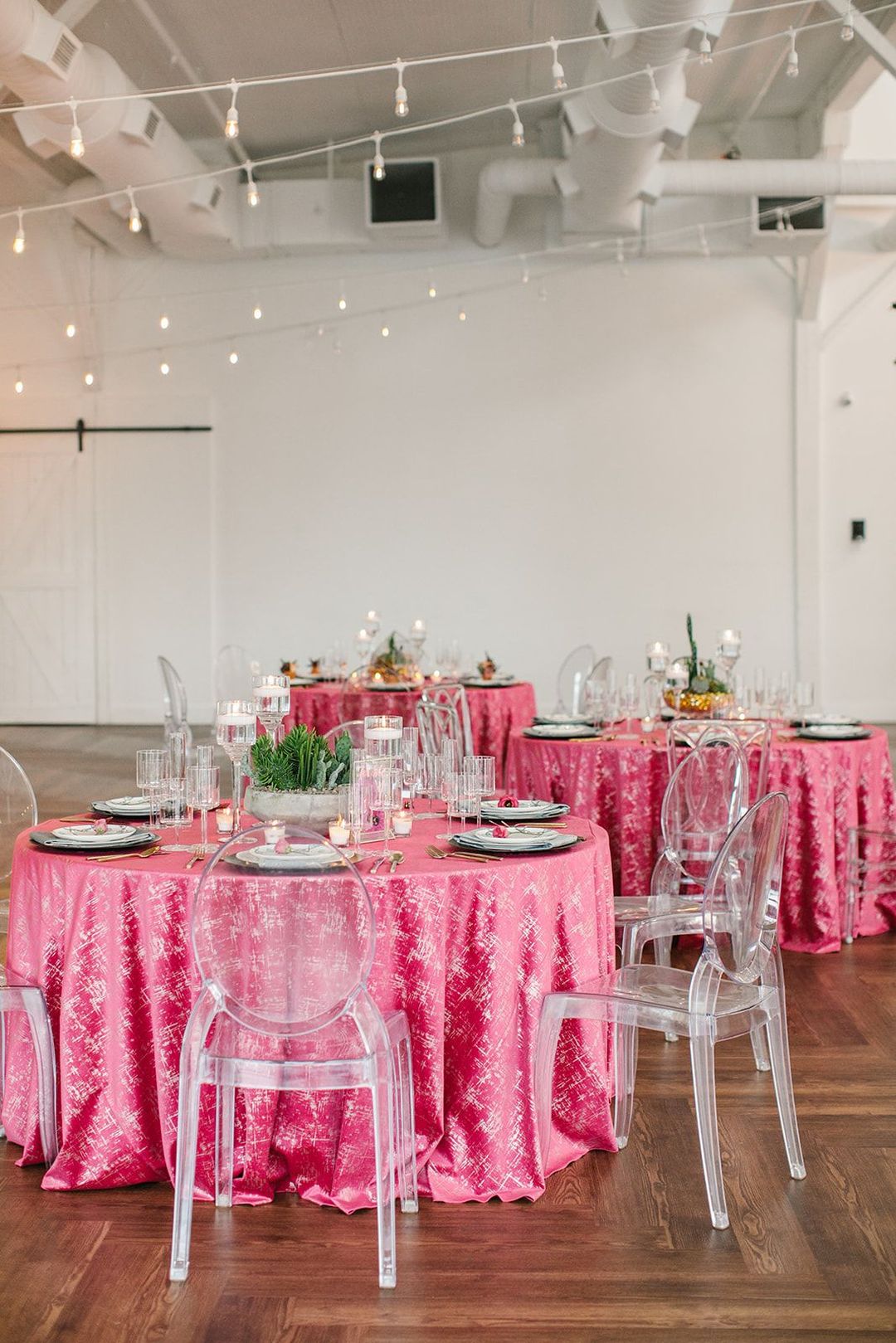 While the place setting were identical to those on the long dinner tables, we switched out the napkins. Our London Fog Etched Velvet Napkins provided a much-needed neutral contrast to the otherwise bold table. Our favorite element? The super cute potted plant wedding favors/place settings!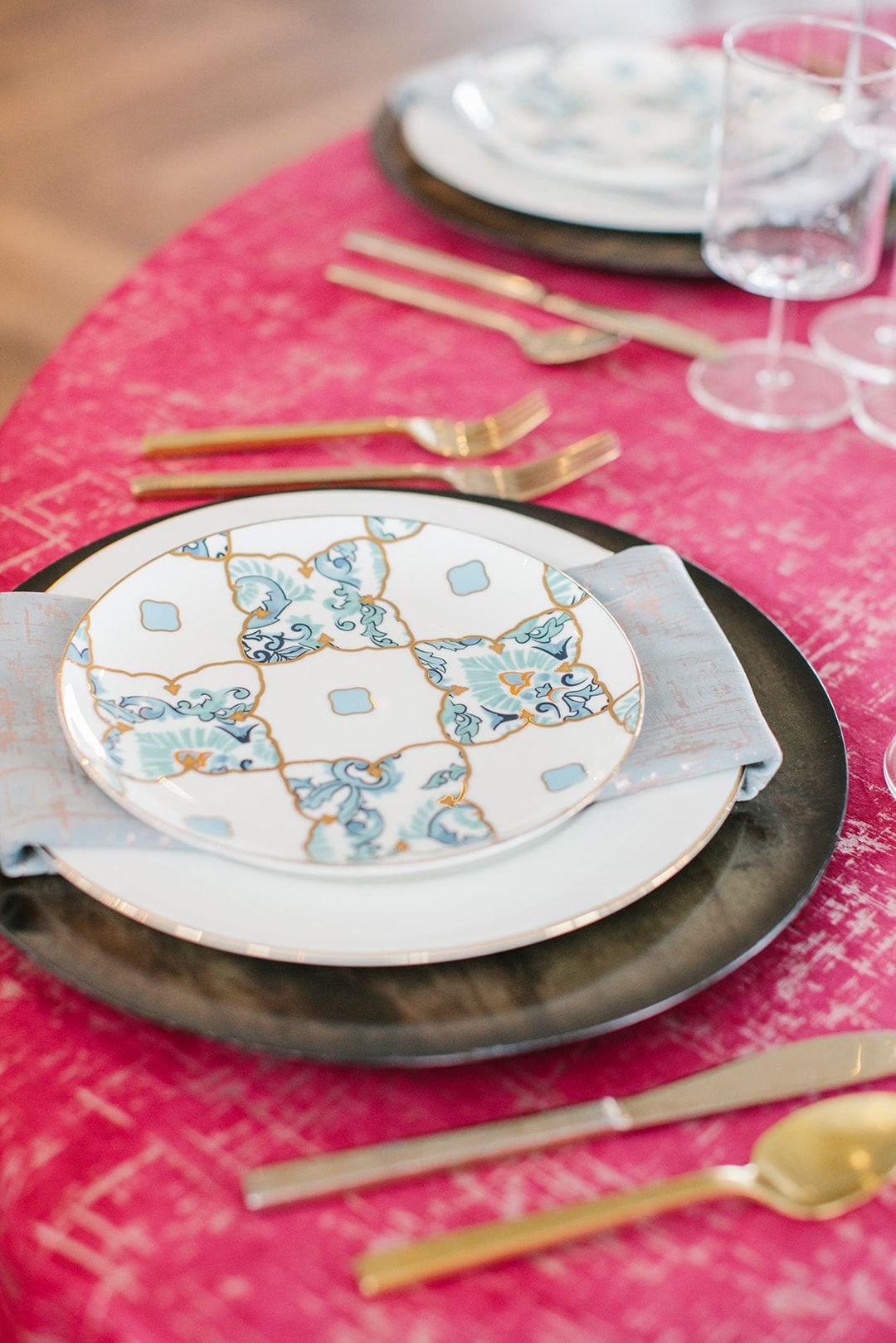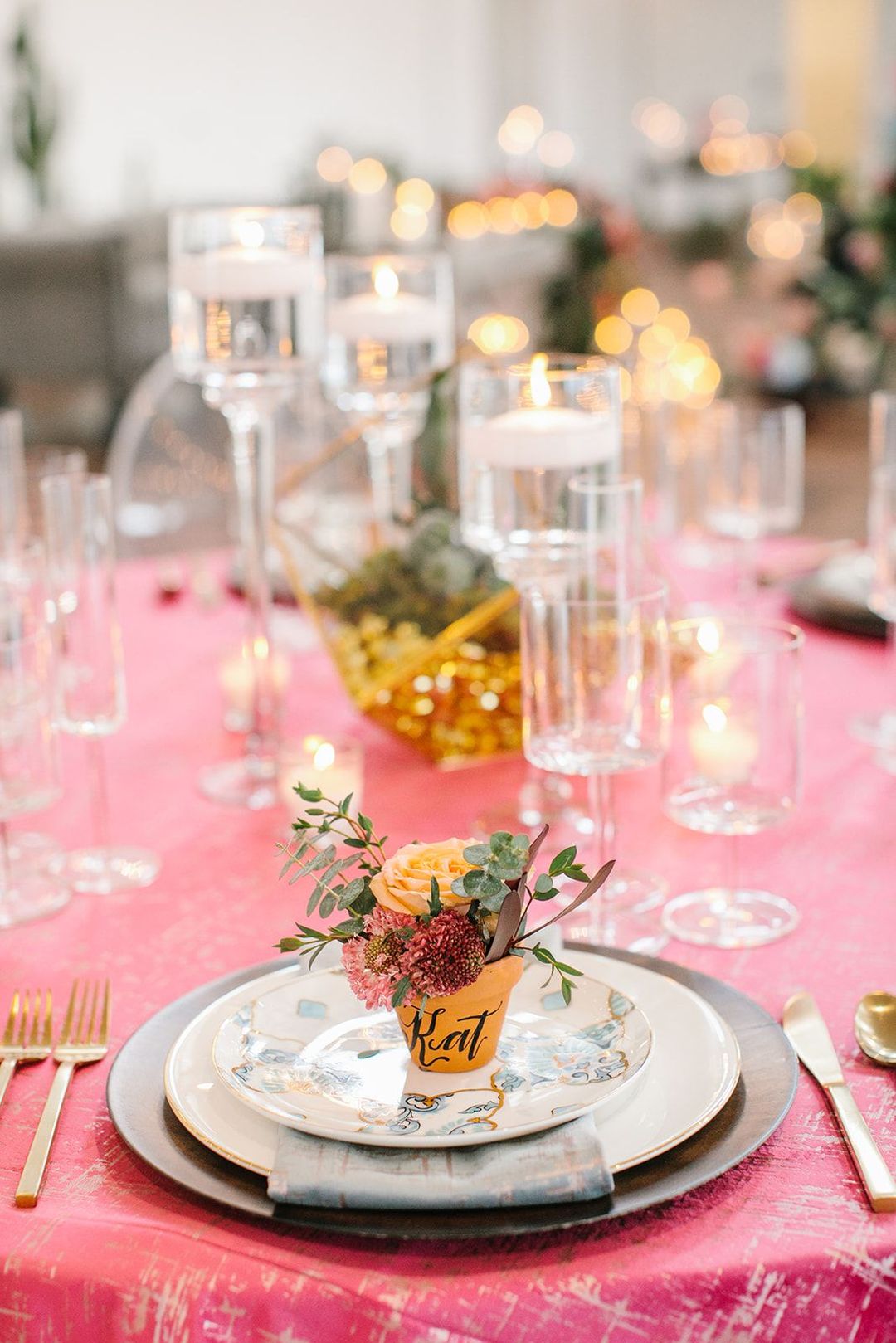 Lounge areas are a must-have for any wedding with a cocktail hour. This cozy lounge was created using our Nickel Grey Bench, Henley Grey Velvet Tufted Sofa, and Acrylic Fantasma Side Chairs.  Cheval Gold Miror Side Tables were decorated with lush plants for that chic desert vibe. Nearby, bistro tables were set up with our Ocean Blue Velvet Linens.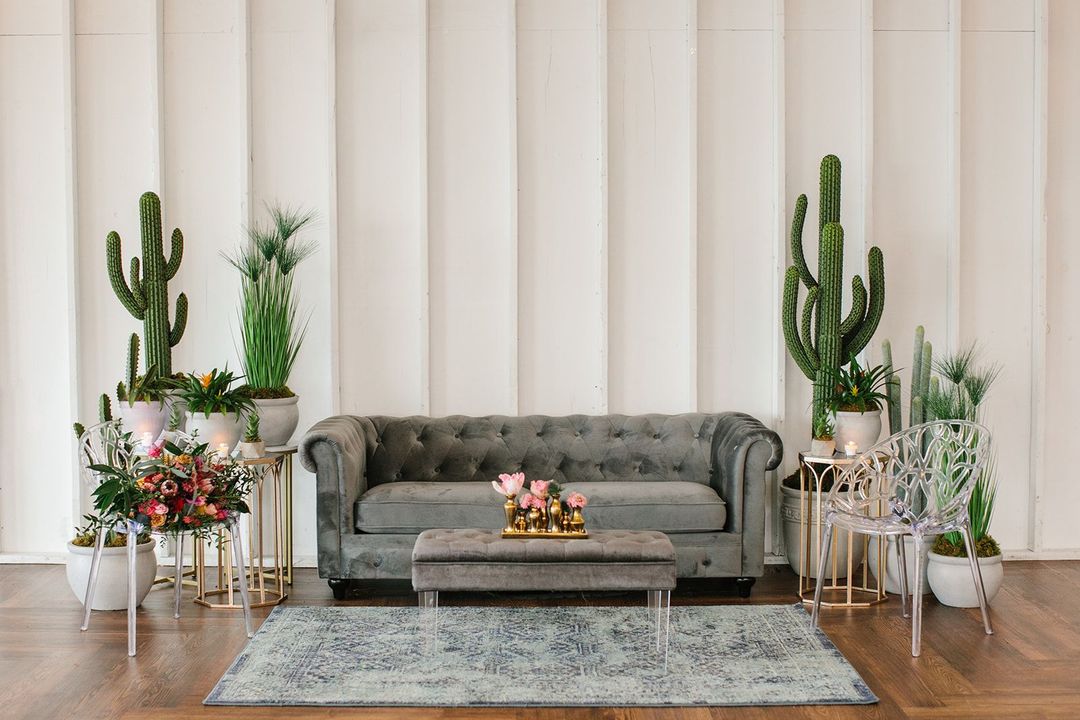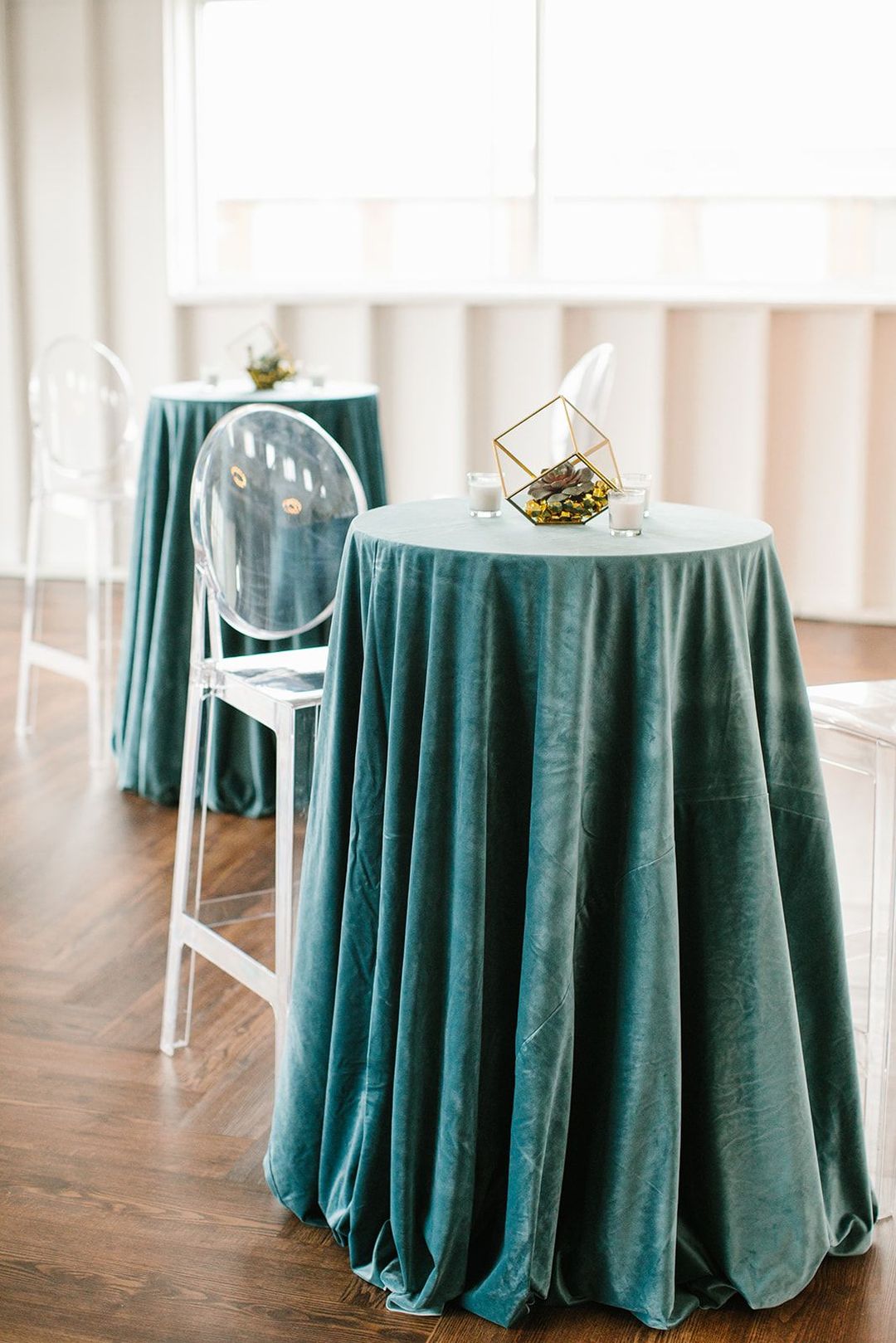 Other vendors:
Dress  Adorn Nashville
Suit The Black Tux
Want to features some of these gorgeous modern rentals at your next event or for an upcoming Nashville wedding? Contact our team to secure your rentals today!
TAGS | 14Tenn Nashville, Bright & Colorful Rentals, Chic Modern Design, Colorful Wedding Decor, Style Shoot, desert bloom style shoot, modern event decor
FEATURED RENTALS | Nickel Grey Bench, Henley Grey Velvet Tufted Sofa, Acrylic Fantasma Side Chair, Cheval Gold Miror Side Tables, Coronado China, Athena China, Faux Wood Round Charger, bistro tables, ocean blue velvet linens, Cybil Glassware, Austin Flatware, Acrylic Carrigan Chair, Acrylic Armless Ghost Chair,
---
6

Aug

Events and Style Shoots, On Trend, Southern Events Products, Trends and Inspiration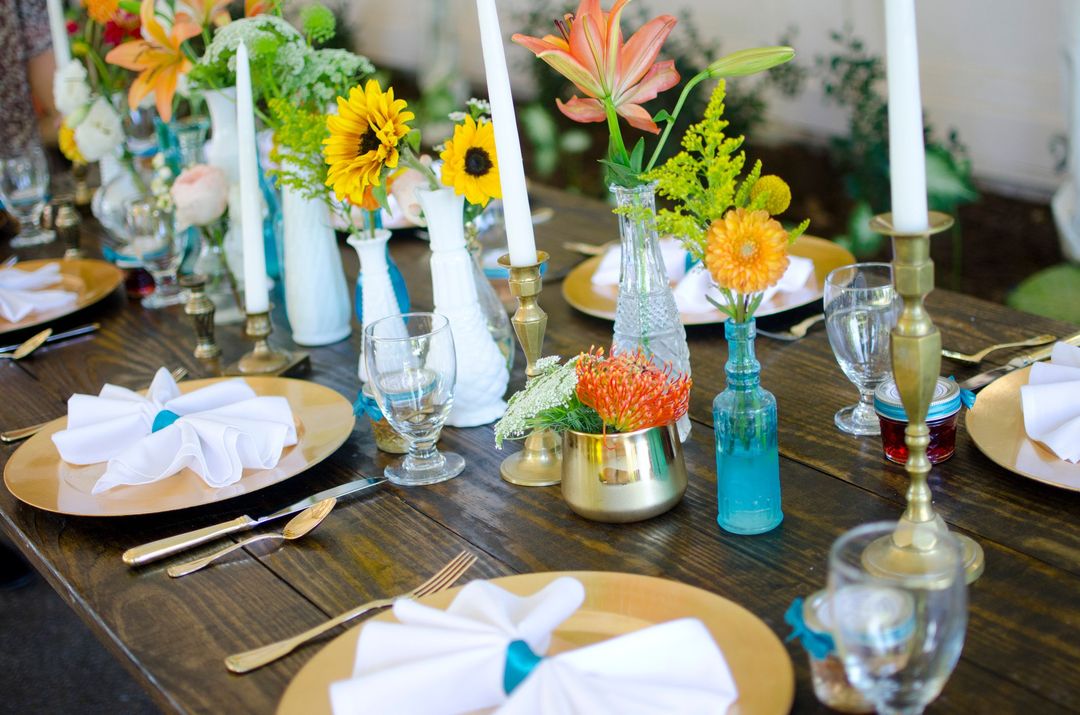 Vibrant and whimsical, these colorful backyard party ideas that are sure to bring some wonder & whimsy to your next Nashville, Tennessee event. Perfect for a kid's birthday party, fun gender reveal party or daytime wedding, check out how we use our party rentals to create a bold & colorful look that is timeless, stylish and fun!
Mix & Match Furniture
Keep your event casual yet maintain a consistent aesthetic with a mix of furniture that complements one another. By using Barnwood Furniture of a variety of shapes, you can make the most of the space and also feature some statement pieces. Take for example our beautiful Fruitwood Farm Tables. In regards to chairs, we used a mix of rustic benches and our elegant Cross-back chairs. Although simple, it creates a foundation from which to add color!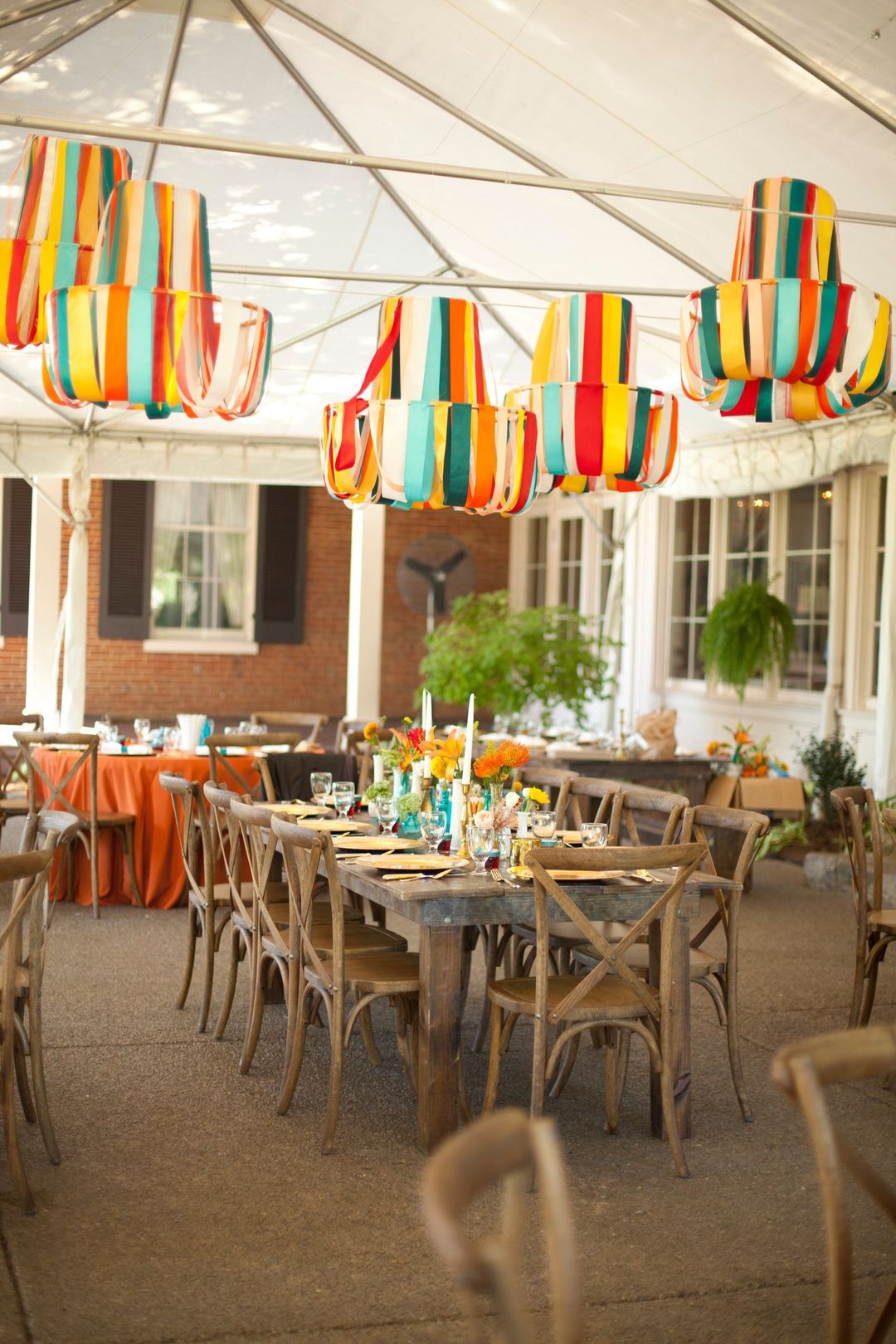 Photos by Krista Lee Photography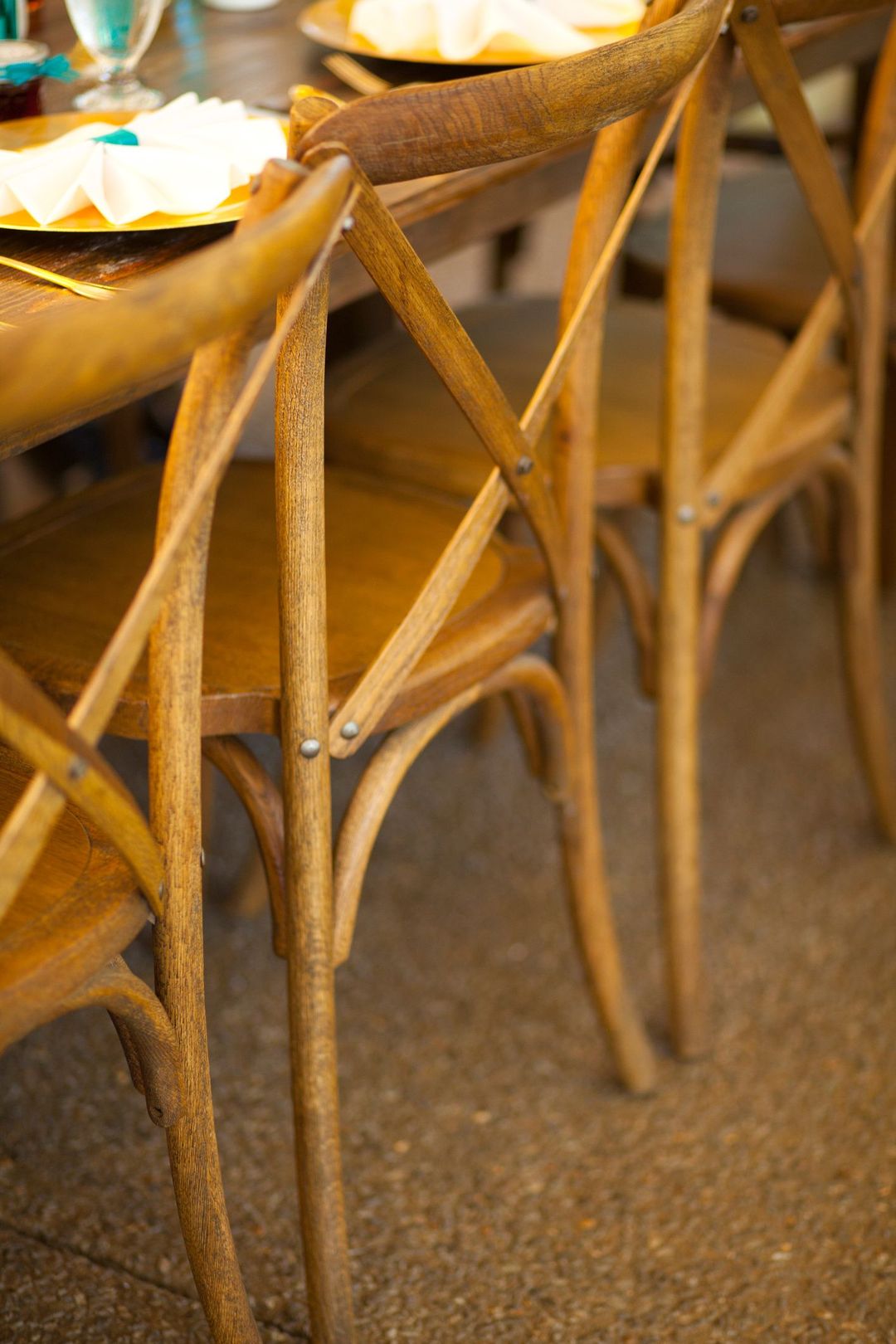 Metallic Place Settings
An easy way to add warmth to a colorful backyard event is with gold or silver accents. Featuring our Gold Round Lacquer Charger and Austin Flatware, adds a touch of metallics that contrasts beautifully against turquoise centerpieces. It also complements the golden yellows and sunset-inspired oranges throughout the event design. Don't forget to pull these accents into other parts of your events with gold-rimmed glasses on your bar or gold side tables in your lounge. This creates a more cohesive look.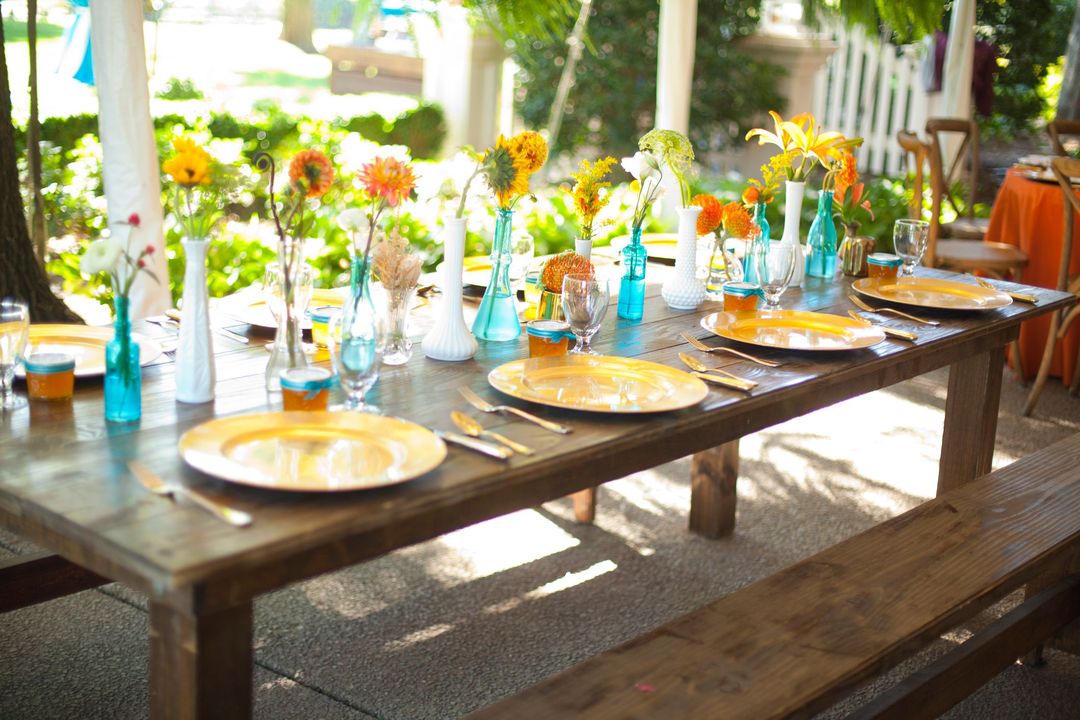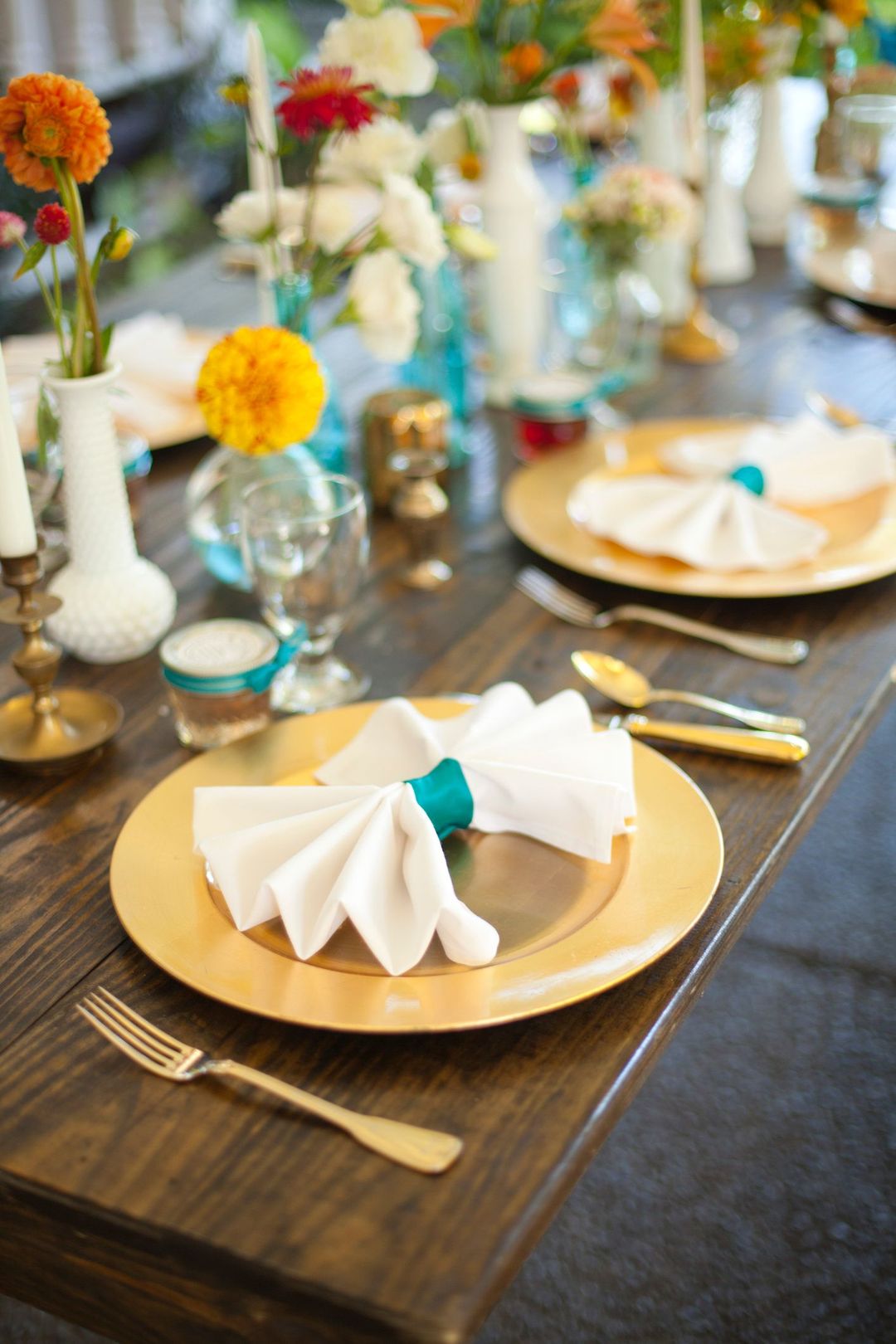 Bold Centerpieces
When it comes to table centerpieces people often feel the need to use matching pieces. A colorful backyard party is a perfect time to experiment with creative shapes and colors. This tablescape features a mix of vases, in teal, white, gold and clear glass – easy for a DIY backyard party. For candles, we suggest varying heights to add some dimension (though you can also create this with taller arrangements). As far as flowers go, consider keeping it simple but bright with a variety of wildflowers. Orange & yellow tones perfectly contrasted and popped against the teal and white glassware!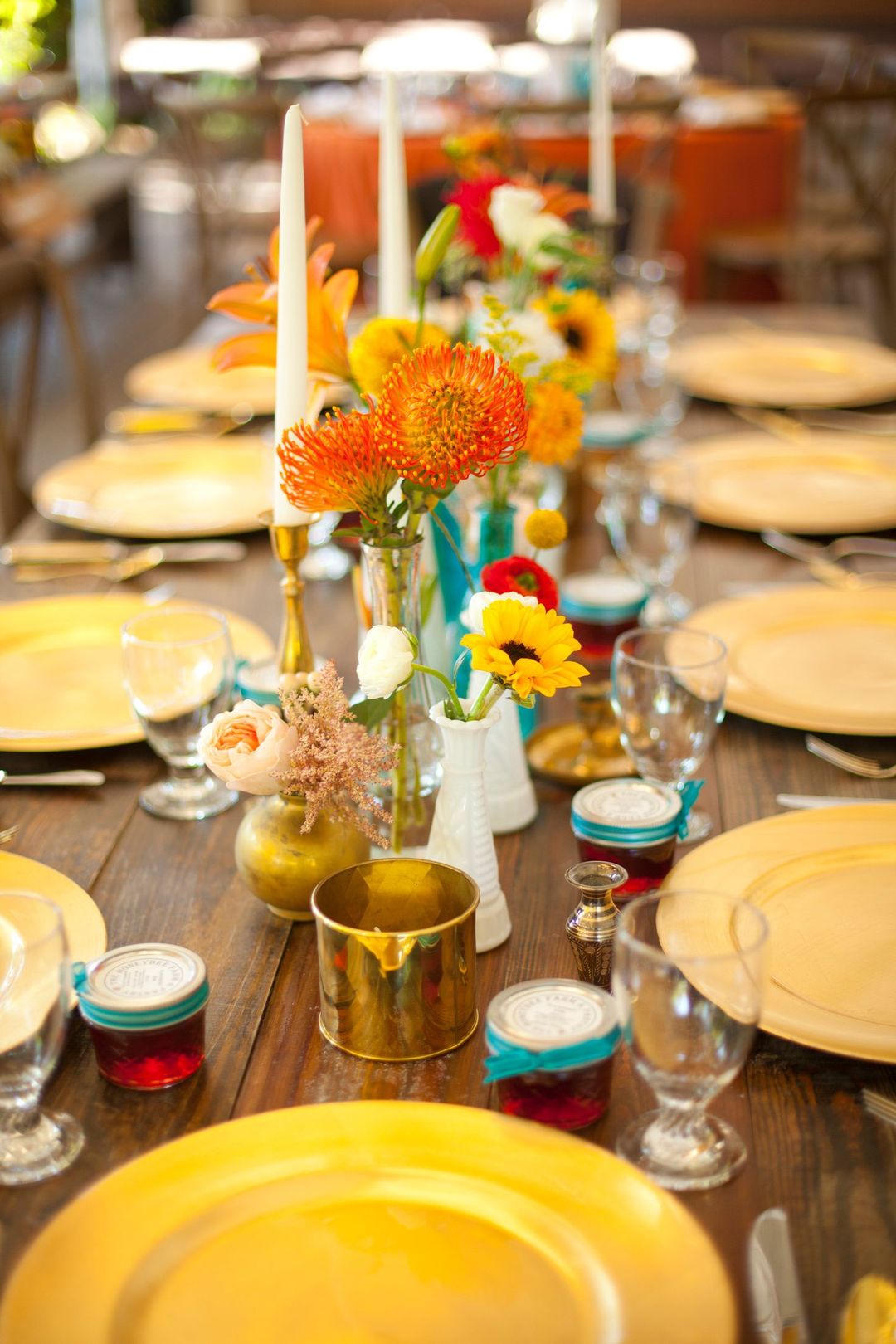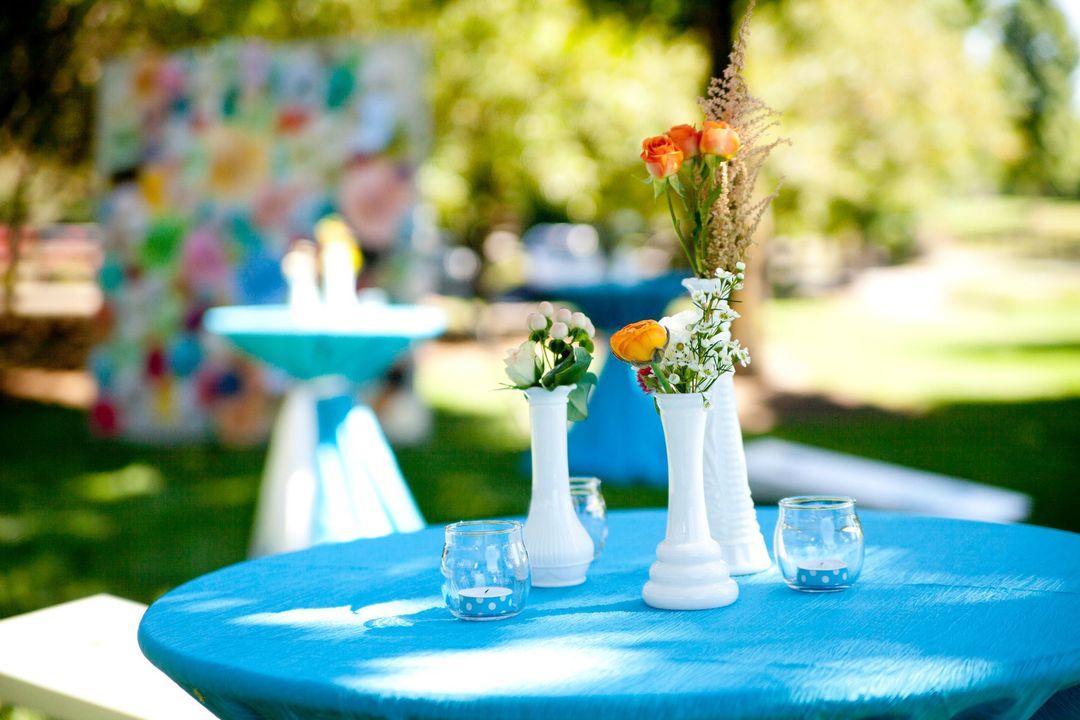 Vibrant Linens
Vibrant linens are so much fun! The use of bright colors will lend a sense of liveliness to your event, plus make your event photos pop. Don't be afraid to use different linens for each table either! Note how we were careful to switch up the color of our table centerpieces depending on the linen color. As a general rule: place lighter colored centerpieces on dark tablecloths and vice versa. Our Fuschia Etched Velvet Linens with their gold veining would be a another way to bring in a subtle metallic accent and a bold pop of color.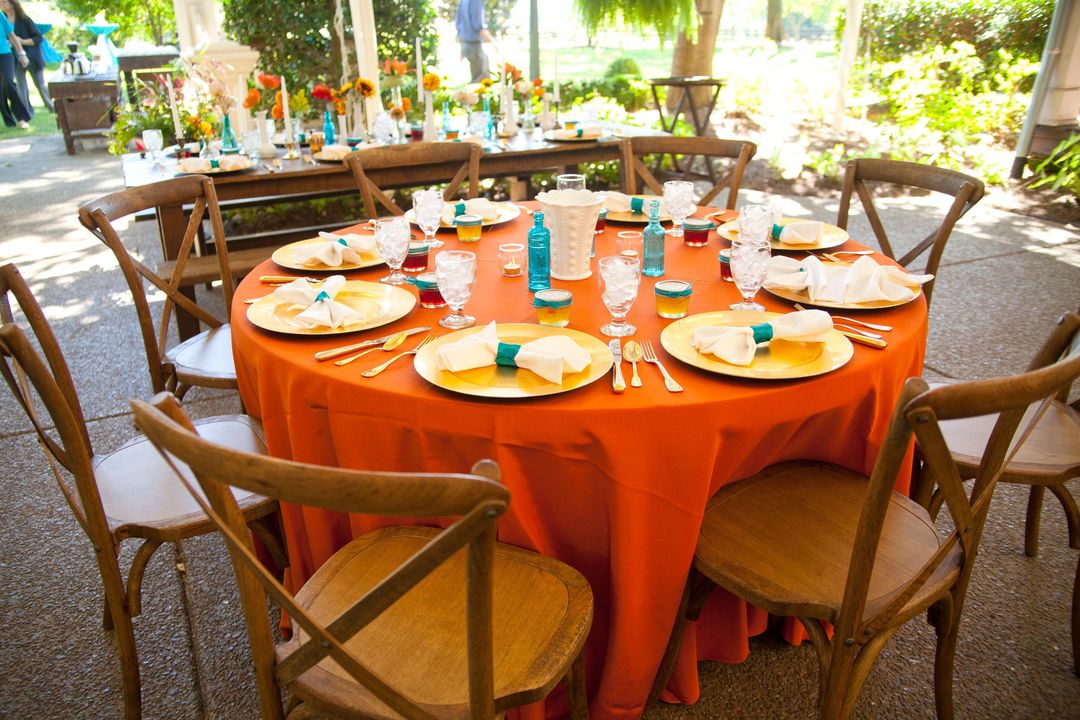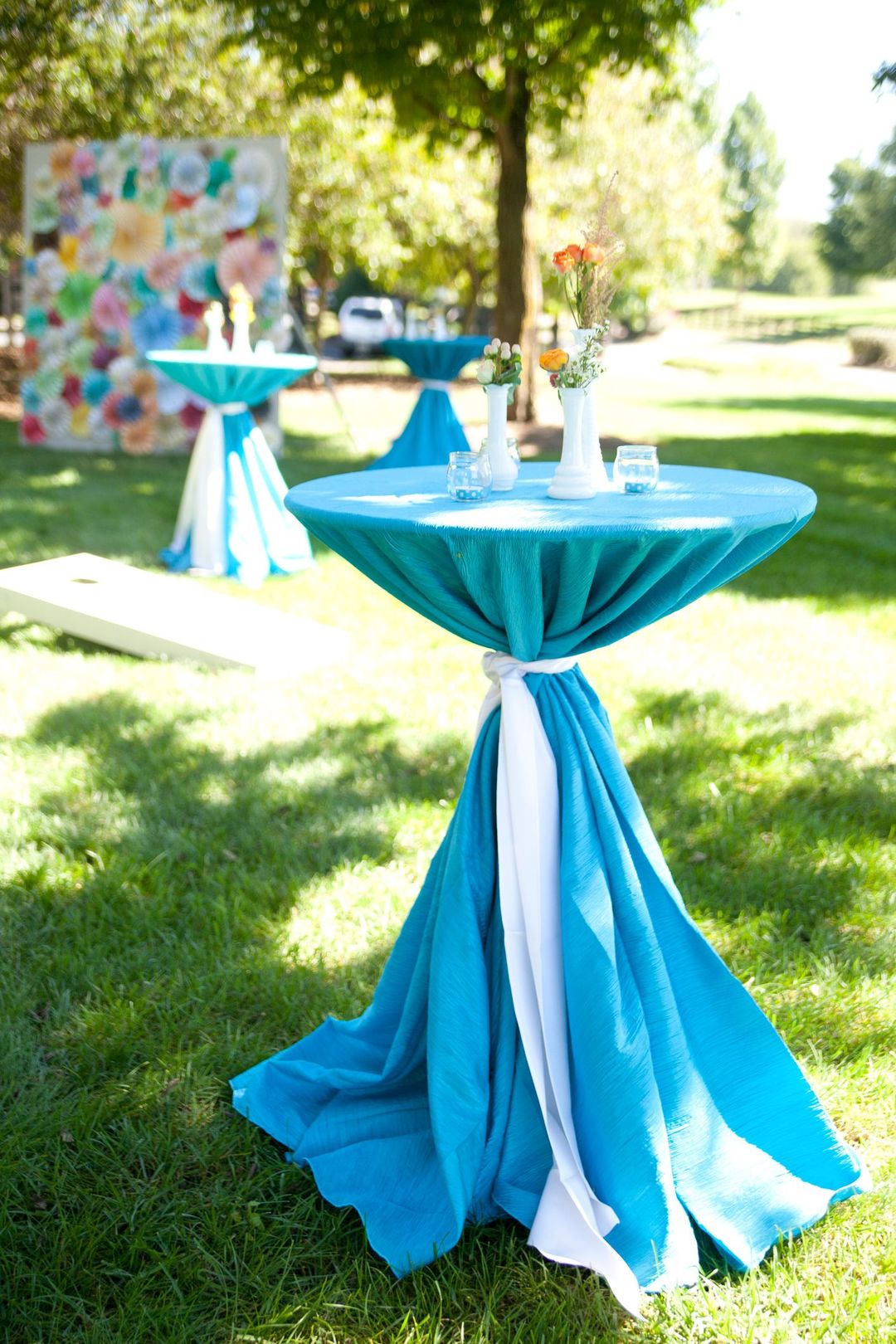 Loving these colorful backyard party design ideas? Contact our team for more inspiration and rentals for your event! Plus check out our previous blog for Season-less Event design.
TAGS | Bright & Colorful Rentals, Colorful and Fun Outdoor Wedding, Kids Parties, On Trend, backyard parties, classic event rentals, colorful decor, event inspiration, event style trends, style trends
FEATURED RENTALS | rustic bench, fruitwood farm table, cross back chairs, round gold lacquer charger, Austin flatware, colored glassware, table linens, velvet linens
---
15

Feb

Events and Style Shoots, Southern Events Products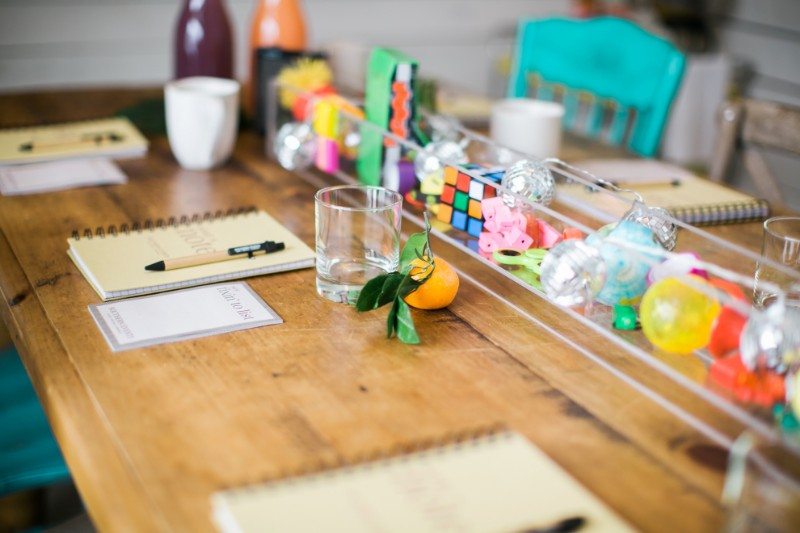 We're big believers in planning corporate meetings off-site: nothing like a change of scenery to bring about fresh new ideas. Go a step further and let your actual meeting space be a functional yet inspiring spot for employees to brainstorm, collaborate and learn with our bold and colorful rentals. We met up with friends over at The Lodge in Franklin, TN and styled one of their meeting rooms to be a vibrant, cheerful space that encourages employees to think big!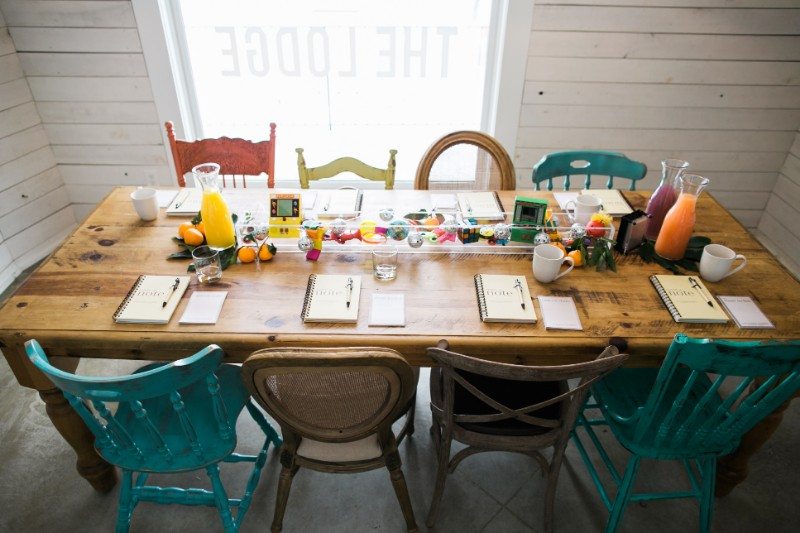 This bright conference room was already drenched in natural lighting. We added to that brightness with colorful vintage chairs, like the Charlotte, Amanda, Sadie, and Alex chairs along with the Cross-back and Adaline Chairs.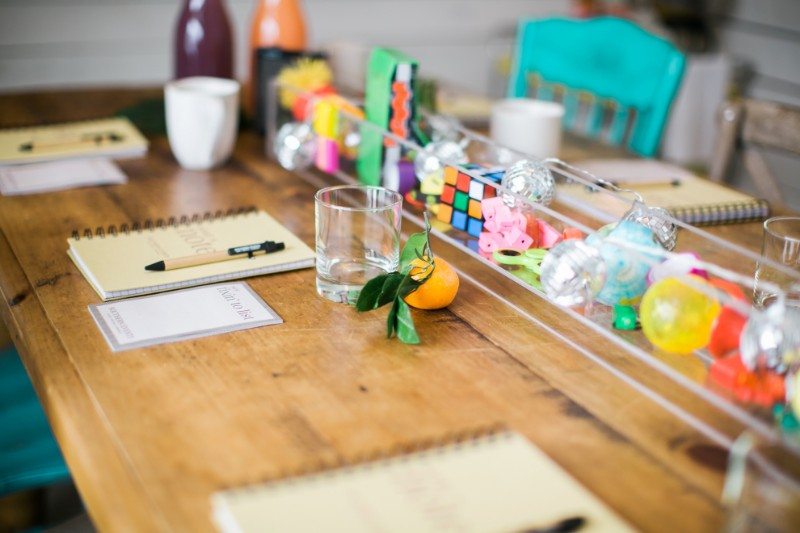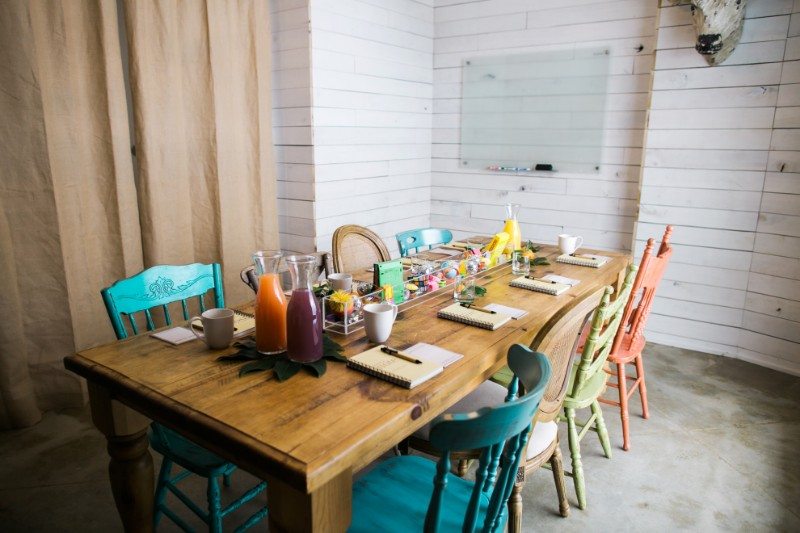 Our Vintage Sunny Rolling Cart was a thoughtful touch – employees were able to grab a caffeinated beverage at any point in our Earthen Alabaster Mugs, keeping their minds sharp! Attendees were able to grab more than just caffeine – Carafes filled with various juices were not only beautiful but were a refreshing mid-morning treat!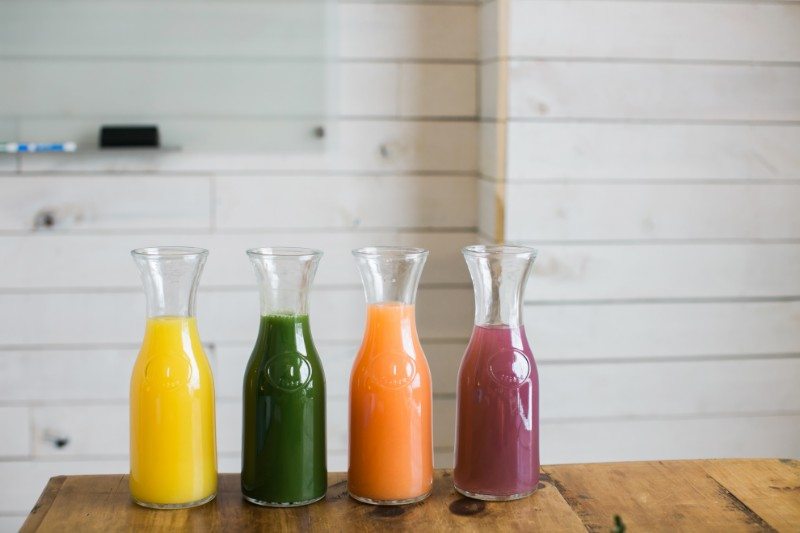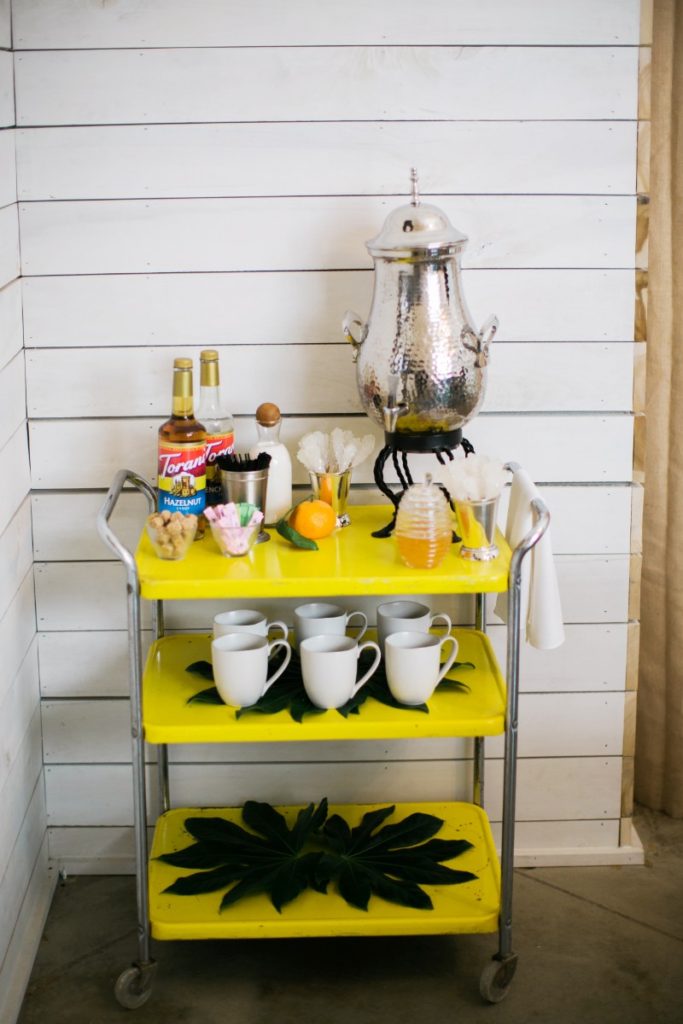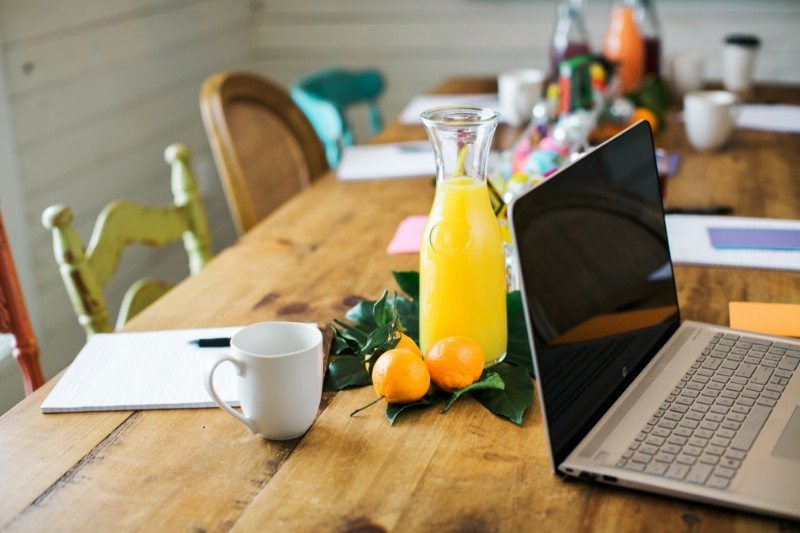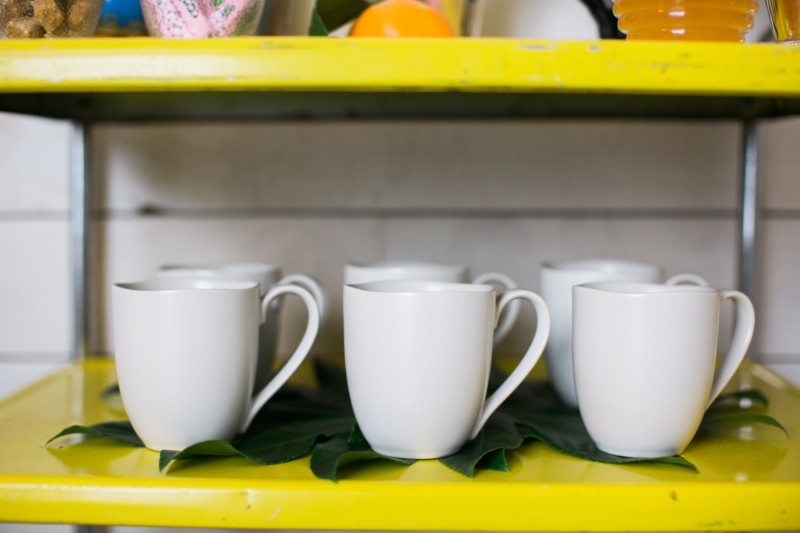 As an added treat, we did away with the expected mug-filled-with-pens centerpiece. Instead, we filled our new Acrylic Rectangle Container with colorful energizing trinkets! Employees loved the silly addition that helped them keep boredom away while working brainstorming with their colleagues.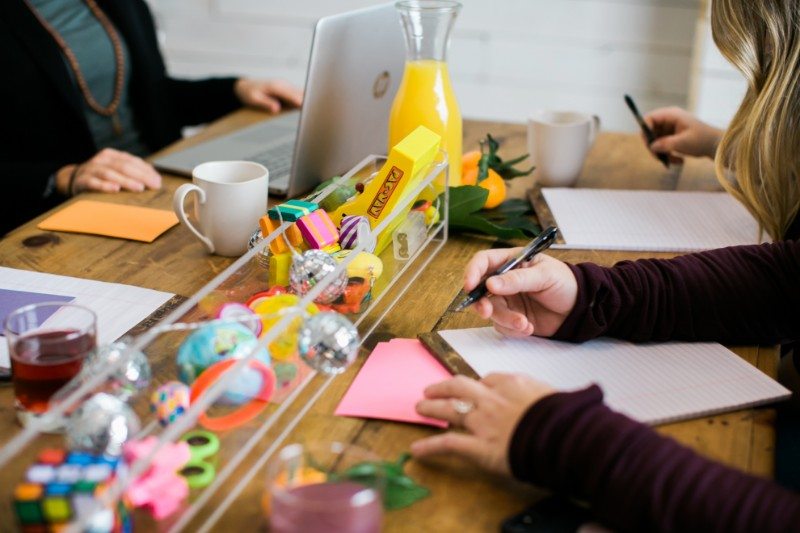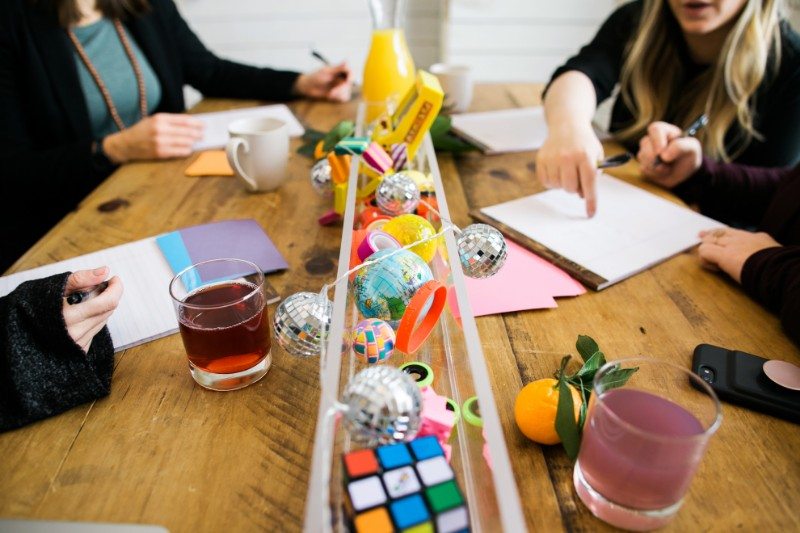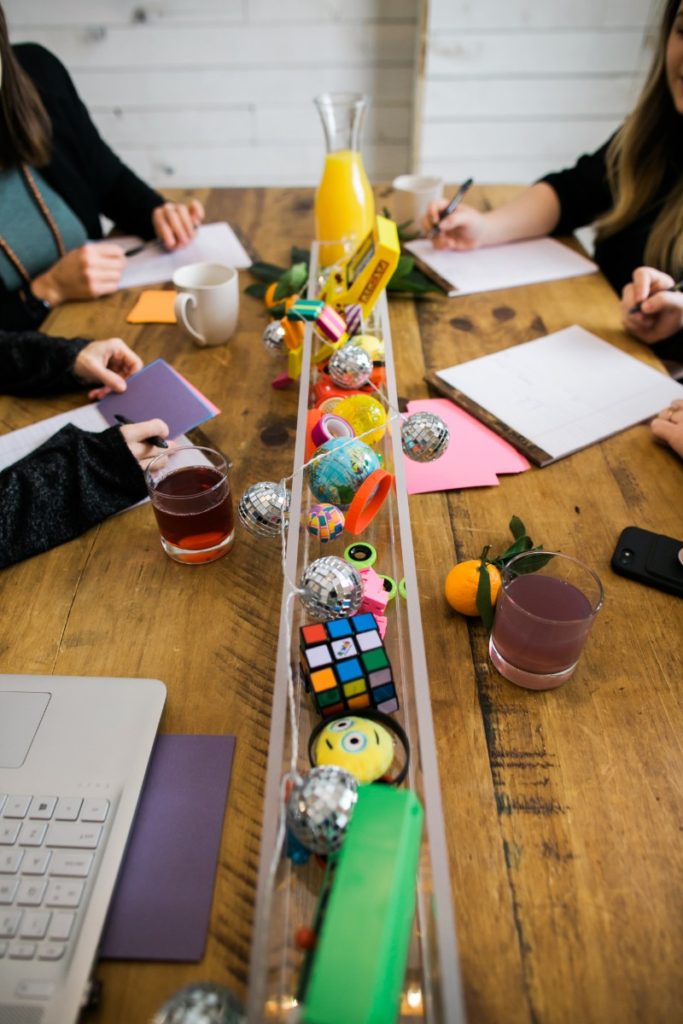 Photos by Jen and Chris Creed.
Get in touch with our team of experts to learn more and reserve rentals for your Nashville and Franklin, TN events, info@southerneventsonline.com.
TAGS | Bright & Colorful Rentals, Corporate meeting rentals, Meeting Rentals, Unique Corporate event rentals, Vintage Chairs, colorful vintage chairs, corporate event rentals
FEATURED RENTALS |
---