22

Dec

Joy, Peace and Merry Everything from Southern Events Party Rental!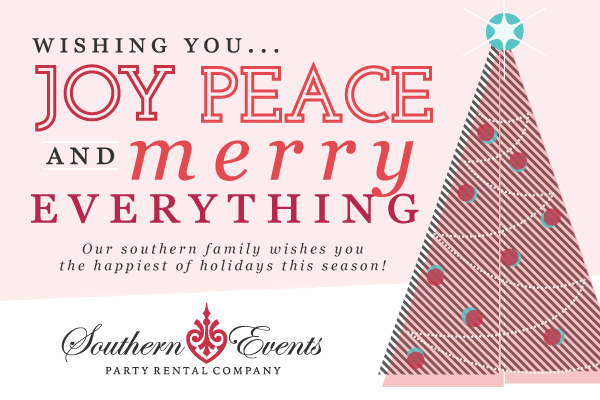 Happy Holidays and Merry Christmas from all of us at Southern Events!  What a whirlwind 2014 has been – it is hard to believe the year will over in less than two weeks.  First, some housekeeping… Our operating hours for the showroom and warehouse over Christmas and New Year's will be the following:
December 23 – Open regular hours
December 24 -26 – Closed, Merry Christmas!
December 31 – Showroom and Warehouse close at 2pm.  Please plan pick-ups before then.
January 1 – Closed, Happy New Year's!
January 2 – Open regular hours
If you have any last minute rental needs for the next couple weeks, we encourage you to contact our office as soon as you can, 615-595-8508. Again, we can't thank you all enough for the amazing support and continued patronage this past year.  We are looking forward to awesome 2015 with you!   Wishing you joy, peace and merry everything!
FEATURED RENTALS |
SEE MORE LIKE THIS