9

Nov

On Trend, Real Nashville Weddings, Southern Events Products, Trends and Inspiration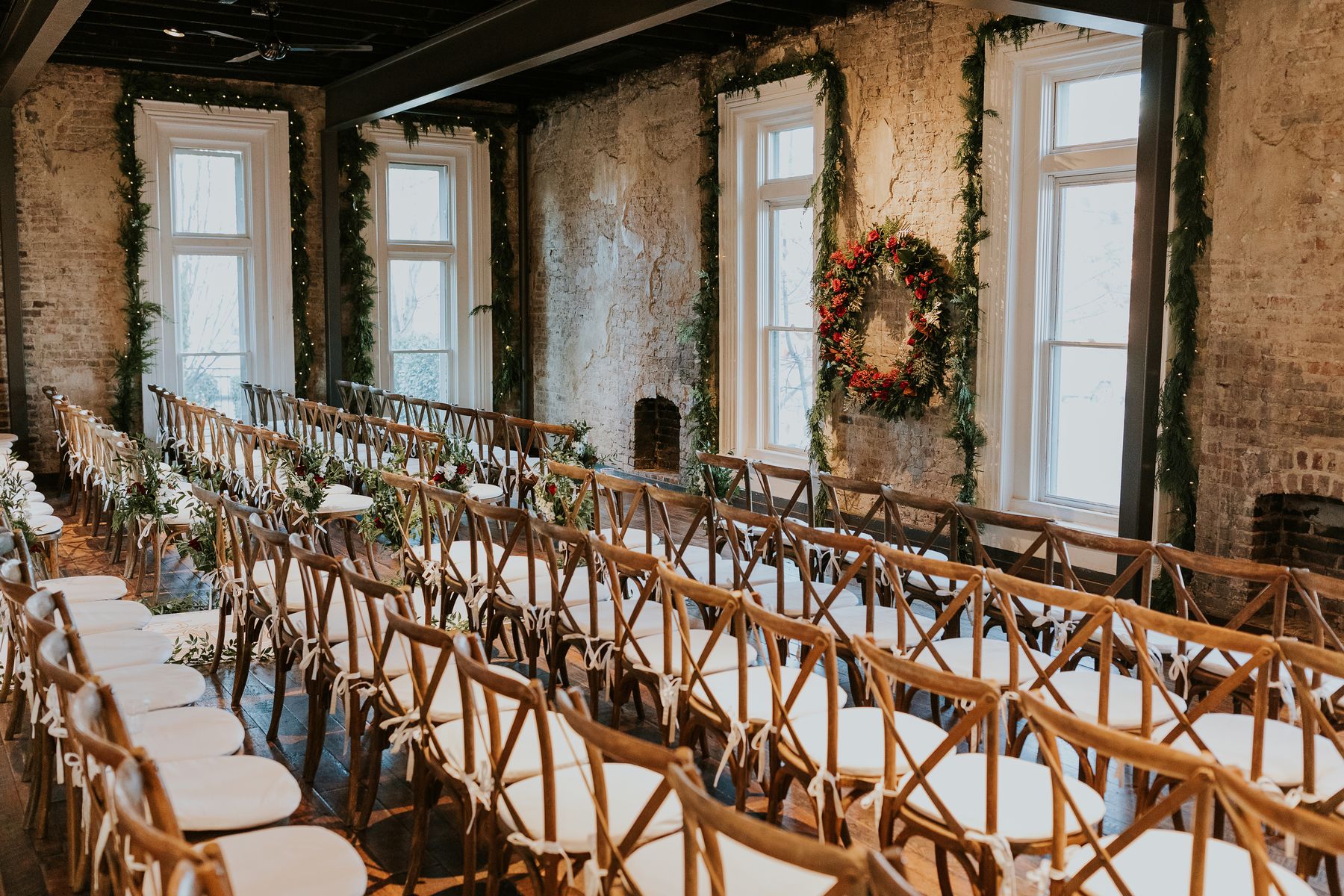 Nashville, known for its rich musical heritage and warm Southern hospitality, provides the perfect backdrop for a memorable winter celebration. If you're planning to tie the knot during the wintertime, we've got you covered with some unique and on-trend wedding themes that will leave your guests in awe. Whether you choose a look that is warm and cozy, downright luxurious, or bright and festive. Keep reading for Nashville winter wedding inspiration featuring our stylish party rentals!
Winter Luxe
This style offers an elegant look that nods to the season while maintaining a timeless appeal! To begin, arrange long banquet tables for an intimate look, elevated with sophisticated acrylic seating. Or you can infuse a touch of luxury with Gold Chiavari Chairs. These look stunning complemented by gold accent china – stack the Gold Rim Glass Chargers and Vera Floral China with Austin Gold Flatware. You can also enhance the tablescapes with lush greenery and velvet napkins in the shade Magnolia.
For an equally stunning cocktail hour, feature an ornate Christmas tree, flanked by Gold Bamboo Arm Chairs or the Fern Velvet Sofa. Just don't forget accent tables! Finally, delight your guests with classic cocktails served in our Smoke Beaded Tumblers or sleek stemless champagne flutes.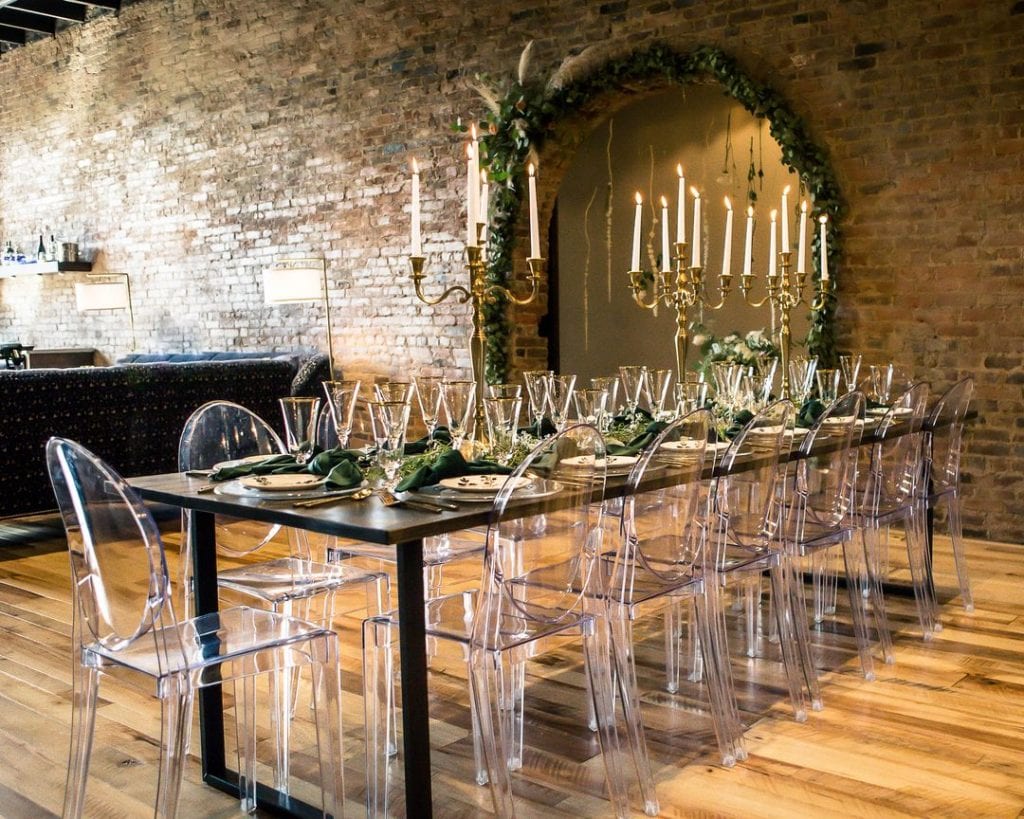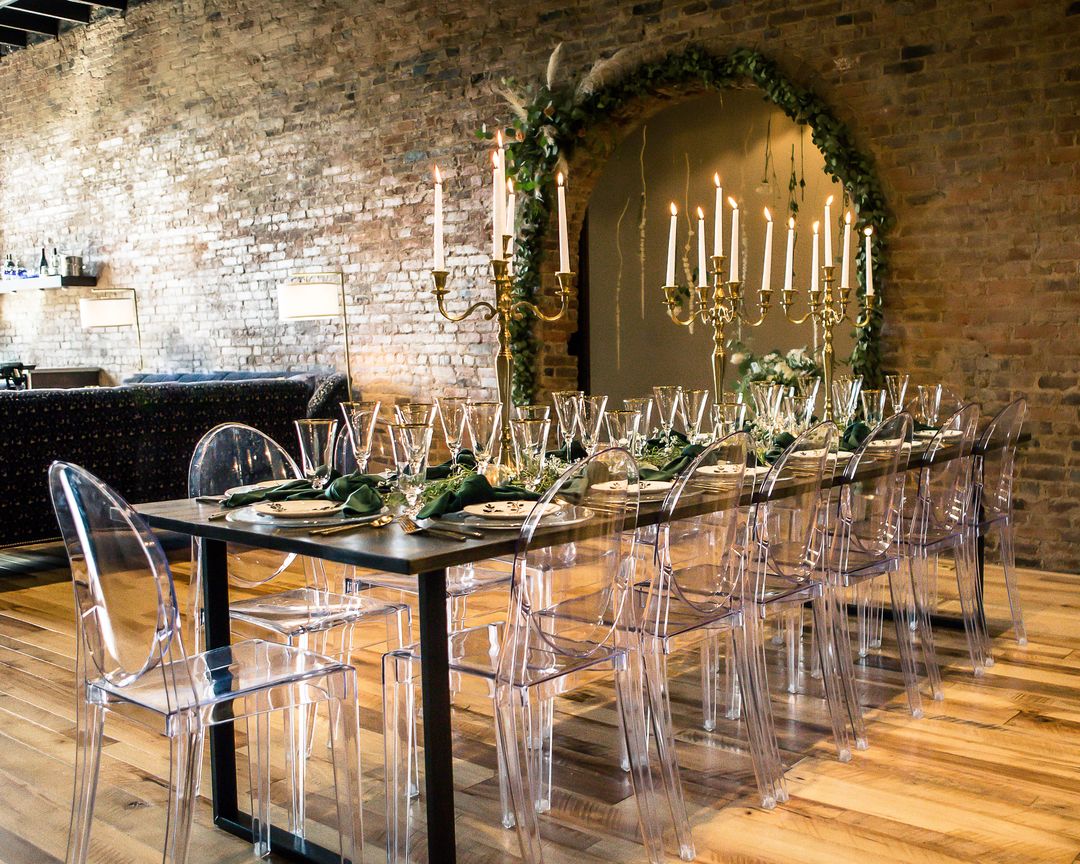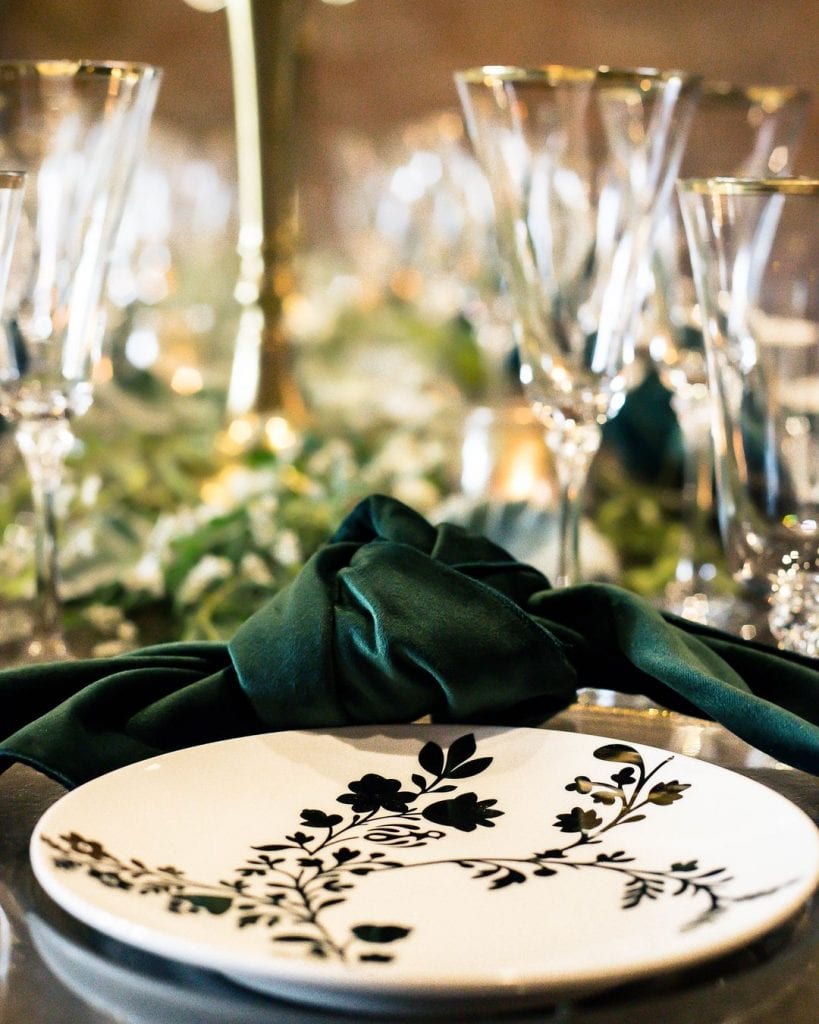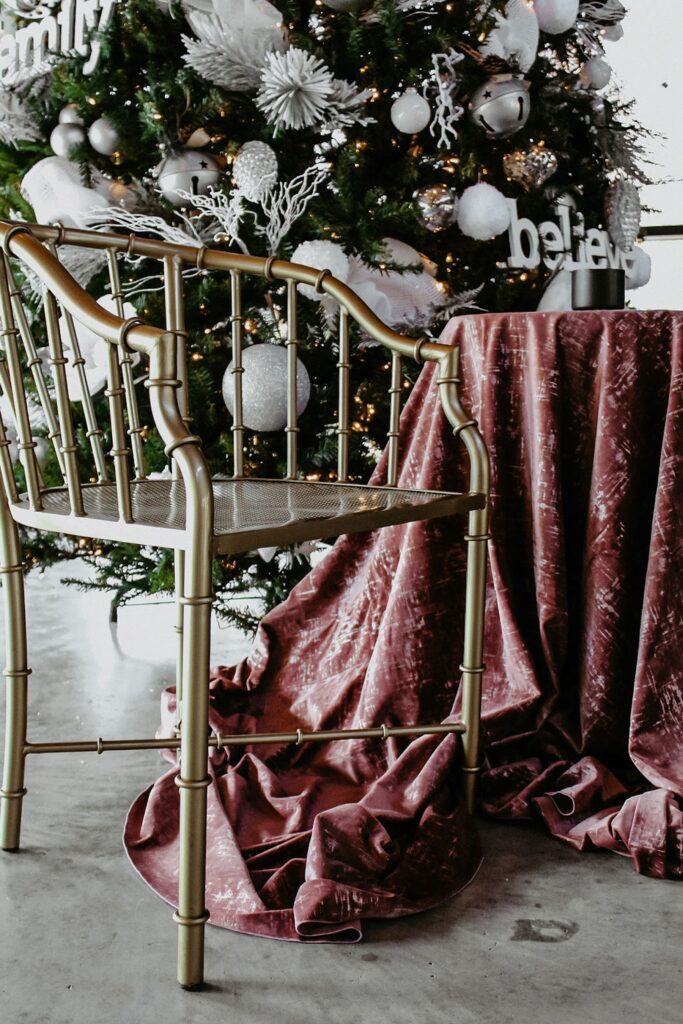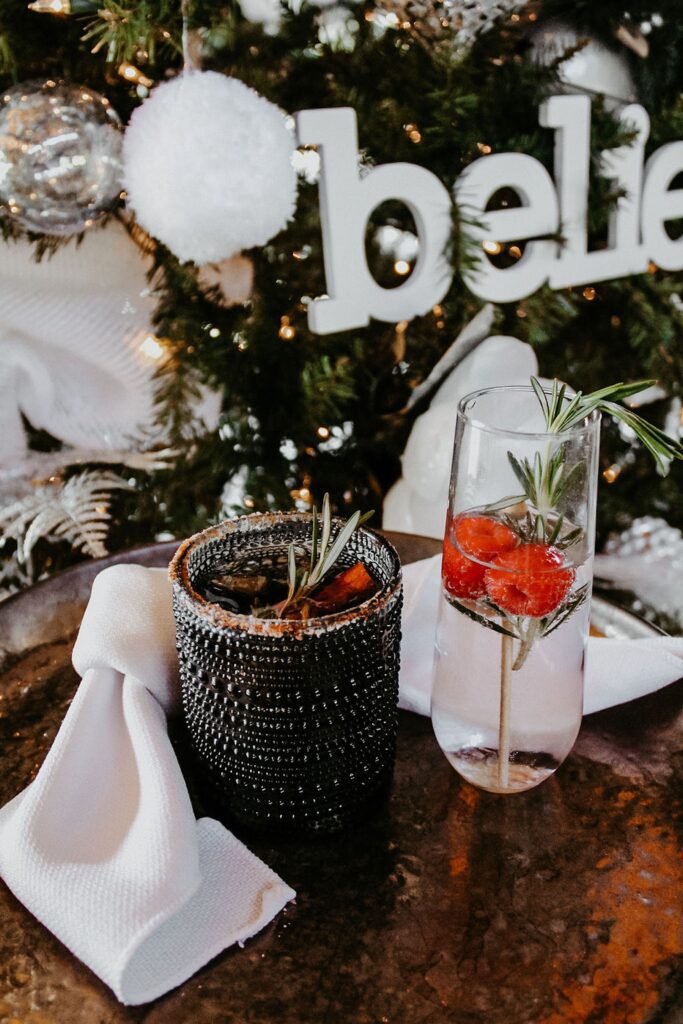 Modern Moody
Are you dreaming of a sophisticated black and white formal winter wedding? We recommend an indoor reception with minimalist acrylic seating. For example, the Acrylic Ghost Armless or Acrylic Carrigan Side Chairs. What's more, the latter stars an intricate, almost ice-like back! At the reception, create a cozy atmosphere with softly lit tables adorned with black tablecloths, crisp white napkins, and china. Such as our White Coupe China or Carerra Marble Dinner Plates.
Moving on to the cocktail hour, adorn bistro tables with the striking black and white Nova Linens. As well as Acrylic Casper Square Back Barstools. And don't forget the pièce de résistance! To be specific, espresso martinis with whipped cream, elegantly served in our Gatsby Coupe Glasses.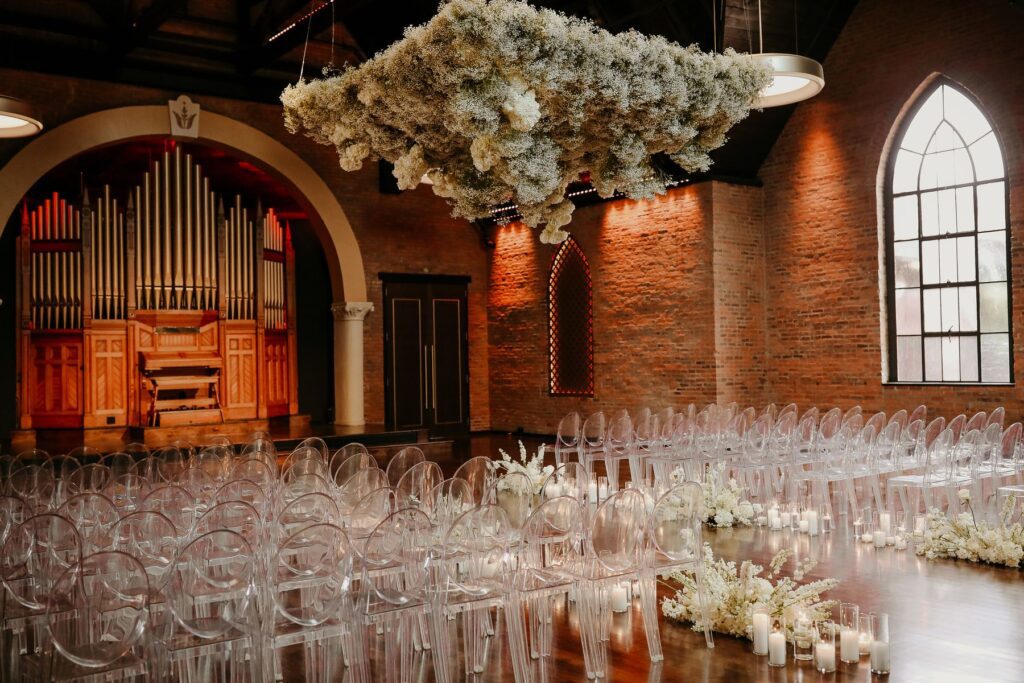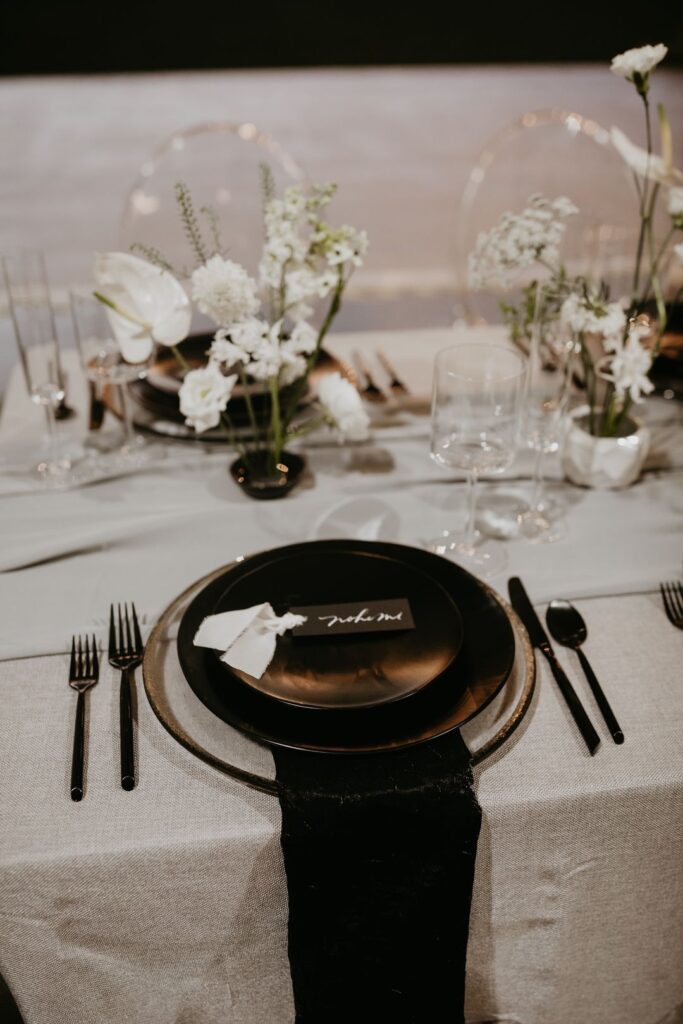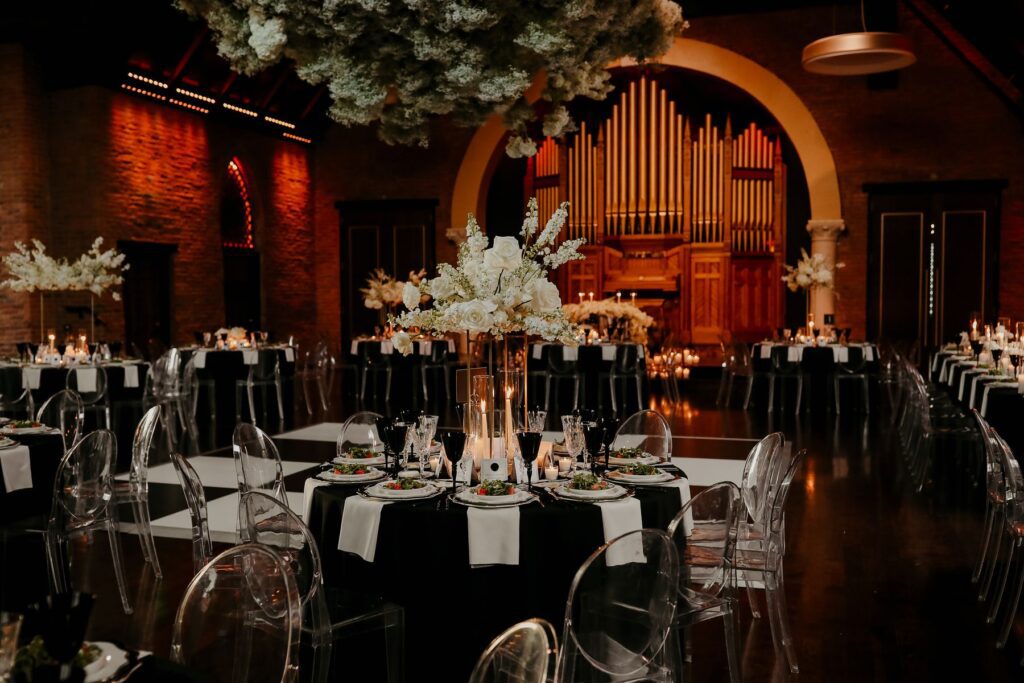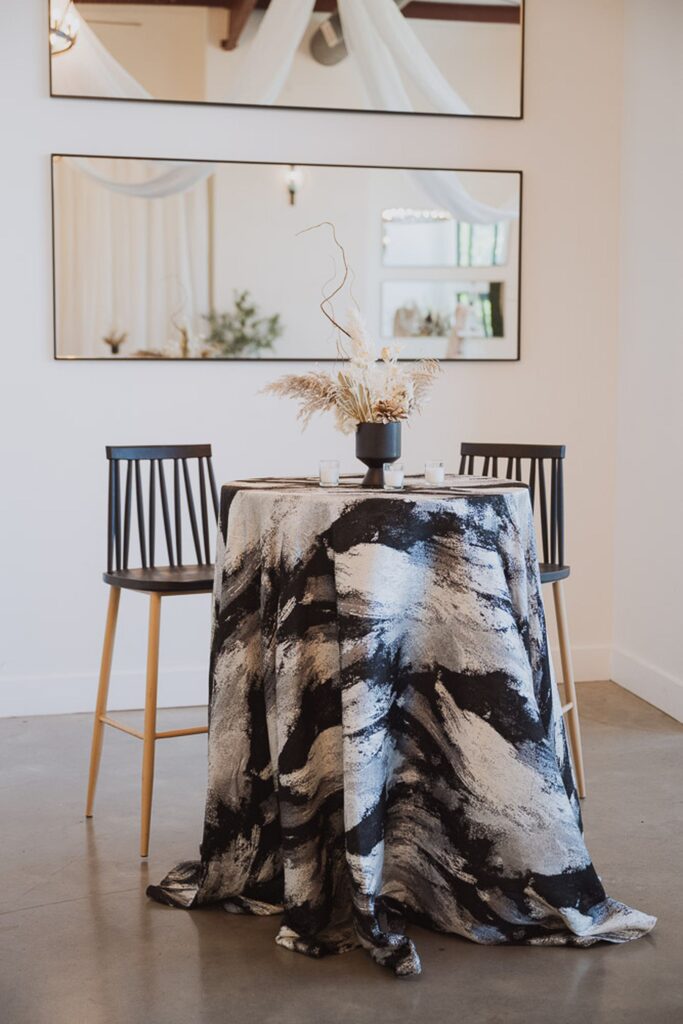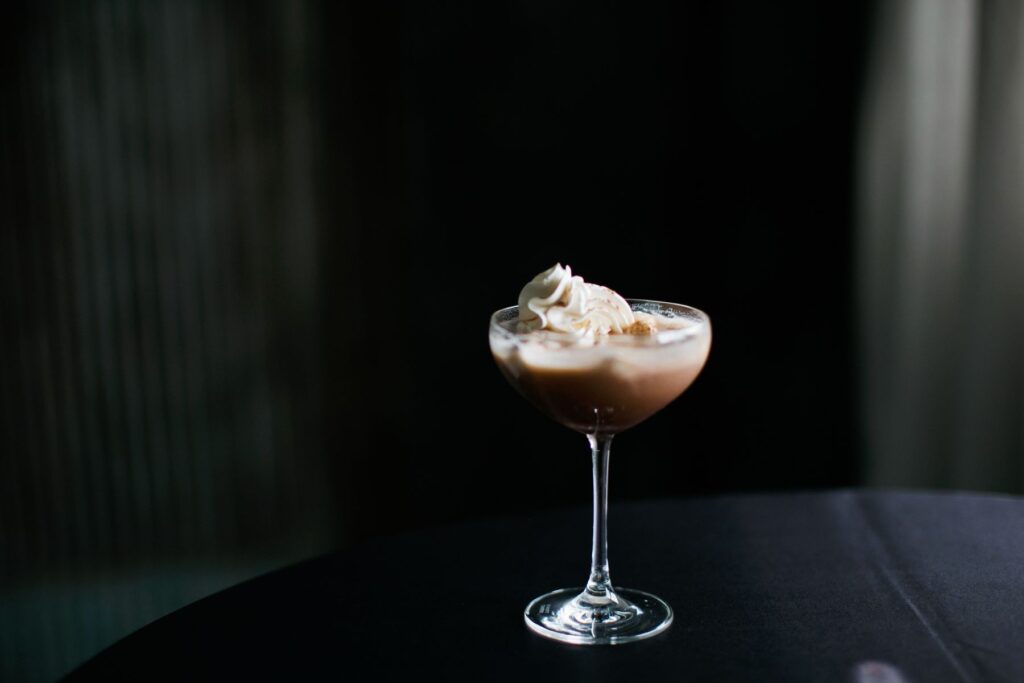 Beautiful Hues of Blue
If you favor bright and airy celebrations, incorporate beautiful shades of blue into your winter wedding. Begin with White Chiavari Chairs at your ceremony for a sophisticated look. In the same fashion, set round tables with Silver Leaf linens to infuse a hint of radiance and complete the vision with silver-accented china. For instance, our Silver Rim Glass or Belmont Beaded Chargers and Abby Flatware. Then, inject pops of blue into the design using our Heritage Light Blue or London Fog Velvet linens – fan favorites!
Lastly, craft an attention-grabbing cocktail area, featuring our Pearce Modular Lounge. Further, an interactive Champagne Shelf and Boxwood Walls will go a long way to wow your guests.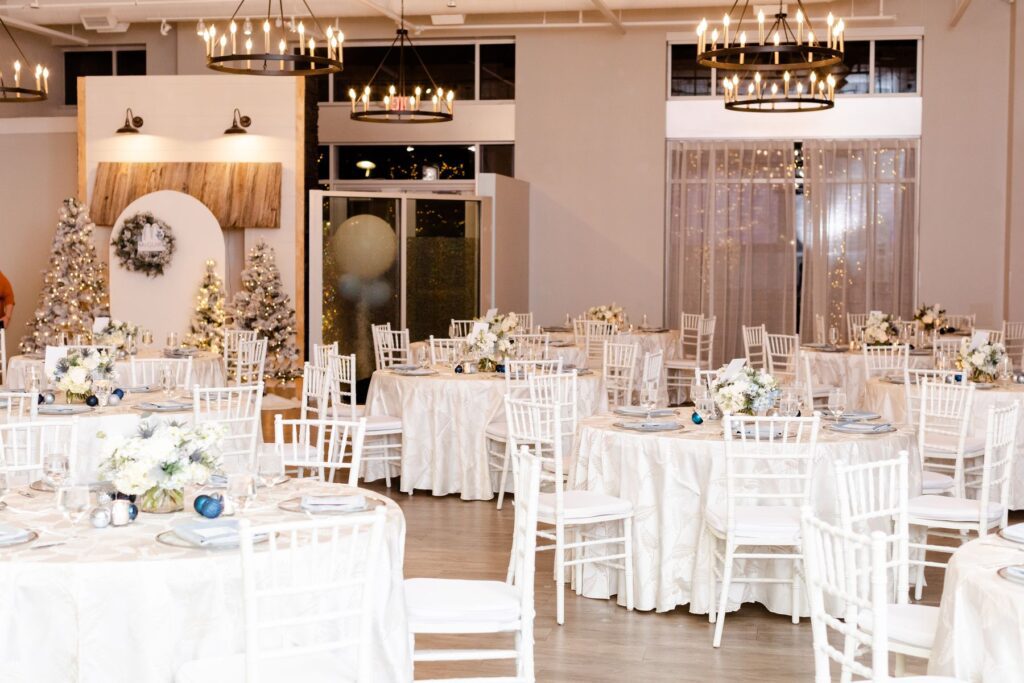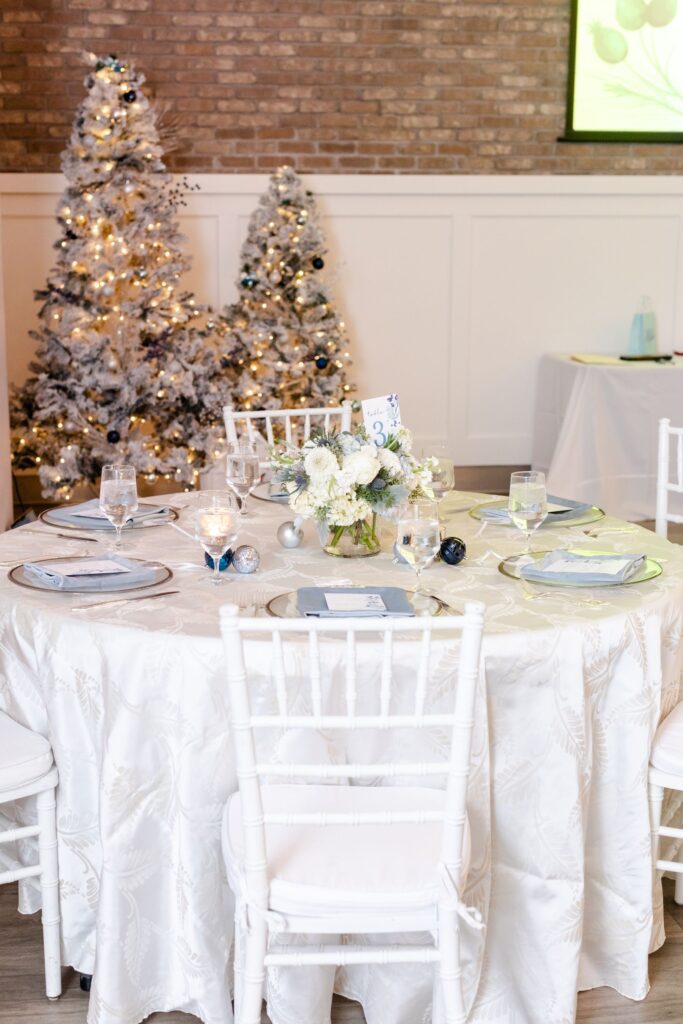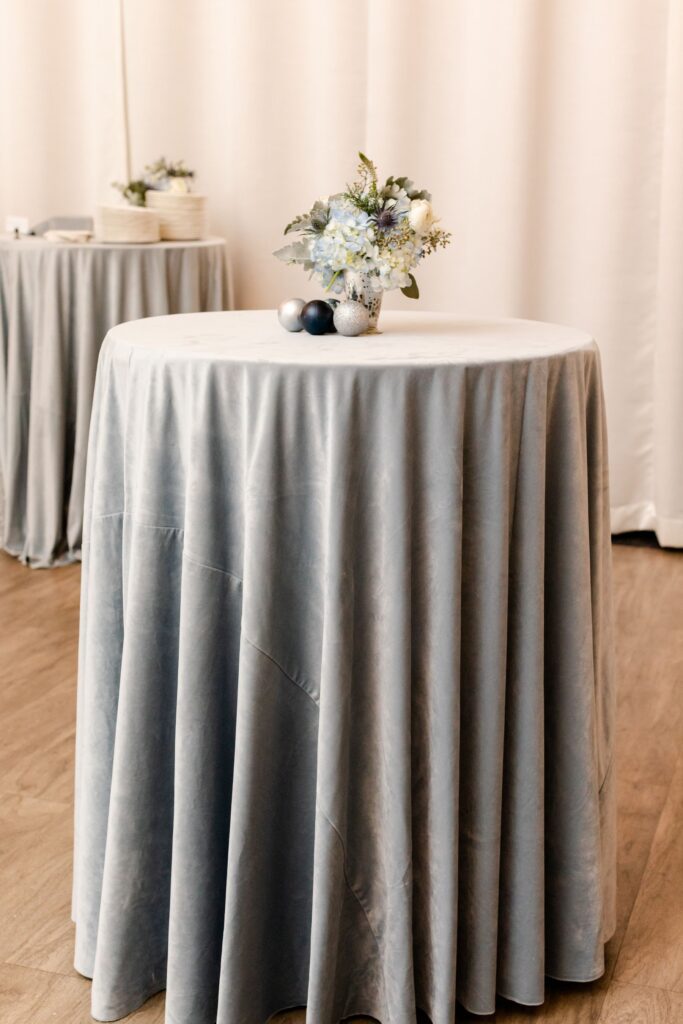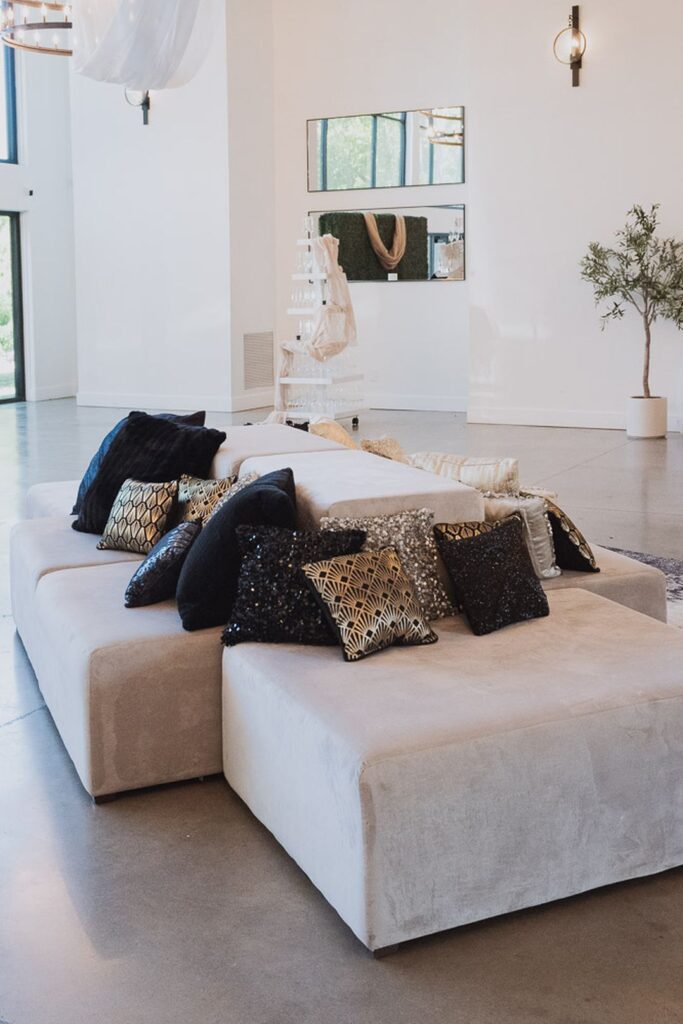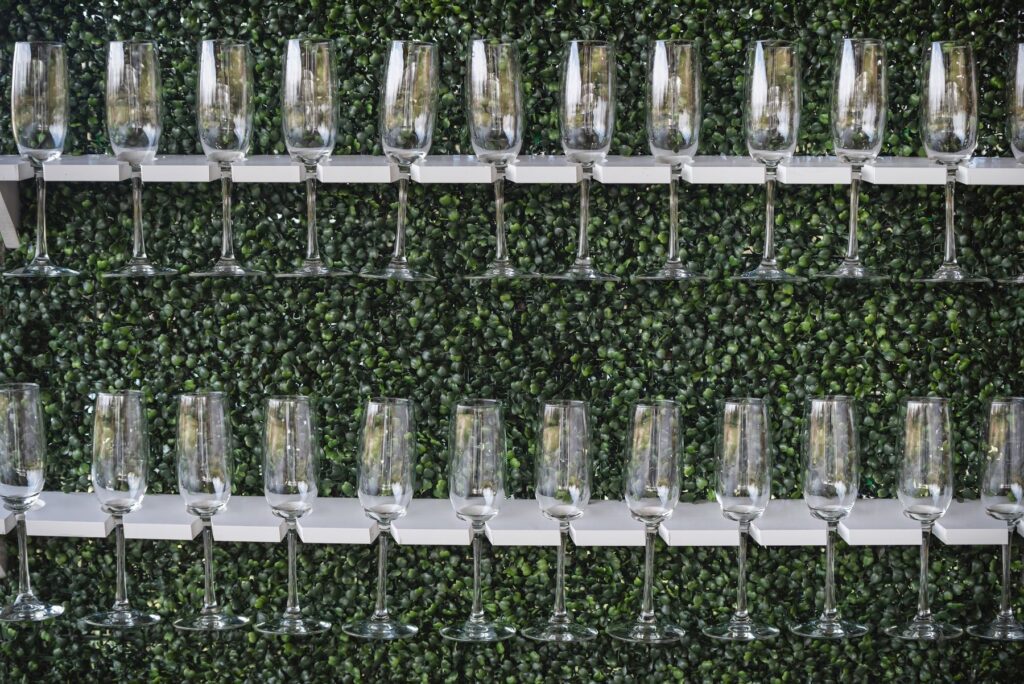 Classically Festive
Embrace the classic charm of Christmas with a warm and festive winter wedding theme! Elevate your indoor ceremony by using Cross Back Wood Chairs adorned with lush greenery. For the reception, opt for long banquet tables that encourage lively conversations. Drape them with crisp white linens and napkins in bright red and deep greens – quintessential colors of the season. Next, add a touch of luxury when you feature our Gold Round Lacquer Chargers topped with Athena China and Fresno Flatware.
For your cocktail hour, or if you are planning table service, consider our contemporary Cybil or romantic Monaco Glassware. If you want a cozy lounge area to match, we recommend the Bennett Leather Sofa and a pair of Everly Chairs.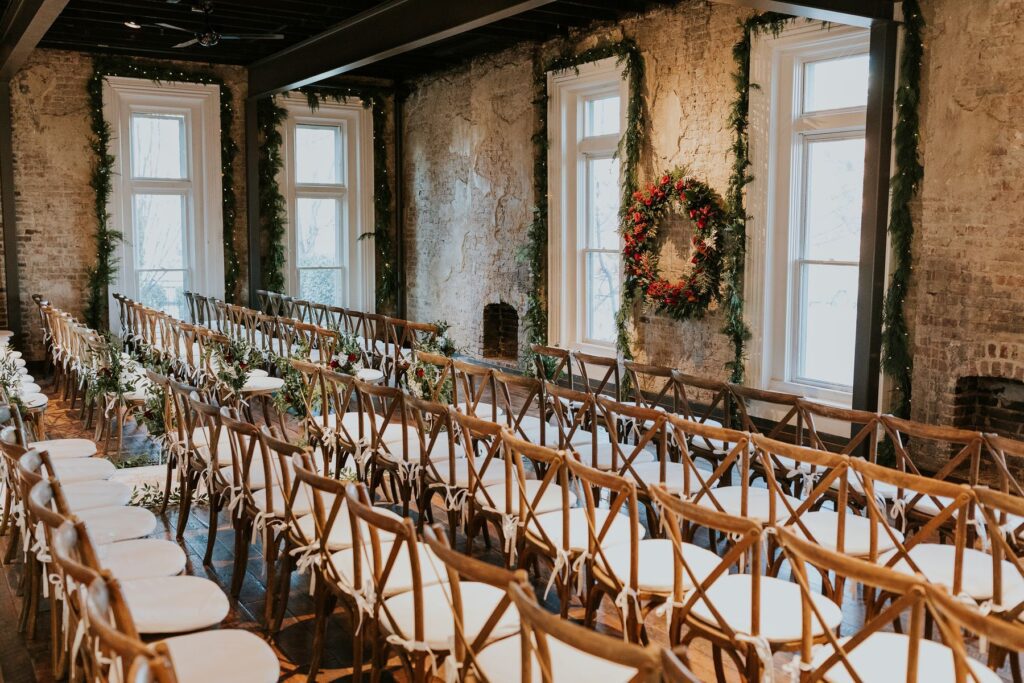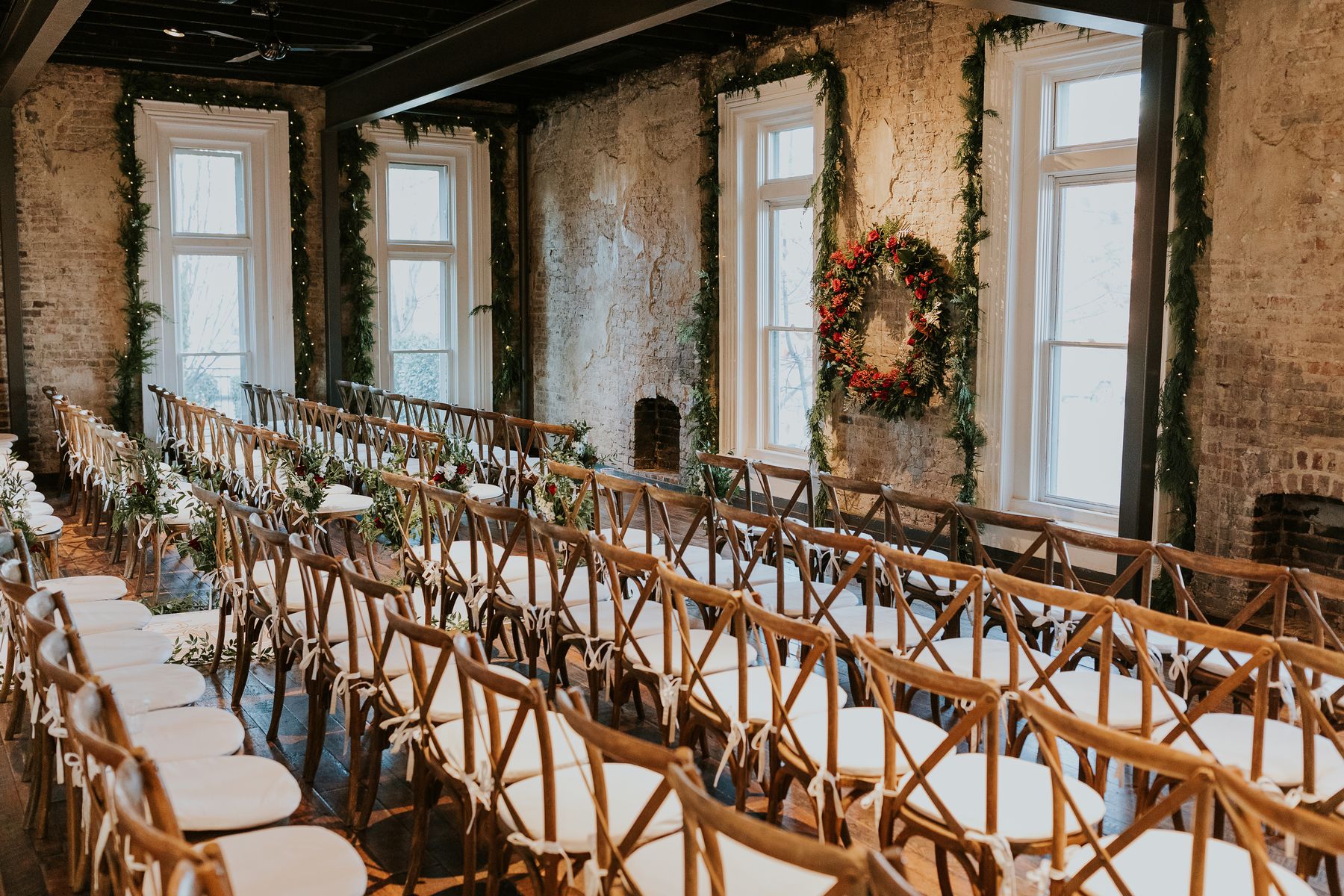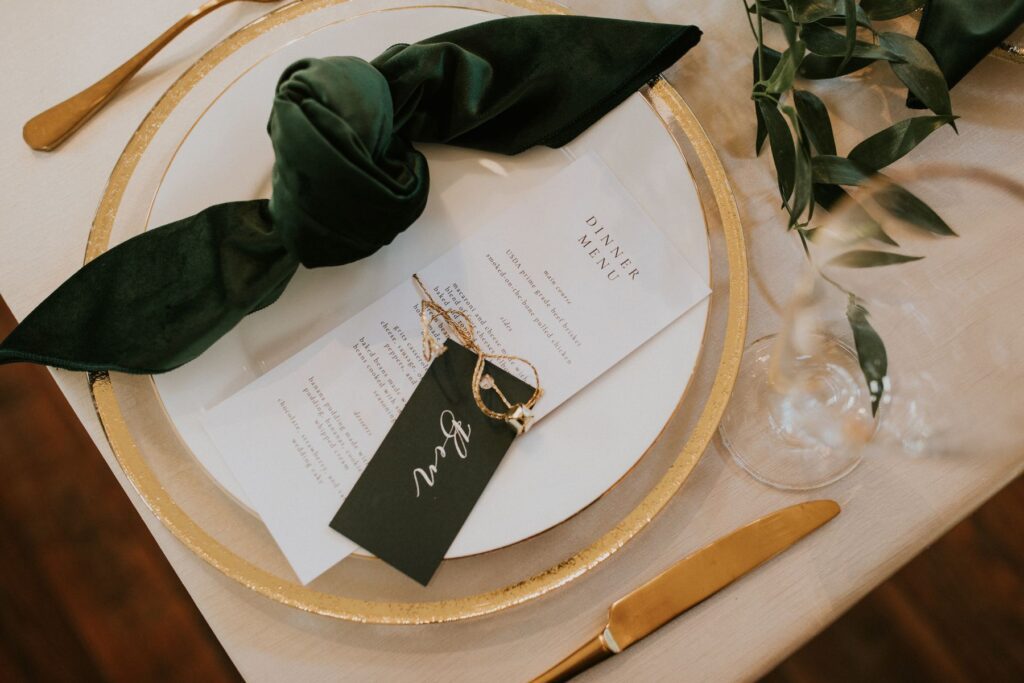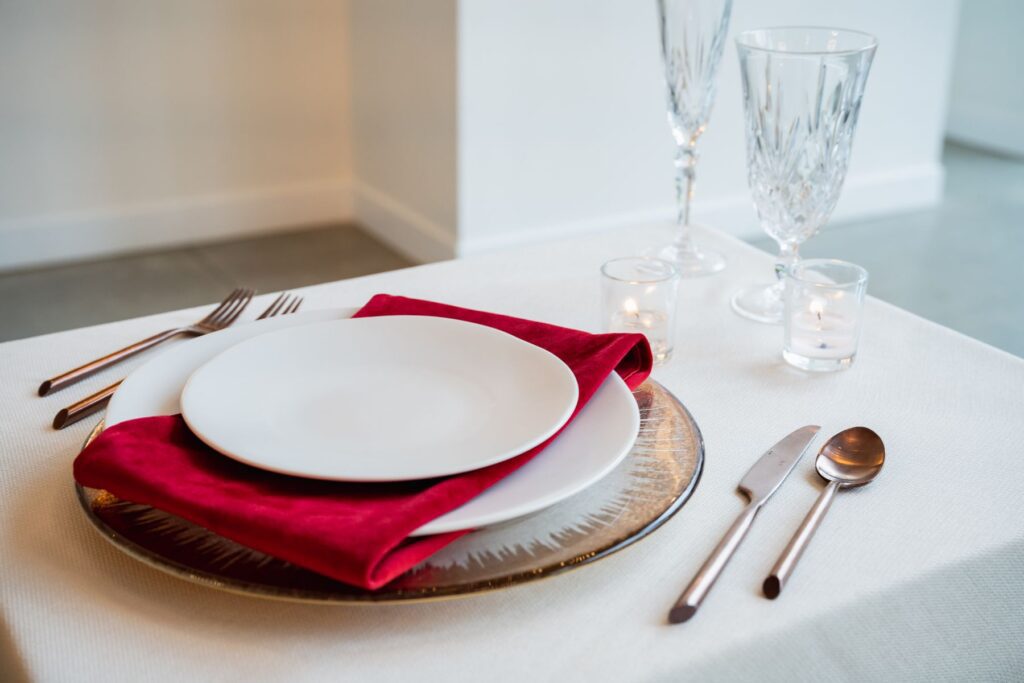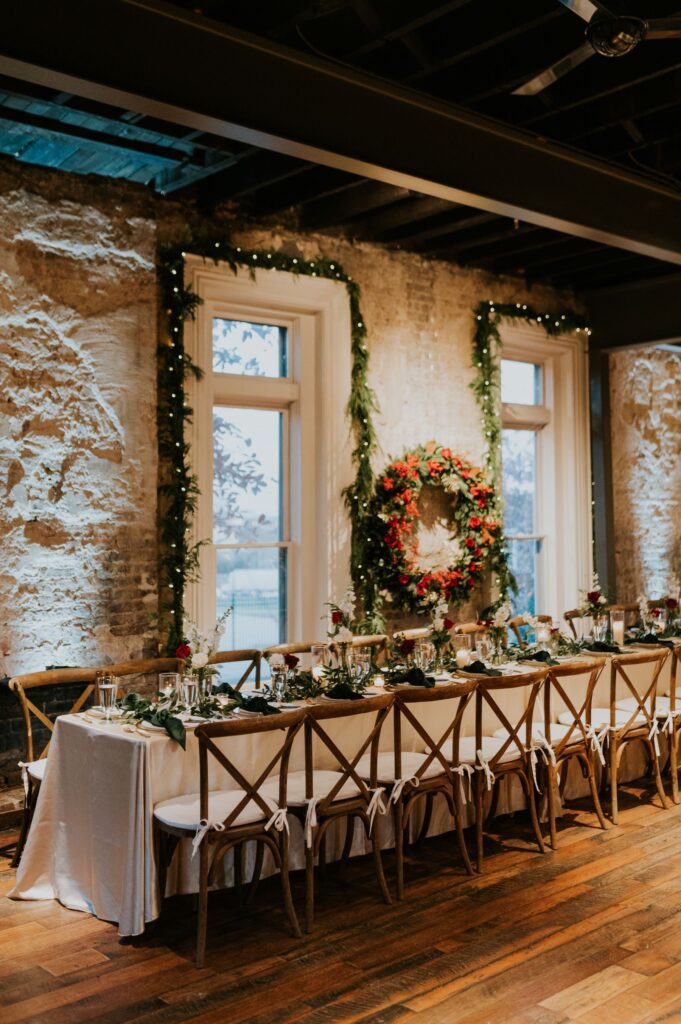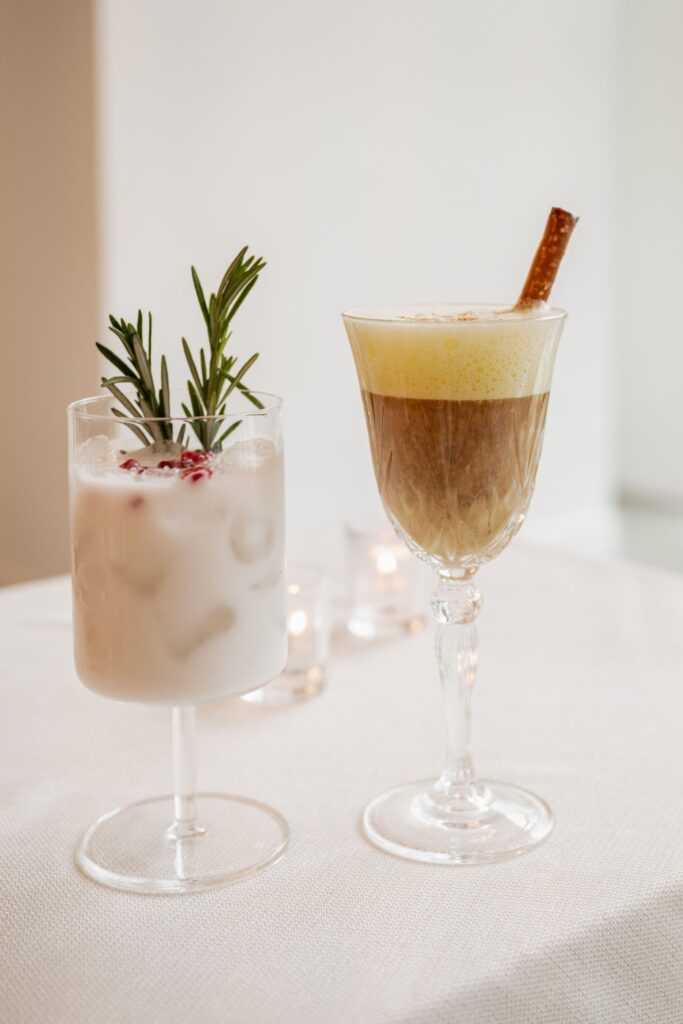 Nashville in winter offers a magical setting for your wedding and these unique themes! If you're ready to start planning a memorable Nashville winter wedding, Southern Events would love to help. Contact our team for assistance recreating one of these looks. Or to book an appointment in our showroom and create your very own!
TAGS | Unique Wedding Rentals, Wedding Rentals Nashville, blue event design, christmas wedding ideas, nashville winter wedding, on trend wedding style, upscale winter wedding, wedding inspiration, wedding reception ideas, winter wedding, winter wedding decor
FEATURED RENTALS | Gold Chiavari Chairs, Austin Gold Flatware, Vera Floral China, Gold Rim Glass chargers, Magnolia Linens, Fern Velvet Sofa, Gold Bamboo Arm Chairs, Smoke Beaded Tumblers, Acrylic Ghost Armless Chairs, Acrylic Carrigan Side Chairs, White Coupe China, Carerrea Marble Dinner Plates, Nova Linens, Gasby Coupe Glasses, Silver Leaf Linens, Silver Rim Glass Charger, White Chiavari Chairs, Belmont Beaded Chargers, Heritage Light blue Linens, Abby Flatware, London Fog Velvet Linens, Pearce Lounge, Boxwood Walls, Cross Back Wood Chairs, Athena China, Fresno Flatware, Gold Round Lacquer Chargers, Bennett Leather Sofa, Everly Chairs,
---
31

Dec

On Trend, Southern Events Products, Trends and Inspiration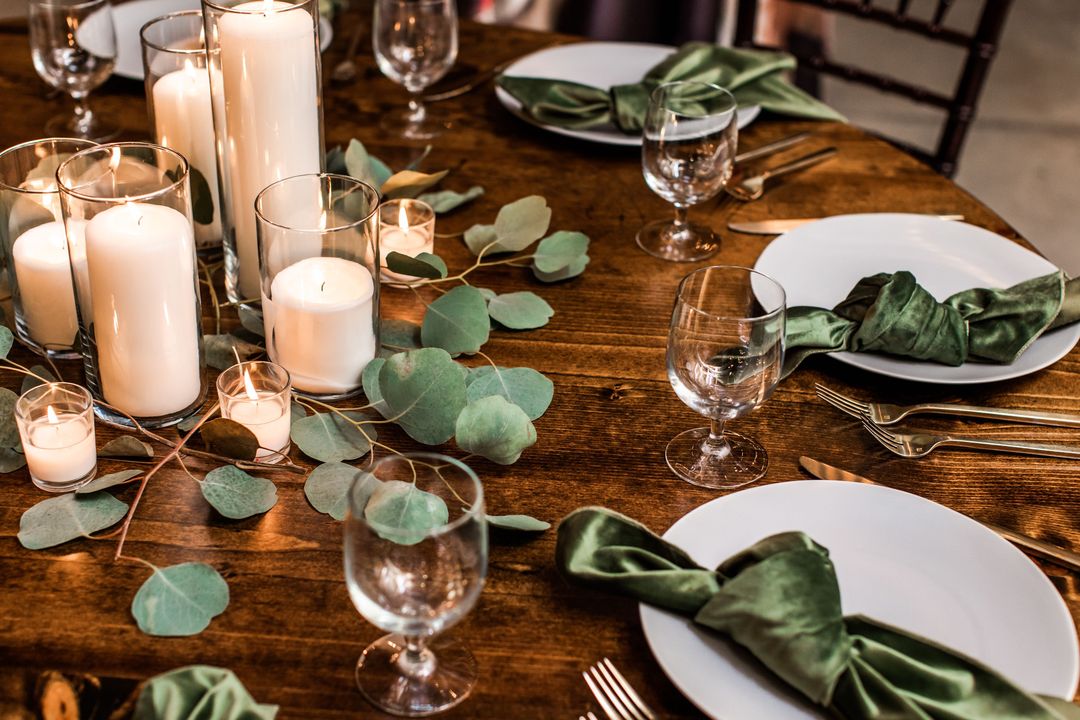 2021 is rapidly approaching and with it are new event trends! Our team at Southern Events is looking forward to getting creative to help you design memorable celebrations in the year ahead. Get inspired for your future events by looking at the 2021 trends, featuring our in-stock rentals.
Luxe But Sustainable
Luxe events aren't going anywhere but we're seeing an increased interest in sustainability. There are multiple ways to host a sustainable event via rentals. The first is reusable serving ware, including china, flatware, glassware, and linens. Rentals are an easy and beautiful way to reduce the waste produced by your event.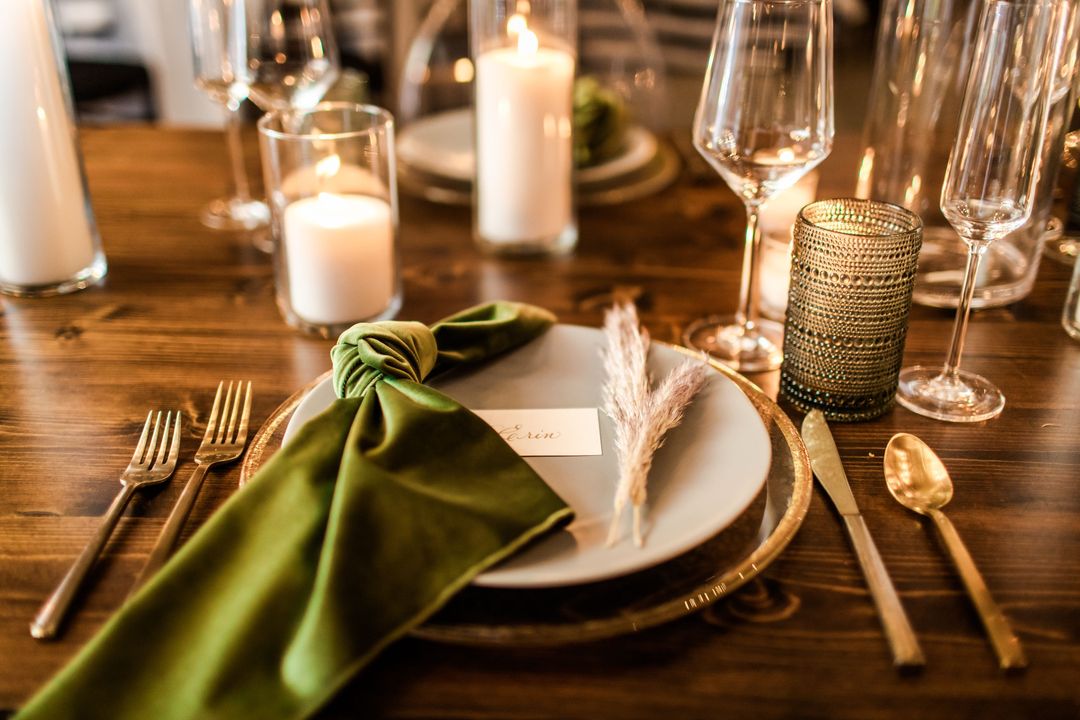 In terms of styling, expect lots of lush plants & greenery. Potted plants are especially beautiful and perfect for aisle decor and table centerpieces.  The same goes for dried plants, which lend lots of texture. Pampas grass in particular is trending, as it easily adds volume and height. Expect to see an increasing amount of dried flower bouquets and arrangements.
This emerald, cream & gold tablescape features our Gold Rim Glass Charger, Alabaster Earthenware, Gold Austin Flatware, Fern Velvet Linens, Colored Glassware & Pure Glassware.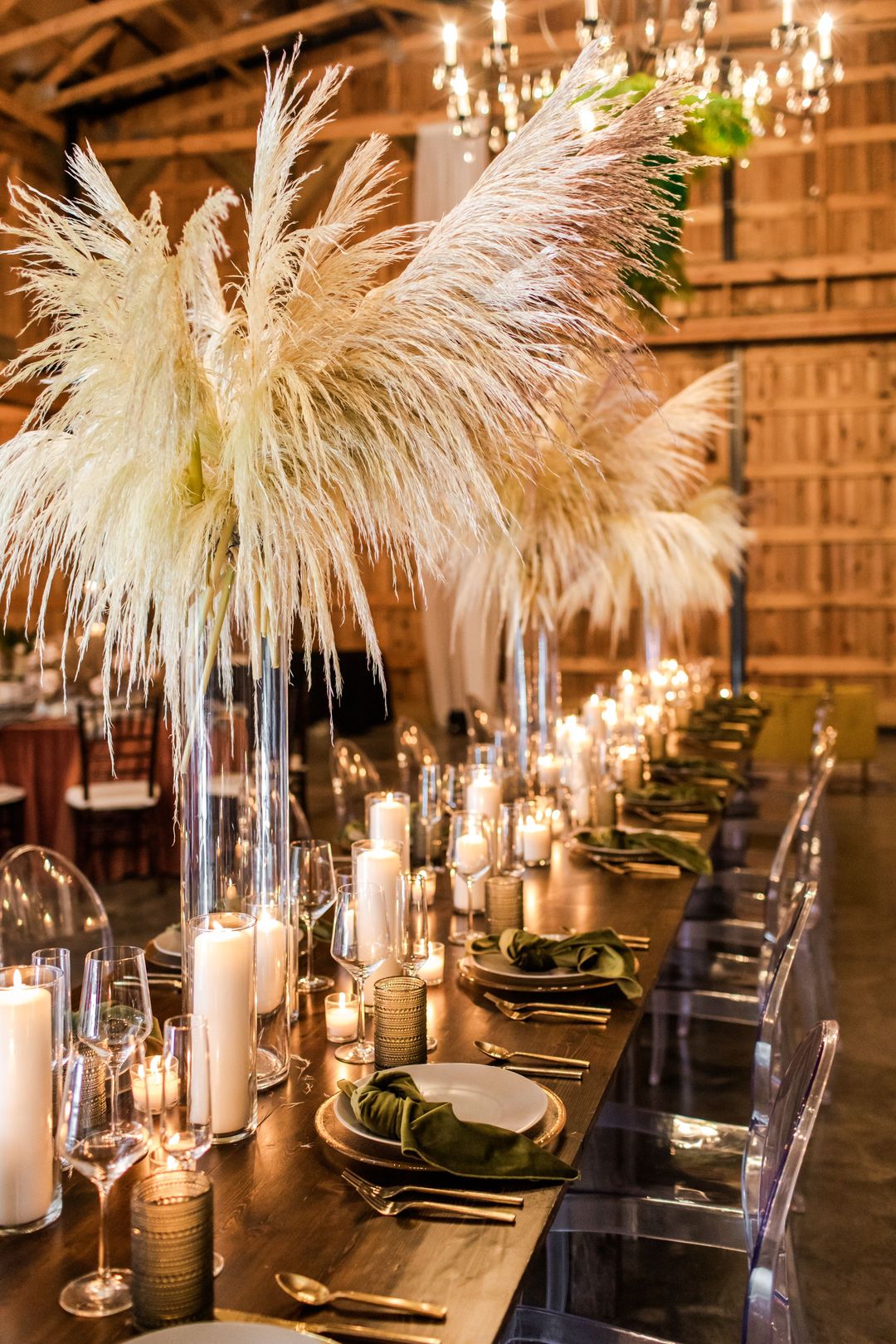 Photo by Nyk and Cali
All Out Events
Go big or go home right? One 2021 trend is events that are memorable, not necessarily in size but in the details. Diva Boho-themed events are a great example. Think of bold & intricate geometric patterns, and voluminous flowers or other organic arrangements. Metallics are also here to stay, as they are a quick way to add some sparkle and shine to an event. At this type of event, you can tell that every thoughtful detail was well planned and executed.
This bright textured tablescape was created using our Medallion Gold Glass Chargers, Onyx Earthenware, Austin Flatware & Audrey Gold Rim Glassware.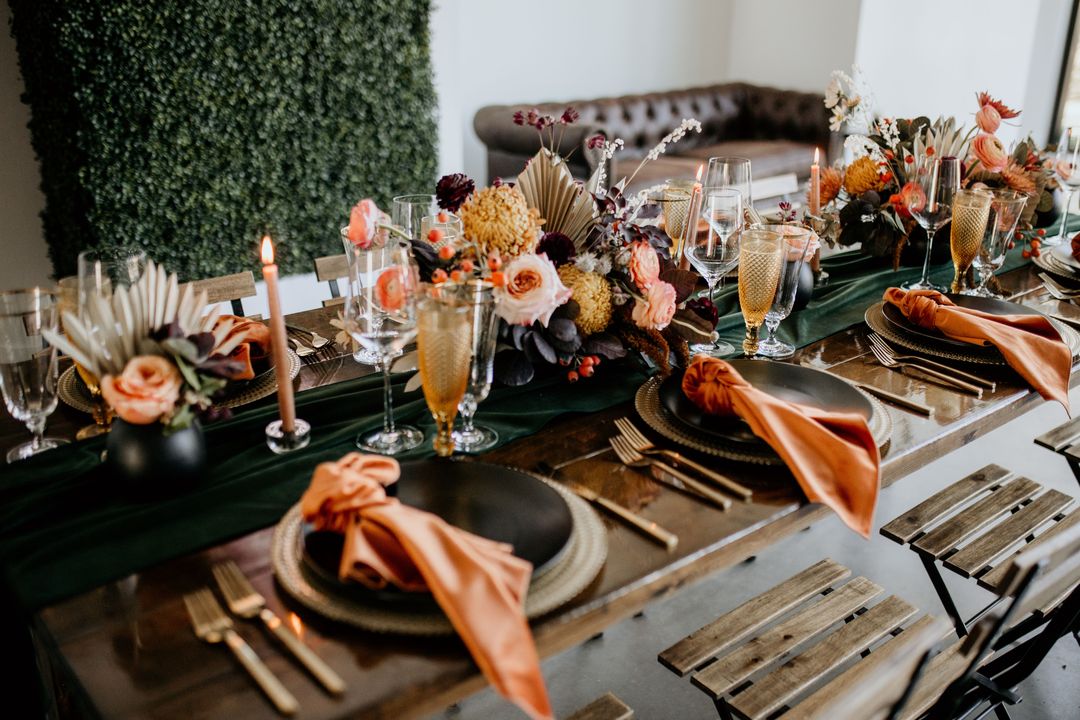 Photo by Kelsey Leigh Photography
A Focus on Sentimentality
People are gravitating towards heirlooms and the texture of various things that draw them to the past – we expect this event trend to only get bigger in 2021. Not necessarily a boho theme, but colors and textures that incite a sense of nostalgia. So sustainable handmade pieces lend texture, such as clay, jute, and wicker decor. This trend also applies to attire, in the form of heirloom jewelry, clothing, and accessories. For weddings, think dresses with intricate old-school embroidery in an ivory or cream color. One great example is celestial-inspired events, where texture and vintage or retro items are easy to incorporate into the design.
Recreate this romantic neutral design with our Driftwood Velvet Napkins, Artisan China, Cybil Glassware, & Como Flatware.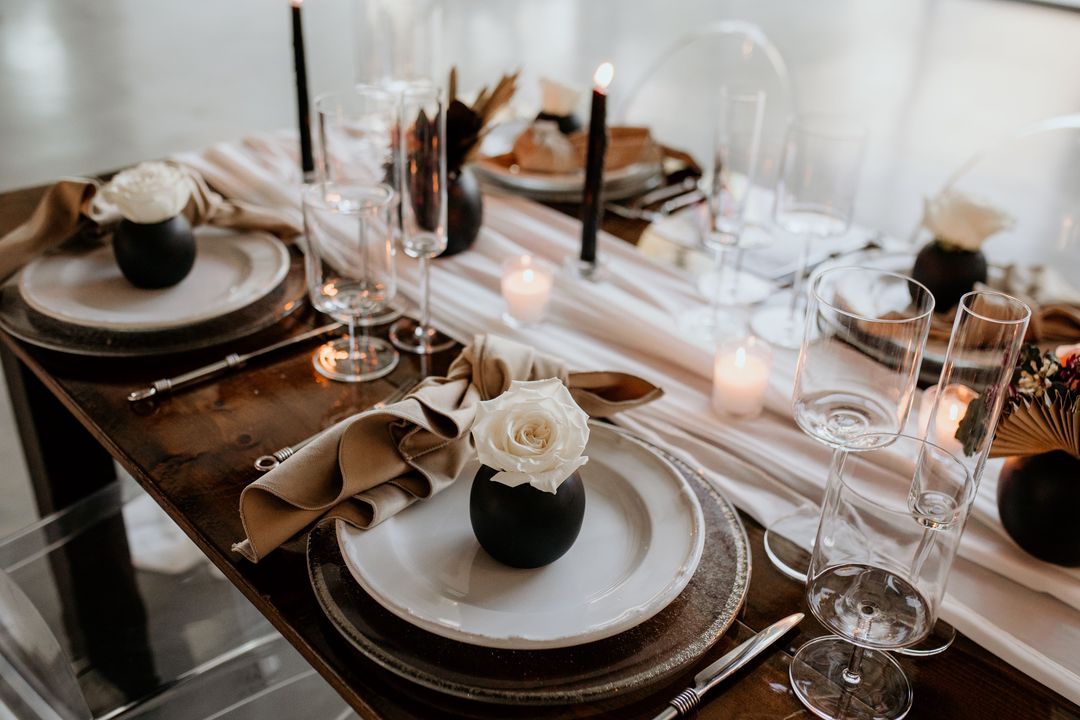 Photo by Kelsey Leigh Photography
2021 Wedding Colors
In 2021, we're expecting to see every color & combination imaginable. After a year of postponing and adjusting, why not throw out the rules a little?! While neutral-themed weddings are timeless, more and more couples are seeking to host an event that is unique and memorable. The colors you feature are one easy way to showcase your personality. Here's some 2021 color trend inspo!
Muted/Matte Jewel Tones – Mustard, Dark Plum, Hunter & Emerald green, Inky Indigo, Sapphire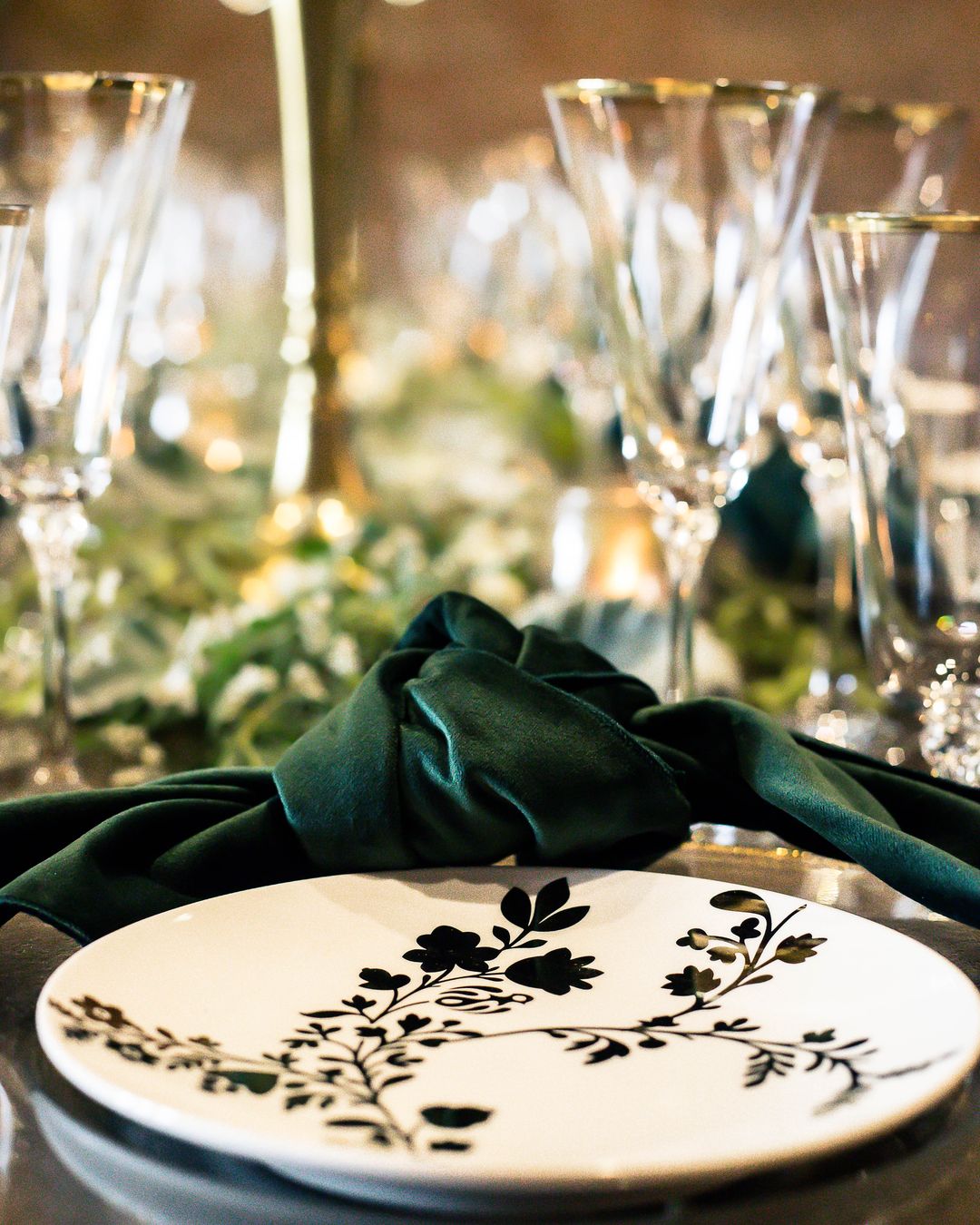 Pastel Tones – Light Aqua, Baby Pink, Peach, Cantaloupe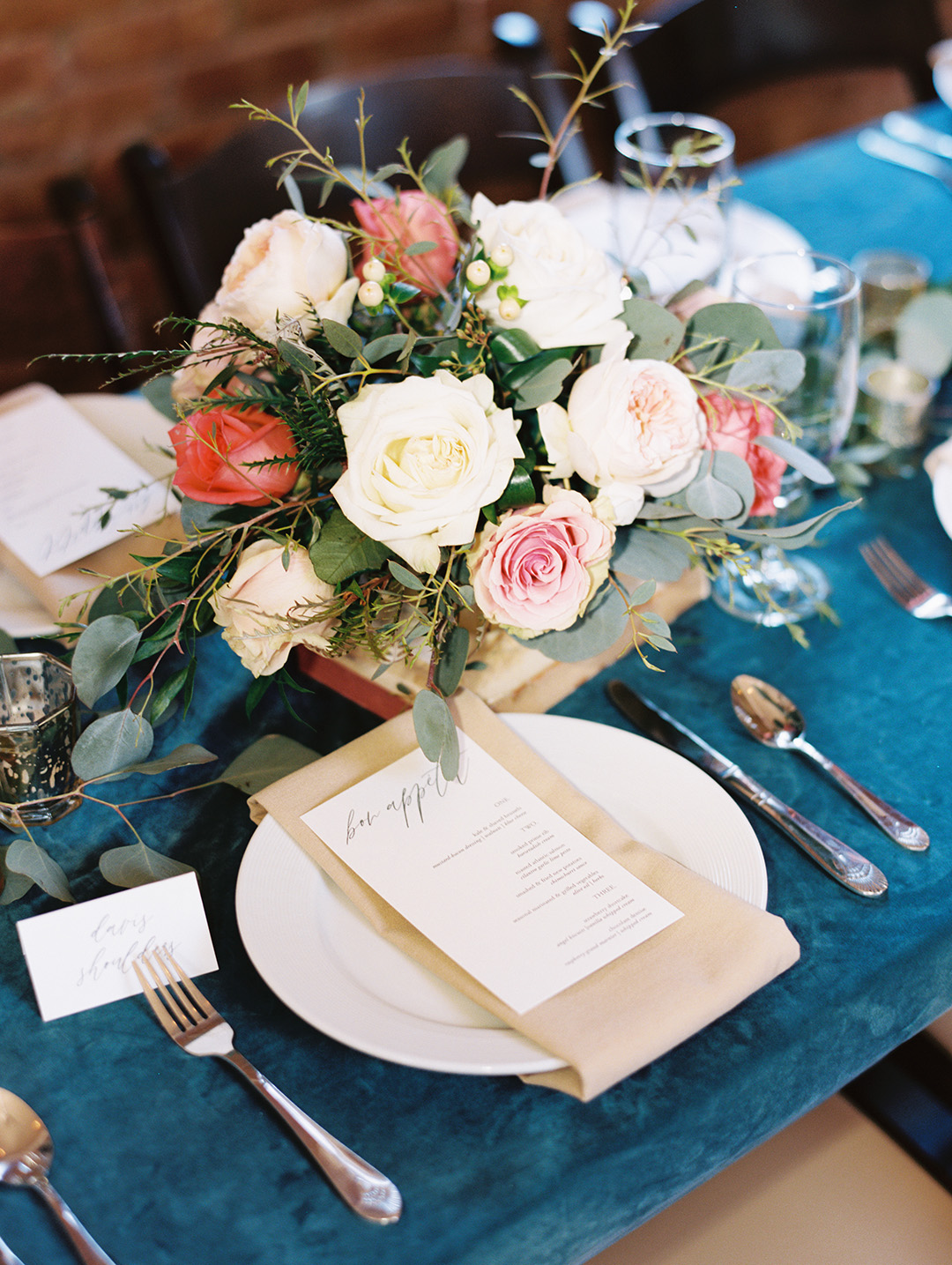 Photo by Abigail Lewis Photo
Bold & Bright – Coral, Fuschia & Sherbert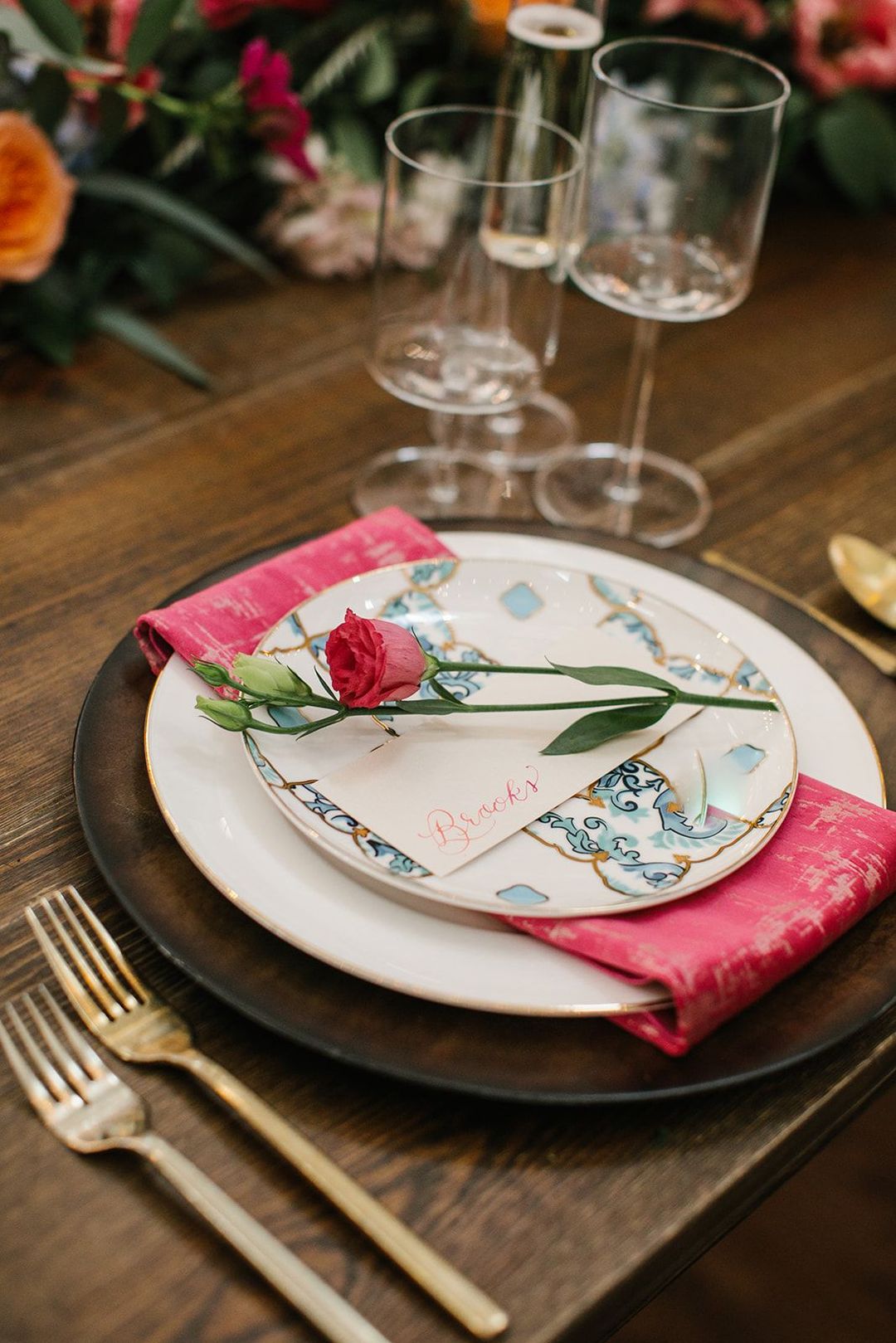 Photo by Gray Kammera
Dark & Moody + Black – Burgundy, Olive Green, Cinnamon, Crimson, Navy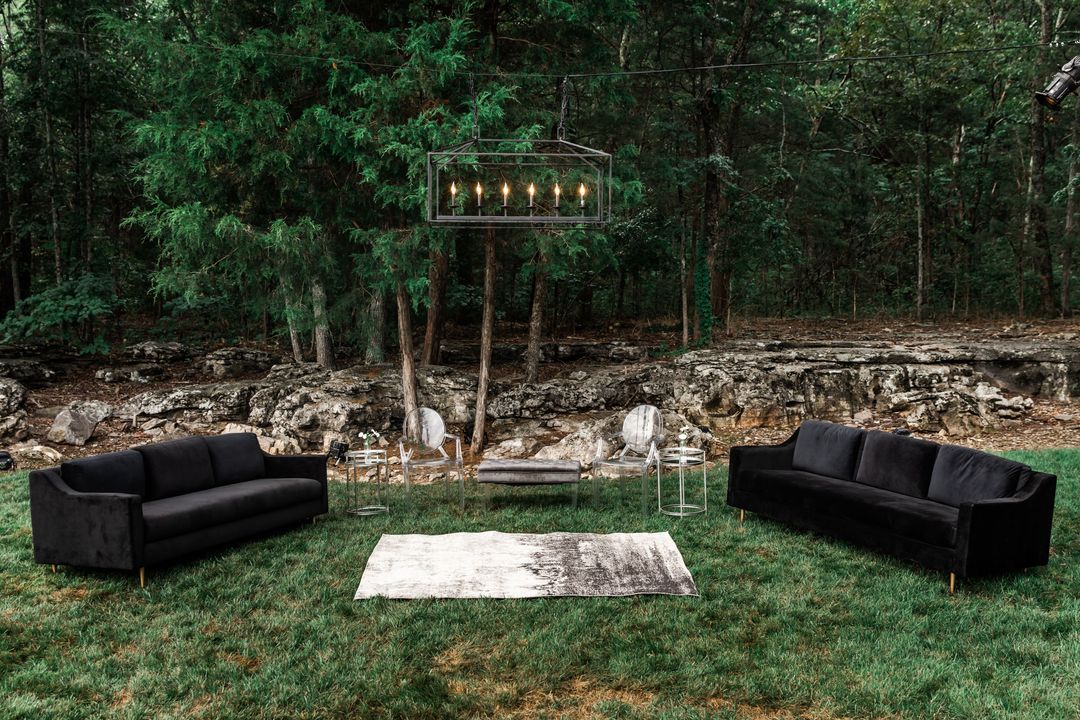 Photo by Nyk and Cali
Pantone Colors of the Year – A bright and positive combination, the Pantone Colors of the Year are Illuminating (yellow) and Ultimate Gray. We're excited to see how these colors are featured at 2021 weddings!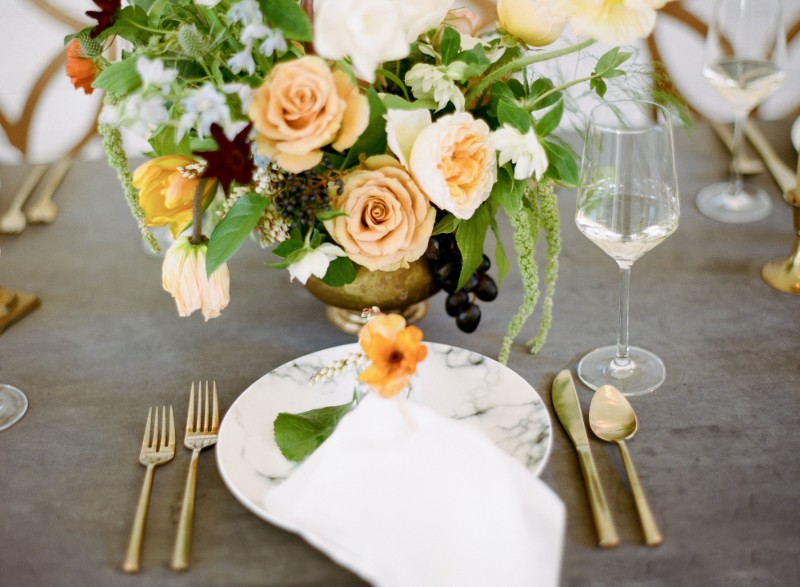 Photo by Alex Thorton Photography
Want to incorporate some of these 2021 trends into your upcoming or future Nashville or Franklin, Tennessee event? Reach out to our team for styling help or inspiration, or to secure your rentals, info@southerneventsonline.com.
TAGS | 2021 trends, On Trend, colorful decor, event inspiration, event style trends, on trend wedding style, style trends, wedding inspiration
FEATURED RENTALS | Gold Rim Glass Charger, Alabaster Earthenware, Driftwood Velvet Napkins, Artisan China, Cybil Glassware, Como Flatware, Gold Austin Flatware, Fern Velvet Linens, Colored Glassware, Pure Glassware, Medallion Gold Glass Chargers, Onyx Earthenware, Austin Flatware, Audrey Gold Rim Glassware
---