23

Feb

On Trend, Southern Events Products, Trends and Inspiration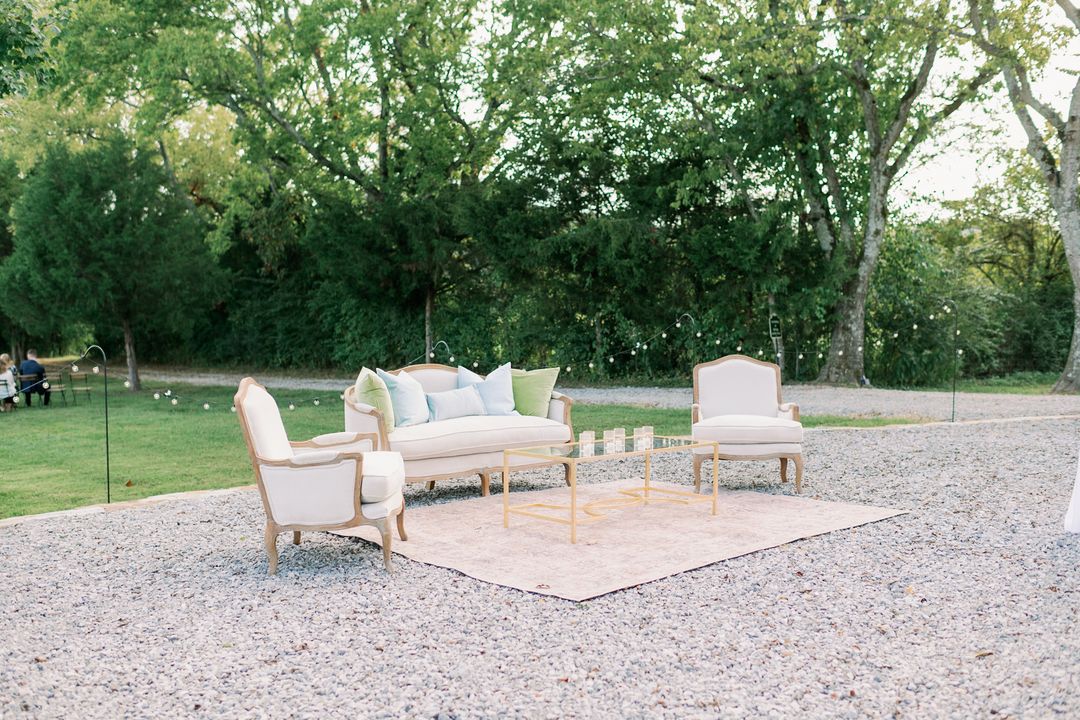 Nothing is quite as invigorating as a bright spring gathering after a long and dreary winter. As nature springs back to life consider hosting a casual outdoor party. Whether it is a simple backyard dinner or a semi-formal cocktail hour, light bites, refreshing beverages, and good company are exactly what the doctor calls for! Get inspired by our most popular spring event design ideas, featuring our pastel event rentals. From chic linens and elegant serving ware to dreamy lounge areas, we have everything you need to host a sunny spring soiree.
Sleek & Chic Serving Pieces
Is it just us or does a well-thought-out place setting make for an extra charming table? Modern chic event design calls for a bright palette featuring crisp serving ware with a splash of color. Start with simple china, such as the Classic Round or dainty Darcy, and for a more muted white, consider Alabaster Earthen China. You can add texture with our Elegant Rattan White Wash Charger or Scalloped Wood Charger – paired with pastel linens, you'll achieve an elegant table. If you would like a little more color, swap the white china out for brighter plates – perhaps the Coronado, Laguna, or Veral Floral China. Choosing flatware is simple. Just select a polished, matte, or brushed finish.
Fancy Glassware + Drink Displays
One of our favorite spring event ideas is signature drinks. And we have a variety of gorgeous glassware that will elevate any cocktail (or mocktail)! Popular choices include Cybil Wine Glass, Monaco Rock Glass, and Pure Water Glass. Our Franklin 4 Ft Antique White Bar is a classic choice for a small gathering. Use it to display your favorite alcohol and mixers. Or feature batch cocktails placed atop our Rattan Beverage Jar Stand. If you need additional display pieces, take a look at our White 6-Tier Serving Tower or White Bookcase.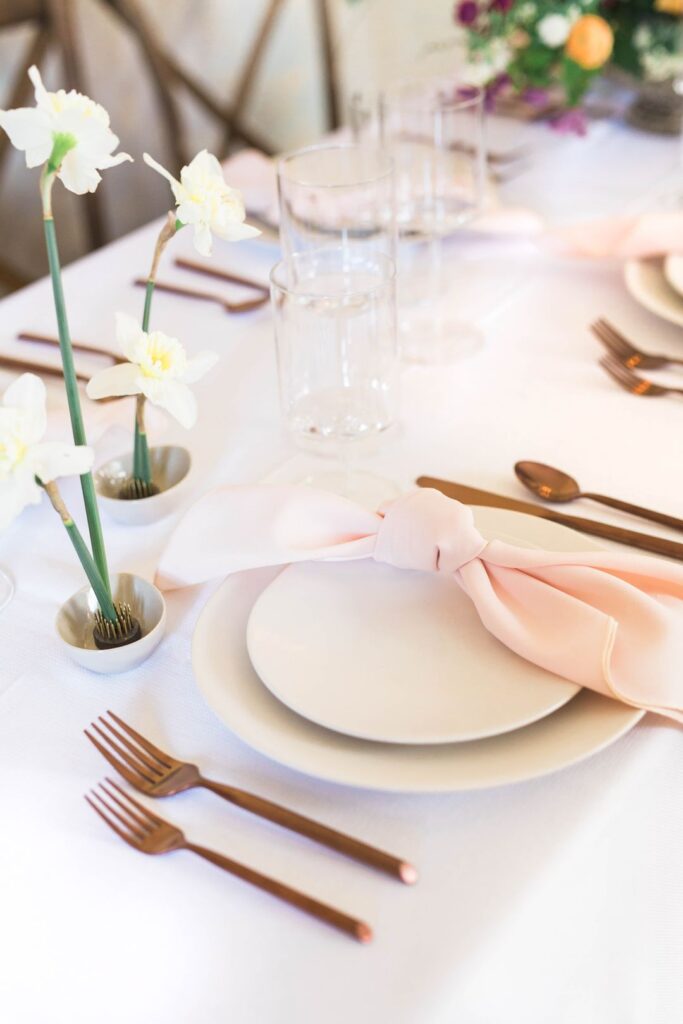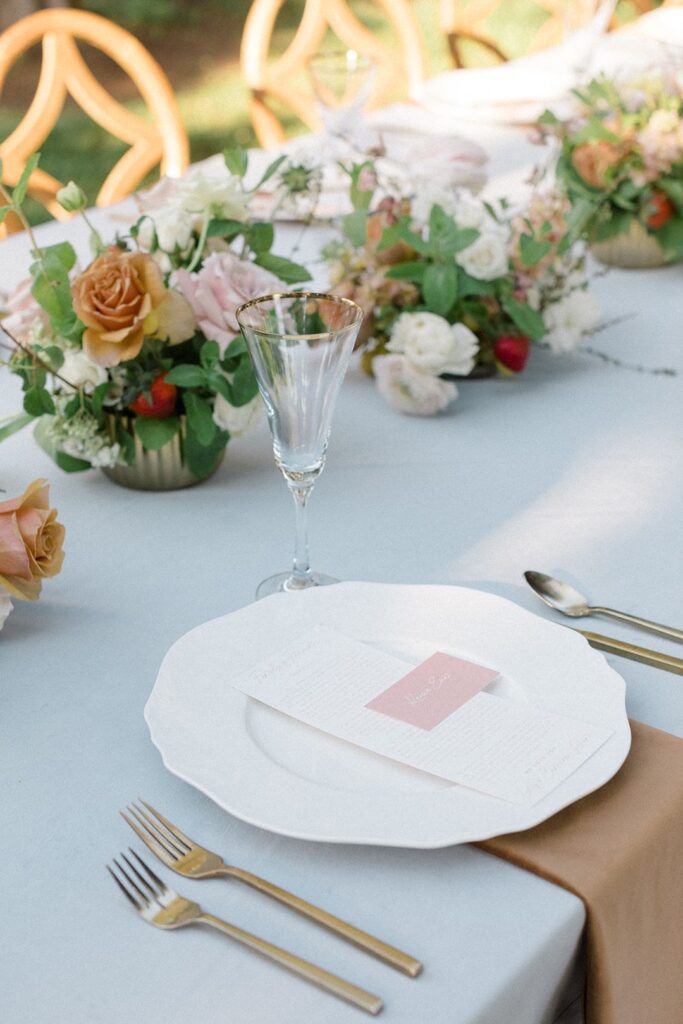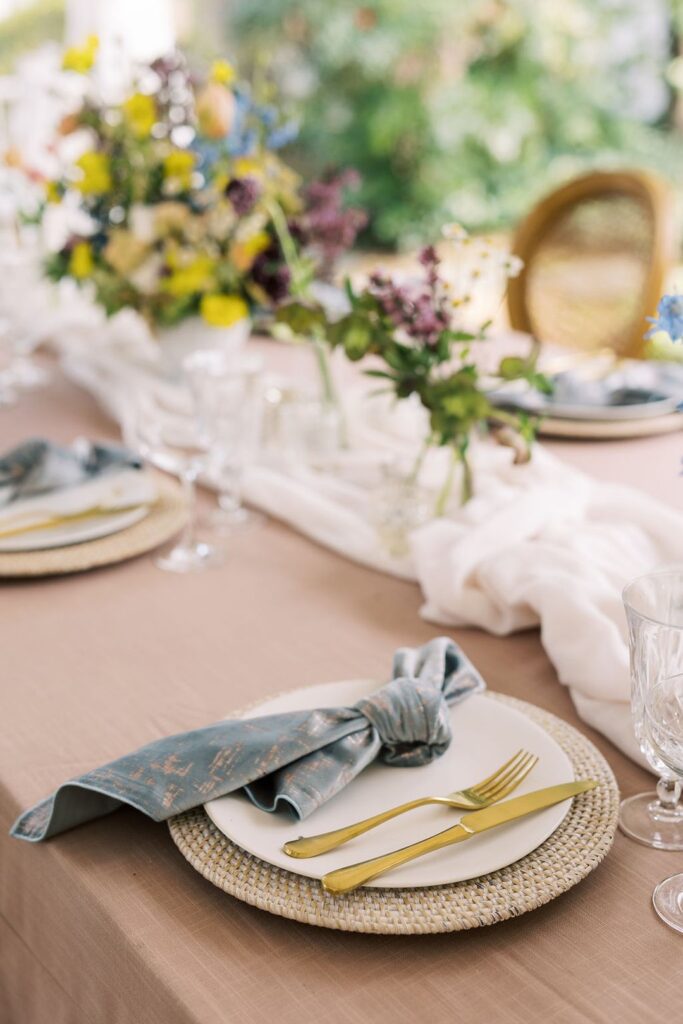 Bright Linens
Linens are one of the most effective ways to incorporate color into your event table. And we have a huge array of pastel event rentals to help you create a spring-inspired tablescape! From subtle blue and purple hues to sunny yellows and greens. You can add as many colors or shades of color as you like by mixing and matching tablecloths and napkins.
Create a trendy monochromatic look by pairing our Peaches n' Cream Poly Linens with Coral Velvet Napkins, or pair classic colors with a buttery texture when you combine our Fern Velvet Tablecloth with Navy Blue Velvet Napkins. Other gorgeous choices include Lilac Poly, Honey Poly, and Light Blue Pindot. If you prefer muted pastels, be sure to consider our Kennedy Collection.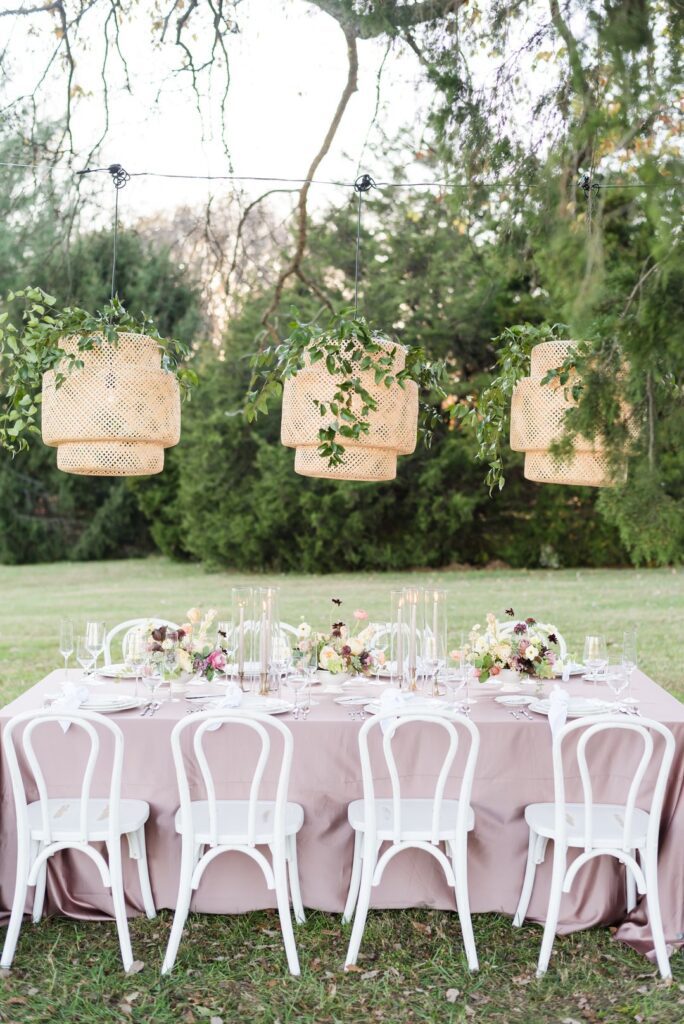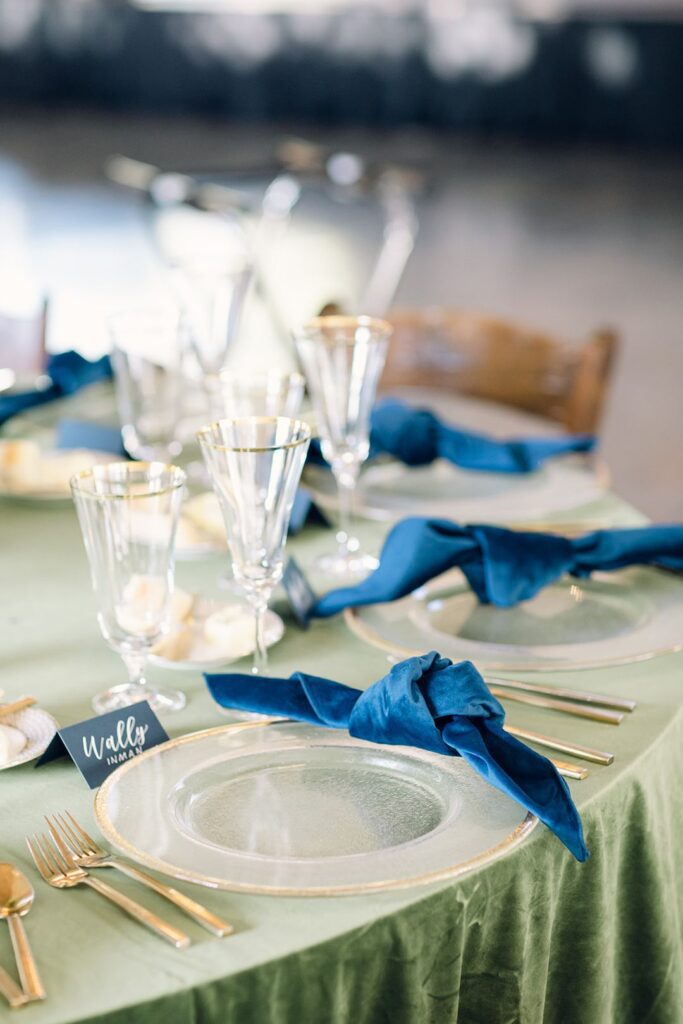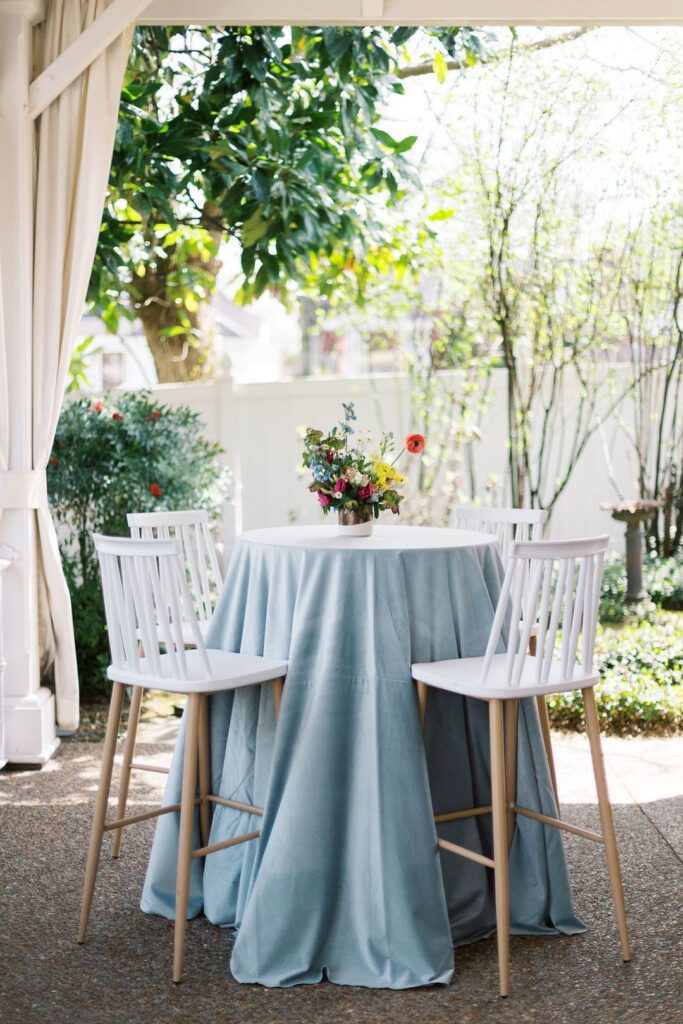 Sunny Outdoor Event Lounges
Is there any better way to enjoy the outdoors than a sunny lounge area? Having at least one, if not several, will encourage your guests to cozy up and hang out – hopefully with a cocktail in hand! Start with a stylish sofa that will stand out against nature. Such as the Everly or Bennett Leather Sofa. Then consider armchairs, like our always popular Gloria Velvet. Or sub in dining chairs for an extra-chic look, whether it be the Harlin or Adeline chairs.
You will also want a set of accent tables, which can be a great way to add in metallics – like the Gold Hammered or Cheval Gold Mirror Side Tables. One of the most underrated spring event rentals is our stylish rugs, which will help frame lounge furniture placed on a lawn or gravel – to make the space extra cozy you can also feature a mix of poufs and ottomans.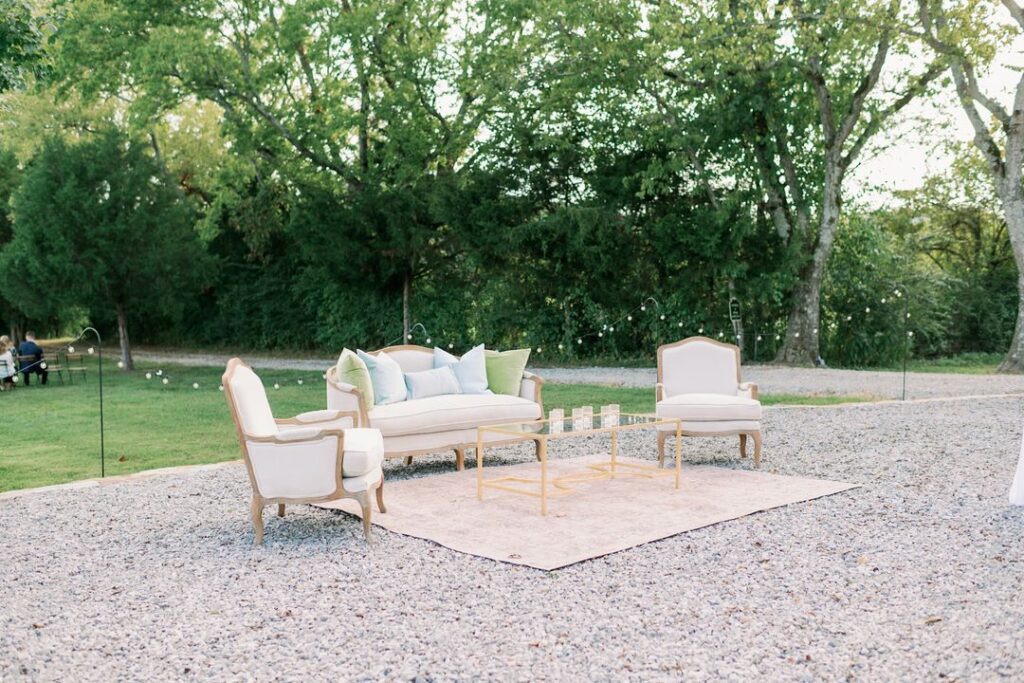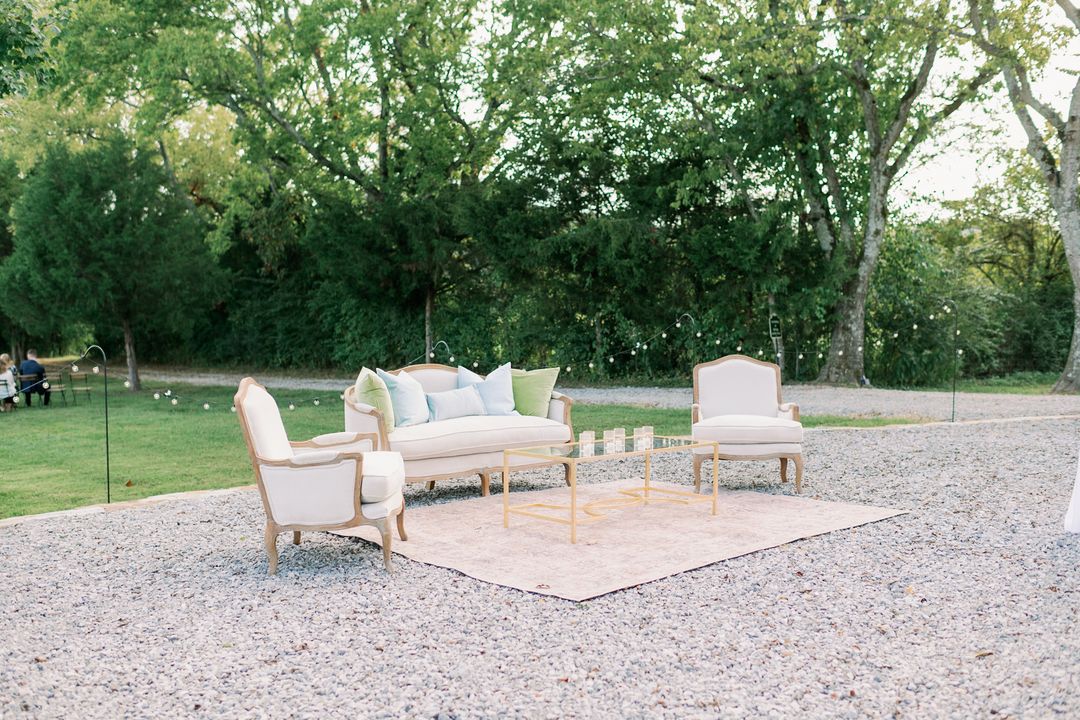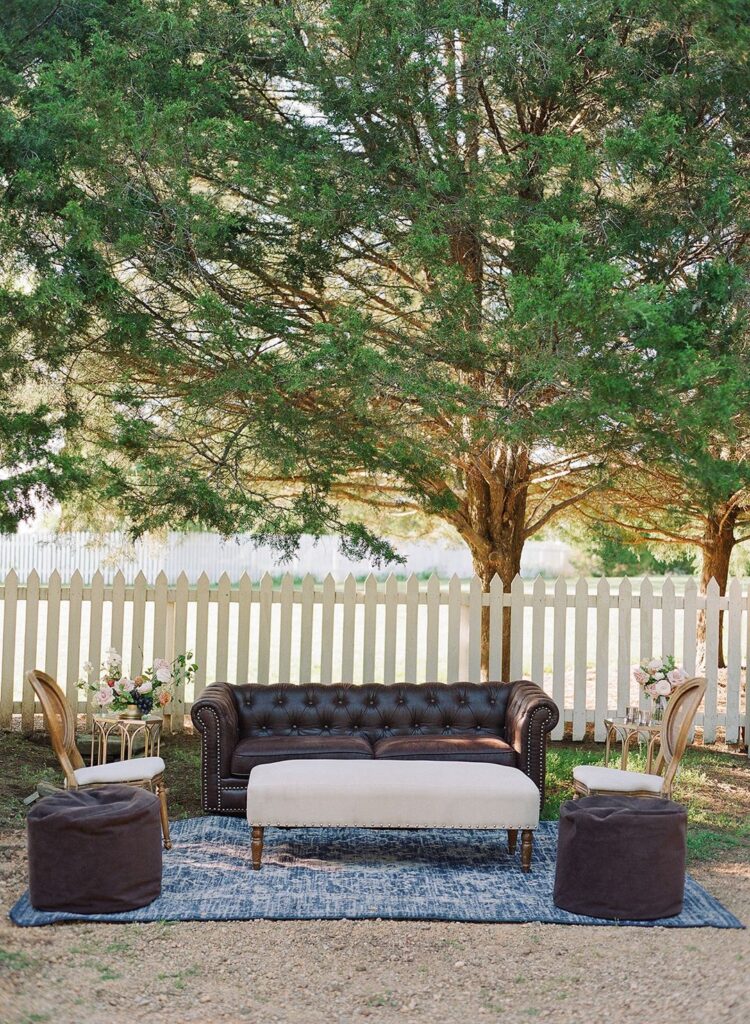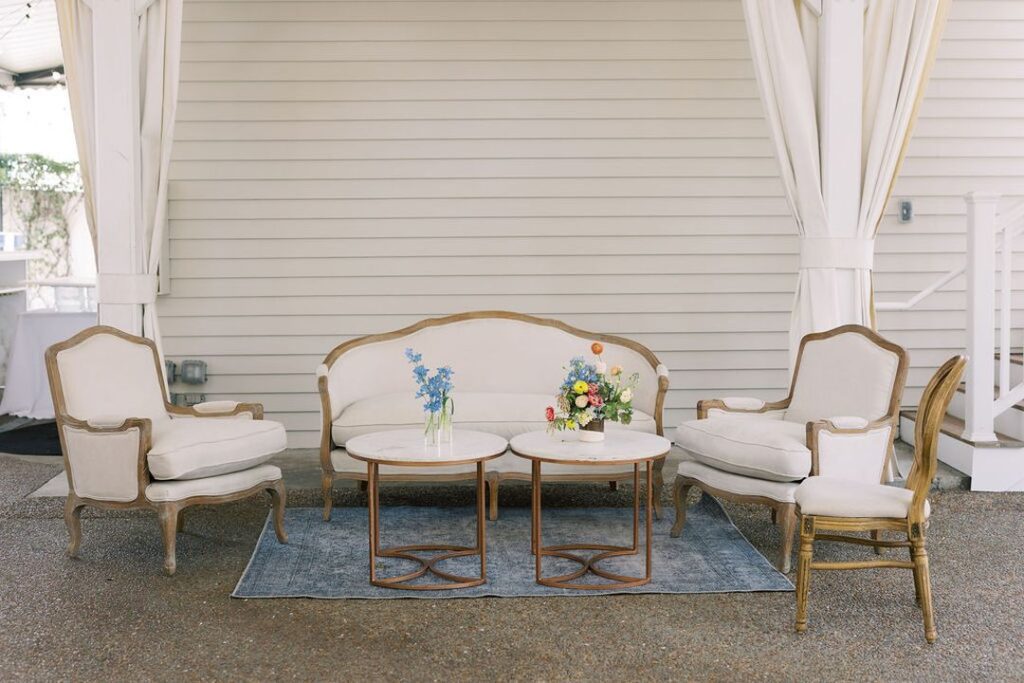 Get Your Event Started
Love these popular spring rentals? Contact our team at info@southerneventsonline.com for help choosing the perfect rentals for a bright and colorful spring soiree, indoors or out! For more design ideas, be sure to take a look at the newest additions to our inventory, with more to come. Need ideas for a spring wedding? Take a look at this modern rustic garden wedding at The Cordelle.
TAGS | Bright & Colorful Rentals, Spring Weddings in Nashville, colorful decor, colorful event lounge, colorful event rentals, outdoor event rentals, pastel event, spring wedding style
FEATURED RENTALS | Everly Sofa, Bennett Leather Sofa, Gloria Velvet Arm Chair, Harlin, Adeline, rugs, Gold Hammered Side Table, Cheval Gold Mirror Side Table, Kennedy Collection, Coral Velvet napkins, Navy Blue Velvet, Lilac Poly, Honey Poly, Light Blue Pindot, Fern Velvet, Cybil Wine Glass, Monaco, Pure Glassware, Franklin Antique White Bar, White 6 Tier Serving Tower, White Bookcase, Darcy China, White Round China, Alabaster Earthen China, Rattan White Wash Charger, Scalloped Wood Charger, Coronado China, Laguna China, Vera Floral China,
---
10

Feb

On Trend, Southern Events Products, Trends and Inspiration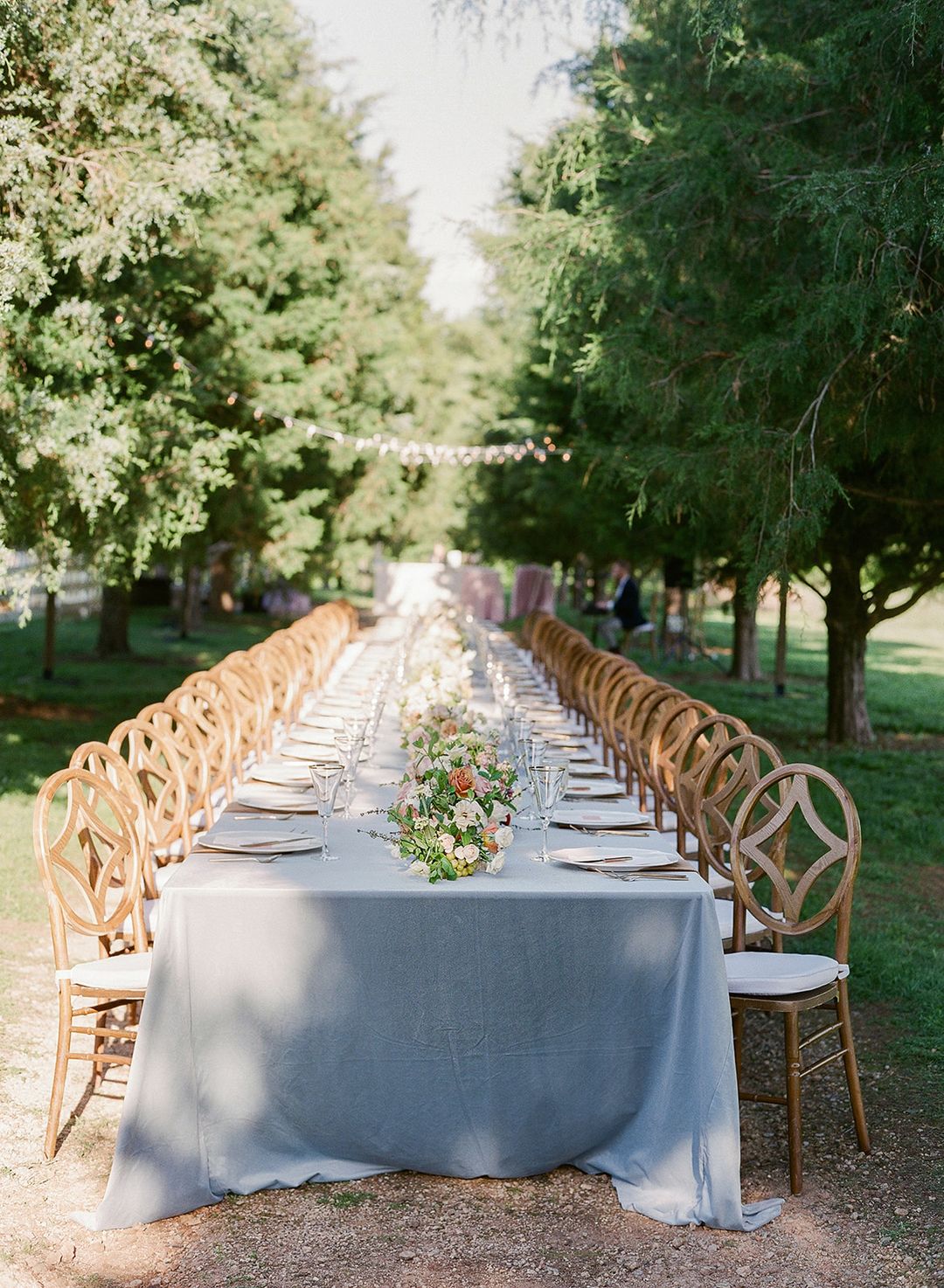 When the springtime rolls around, so too does bright and airy wedding design! Perfect for the season, this style is clean and romantic featuring chic colors and luxurious details. To help you host a memorable warm-weather celebration in Tennessee, we're sharing some organic spring wedding inspiration featuring our on-trend rentals.
Airy Reception Setups
First things first, let's talk ceremony details! You can pull off a modern organic look indoors or out, regardless of the state of the weather. Starting with simple and timeless seating. Our Fruitwood Folding Chairs are a natural color, ideal for an outdoor setting. Whereas our Antique White Bentwood Chairs will brighten any indoor space! And, don't forget an elegant ceremony backdrop – our Wedding Canopy are easy to customize.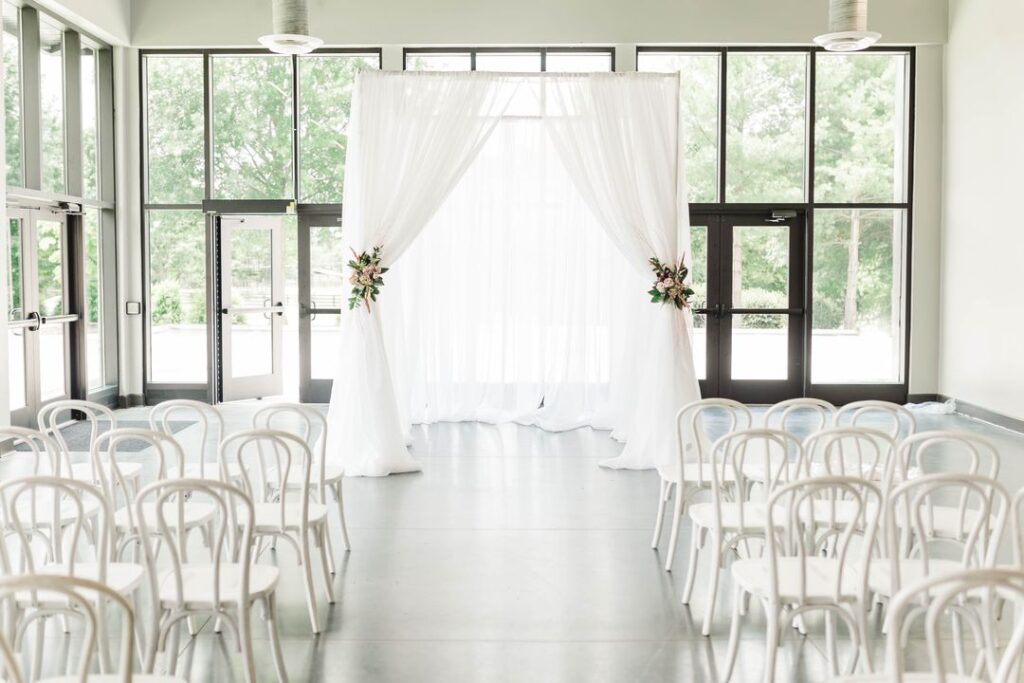 Organic Reception Tables
When designing your reception tables, carry over the simple but romantic theme. But don't be afraid of color! This year, we're loving rich table linens – perfect when featuring white china. A few of our favorites include the Fern Velvet and Sea Glass Velvet Linens. Both of these pair well with our White Round China and Rattan White Wash Chargers. For an extra pop of color, you might also feature our colored goblets in Green or Amber! We love this look for an indoor dinner.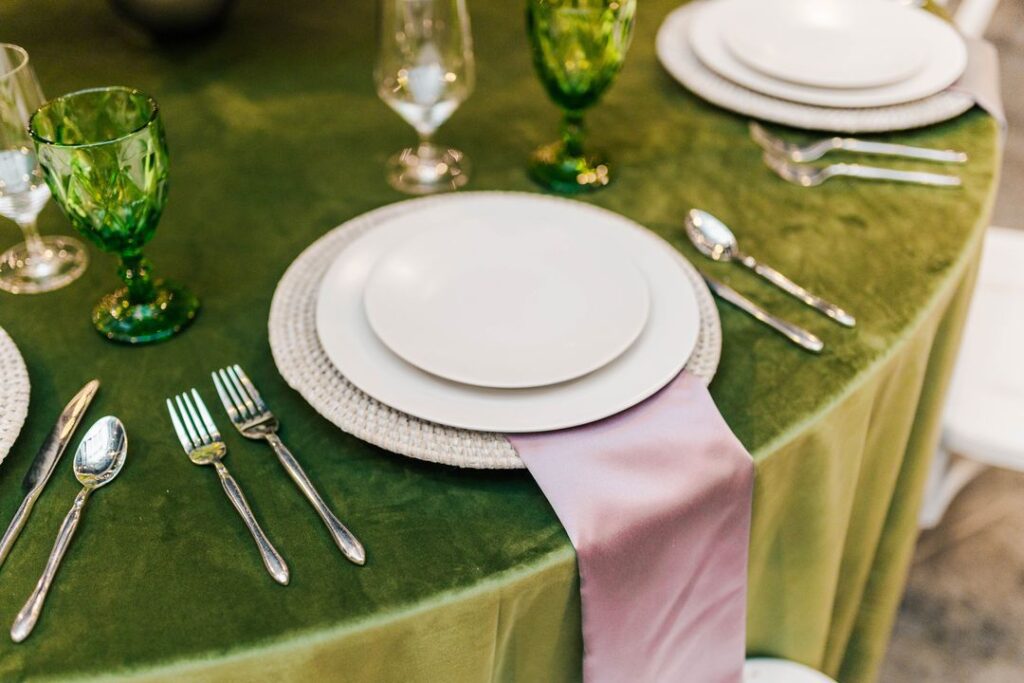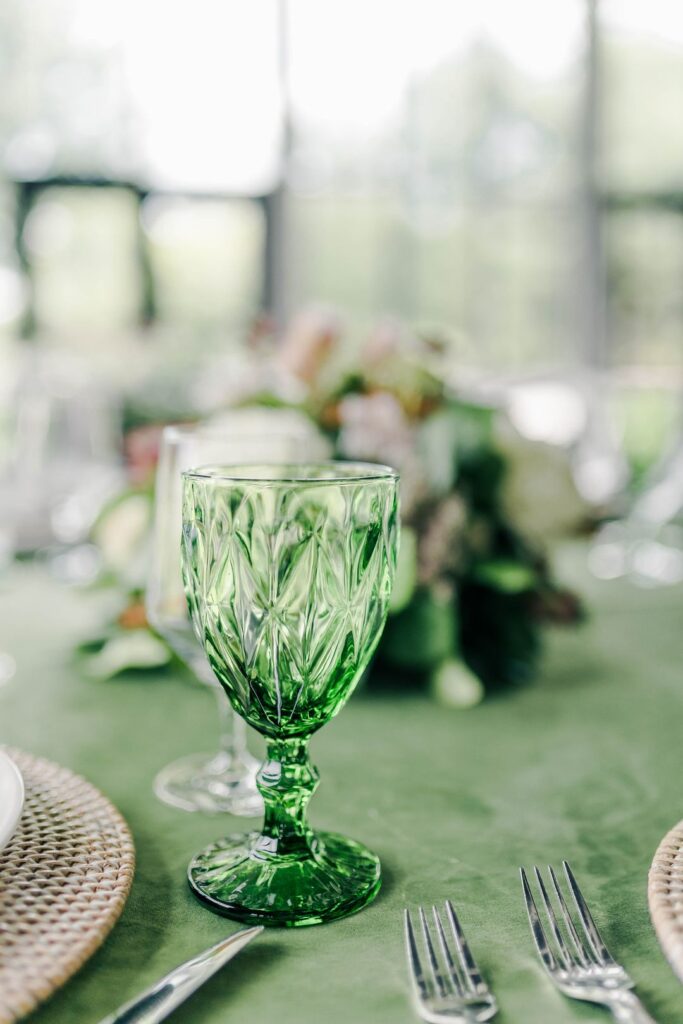 If you're hosting outdoors, we recommend a brighter palette that will stand out against a lush backdrop, such as a garden. This table features our Light Blue Pindot linens and brown napkins, which beautifully complement our elegant Harlin Dining Chairs. For serving ware, check out our dainty Darcy China, Austin Gold Flatware, and Audrey Gold Rimmed Glassware. Altogether, these pieces make for an absolutely timeless and oh so romantic dinner set up!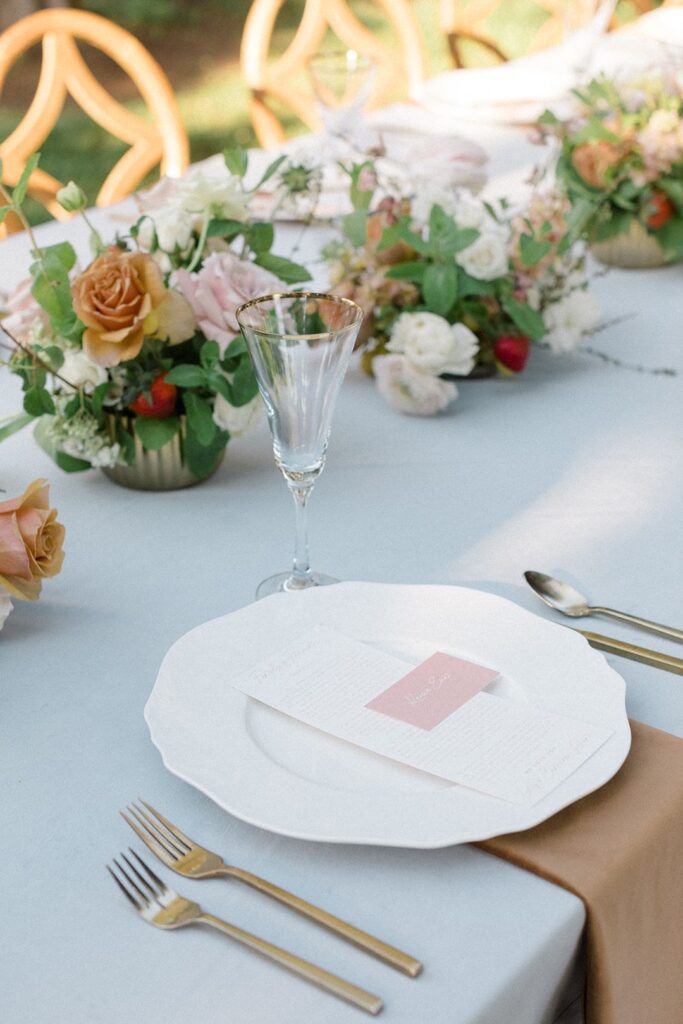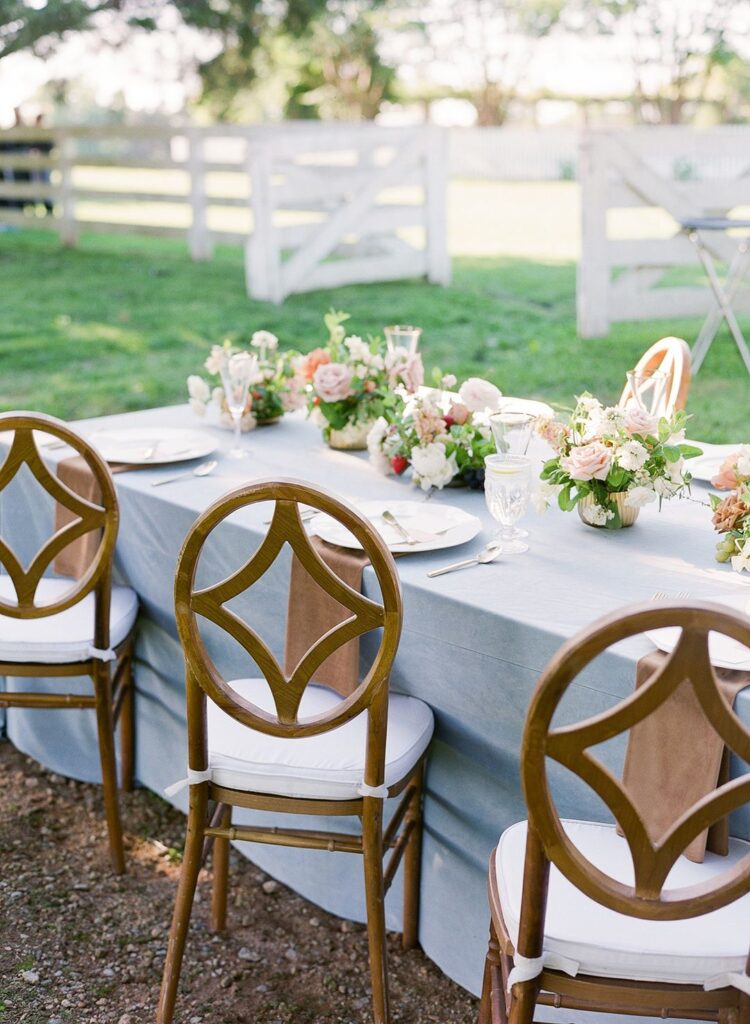 Outdoor Cocktail Hours
Last, and certainly not least, is a bar and lounge fitting for a breezy cocktail hour. When hosting an organic spring wedding, let nature do the work and keep your furniture simple. The Franklin Antique White Bar will stand out in a lush setting and is complemented beautifully by our White Bar Back Shelf. For a cozy yet timeless lounge area, you can't go wrong with warm-toned rentals, such as the Bennett Leather Sofa and Adeline Dining Chairs. To make it extra inviting, don't forget some plush poufs and a rug or two!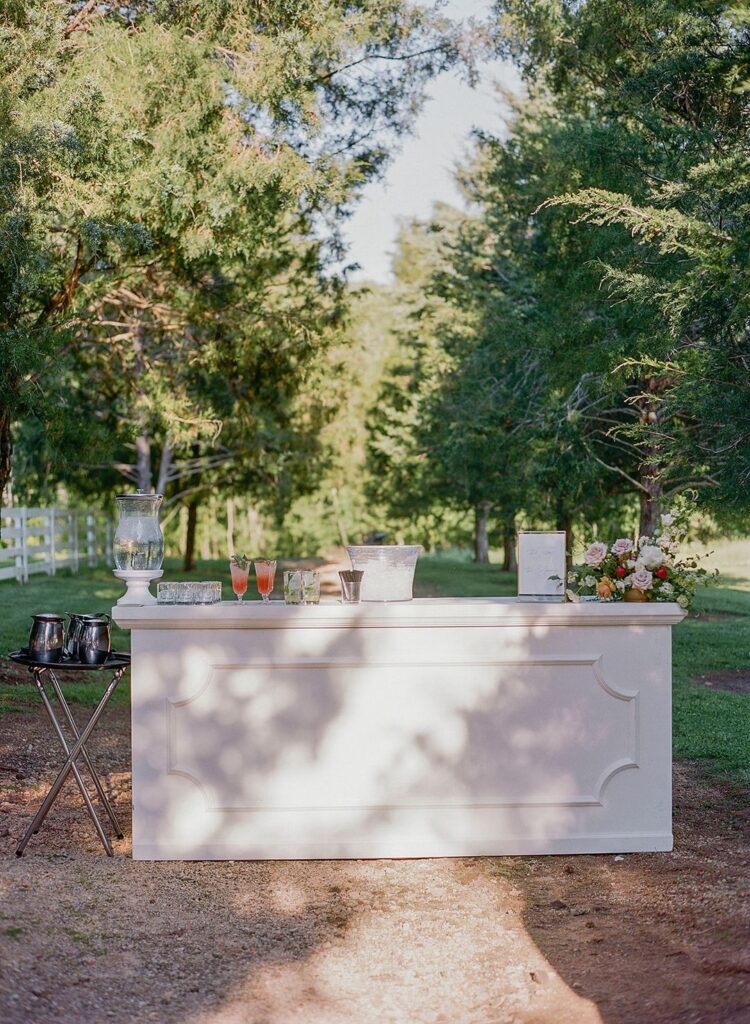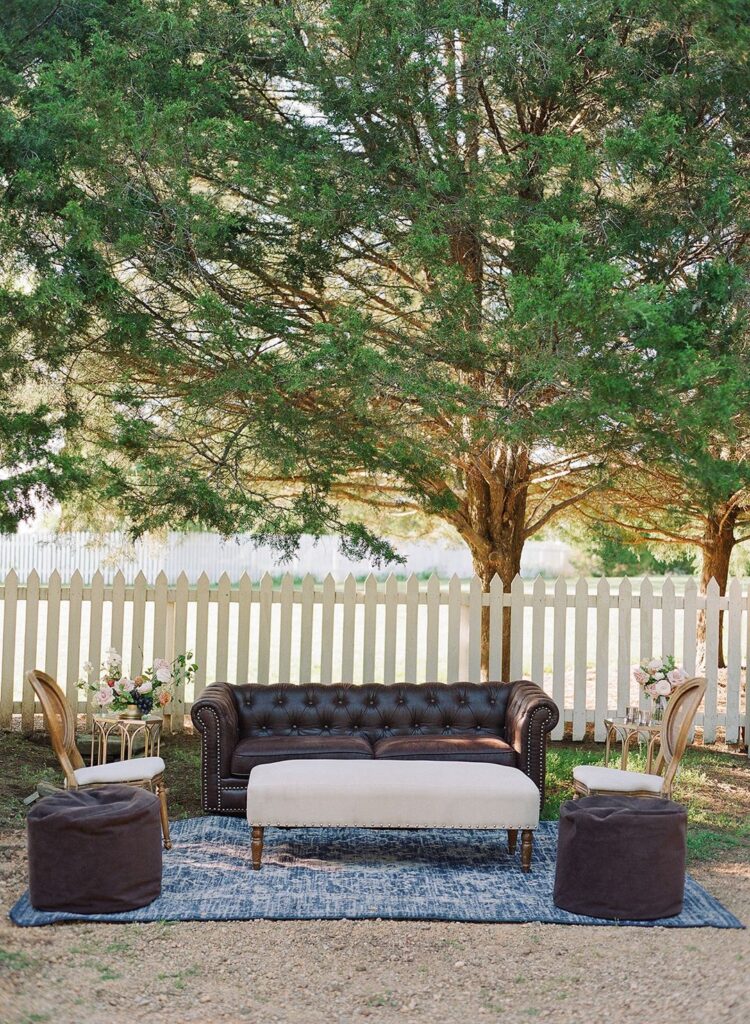 Drooling over this organic spring wedding inspiration? Send our team a message at info@southerneventsonline.com for help bringing this theme to life for your big day! For more organic event ideas, check out our blog on Natural Luxe Lounge Furniture.
TAGS | Spring Weddings in Nashville, lounge seating, organic luxe, outdoor event rentals, spring wedding style, tablescape inspiration, upscale organic wedding style
FEATURED RENTALS | Fruitwood Folding Chairs, Antique White Bentwood Chairs, Wedding Canopy, Franklin Antique White Bar, white Bar Back Shelf, bennett leather Sofa, Adeline Dining Chairs, White round china, fern velvet, sea glass velvet, colored goblets, darcy china, audrey gold rimmed glassware, harling dining chairs, light blue pindot linens, austin gold flatware,
---
4

Aug

Events and Style Shoots, Southern Events Products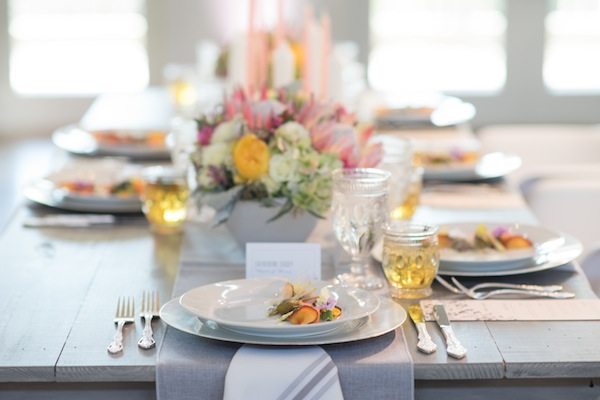 We were thrilled to work with Bruce Pittman for this lovely styled shoot at The Cordelle, for a feature in Brentwood Lifestyles. The cozy upscale lounge featured our Franklin Bar along with our new Tessa Tufted Loveseat and Bellamy Bench, accessorized coral blankets and colorful accent pillows. Outside, our Fiona Mantle was covered in florals for romantic ceremony scene. The reception featured our Grayson Farm Tables lined with our Grey Goose table runner and Grey Striped Bistro Napkins, Abbey Fine Flatware, our Classic White China and Hob Nob Glassware. For the reception seating, we paired with our Eiffel White Chairs with our Grey Velour Bench and London Gray Loveseat, accessorized with a mustard yellow blanket and accent pillows. The airy, cheerful design and bright pops of color make this look perfect for a spring or summer wedding!
Thanks again to Bruce for creating such a beautiful style and to Readylight Media for the images.
TAGS | Brentwood Lifestyles magazine, Bruce Pittman, Ready Light Media, The Cordelle, on trend wedding style, southern wedding style, spring wedding style, summer wedding style, vintage furniture rentals, vintage wedding lounge
FEATURED RENTALS |
---