10

Jun

On Trend, Southern Events Products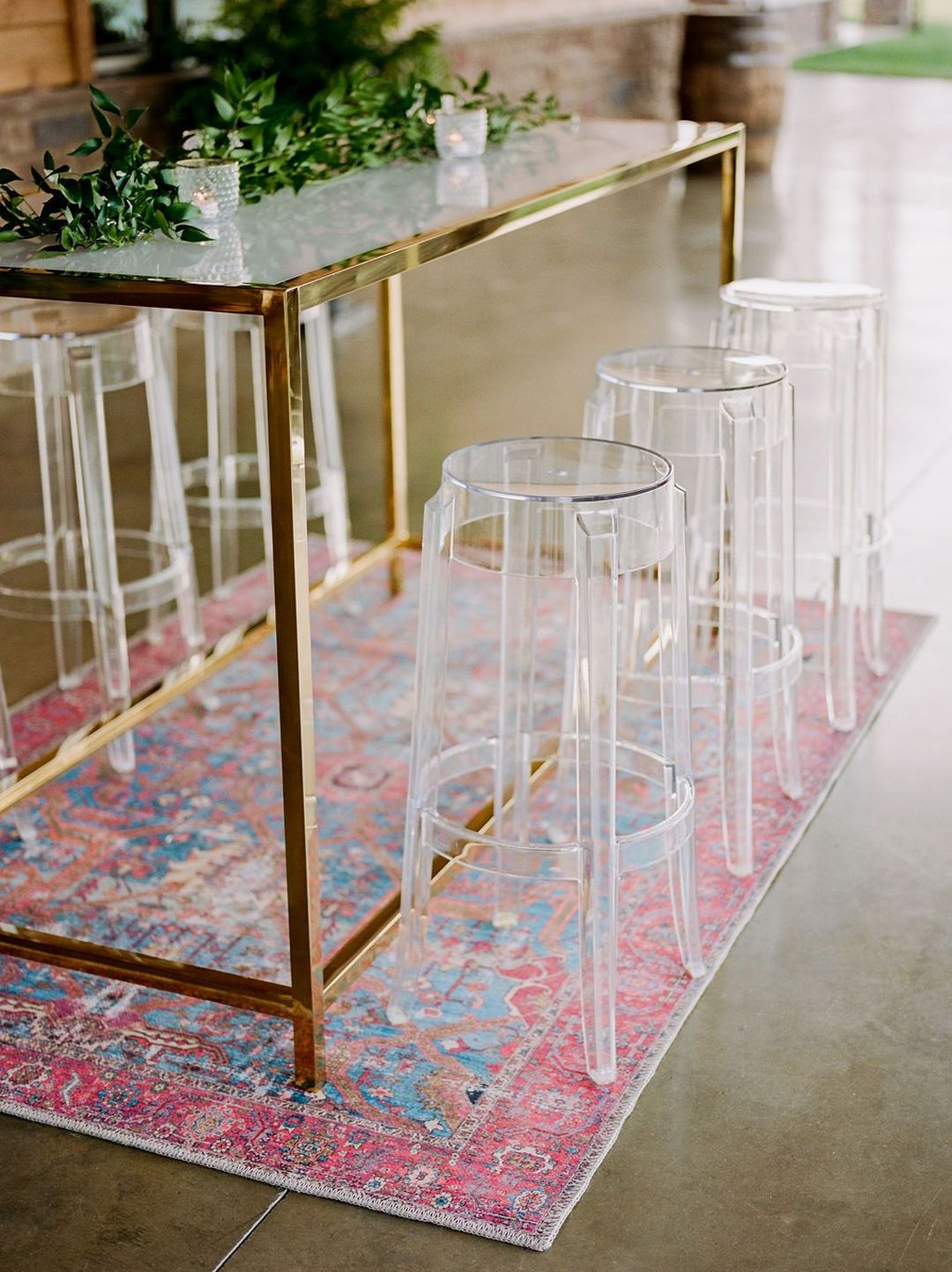 Functional and stylish rentals, Southern Events offers a range of area rugs for events & weddings. Although simple, a beautiful decorative rug will lend to an all-around cohesive event space. Whether they are used to line an aisleway or placed beneath the featured furniture. You go to major lengths to decorate and furnish the space in a way that aligns with your event, and the floor is the foundation! Take a look at our in-stock area rugs and how you can feature one or several at your upcoming Nashville event.
Tie it All Together
Area rugs are more than just decoration. Take for example the use of layered rugs as an aisle runner. Our Brown & White Cowhide Rug and Dark Brown Cowhide Rug are perfect for a trendy urban desert wedding ceremony. Meanwhile, our vintage-inspired rugs look stunning for a cozy, boho-themed affair. Feel free to layer them up or use one standalone alongside a ceremony backdrop.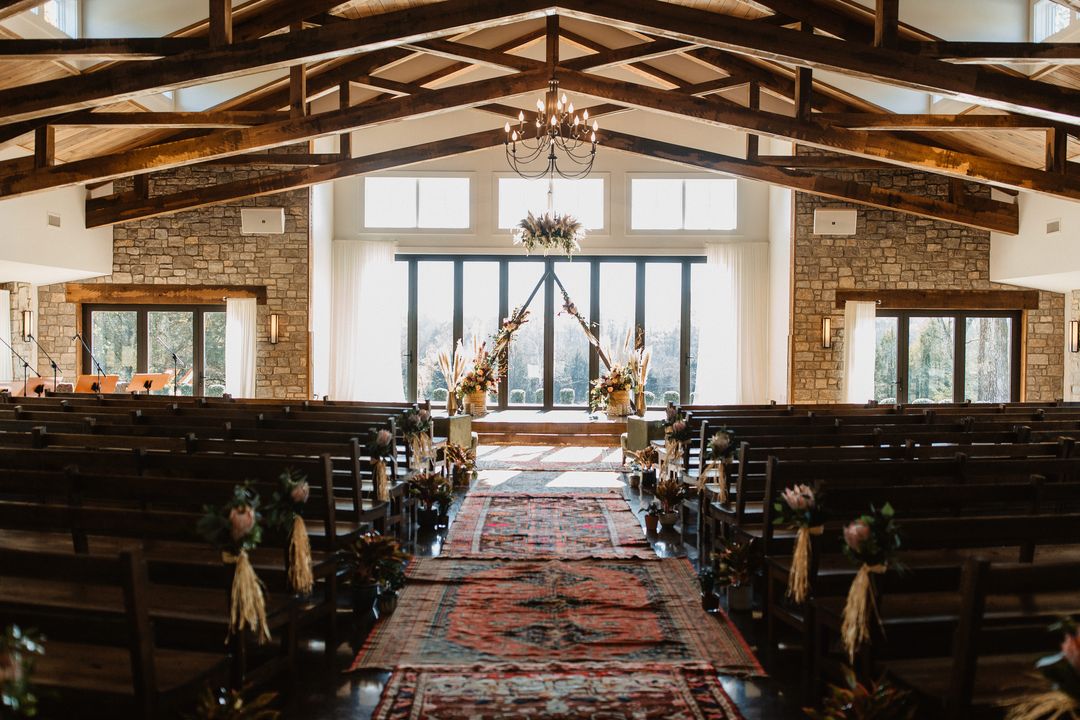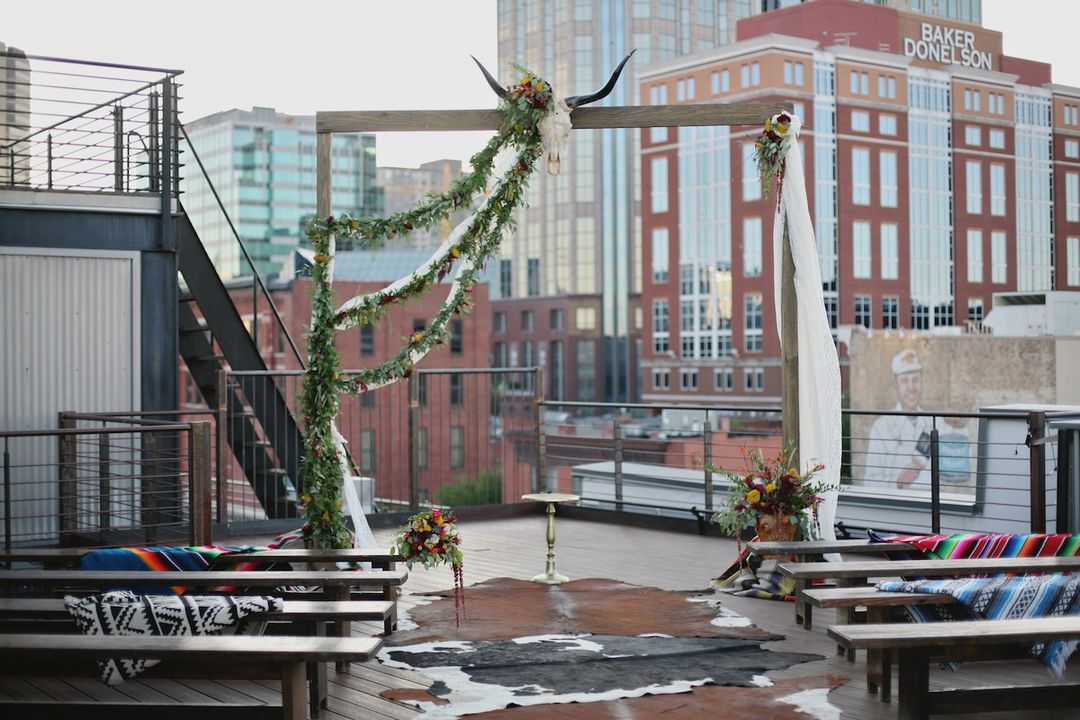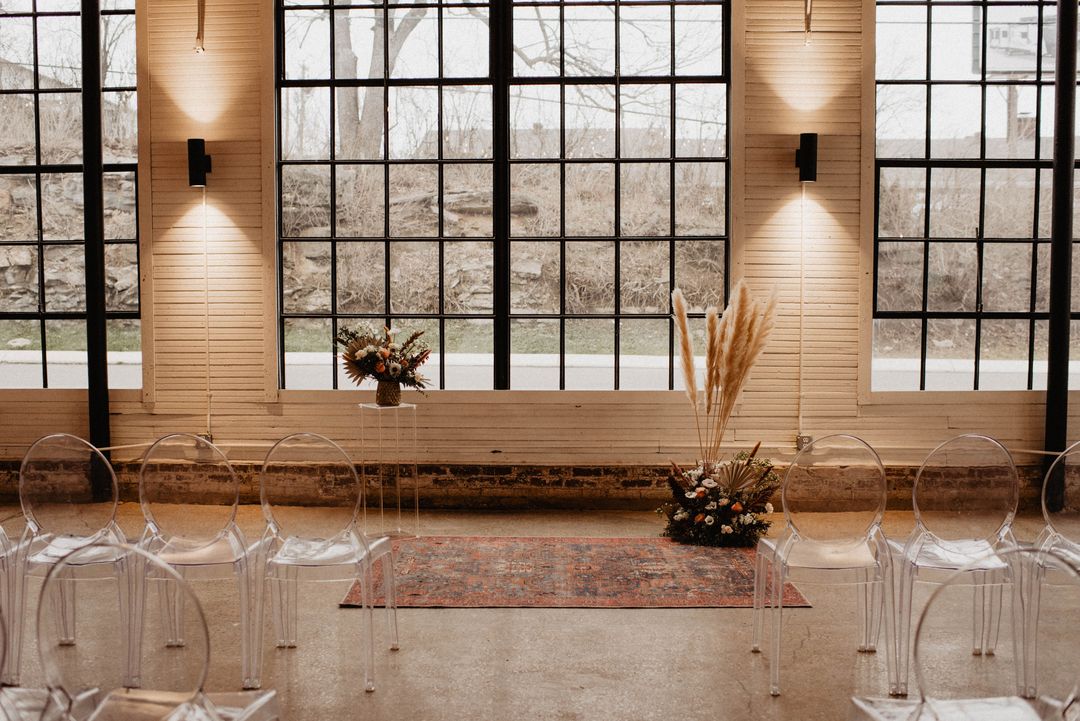 Photo by Renrose Photography
Frame a Space
Rugs assist in creating a frame in which to place the furniture. A trick that is especially useful for social areas, like a cocktail lounge. Consider using a rug to lead guests from the bar to a lounge area. It will help prevent your guests from huddling around the bar and encourage them to sit down, get comfortable, and stay for a while. See how our clients have used a range of area rugs for events & weddings, including our Navy and Aqua Rugs.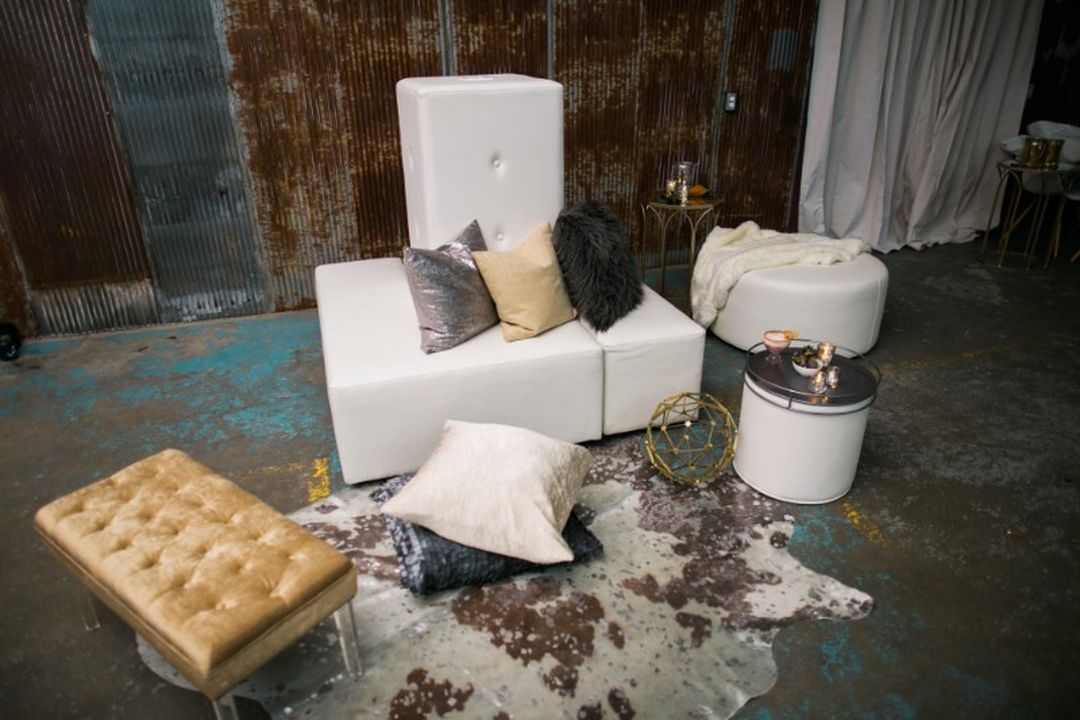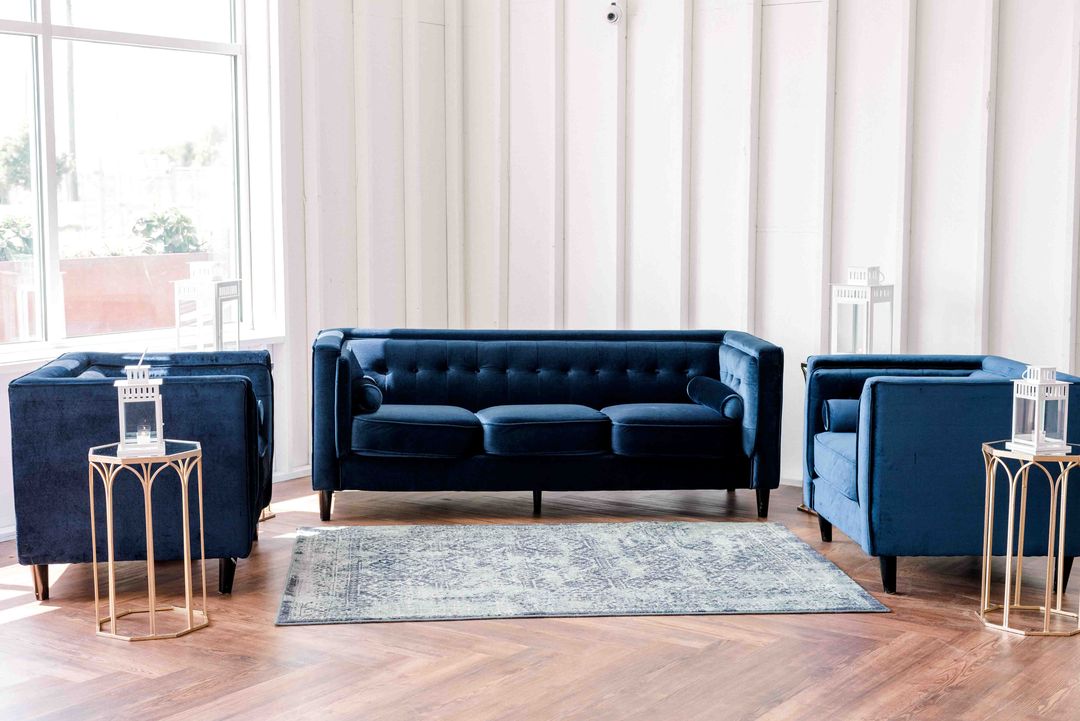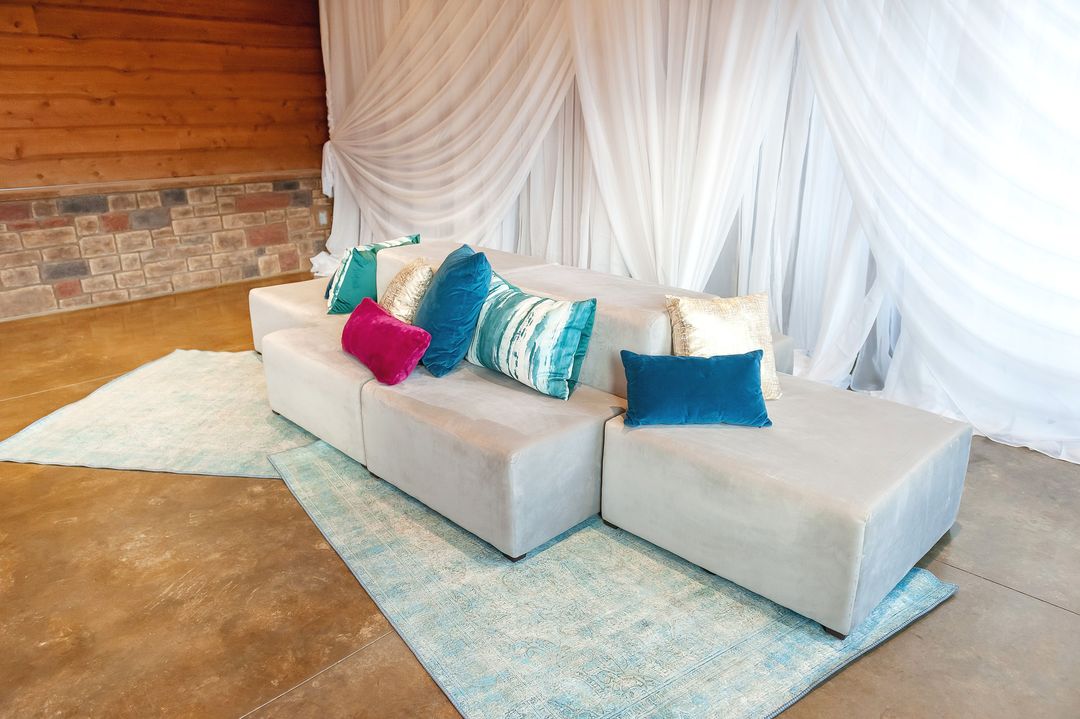 Photo by Megan Stark
A Cohesive Design
Similar to cocktail lounges, rugs can be placed beneath standalone furniture to help create a more cohesive aesthetic. Without one, it can feel as though your furniture may float away! A rug can also help tie different areas together that would otherwise look out of place. Featured below, our vintage Blue-Red Rugs were used to accent a whiskey-barrel bar and create a charming buffet area. And to create a stylish outdoor cocktail area, it was placed beneath our Loren Gold Bistro Table.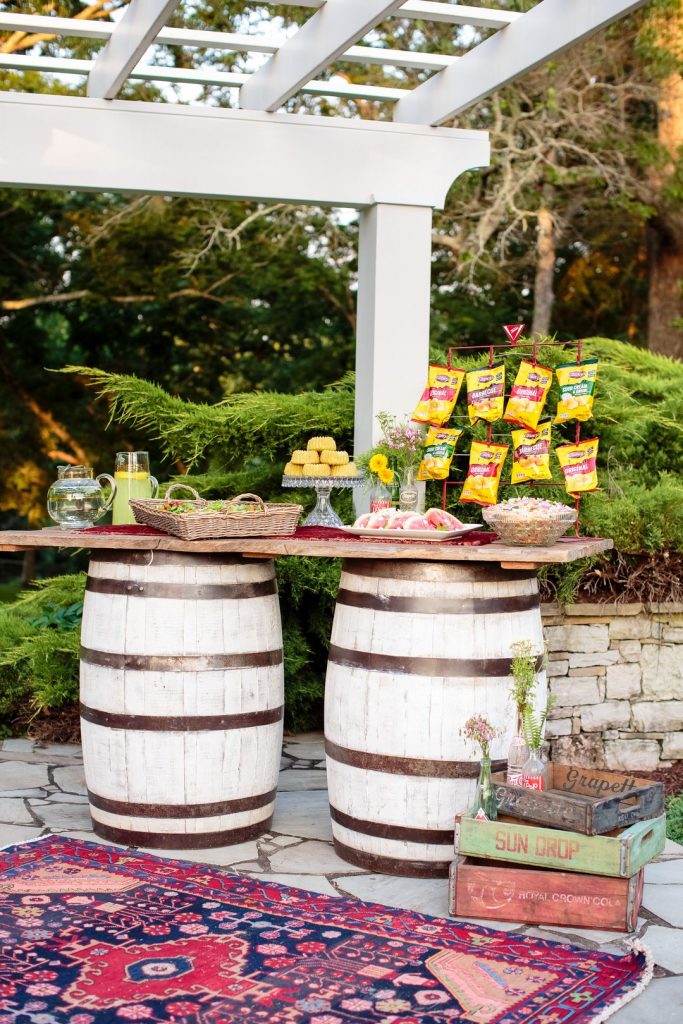 Photo by Erin Lee Allender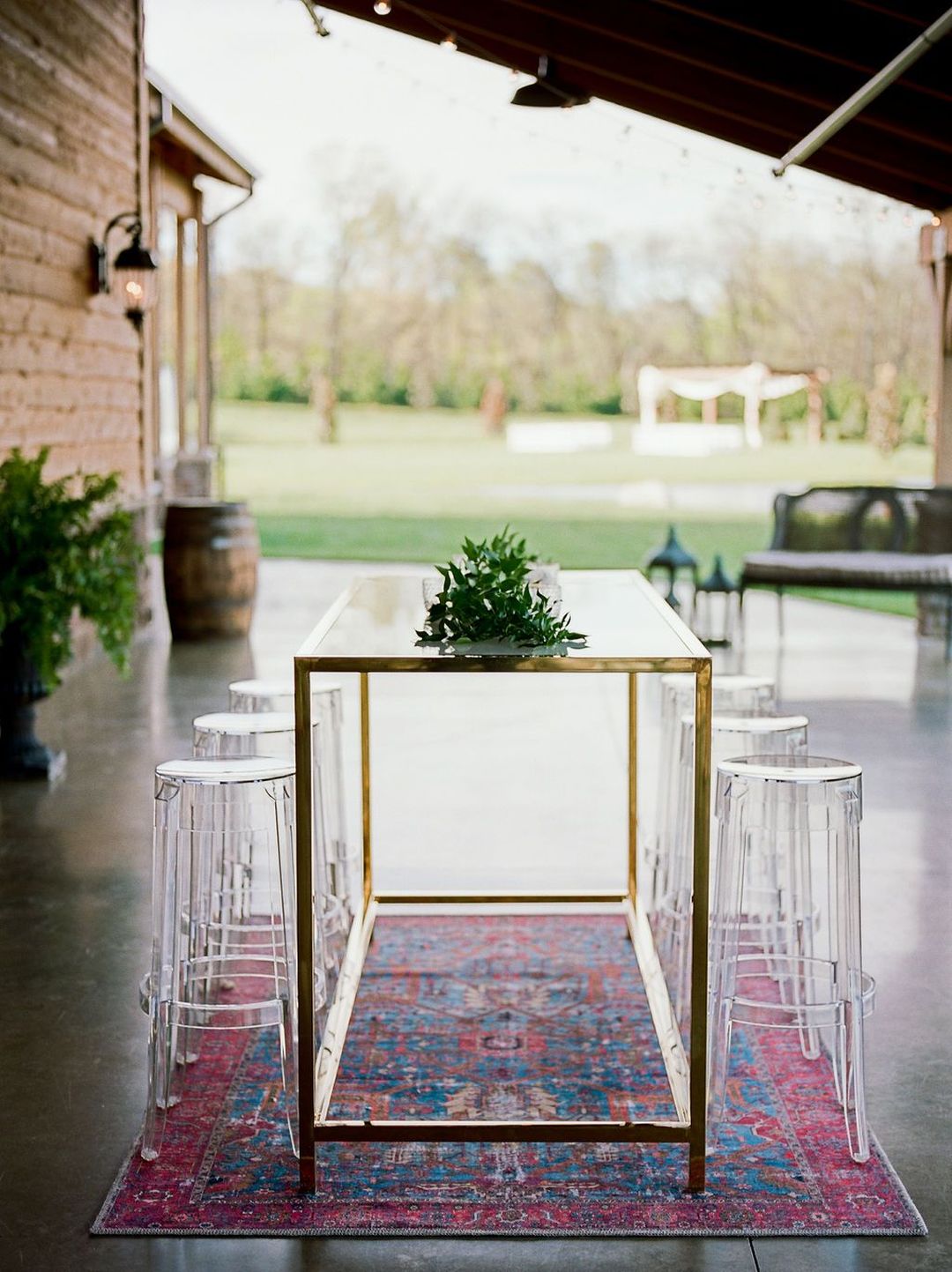 Photo by Jenna Henderson
Want something that provides more stability than a rug? Our Dura-Trac Flooring is a great option! It is made of high-quality materials and can be customized to fit any size you may need. Plus it is a safe, slip-resistant surface that can be used over a variety of terrains. Plus, you can still place one or more of our trendy area rugs on top to create a cozy atmosphere.
If you have an upcoming event and are looking to create a unique space with area rugs we'd love to chat with you! Send us a message at info@southerneventsonline.com for help or additional event inspiration!
TAGS | Area Rugs, Boho Wedding Nashville, Cocktail Party Rentals, Cow hide rug, Nashville Corporate event Rentals, Nashville Event Rentals, Nashville furniture rentals, Nashville party rentals, Vintage Rugs, cocktail hour, corporate event design, corporate event rentals, cowhide rugs, wedding event design
FEATURED RENTALS | Blue-Red Rug, Brown/White Cowhide Rug, Dark Brown Cowhide Rug, Gray Cowhide Rug, Navy Rug, Metallic Cowhide Rug, Loren Gold Bistro Table, Pearce Modular Lounge,
---
8

Mar

Southern Events Products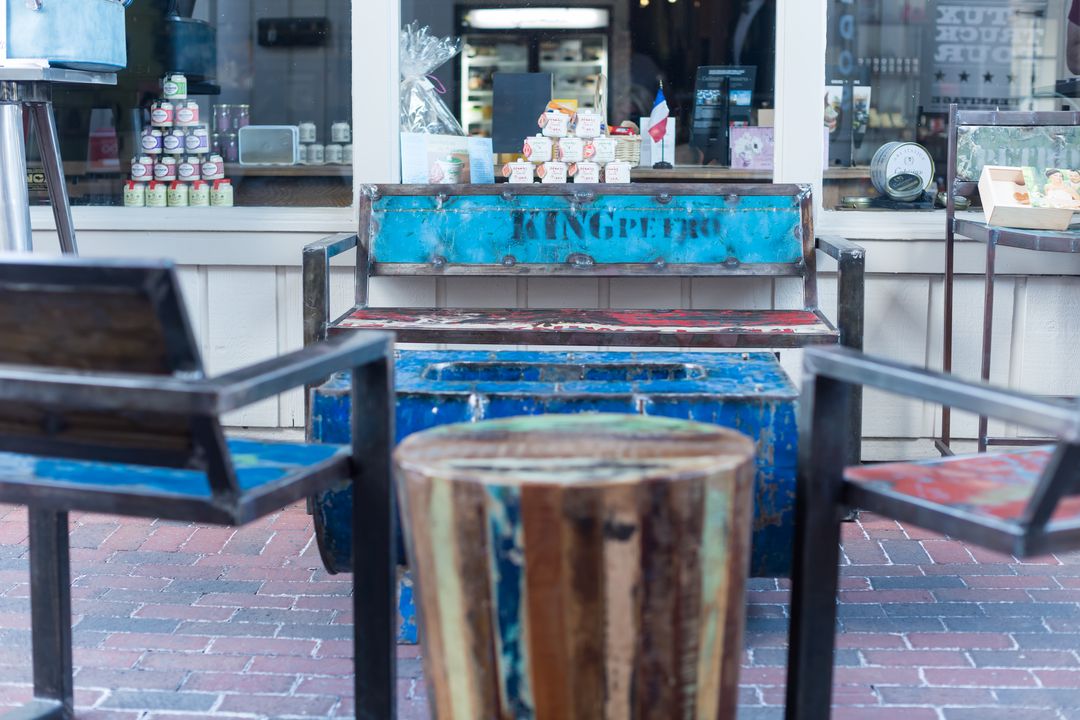 Corporate events can have a lot of moving parts: from planning stages to execution, there are several different factors to consider. One that's easy? Your event rentals. Southern specializes in distinct rentals in the Nashville, Franklin, and Middle Tennessee areas so your store's grand opening or ribbon cutting ceremony goes off without a hitch.
Linens in Every Color
Big on branding? Southern's massive linen selection has an extensive inventory of colors! With various hues and shades, we are certain there's a linen to match your company's logo or chosen event palette.
Custom Printed Linens
Not only do we have a wide variety of solid colored linens, but we can create any style of Custom Printed Linens as well. Our the design of our Cecelia Matte Satin was transferred from this event's invitation and we can do the same to match your company's branding or theme of your corporate event.
Staging
Need somewhere to make a statement? Staging is necessary for grand gpenings where speeches or awards might be taking place. Don't let your big moment get lost – with a proper stage, your guests will know where to focus when the time comes.
Stanchions and Red Carpets
Give your guests the celebrity treatment with a Red Carpet walkway and Chrome Stanchions. Especially great if you plan on having local press stop by, this combination is a great way to set the tone for your incredibly grand Grand Opening!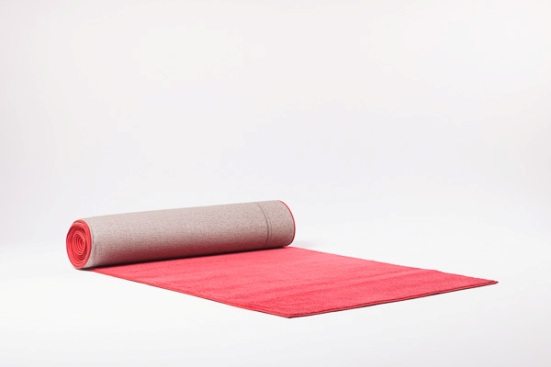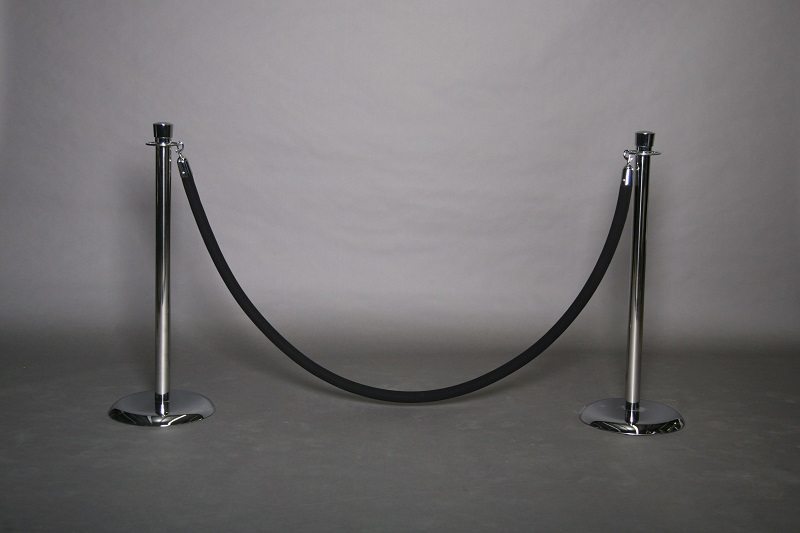 Bar with Custom Signage
Guests can easily grab refreshments at any of our spacious bars so they are a must for a corporate grand opening or ribbon cutting. Our new Harpeth Bar Collection features an indented front where custom signage, florals or branded decor can be added. Plus, the all-white finish makes it work with any event style.
Draping
Draping adds a whole new element of drama to an event – especially when it's a grand opening or ribbon cutting celebration! Bring attention upwards by adding draping to your next corporate event – the chic design instantly adds a bit of elegance to any venue. Or use the stand sans draping, hanging your custom step & repeat for guests to stop and strike a pose in front of.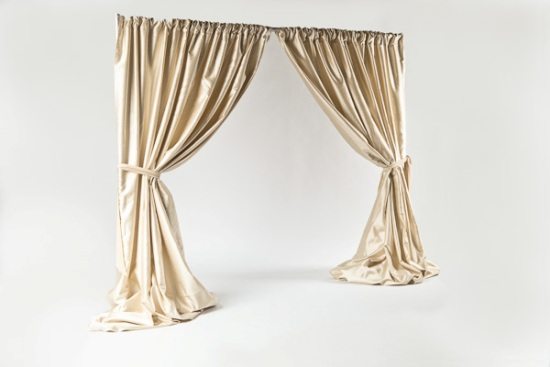 Lounge Furniture
Who doesn't love a lounge area? Our wide variety of Lounge Furniture makes it easy to turn your restaurant, boutique, bookstore, or salon into a comfortable place to enjoy great company! From sleek and modern to distressed and vintage, Southern has rentals for whatever compliments your brand.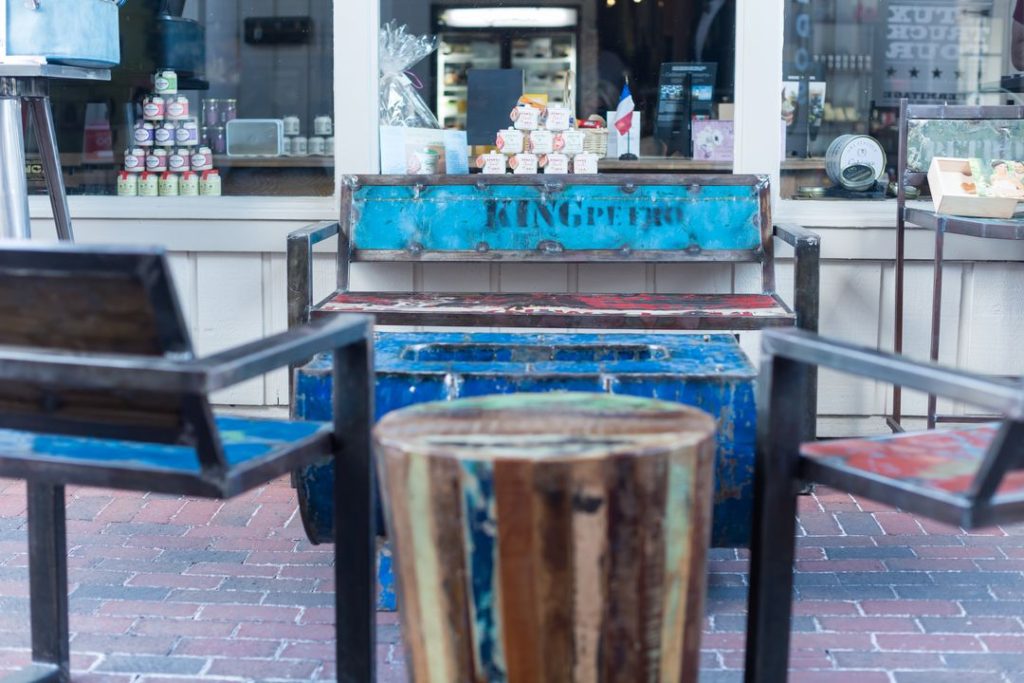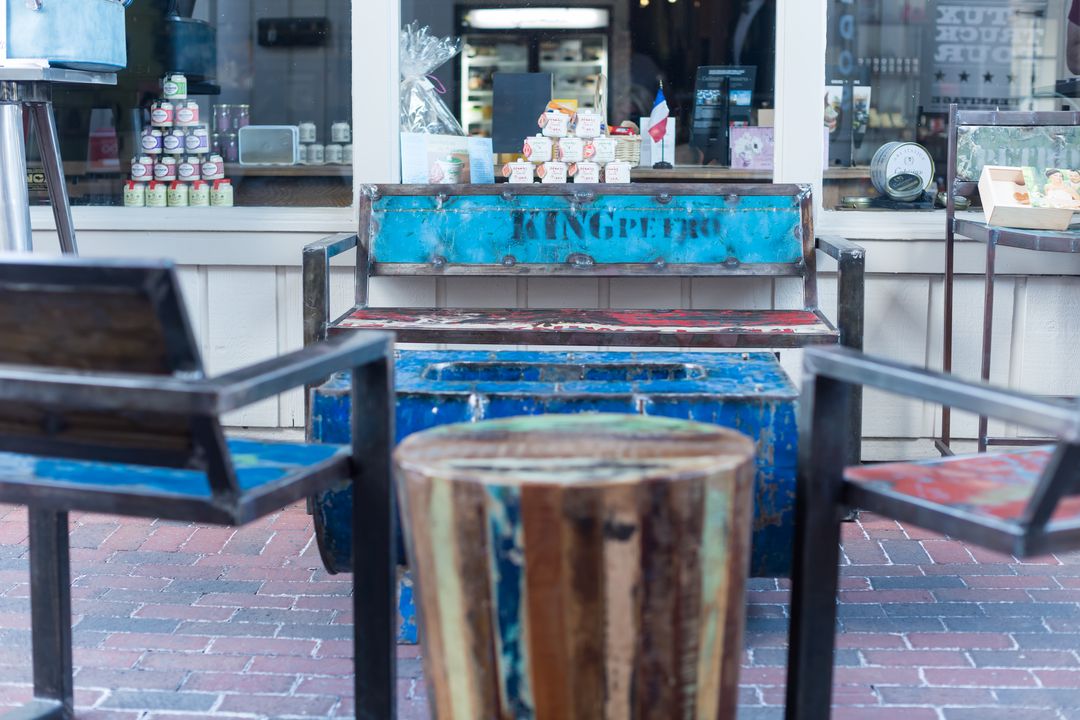 Whatever business you're celebrating, Southern's rentals can make sure your Grand Opening is styled to perfection. Get in touch with our team of experts to learn more and reserve rentals for your Nashville and Franklin, TN events, info@southerneventsonline.com.
TAGS | Grand Opening rentals, Nashville Corporate event Rentals, Red Carpet for rent, Rentals for ribbon cutting, Southern Events Party Rentals, company reception event rentals, corporate event rentals, staging for rent, stanchion for rent
FEATURED RENTALS |
---