14

Sep

Trends and Inspiration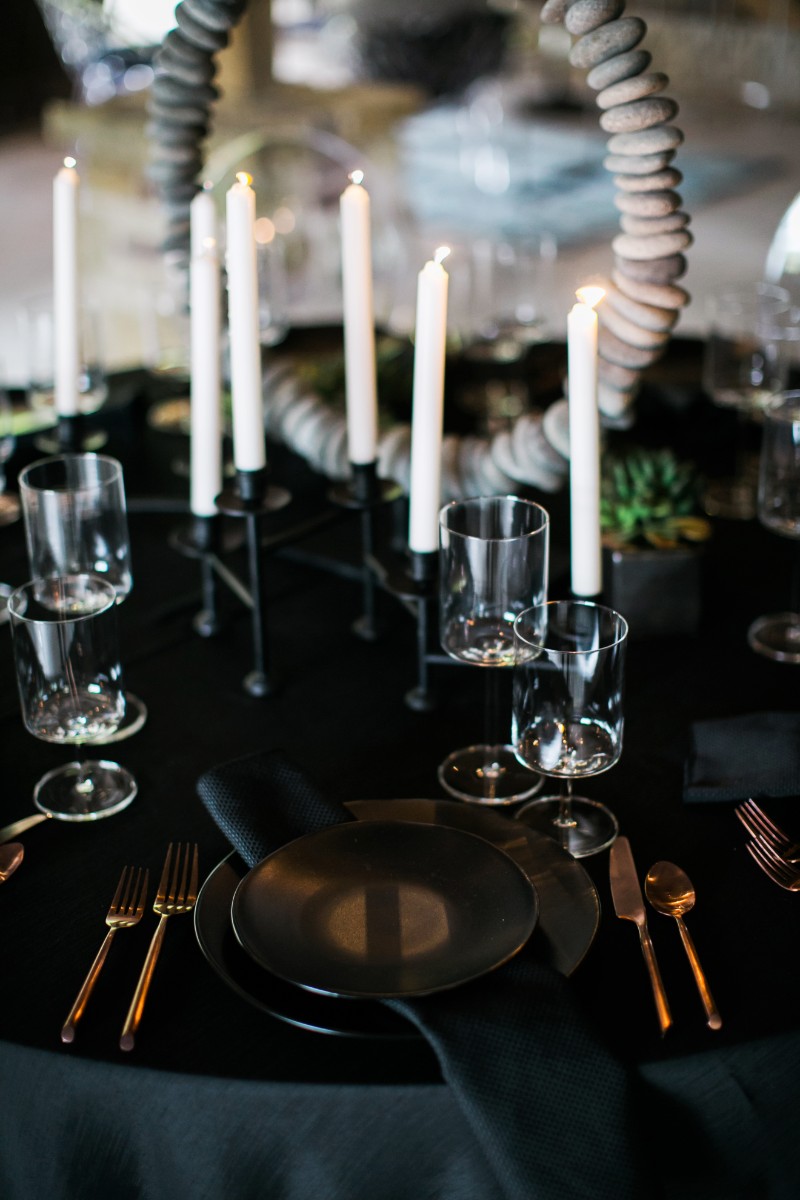 When it comes to event design, staying on-trend is essential to creating a memorable experience. One design trend that continues to captivate event planners and guests is the use of all-black event decor! This bold choice can transform any celebration into a sophisticated affair. At Southern Events, we believe in pushing the boundaries of event design, and the all-black trend is no exception. From luxurious weddings to elegant corporate soirees, let's explore how all-black event design is stealing the spotlight.
All-Black Event Designs Fits the Bill
Don't be fooled! All-black event design is a versatile look fitting for any celebration. Whether the affair is formal or casual, this color scheme offers a timeless and elegant ambiance. Imagine a luxurious wedding or all-black dinner party with a touch of gold accents. Where the contrast between the black backdrop and glistening gold creates a stunning visual effect. For those seeking an edgier vibe, picture an urban soiree in the heart of Downtown Nashville. The all-black decor will blend with the city's contemporary atmosphere, creating an event that is trendy and chic. And let's not forget about corporate events! Whether it's a high-profile fundraiser or an elegant gala, an all-black formal event design will lend to an atmosphere of understated luxury.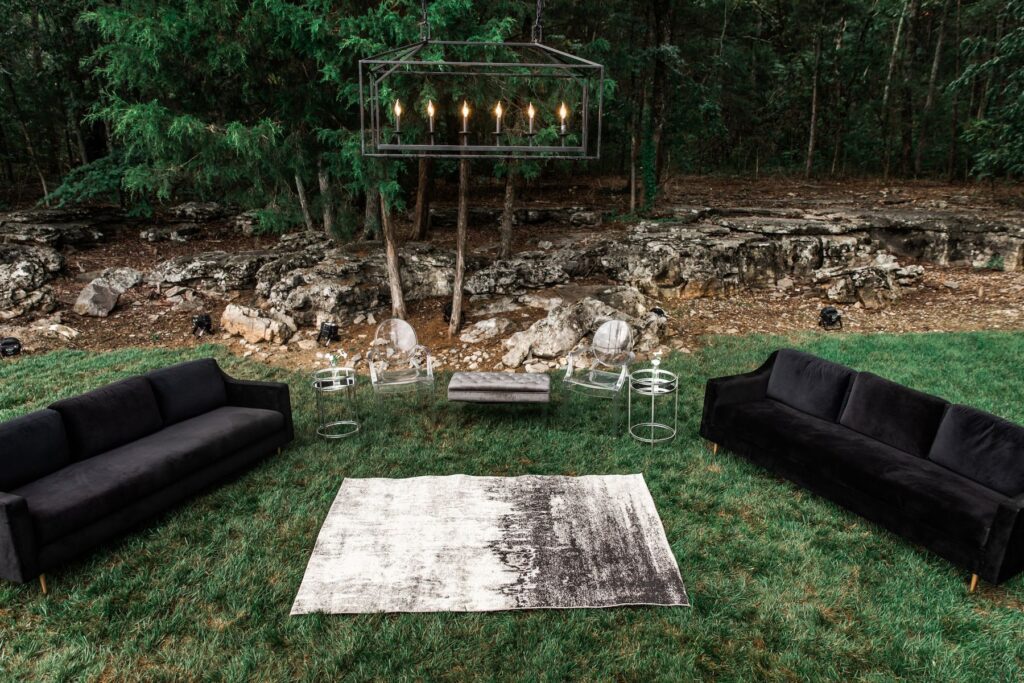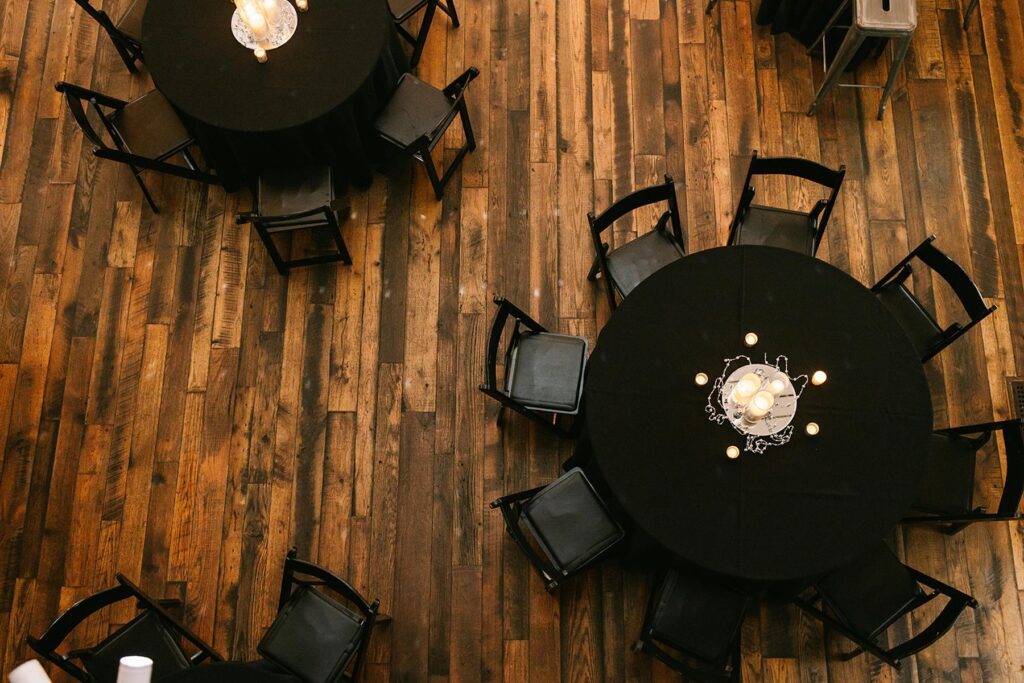 Edgy All Black Tablescapes Ideas
The charm of an all-black event design lies in its ability to create various moods. From the romantic to the avant-garde! When it comes to tablescapes, there are endless creative possibilities to explore! Create a modern minimalist setting when you start with our Black Poly Tablecloth. Topped with Onyx Earthen China and Black Pindot Napkins. Lend a contemporary touch with our Brushed Copper Flatware and Cybil Glassware. For a more luxurious vibe, feature the busy Nova Linens with a Black Rim Glass Charger complemented by Noir Matte Black Flatware.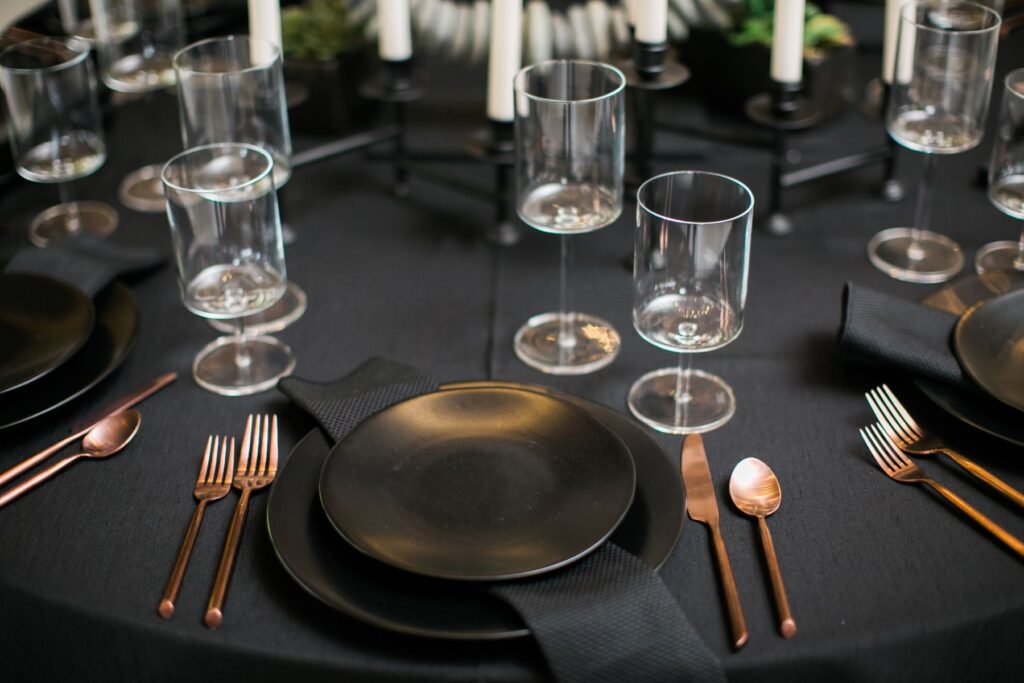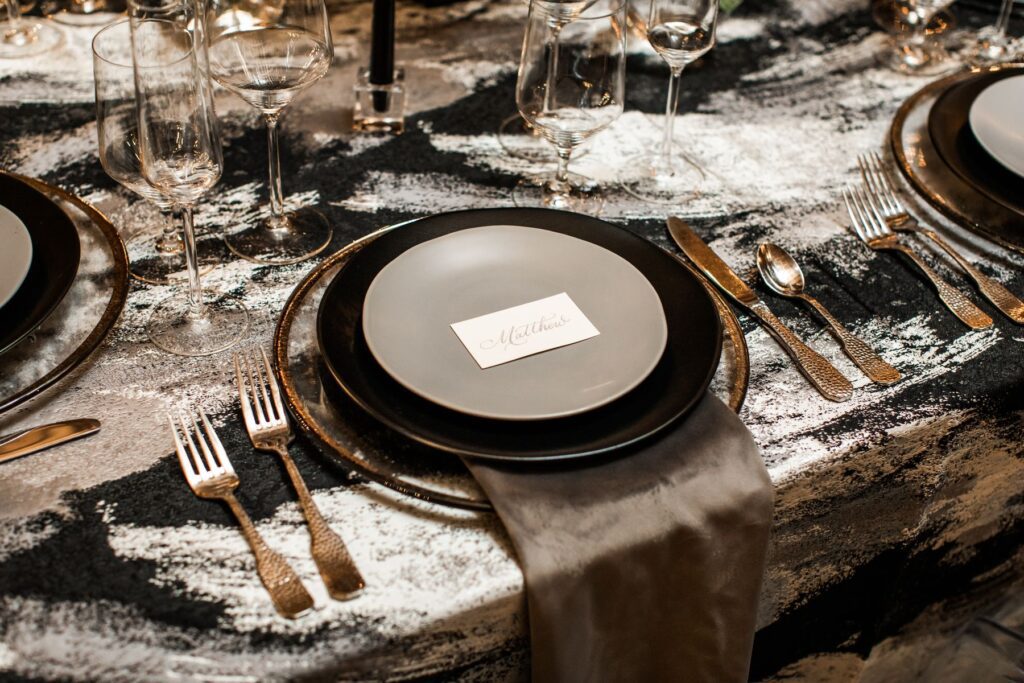 Dare to rock a more edgy, yet still stylish, look? Pair our buttery Black Velvet Linens with Black Round Lacquer Chargers and quirky Como Flatware. If you want a subtle hint of color, we recommend napkins in bold or jewel tones. Such as the beautiful Aubergine Poly, Magnolia Green Velvet, or Navy Dupioni.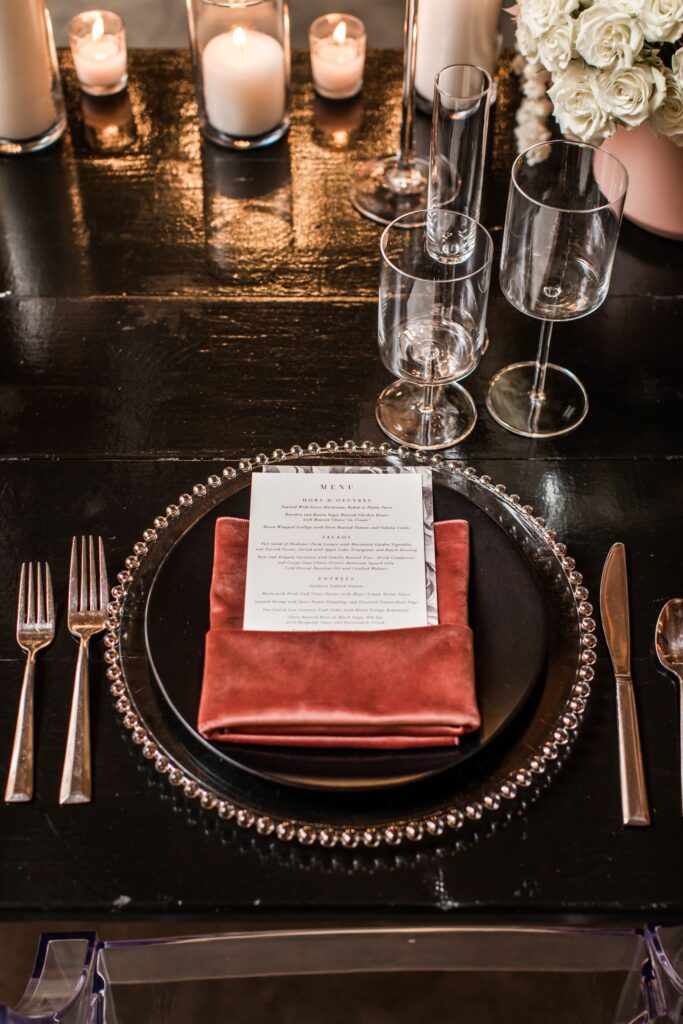 Moody Cocktail Lounges
A cocktail hour is a time for guests to mingle, sip on delectable drinks, and immerse themselves in the event's atmosphere. Elevate the experience by creating an intimate and luxurious vibe with all-black cocktail hour rentals. Choose sleek black lounge furniture that invites guests to relax and socialize. Such as our Regent Black Velvet Sofa. Complemented by Claro Metal Side Tables and Acrylic Ghost Armchairs. Alternatively, the Sloan Sofa and Armchairs offer a stylish yet casual vibe. Complete the look with a cozy Black-Silver rug!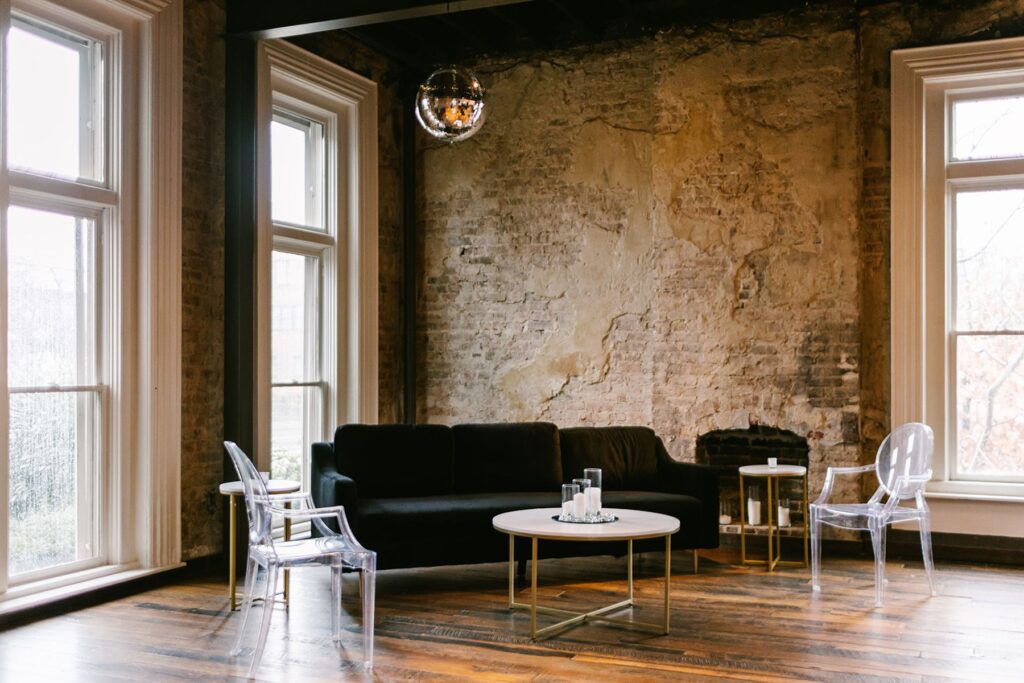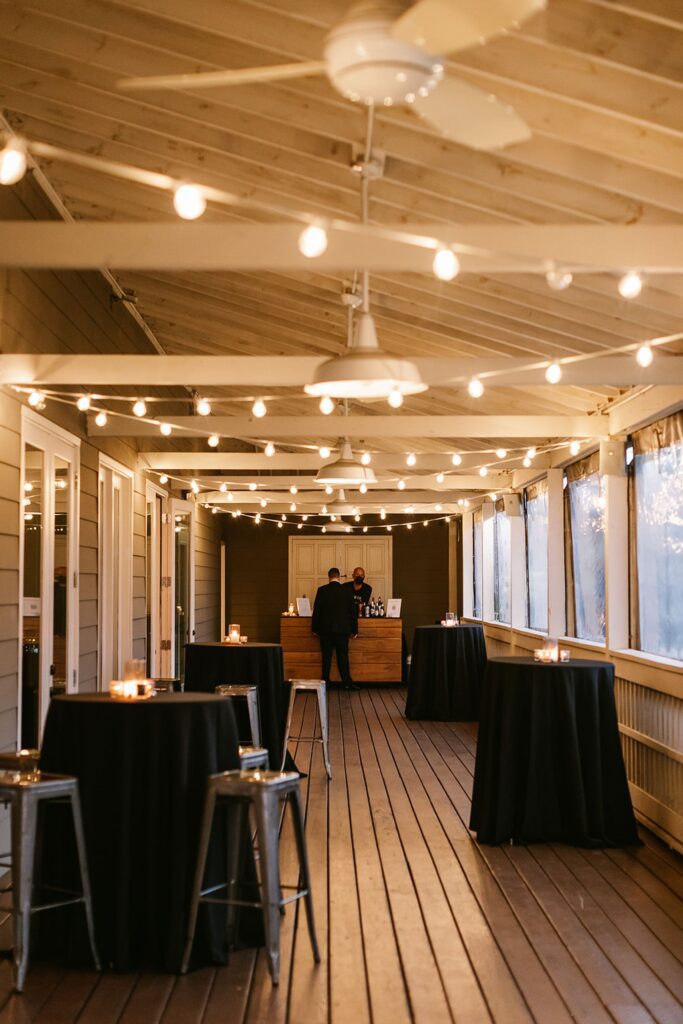 Black Event Bars & Shelving
To create an equally dark yet functional cocktail bar, grab our striking Collins Black Wood Bar and a set of Black Bar Back Shelves. They are a perfect pair whether you plan to feature an open-bar or large batch cocktails at a self-serve station. If you want extra seating or standing areas around the bar, feature bistro tables covered in dark linens. Along with a set of Acrylic Ghost Barstools or Chiavari Black Barstools.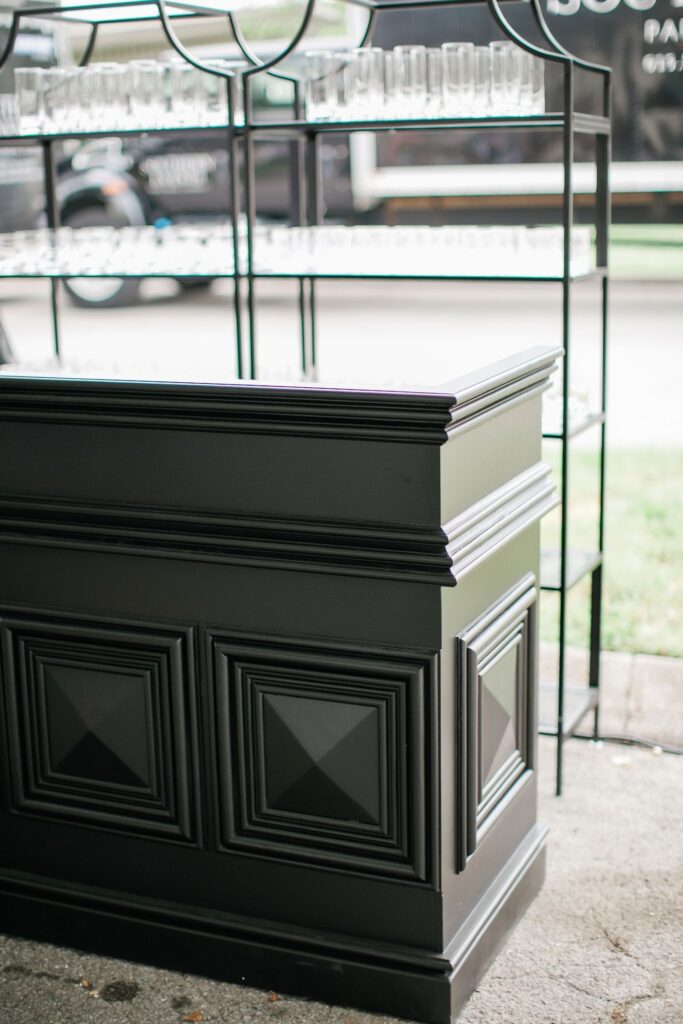 If you're ready to embrace the allure of all-black event design, contact us today to discover how we can help you create a truly remarkable and memorable event that leaves a lasting impression. Contact our team at info@southerneventsonline.com and let's start planning your best event yet!
TAGS | Cocktail Party Rentals, Moody Chic, all black event design, black event design, black event rentals, corporate event style, dark event design, wedding style trends
FEATURED RENTALS | Regent Black Velvet Sofa, Sloan Sofa, Claro Metal Side Tables, Acrylic Ghost Armchairs, Black-Silver Rug, Collins Black Wood Bar, Black Bar Back Shelves, Black Poly Tablecloth, Onyx Earthen China, Black Pindot Napkins, Nova Linens, Black Rim Glass Charger, Brushed Copper Flatware, Cybil Glassware, Noire Matte Black Flatware, Black Round Lacquer Chargers, Como Flatware, Aubergine Poly, Magnolia Green Velvet, Navy DUpioni
---
10

Nov

On Trend, Southern Events Products, Trends and Inspiration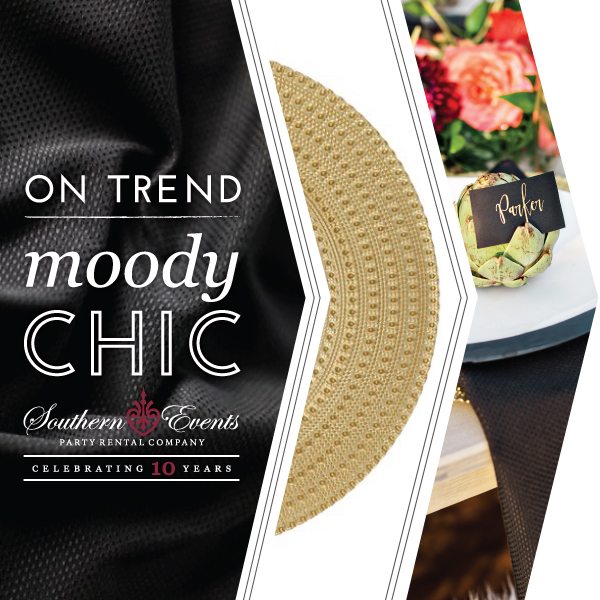 Get ready for dramatic color contrasts and rich textures! While we love the soft, organic styles inspired by nature that have dominated the wedding and events industry in recent years, let's just say we are in the mood for a bold, sophisticated event style. This look is fashion forward, mixed black and white, bright pops of color, and strong metallics. Our Ghost Arm Chairs and Grayson Farm Tables paired with more luxe details like our Gold Medallion Chargers and Gold Velour Benches make it ultra glam. Dark but chic, edgy yet still elegant, this trend would be perfect for your winter wedding or corporate gala!
Product details: Ghost Arm Chairs, Midas Gold Velour Bench, Black & White Triangle Plate, Black Pindot Linen, Grayson Farm Table, Gatsby Coupe, Gold Medallion Charger
Feeling in the mood? Email us at info@southerneventsonline.com for help giving your next event a chic design.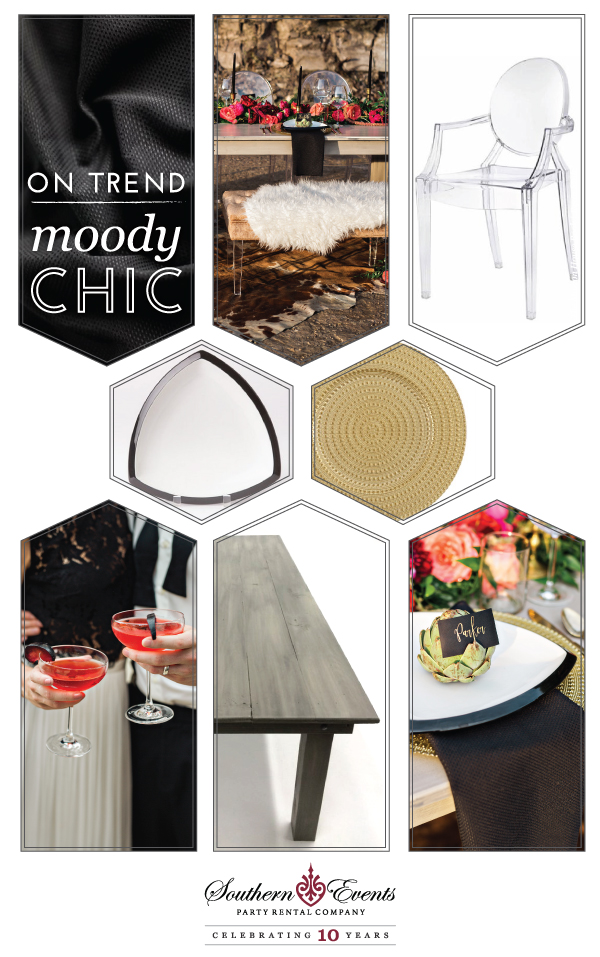 TAGS | Ghost Chairs, Gold, Moody Chic, On Trend, Southern Events Party Rental, Southern Events Party Rental Company, Unique Wedding Rentals, black, gold and black, gold and black envent design, gold and black event decor, upscale outdoor wedding
FEATURED RENTALS | Ghost Arm Chairs, Midas Gold Velour Bench, Black & White Triangle Plate, Black Pindot Linen, Grayson Farm Table, Gatsby Coupe, Gold Medallion Charger
---