20

Apr

Southern Events Products, Trends and Inspiration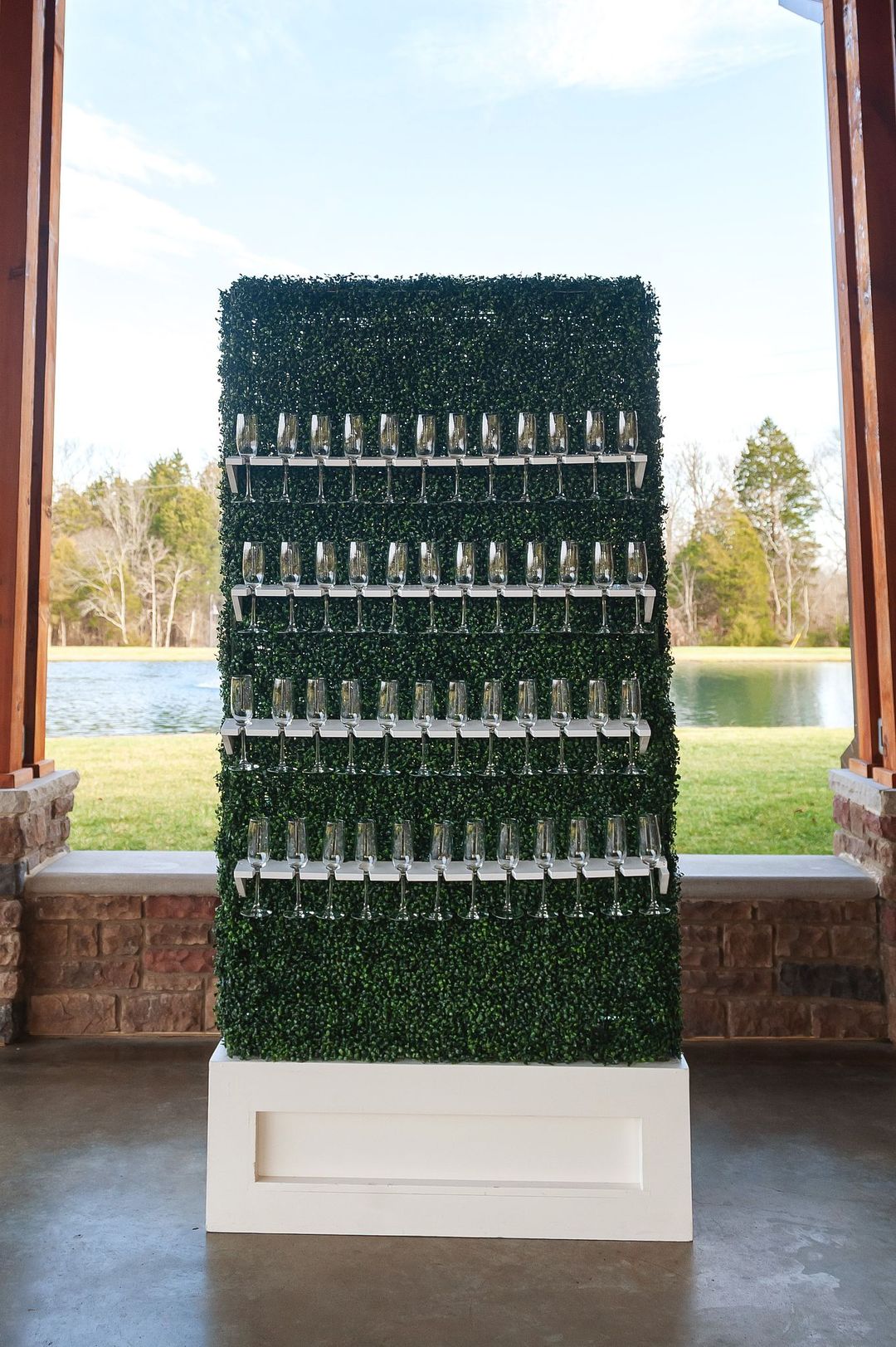 Outdoor parties are the perfect way to celebrate any occasion, from birthdays and weddings to corporate events and backyard gatherings. To make your event truly special, consider renting unique outdoor party decor and props that will create a memorable experience for your guests. Take a look at some of our unique inventory items, perfect for creating fun focal points, stylish backdrops, food and drink displays, or social areas, that are sure to impress.
Photo-Worthy Outdoor Party Decor & Backdrops
Every event needs a photo backdrop! A place where guests can snap a photo as a keepsake or to share on social media. Our Boxwood Wall is a beautiful and versatile piece of decor. It can be used to create a backdrop for luxurious photographs, dressed up with drapery, balloons, or fresh flowers. Or you can create an interactive focal point, such as a champagne wall! These same walls can also be used to create a stylish seating chart or welcome sign.
Alternatively, check out our beautiful Fiona Ivory Mantle. Whether it is placed against a wall or standalone, it can also be used as a backdrop or fun focal point. Adorn the mantle with flowers and the base with lanterns, and it is perfect as a backdrop for opening presents at a birthday or baby shower. An equally stunning option is our Wrought Iron Arch. It would look stunning for a garden party, whether you choose to feature it as an entryway to hang a banner. For a more elegant look, weave our Chiffon Runner or fresh flowers through the metal lattice!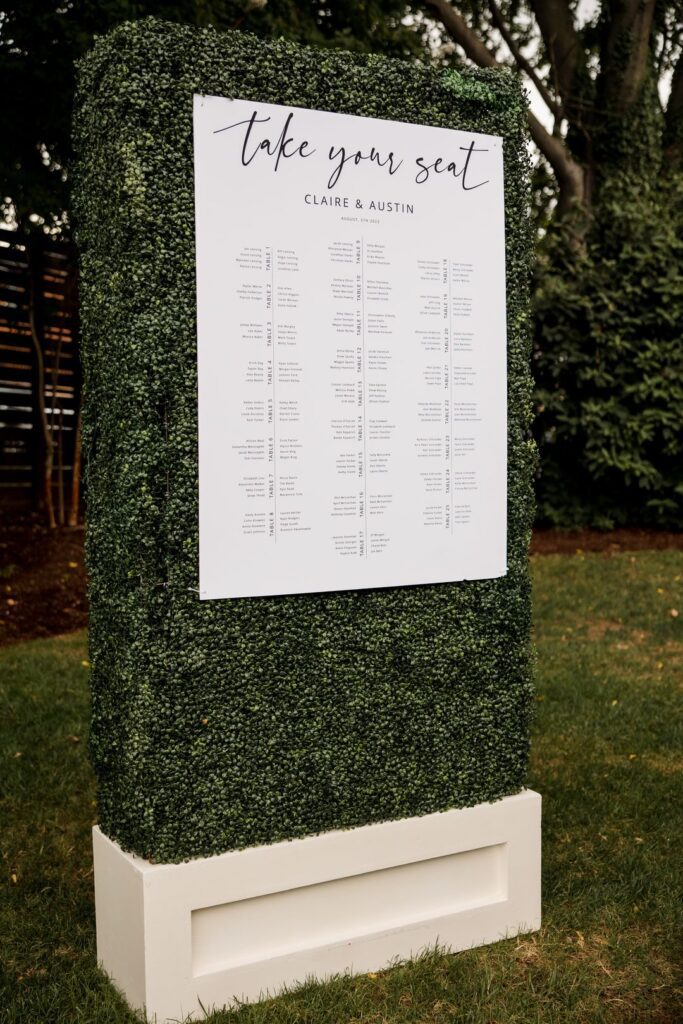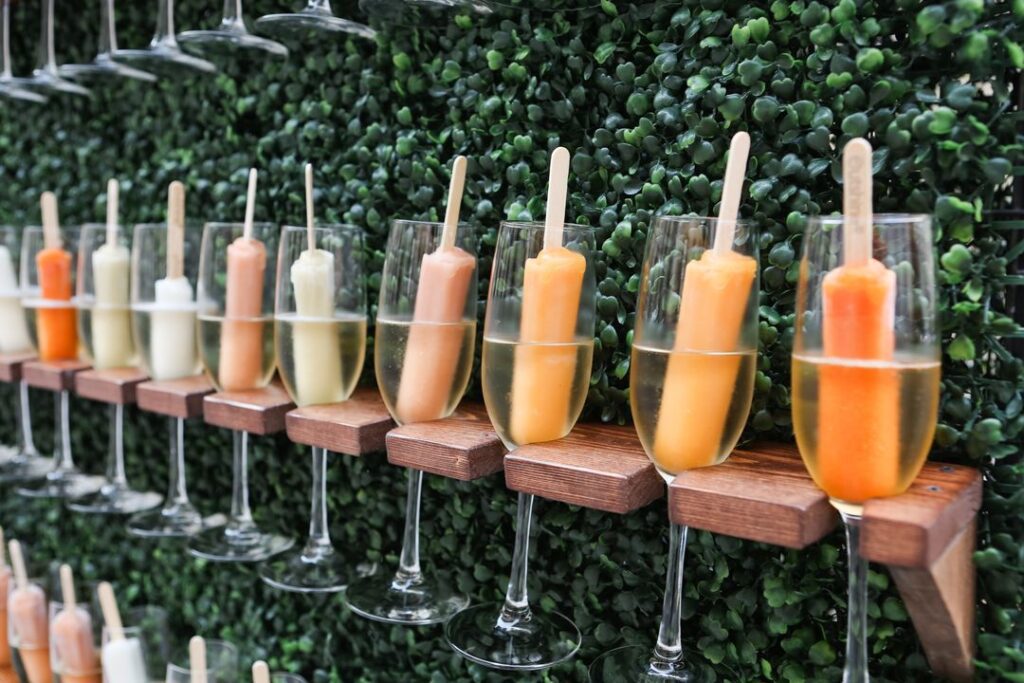 Outdoor Drink & Food Displays
One of our favorite ways to make a statement at any event is with a stylish drink or food display. It's a simple but effective way to elevate a buffet area or to serve up favors to guests! The most popular piece in our inventory of outdoor party decor is our whiskey barrels, with an acrylic or barn wood top. It's the perfect makeshift bar or grazing table! But you can also use it in tandem with a variety of our cake stands to create a multi-level display of appetizers or desserts. Or create a stylish buffet when you mix and match our beverage dispensers and chafing dishes.
A close second to any of our whiskey barrel bars is our Market Cart. Simple and bright white, it is a chic piece ideal for baby and bridal showers! Use this piece as a welcome area for a ticketed event, as a designated space for presents, or to place favors for guests to grab as they are exiting. If you would prefer a prop with space for custom signage, for a birthday party or themed event, opt for a Ticket Booth.
If you're hosting a wedding, anniversary, or corporate event, champagne is a must! Toast to another year, or a year of big achievements, with a trendy champagne tower. You can create a beautiful tablescape with any of our linens and a tower created using our Gatsby Champagne Coupes. Or, if you aren't a fan of a glass tower, feature our White 6-Tier Serving Tower. Sleek and modern, it will make hosting a toast a breeze!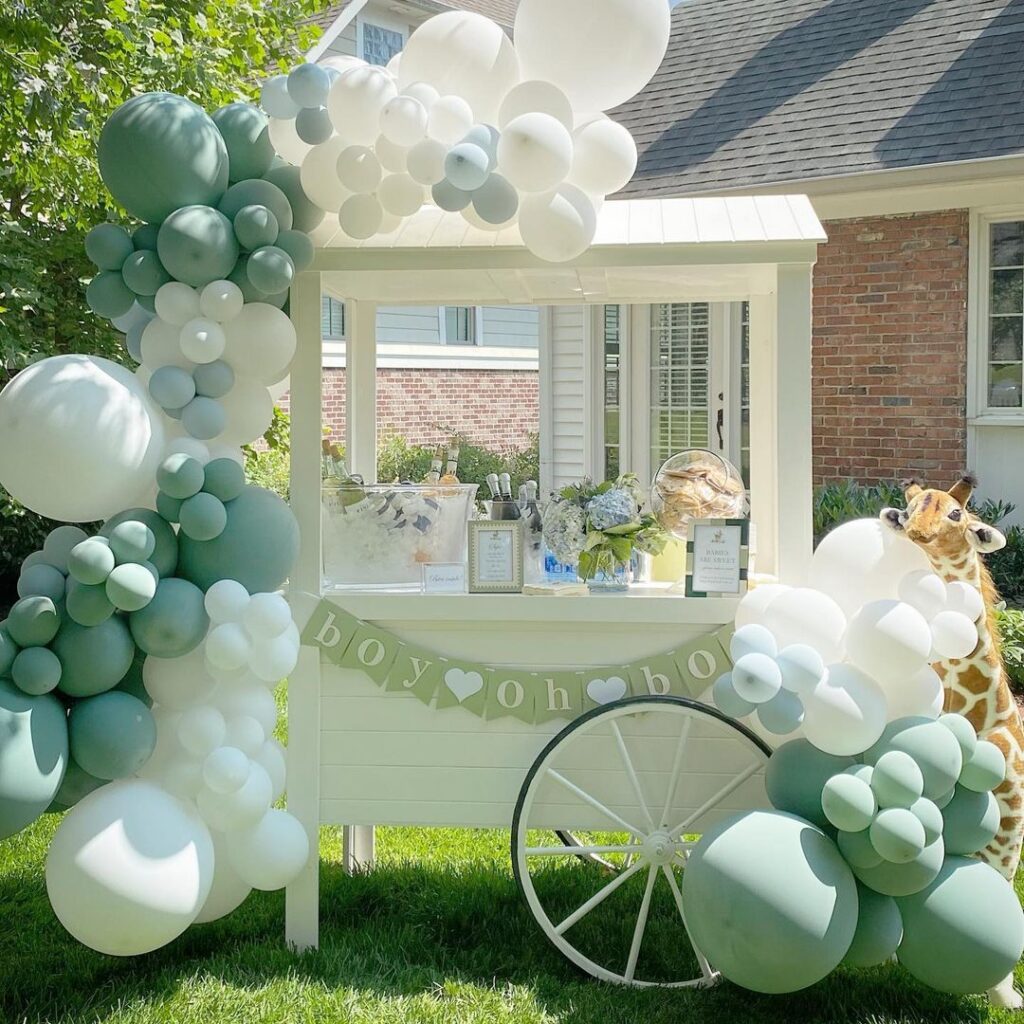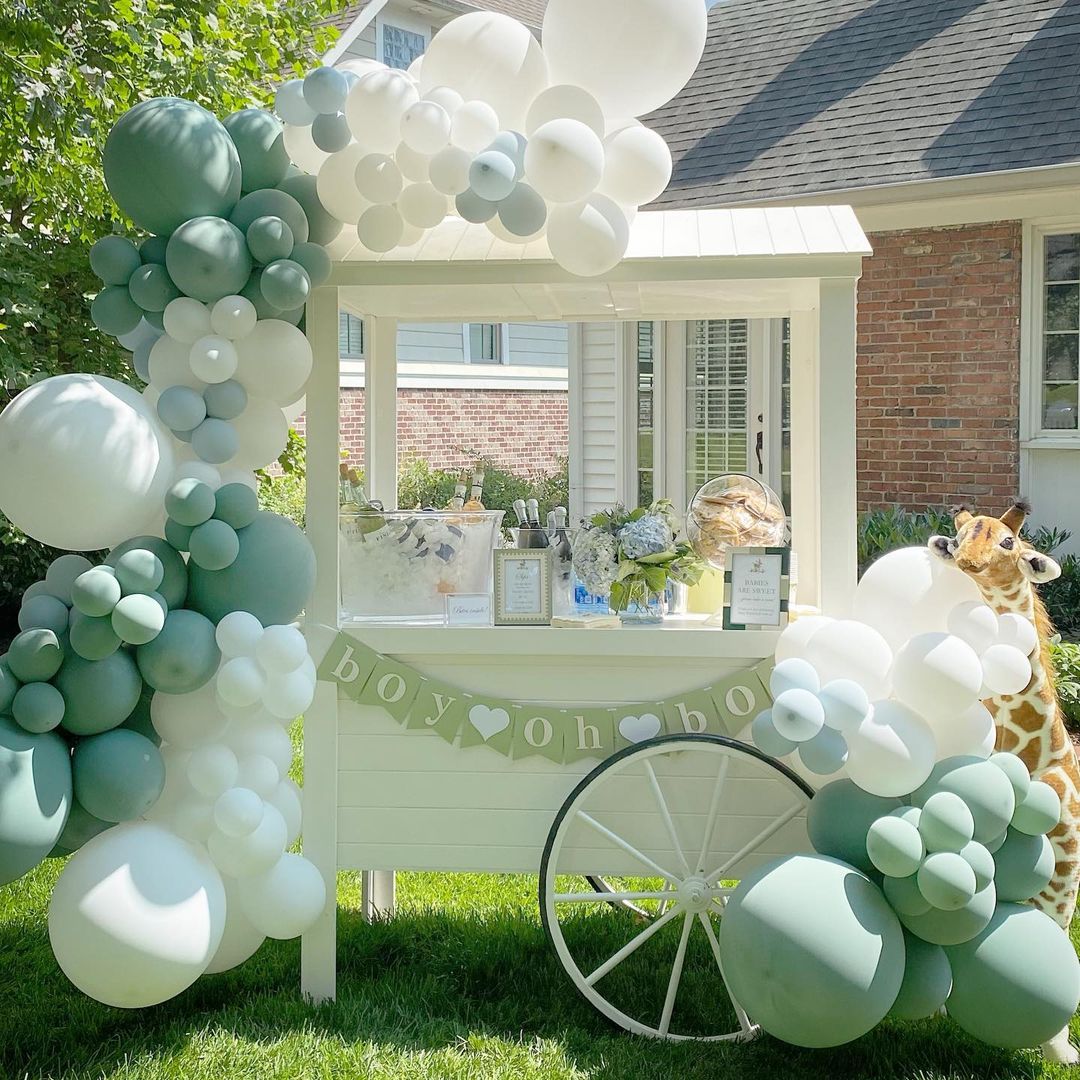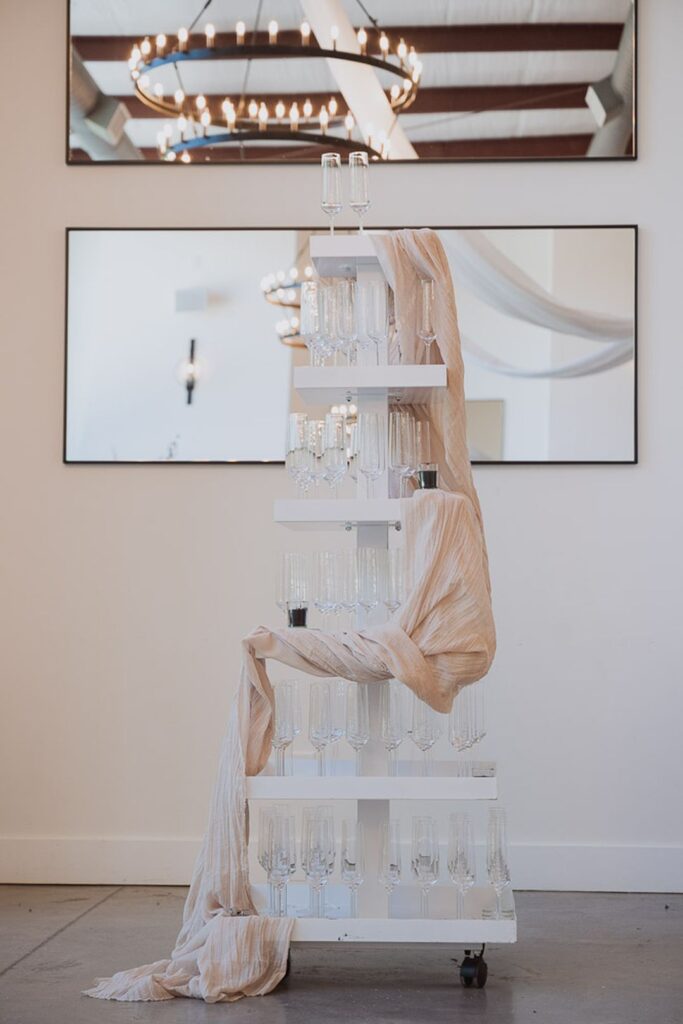 Trendy Outdoor Lounge Areas
Want a focal point for your event that is not just aesthetic? You need a lounge area – maybe two! We stock a large variety of trendy sofas, armchairs, accent tables, and rugs to create a lounge area that is as beautiful as it is comfortable. Start with any of our sofas, like our classic Bennett Leather or the retro-inspired Fern Velvet. Armchairs will increase the amount of seating available, as will any of our poufs or ottomans. If your lounge is being used during a cocktail hour with drinks or light bites, be sure to grab a set of accent tables. And, finally, don't overlook a rug; whether you prefer cowhide or vintage. It will beautifully frame the space, whereas without one it can leave your lounge feeling incomplete.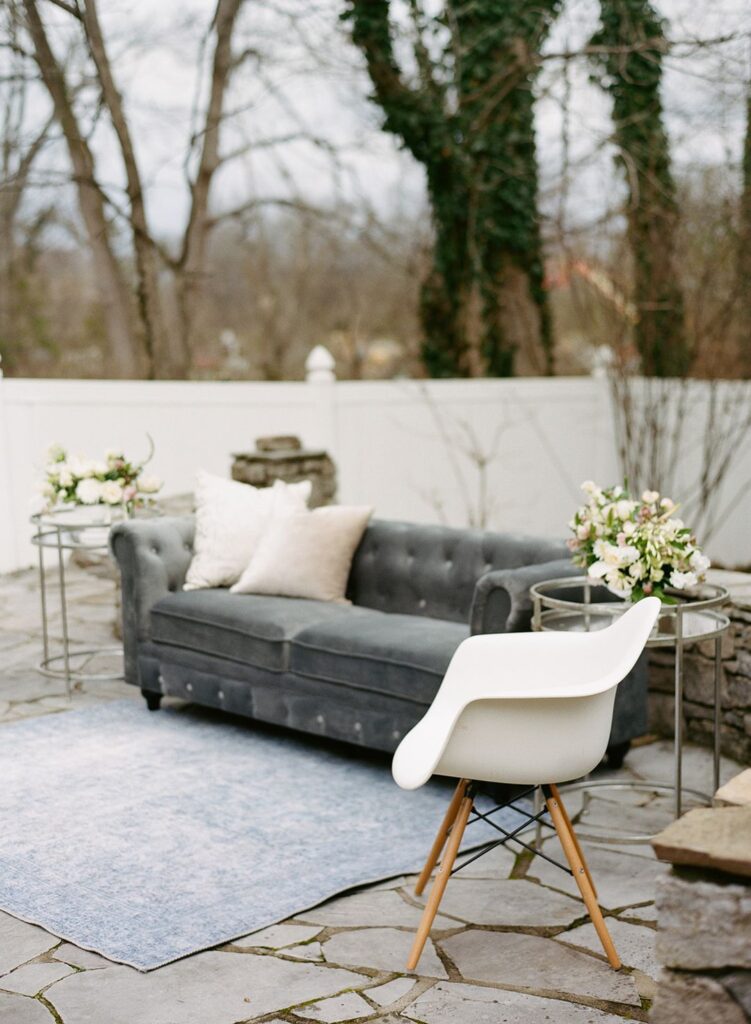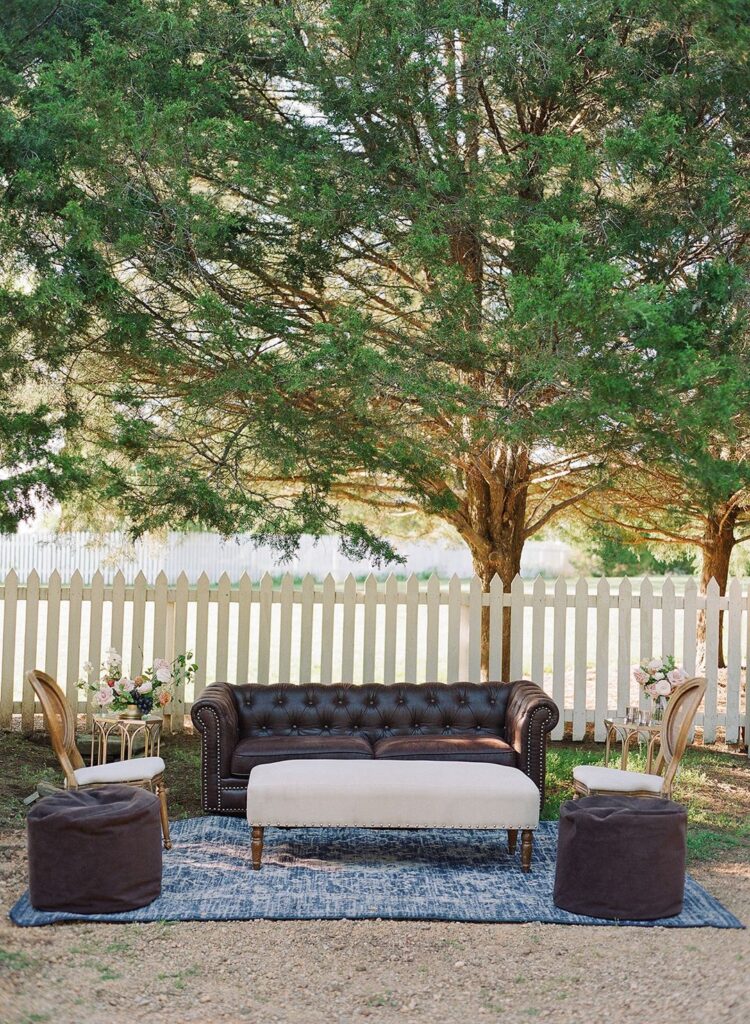 Want to feature one or several of our outdoor party decor or props at your upcoming event? Contact our team for help, or if you need additional ideas. Plus, be sure to check out our new tent packages, curated to include everything you need for a stylish outdoor celebration; because planning an outdoor party doesn't have to be a hassle! Looking for an outdoor event theme that is fresh and fun? Get inspired by this classic cookout party!
TAGS | Backdrop, Boxwood Walls, Interactive Drink Station, Lounge Furniture, backdrop ideas, event photo backdrop, food display, lounge areas
FEATURED RENTALS | Boxwood wall, fiona ivory mantle, wrought iron arch, whiskey barrel bar, cake stands, beverage dispenser, chafing dishes, market cart, ticket booth, Bennett Leather, Fern Velvet, accent tables, rugs, armchairs, gatsby champagne coupes, white 6 tier serving tower,
---
8

Jul

On Trend, Southern Events Products, Trends and Inspiration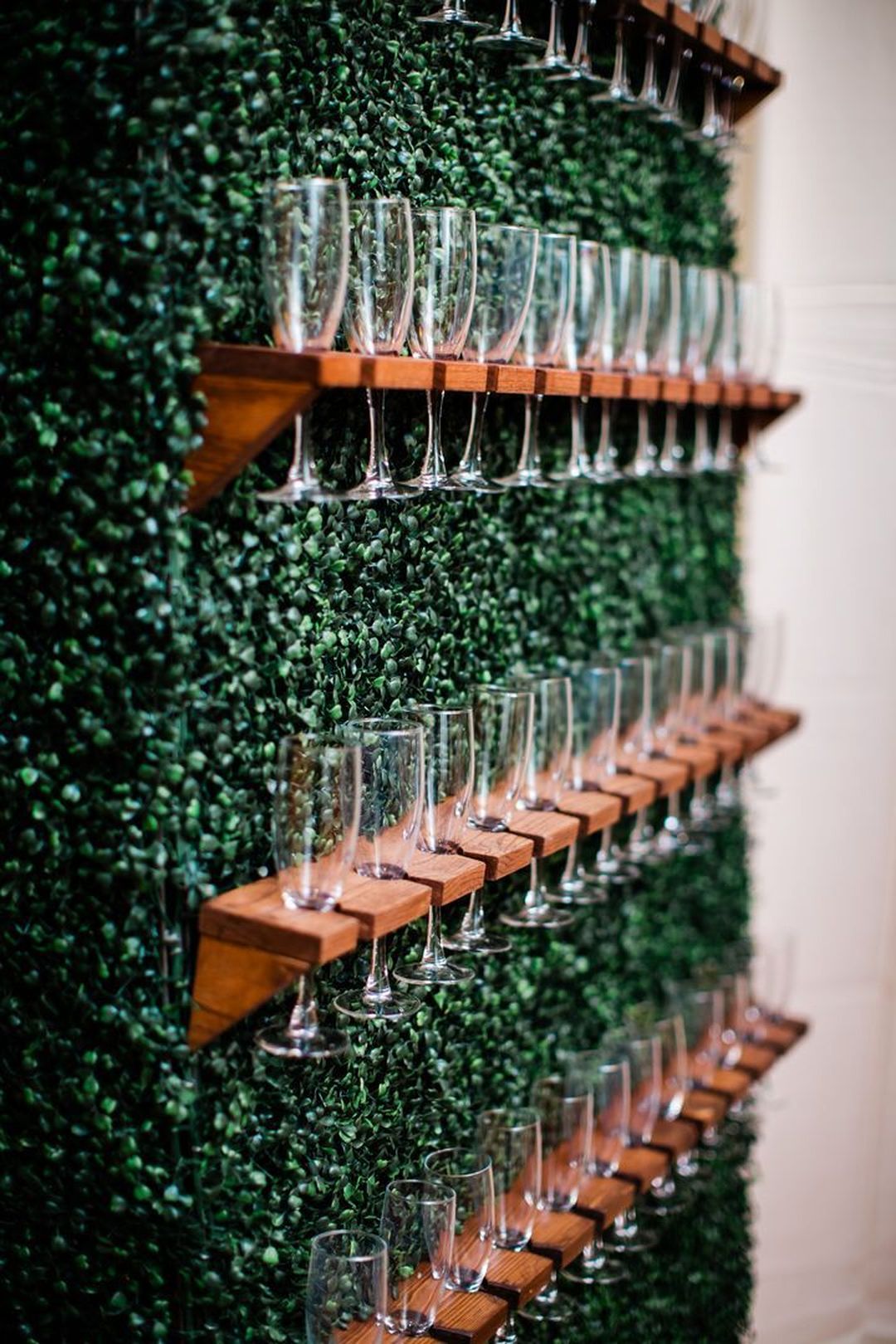 At any event, interactive elements are a must-have! It will help get guests out of their seats and socializing. Plus it will make your event more visually appealing since it doubles as a decoration. Take a look at some of our favorite rentals that can be used to create interactive party displays, from delicious donut walls to fun bubbly bars and classy carts!
Market Cart
A two-wheel cart with an awning, this charming display prop is so versatile! It can be used to display a small food selection or function as a drink station. In our personal opinion, it would make for a darling grazing station, packed with cold cuts and cheese on our vintage-inspired silver trays. You're welcome to decorate our Market Cart to your heart's desire, with fresh flowers, banners, or balloons!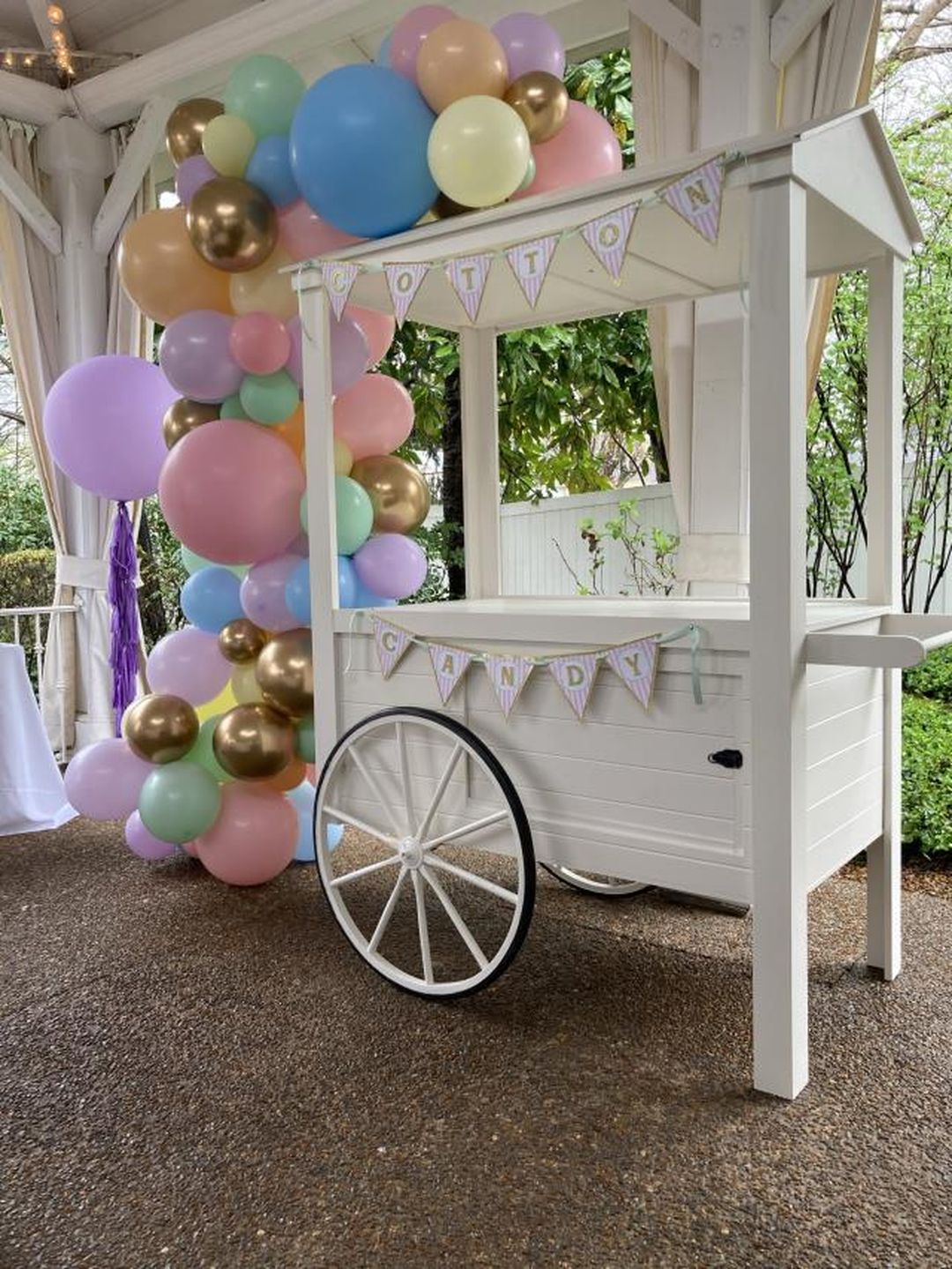 Shelving
Despite its simple appearance, our Avenue Barback Shelf is a staple at events that feature self-serve drink stations. It's a luxe gold metallic color and features brown wood veneer shelves. You can easily recreate this luxe bubbly bar when you rent a variety of our gorgeous modern glassware! Our current favorites include Cybil and Pure Glassware.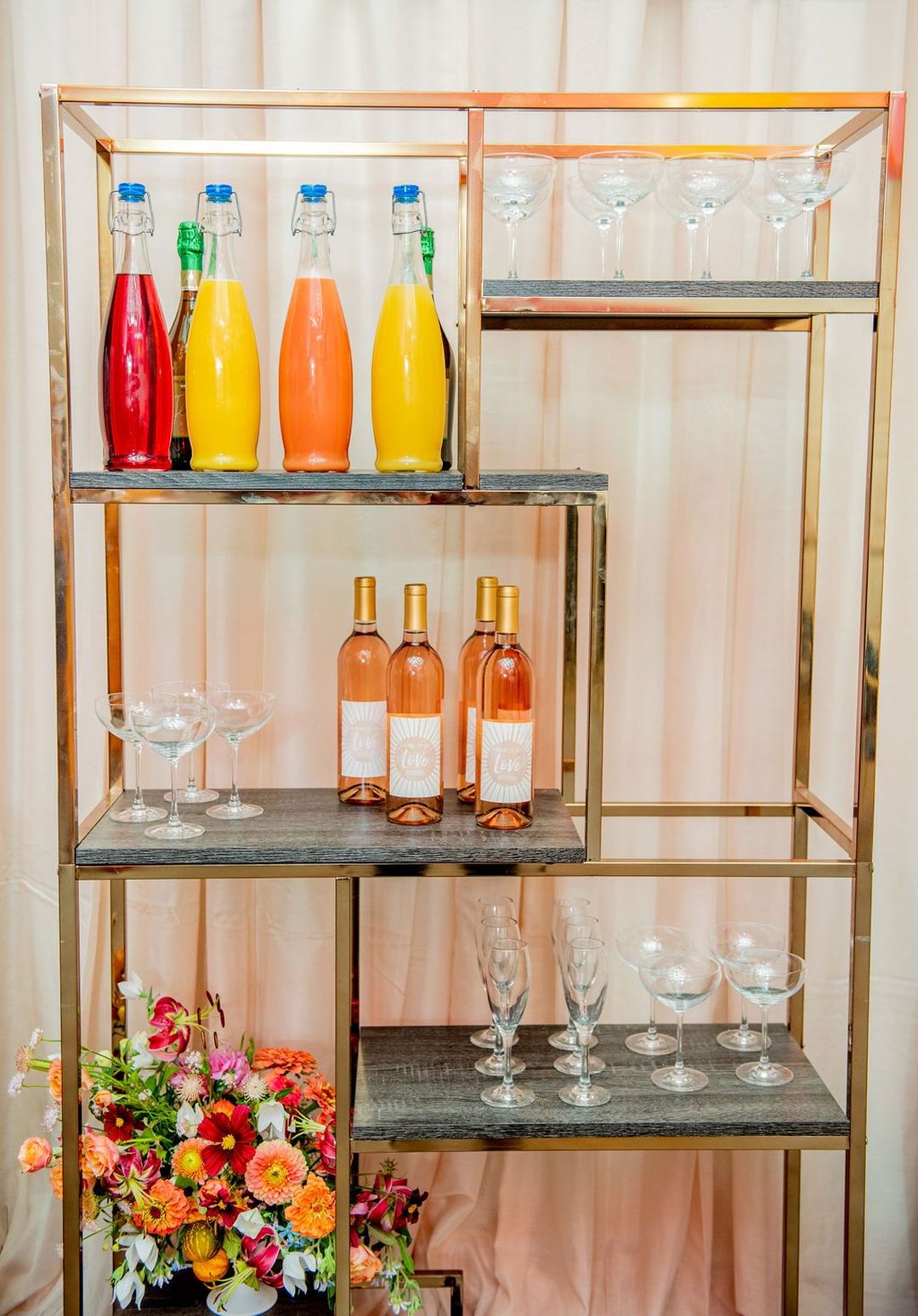 Photo by Twila's Photography
Bar Cart
Bring wine, champagne, or a drink of your choice straight to guests when you rent our Gold Bar Cart! This rental has under-shelf wine glass storage for 12 glasses, and 4 wine-bottle rings for storage. And don't worry, it features two locking wheels so your liquor won't roll away. Alternatively, plate up small appetizers or cake!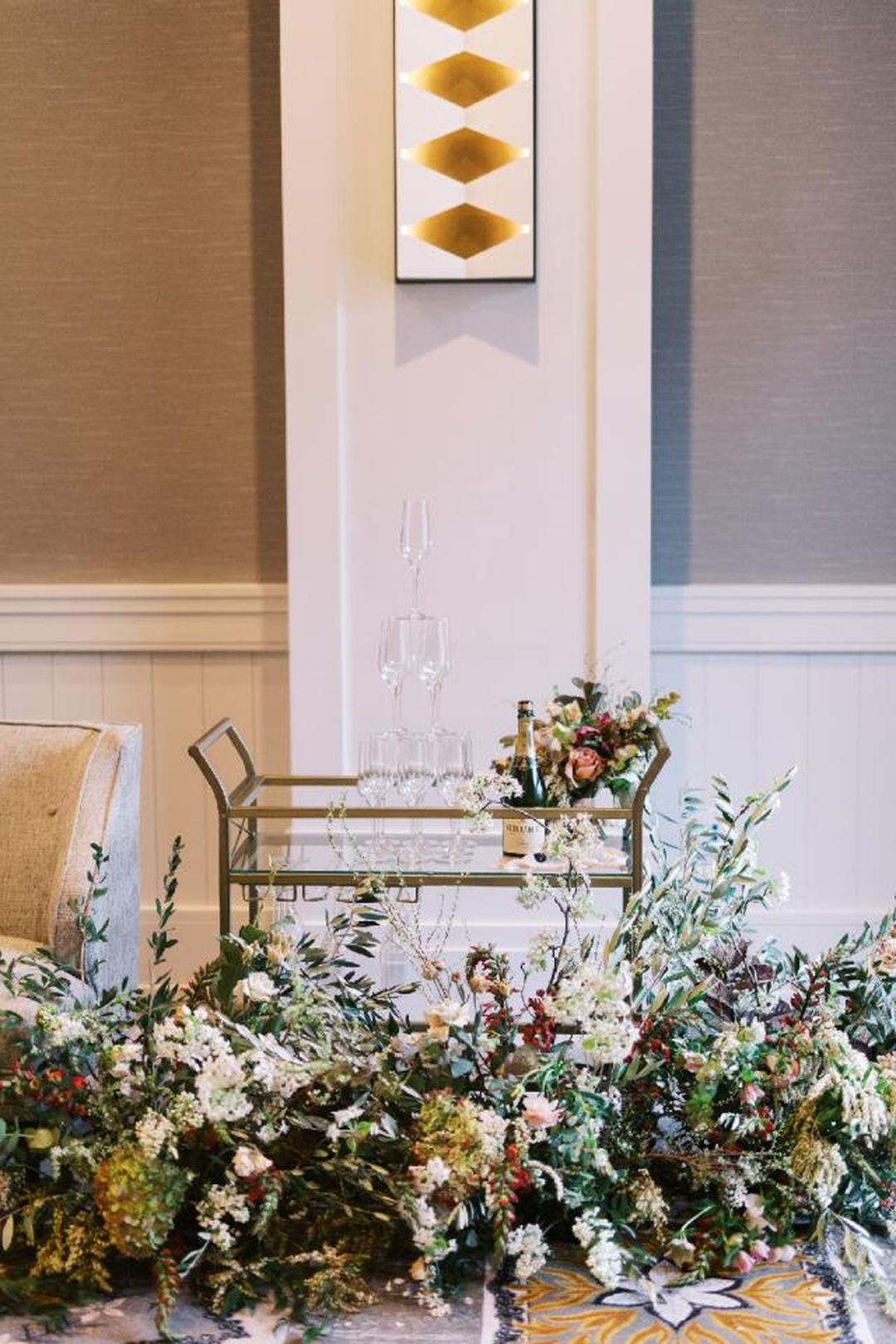 Ticket Booth
Although most events now offer tickets online, a classic booth is a fun way to welcome guests to your event! Our sturdy booth features a solid wood top and is a solid white color that will work any color palette. It also features a decal sign area so that you can easily personalize it to compliment the theme of your event.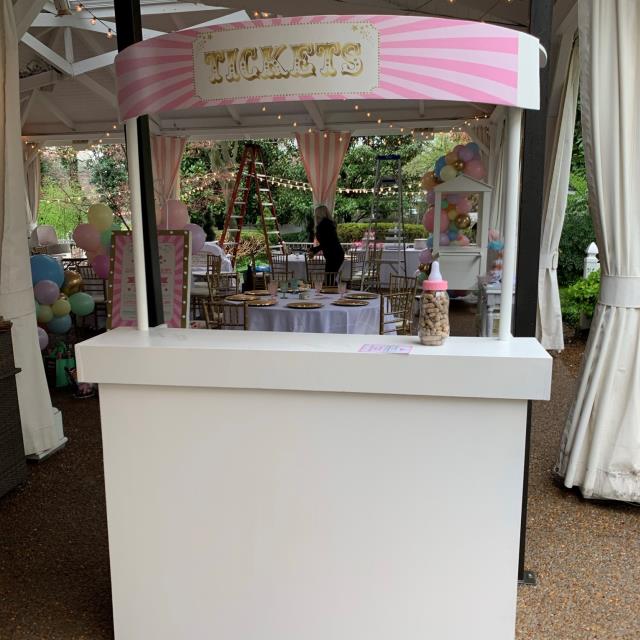 Donut Wall
Donut walls are far from a past fad. In fact, we're predicting that these delicious displays will stick around for a while – because who doesn't love a donut? Our wall is freestanding, features a beautiful dark stain, and has 48 pegs, which can hold 2-3 donuts each. The only downside is that it doesn't come with the donuts!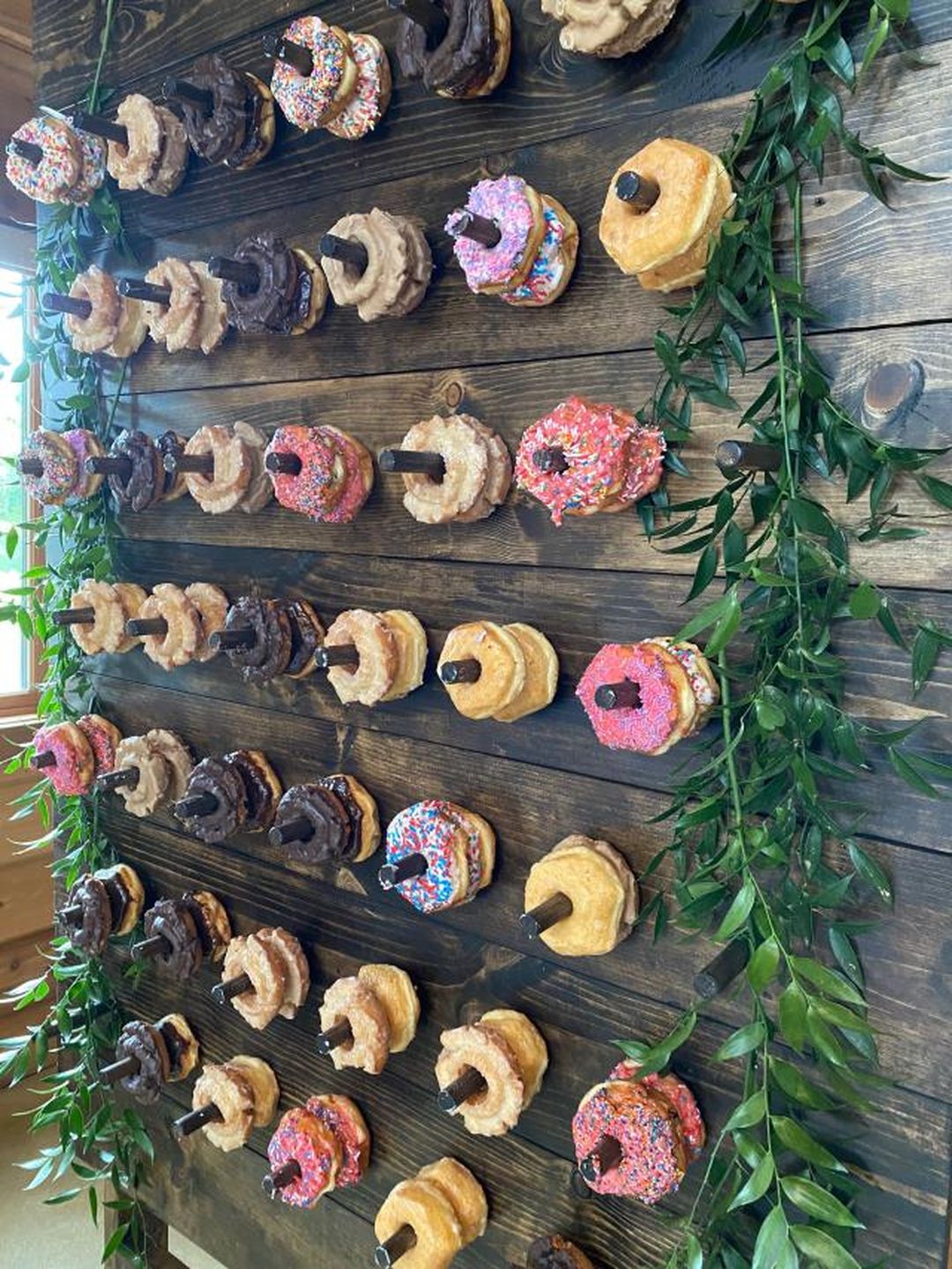 Boxwood Champagne Wall
A classic rental, our Boxwood Champagne Wall is a memorable way to welcome guests to your event. The lush green backdrop can be paired with a gold, white or ivory base. Meanwhile, the champagne shelves are available in Fruitwood or White. Our boxwood walls are also easy to customize, perfect for creating an Insta-worthy photo backdrop!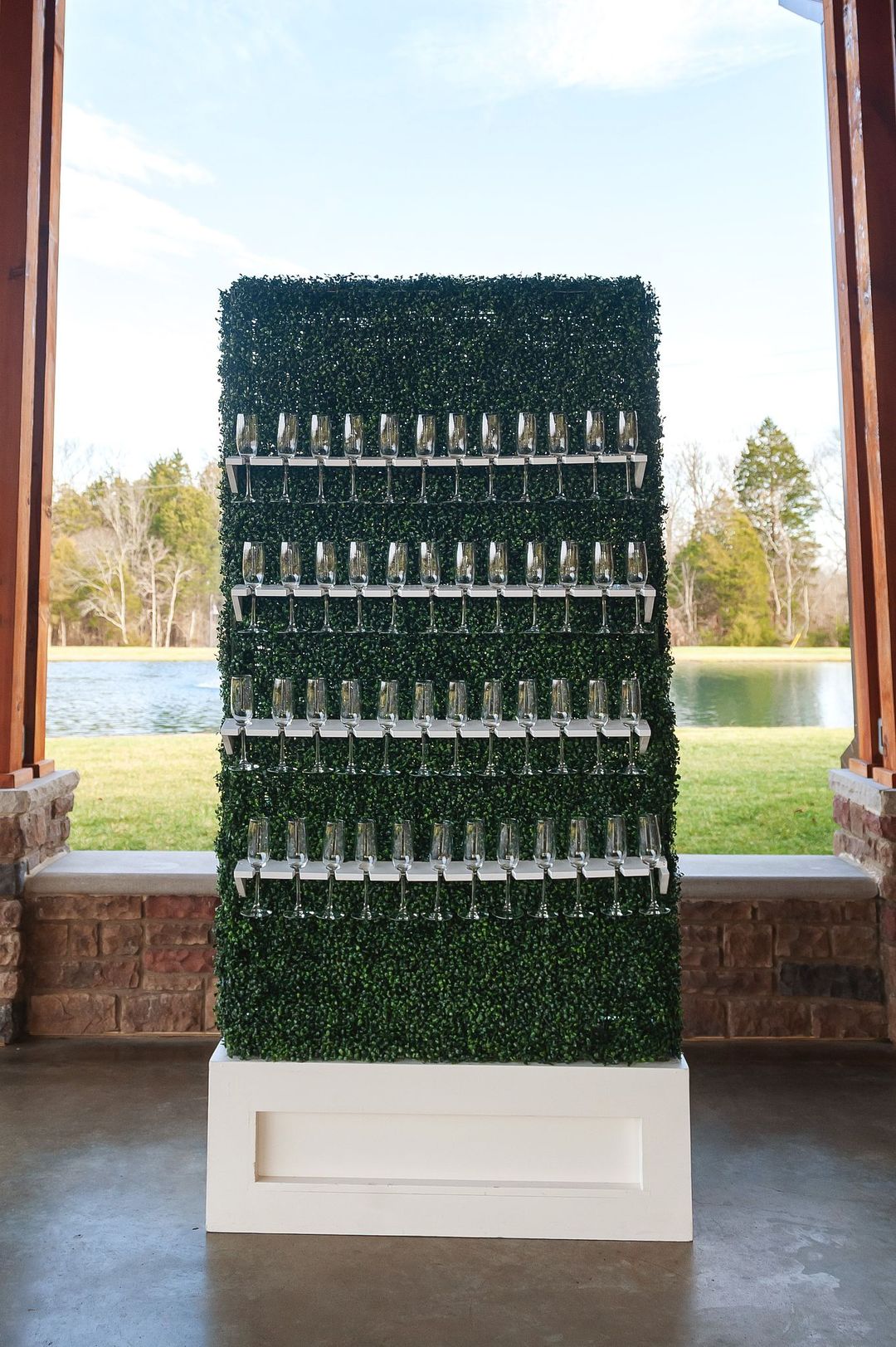 Photo by Megan Stark
Want to feature one of these trendy interactive party displays at your upcoming event? Contact our team today for help recreating one of these looks for your Tennessee wedding, social, or corporate event!
TAGS | Boxwood Wall, Champagne Wall, Interactive Drink Station, On Trend, bar cart, donut wall, event inspiration, interactive party display, shelving, ticket booth
FEATURED RENTALS | boxwood champagne wall, market cart, gold bar cart, donut wall, ticket booth, gold shelving,
---
13

May

On Trend, Southern Events Products, Trends and Inspiration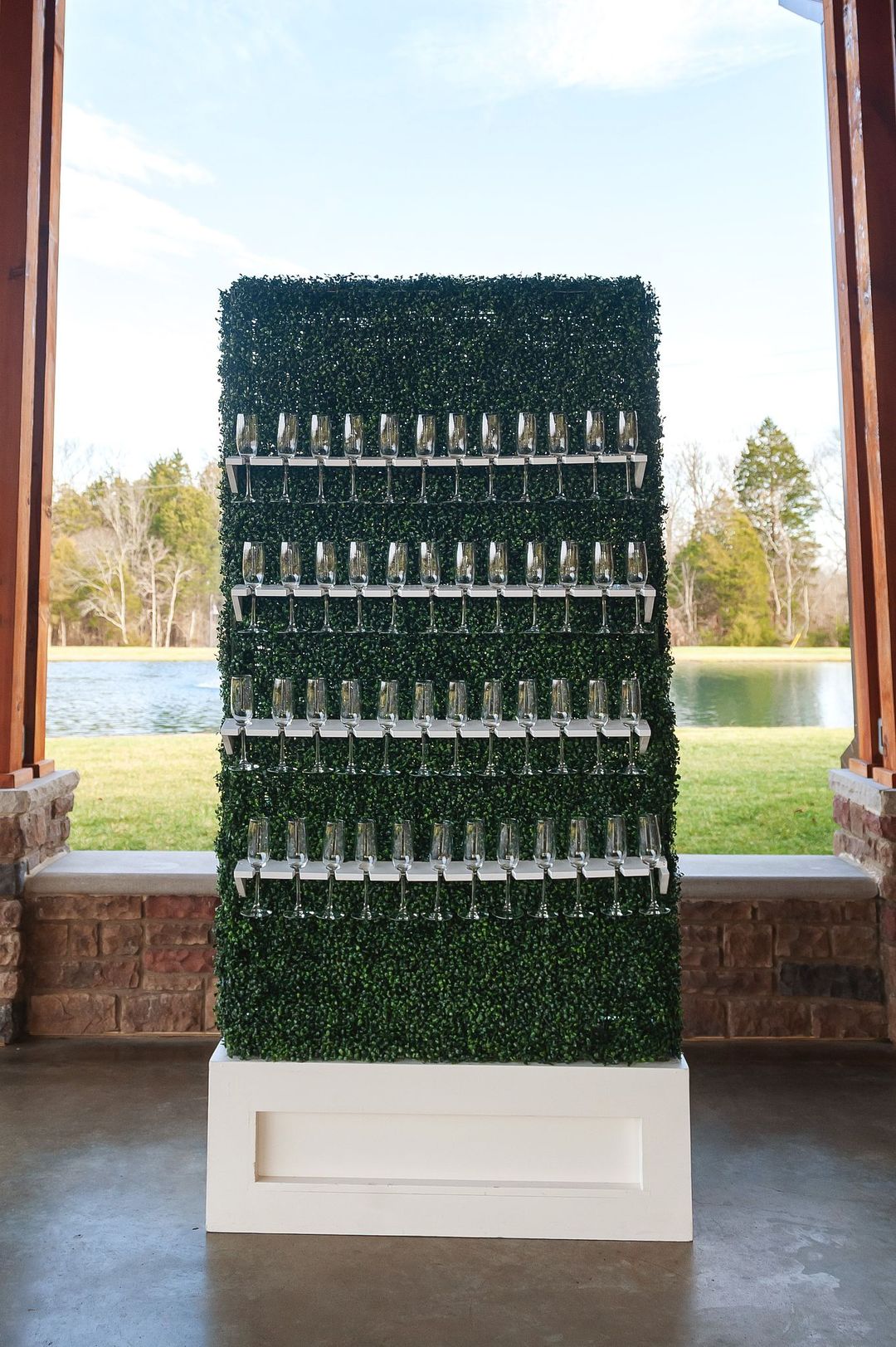 At Southern Events, we love a multi-functional rental! Our boxwood walls are available with 3 distinct bases (gold, white and ivory) and offer endless ways they can be personalized at your event. From serving champagne, snapping pics or elevating your escort cards, see how to customize this rental for your next Nashville event.
Boxwood Champagne Walls
Cocktails are a highly anticipated treat at any event, but why not take your service to the next level with an interactive champagne wall? Creative, interactive, gorgeous, and full of bubbly – we're definitely here for it! Guests will be absolutely delighted as they walk by this fun drink station, which can also double as a photo op! For the setup below, our Boxwood Wall was adorned with lush florals by the talented team at Enchanted Florist, our Fruitwood Shelves and Cybil Flutes.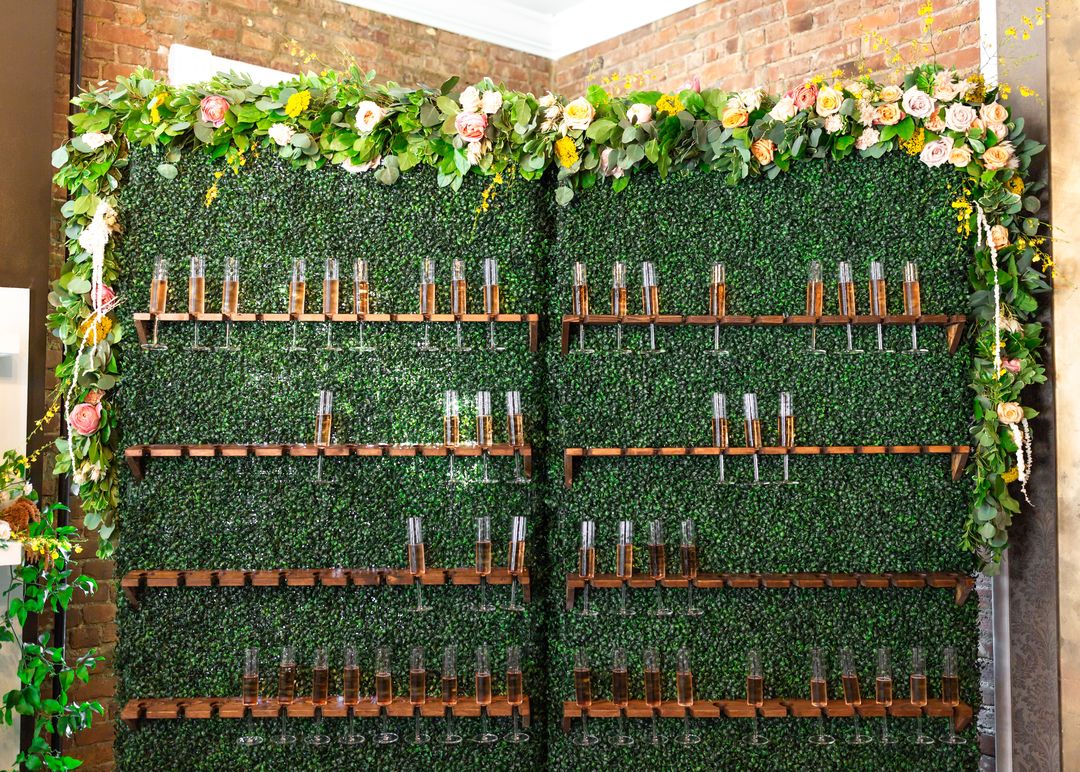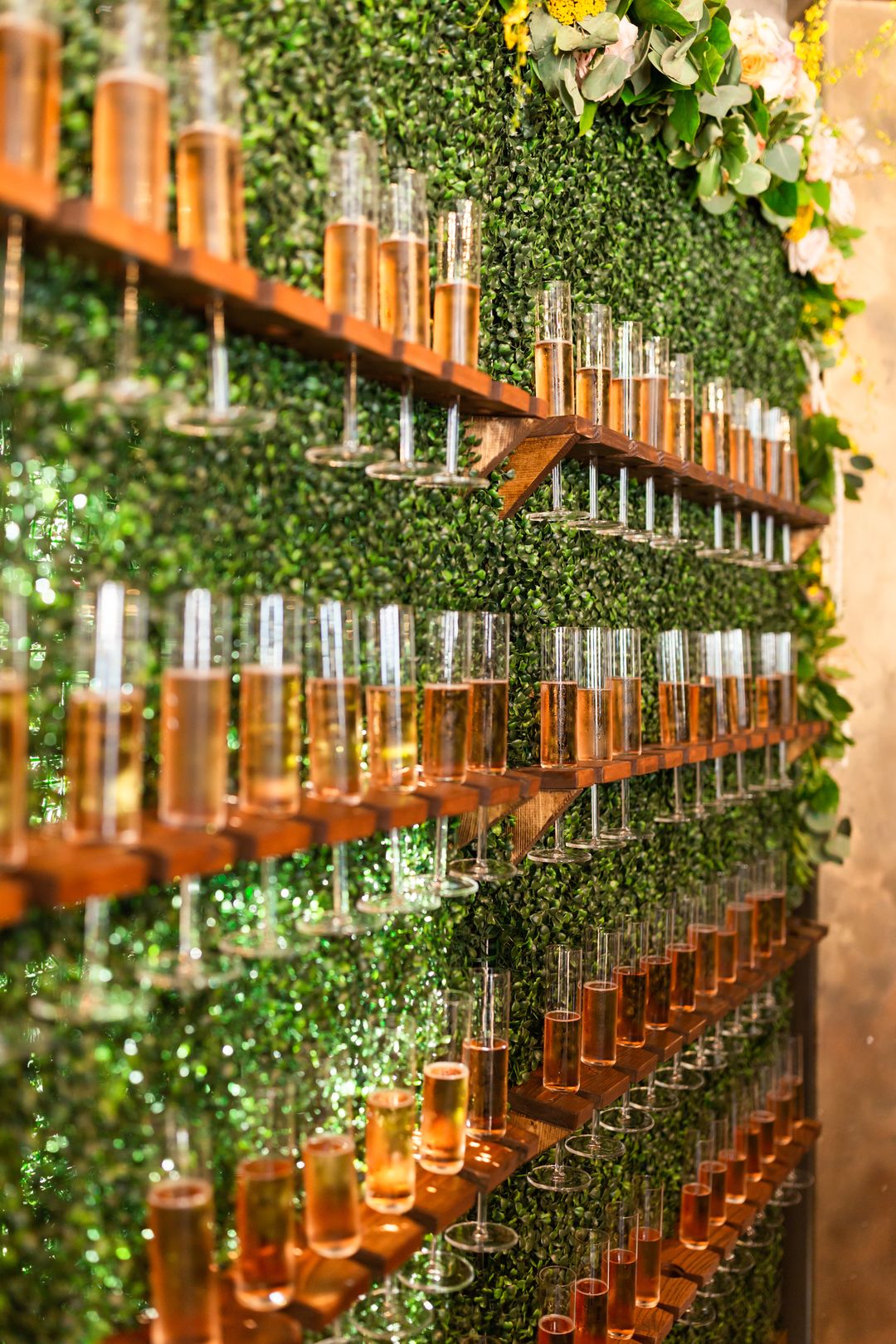 Photos via Honeysuckle & Wine.
Boxwood Wall Photo Backdrops
Entirely customizable, our boxwood walls are a must-have for a trendy photo station. Easily create a photo backdrop that complements your event, whether it's for a wedding or another social gathering. The options are truly endless, as long as you have the creativity and gusto! As shown below, a bright neon sign is always a nostalgic decoration. However, it would also look lovely with a monogram or pictures of the newlyweds. We also love it with a colorful balloon arch for a shower or birthday party.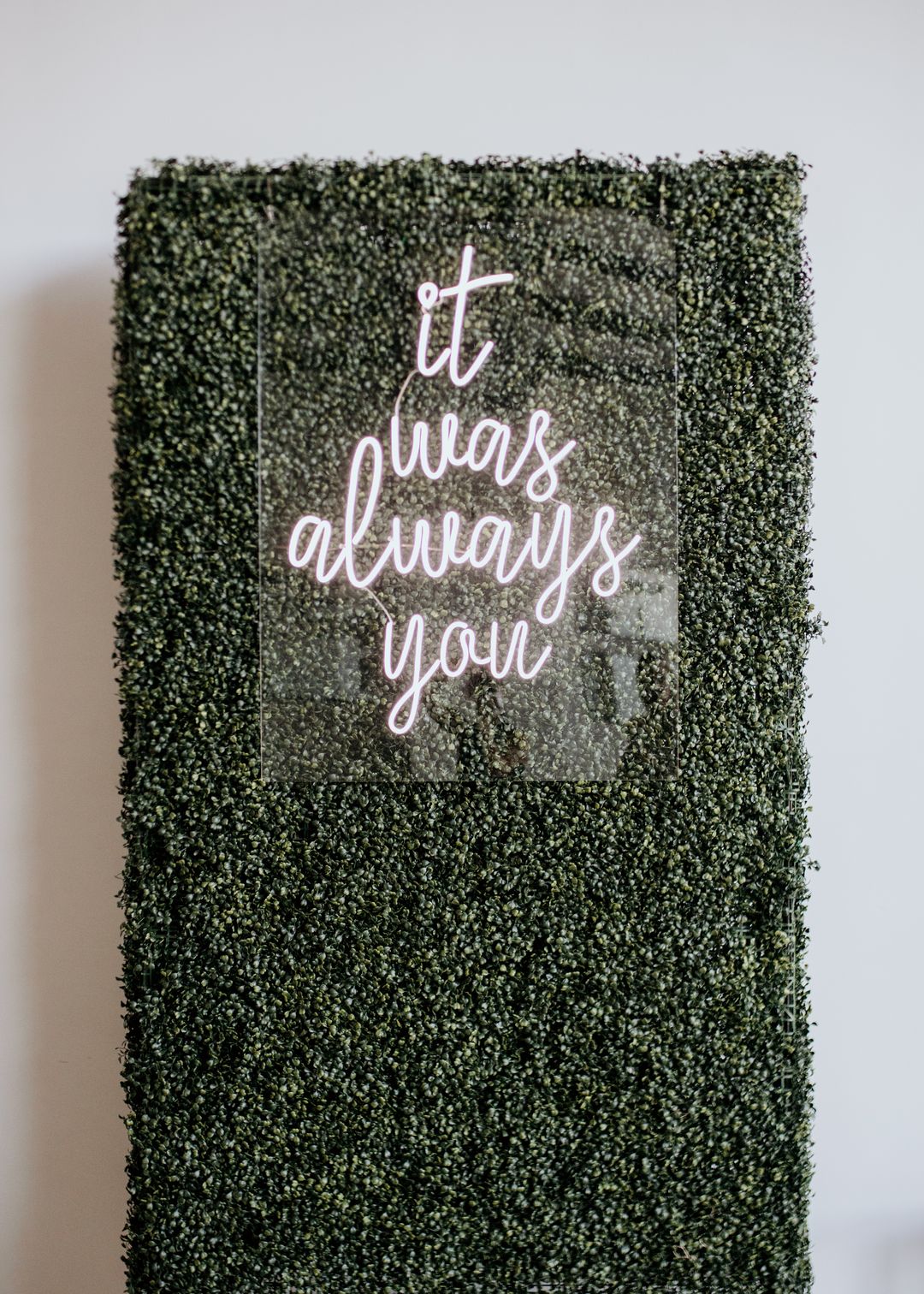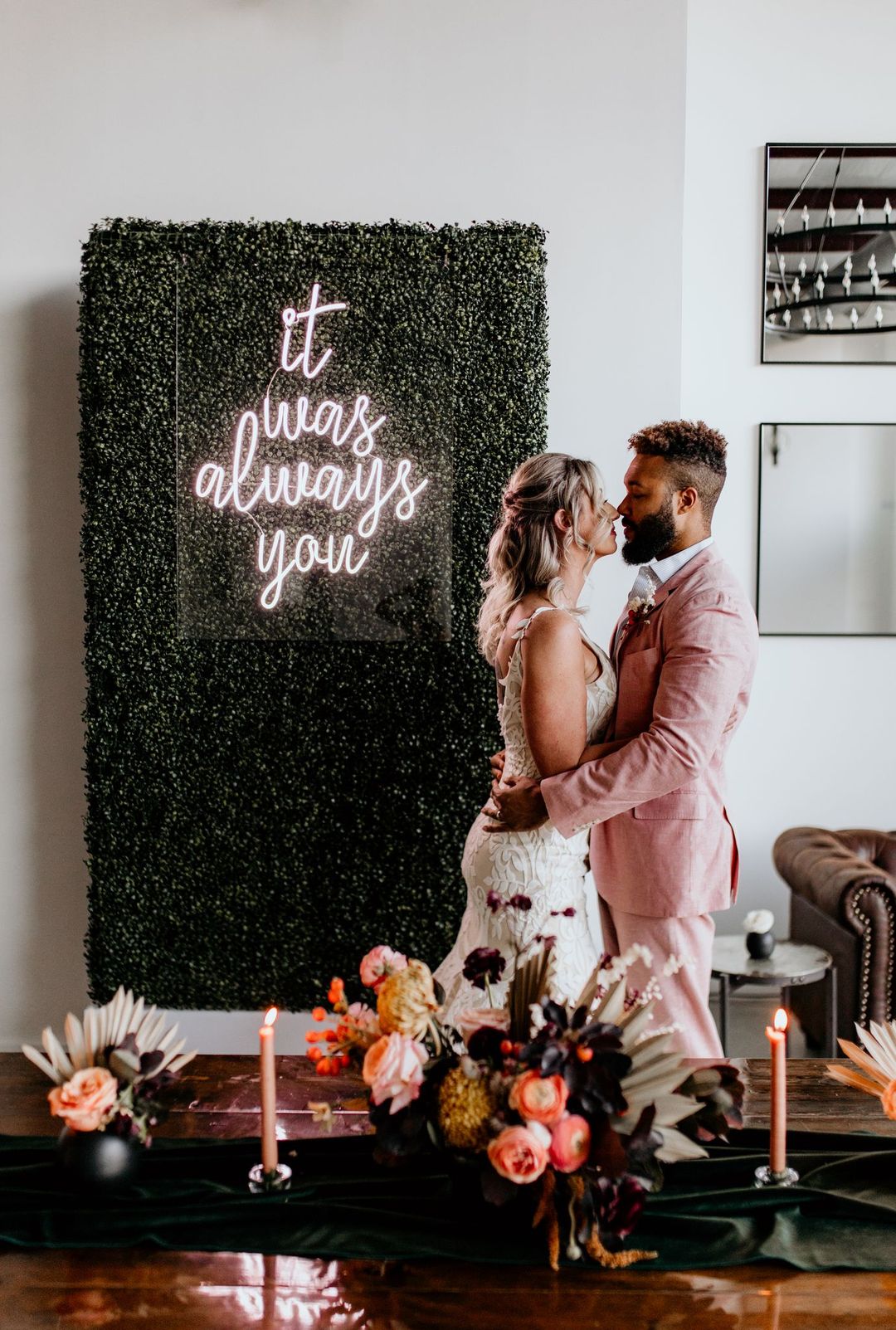 Photo by Megan Stark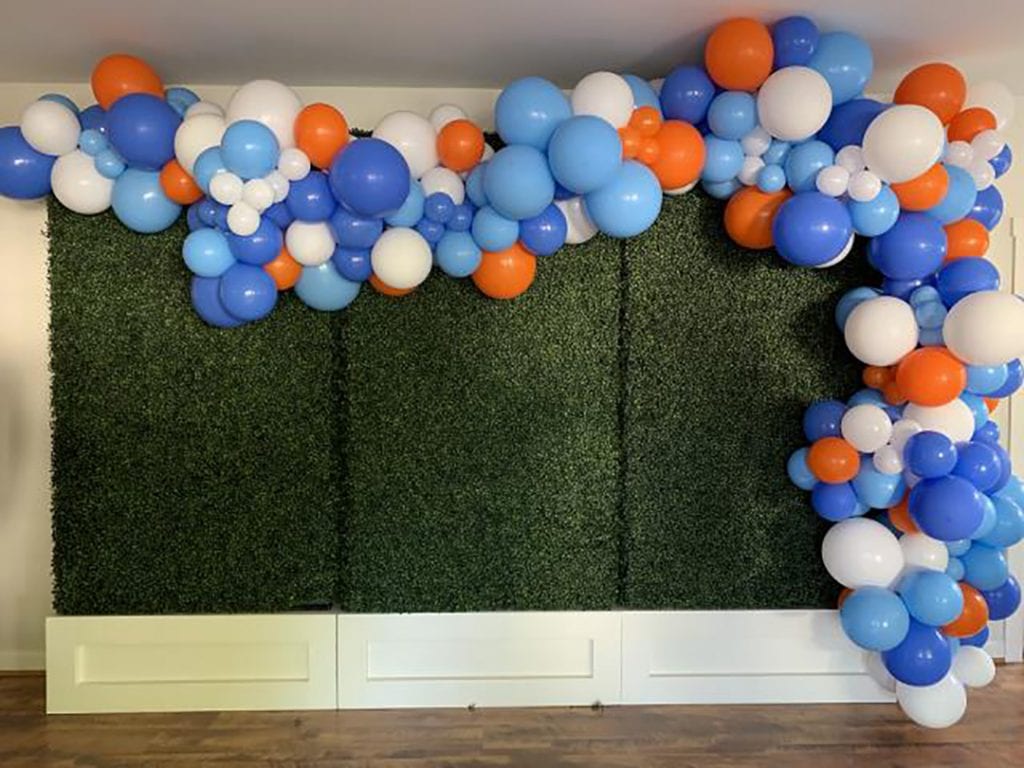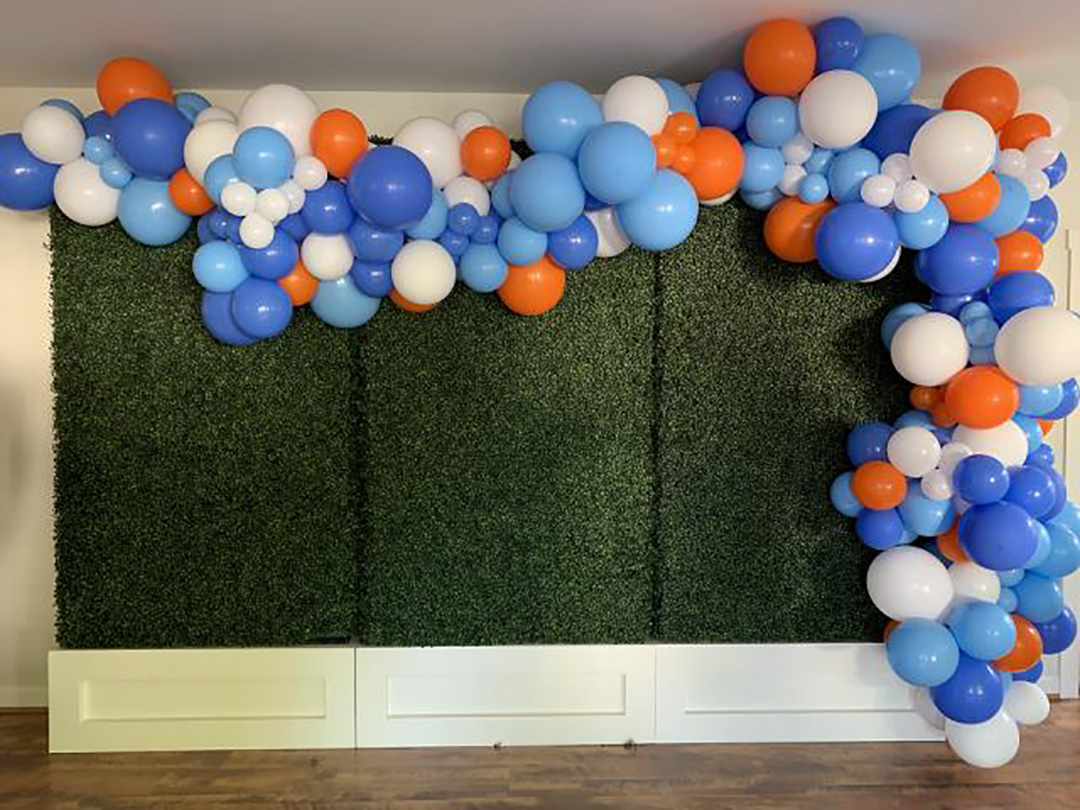 Corporate Event Backdrops and Entrances
For large corporate events, our boxwood walls are an effective way to keep your business at the forefront of guest's minds. As shown, it creates a beautiful backdrop for galas, fundraisers, or celebrations, especially those where there will be a stage or grand entrance. Show off your corporate logo in an upscale way, fitting of the elegant decor. And, if you have sponsors, feature their logos as well.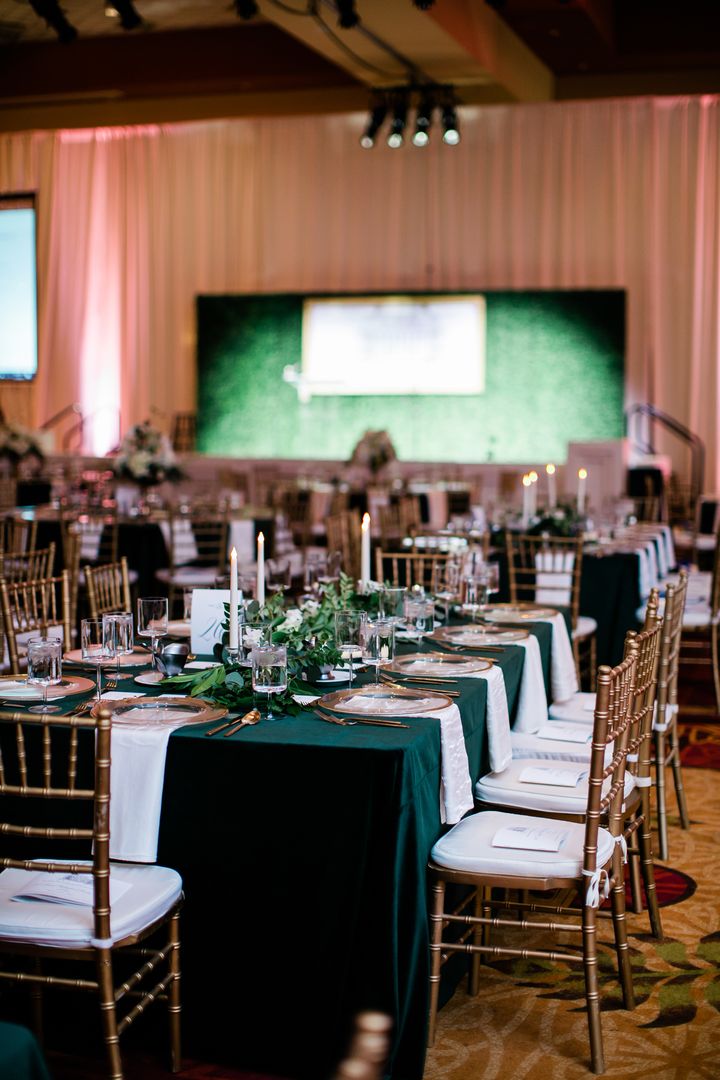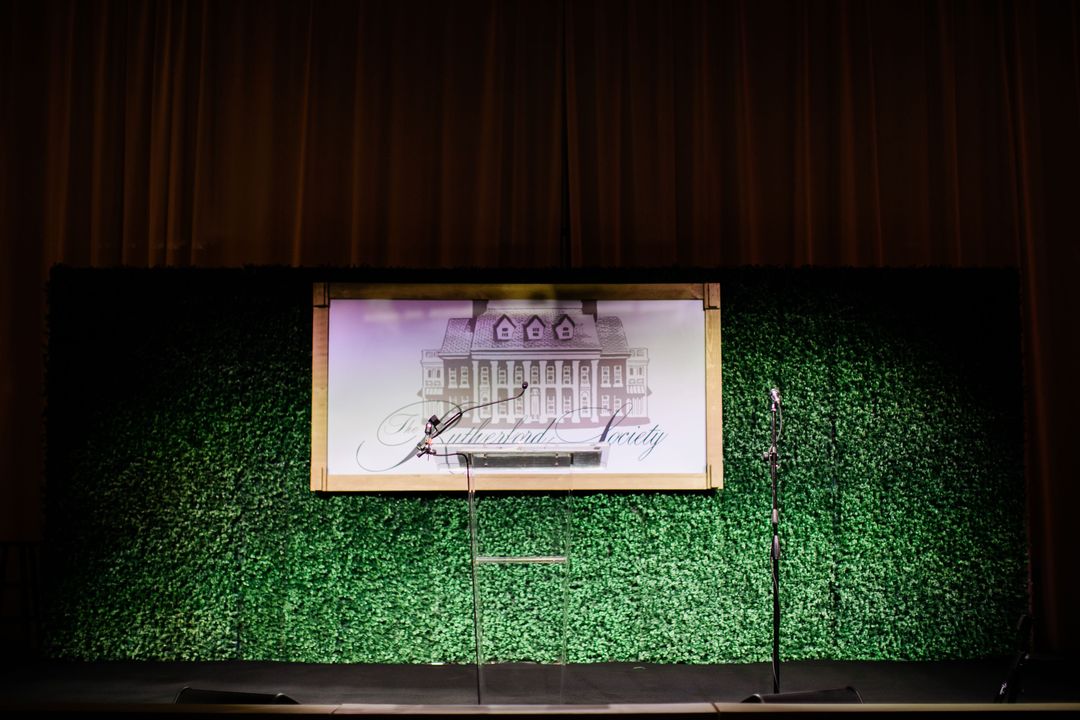 Photos by Jen & Chris Creed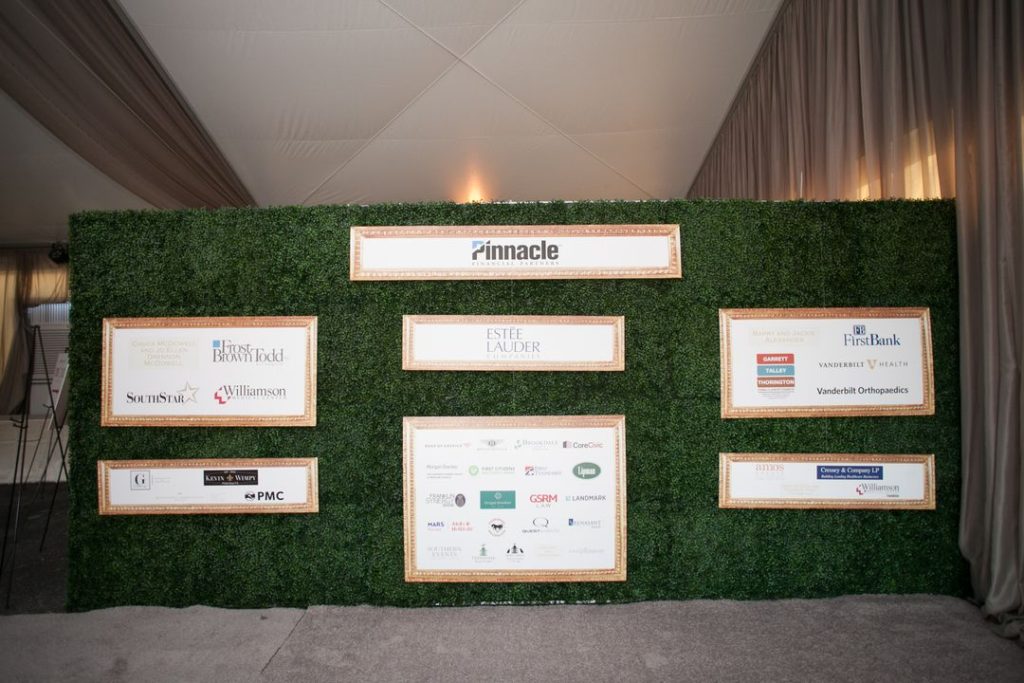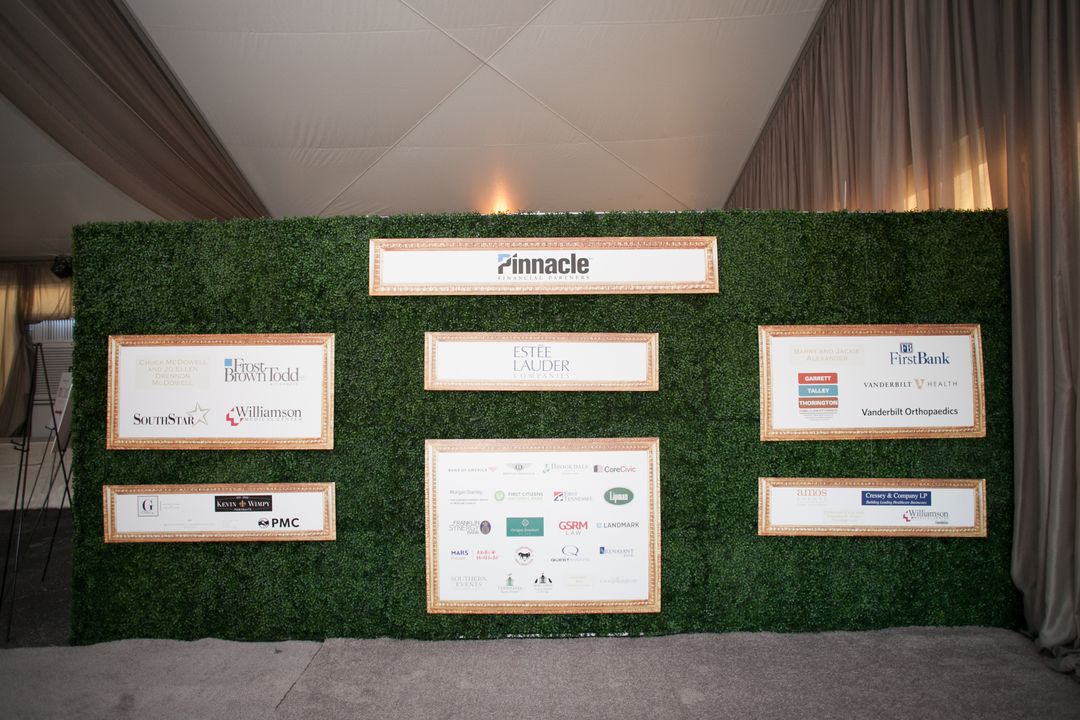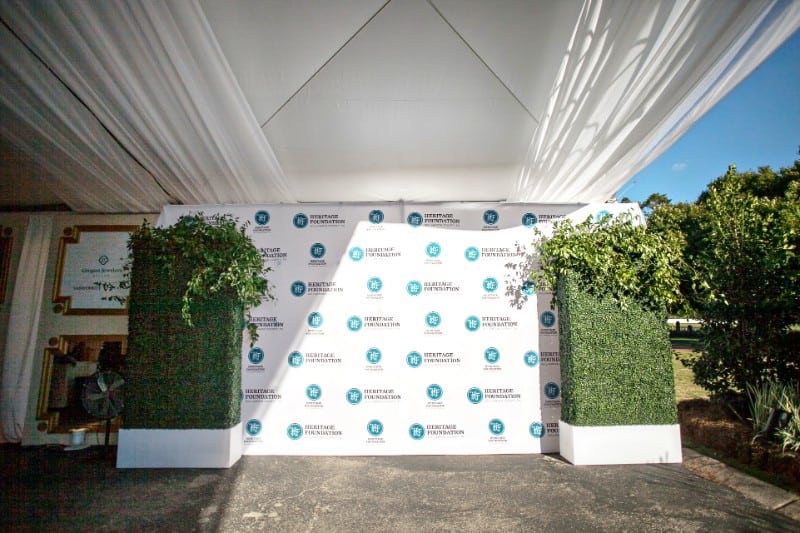 Boxwood Wall Seating Chart
At a wedding, you want to leave a lasting impression! Aside from a champagne wall, one easy method is with an interactive seating chart. Popular in recent years, a boxwood wall seating chart is a fun way to greet guests and guide them to their respective tables. You can simply list their names, like on a mirror or acrylic sign. Or you can use wedding favors that double as escort cards, like these beautiful horseshoe ornaments.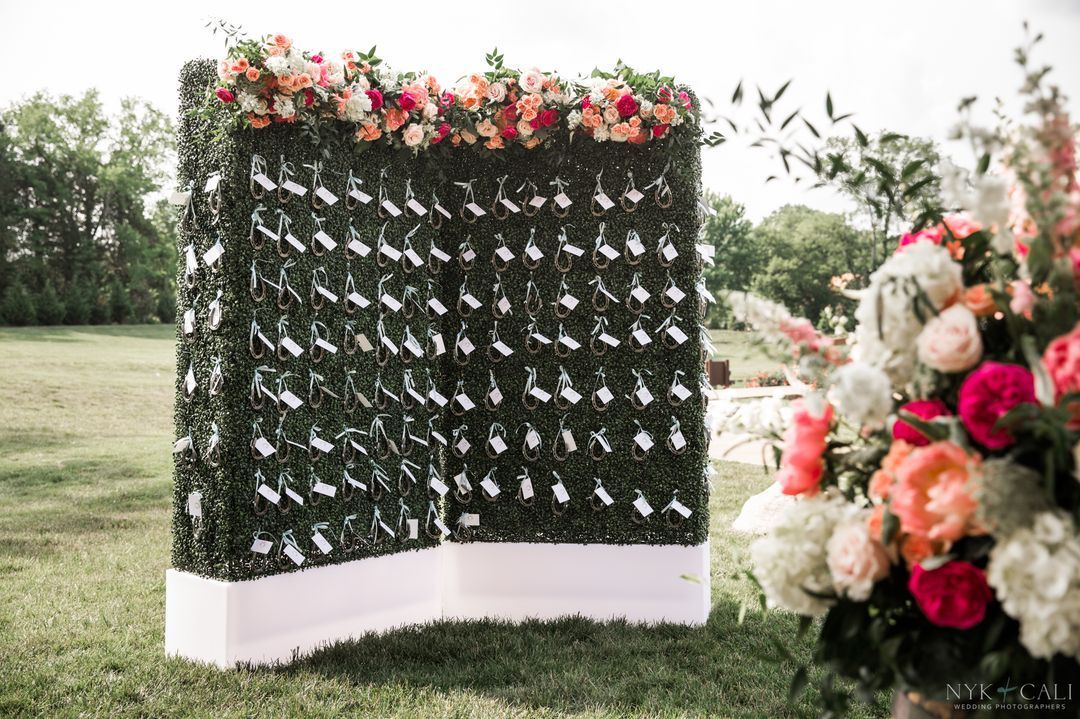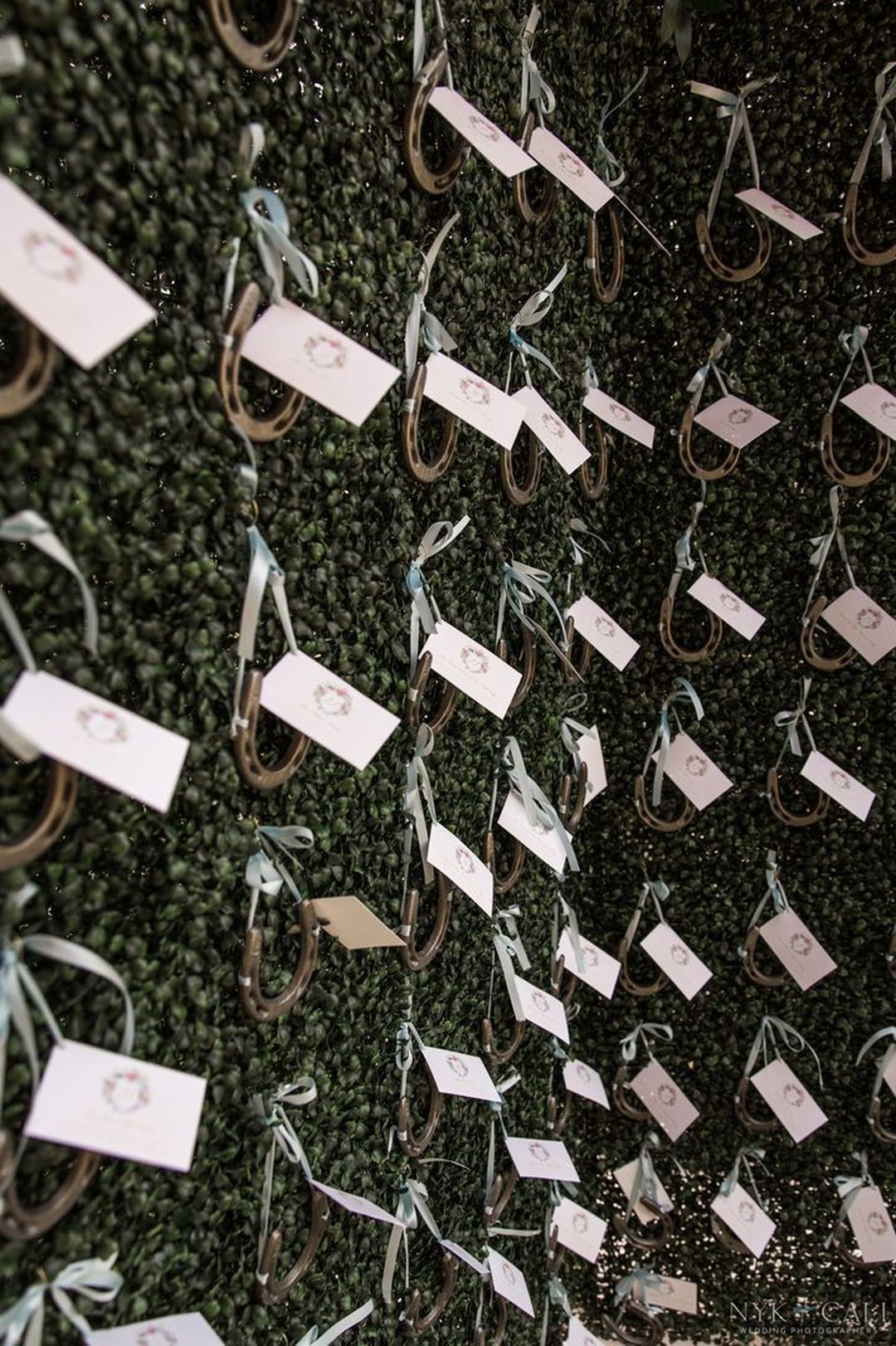 Want to feature one of our boxwood walls, as a drink station or backdrop, at your upcoming event? Let's chat! Send us an email today, at info@southerneventsonline.com.
TAGS | Boxwood Wall, Champagne Wall, Interactive Drink Station, Nashville Event Rentals, Nashville Wedding Rentals, Nashville party rentals, On Trend, Southern Events Party Rental, Southern Events Party Rental Company, Unique Wedding Rentals
FEATURED RENTALS | Boxwood wall, Cybil glassware, champagne shelf,
---
2

Jan

Trends and Inspiration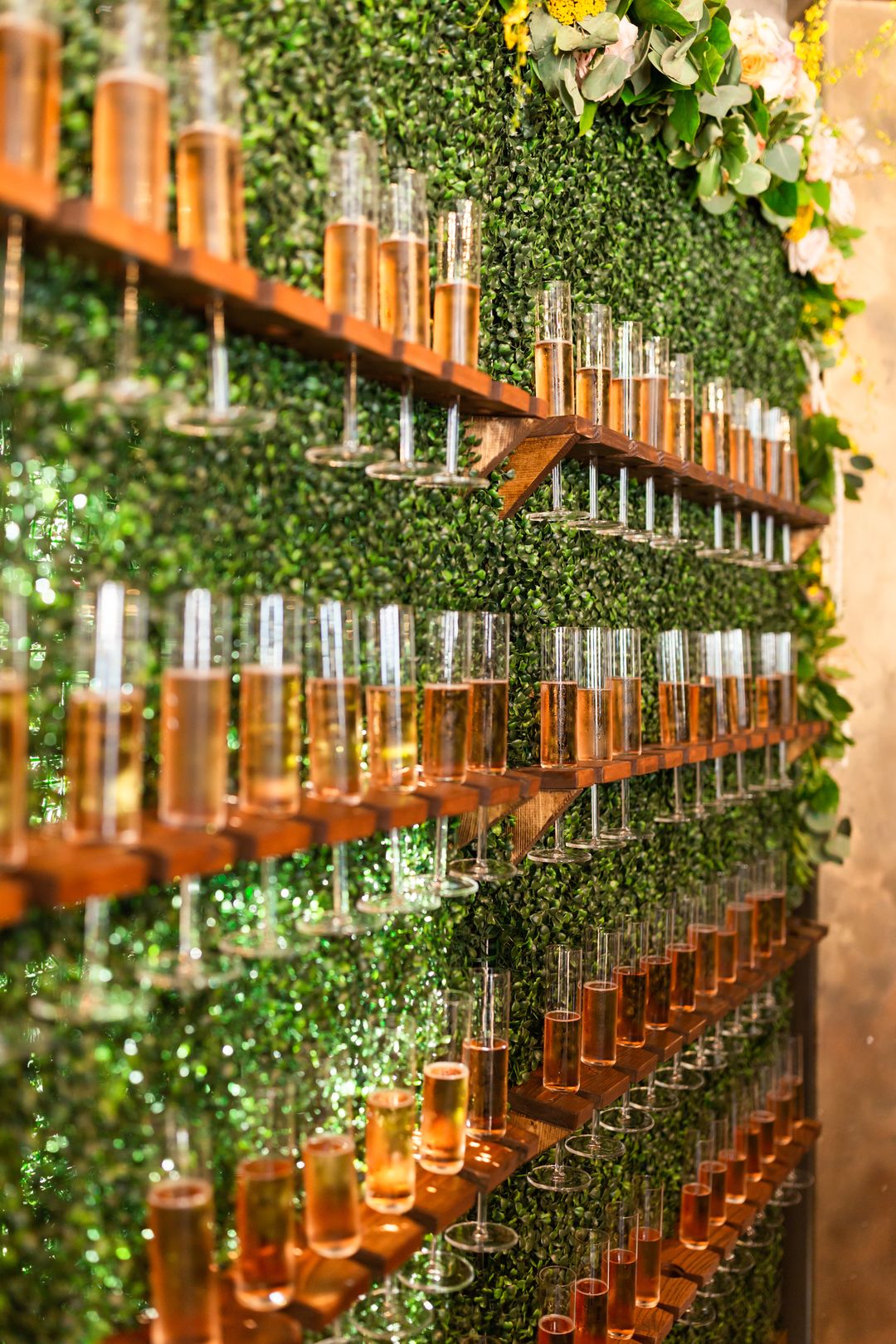 A new year always brings new event trends, and we are loving these event rental trends for 2020! From monochromatic color palettes to interactive displays, we'll show you how to wow guests with stunning event rentals from Southern.
Looking for a full-service team to help style your event? Reach out to schedule your personal tour of our Franklin showroom, info@southerneventsonline.com.
Monochromatic Decor
We've been crushing on monochrome schemes for a while, so we're all in with this event design trend. Go for the drama with a monochromatic palette in all black, mixing textures to create depth – ie: All. The. Velvet! Create an elegant event lounge with our Black Velvet Sofa and Black and Silver Rug, or layer our matte Onyx Earthen China with Black Velvet or Dupioni Linens for a chic table setting.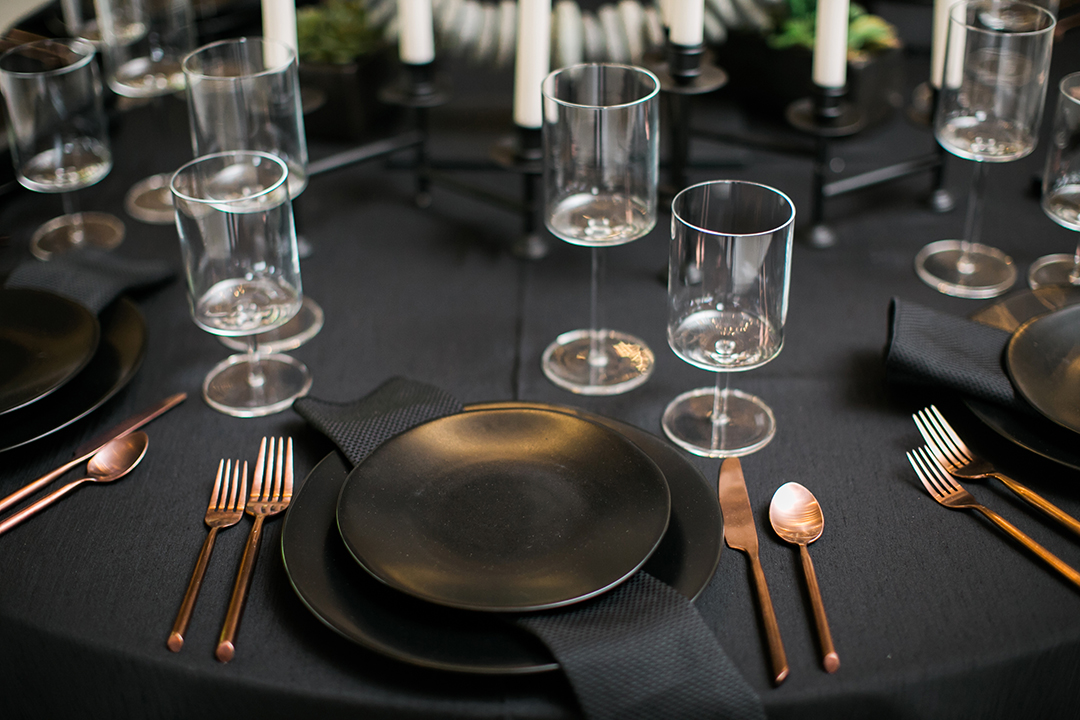 Photo Credit | Jen & Chris Creed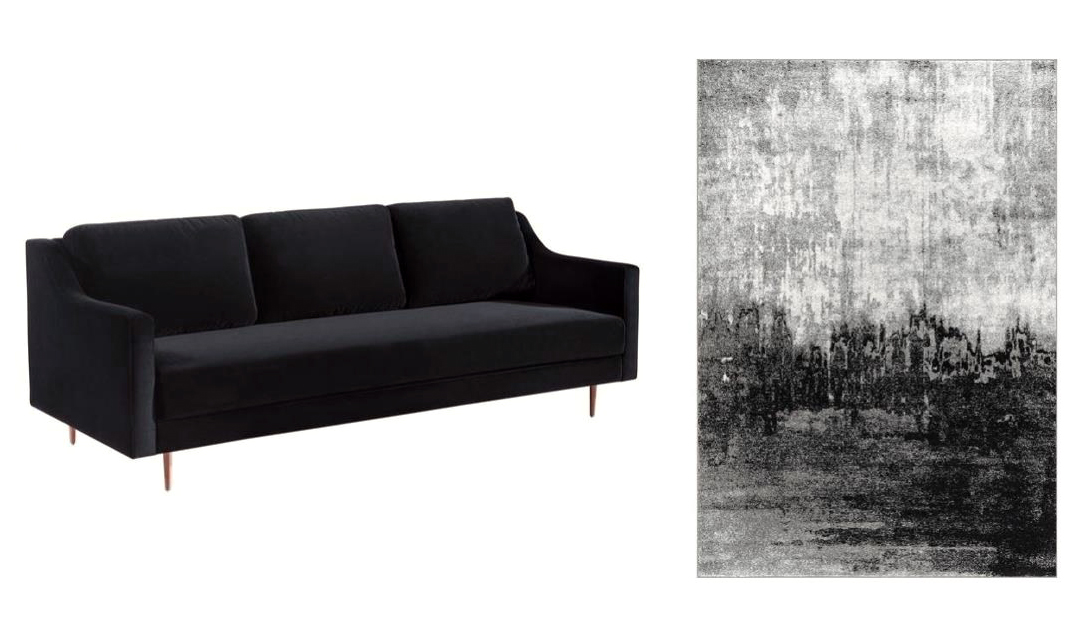 Art Deco Blues
Update traditional Art Deco event themes with Pantone's 2020 Color of the Year – Classic Blue. For a Tennessee twist, think blues instead of jazz with event rentals like our Navy Blue Velvet Linens, Saylor Navy Velvet Sofa, Rory Navy Velvet Chair, and Meridian Blue Tumblers.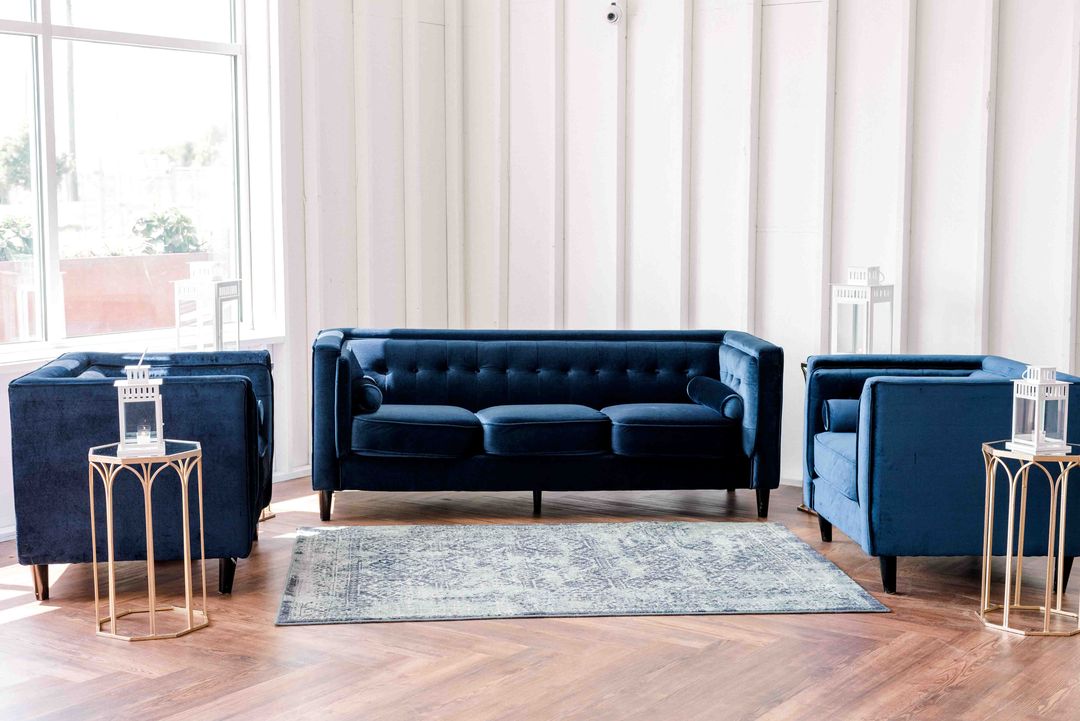 Photo Credit | Cee Cee Photography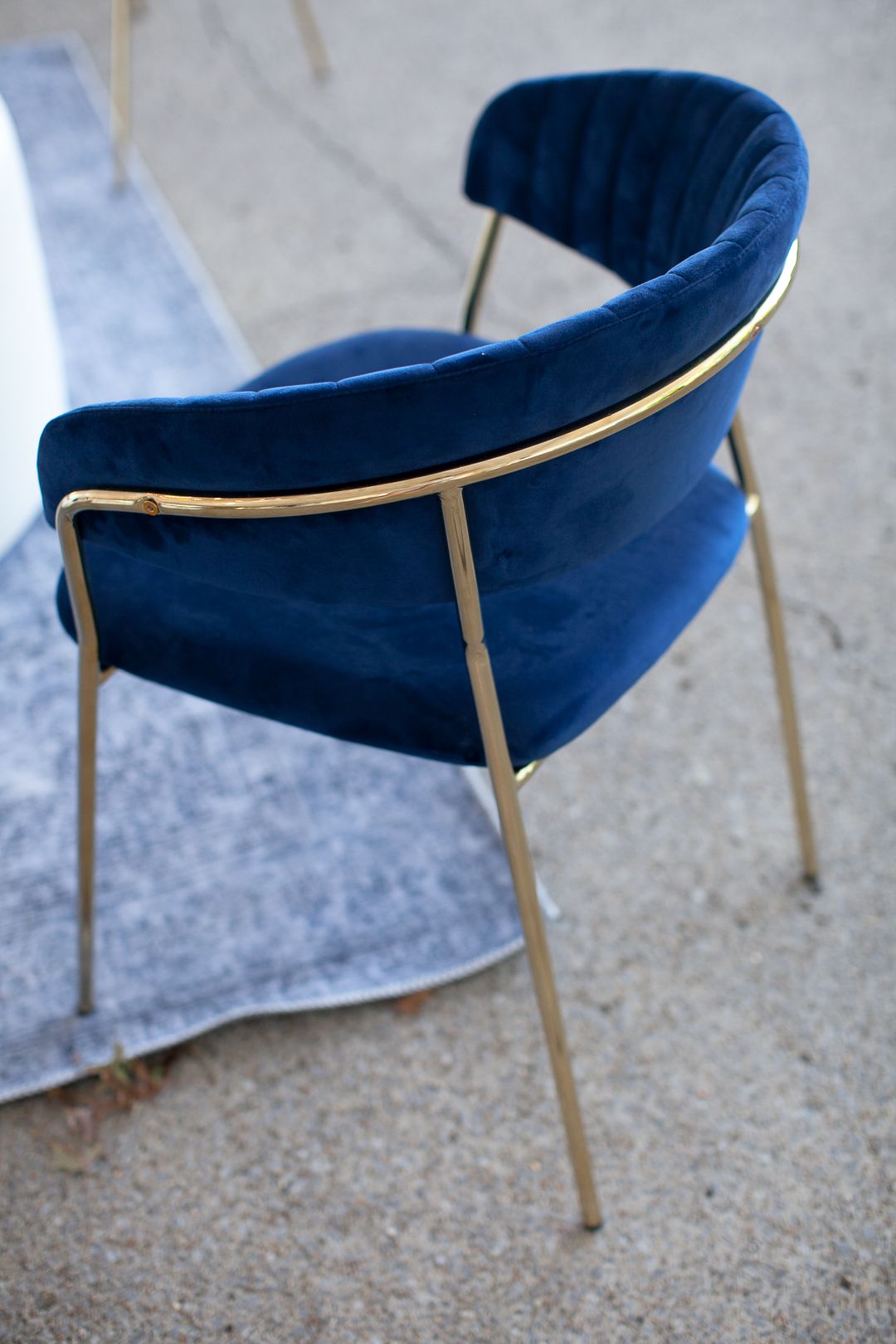 Photo Credit | Phindy Studios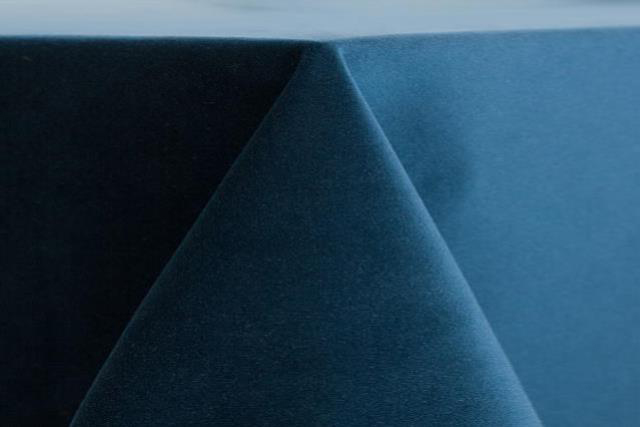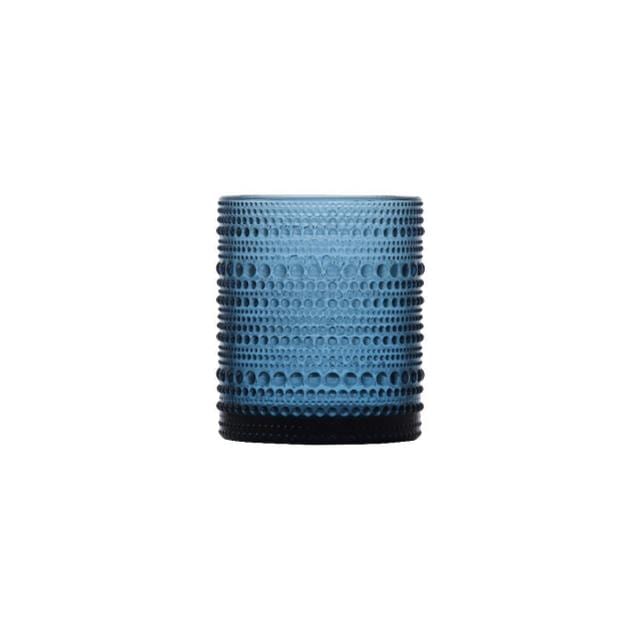 Bold Lines
Make it modern and graphic with clean lines and minimal fuss – and a little metallic never hurt! Keep your rentals simple and streamlined like Loren Bistro Table and Acrylic Ghost Barstools for cocktail hours, and deck out your event bar with our geometric Avenue Bar Back Shelving, Harpeth Bars, and Gold Bar Cart.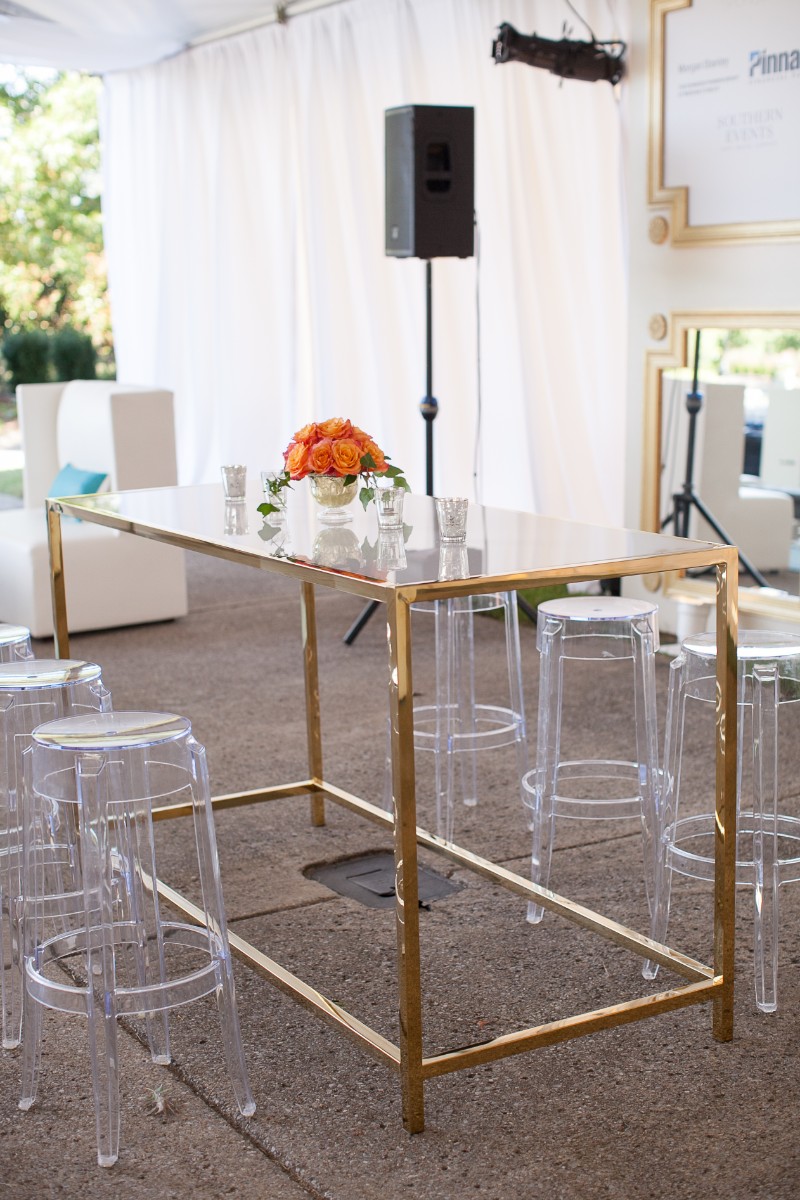 Photo Credit | Phindy Studios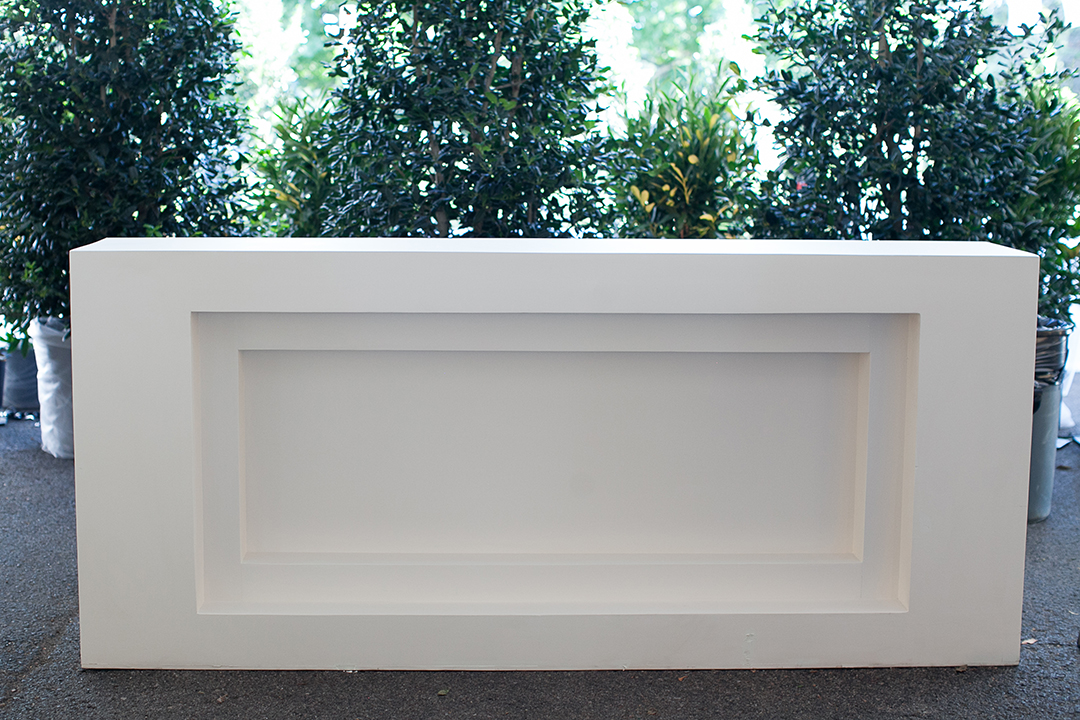 Photo Credit | Phindy Studios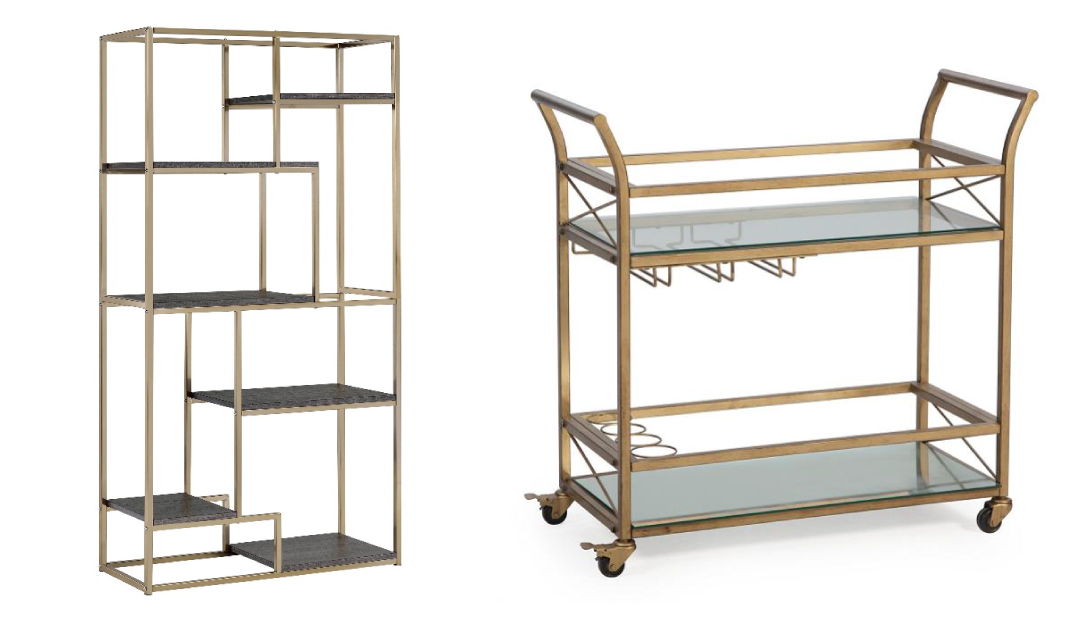 Warm Tones
Warm-up your 2020 events with earthy tones and cozy textures like velvet (again, we are so. in. love!) – from dusty rose, peach, terra cotta and, of course, gold! Take a note from City Winery's open house and mix linens for a more interesting look – like our Cameo Blush or Merlot Velvet Linens with the neutral and glamorous Furrow Gold Linens. Bring in another trend with the modern, clean lines of our Acrylic Carrigan Chairs and Midas Gold Benches!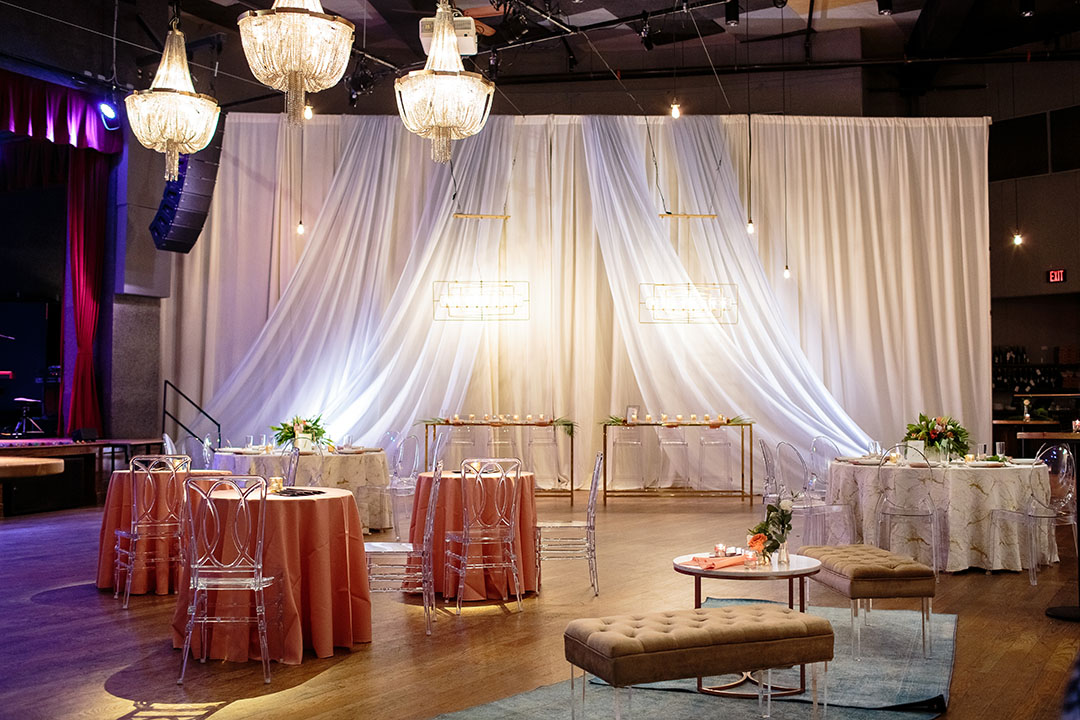 Photo Credit | Erin Allendar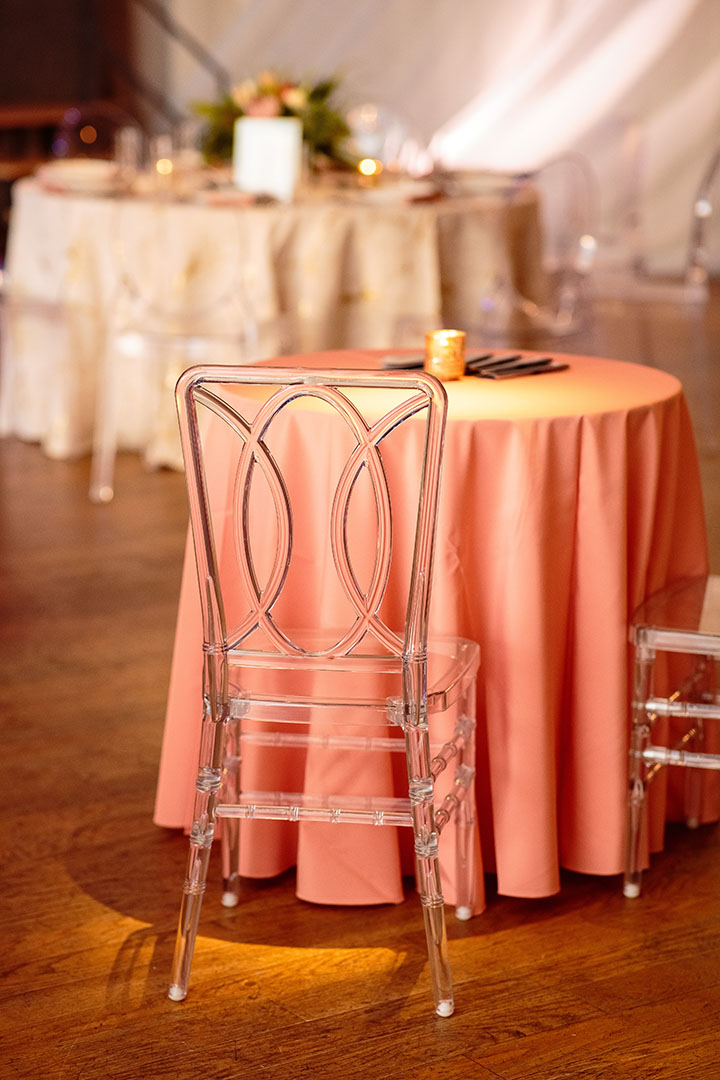 Photo Credit | Erin Allendar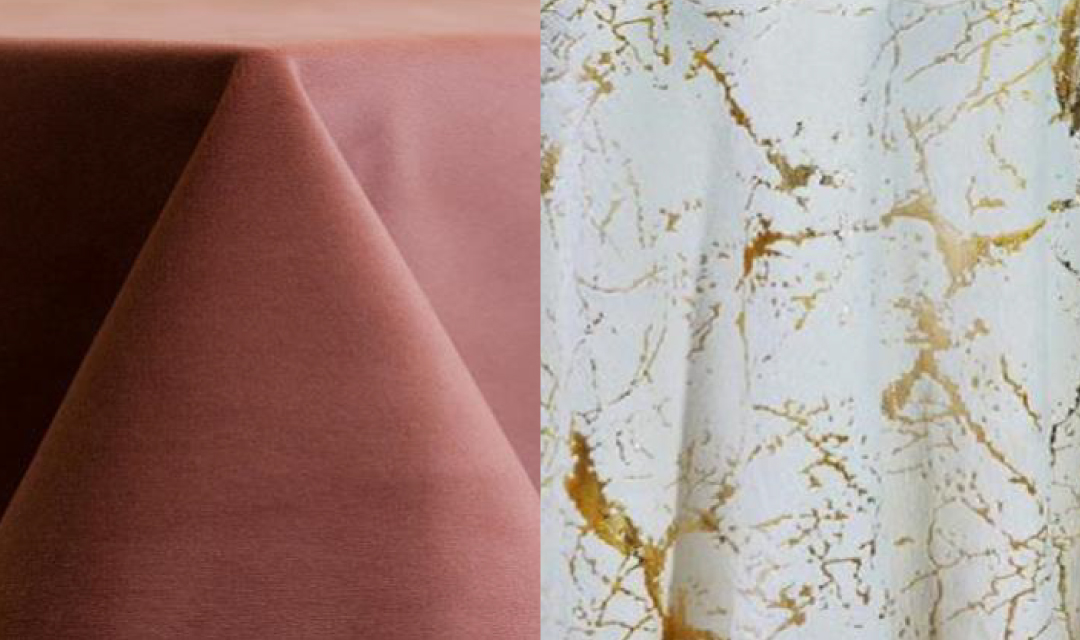 Experiential Moments
Our Boxwood Walls are perfect for creating a show-stopping moment for guests. Whether it's a unique seating chart or a fabulous champagne wall to kick off cocktail hour, these interactive displays are huge on impact!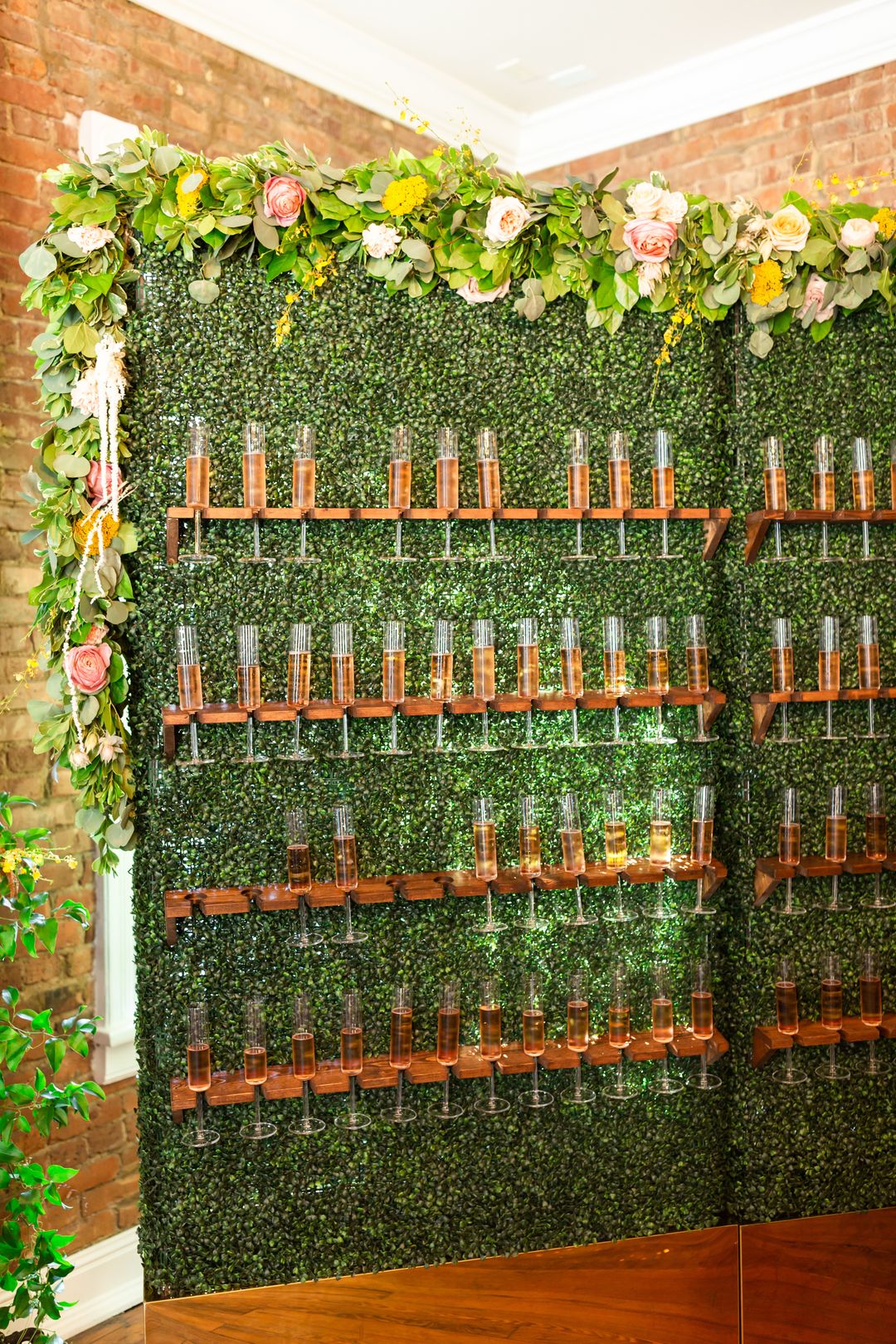 Photo Credit | Honeysuckle & Wine Photography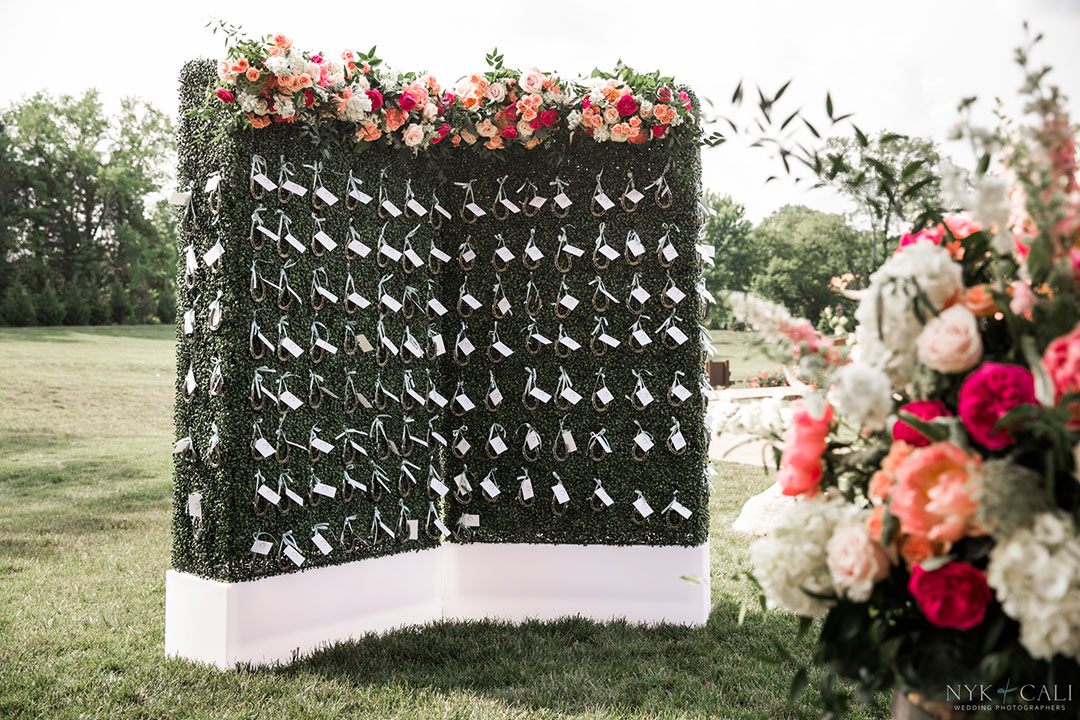 Photo Credit | Nyk & Cali Wedding Photography
We'd love to create a show-stopping look for your wedding or corporate event. If you're feeling inspired by these event trends, send us a message at info@southerneventsonline.com.
TAGS | 2020 Event Trends, Event Rentals, Interactive Drink Station, art deco event rentals, black event decor, drink, event rentals in franklin tn, event rentals in nashville, gold and black event decor, modern event decor
FEATURED RENTALS | Black Velvet Sofa, Black and Silver Rug, Onyx Earthen China, Black Velvet Linens, Black Dupioni Linens, Navy Blue Velvet Linens, Saylor Navy Velvet Sofa, Rory Navy Velvet Chair, Meridian Blue Tumblers, Loren Bistro Table, Acrylic Ghost Barstool, Avenue Bar Back Shelving, Harpeth Bar, Bar Cart, Cameo Blush Velvet Linens, Merlot Velvet Linens, Furrow Gold Linens, Acrylic Carrigan Chair, Midas Gold Bench, Boxwood Walls, Cybil Champagne Flutes
---