15

Dec

Southern Events Products, Trends and Inspiration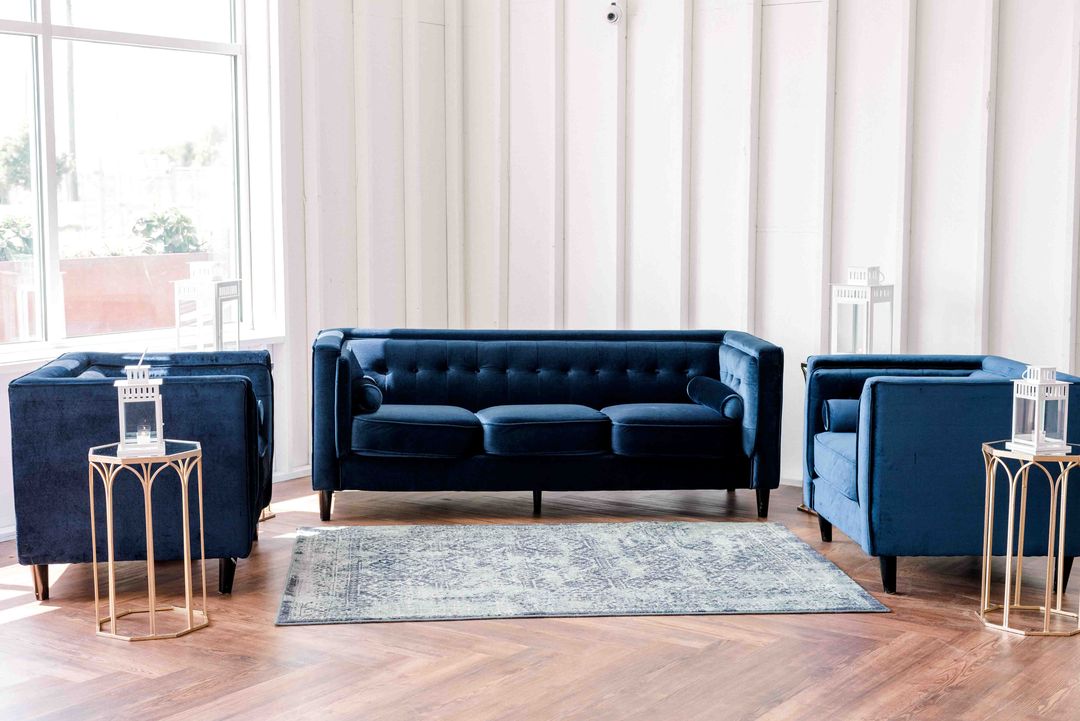 Winter may be in full swing, but that's no excuse to halt the jubilations! In fact, it's the perfect time to gather, to reap the warmth provided by the love of family and friends. To help you host a memorable get-together, Southern stocks a range of cozy event rentals that will encourage guests to sit, sip and soak it all in. Take a look at some of our favorite winter party rentals, from plush lounge furniture to luxe linens, perfect for hosting a cozy seasonally-inspired celebration.
Plush Velvet Lounge Areas
If there is one essential for a chilly winter party, it's a cozy lounge area – maybe two! Indoor or outdoor, your guests will want a plush place to sit back, relax, and mingle. Even more so if you have plans for a well-stocked bar. We offer a range of gorgeous furniture pieces that you can mix and match to create a stunning lounge. Our Fern Velvet Sofa or Henley Grey Velvet Tufted Sofa are elegant pieces, which can be paired with a set of loveseats or armchairs. Popular choices include our Gold Bamboo Arm Chair and White Eiffel Arm Chair, which offer a trendy modern retro look. Just don't forget to grab one of our beautiful rugs to frame the space and add a little extra warmth!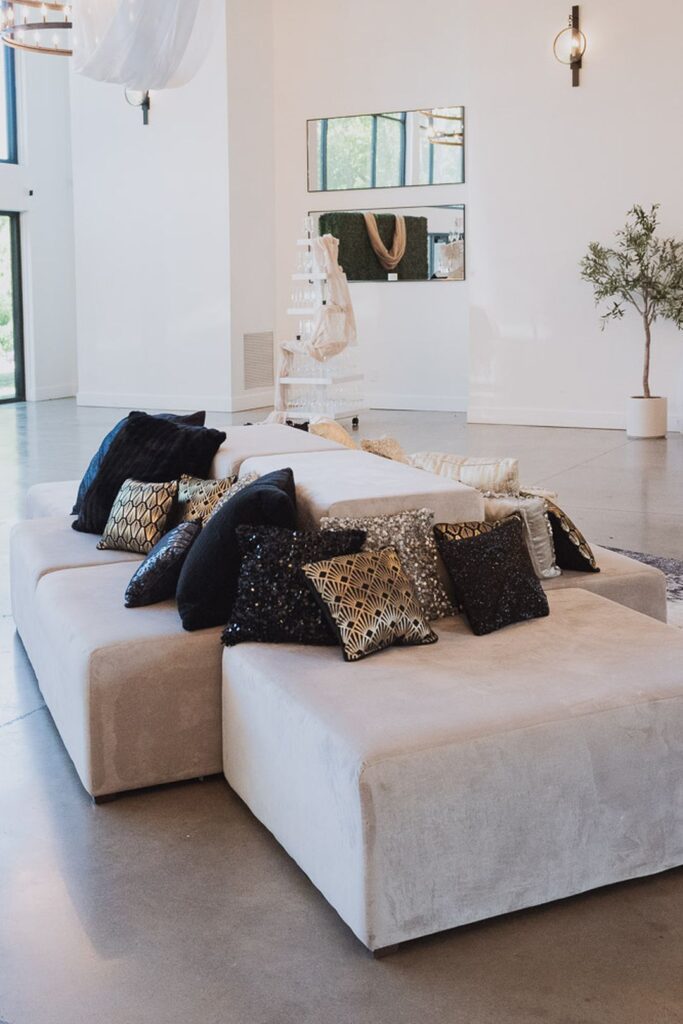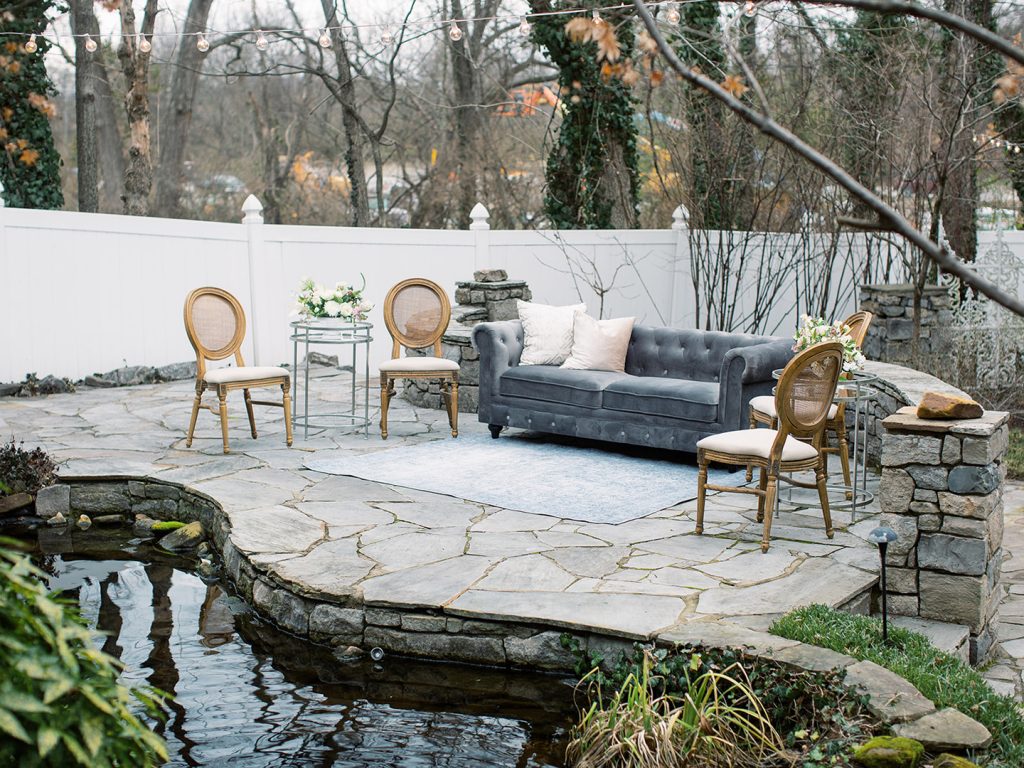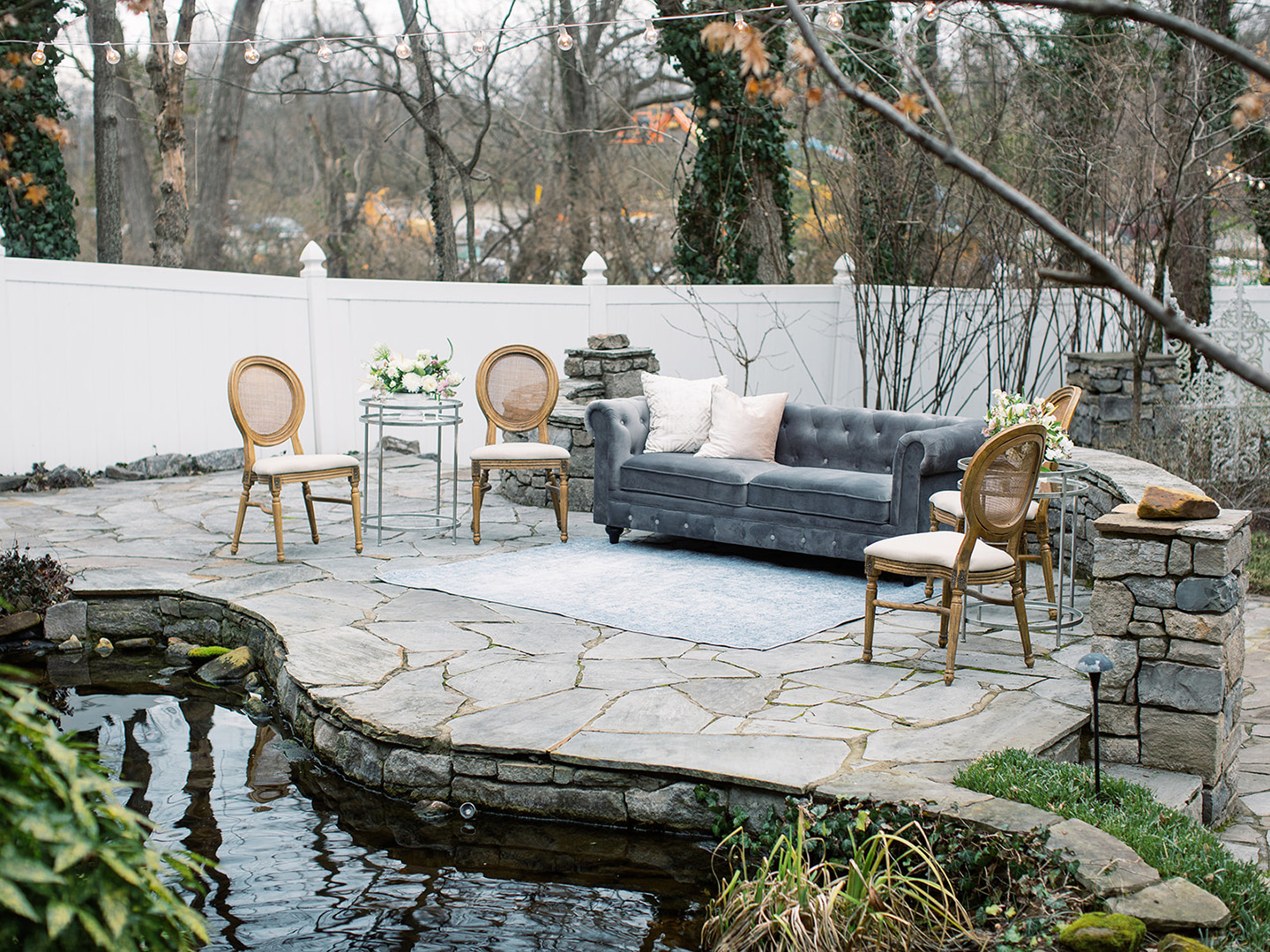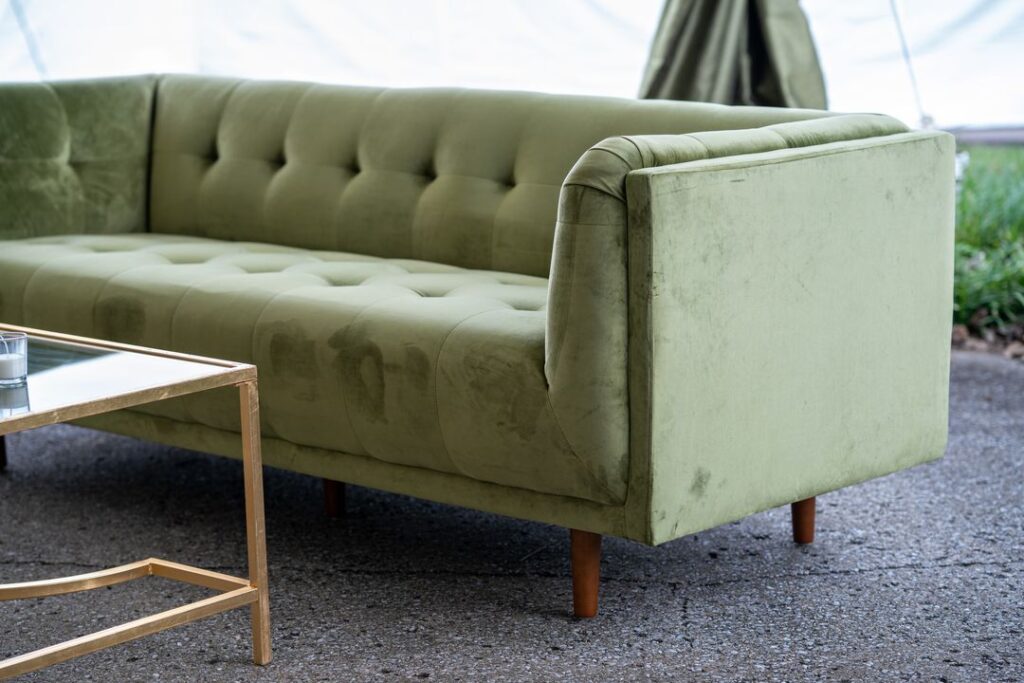 Metallic-Focused Holiday Tablescapes
When it comes to winter event tables, the most popular choice for serving ware are pieces that star metallic accents. Such as our Glass Charger with Gold Rim, Austin Gold Flatware, and Celia Gold Rim Glassware. To help warm up your table and create a more welcoming or cozy look, we recommend adding in a splash of colors and textures. Start with elegant linens in a warm color, like Moss Green Crush or Havana Ecru. Velvet napkins are an easy way to add a fun pop of color, as well as a soft texture. Opt for our elegant White Etched Velvet or a brilliant Navy Blue. If your plates or serving ware feature metallics, sub traditional glassware for colored tumblers or water goblets.
Struggling to create the perfect winter tablescape? Our team would love to help you! Or, take a look at our Holiday Boxes – Luxe Chalet and Silver Soiree are both beautiful cozy options.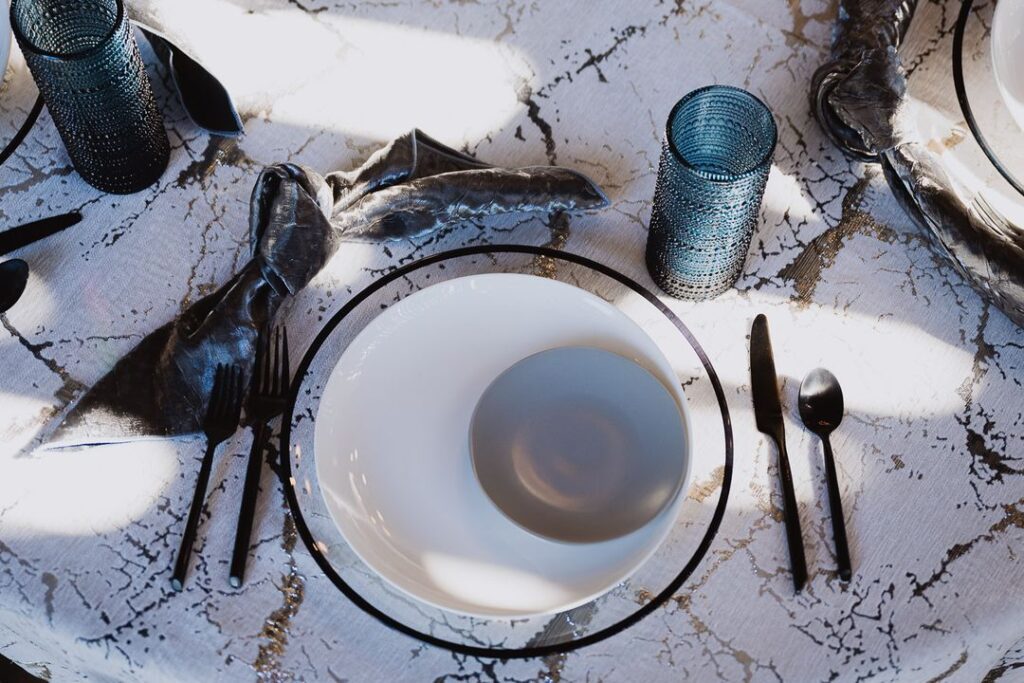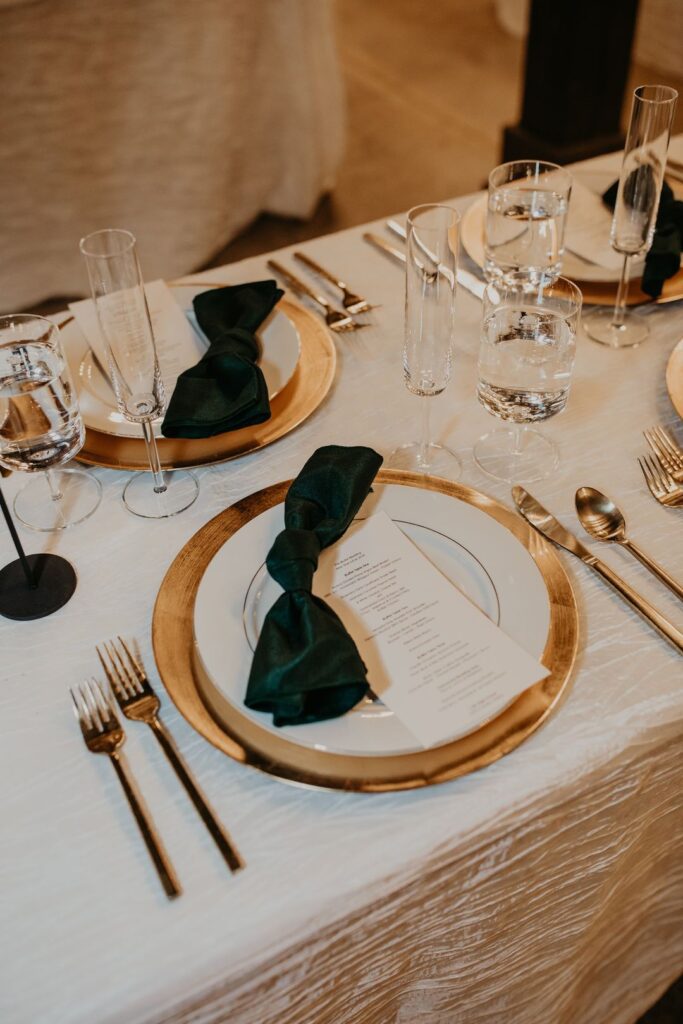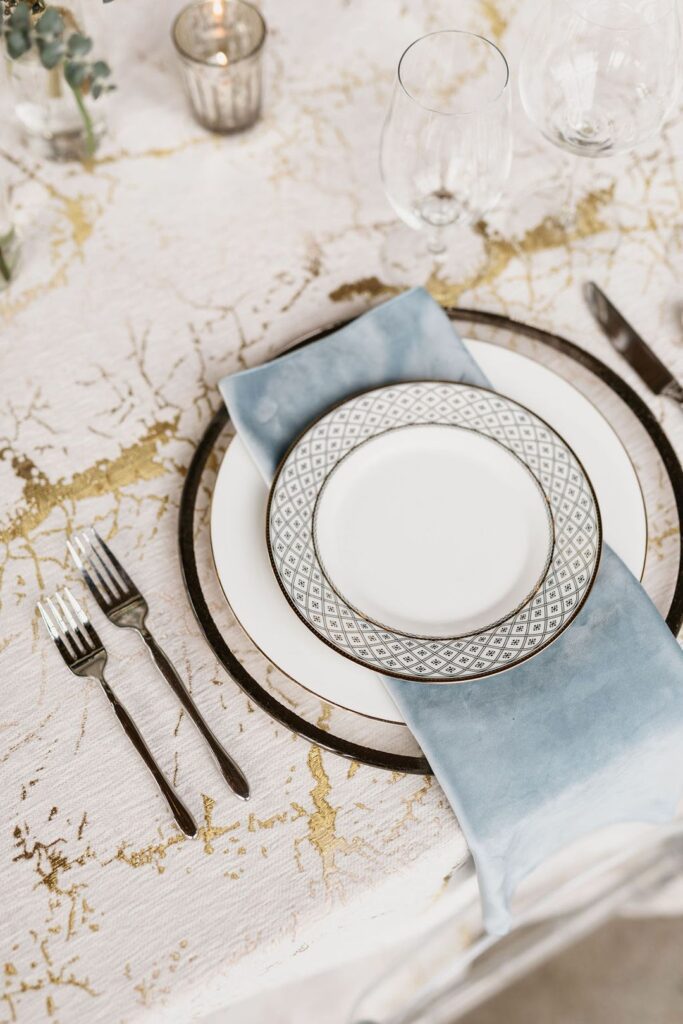 Create a Toasty Place to Gather
Hosting a gathering at home or the office but feeling limited on space? We offer a variety of winter party tent rentals that will allow you to create an ultra-cozy covered space for parties of every size. Our Ready-to-Party tent packages are a convenient solution, with all the essentials for between 30 to 75 guests. After you've secured a tent, customize the space with heating solutions. We stock a Blowing-Style Heater to warm up any size tent, as well as a Hammered Rectangular Fire Pit – perfect for creating a cozy area to lounge or toast marshmallows. Surround it with any of our plush ottomans, such as Chocolate Poufs, as well as pillows and blankets.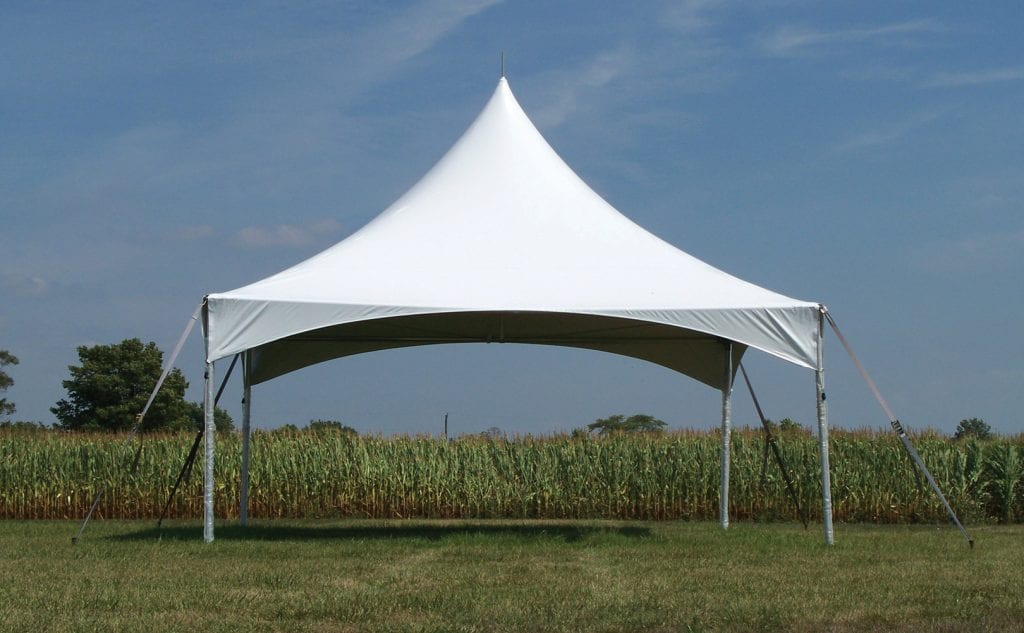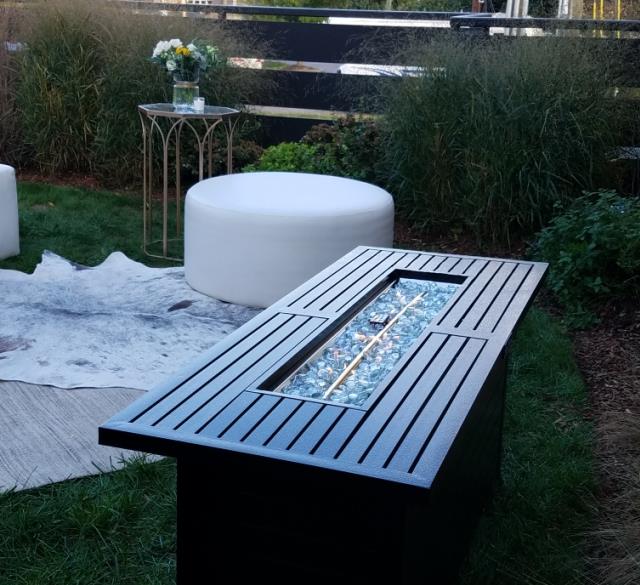 Want to feature these cozy event rentals at an upcoming holiday party in Nashville? Send our team a message at info@southerneventsonline.com for help selecting the perfect pieces for your gathering, big or small! Need more event inspiration, take a look at our Minimal Winter Event Rentals.
TAGS | Area Rugs, Heaters for Tents, Tent Rental, event lounge, lounge furniture rentals, tent accessories, winter event rentals, winter events, winter party
FEATURED RENTALS | Fern Velvet Sofa, Henley Grey Velvet Tufted Sofa, Gold Bamboo Arm Chair, White Eiffel Arm Chair, Glass Charger with Gold Rim, Austin Gold Flatware, Blowing Style Heater, Hammered Rectangular Fire Pit, Chocolate Poufs,Celia Gold Rim Glassware, Moss Green Crush Linens, Havana Ecru Linens, White Etched Velvet Napkins, Navy Blue Napkins,
---
30

Jun

Nashville Venues, On Trend, Southern Events Products, Trends and Inspiration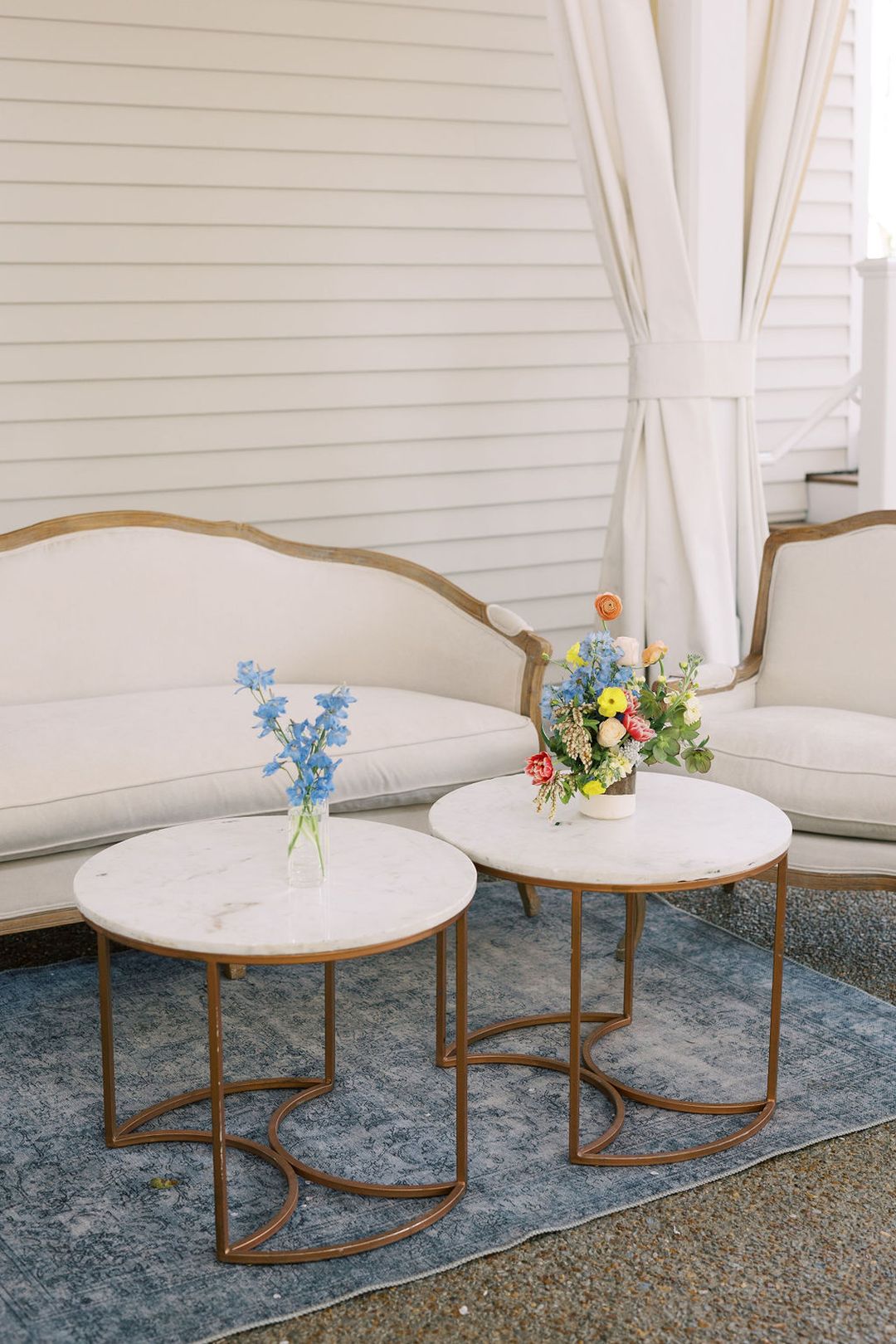 In the heat of summer, there is nothing quite like a garden party – whether you are celebrating with family, friends, or even coworkers! An intimate celebration outdoors is the perfect way to spend an afternoon, with light bites, and tasty drinks gathered around a lawn game or two. Get inspired on how to host a colorful fete when you check out this city chic garden party at CJ's Off the Square!
Summer Champagne Wall!
You don't have to host a huge celebration in order to incorporate a 'wow' factor. Our boxwood walls are a simple addition that will uplevel any event. It is a fun way to greet your guests with appetizers or a cocktail, as seen with this popsicle champagne wall. Or, they can visit it later, to find a sweet treat or dessert. Like fresh donuts and milk or coffee! And, since they are easy to customize you can incorporate elegant decorations such as a neon sign or vibrant florals.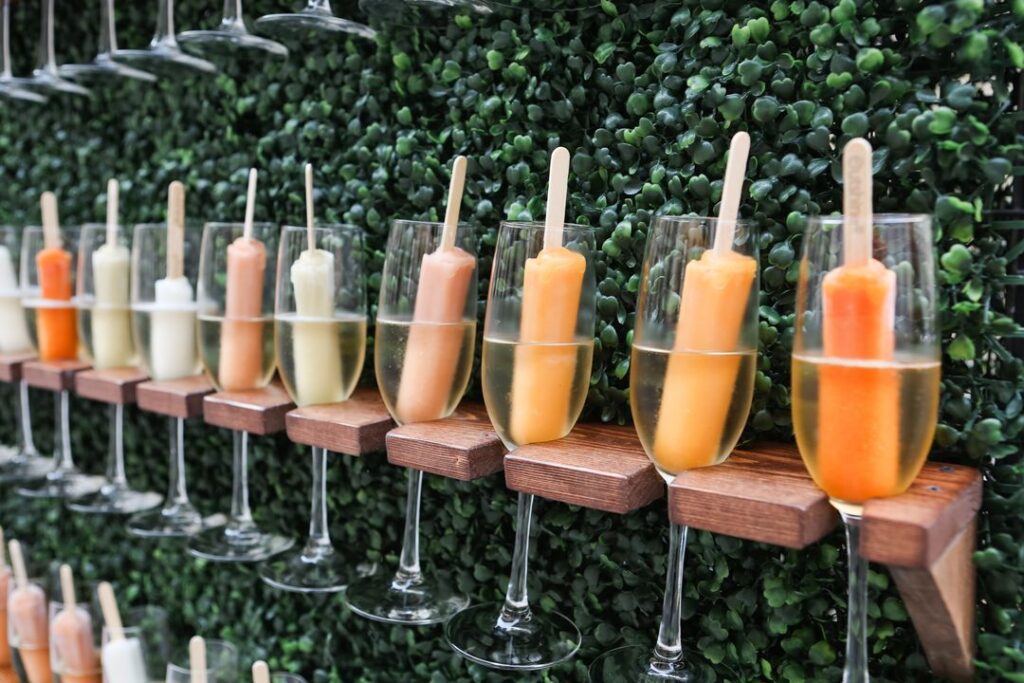 Chic Cocktail Lounges
A must-have for a cocktail hour is a social area, where guests can sit down and sip on their drinks for a while. Consider a bistro table or lounge areas, or even both! Feature a combination of our sofas, chairs, and accent tables to create a chic setup. Consider our Everly Sofa and Chairs, paired with a set of our Capriano Marble and Copper Accent Tables. We also recommend including a few of our colorful event rentals, whether you opt for a Vintage Rug or swap out the Everly Chairs for our Saylor Navy Velvet Chairs.
Don't forget to grab a selection of our beautiful glassware for rent – to serve up colorful fruit-infused cocktails! If you won't have a bar and would prefer a self-serve drink station, our Gold Beverage Jars are a stylish way to dish up big batch cocktails.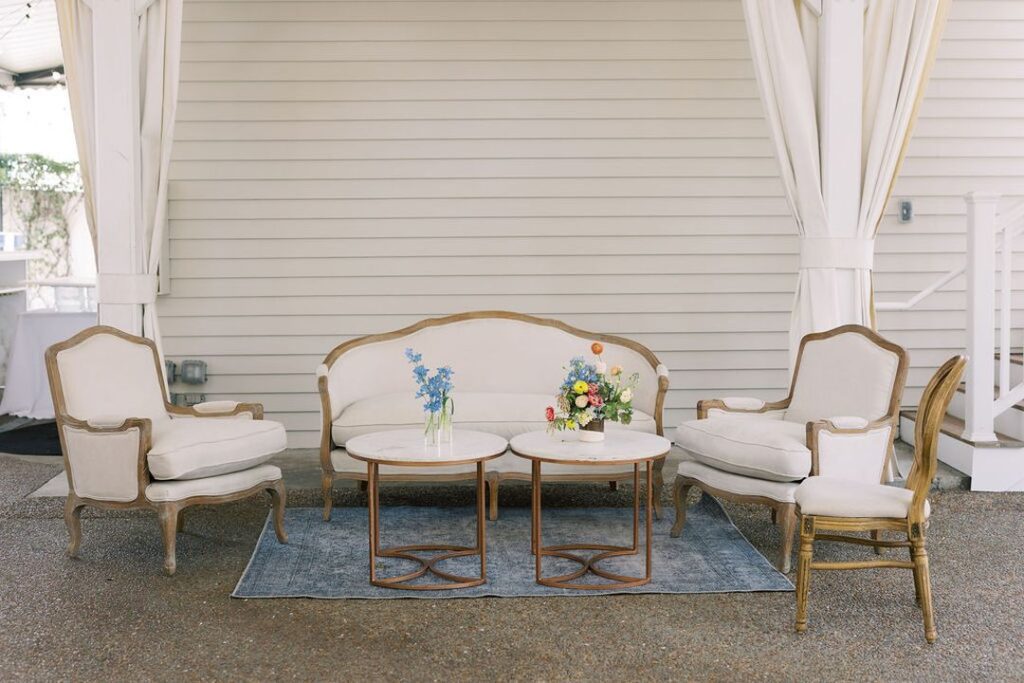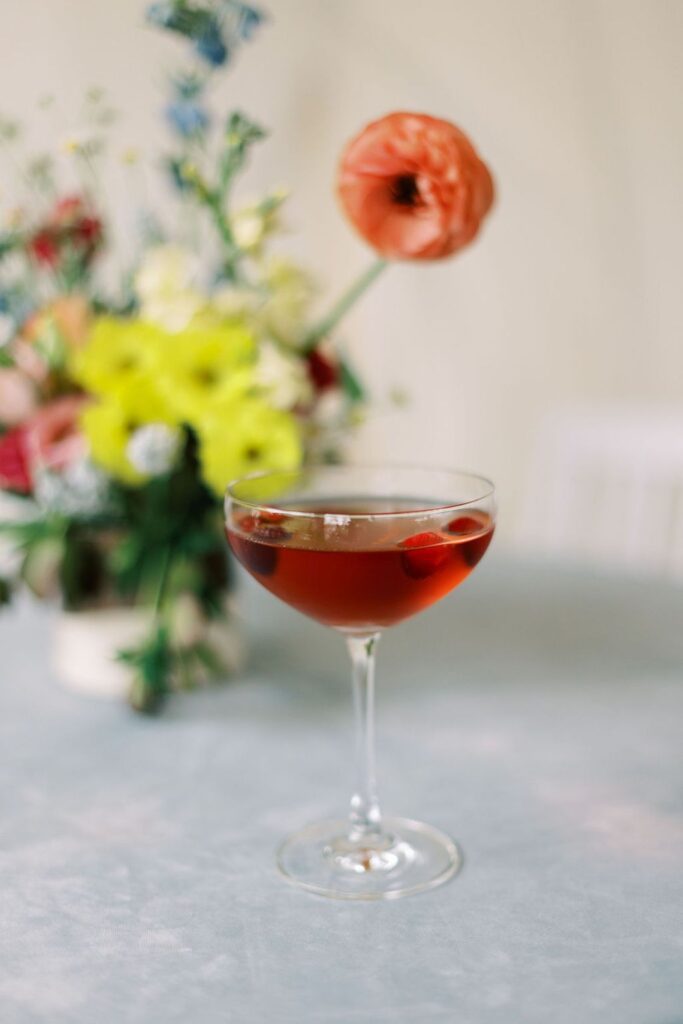 Intimate Yet Luxe Dining
If your goal is a true garden dinner party, with more than just appetizers, you'll also need some elegant tablescapes. We have a variety of beautiful tables and linens for rent, an essential foundation for colorful event design. Start with our Kennedy Fawn or Dusty Blue Etched Velvet Linens. Pastels will lend color but allow vibrant floral centerpieces to shine! If you like the look of more layers, top it off with any of our chiffon runners. For serving ware, keep it simple but don't be afraid of some texture. Check out our Rattan White Wash Chargers, which pair beautifully with any of our white china. For napkins, any of our luxe linens will do. We also recommend incorporating some pieces featuring metallic colors, whether it be our Austin Gold or Brushed Copper Flatware, for that chic touch. Maybe even our Vera Floral China!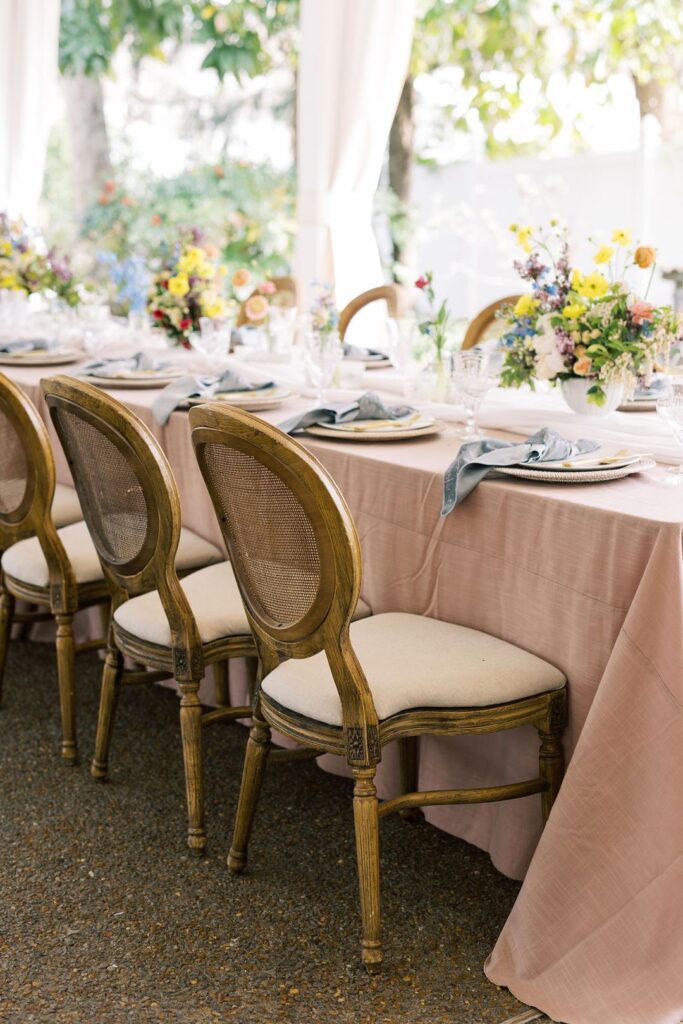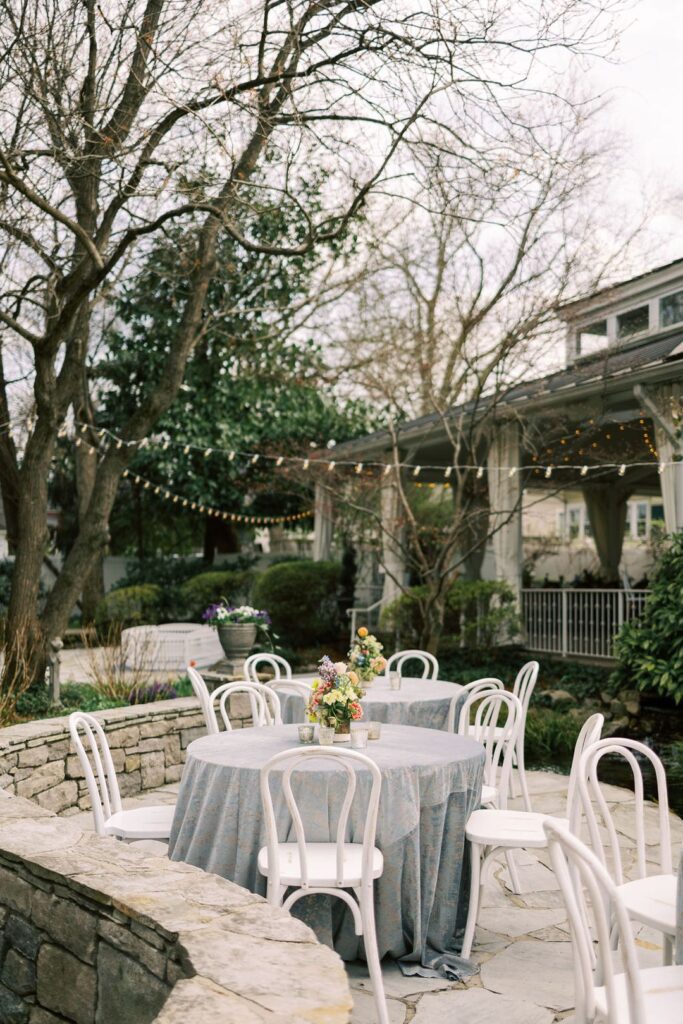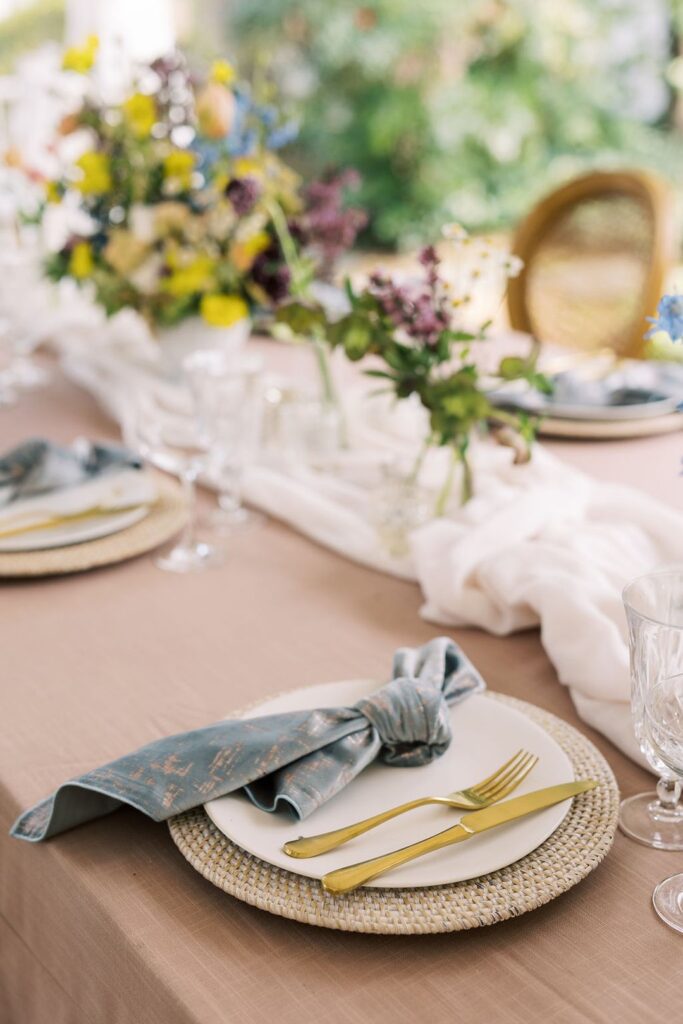 A special thank you to Jenna Henderson Photo for sharing these photos with us!
Want to host your own garden party in Tennessee? Contact our team today for assistance, or for help choosing products that align with your event design!
TAGS | Chic Modern Design, Cocktail Party Rentals, Garden Wedding, colorful decor, colorful event rentals, event lounge, outdoor event rentals, summer cocktail party decorations, summertime chic
FEATURED RENTALS | boxwood walls, champagne shelf, Beverly sofa, Beverly chairs, Cipriano marble and copper tables, saylor navy velvet chairs, Kennedy Fawn, Dusty Blue Etched Velvet, chiffon runners, rattan white wash chargers, vera floral china, austin gold flatware, brushed copper flatware,
---