7

Apr

Southern Events Products, Trends and Inspiration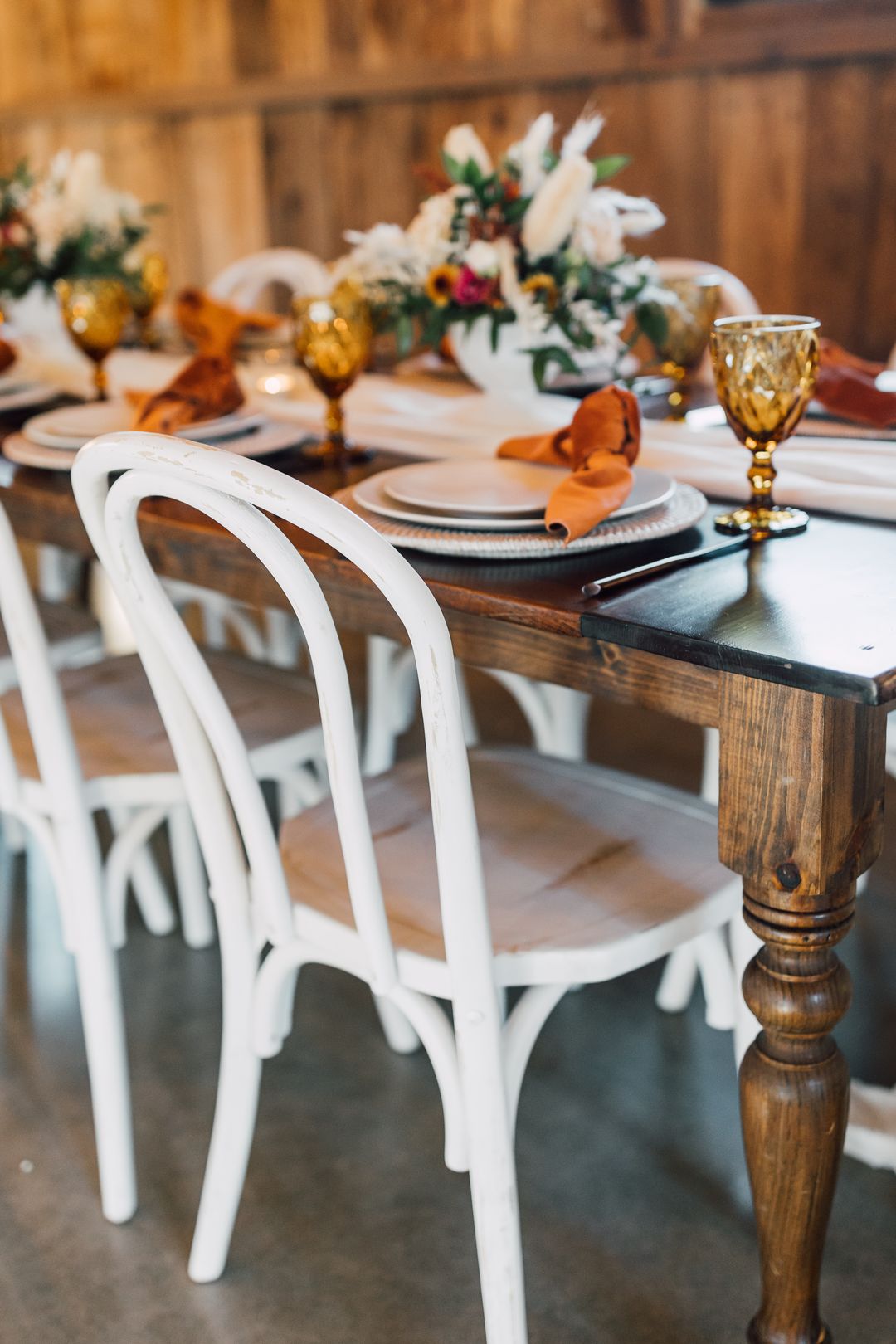 Don't underestimate the impact stylish seating can have on your event! An essential piece of furniture for your wedding ceremony and reception, the chairs you feature are an easy way to take your celebration to the next level. Today we're sharing our in stock wedding chair rentals, with unique styles for every type of event! Including classic folding and wood chairs, plus on-theme options!
Wood Chairs
Let's start with the most popular option, wood chairs for rent! These beautiful pieces tend to be desirable as they lend an elegant and timeless look to an event, thanks to the natural wood stains. They look especially beautiful in an outdoor setting, such as a backyard ceremony or tented reception. The go-to is are our Cross-Back Chairs with their sleek design. However, our Adeline and Harlin Dining Chairs are stunning statement pieces that offer a more high-end look. Just don't forget to add a cushion for extra comfort!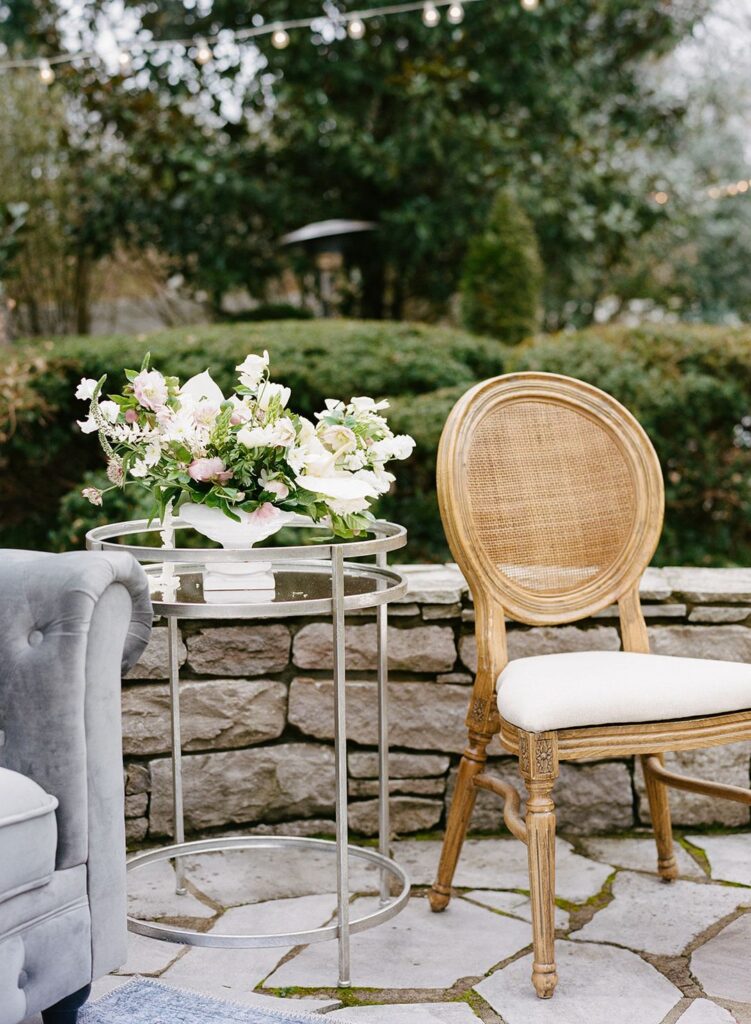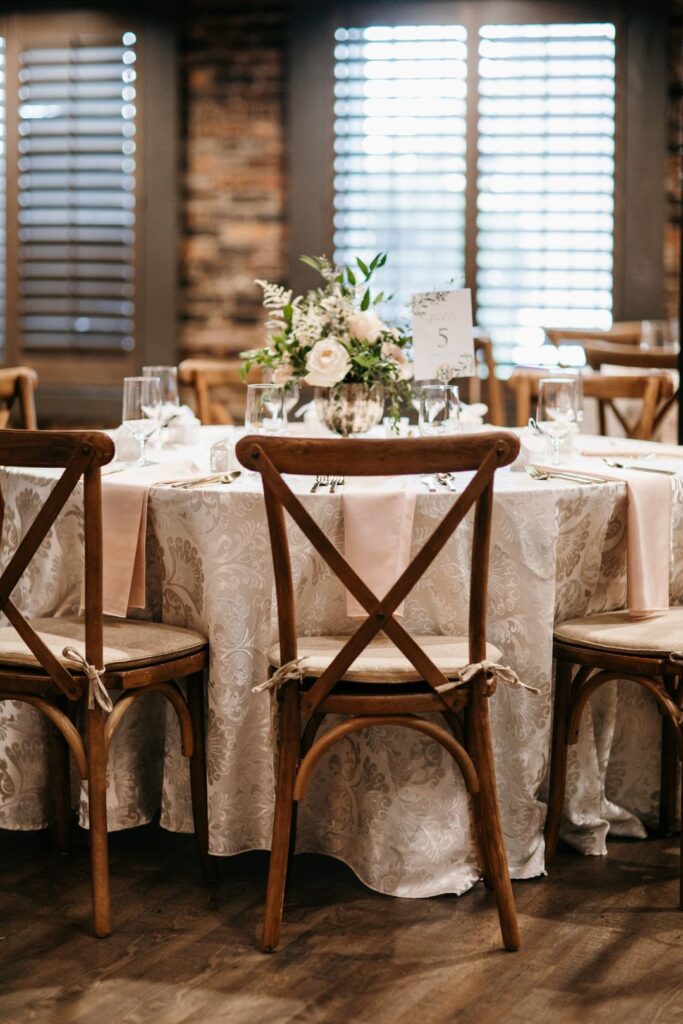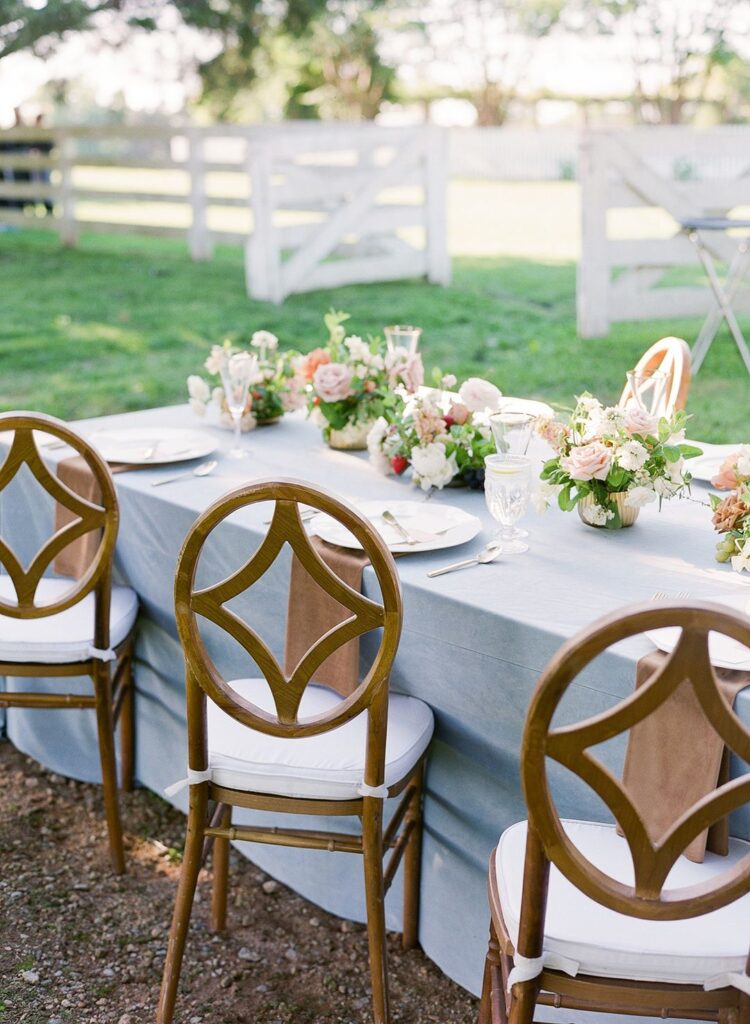 Classic Event Chairs
Sometimes keeping it classic is best, especially for those who prefer are hosting a casual event or have a more understated style. We offer a variety of folding chairs for rent, with our Fruitwood Folding Chairs being the most popular color. They are also available in a classic white and black. Or, for a more glam event style, opt for our Chiavari Chairs with their details backs – available in black, fruitwood, gold, and white!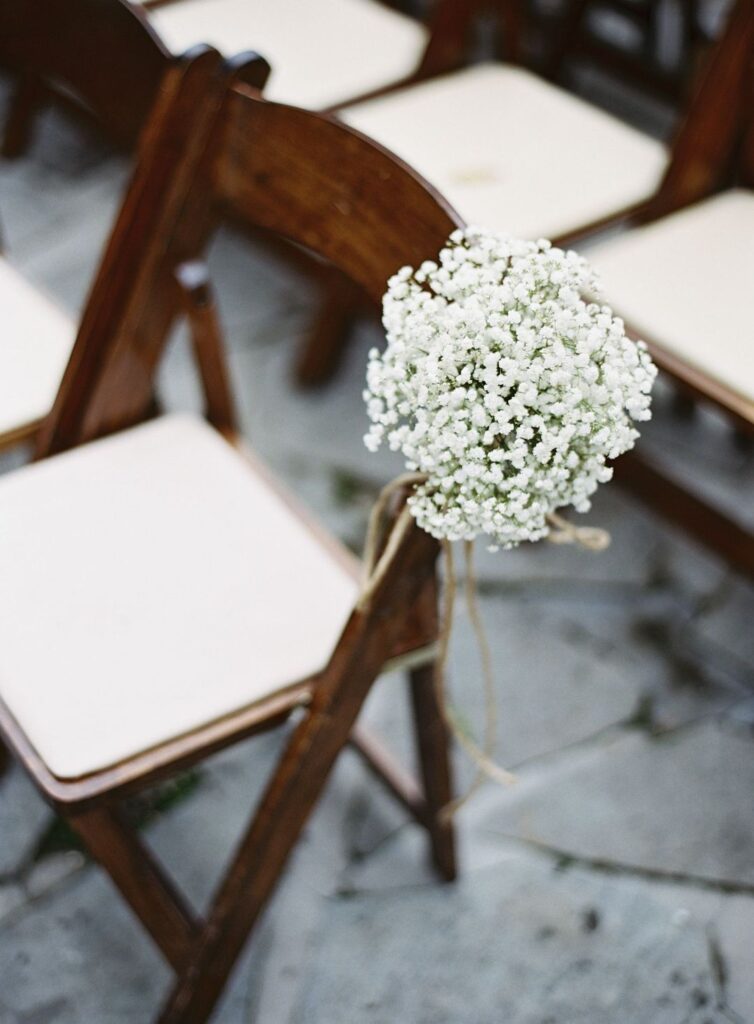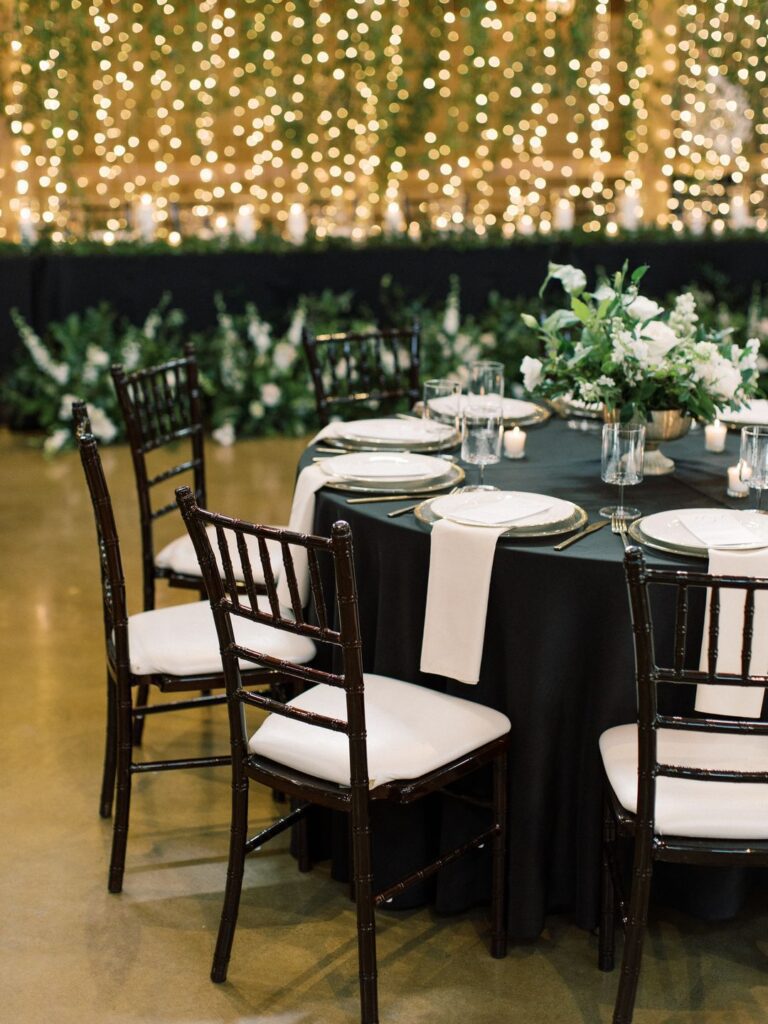 Contemporary Event Chairs
A more recent addition, and our current favorite, are our selection of acrylic event chairs. Made of polyacrylate, these clear chairs lend a fun contemporary vibe to an event. They're a beautiful choice for both ceremonies and receptions, and we carry a variety of unique designs. For a more subtle look, opt for our Acrylic Ghost Armless Chair – also available with arms. If you like a bit more detail, feature our elegant Acrylic Carrigan Side Chairs.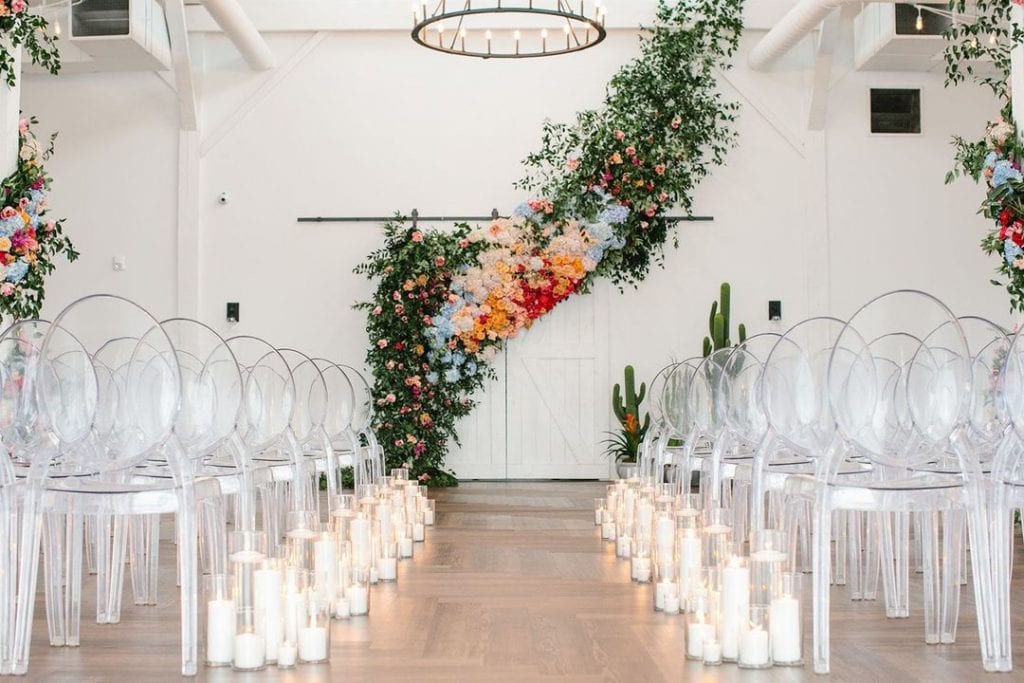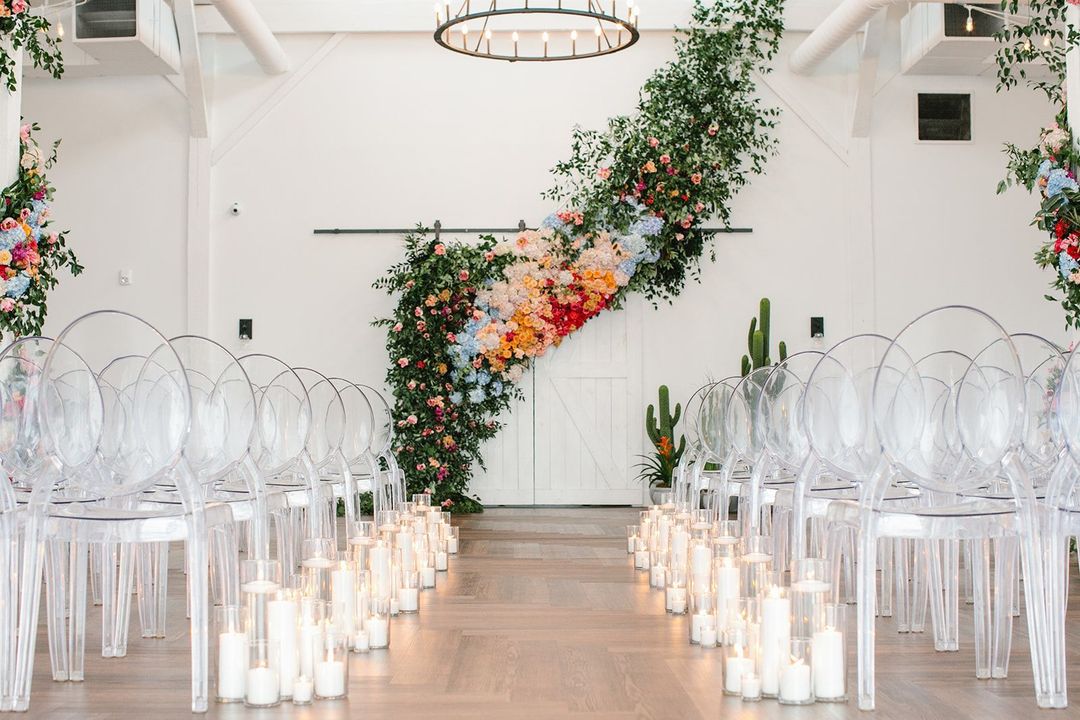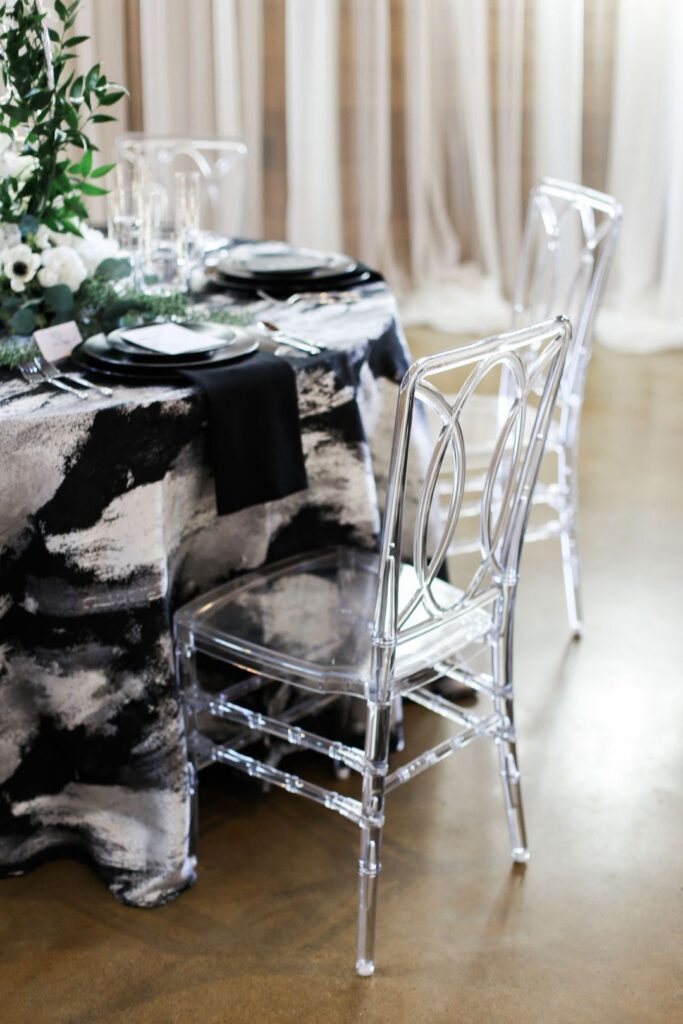 Vintage Event Chairs
In recent years there has been an uptick in an appreciation for vintage event chairs with their dainty details and classic designs. They are a gorgeous choice for rustic events, as well as modern events with a vintage twist. A prime example being our Antique White Bentwood Chairs! However, we also offer throne chairs for couples who want a more regal-inspired look. Both our Constance and Provence Cathedral Chairs are perfect for those who want to create a memorable sweetheart table.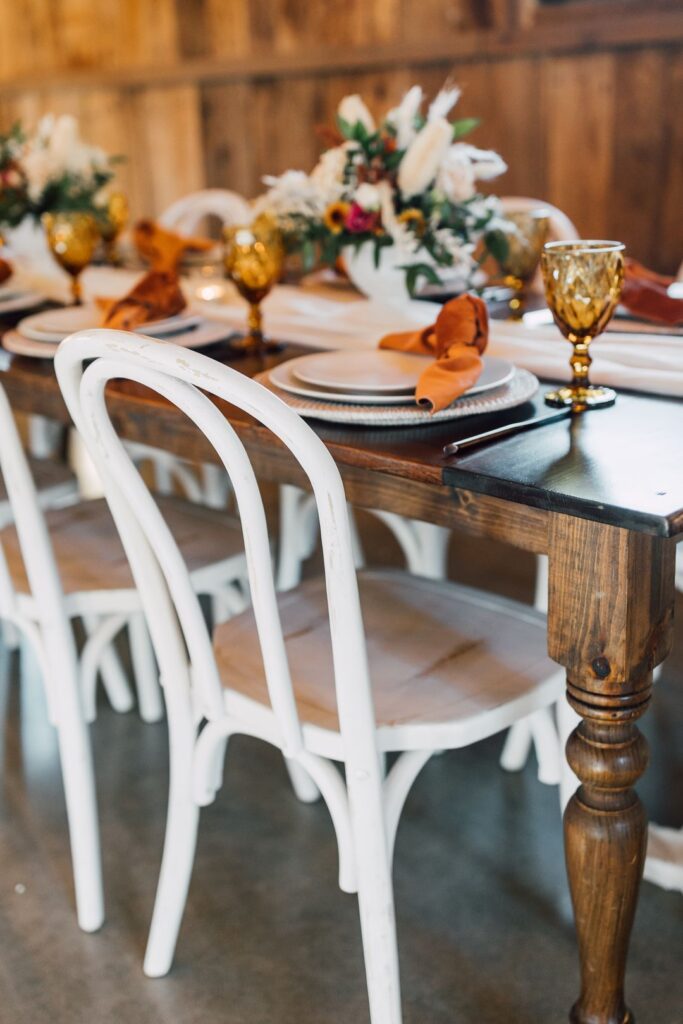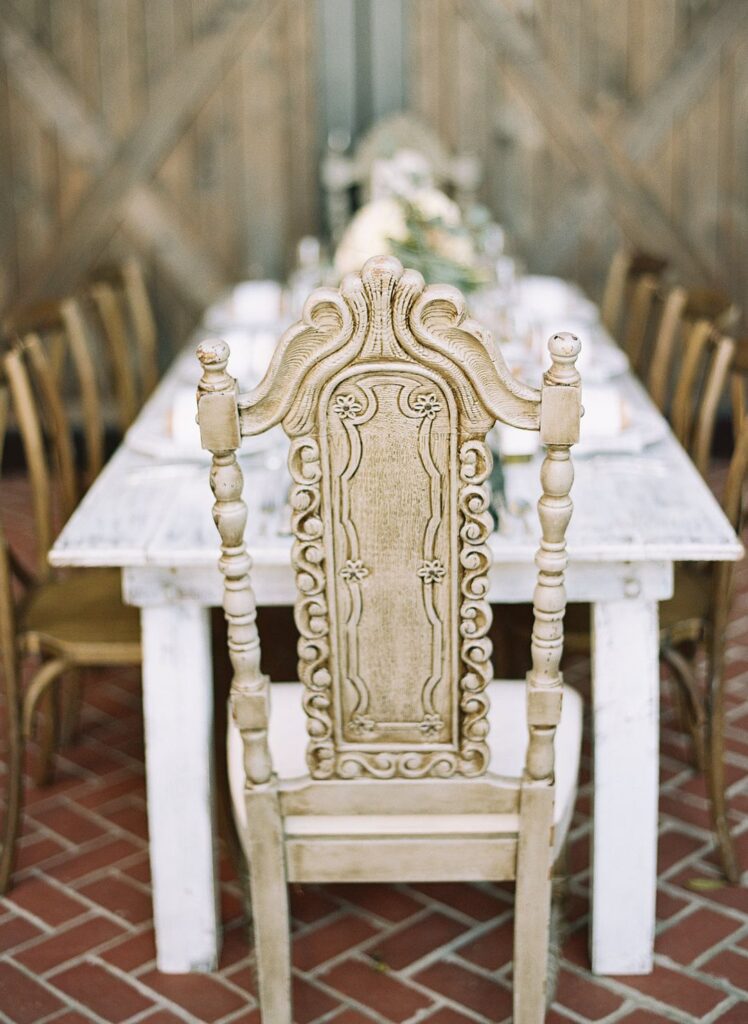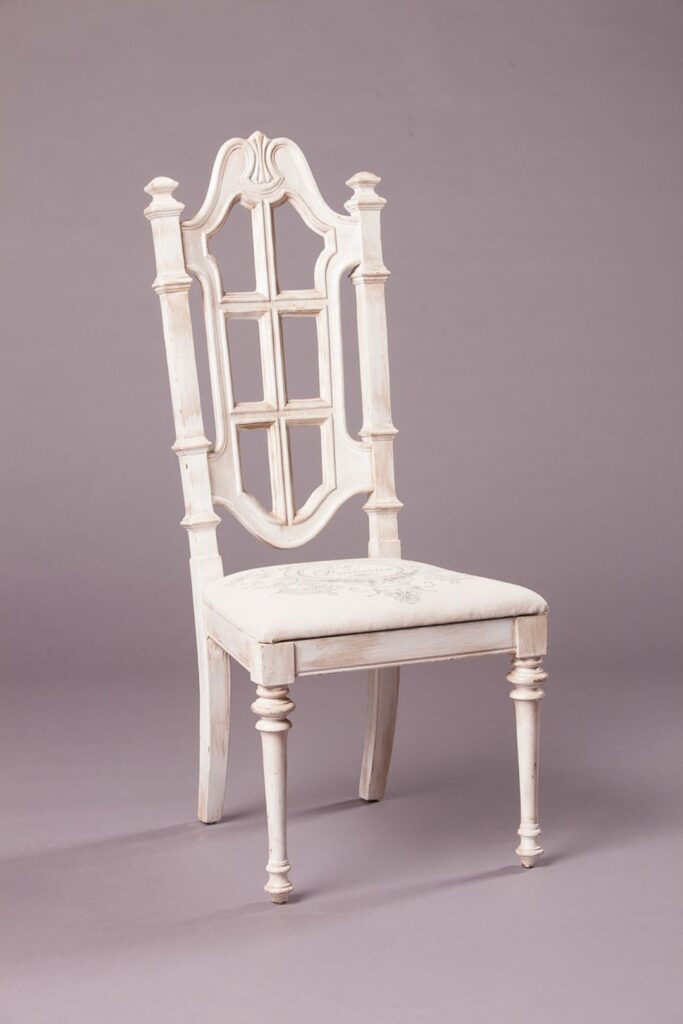 Love these elegant wedding chair rentals? Send our team a message at info@southerneventsonline.com to secure these rentals for your big day. Or for more event seating inspiration, take a look at our Natural Luxe Lounge Furniture.
TAGS | Cross-Back Chairs, Event Seating, Ghost Chairs, Nashville Wedding Rentals, Vintage Chairs, unique seating, wedding chairs, wedding style trends
FEATURED RENTALS | Constance Chair Provence, Cathedral Chair, Adeline Dining Chair, Cross Back Chair, Harlin Dining Chair, Chiavari Chair, Folding Chair, Acrylic Carrigan Side Chair, Acrylic Ghost Armless Chair, Antique White Bentwood Chair,
---
18

Jan

Events and Style Shoots, Southern Events Products, Vintage Prop Shoppe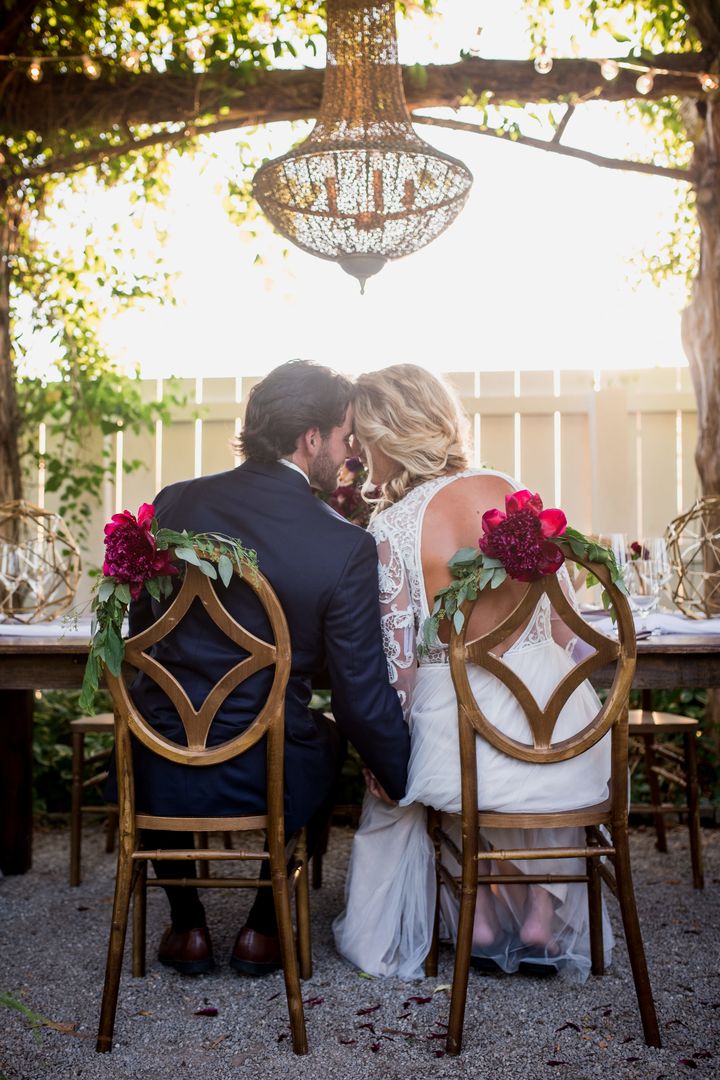 Planning your big day can be an overwhelming endeavor, but designing your big day should be genuinely fun and exciting! The overall style of a big day should reflect the couple's personalities and set the tone for a joyous occasion. No matter what design best encompasses you, adding character to your chosen wedding venue in Nashville or Franklin, TN is easily done with the right rentals.
Not sure exactly how to get started? The experts at Southern have put together different wedding styles to provide a little inspiration for your upcoming Middle Tennessee nuptials:
Wedding Style: Modern Chic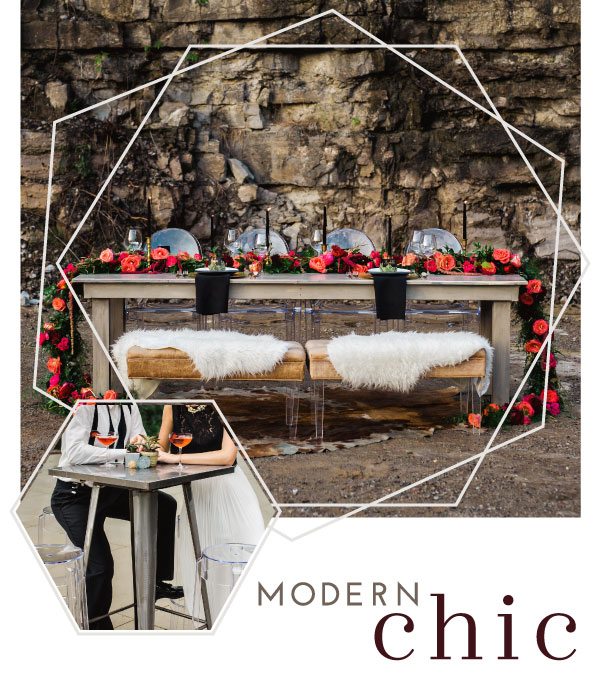 Modern Chic is a darling design that features sleek lines combined with bright colors and lots of texture. Neutral Grayson Farm Tables set the scene and a dressed to the nines with Gold Austin Flatware, Medallion Gold Chargers, and Black & White Triangle Plates. We love the acrylic Ghost Chairs on one side, and the Midas Gold Velour Bench on the other for a unique take on seated dinners.
Looking to add some vintage flair to a modern and chic event? Out Gatsby Champagne Coupes look perfect in any setting and bring the old-world glamour to any occasion.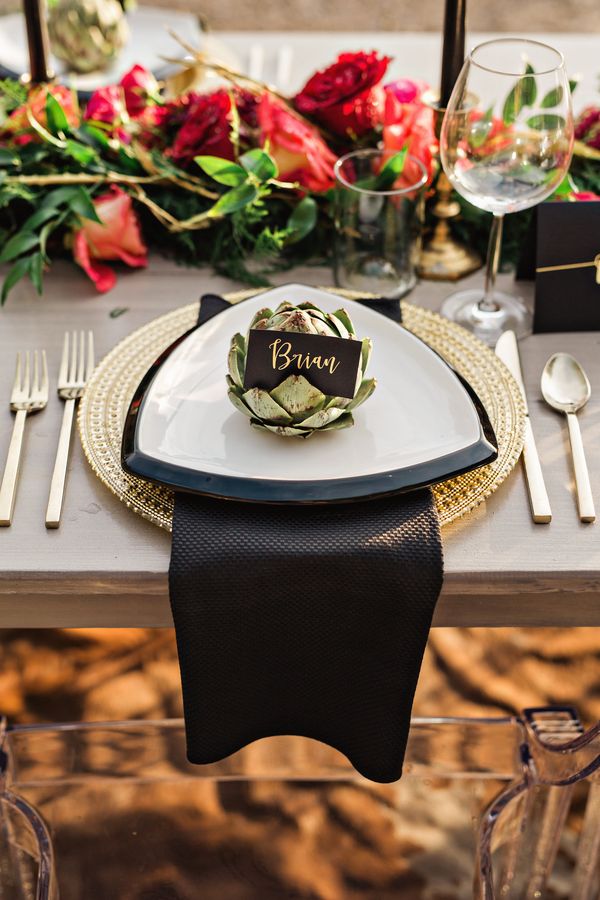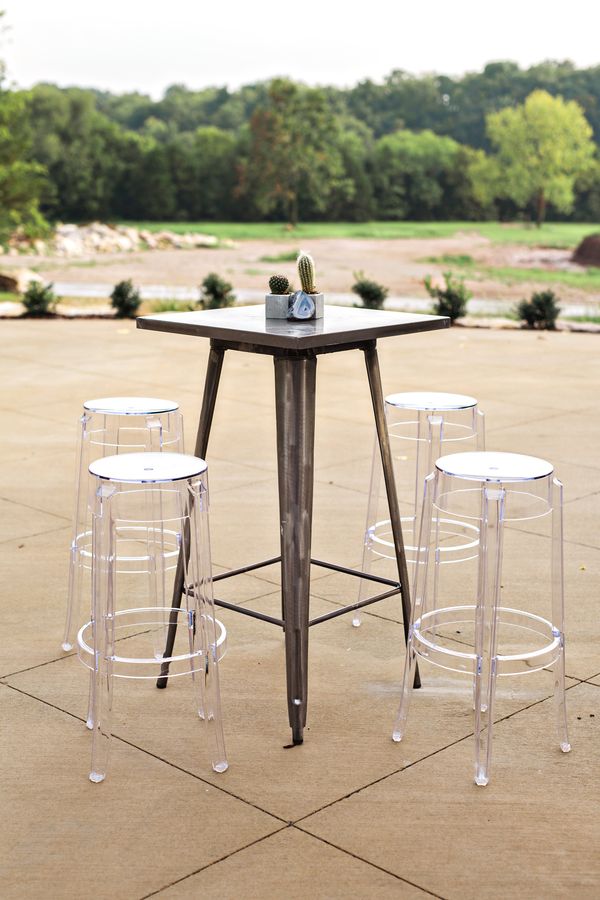 Wedding Style: Garden Romantic
A sweetly romantic garden party is a wonderful and heartfelt way to exchange vows, with a soft color palette and plenty of vintage touches. Distressed Farm Tables in white wash with natural wood Cross Back Chairs or our Harlin Dining Chairs welcome guests into a secret garden, where dreamy rentals set the scene. Tables are adorned with ornate details like our Hob Knob Glassware and Abby Fine Silver Flatware next to satin dinner napkins, or placed perfectly among Chiffon Table Runners. Lounge areas aren't left out, as our Tessa Tufted Linen Beige Loveseat with wooden legs adds natural subtle romance to any area.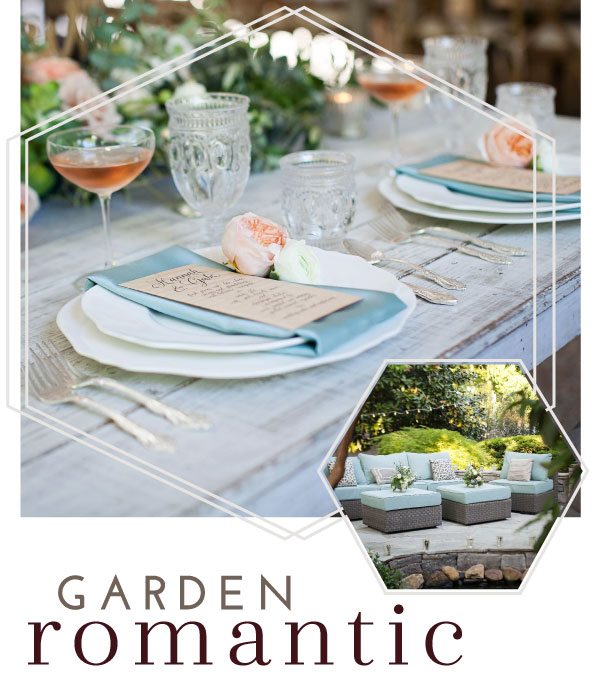 Wedding Style: Textured Boho
Couples with a genuine love of nature and vibrant colors fall perfectly in love with this Textured Boho style – a gorgeous mix of organic elements topped with vintage & metallic details. Wood Chargers, Artisan China, unique Como Flatware, and gold flourishes stun in any setting – not to mention, they are accented perfectly regardless of your chosen color palette. Painted vintage furniture is perfectly Bohemian with bright and vibrant colors – the vividly colored Charlotte Chair and vintage Basil Arm Chair are just two selections from our vast inventory of delightful vintage chairs. Natural texture continues from dinner to dessert as a delicious cake is even more beautiful served atop Barnwood Square Cake Plateaus. Free spirits, happy hearts, and a bohemian design that never disappoints.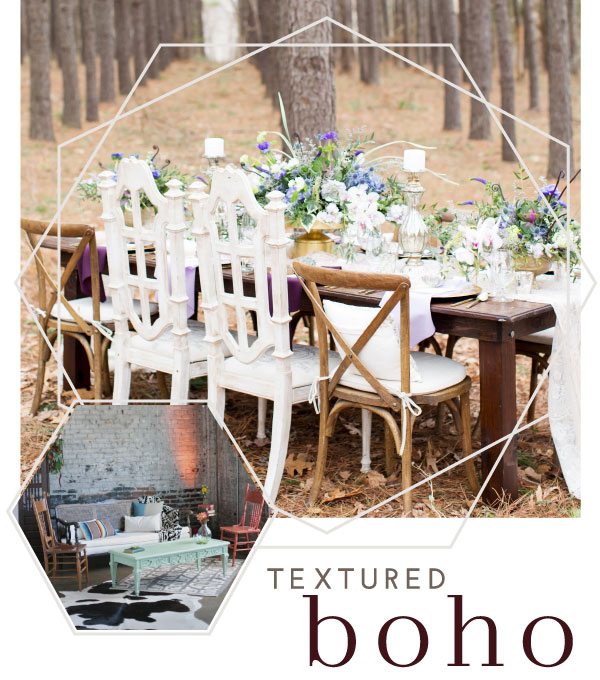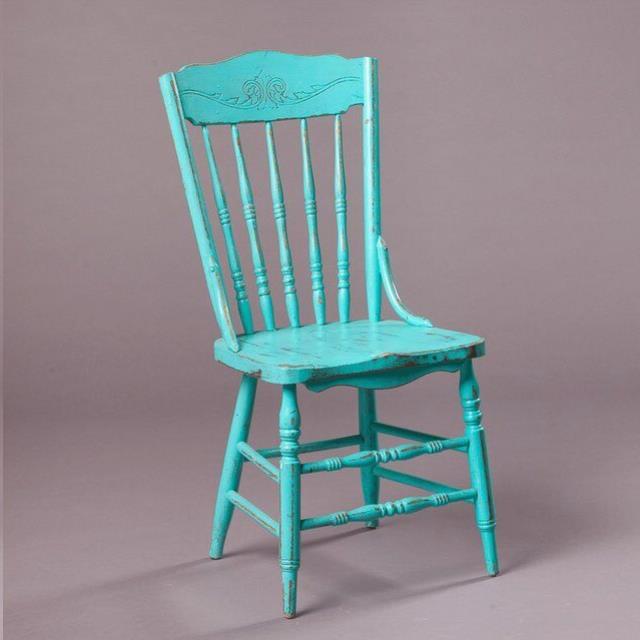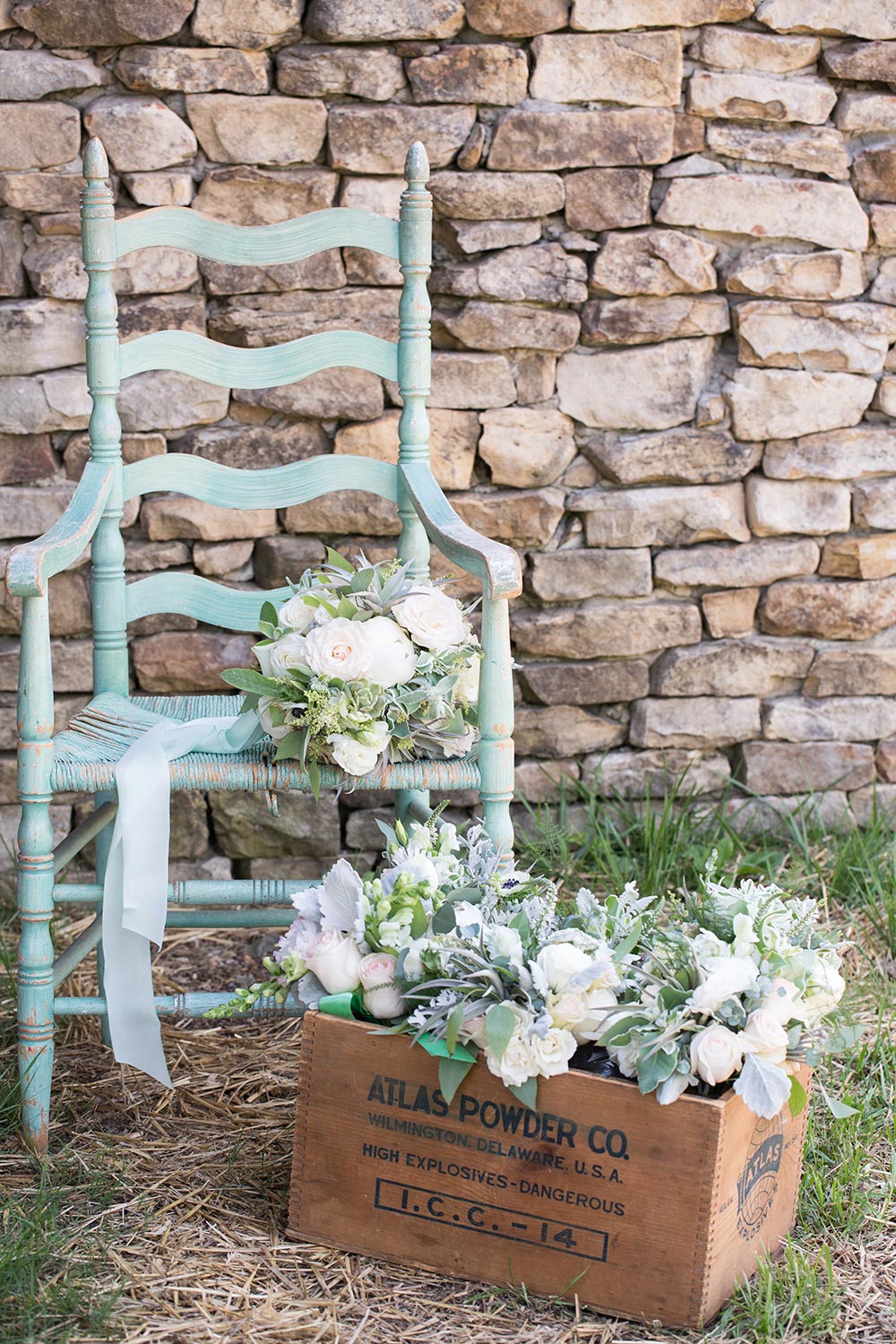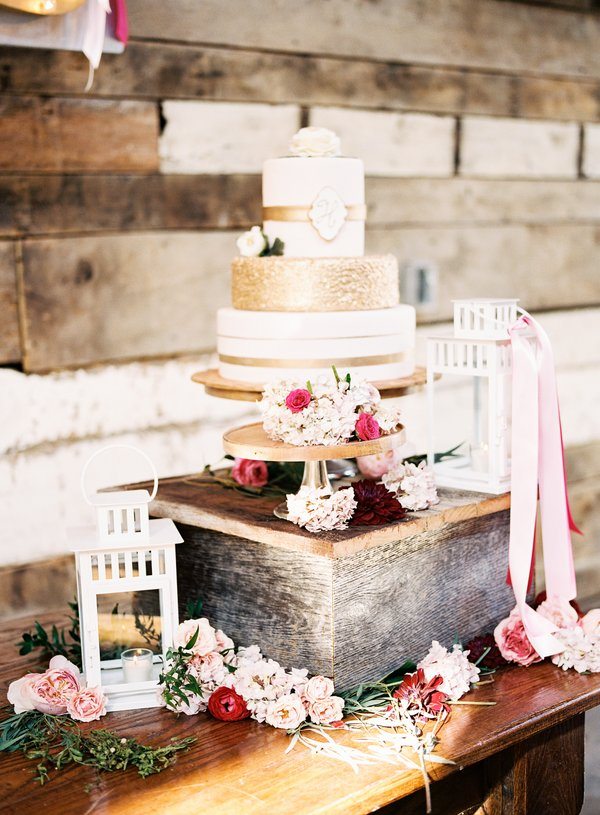 Like what you see? Contact our team to learn more about our distinct wedding rentals for your Nashville and Franklin, TN events at info@southerneventsonline.com.
TAGS | Artisan China, Chiffon Table Runners, Cross-Back Chairs, Farm Tables, Ghost Chairs, Pure Glassware, Vintage Chairs, abbey flatware, barnwood square cake plateau, como flatware, gatsby coup, ghost chair, gold medallion chargers, harlin dining chair, hob knob, tessa lovseeat, velvet bench, wooden chargers
FEATURED RENTALS | hob knob glassware, harlin dining chair, pure glassware, gatsby coup, farm tables, tessa lovseeat, abbey flatware, cross-back chairs, ghost chairs, wooden chargers, artisan china, vintage chairs, barnwood square cake plateau, chiffon table runners, ghost chair, velvet bench, gold medallion chargers
---
16

Nov

Southern Events News, Southern Events Products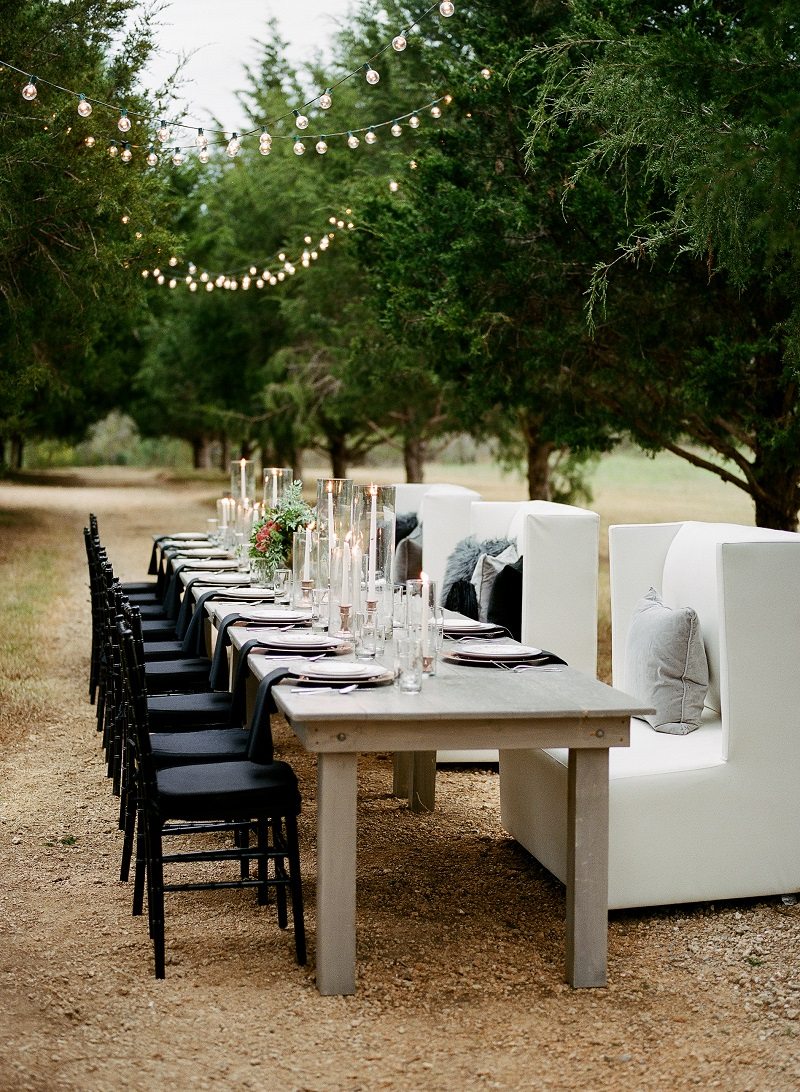 The leaves are changing, the holidays are quickly coming, and it will be winter before you can say "hot cocoa"! Holidays are extra special for Southern, and we are proud to announce 2017's Winter Savings Special! This time of year we discount a selection of our distinct rentals, giving you special pricing for all your holiday & winter events. Check out what items are specially priced on all new events booked between November 13, 2017 and March 31, 2018 – including some our newest pieces and our most-loved rentals.
Download all the details about our winter saving special HERE or better yet, contact our team to reserve rentals for your Nashville and Franklin, TN events, info@southerneventsonline.com.
Cross Back Chairs + Cross Back Bar Stools
Distinctly rustic, Cross back Chairs and Cross Back Bar stools add farmhouse sophistication to your winter event. Pair these with Farm Tables (also discounted!) to continue the rustic appeal, or add them to round tables with luxe linens for a more dressed up design.
Harlin Dining Chairs
Our new and most popular dining chair of the moment is the Harlin Dining Chair – a striking natural wood design with a unique patterned back. Its gorgeous architecture compliments virtually any design, whether at a black-tie ball or backyard gathering. The natural wood looks gorgeous for any winter event!
Chiavari Chairs
Our Chiavari Chairs look stunning when dressed up for a luxe affair, but can also look just as stunning in a rustic a barn setting. This traditional and formal design is well-loved and comes in a variety of colors, from fruitwood to ivory to gold.
Farm Tables + Mini-Farm Tables
Our Farm Tables are easily our most requested rental, as they truly go well in any kind of event! Farm tables and Mini-Farm Tables are available in three finishes, fruitwood, white-wash and gray-wash.
Farm Bistros + Gathering Farm Bistros
Hosting a cocktail party and still want all the appeal that a farm table brings? We're 10 steps ahead of you! Also included in the Winter Savings Special are our Farm Bistros and Gathering Farm Bistros – tall, high-top cocktail style tables in varying widths that are perfect for your winter event!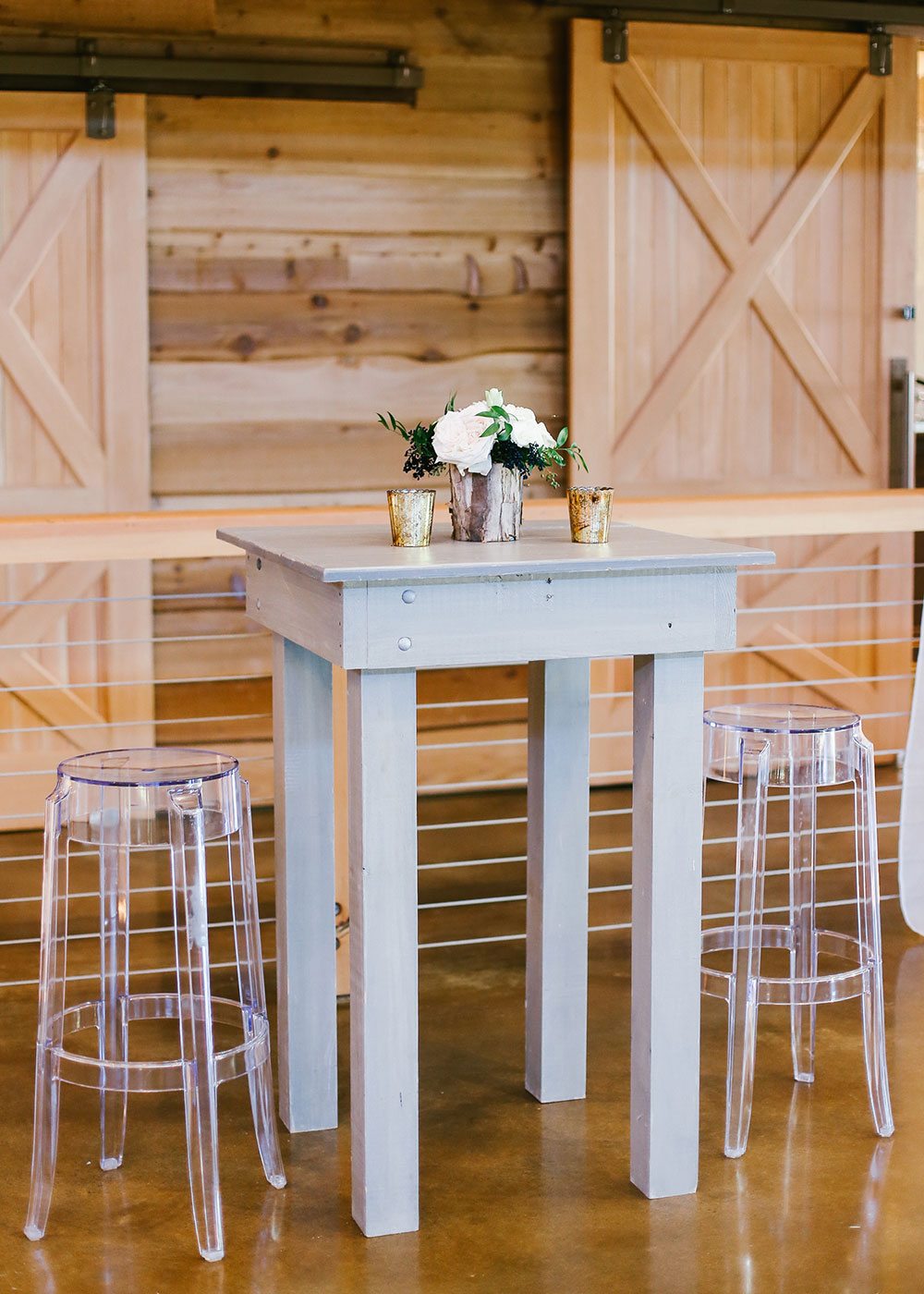 Remington Bistros + Barstools
Looking for something more industrial chic? The Remington Bistros and Barstools are perfect and add industrial flair and an urban kick to your Southern event this winter.
Whiskey Barrels  + 6′ Whiskey Barrel Bars
What's a Southern event without a Whiskey Barrel? Our Whiskey Barrels and Whiskey Bars bring bourbon-inspired design to your event and a touch of Tennesee love to whatever you're planning this season.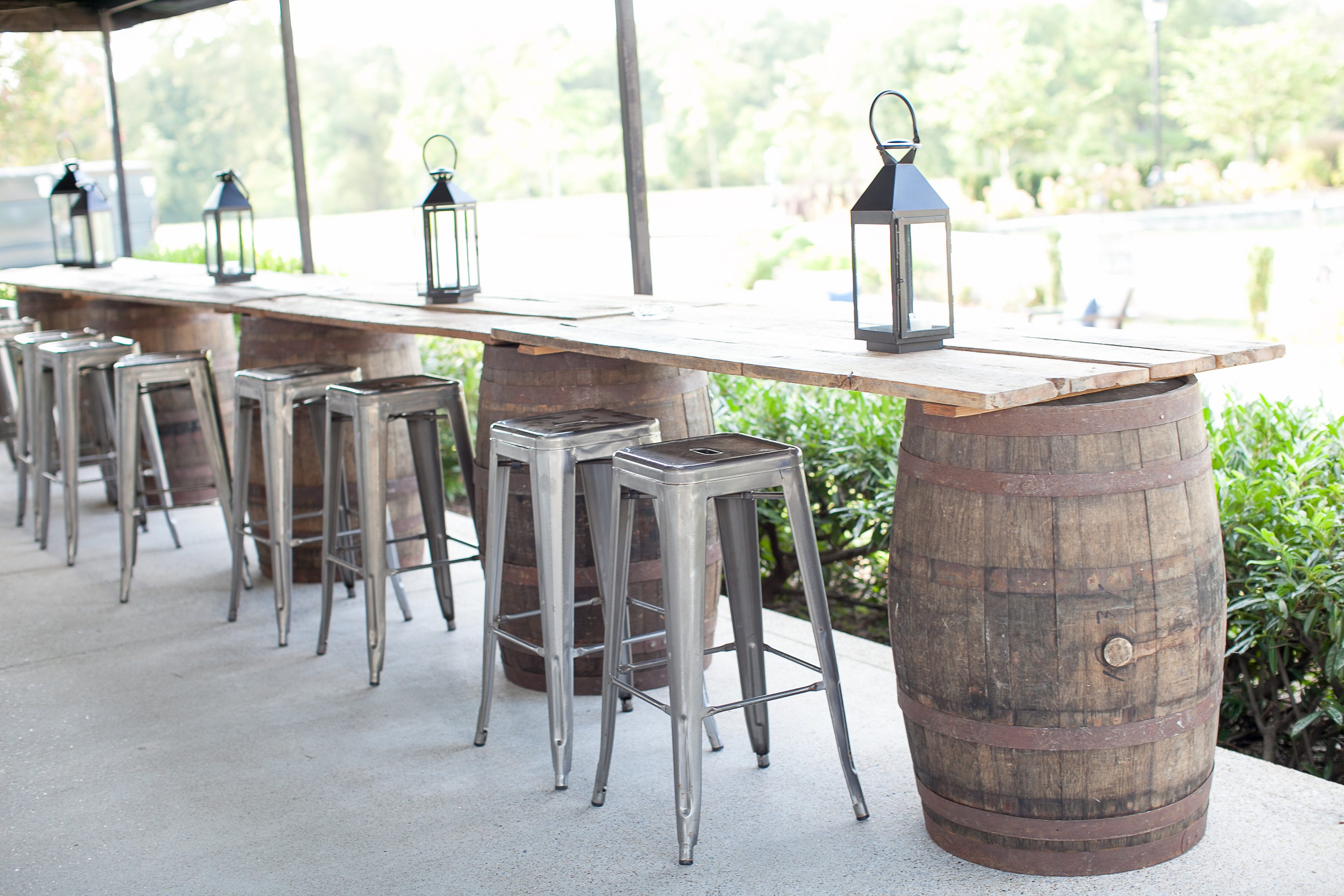 8′ Fruitwood  & Black Bars
No matter what you're serving up this winter, fruitwood or black certainly go with your design! We discounted these two popular 8′ bars to make your winter festivities a whole lot more fun!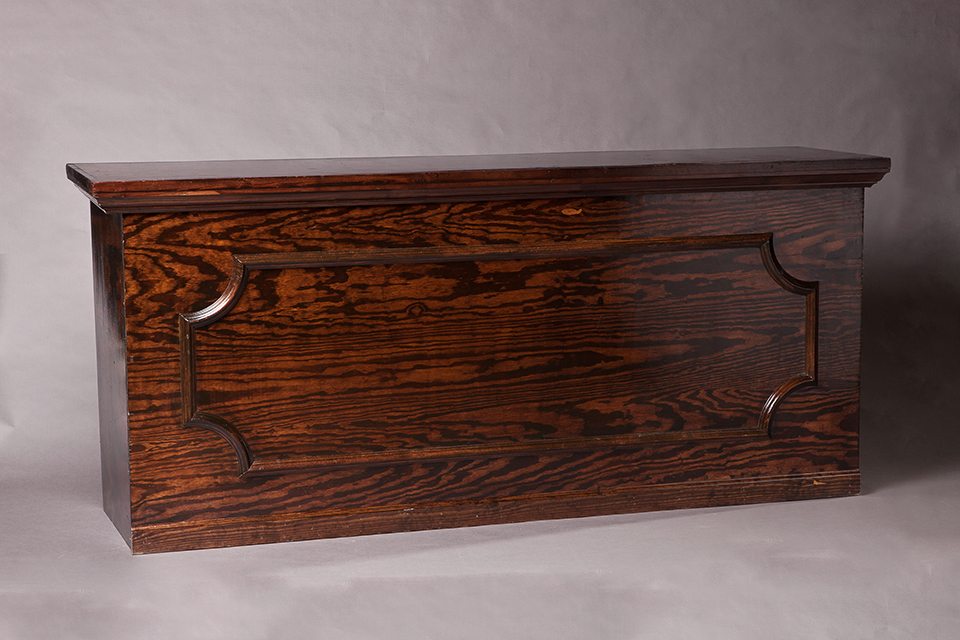 Lounge Furniture
Allowing your guests the extra seating to mix and mingle during your winter festivities? Or need a cozy sofa for those big ole family photos? Southern is discounting all Lounge Furniture by 25% – special winter pricing on our most loved couches, loveseats, and side tables! We're pleased as punch about it, too.
Specialty Linens
Linens can transform your most basic tables and help make the entire tablescape your own. Some of our most loved linens are included in the Winter Savings Discount, meaning your next event can be made even more beautiful!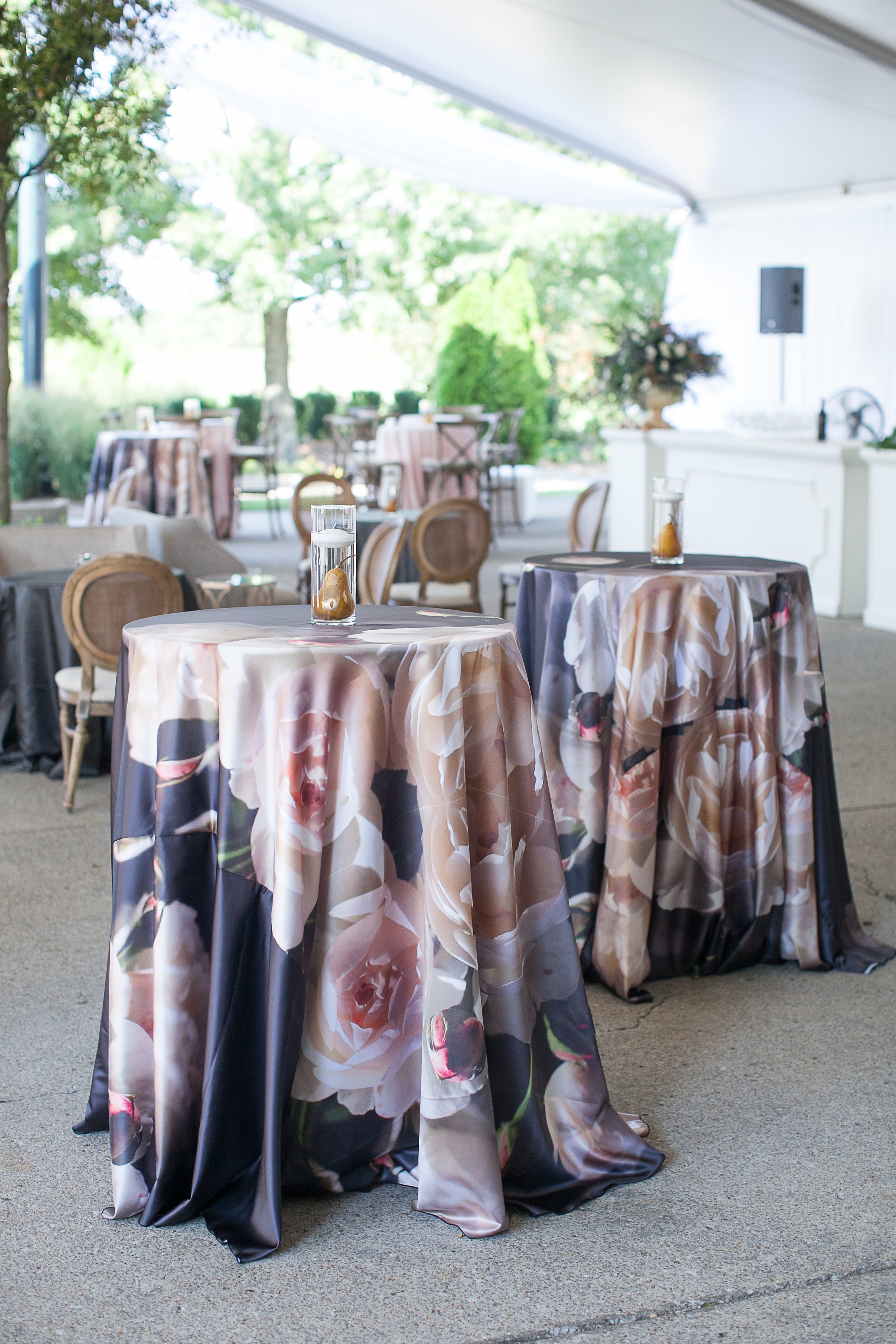 Offer Details:
Offer is good ONLY for NEW orders for events taking place between November 13 2017-March 31, 2018. Events after that are subject to regular pricing – sorry!
30% off specialty linen offer includes full-sized linens and overlaps. Specialty ties, runners, and napkins d NOT apply.
In stock items ONLY. Inventory may be limited on some dates. Early bird gets the worm (or chair in this case)!
All standard service fees and delivery/pick up fees apply.
Cannot be combined with any other discounts. 
TAGS | Chiavari Chairs, Cross Back Bar Stools, Cross-Back Chairs, Farm Bistros, Farm Tables, Franklin Bars, Harlin Dining Chairs, Linens, Lounge Furniture, Mini Farm Tables, Nashville Event Rentals, Nashville Wedding Rentals, Nashville party rentals, Remington Barstools, Remington Bistros, Southern Events Party Rental, Southern Events Party Rental Company, Unique Wedding Rentals, Whiskey Barrels, Whiskey Bars, franklin tn, winter events, winter savings special
FEATURED RENTALS | Harlin Dining Chairs, Cross Back Chairs, Cross Back Bar Stools, Chiavari Chairs, Farm Tables, Mini Farm Tables, Farm Bistros, Remington Bistros, Remington Barstools, Whiskey Barrels, Whiskey Bars, Franklin Bars, Lounge Furniture, Linens
---
20

Jul

Nashville Wedding Vendors, Real Nashville Weddings, Southern Events Products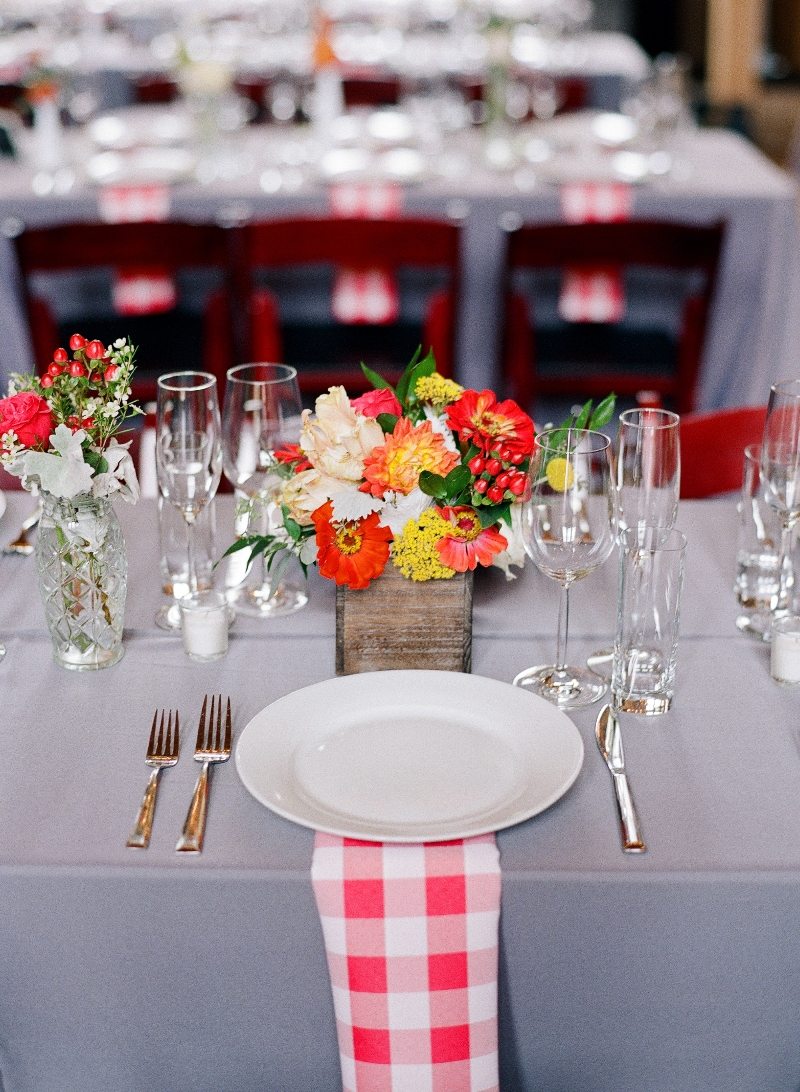 Shannon and Tom are two wonderful New Yorkers who wanted to throw a larger-than-life Southern picnic wedding. Their whimsical day was held at Green Door Gourmet, a working farm in West Nashville. For the ceremony, family and friends were invited to have a seat in our White Folding Chairs while the newlyweds exchanged vows under the Cedar Arbor. Guests were then treated to a cocktail hour with our Bistro Tables draped and tied with a Slate Poly linen.
For the reception, this grand soiree with a large guest list took advantage of the duel-level barn seating with round tables upstairs and rectangular tables on the main level. The Slate Blue was carried into the reception, accented by a Red and White Check Napkin, creating a whimsical nod to the farm venue. The newlyweds sat amongst their guests in Cross-Back Chairs and enjoyed their first meal as Mr. and Mrs. with our Cameron Flatware.
Thanks to the ladies at Modern Vintage Events for pulling all the fun details together. The wedding design delighted not only the newlyweds and their guests, as Shannon and Tom's big day was featured on Style Me Pretty! Such a fun and upscale take on a farm wedding. Thanks to Cassidy Carson for the stunning photos!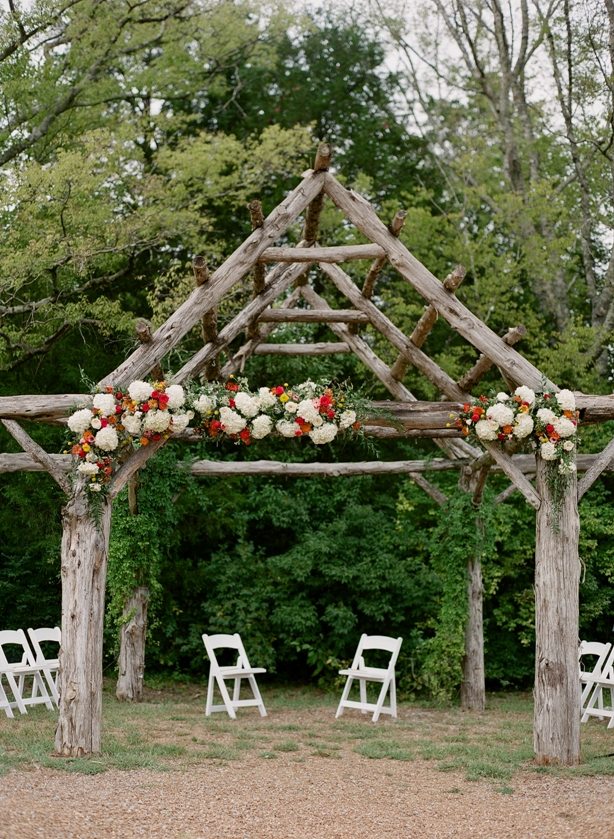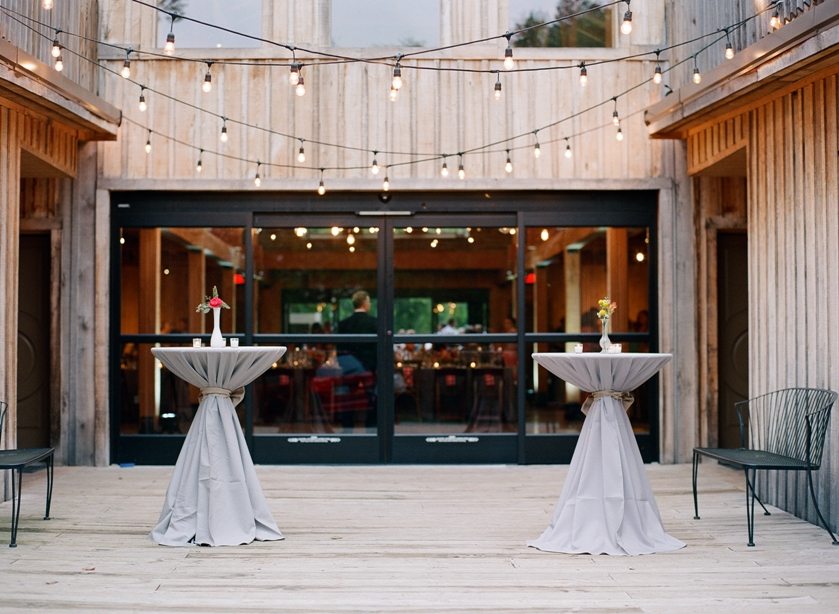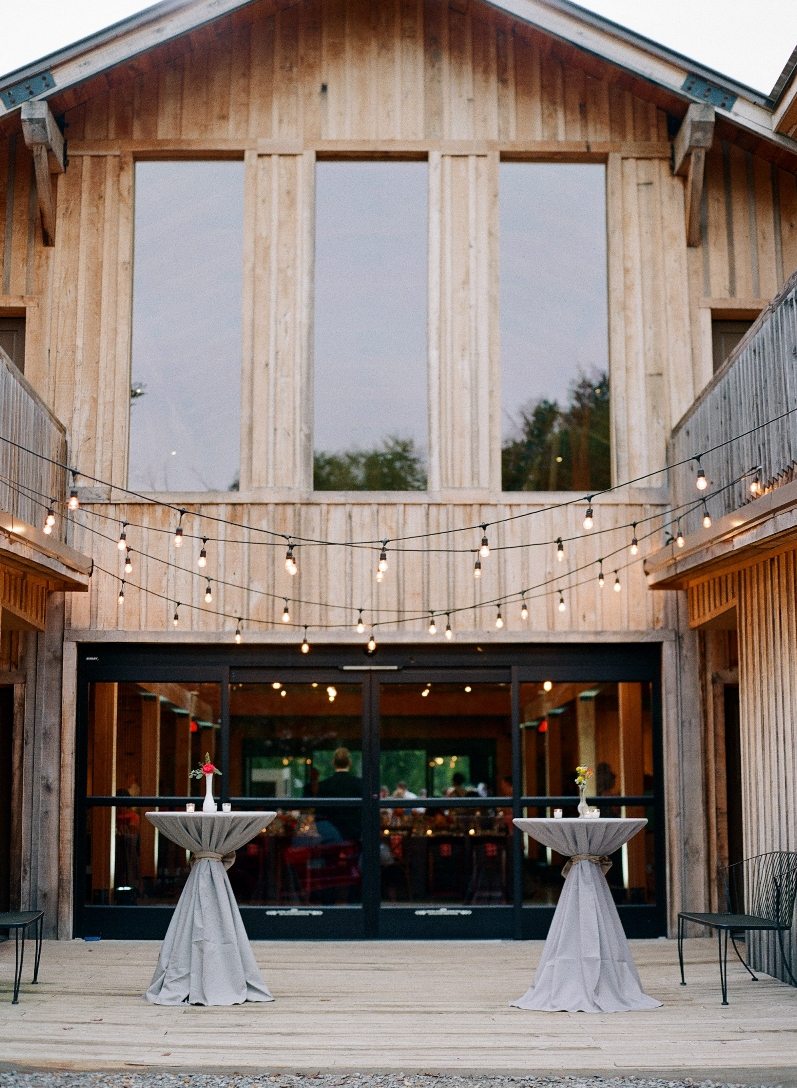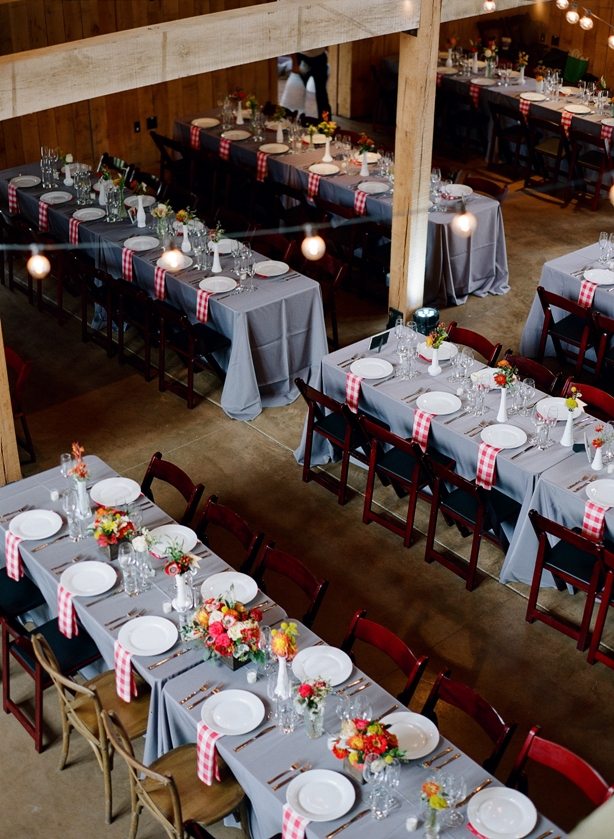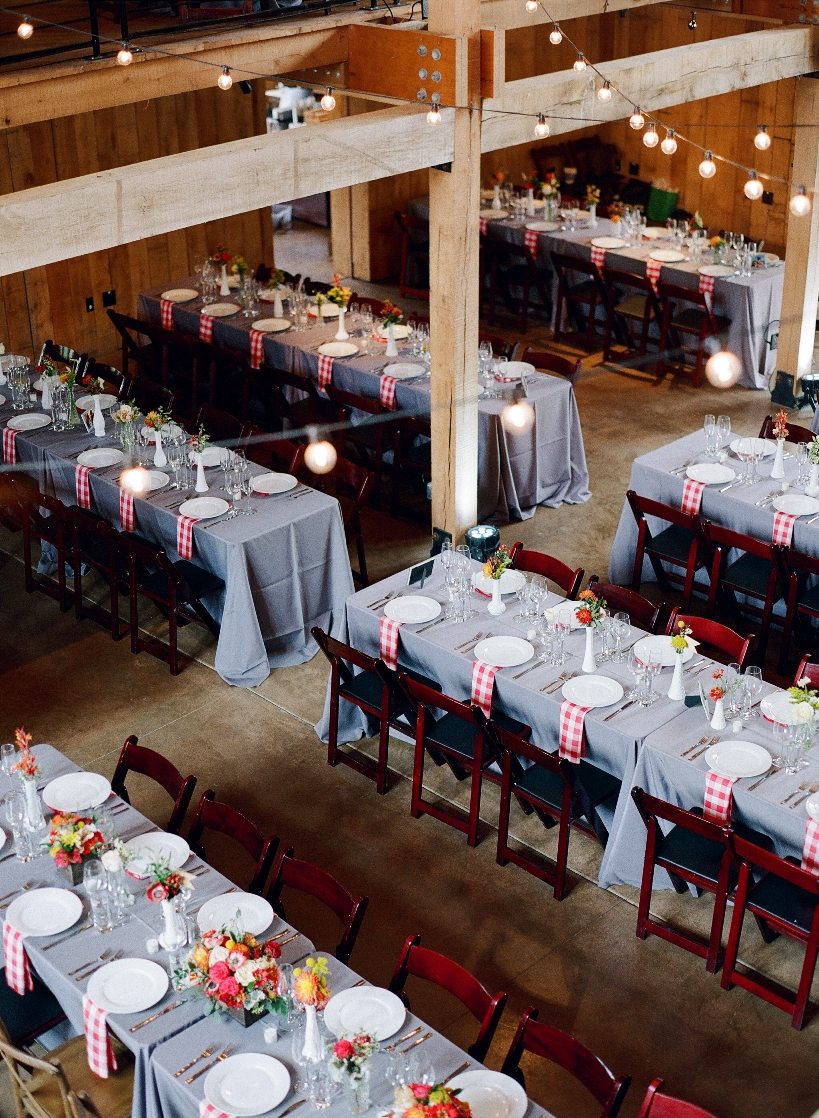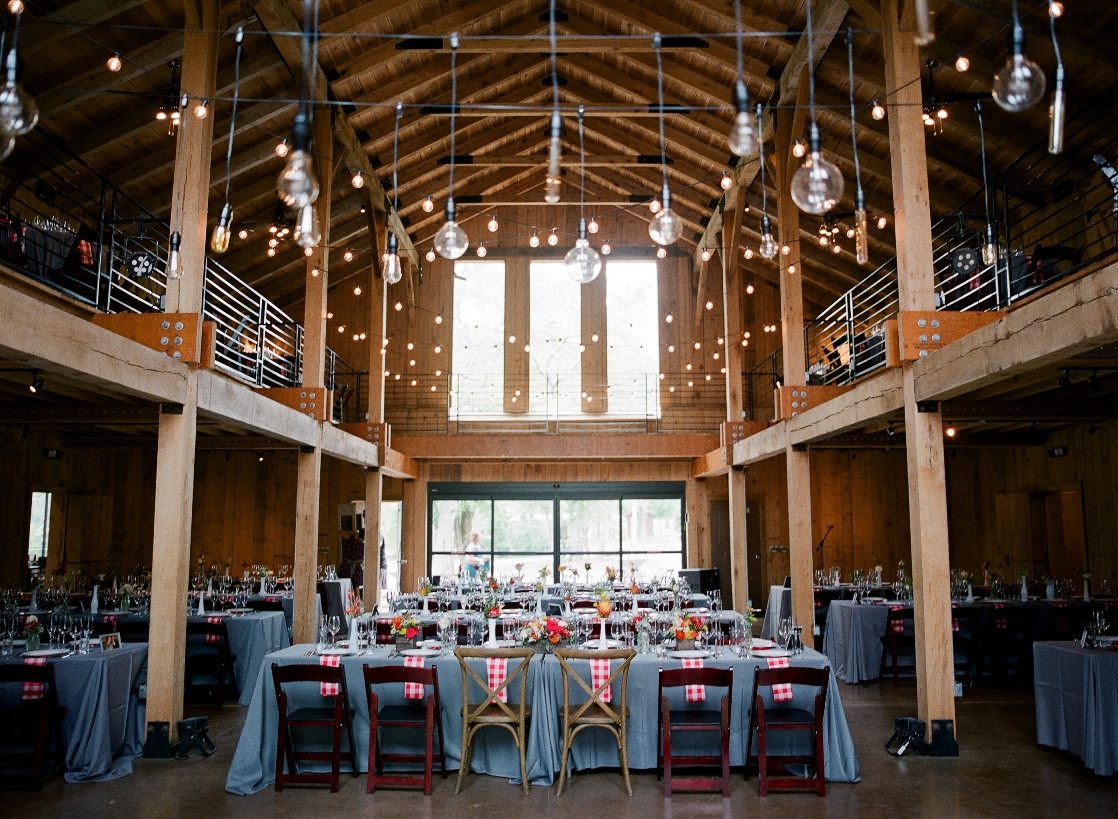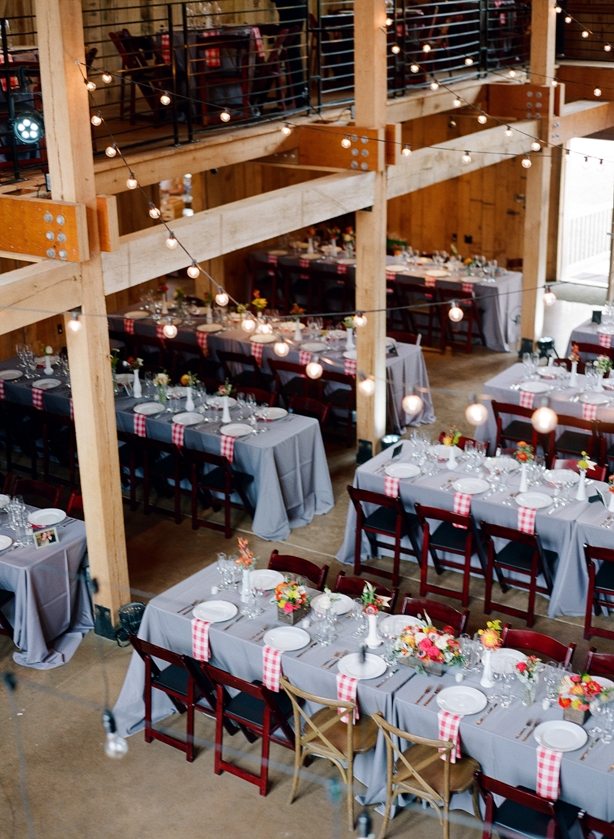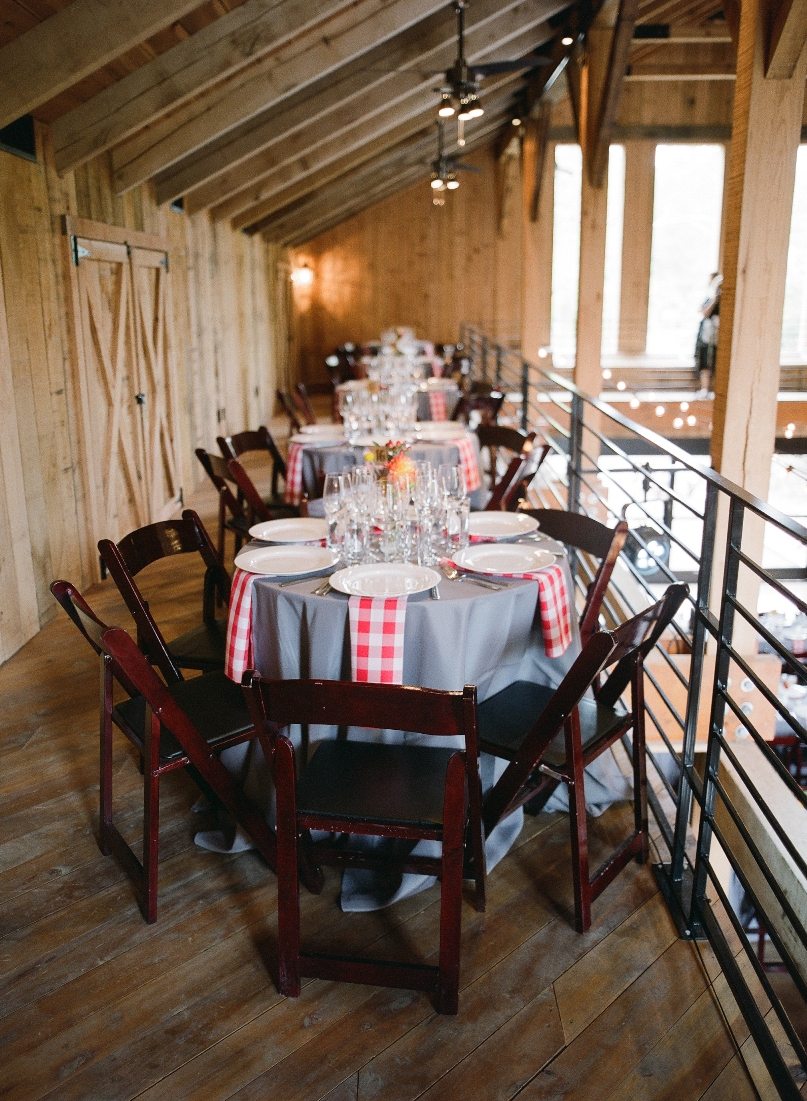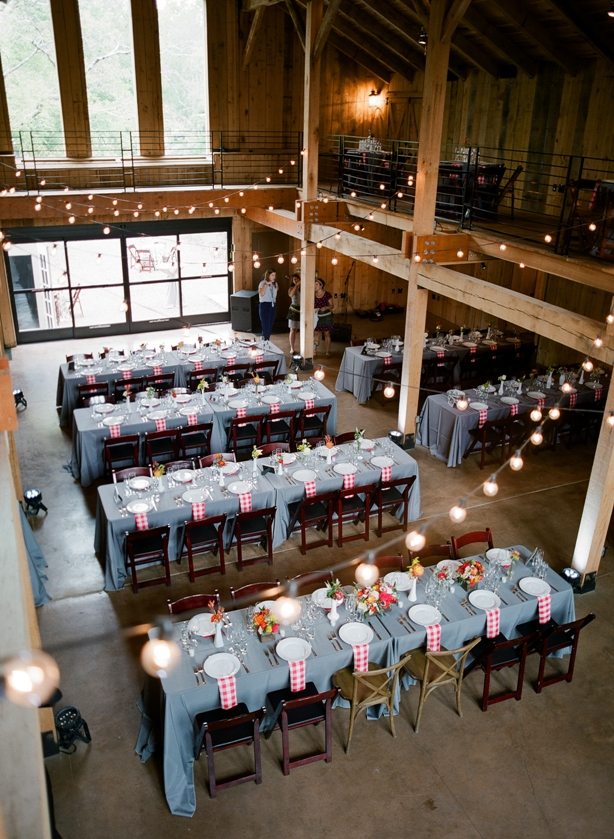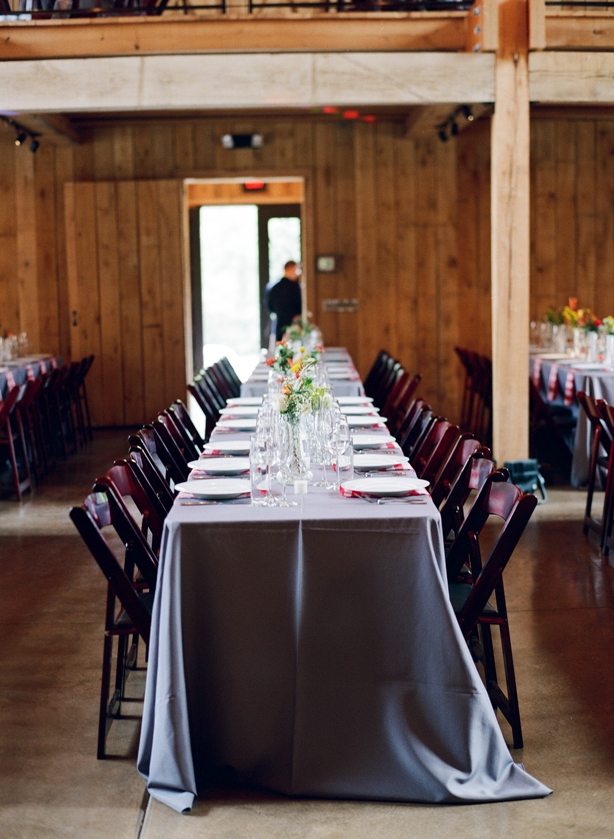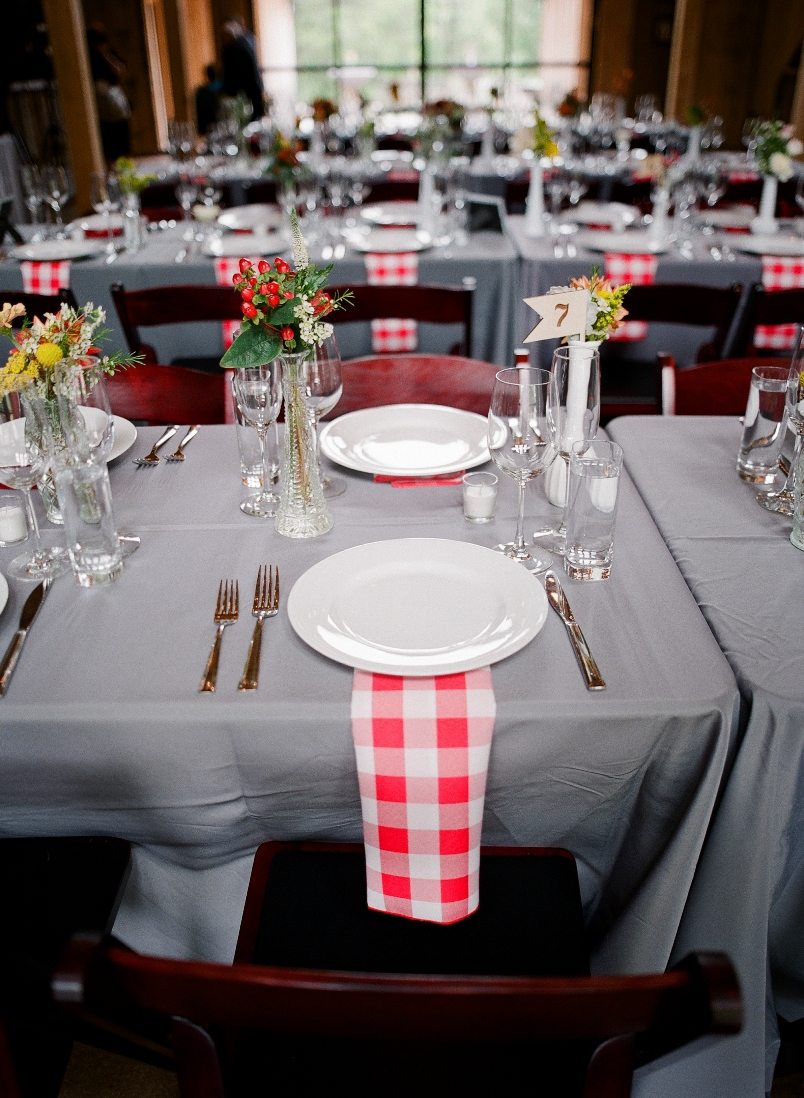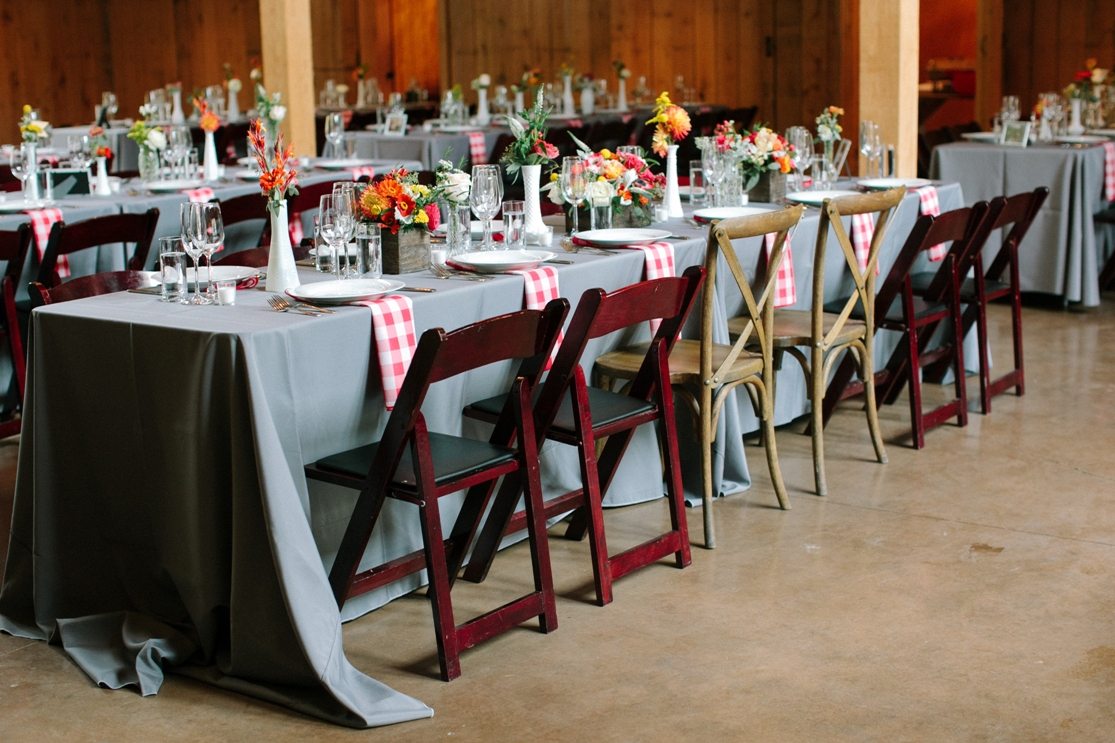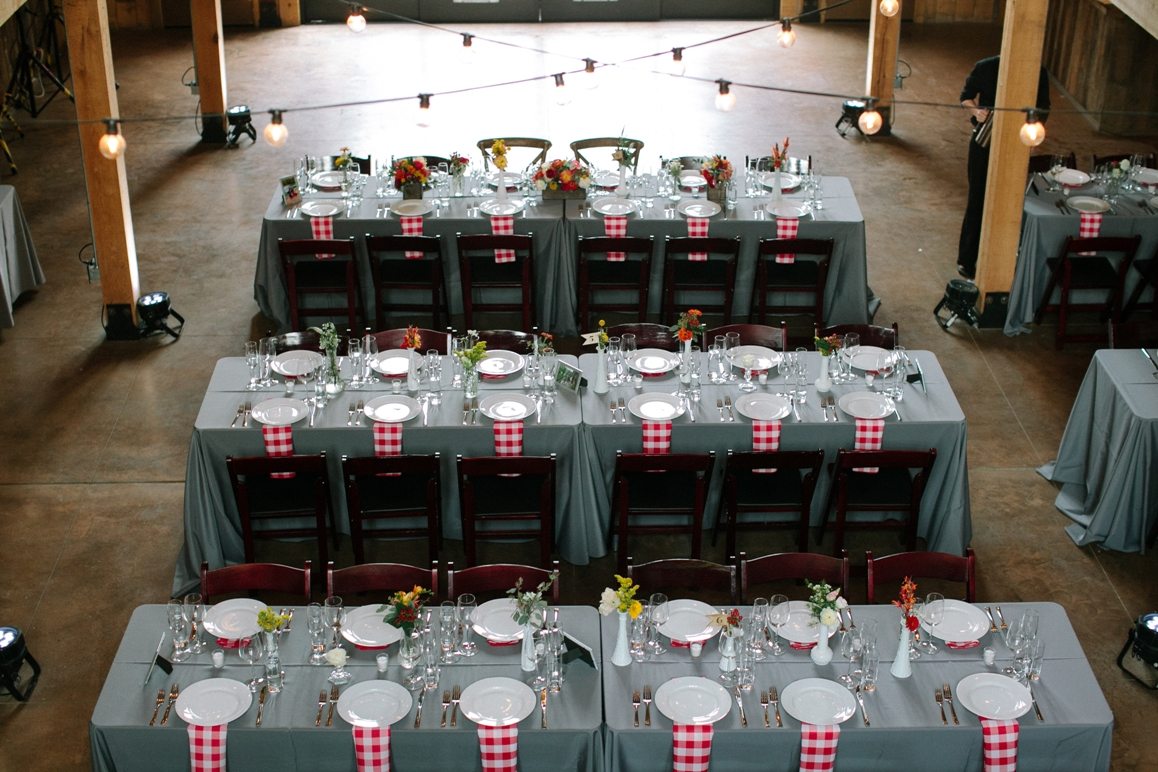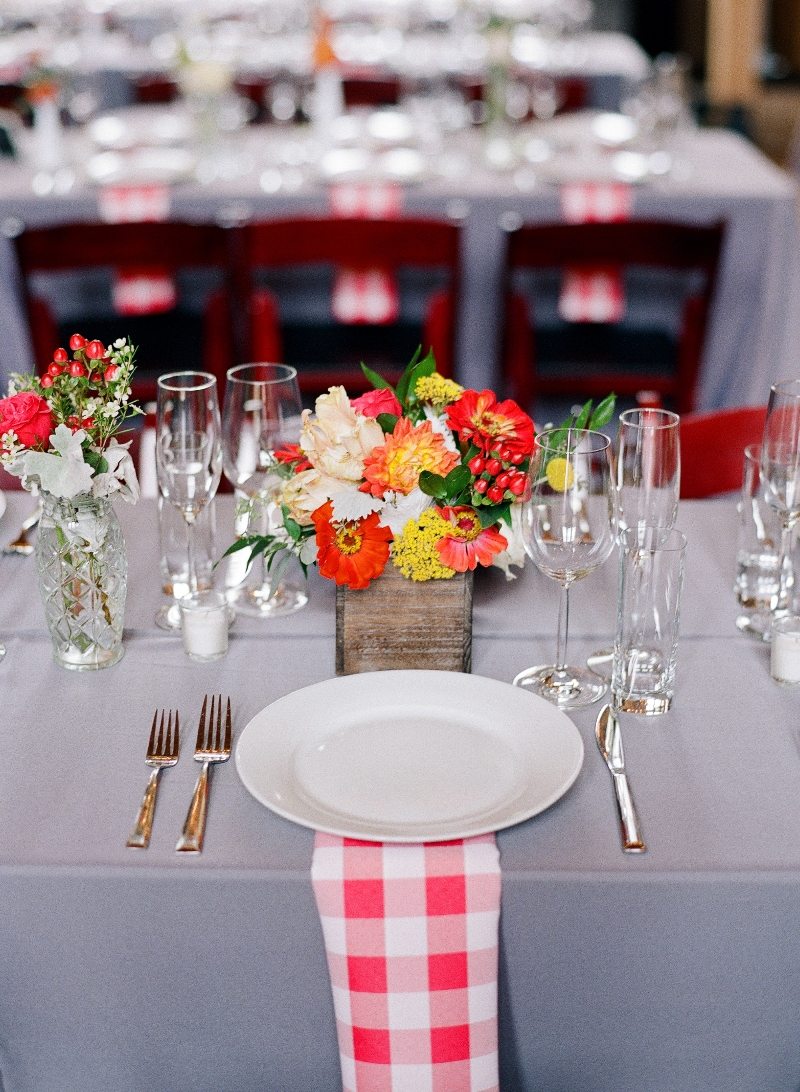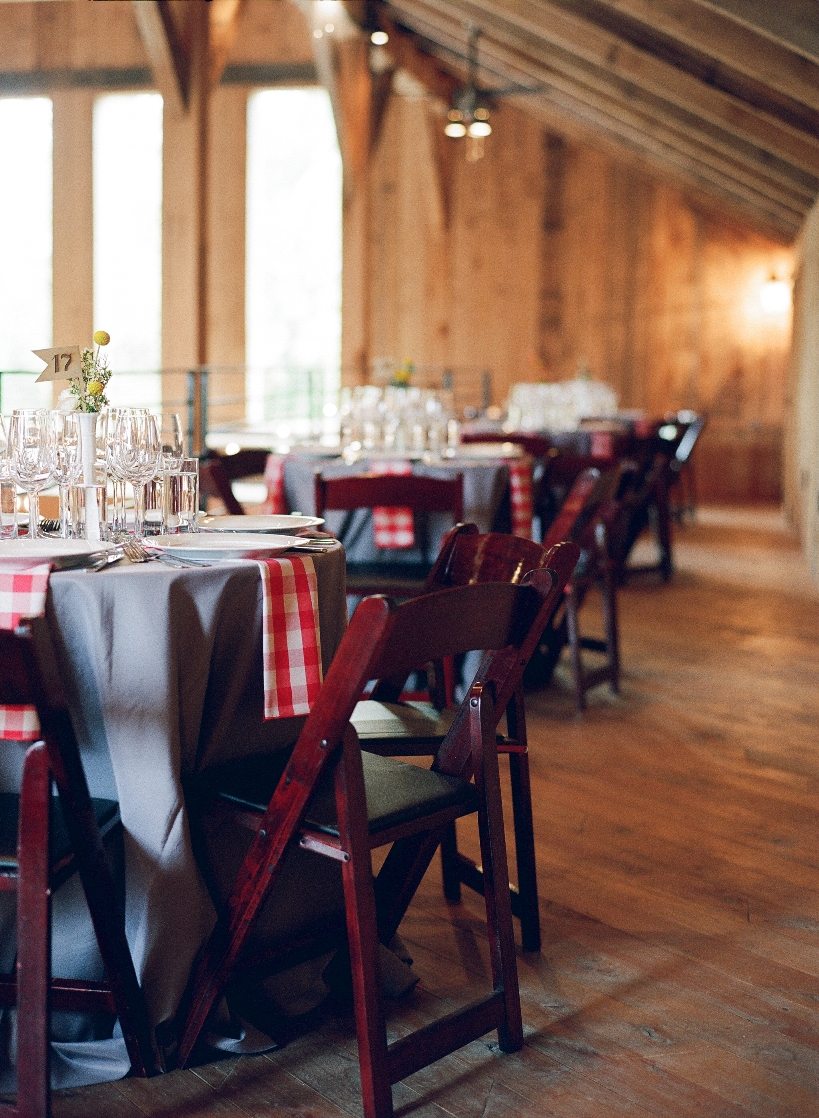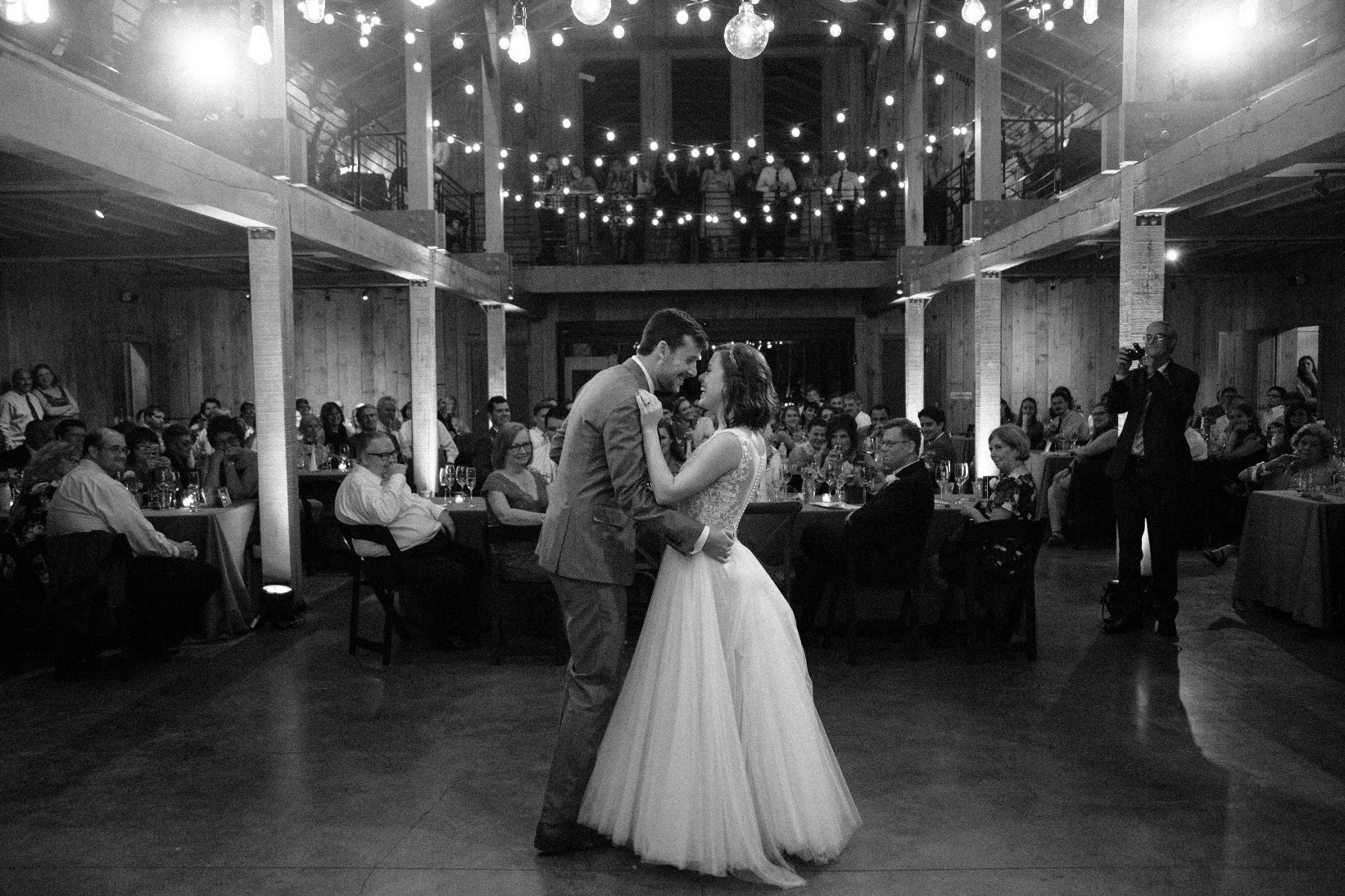 TAGS | Bistro Table, Cameron Flatware, Cross-Back Chairs, Fruitwood Folding Chairs, Red and White Picnic Napkin, White Resin Folding Chairs, barn wedding, farm wedding, picnic wedding
FEATURED RENTALS | White Resin Folding Chairs, Bistro Table, Fruitwood Folding Chairs, Red and White Picnic Napkin, Cameron Flatware, Cross-Back Chairs,
---
25

May

Events and Style Shoots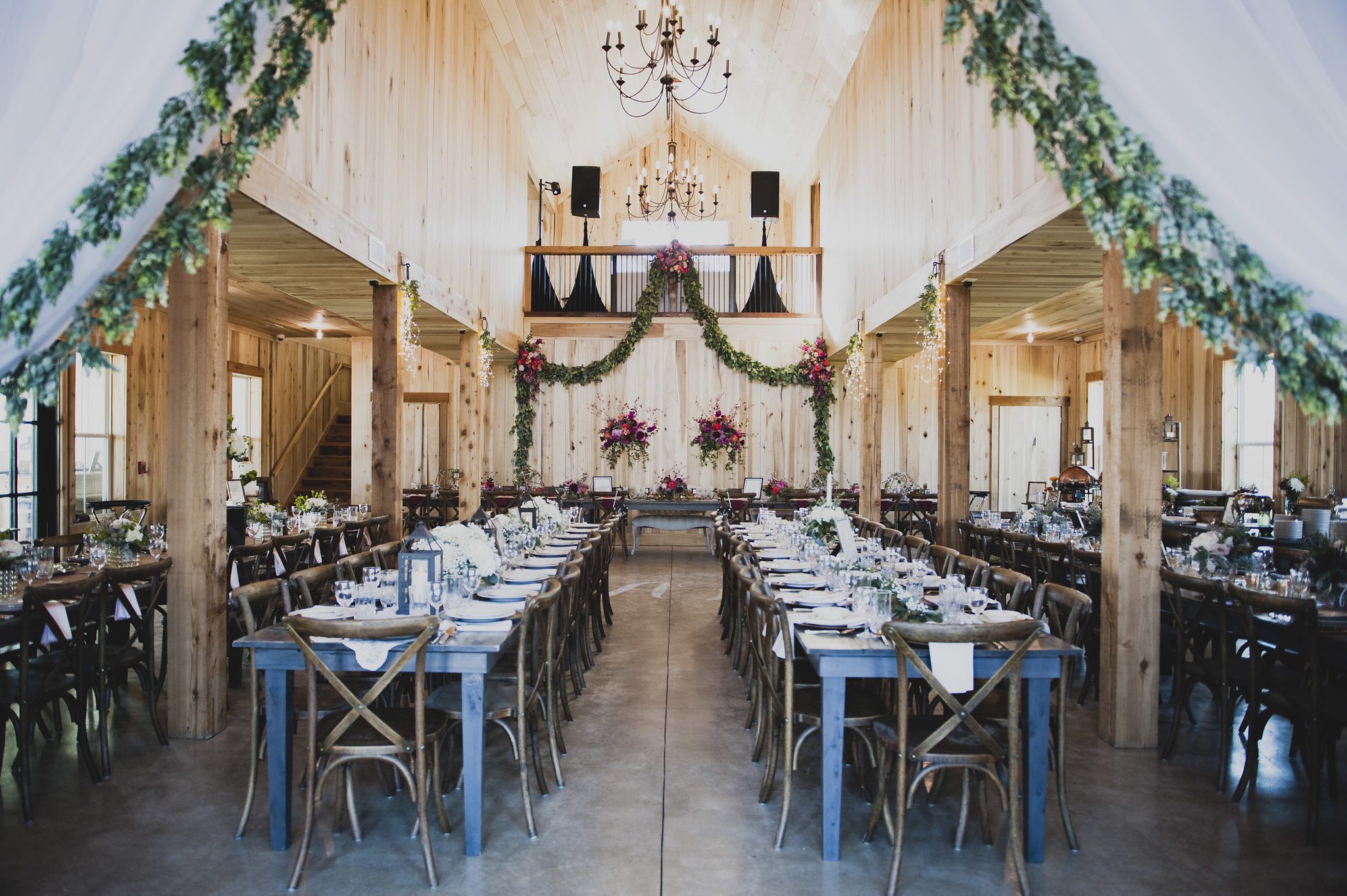 Barn weddings have become a staple of Southern living and the recent open house at Allenbrooke Farms in Spring Hill, Tennessee gave us a blank canvas to reimagine rustic farm weddings. The working organic farm features a new climate control 5800 square feet barn, custom built to host the perfect elegant farm wedding.
The venue includes its own farm tables and cross-back chairs and we love how dark wood of these pieces contrasted with the lighter wood of the barn, creating a beautiful space for the four different place settings we created with their team. Our first tablescape was a classic and understated rustic look featuring our Wood Round Charger, Alabaster Earthen China, and Lincoln Flatware for a simple place setting. A gold tablescape took advantage of our most popular rentals, combining our Gold Round Lacquer Charger and Gold Austin Flatware with varied Gold Heirloom China for a rich vintage feel. A more modern place setting saw our Gold Austin Flatware next to the Glass Belmont Charger with Beaded Edge. When topped with Alabaster Earthen China and Heritage Gray Napkin, this look was a preppier take on the rustic setting. The final tablescape was a dramatic burst of gold and pink with rich blooms from The Enchanted Florist. A Gold Charger was topped with our Alabaster Earthen China and our new Kate Salad Dessert Plate in gold polka dots. Our Gold Metal Intersect Cube completed the look as the centerpiece, styled perfectly to add a little glam to this beautiful barn.  Each look was stunning in its own right and showed off the versatility of the venue. We look forward to the many events they will host!
All photos courtesy of Khaki Bedford Photography.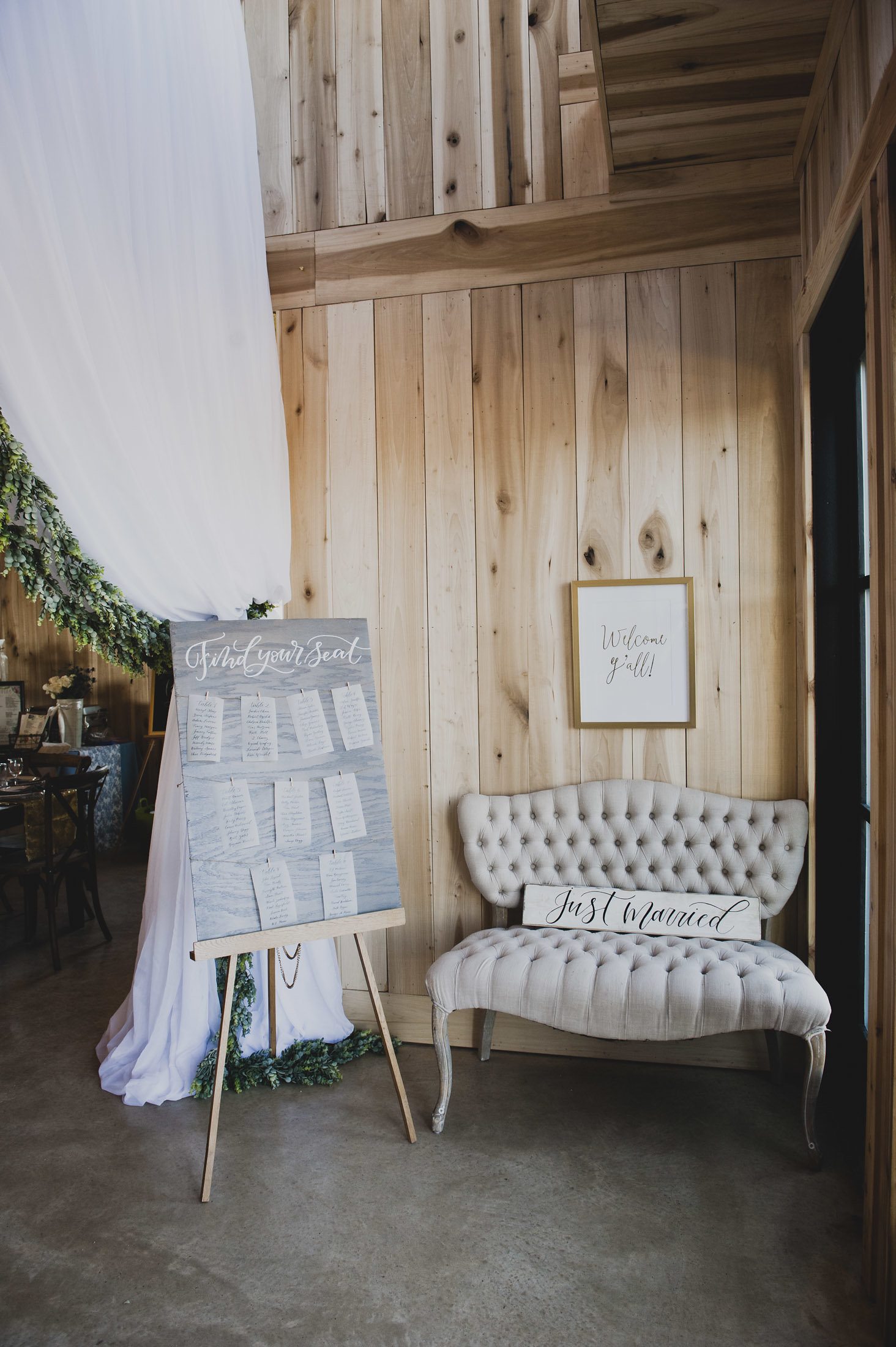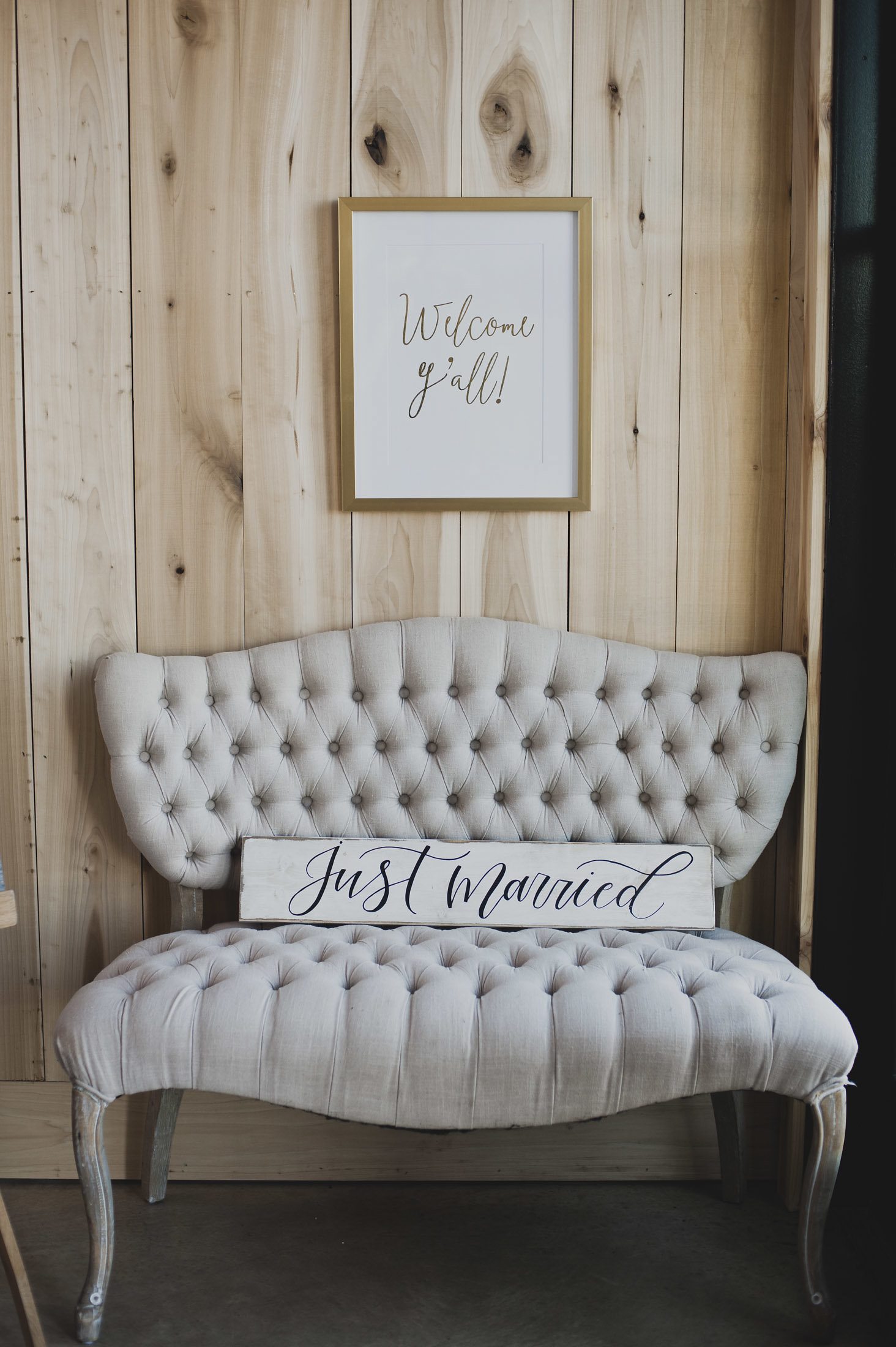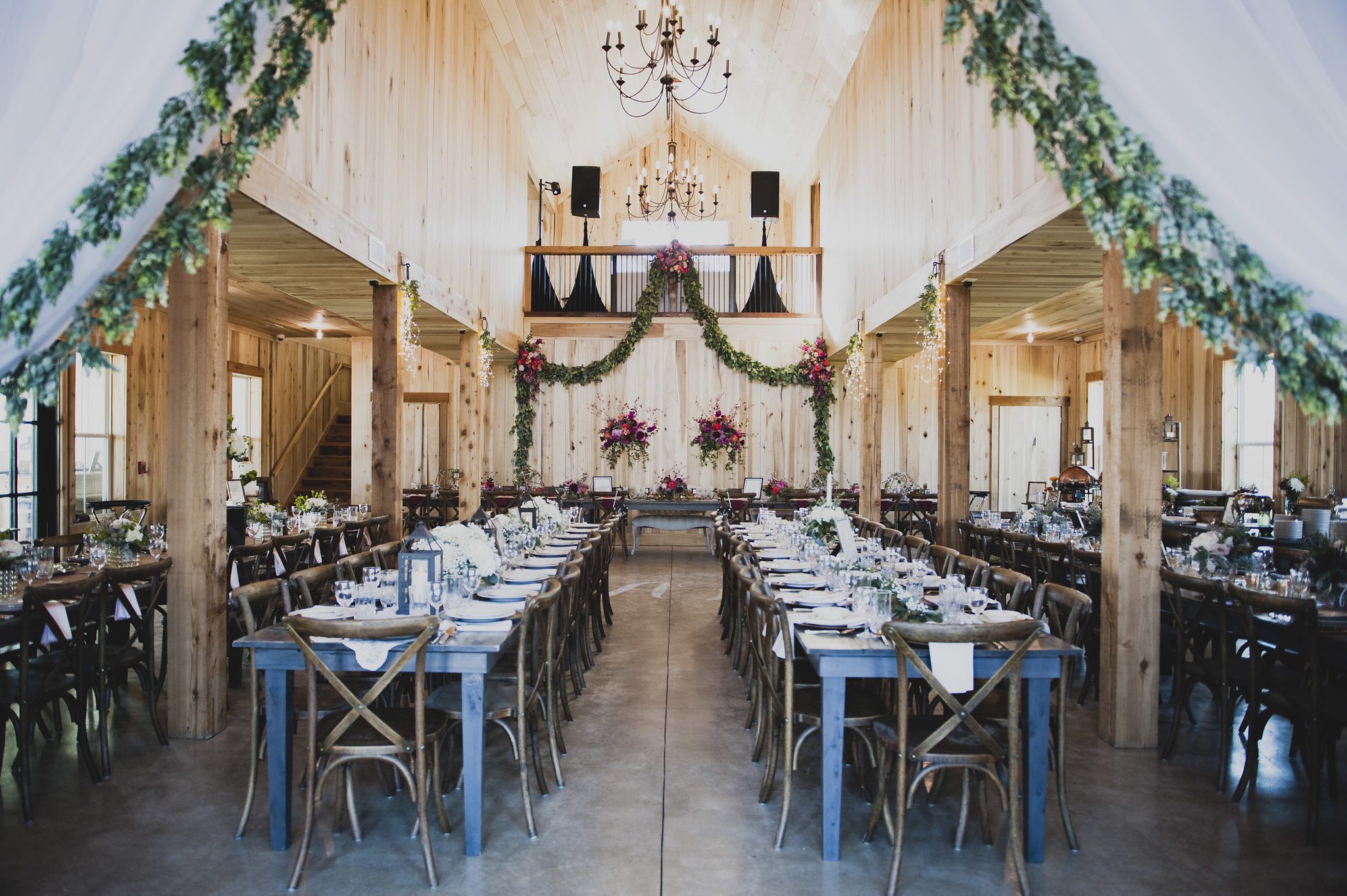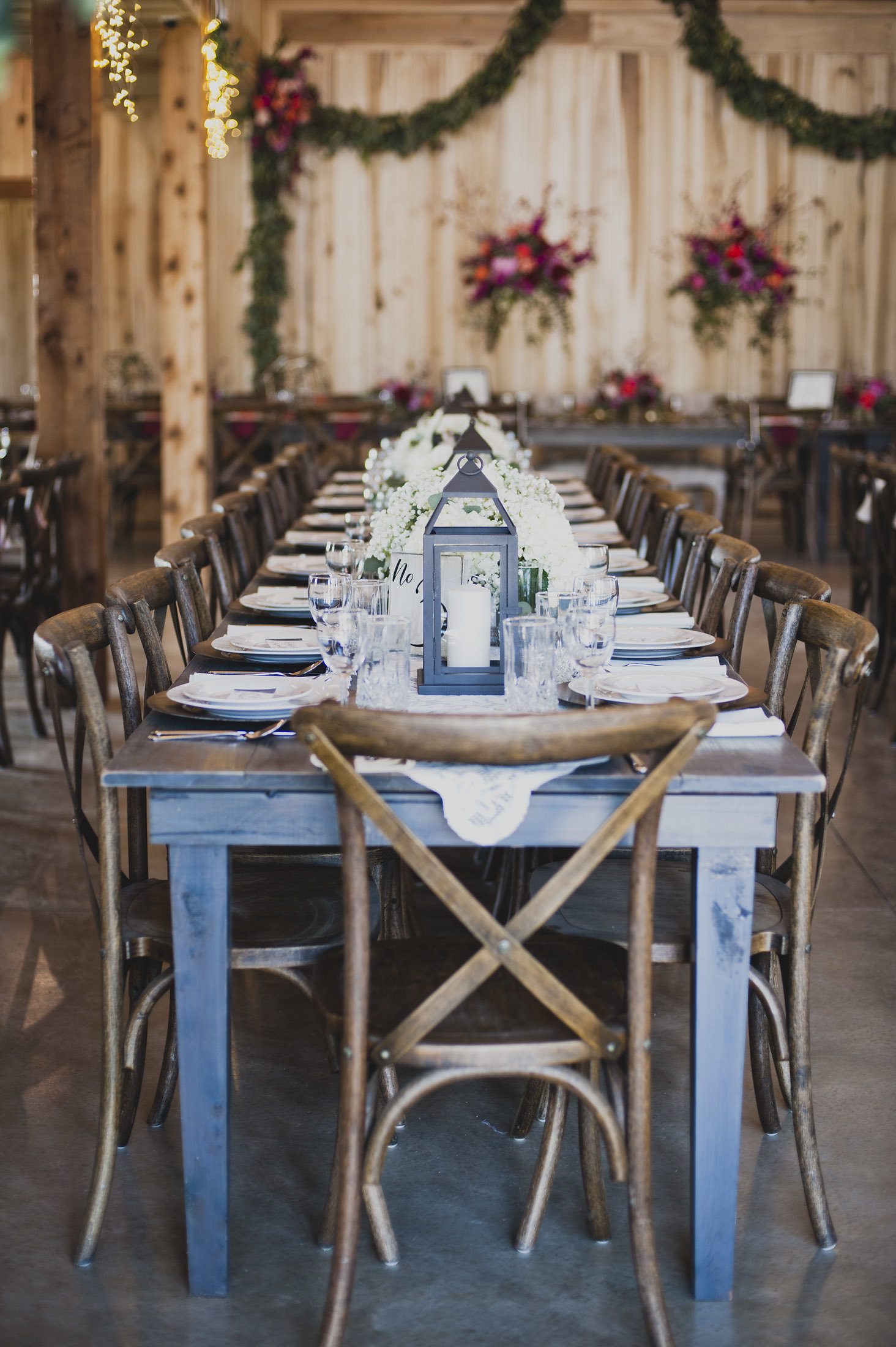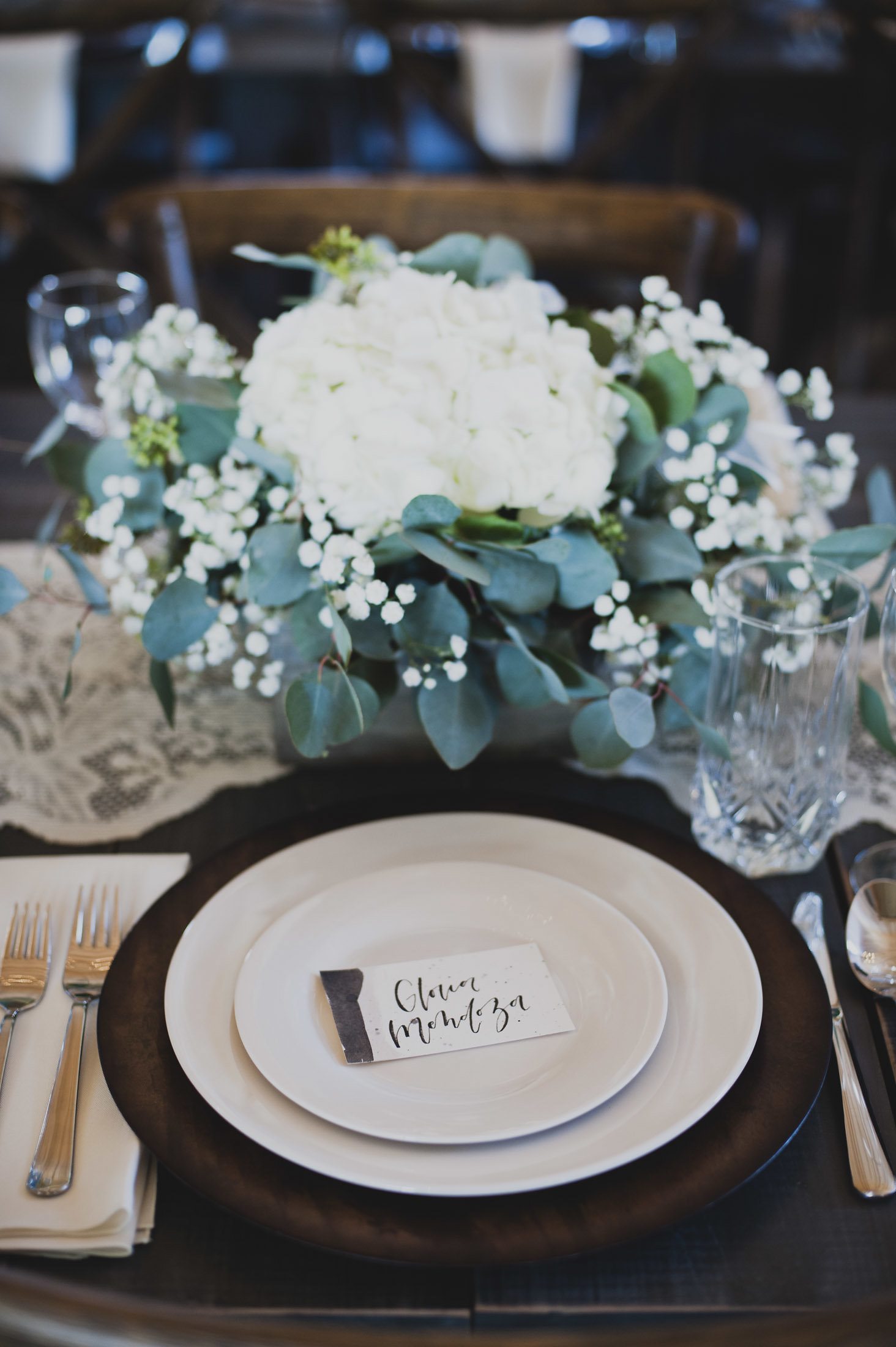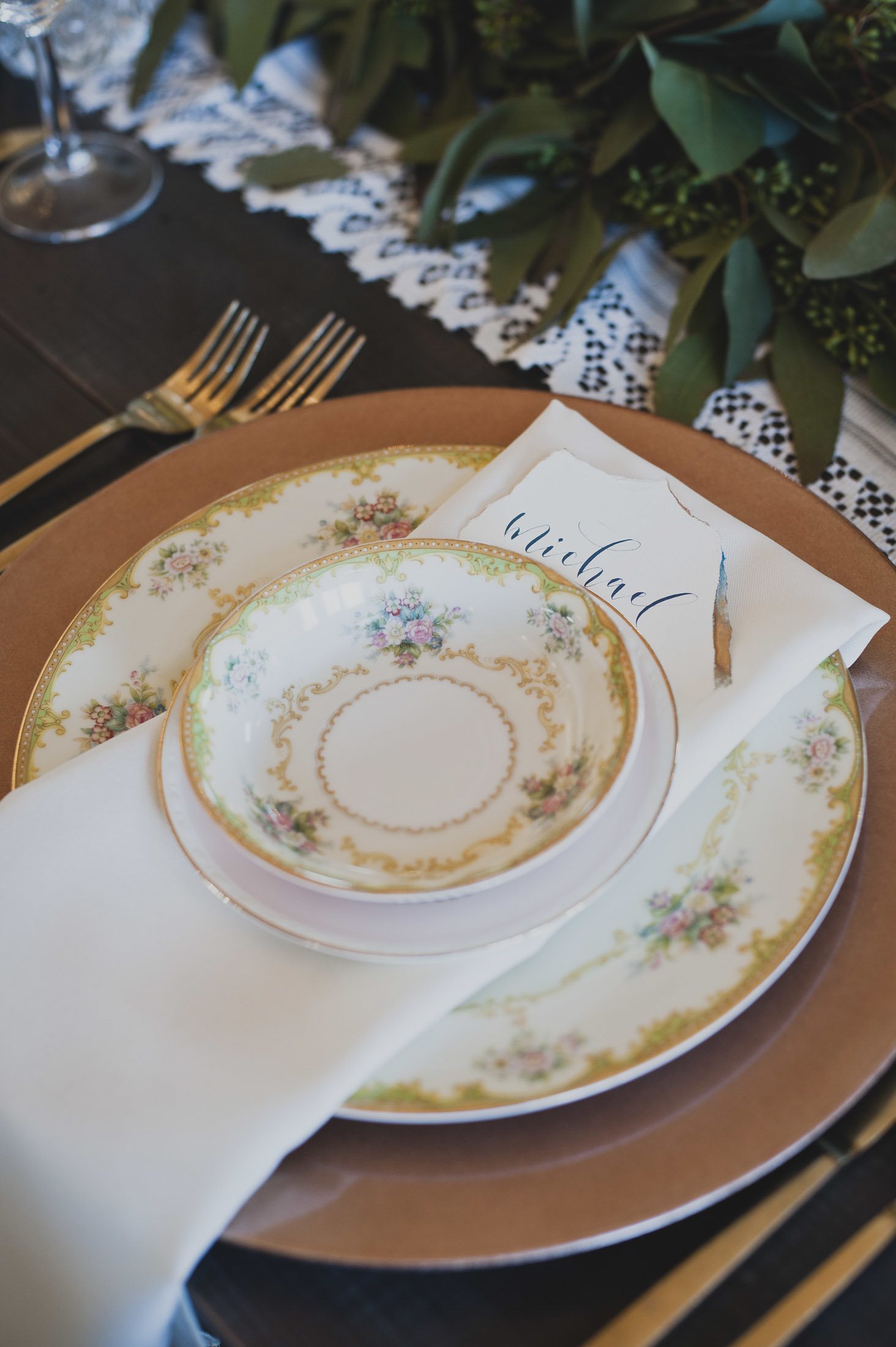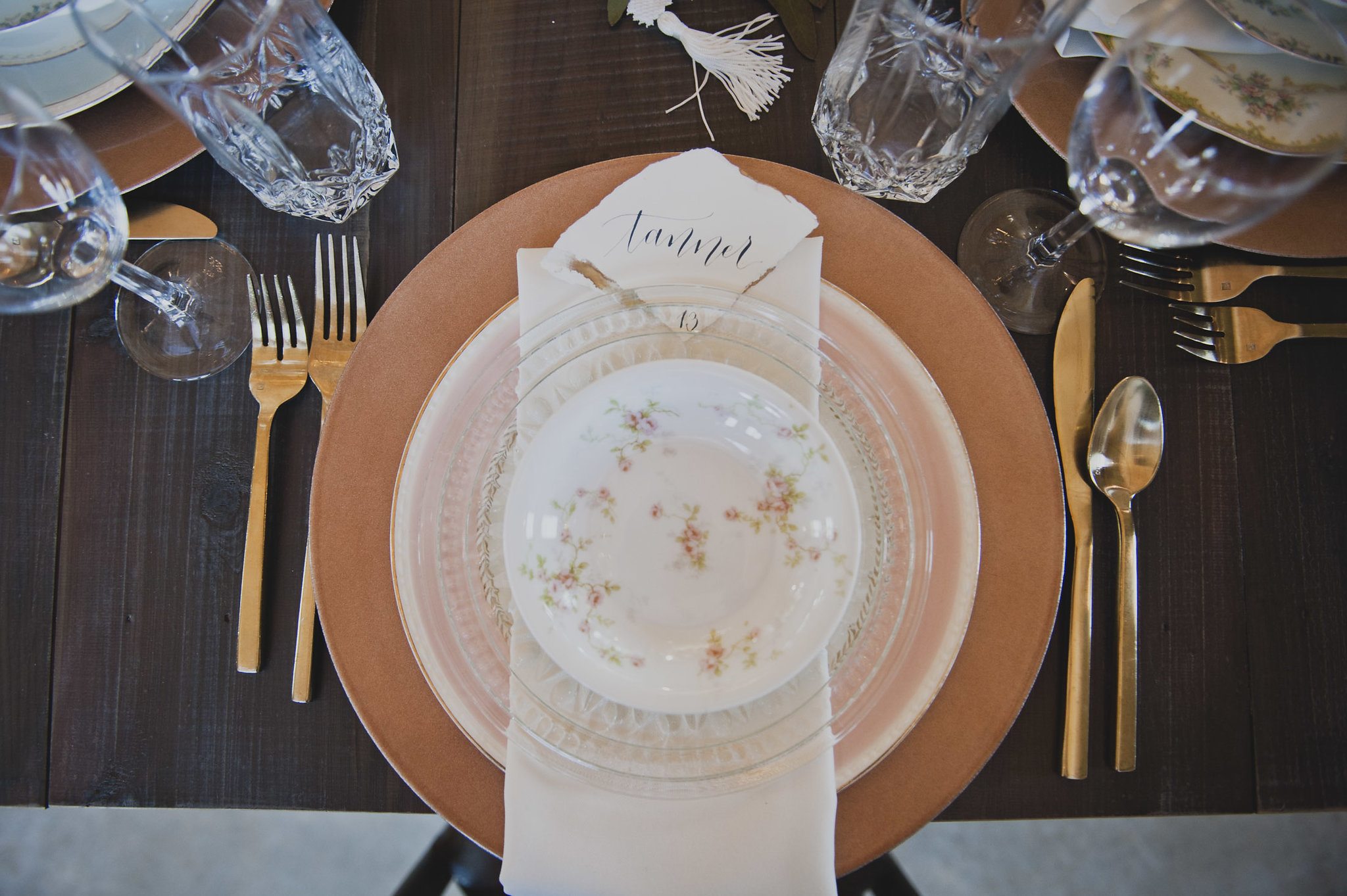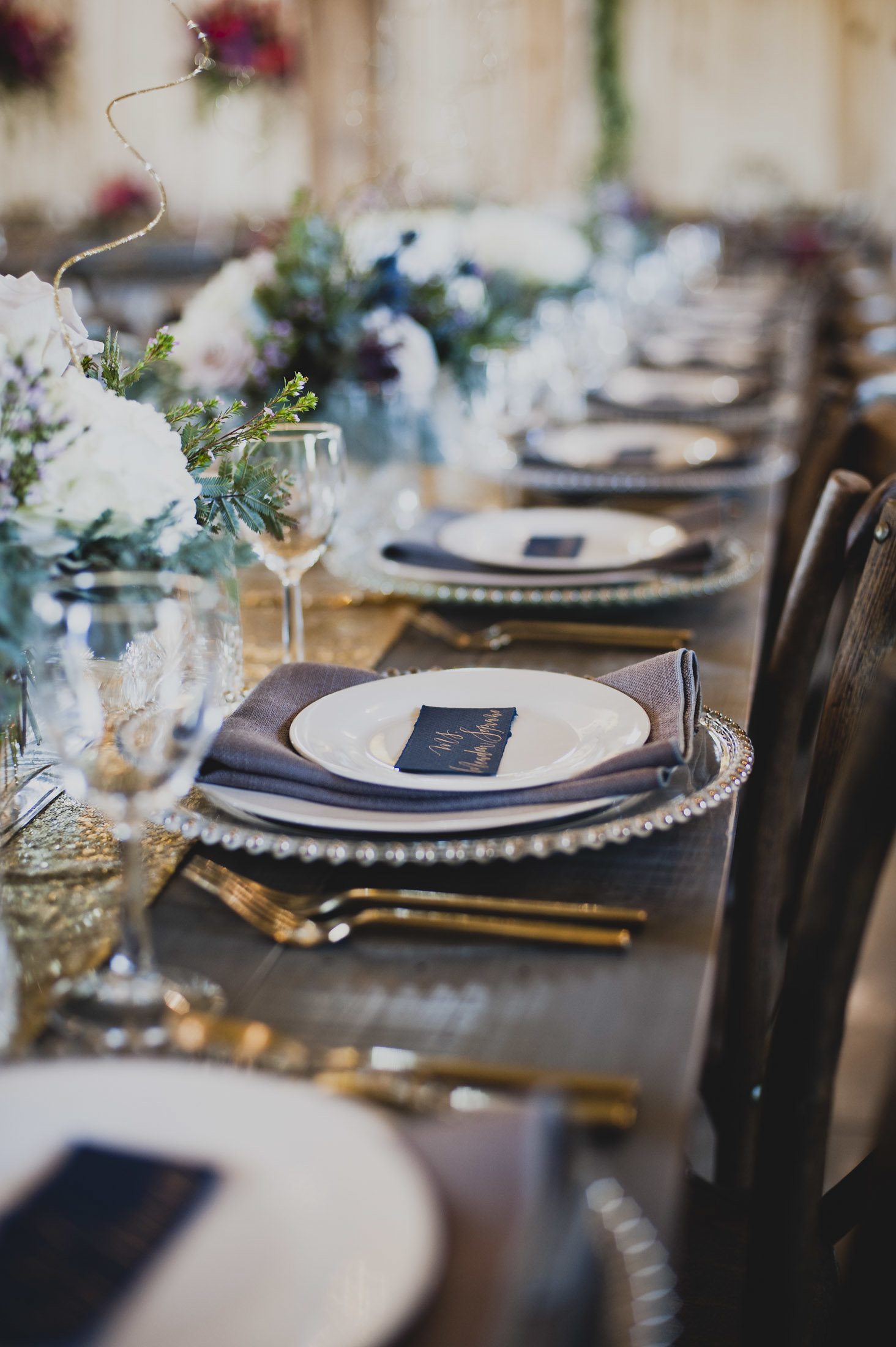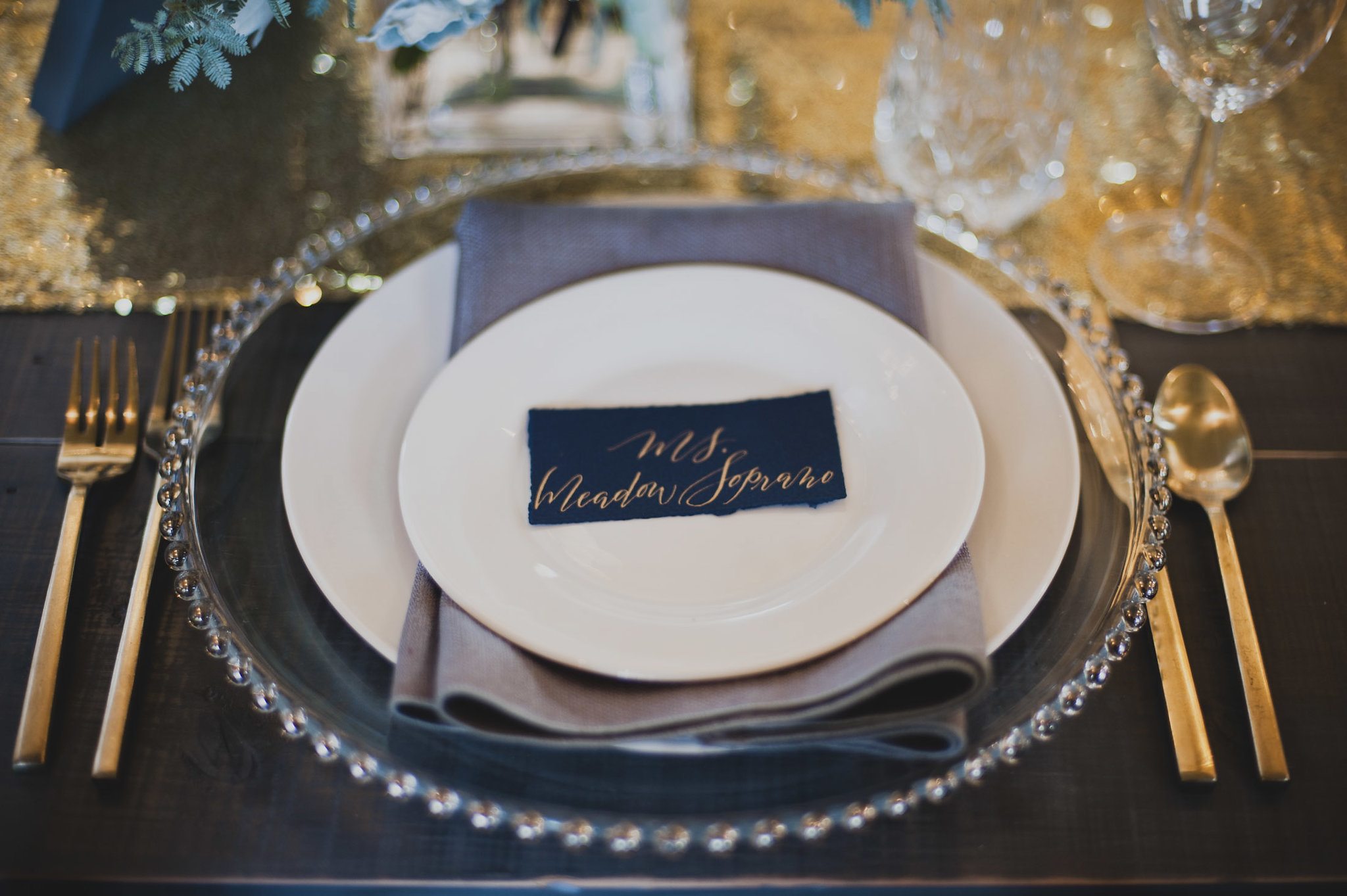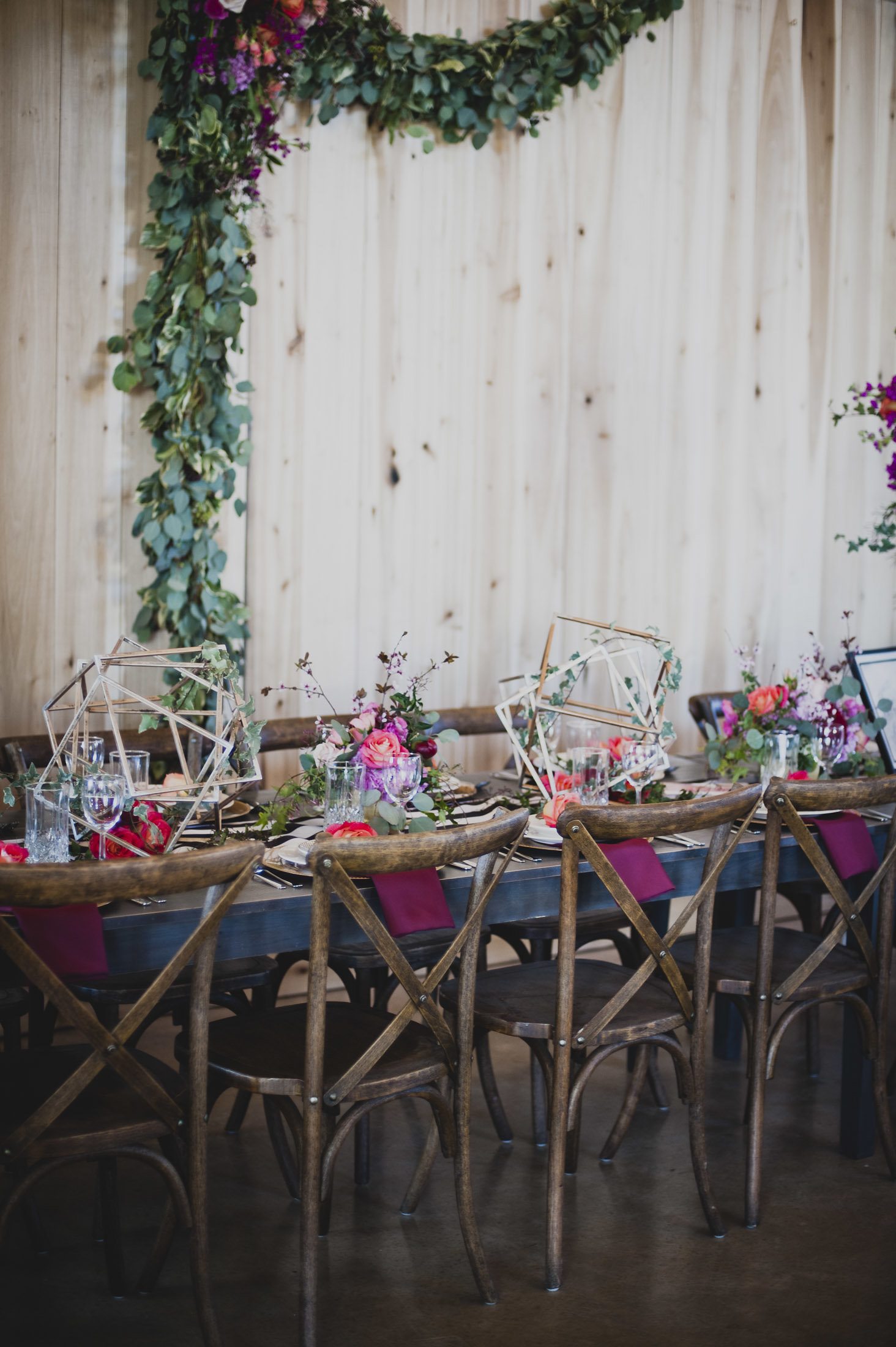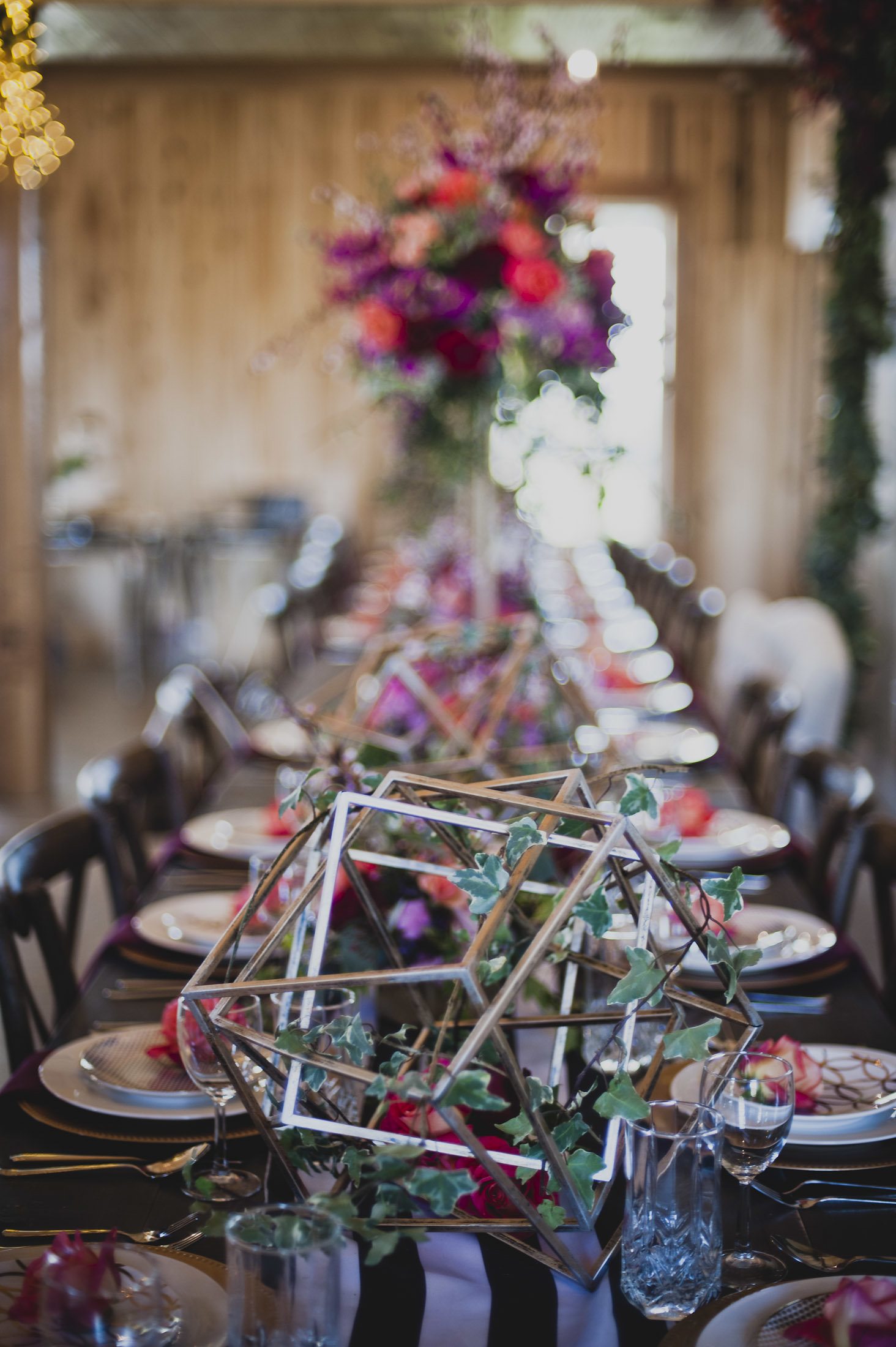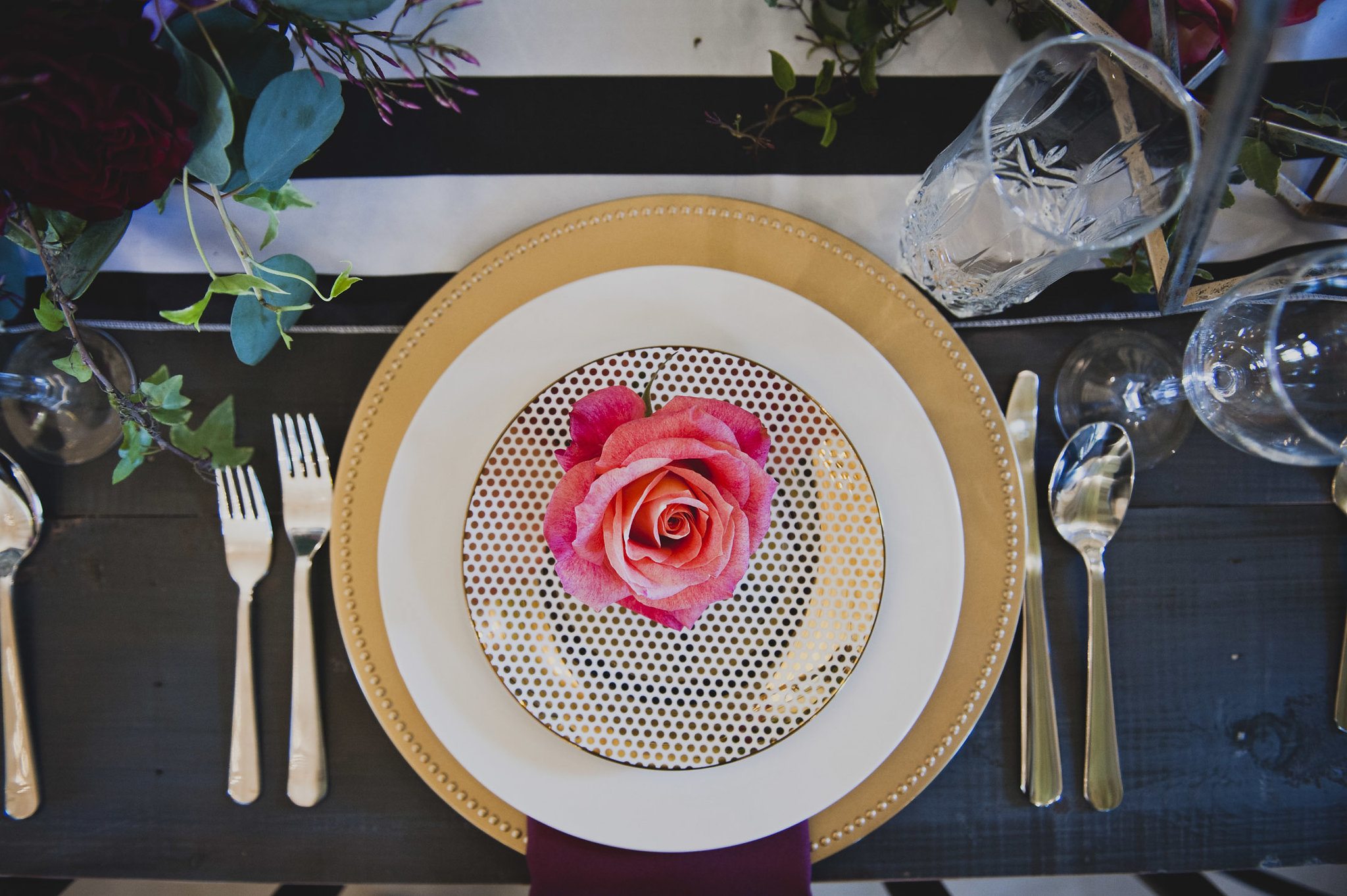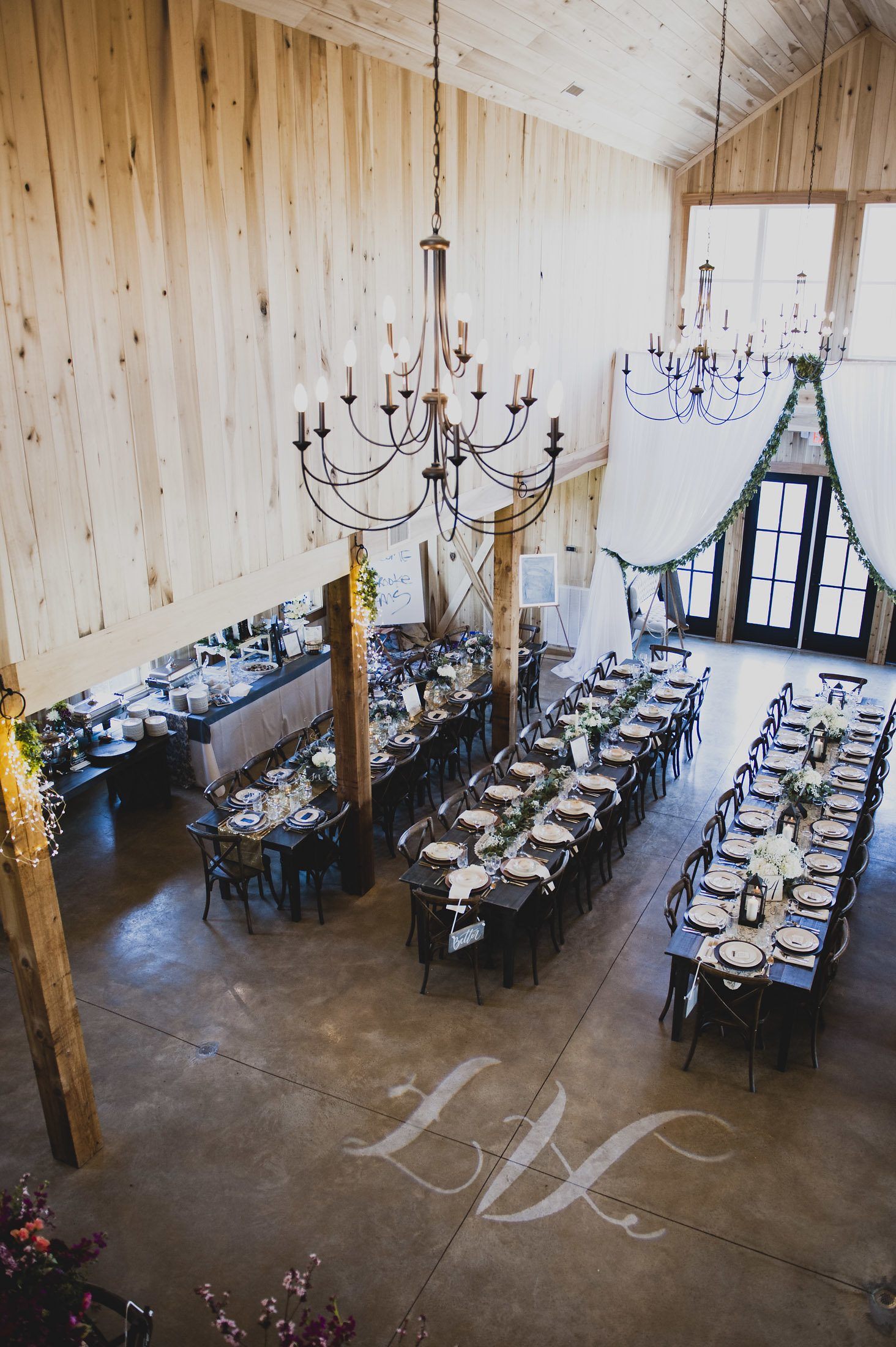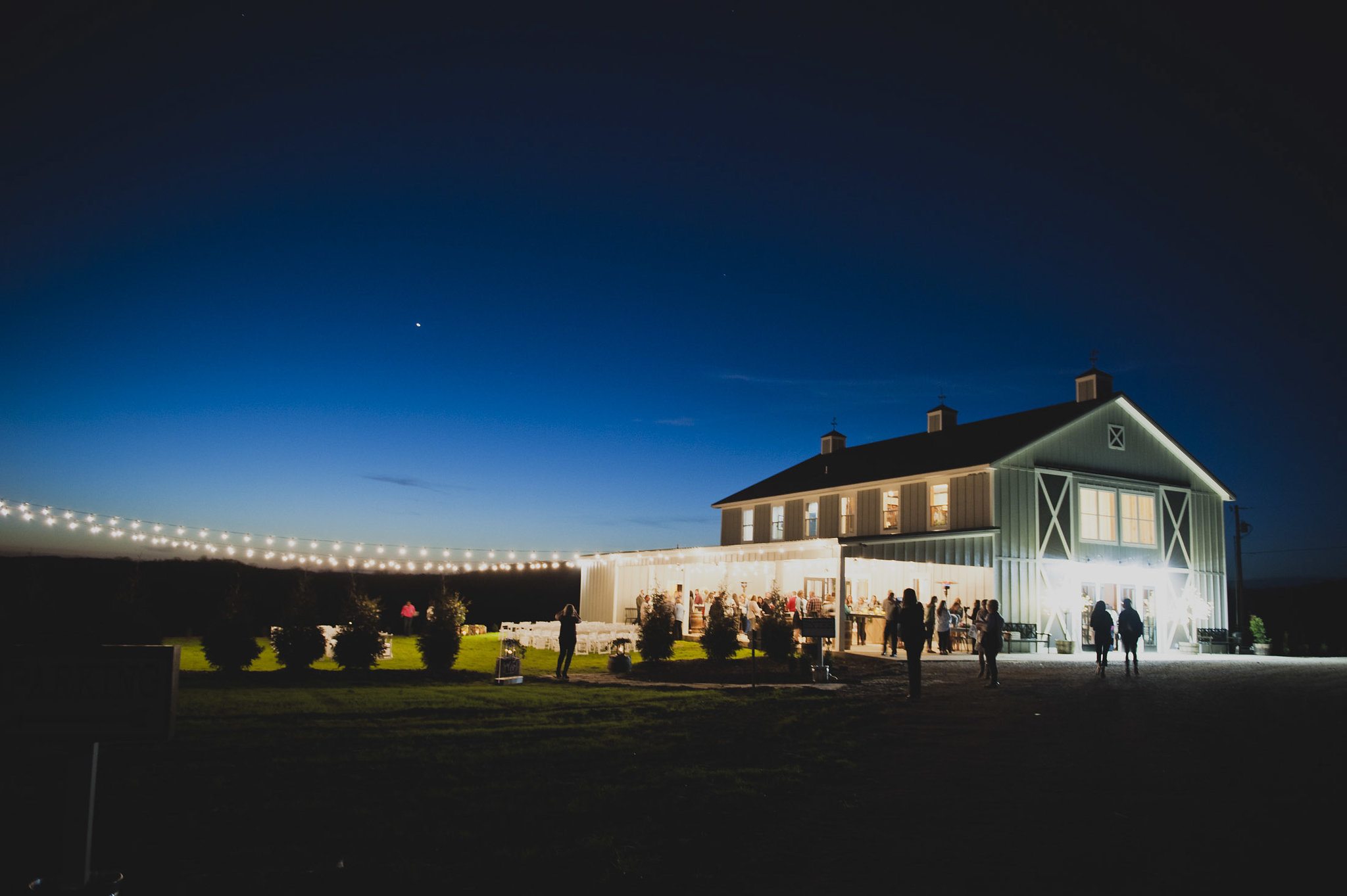 TAGS | Alabaster Earthen China, Barn Weddings, Belmont Charger, Cross-Back Chairs, Fruitwood Farm Tables, Gold Accent Plate, Gold Austin Flatware, Gold Heirloom China, Gold Medallion Charger, Gold Metal Intersect Cube, Gold Round Lacquer Charger, Lincoln Flatware, Nashville Event Rentals, Nashville Wedding Rentals, Nashville party rentals, Rustic Design, Rustic Weddings, Southern Events Party Rental, Southern Events Party Rental Company, Southern Events Party Rentals, Unique Wedding Rentals, Wood Round Charger, rustic wedding decor, southern style events
FEATURED RENTALS | Fruitwood Farm Tables, Cross Back Chairs, Wood Round Charger, Alabaster Earthen China, Lincoln Flatware, Gold Round Lacquer Charger, Gold Austin Flatware, Gold Heirloom China, Belmont Charger, Gold Medallion Charger, Gold Accent Plate, Gold Metal Intersect Cube ,
---
30

Jan

Real Nashville Weddings, Southern Events Products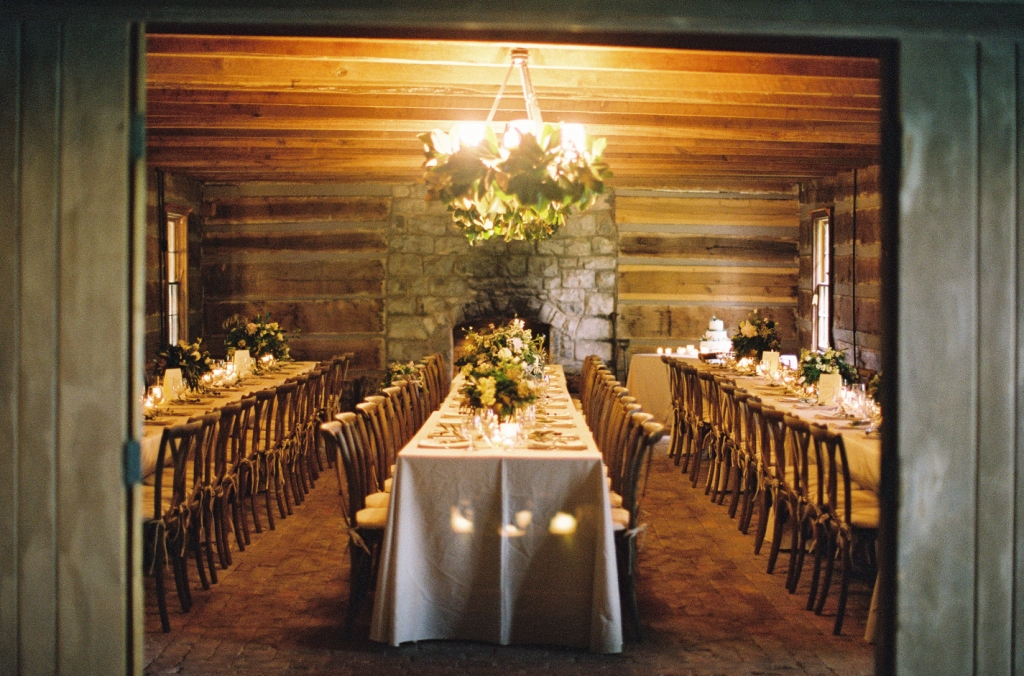 Mancy and Alex's intimate, candle lite celebration is one for the ages – a mix of classic, modern elegance in a rustic, country setting – we simply swoon!  Designed & styled by one of our fav Nashville planners, Jessica Sloane – we knew the results would be no less than stunning.  Her eye for simple elegance with a modern feel is unparalleled- it is always a treat to work with her.  Our cross-back chairs are perfectly matched to the style of Mancy and Alex's wedding – one you can see was filled with lots of love!
Nashville wedding photographer, Rylee Hitchner captured the gorgeous pictures you see below.  Enjoy!
TAGS | Cross-Back Chairs, Jessica Sloane, Rustic Wedding rentals, Rylee Hitchner Photography, Southern Events Party Rental
FEATURED RENTALS |
---