16

Mar

On Trend, Southern Events Products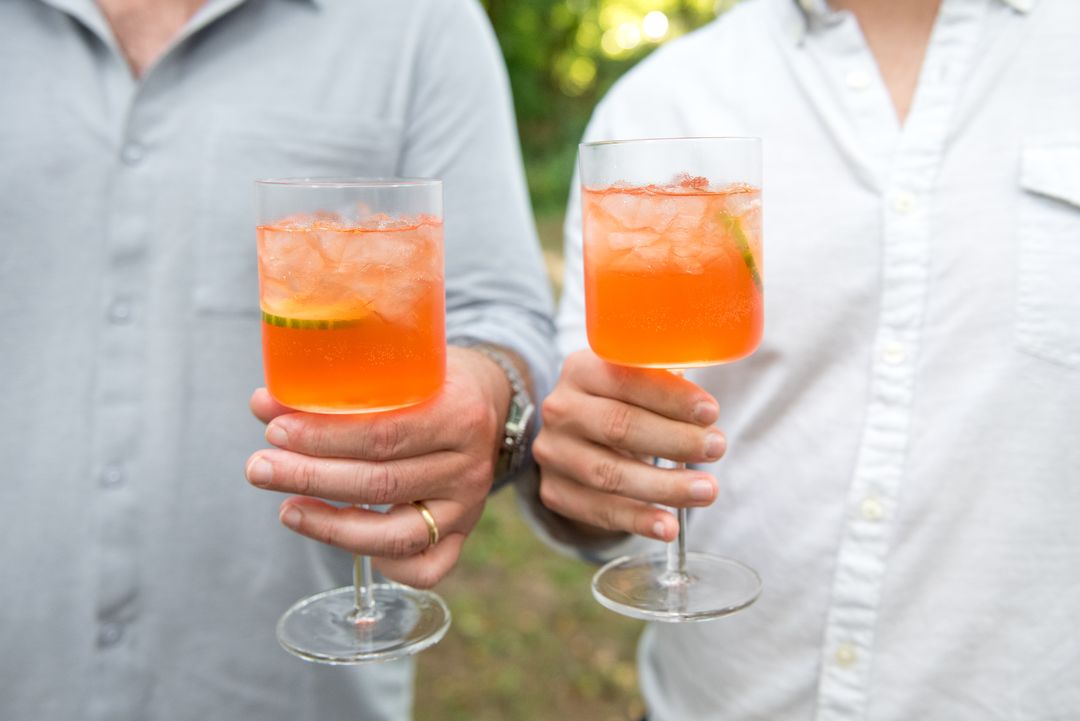 As the weather warms up there is no better time to host a corporate event. Blue skies and sunshine open up a world of possibilities in terms of creative entertainment and event design. At Southern Events Party Rentals Online, we have a little something for every occasion and celebration! From stylish cocktail hour essentials to cozy event lounges. Perfect for toasting an anniversary, thanking partners and clients, or treating your employees. Get inspired by these unique corporate event themes, perfect for the spring and summer seasons!
Spring Has Sprung
The season of new beginnings, spring is a fitting time to treat your employees to a party that will leave them feeling reenergized. This is one of the more simple corporate event themes, yet it is sure to be a memorable event. We recommend hosting outdoors, to make the most of the seasonal foliage – think of it as natural decor! Scatter a mix of bistro and round tables on the lawn, dressed up with Peaches N' Cream Poly and our elegant Harlin Dining Chairs. For additional seating, feature a chic neutral lounge area made up of our Bennett Leather Sofa, Adeline Dining Chairs, Chocolate Poufs, and a Navy Rug. To encourage guests to stay awhile, provide them with a stocked Franklin Antique White Bar and grazing boards served up on Wood Melamine Trays.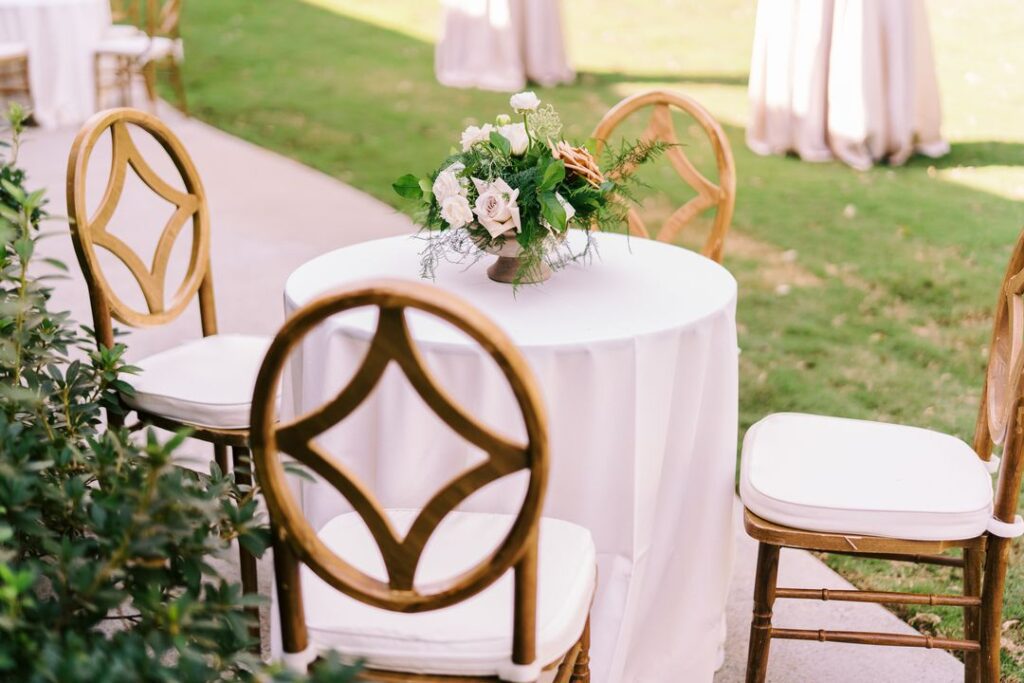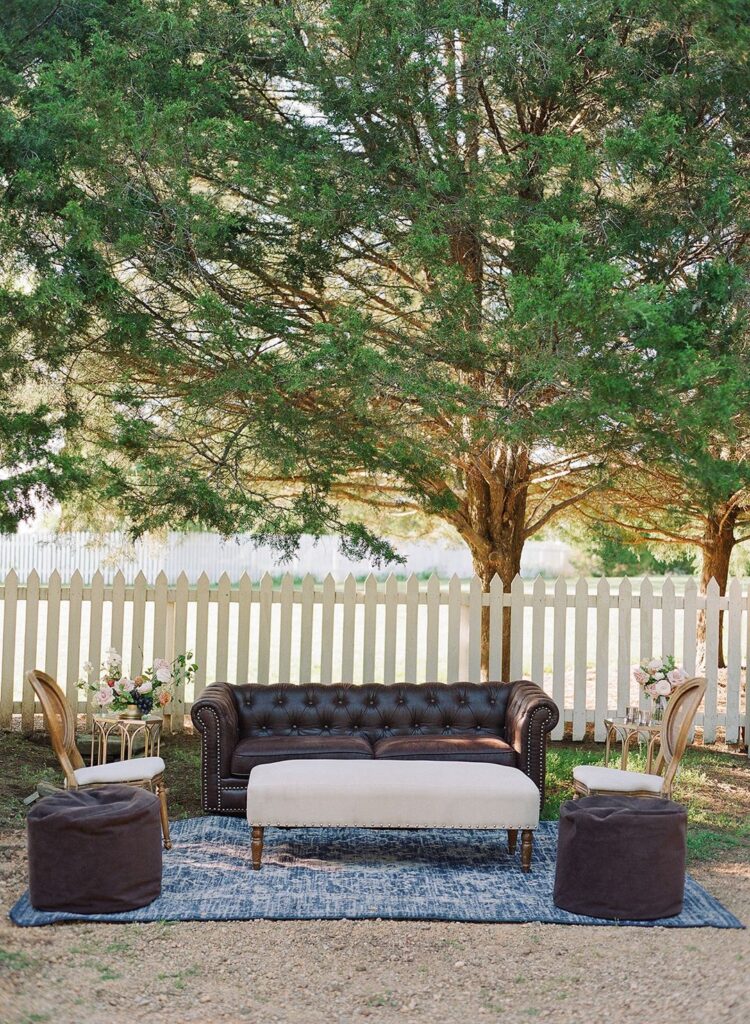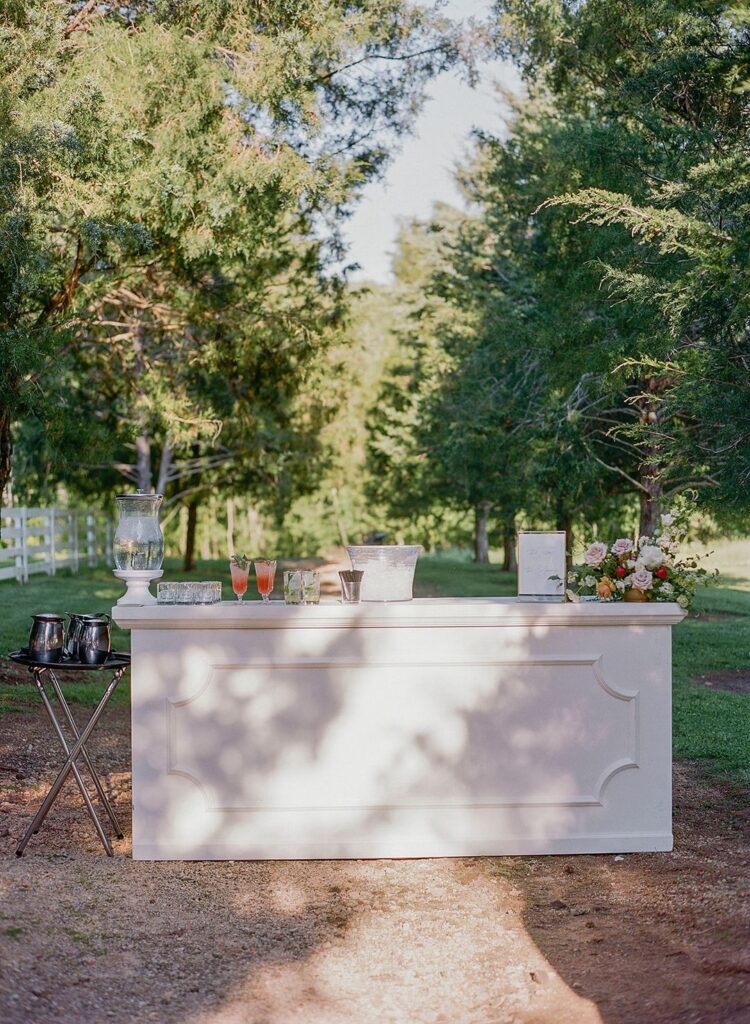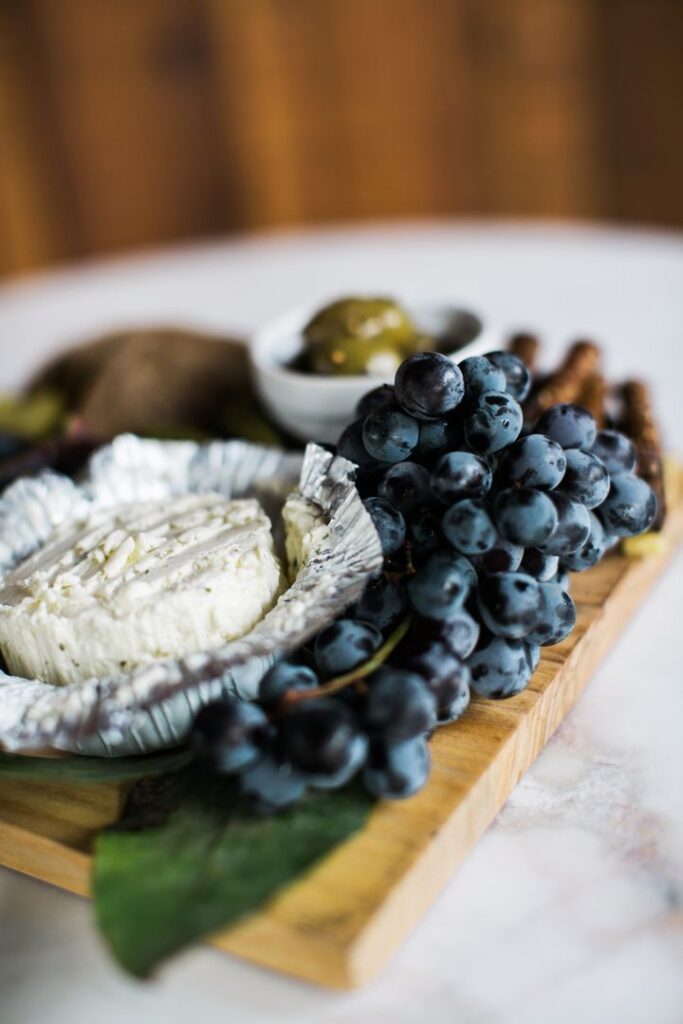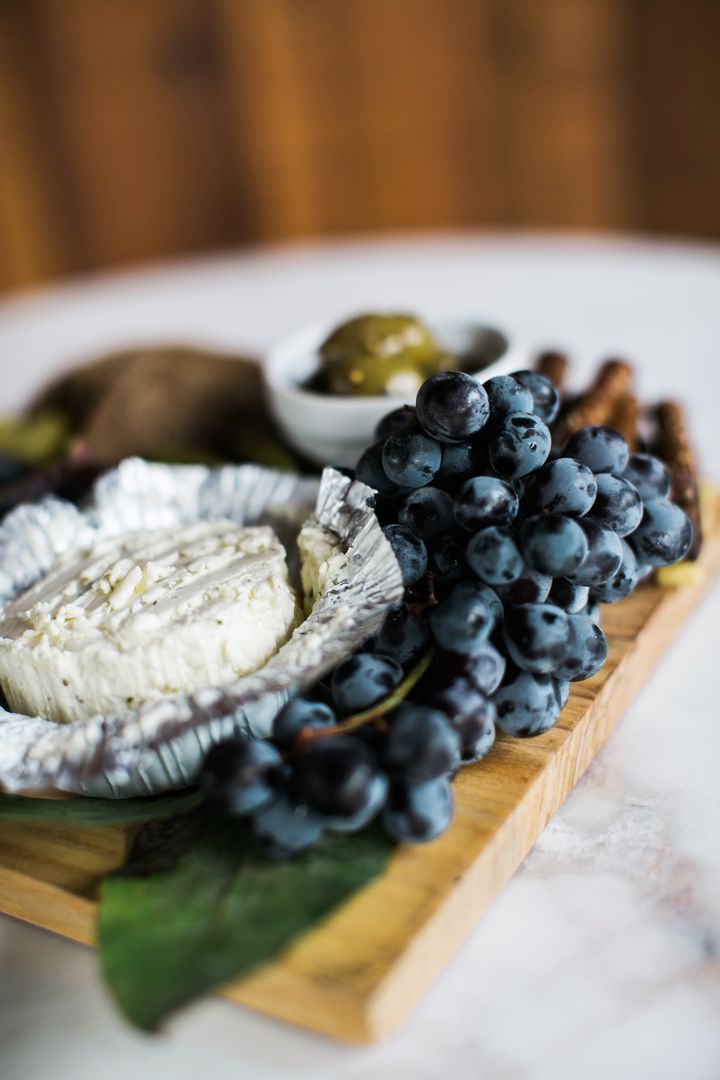 Off to the Races
The Kentucky Derby may only last two minutes, but it is a highly anticipated and celebrated sporting event. In terms of themed corporate events, there is no better time to host a party. Running with existing events or holidays makes it easier than ever to piece together a theme, and a high-class Derby Party is one of our personal favorites. Start with stylish bistro tables, like a classic bistro table dressed up with Cherry Red Poly Linens. Or the Loren Gold Bistro Table with a Black and White Striped Runner and Acrylic Ghost Barstools. Place an artificial grass rug beneath them for a fun spring touch! A fully stocked bar is essential – try Harpeth customized with your business logo – set against a pair of Boxwood Walls. Classic glassware, like Mint Julep Cups and Davis Rocks Glass, is perfect for serving up bourbon-based cocktails.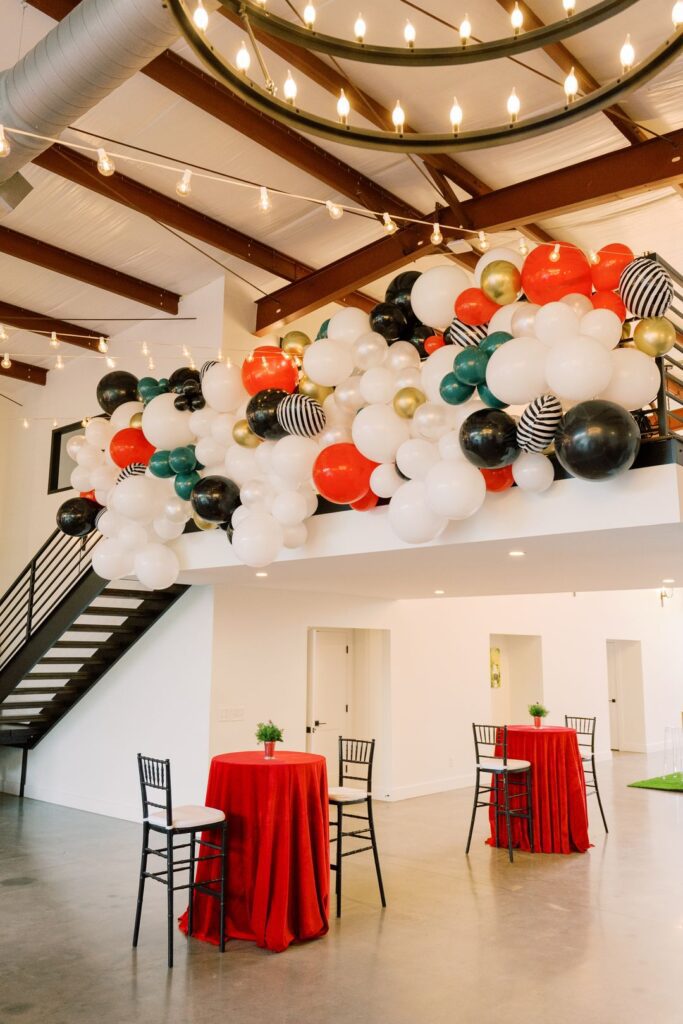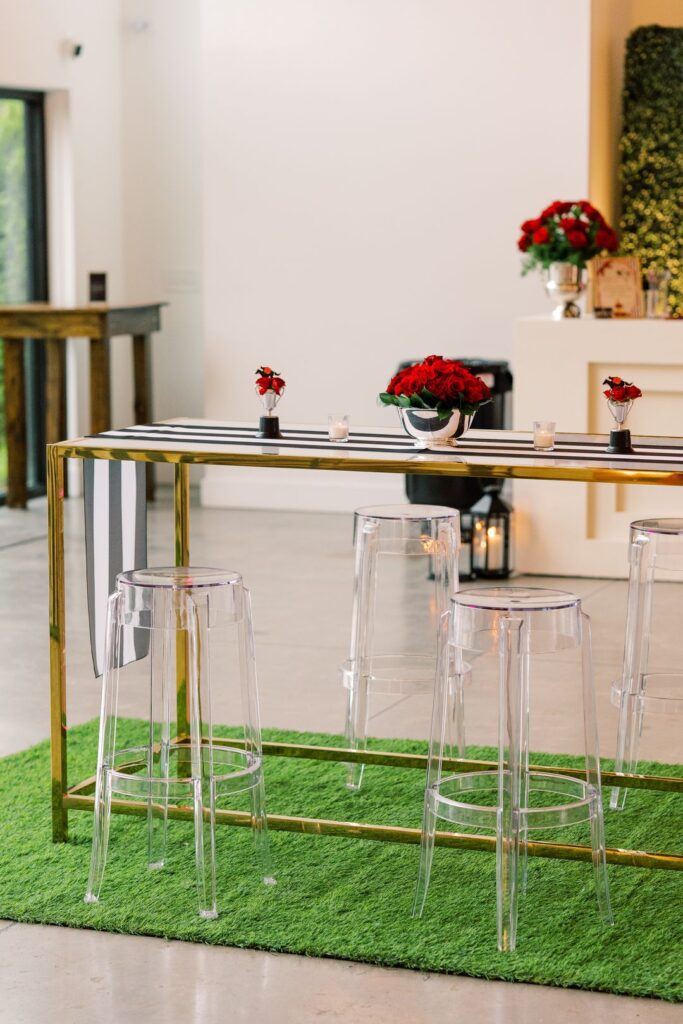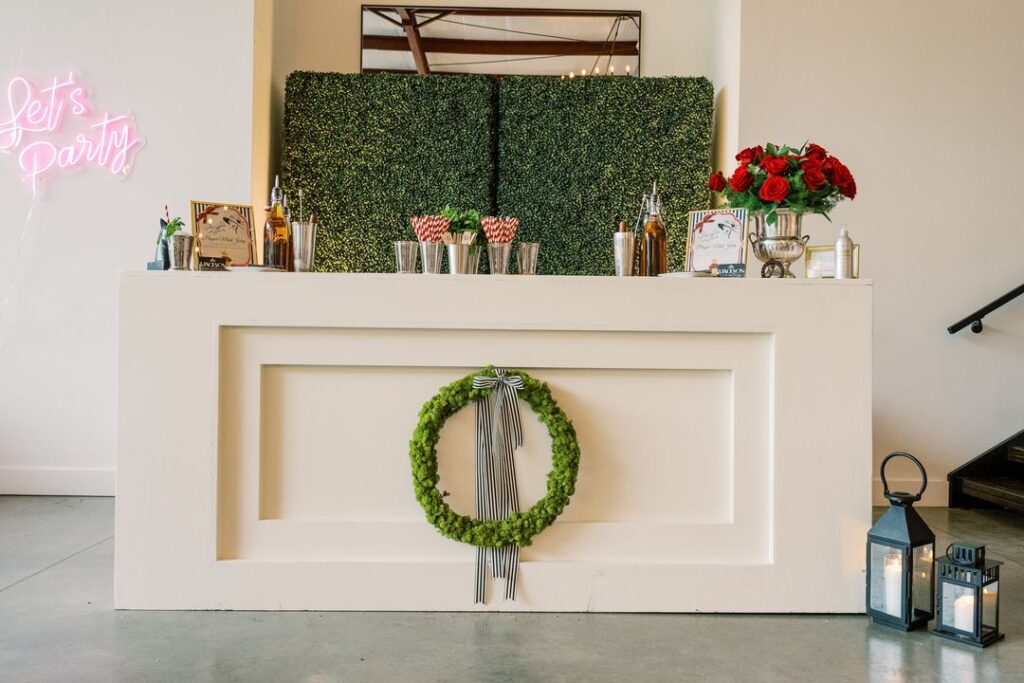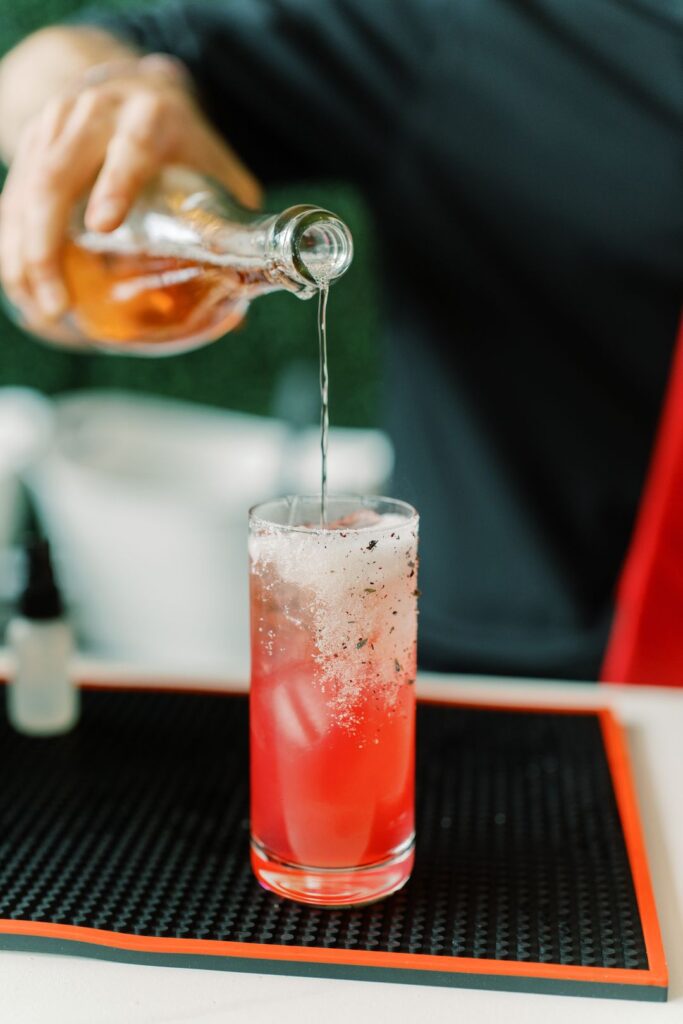 Upscale Summer BBQ
A simple but always exciting event theme idea is a classic summer BBQ. A backyard BBQ is fitting for a casual celebration, say an employee appreciation day or even 'just because'. You don't need a reason to get together and grill out! Set up picnic tables with Red & White Check Linens. If kids are attending, check out our children's furniture. For some contrast, feature our Earthen Onyx China and crisp White Napkins. Should you need serving trays, check out our family-style serving pieces. Whether you want a self-serve bar or food display, opt for our Whiskey Barrel Barnwood Bar. For added colors, a mix of vintage rugs will create an extra cozy vibe! Moreso should you feature a fire pit surrounded by poufs and rustic benches.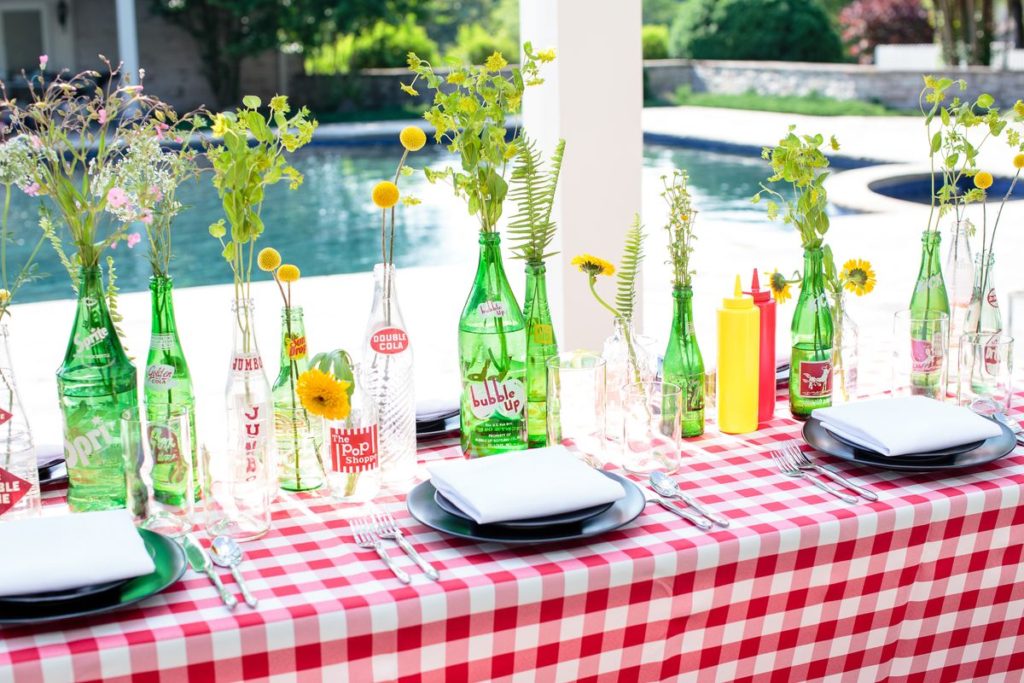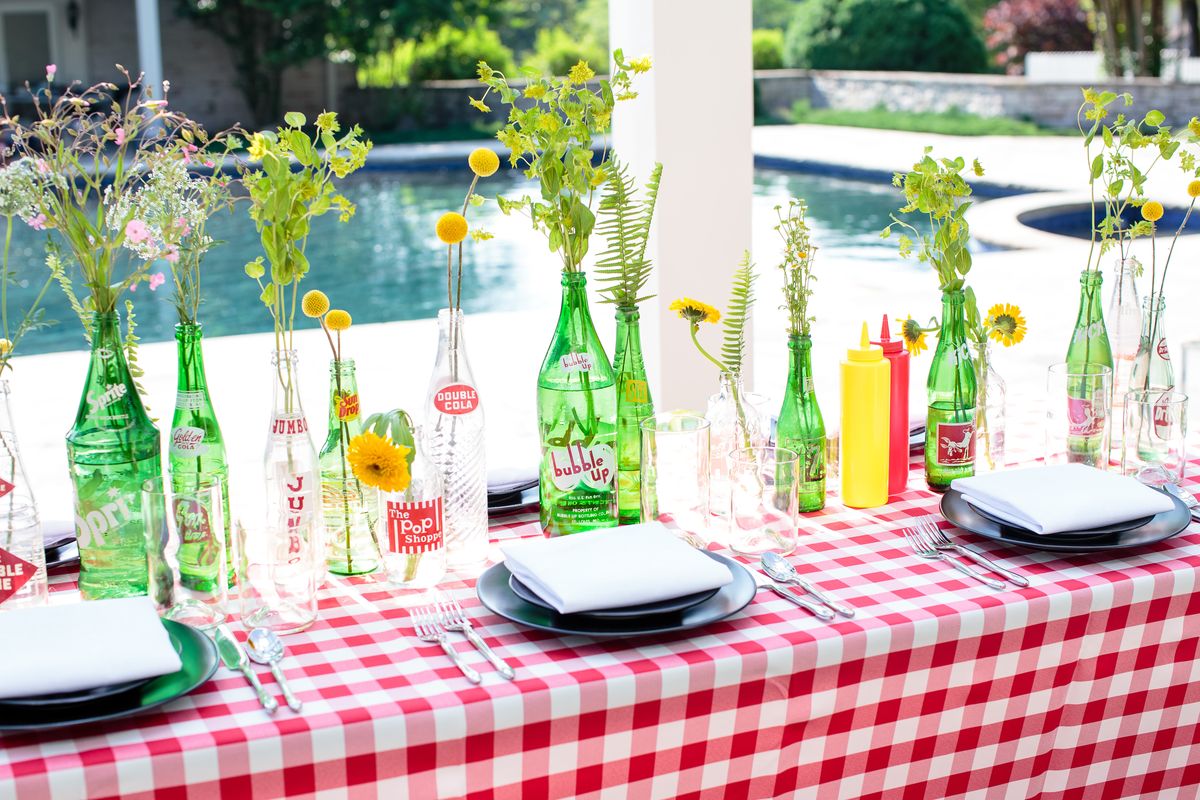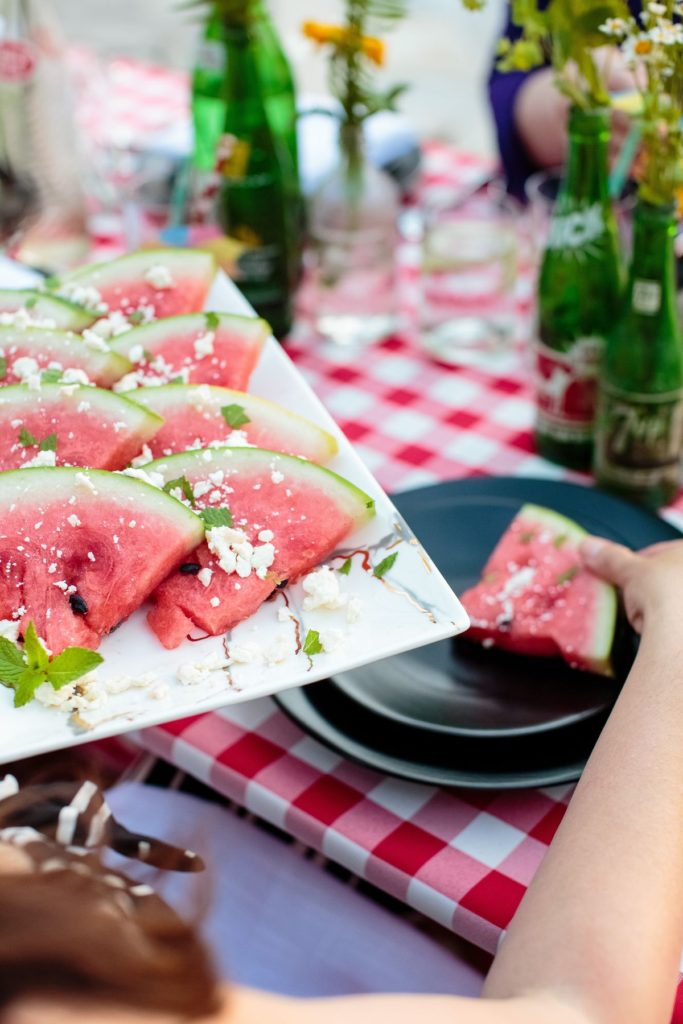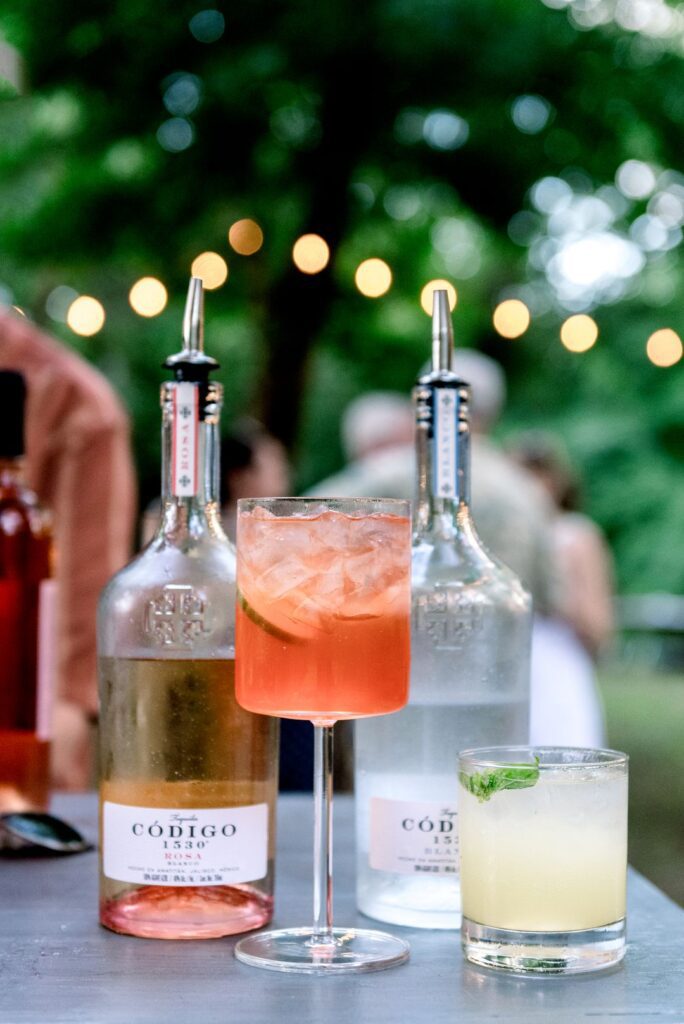 Black and White Party
If you are hosting an elegant corporate party, you can't go wrong with a black and white event theme. A grayscale color palette will also make it incredibly easy to put together a cohesive look. Start with classic bistro tables outfitted in our beautiful Black Nova Linens, paired with Mid Century Black Barstools. If you'll be toasting to the occasion, you'll need a stylish bar and glassware to match. Our Black Franklin Antique Bar is a bold choice, as is a White 6-Tier Serving Tower. Should you need additional storage space, be sure to grab a set of barback shelves in black or white. For glassware, take a look at our Cybil Champagne Glasses or trendy coupe glasses.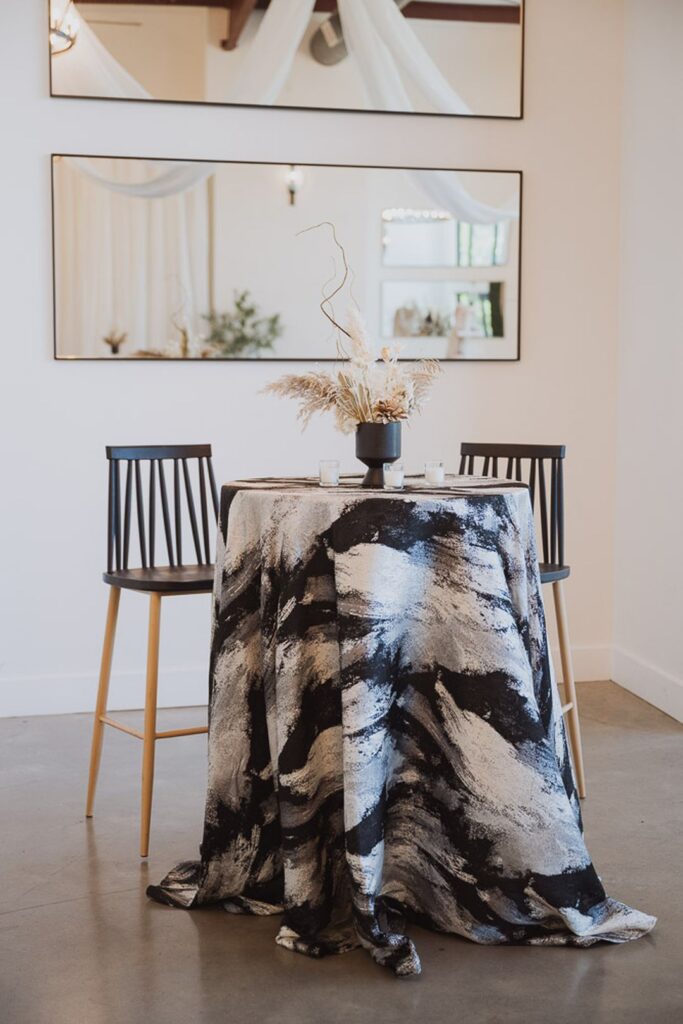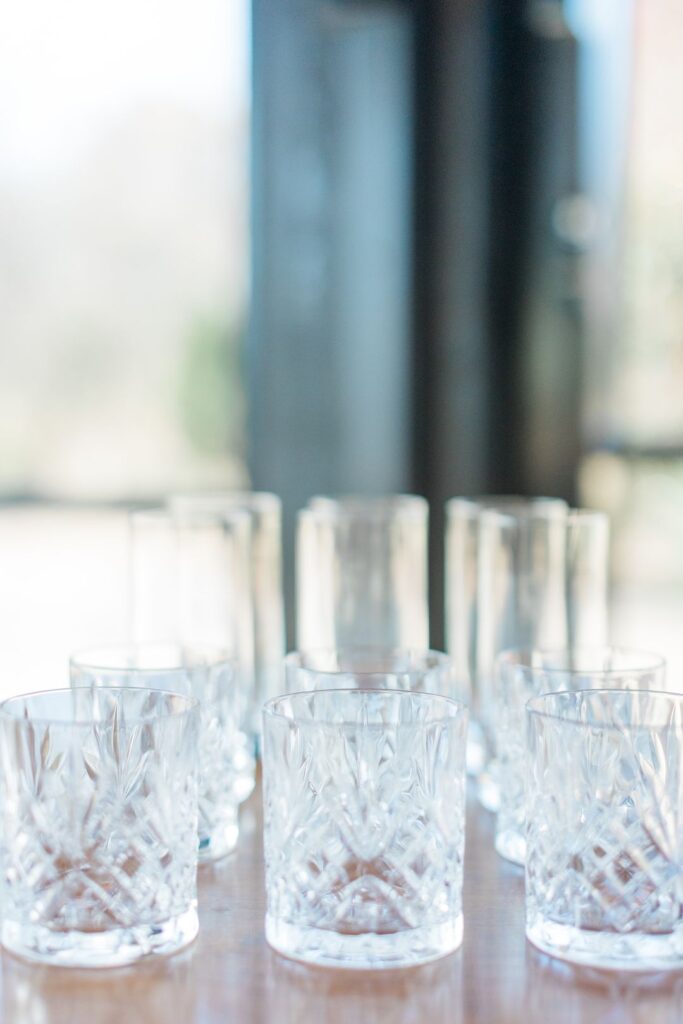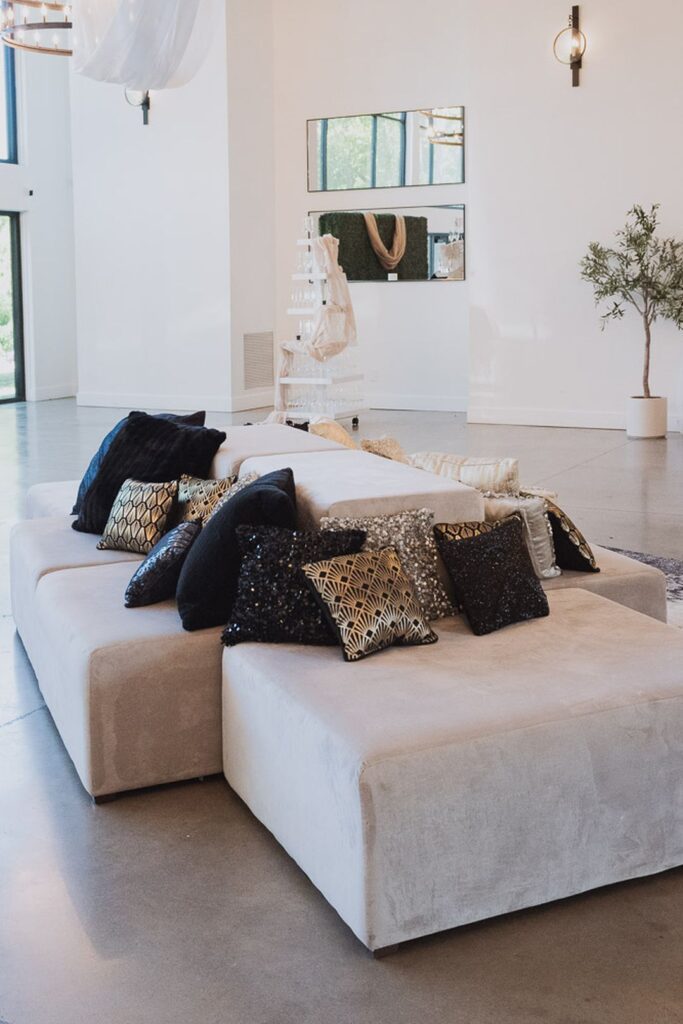 Book Your Unique Corporate Event Rentals Today!
Love one of these corporate event themes? Send us a message at info@southerneventsonline.com and a member of our team would be happy to help you recreate it for your upcoming event. Or let's work together and come up with unique corporate event themes that are one of a kind! And in case you missed it, don't forget to check out the newest additions to our catalog.
TAGS | Cocktail Party Rentals, Lounge Furniture, cocktail hour, corporate event design, corporate event rentals, corporate event style, corporate parties
FEATURED RENTALS | Picnic tables, red and white check linens, earthen onyx china, family-style serving pieces, whiskey barrel barnwood bar, rustic benches, sutton collection, Wood Melamine Trays. Peaches N Cream Poly, Harlin Dining Chairs, Bennett Leather Sofa, Adeline Dining Chairs, Chocolate Poufs, Cherry Red Poly Linens, Loren Gold Bistro Table, Black and White Striped Runner, Acrylic Ghost Barstools, artificial grass rug, Harpeth Bar, Boxwood Walls, Mint Julet Cups, Davis Rocks Glass, Navy Rug, Wood Melamine Trays, Franklin Antique White Bar,
---
27

Jul

Southern Events Products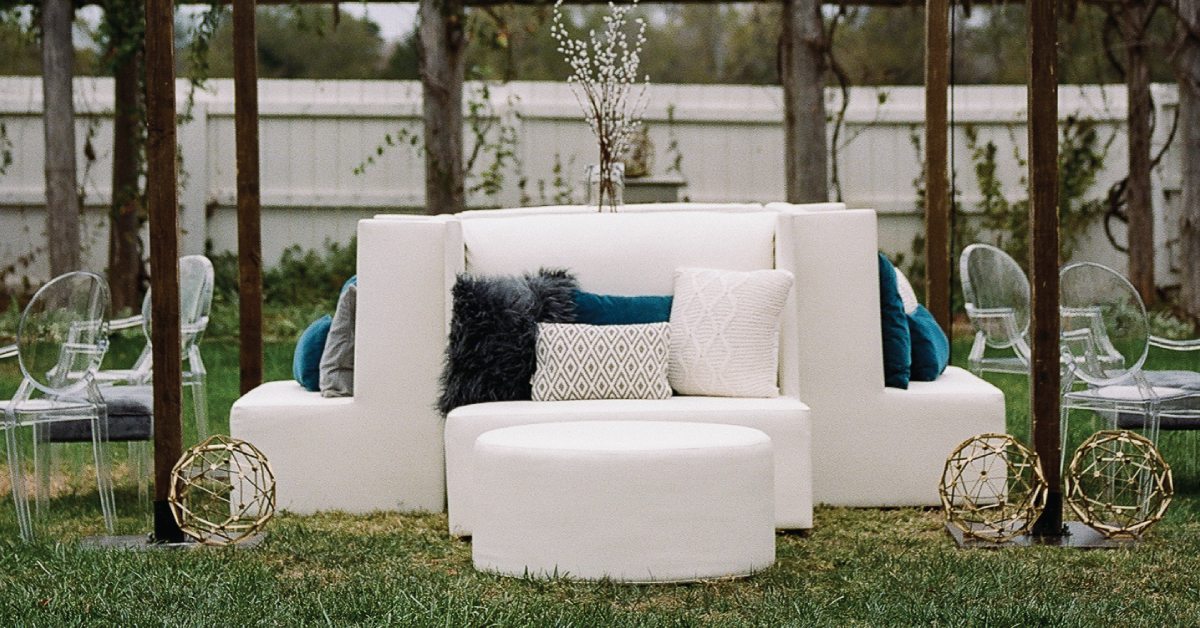 Adding a lounge area to your next meeting or company gala is no longer just a fun design element to include – it's now an anticipated staple for any modern event. The perfect place for your guests to mingle and relax, lounge areas bring people together and adds personality and intimacy to a large event space. Whether your guests are enjoying cocktails or conversation, they can more easily do so in comfort and style with lounge furniture.
Excited about the design addition, but lost when it comes to styling your own? We've made it effortless to add a lounge area to your next event with our Southern Lounge Packages. Whatever event is next on the docket – meeting, galas, wedding or cocktail parties – we've curated our most loved styles for your event lounge!
Formal Corporate Events or Galas
Our Lounge Package One combines clean lines, tufted accents and chic chrome for a buttoned up, black-tie event. With simple and neutral details like this, this package can be easily customized with pillows or florals to match your overal decor. Perfect for your next charity gala or formal corporate party.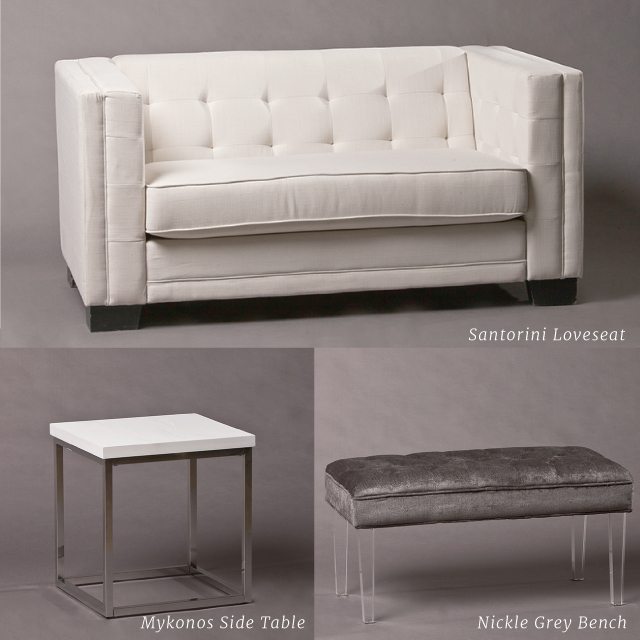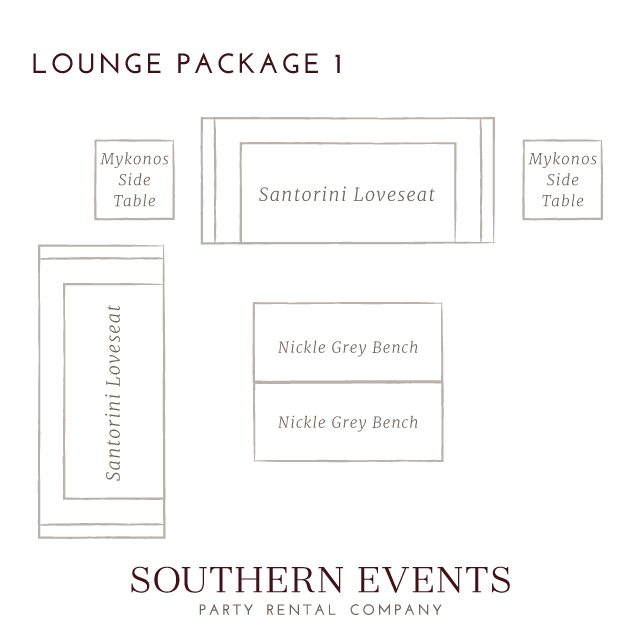 Or take black-tie to the next level with a black and white statement bench and silhouetted tables. Black and white chic gets a little more stylish with Lounge Package 20 – we especially love how elegant the Cece side table looks paired with the Chippendale chair.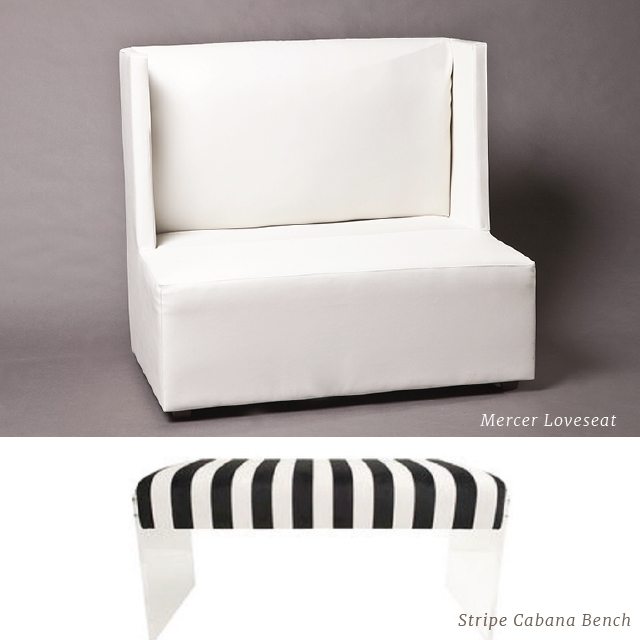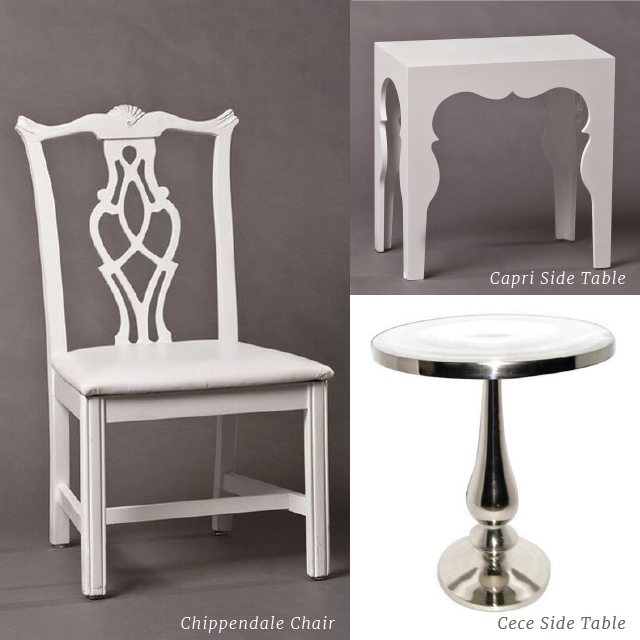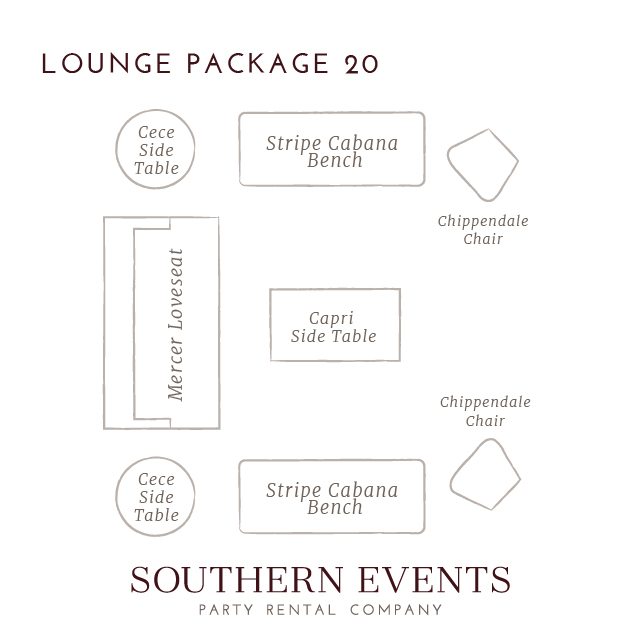 Have something else in mind? View the rest of our Lounge Furniture Packages or contact info@southerneventsonline.com for more information.
Meetings or Conferences
Sleek white leather matches nearly any company's logo colors, making these next Lounge Packages the ideal fit for your next corporate event.
Our Mercer L-Shaped benches are ideal for large corporate gatherings that need to provide comfortable, informal seating for guests in between panels, or trainings. More than that, these benches allow your colleagues to sit on either side which makes it easy to put in the middle of the venue since you know that sight lines will remain uninterrupted.
Pair them with our Mercer Ottoman and Cylinder or Mykonos Coffee Table for a simple and chic lounge area.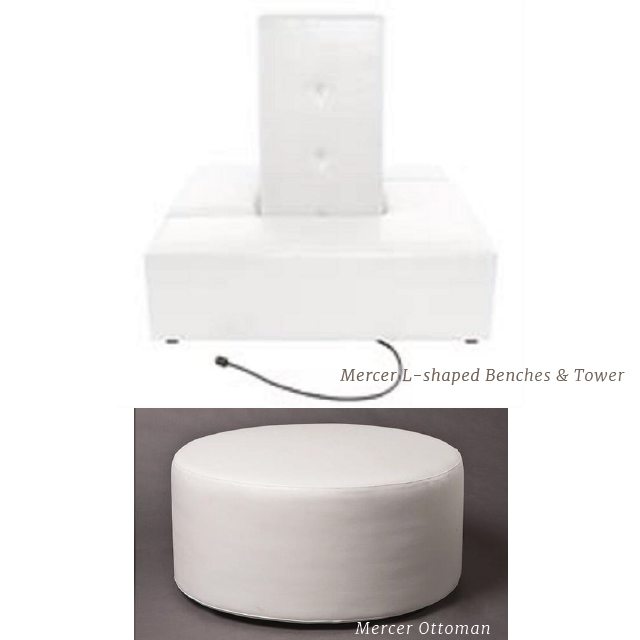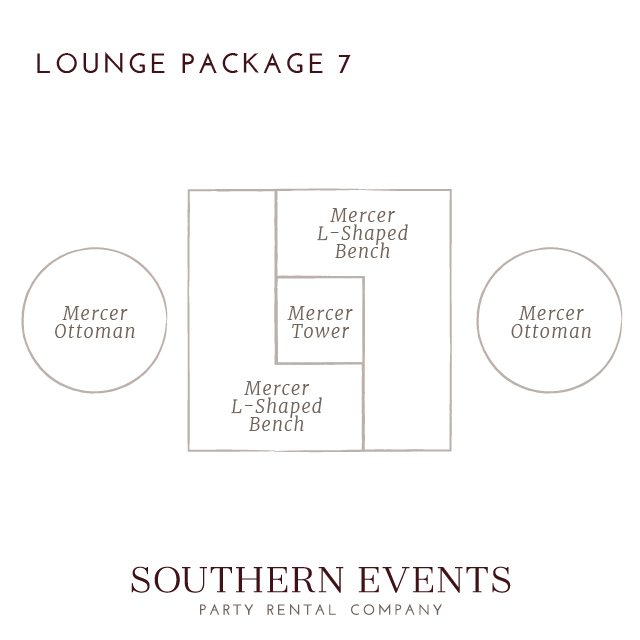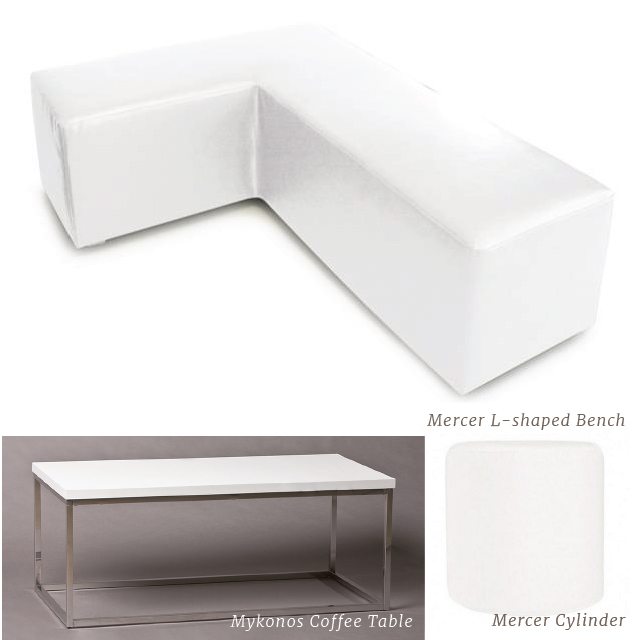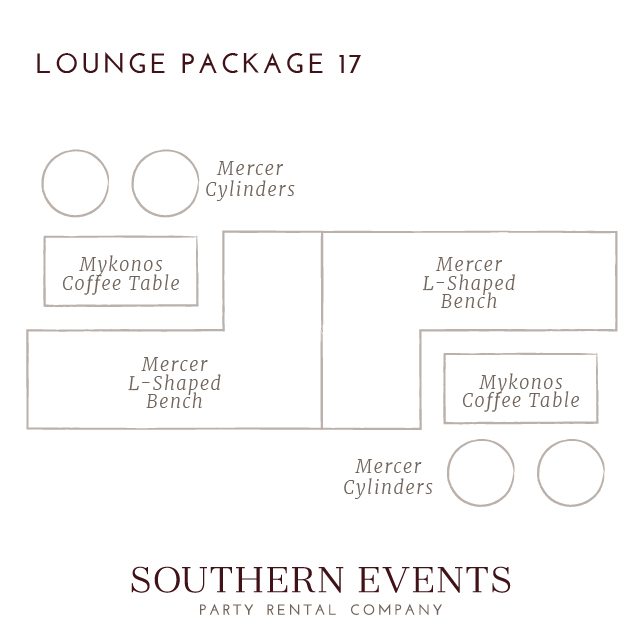 Have something else in mind? View the rest of our Lounge Furniture Packages or contact info@southerneventsonline.com for more information.
Company Cocktail Parties
Cocktail parties are a great way to show appreciation for your employees while allowing them to build camaraderie. Get people to do more than stand and sip – allow them to sit and socialize with a thoughtful lounge area! Our comfortable London Loveseat next to gold accented side tables is a stylish way to welcome guests, while the Eiffel Arm Chair adds an unexpected touch of modern flair to the design. Or, give your lounge a masculine feel with our Bennett Leather Sofa – perfect for a more rustic event venue.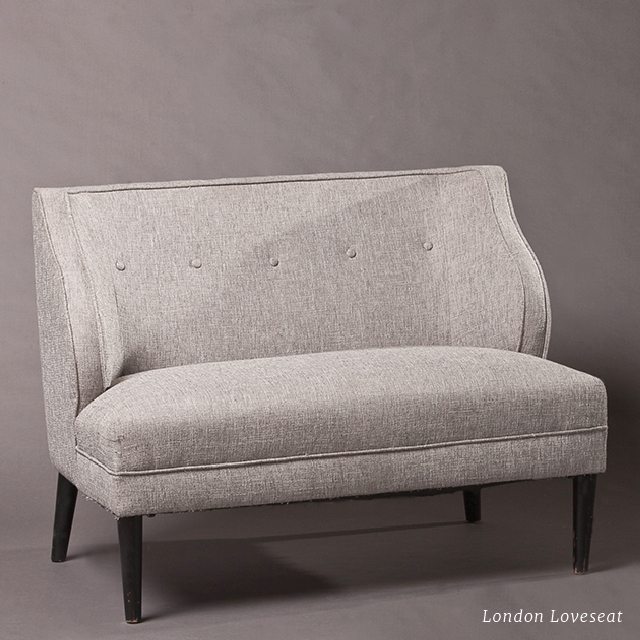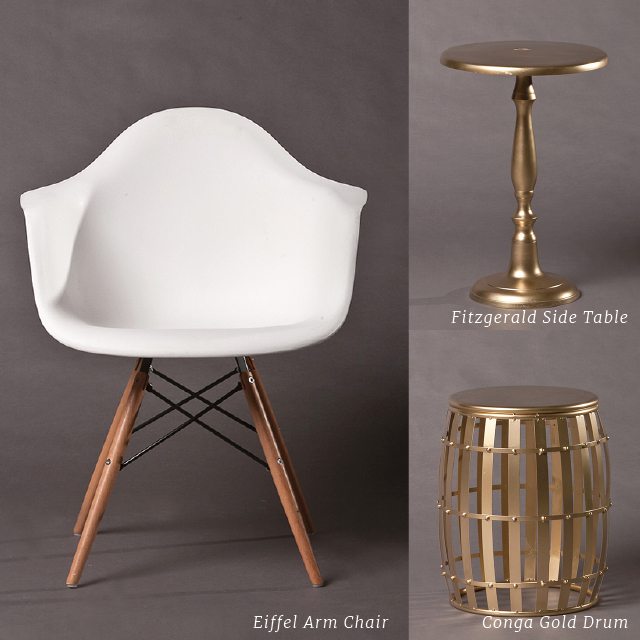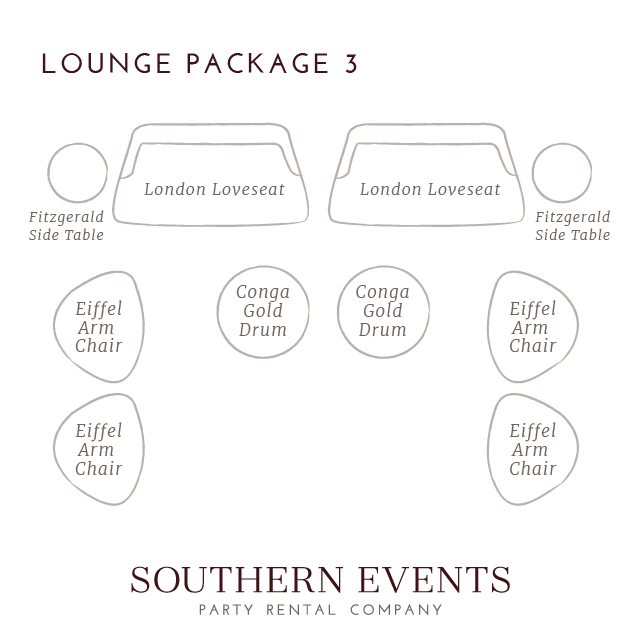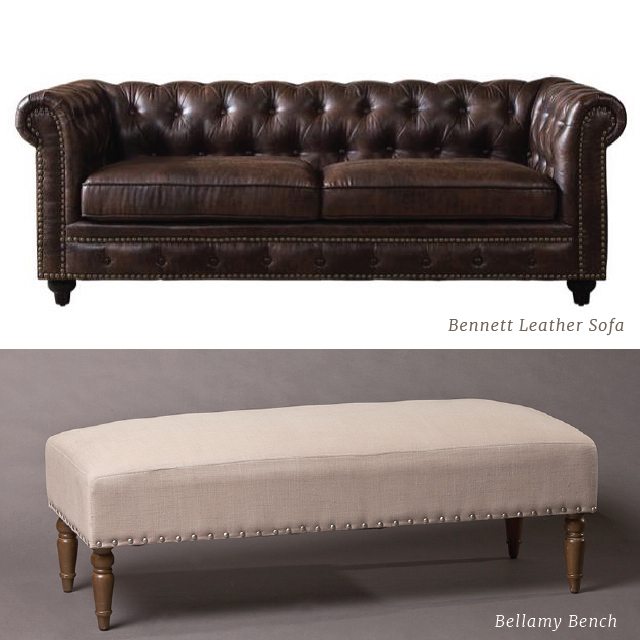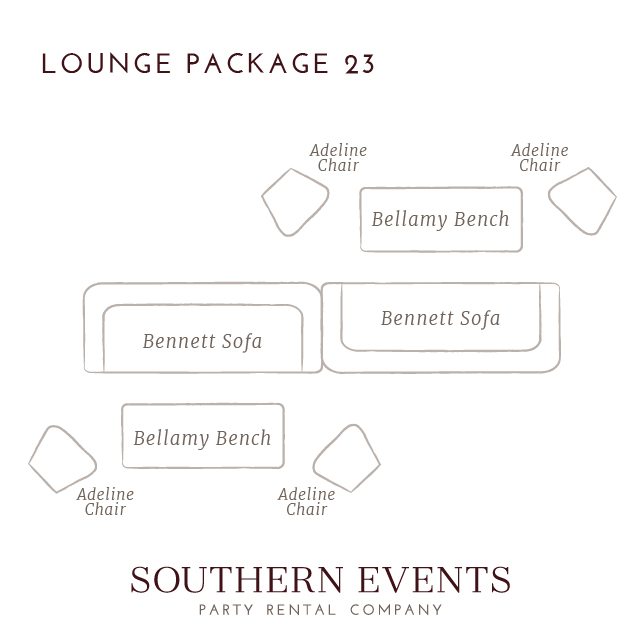 We're pleased as punch to be offering these new Lounge Furniture Packages in Nashville and thrilled to offer special pricing to celebrate! Book by August 15th, 2017 and receive special pricing for events through Nov 30, 2017. Contact our team at 615.595.8508 or by emailing info@southerneventsonline.com for more information!

TAGS | Adeline Chair, Bellamy Bench, Bennett Leather Sofa, Capri Side Table, Cece Side Table, Chippendale Chair, Conga Gold Drum, Eiffel Arm Chair, Fitzgerald Side Table, London Loveseat, Mercer Cylinder, Mercer Loveseat, Mercer Ottoman, Mykonos Coffee Table, Mykonos Side Table, Nashville Event Rentals, Nickle Grey Bench, Santorini Loveseat, Southern Events, Southern Events Party Rental, Southern Events Party Rental Company, Stripe Cabana Bench, cocktail hour, corporate event rentals, corporate events, corporate lounge furniture, corporate parties, gala, lounge, lounge packages, meeting
FEATURED RENTALS | Mykonos Side Table, Santorini Loveseat, Nickle Grey Bench, Mercer Loveseat, Stripe Cabana Bench, Chippendale Chair, Cece Side Table, Capri Side Table, Mercer Ottoman, Mercer Cylinder, Mykonos Coffee Table, London Loveseat, Eiffel Arm Chair, Bennett Leather Sofa, Fitzgerald Side Table, Conga Gold Drum, Bellamy Bench, Adeline Chair
---