6

Aug

Events and Style Shoots, On Trend, Southern Events Products, Trends and Inspiration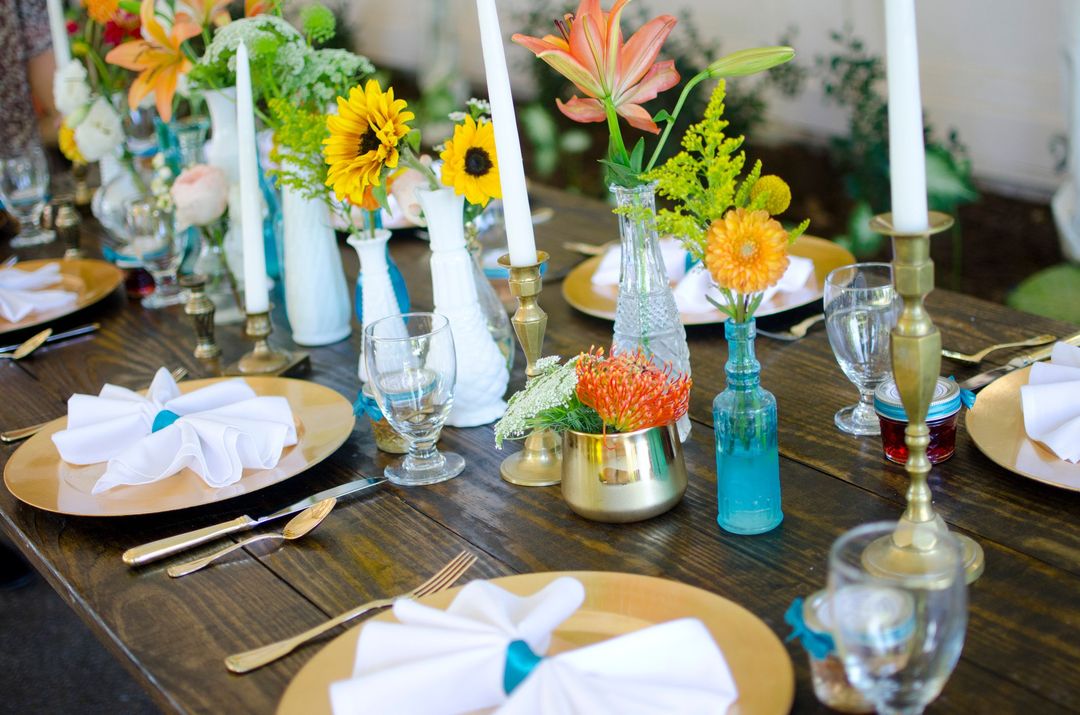 Vibrant and whimsical, these colorful backyard party ideas that are sure to bring some wonder & whimsy to your next Nashville, Tennessee event. Perfect for a kid's birthday party, fun gender reveal party or daytime wedding, check out how we use our party rentals to create a bold & colorful look that is timeless, stylish and fun!
Mix & Match Furniture
Keep your event casual yet maintain a consistent aesthetic with a mix of furniture that complements one another. By using Barnwood Furniture of a variety of shapes, you can make the most of the space and also feature some statement pieces. Take for example our beautiful Fruitwood Farm Tables. In regards to chairs, we used a mix of rustic benches and our elegant Cross-back chairs. Although simple, it creates a foundation from which to add color!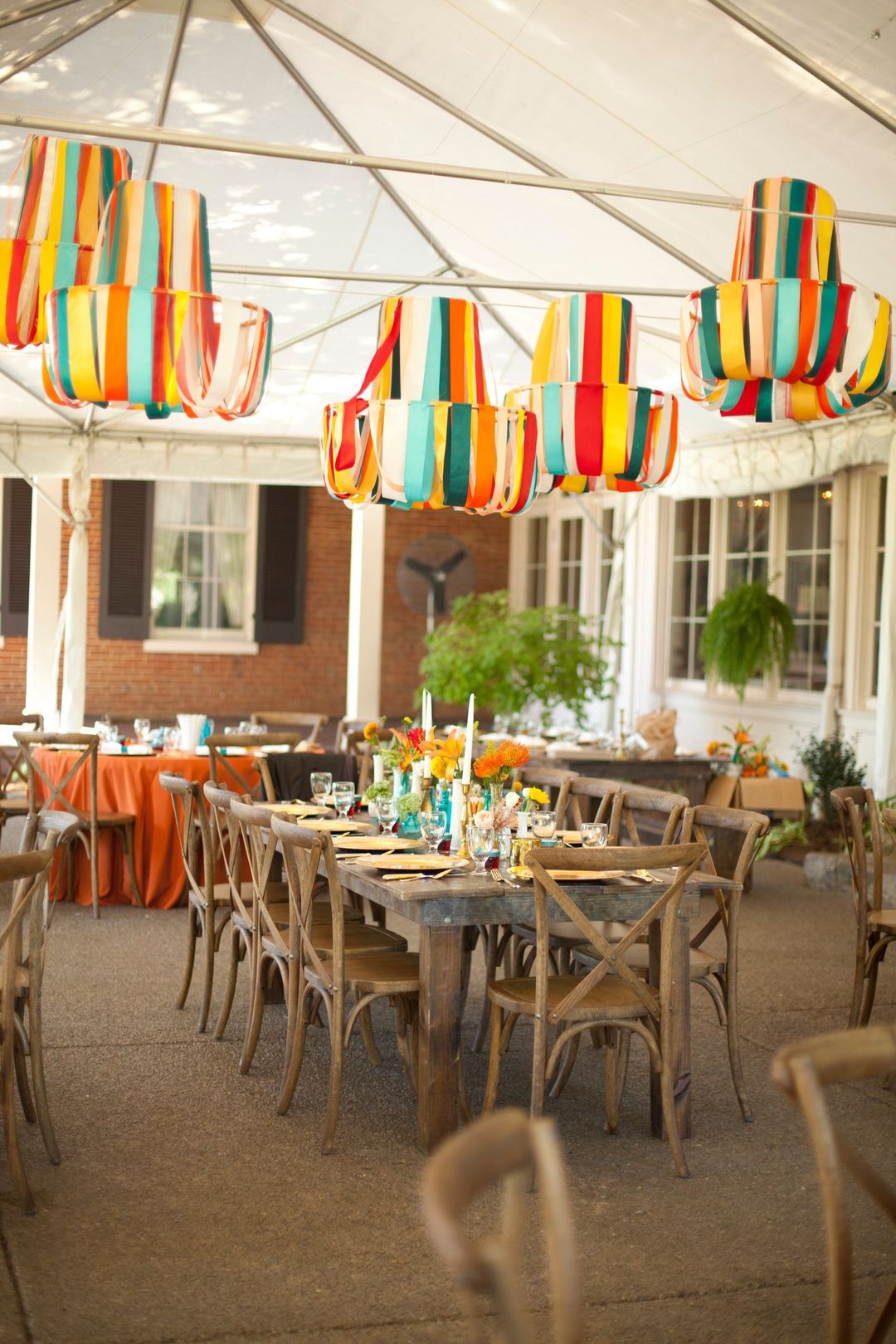 Photos by Krista Lee Photography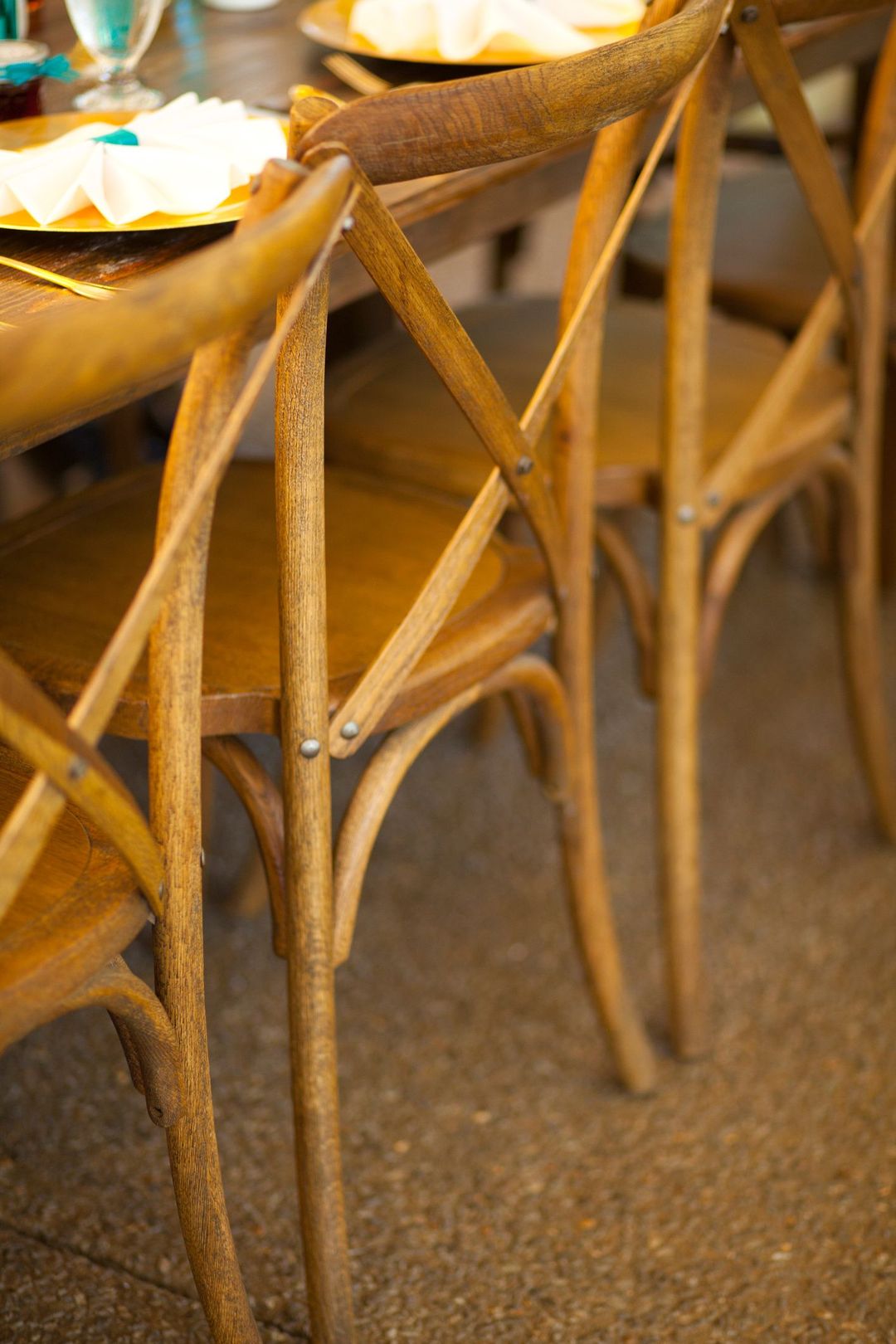 Metallic Place Settings
An easy way to add warmth to a colorful backyard event is with gold or silver accents. Featuring our Gold Round Lacquer Charger and Austin Flatware, adds a touch of metallics that contrasts beautifully against turquoise centerpieces. It also complements the golden yellows and sunset-inspired oranges throughout the event design. Don't forget to pull these accents into other parts of your events with gold-rimmed glasses on your bar or gold side tables in your lounge. This creates a more cohesive look.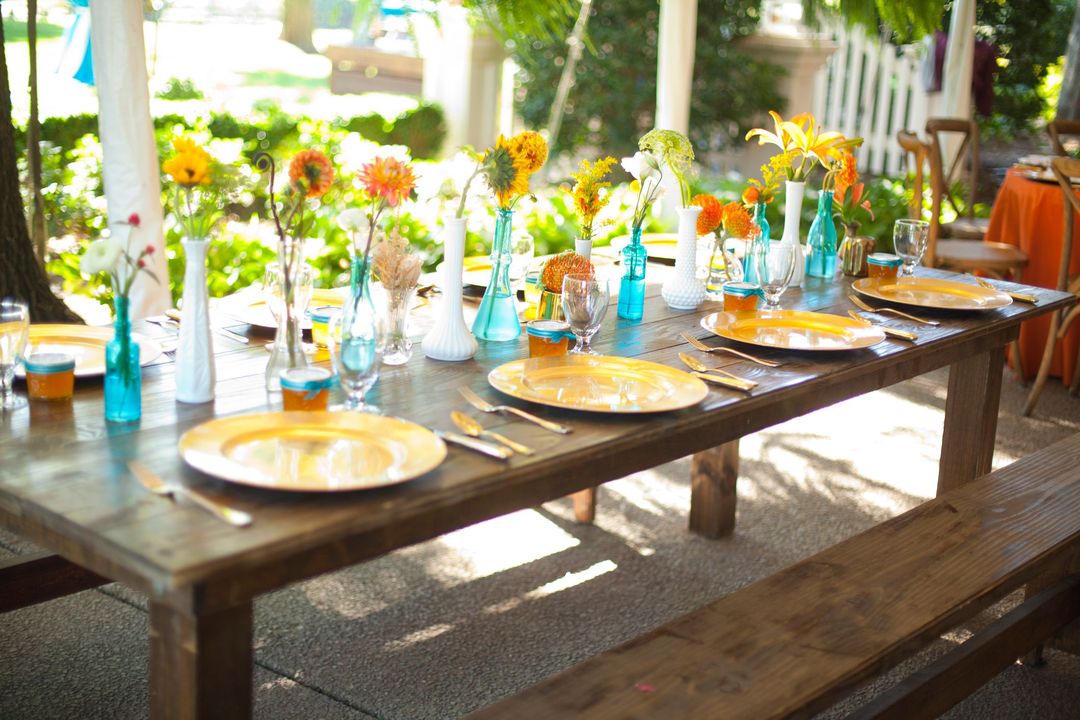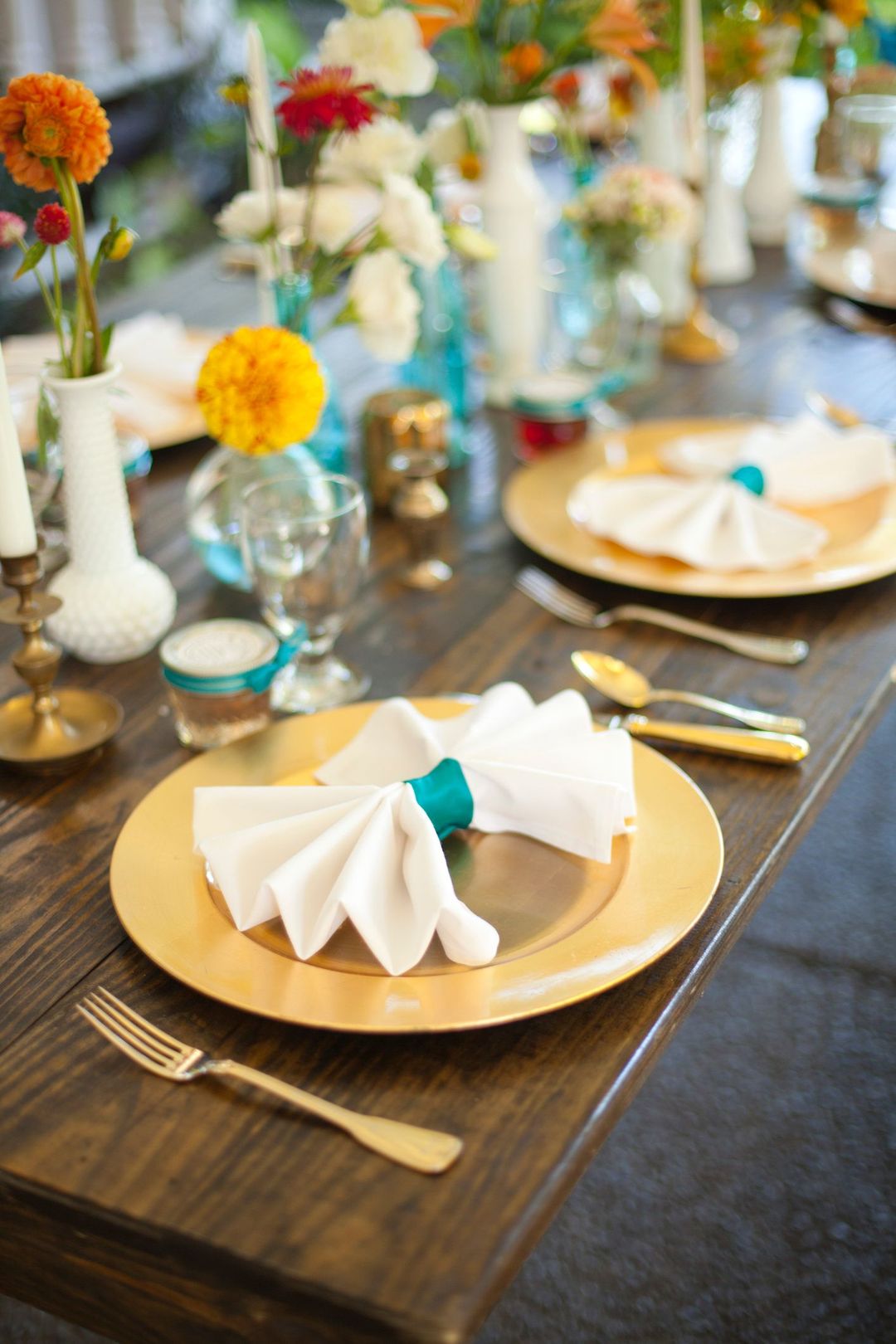 Bold Centerpieces
When it comes to table centerpieces people often feel the need to use matching pieces. A colorful backyard party is a perfect time to experiment with creative shapes and colors. This tablescape features a mix of vases, in teal, white, gold and clear glass – easy for a DIY backyard party. For candles, we suggest varying heights to add some dimension (though you can also create this with taller arrangements). As far as flowers go, consider keeping it simple but bright with a variety of wildflowers. Orange & yellow tones perfectly contrasted and popped against the teal and white glassware!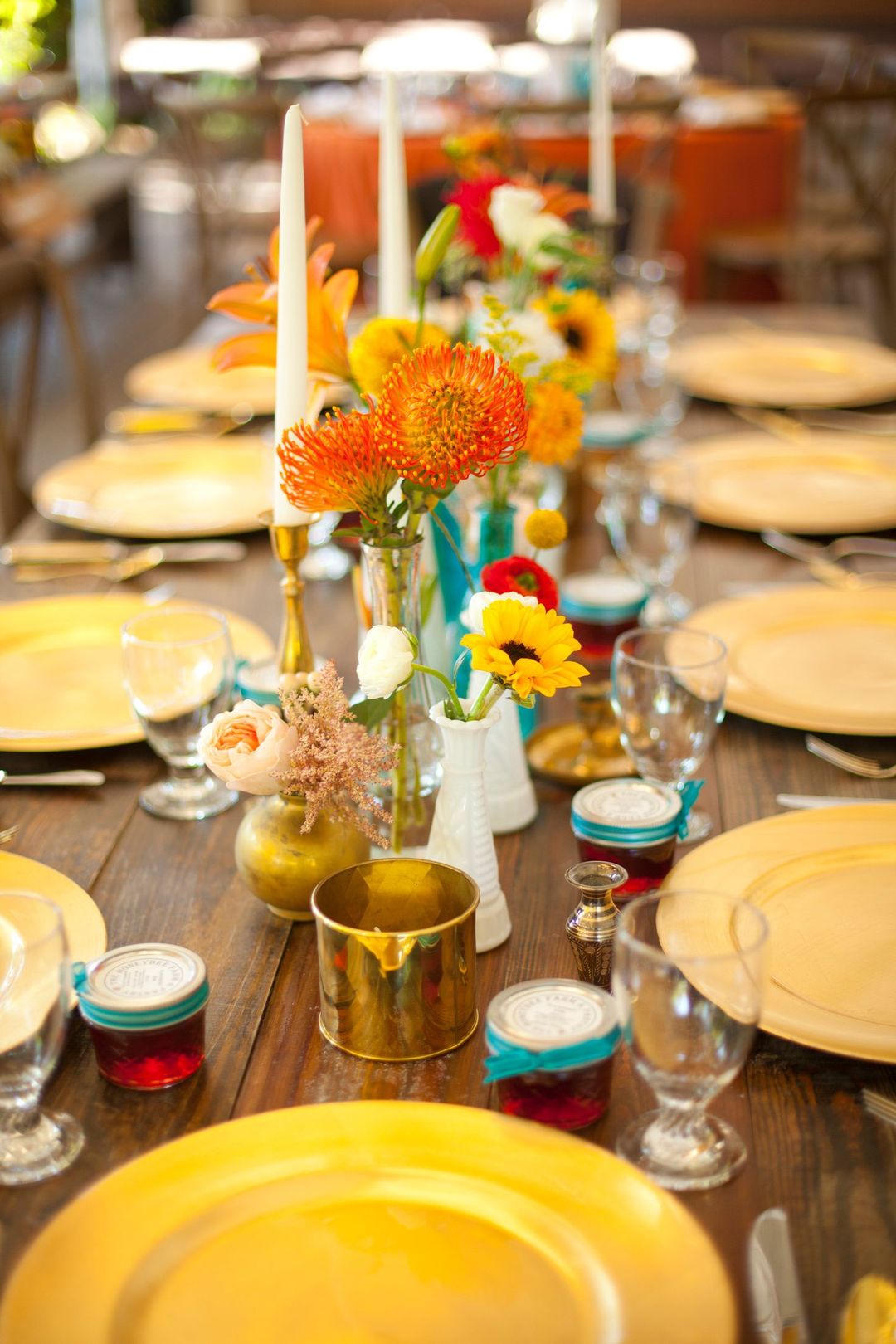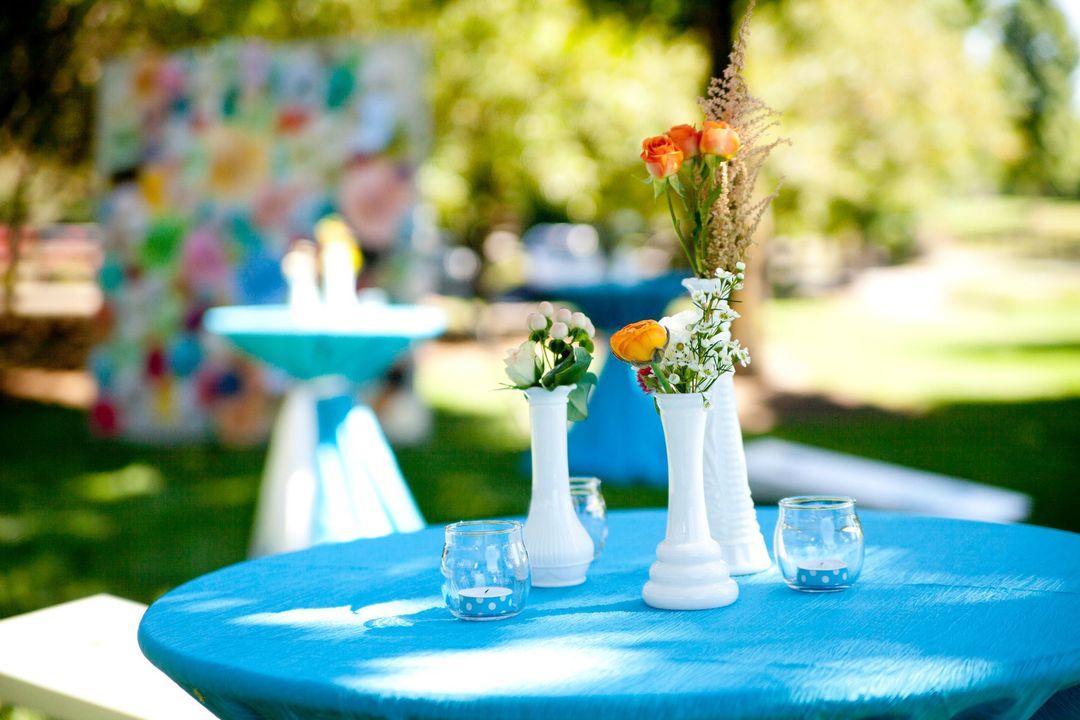 Vibrant Linens
Vibrant linens are so much fun! The use of bright colors will lend a sense of liveliness to your event, plus make your event photos pop. Don't be afraid to use different linens for each table either! Note how we were careful to switch up the color of our table centerpieces depending on the linen color. As a general rule: place lighter colored centerpieces on dark tablecloths and vice versa. Our Fuschia Etched Velvet Linens with their gold veining would be a another way to bring in a subtle metallic accent and a bold pop of color.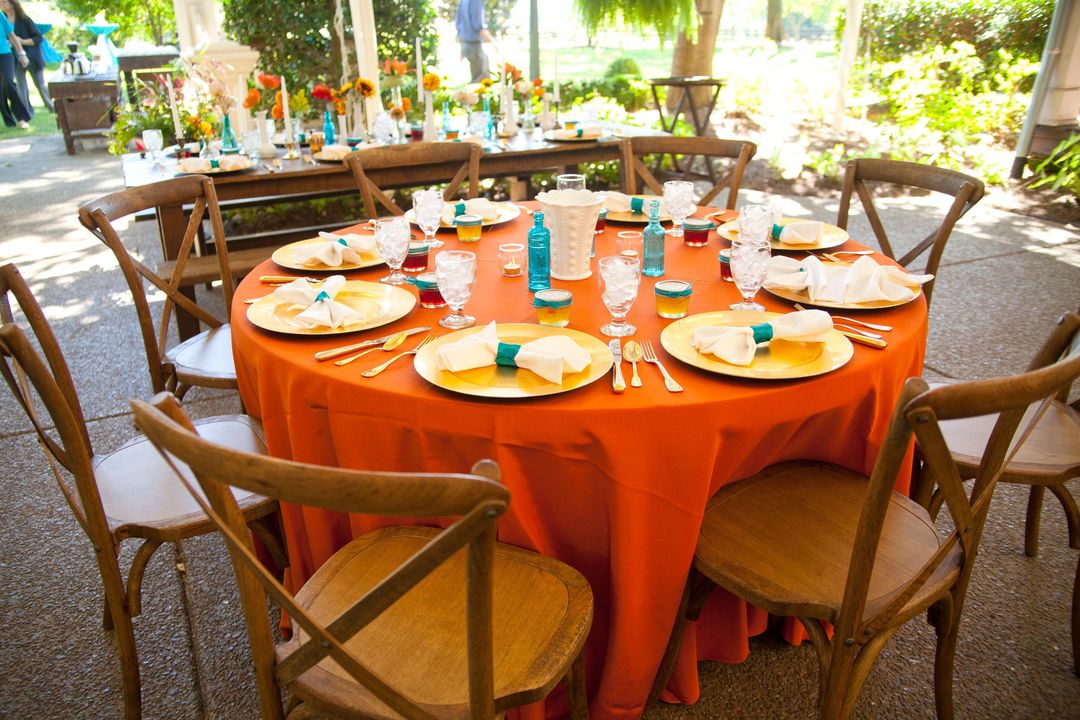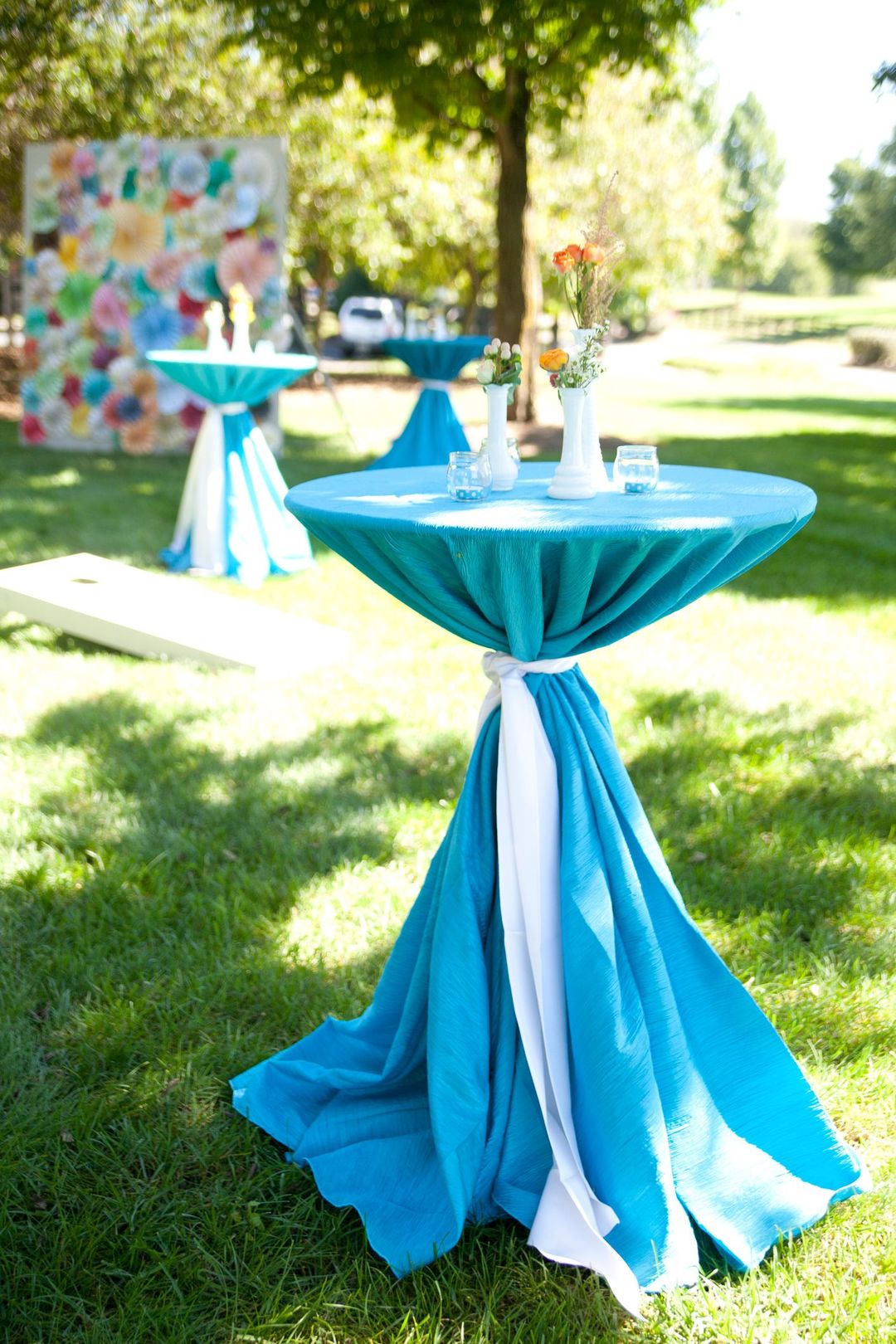 Loving these colorful backyard party design ideas? Contact our team for more inspiration and rentals for your event! Plus check out our previous blog for Season-less Event design.
TAGS | Bright & Colorful Rentals, Colorful and Fun Outdoor Wedding, Kids Parties, On Trend, backyard parties, classic event rentals, colorful decor, event inspiration, event style trends, style trends
FEATURED RENTALS | rustic bench, fruitwood farm table, cross back chairs, round gold lacquer charger, Austin flatware, colored glassware, table linens, velvet linens
---
25

Jun

Southern Events Products, Trends and Inspiration, Vintage Prop Shoppe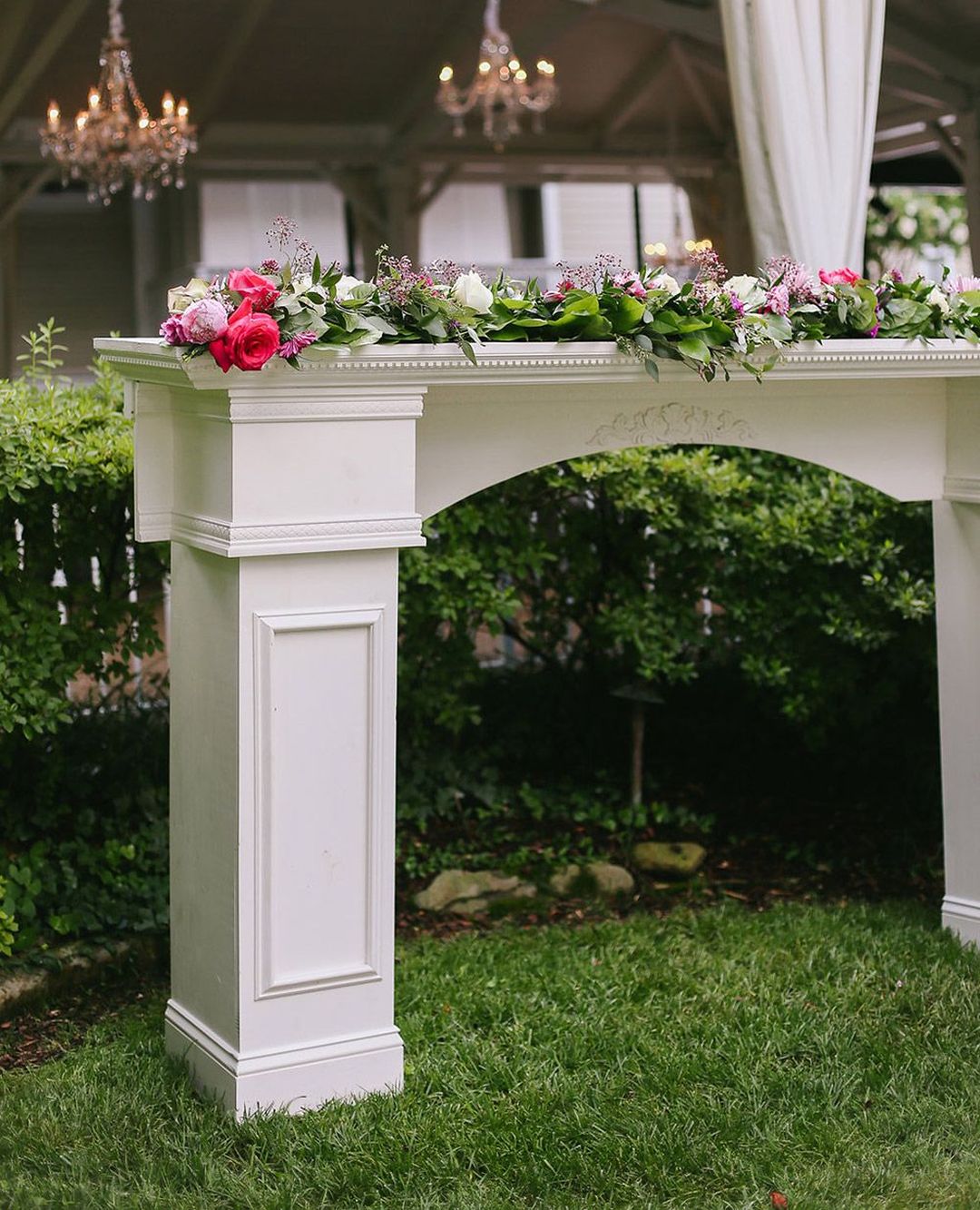 Elevate your backyard party with outdoor party decor and props! Take a look at some of our unique inventory items, perfect for creating fun backdrops & focal points for your small gathering, party or event.
Boxwood Wall
Our Boxwood Hedge Wall is a beautiful & versatile piece of decor. It can be used to create a backdrop for luxurious photographs. Or you can create an interactive focal point, such as a champagne wall.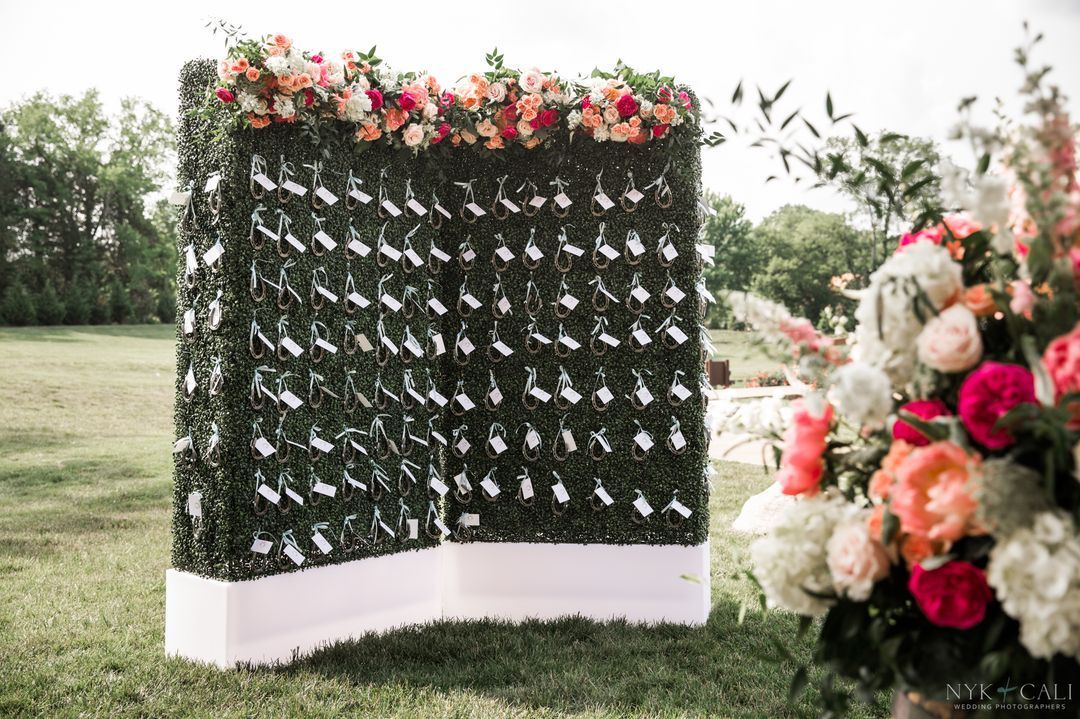 Fiona Mantle
A unique way to amplify a plain exterior wall is with our Fiona Ivory Mantle. Whether it is placed against a wall or standalone, it can also be used as a photo backdrop, ceremony backdrop or a unique place for decor. Adorn the mantle with flowers, lanterns, votives or even photographs.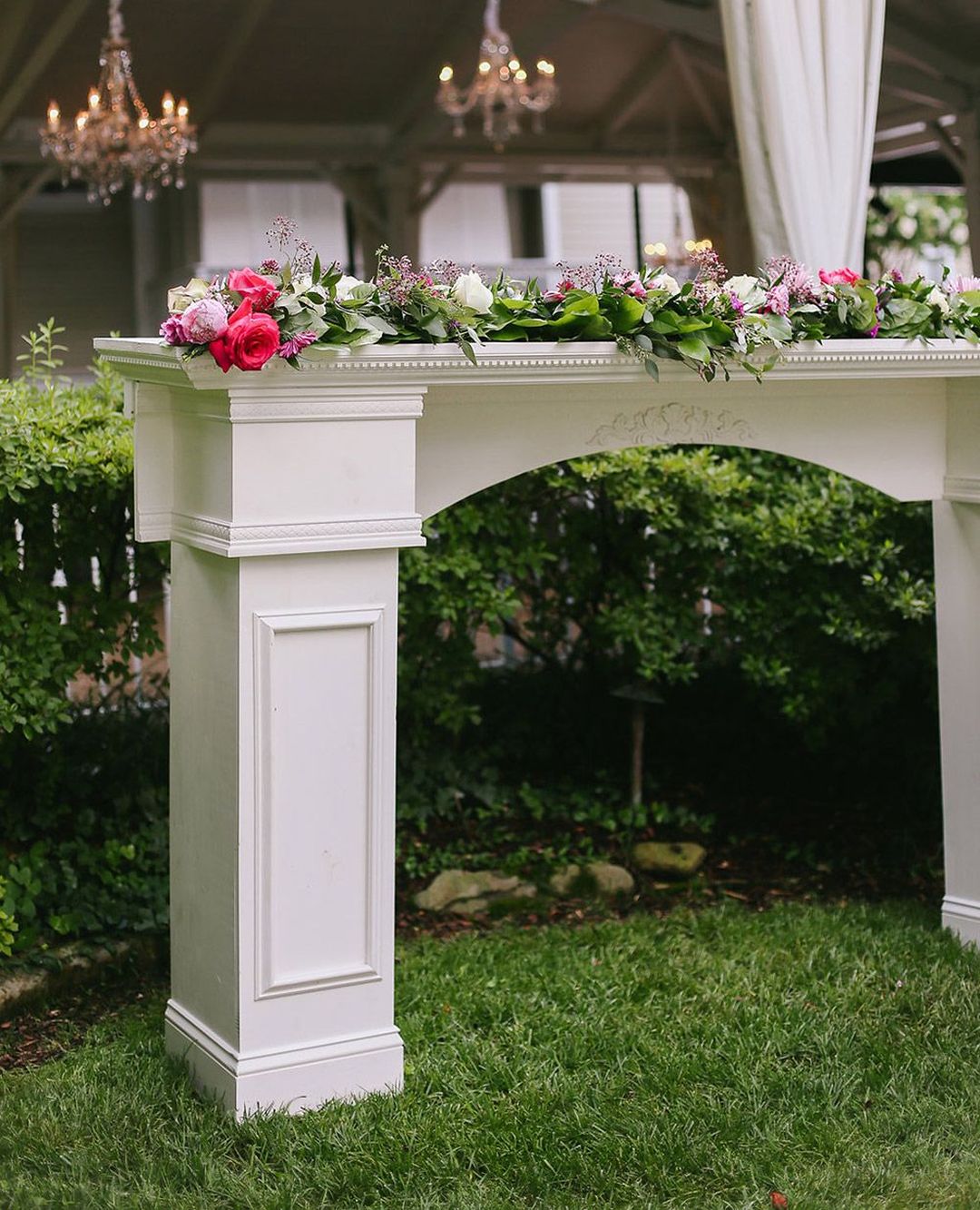 Photo by Jenna Henderson
Ceremony Arch
Perfect for an outdoor event, our Wrought Iron Arch would look beautiful for a garden party. Use it to create a party entrance, outdoor wedding altar or simple photo backdrop. For a more elegant look, weave our Chiffon Runner or fresh flowers through the metal lattice.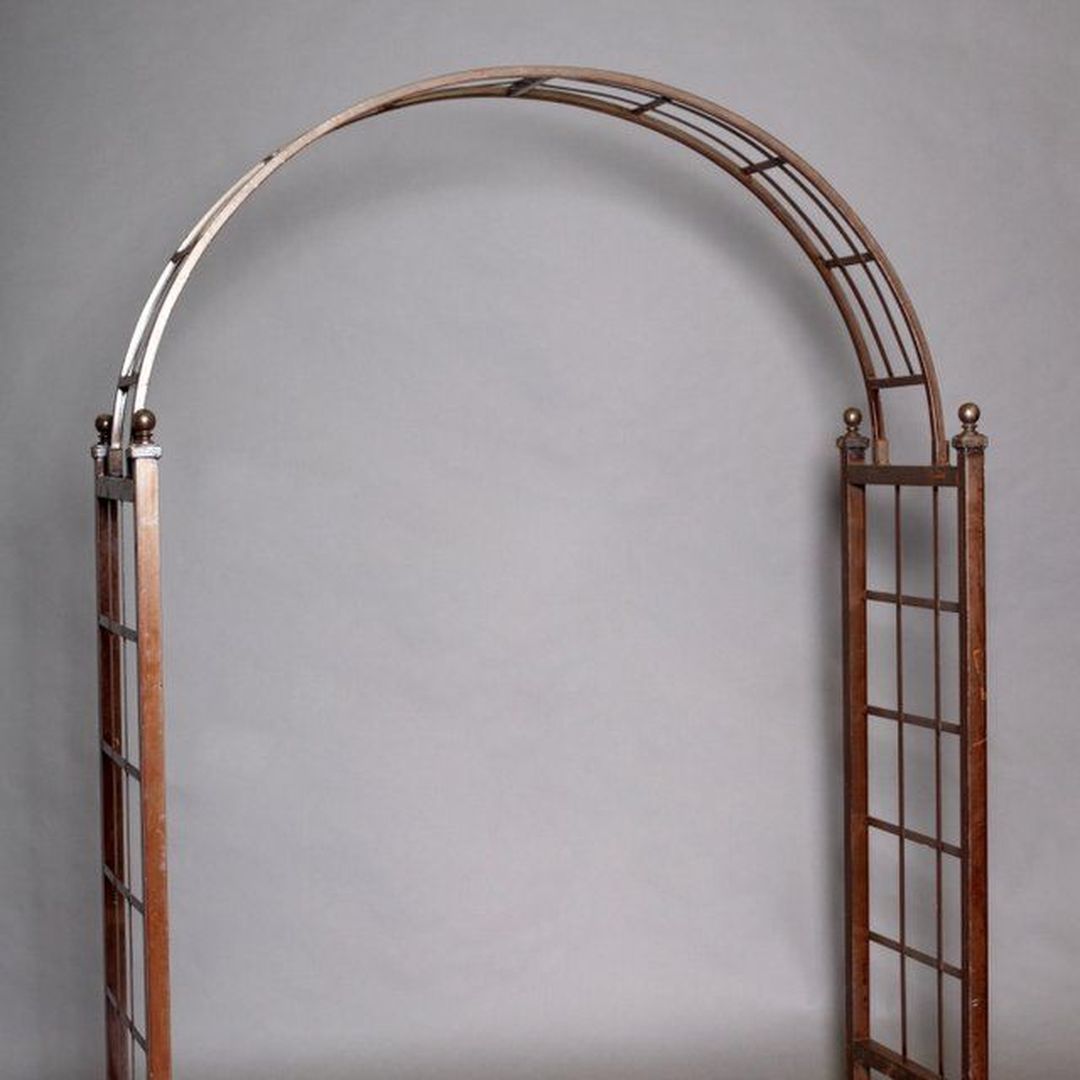 Whiskey Barrels
One of our most popular pieces used for outdoor party decor, whiskey barrels are incredibly versatile. Use our White Wash Whiskey Barrel to create makeshift bistro tables for social hour, or to border an entryway. You can also pair a set of whiskey barrels with one of our rustic barn wood tops, to create a gorgeous bar or buffet area.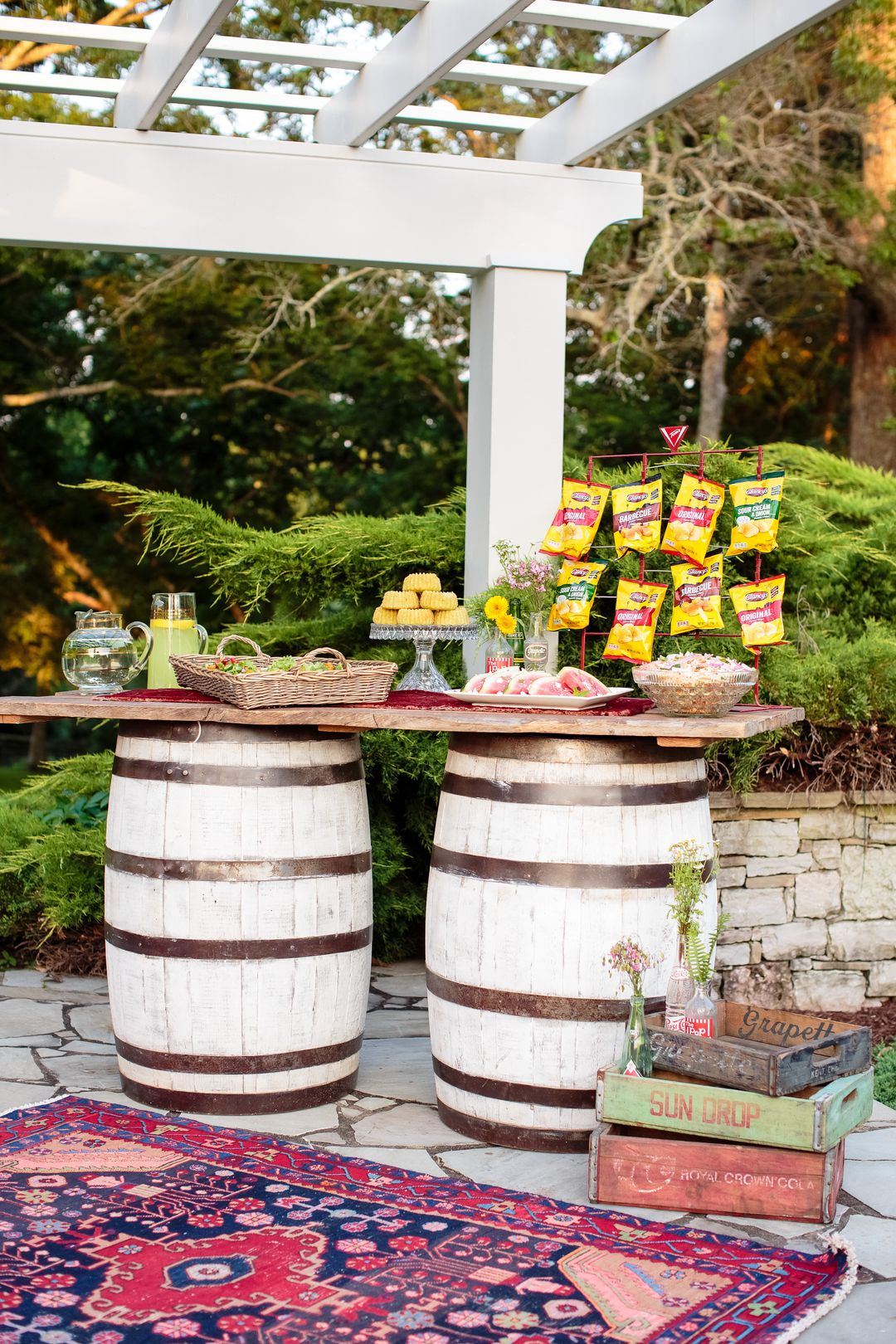 Photo by Erin Lee Allender
Vintage Tubs
On a hot summer evening, cold drinks are a must-have! If your buffet is self serve, display your beverages in our vintage Ideal Double Wash Tub. This gorgeous piece is always a hit, especially for rustic styled events.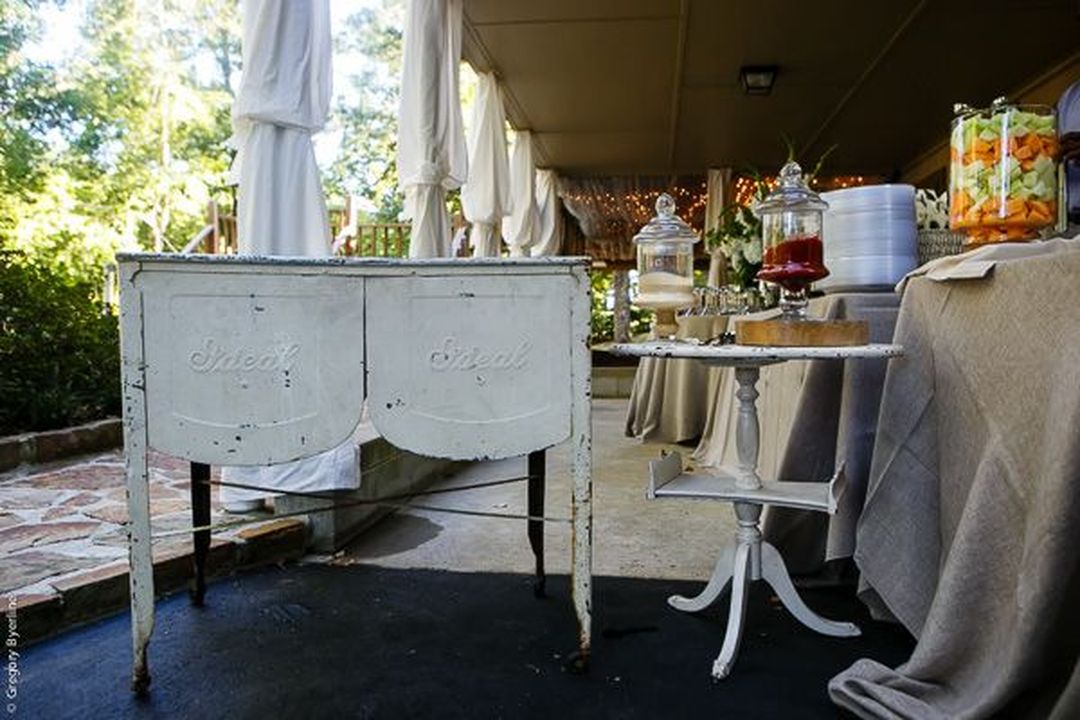 Photo by Gregory Byerline
Lanterns
Creating a stunning centerpiece doesn't mean it has to be big. A combination of small elements, like a bouquet of fresh flowers, our Nolen Lantern and a variety of votives, are equally beautiful. Simpler looks like this are perfect for a casual backyard gathering.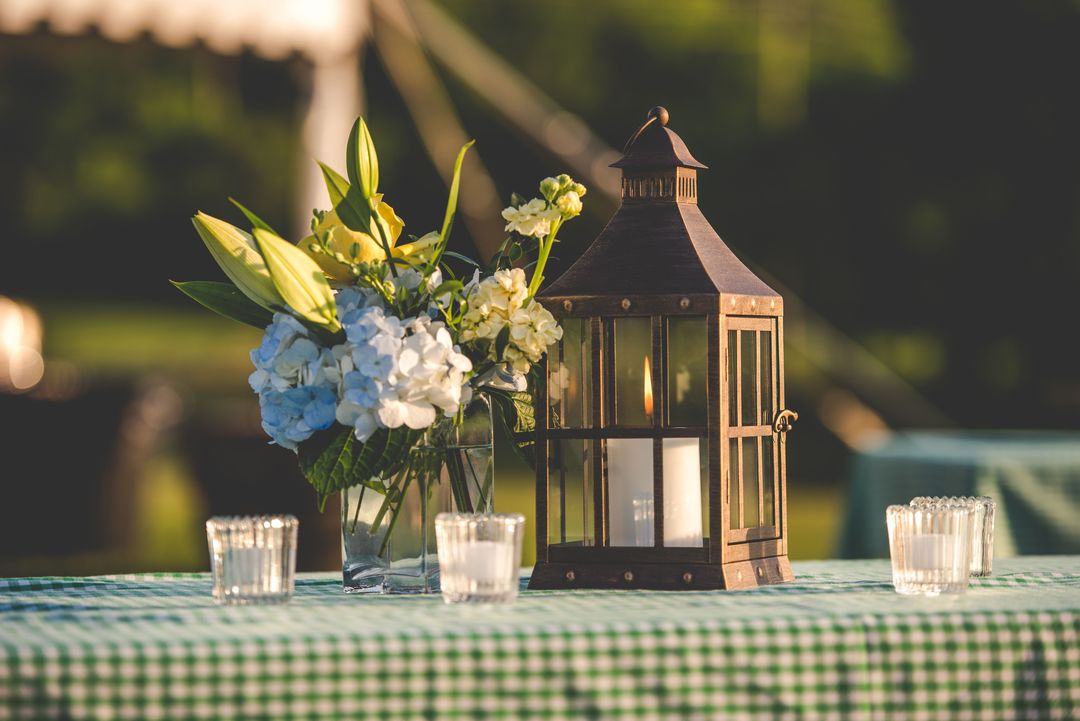 Cake Stands
Create a charming buffet area by displaying food at different levels. We have a variety of beautiful cake stands, whether you intend to serve sweet or savory foods up on them. For example, our Wyatt Pedestal Cake Stand and Willow Pedestal Cake Stand.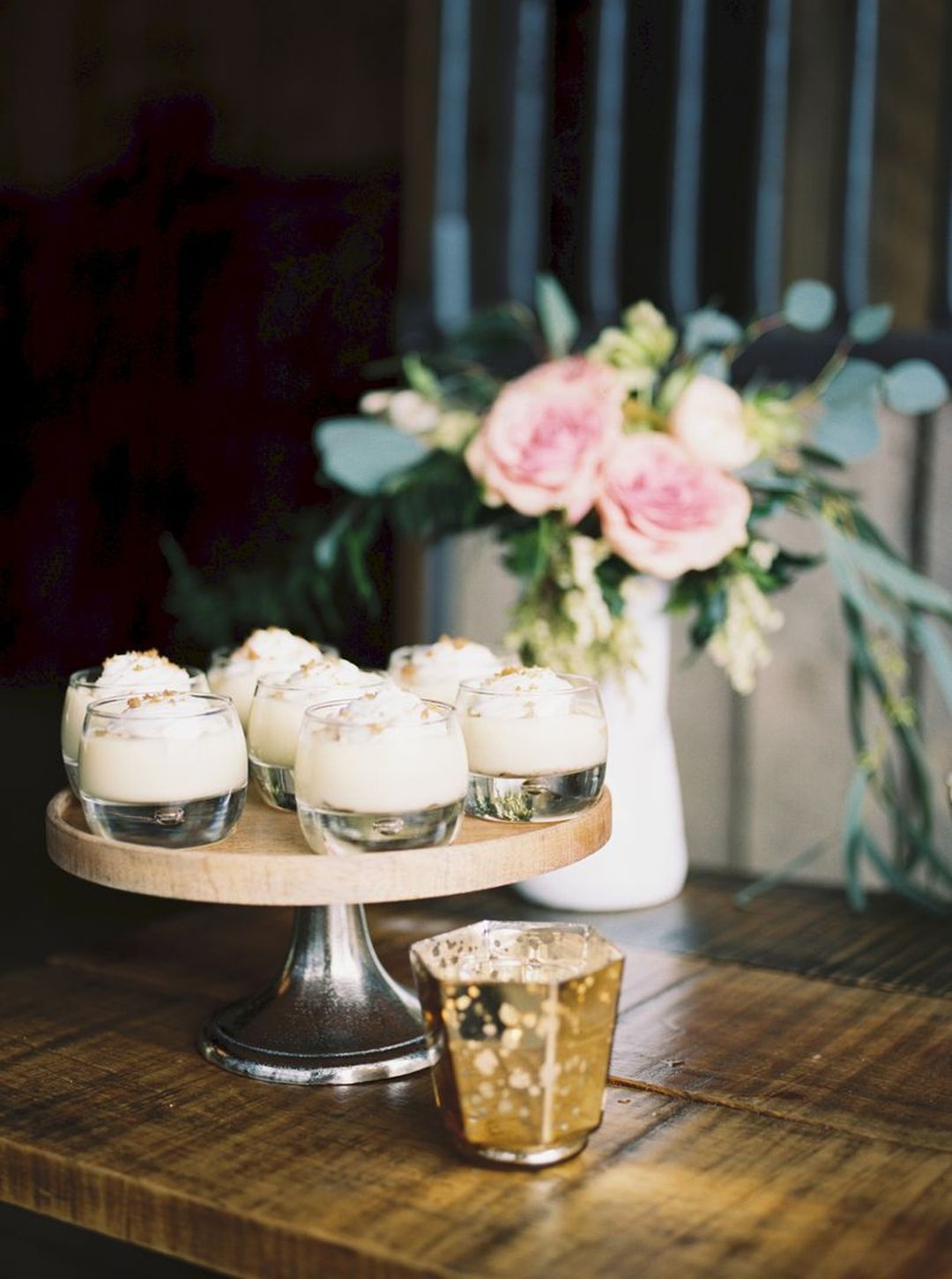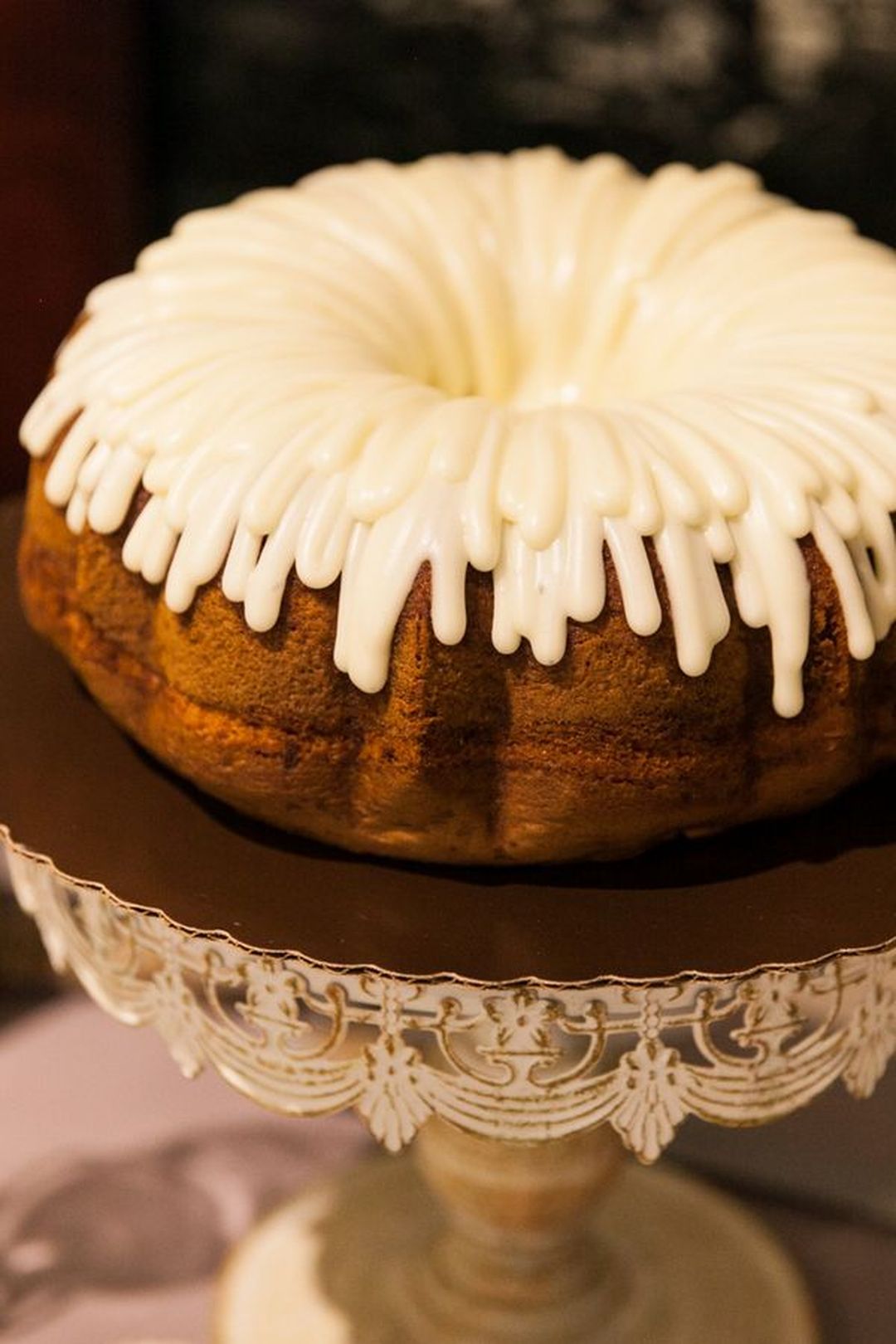 Photo by Kristin Vanzant Photography
Loving these outdoor party decor and prop ideas? Contact our team for more inspiration and visit our blog for more must-have rentals for small gatherings! Be sure to check out our new tent packages, and ask about our contact-less delivery and set-up.
TAGS | Backdrop, Cake Stand, Lanterns, Outdoor Prop Shoppe, Vintage Acccessories, Vintage Prop Shoope, classic event rentals
FEATURED RENTALS | Boxwood Wall, Fiona Mantle, Iron Arbor, Ideal Double Wash Tub, White Wash Whiskey Barrels, Nolen Lantern, Wyatt Pedestal Cake Stand, Willow Pedestal Cake Stand
---
16

Apr

Southern Events Products, Trends and Inspiration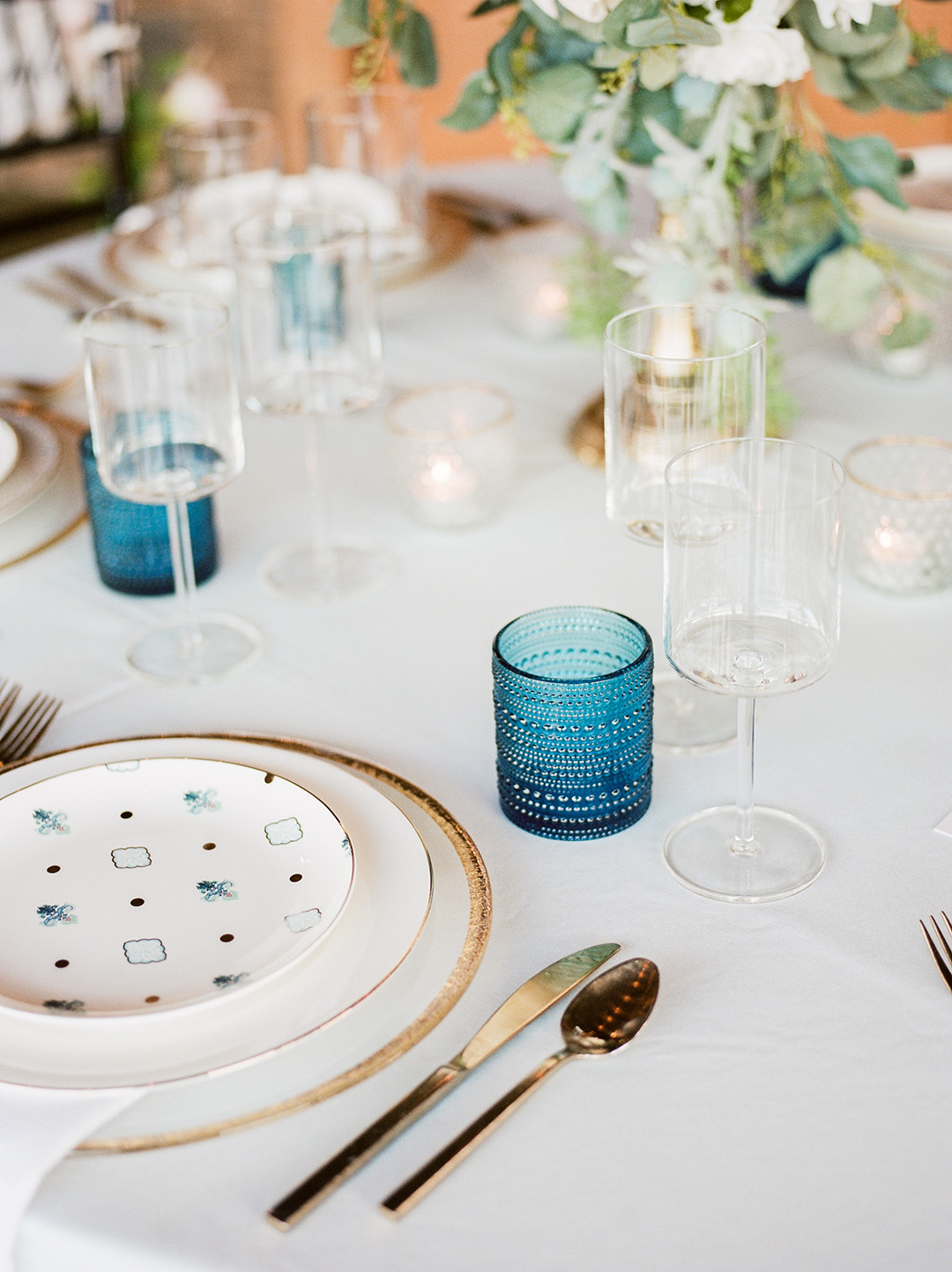 Though we hope every event goes off without a hitch, postponing or rescheduling weddings and events happens. But you don't have to sacrifice your event style for a shift in seasons with these classic, season-less event design tips & rentals from Southern Events.
Natural Notes
Take a note from nature to plan your event color scheme. Blues, teals, and greens are classic colors that can easily transition your event rentals from one season to the next. We love our Saylor Velvet Sofa and Chairs, Ocean Blue Velvet Linens, Coronado Salad Plates, and Fern Velvet Linens for the perfect pop of season-less event design color.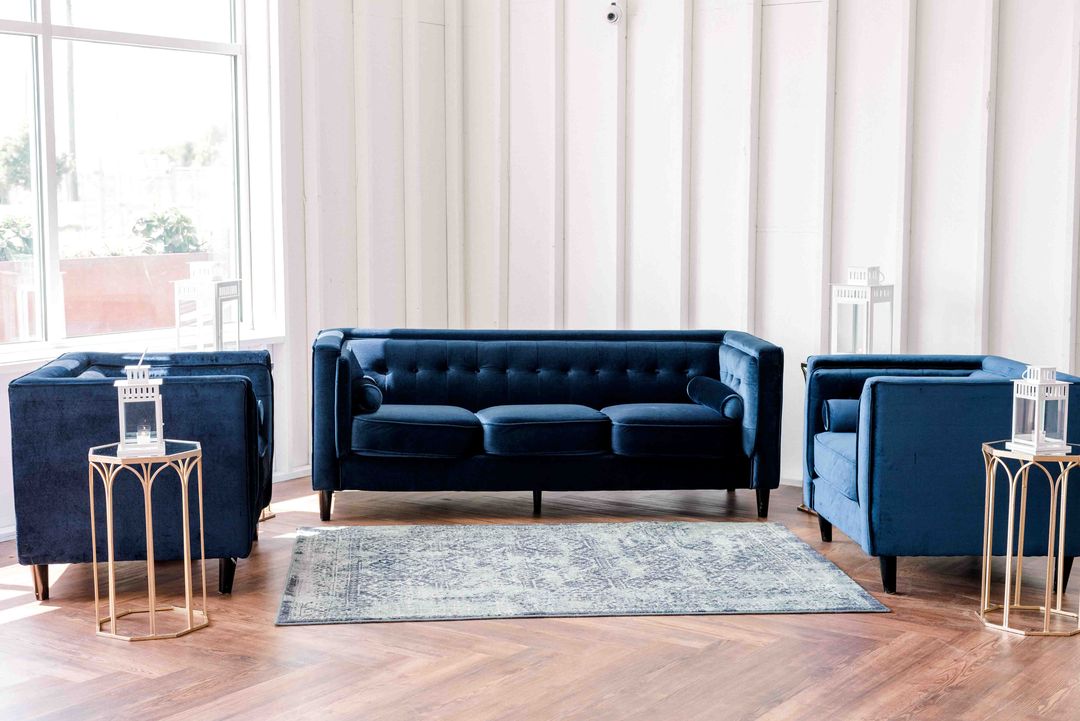 Photo | CeeCee Photography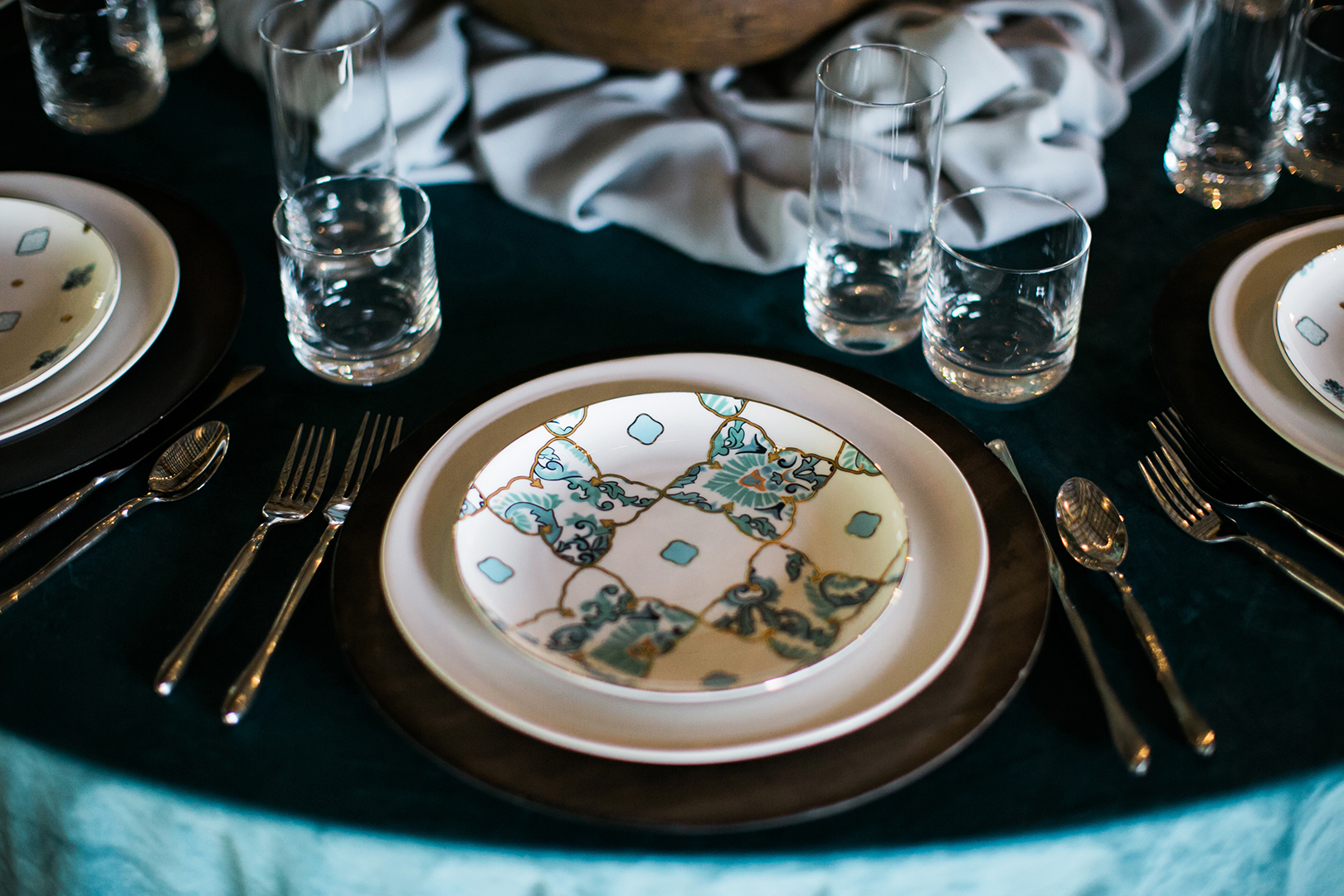 Photo | Jen & Chris Creed Photographers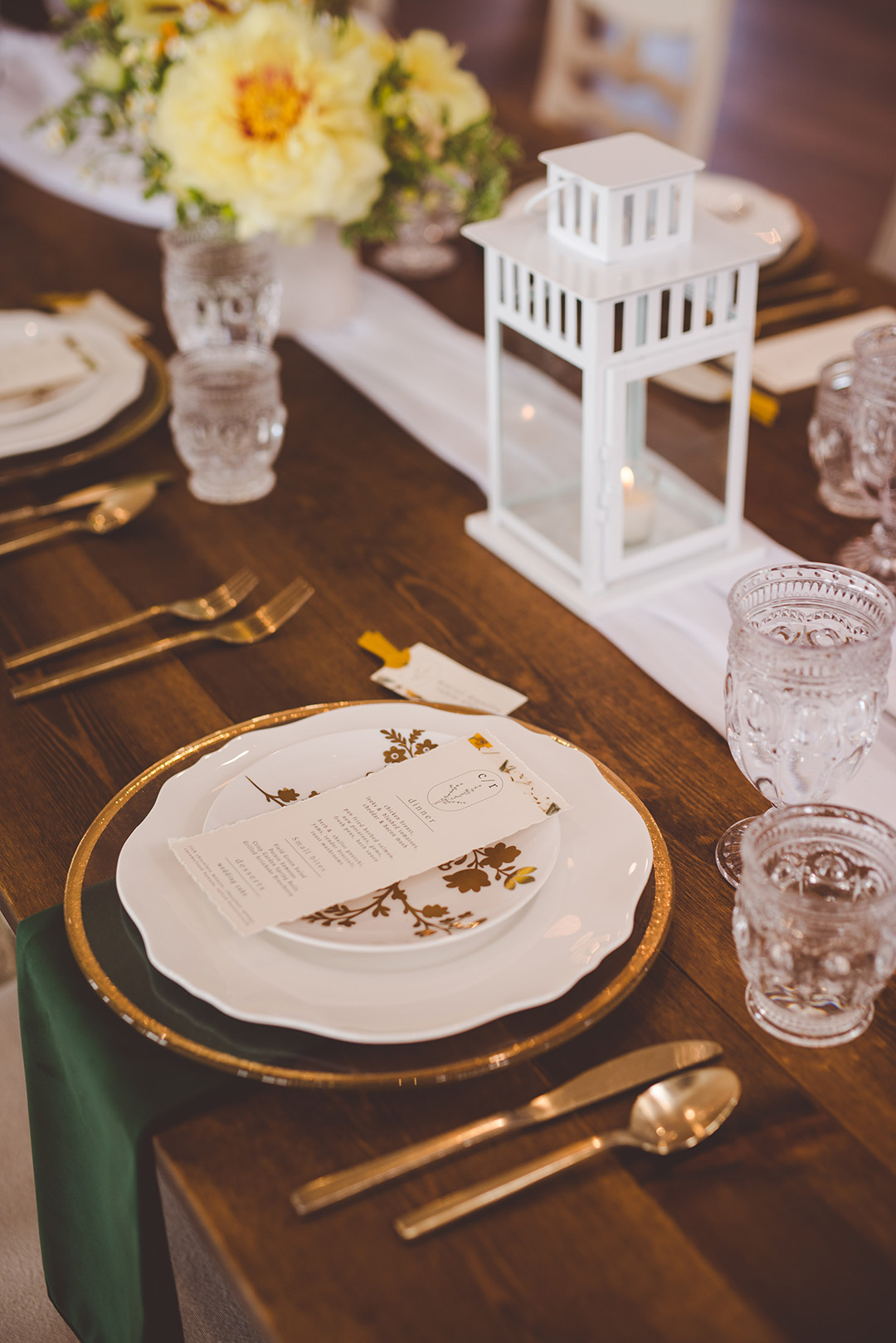 Photo | Rachel & Garren Photography
Farm-to-Table
Always appropriate, especially in the rolling countryside of middle Tennessee, a farm-to-table style is perfect for any type of event – no matter the season. Go for timeless rustic rentals with our classic Farm Tables, Cross-back or Bentwood Chairs, Kennedy Textured Linens (a polished update to burlap), and Artisan China.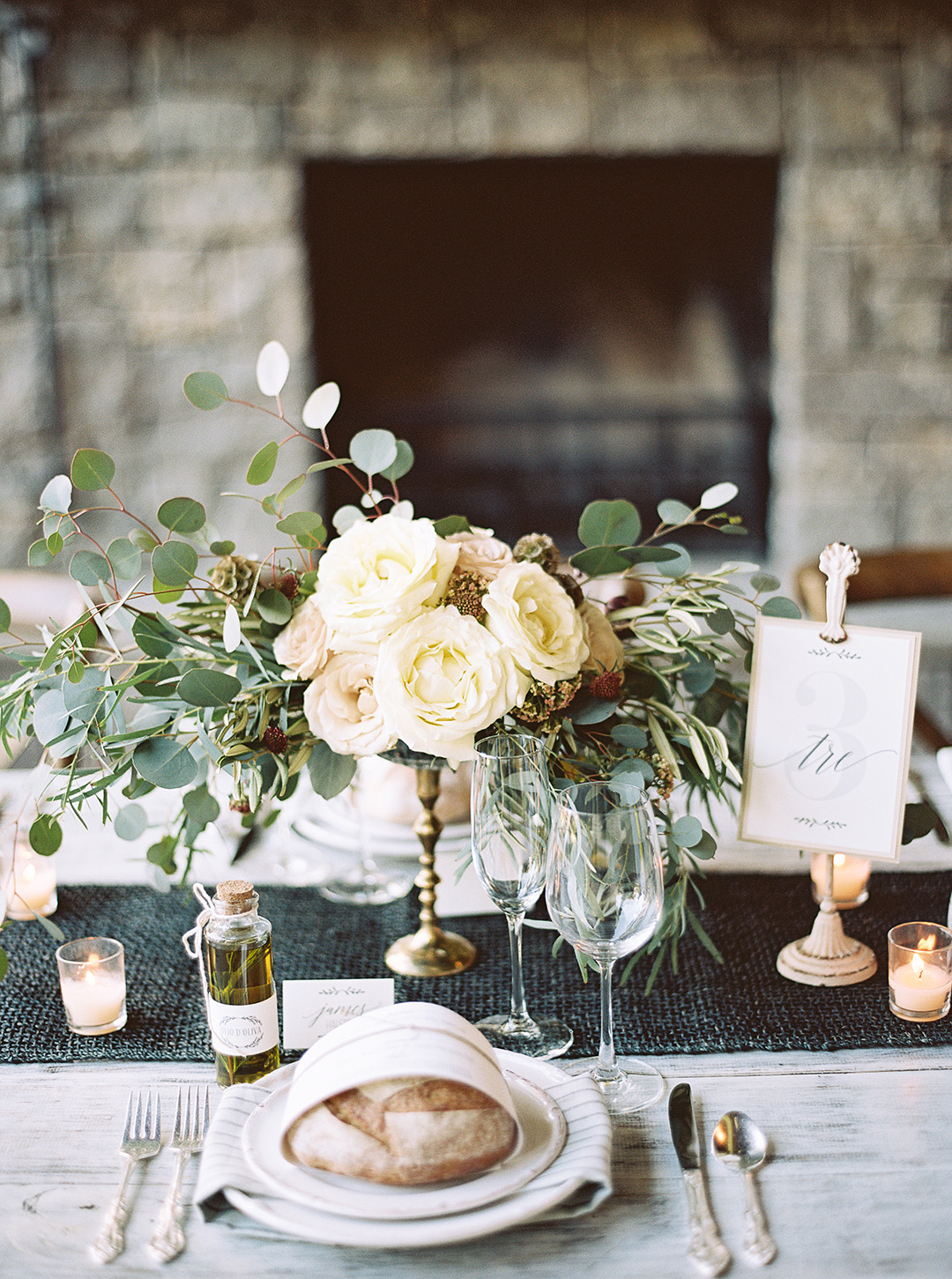 Photo | Julie Paisley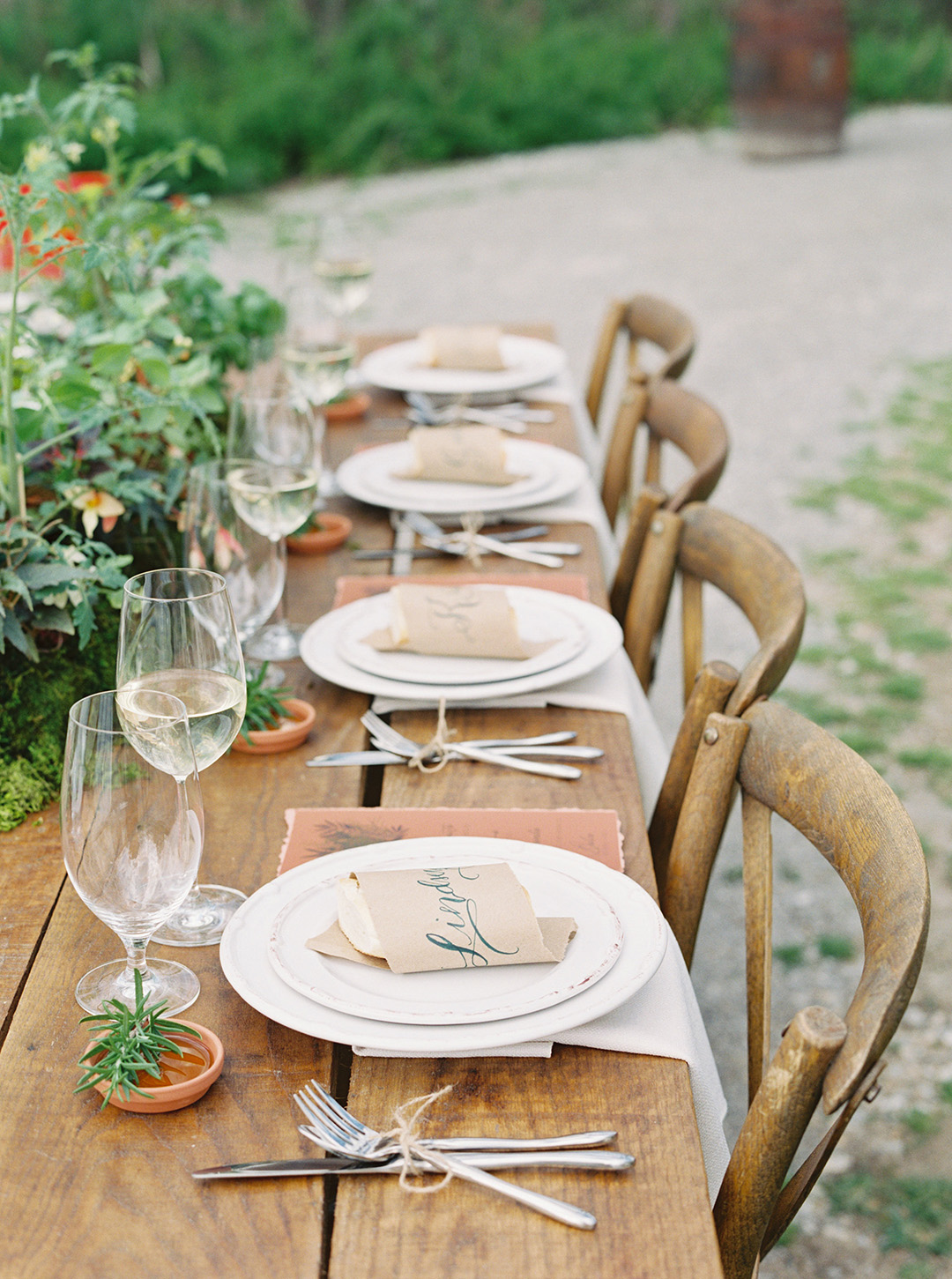 Photo | Cassidy Carson Photography
Classic Tastes
These rentals are classics for a reason! Timeless and season-less, mix and match our Athena, Hamlet and Ophelia Gold China with modern Austin Flatware and classic white or soft gray linens to set the tone any time of year.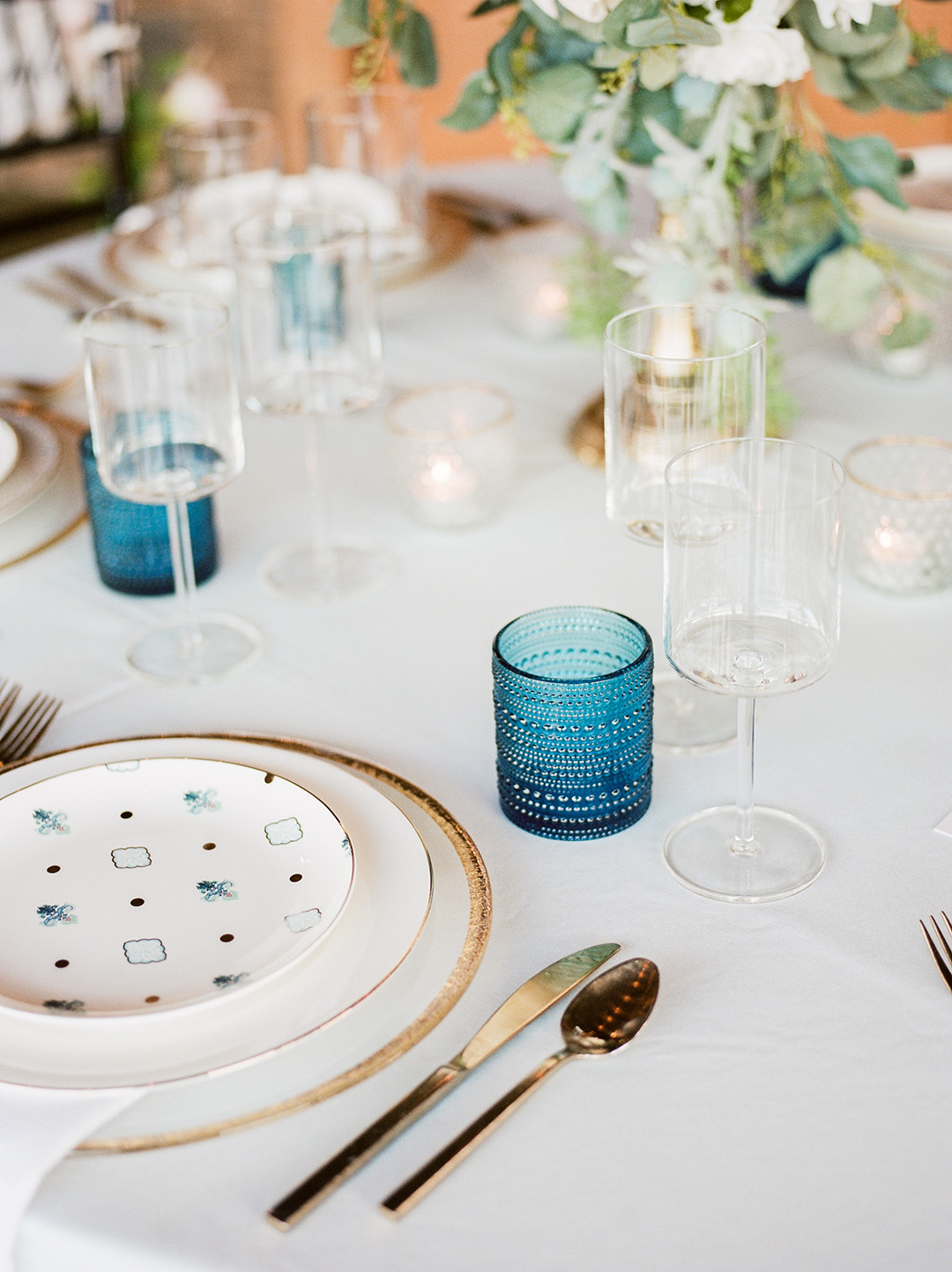 Photo | Jenna Henderson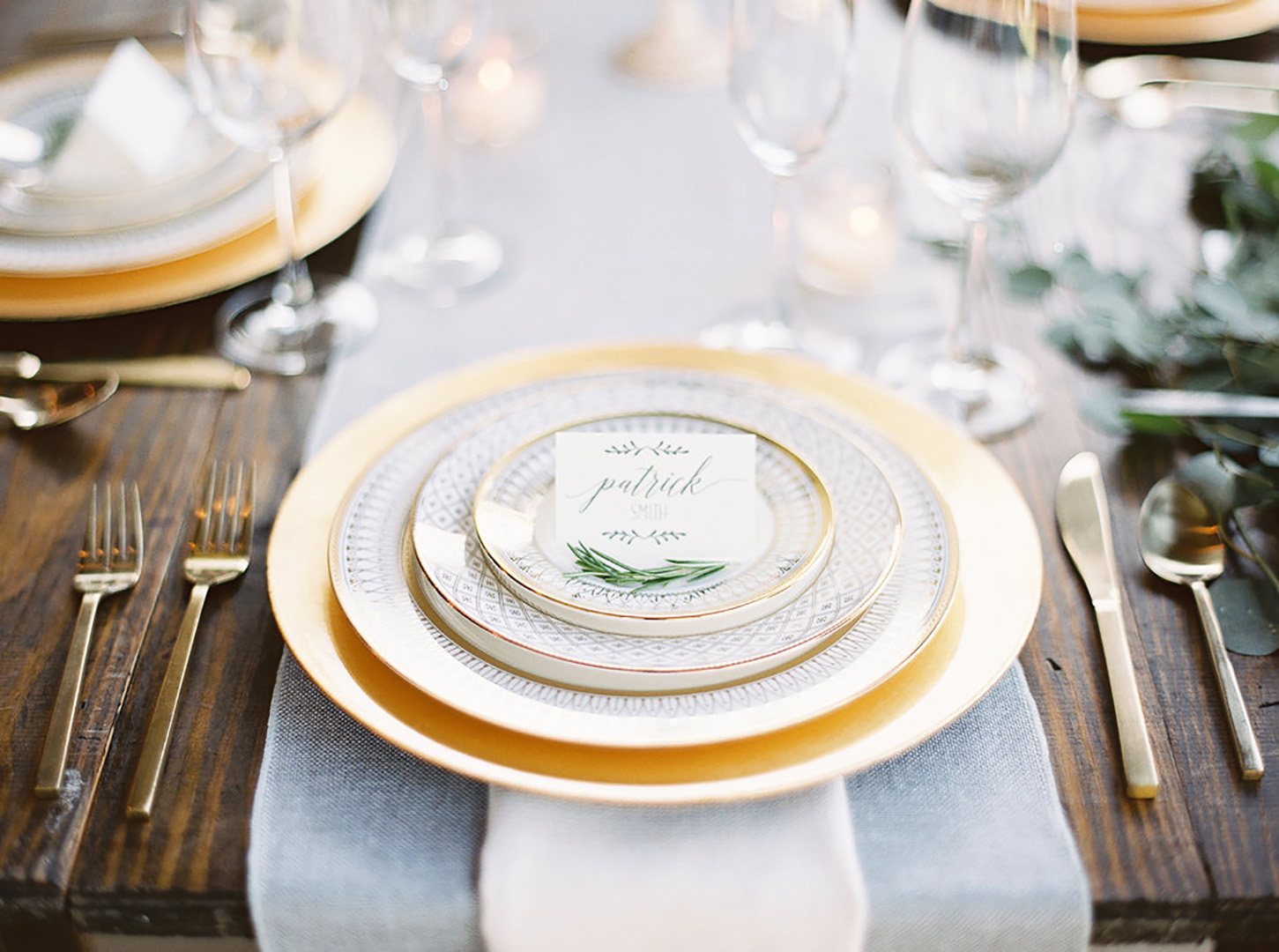 Photo | Julie Paisley
Shift to Neutral
Keeping your event color palette neutral can avoid a seasonal shift – but it doesn't have to be boring! Try layering our Grey Goose Linens with Earthen China and glittering Pure Glassware for a modern event table design, or staging your event lounge with our Henley Grey Velvet Sofa, warm wood Adeline Chairs, and Echo Silver Mirror Side Tables for a luxe lounge area.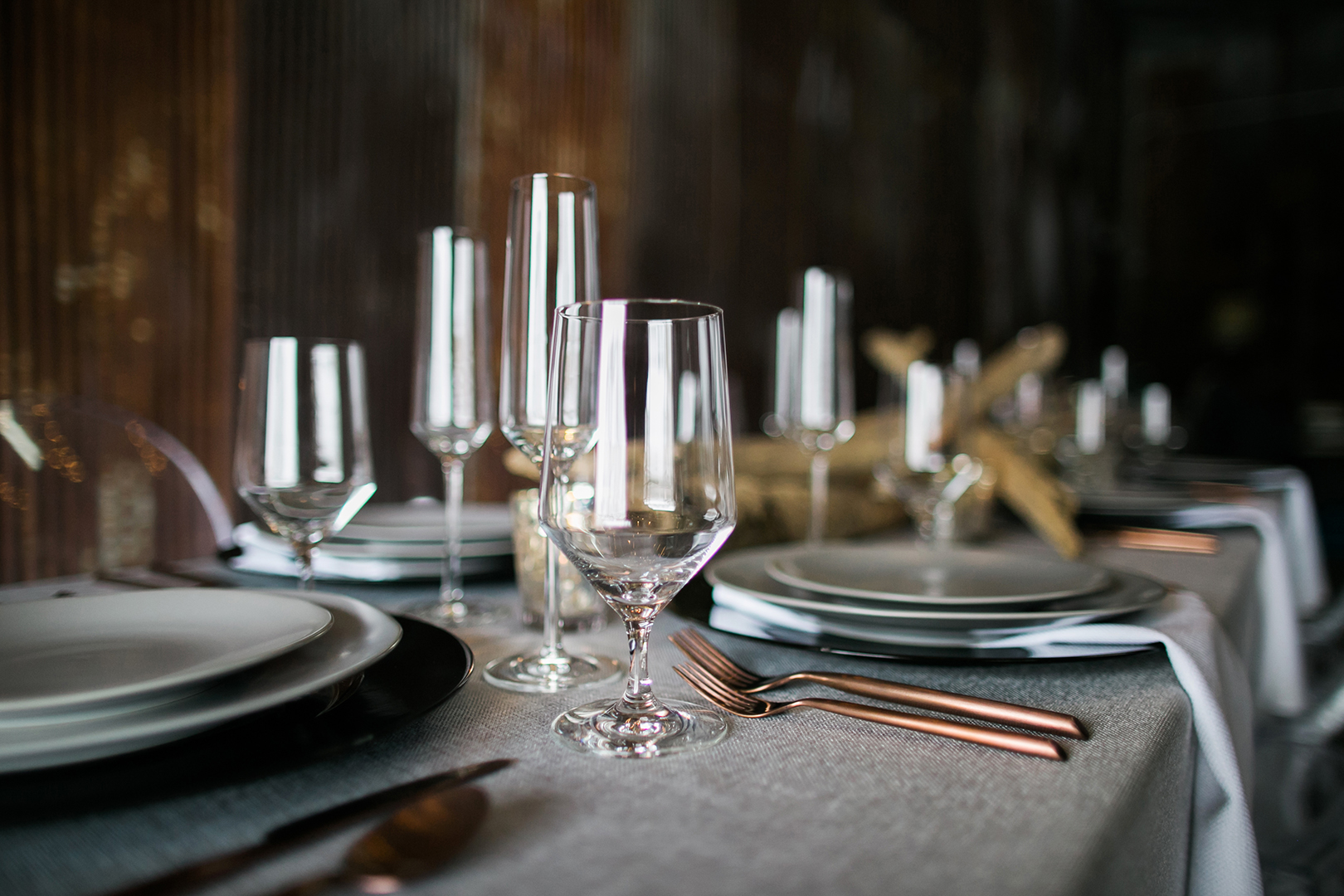 Photo | Jen & Chris Creed Photographers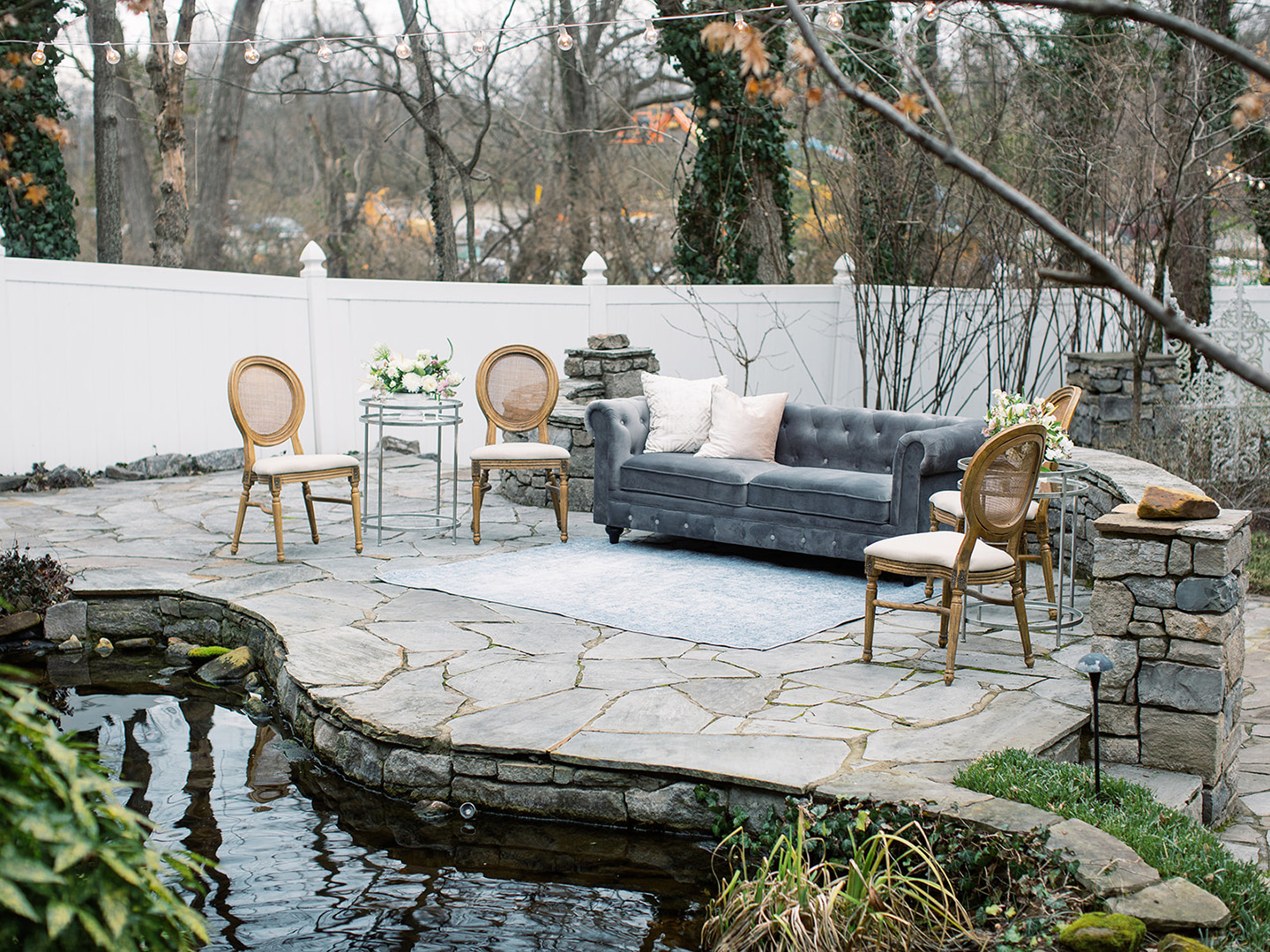 Photo | Abigail Lewis Photography
Warm + Cool
Use both warm and cool colors in varying shades in your season-less event design. This way you avoid seasonally inspired palettes – like spring pastels or rich fall colors. These colors can be mix in your florals, linens, furniture, and even flatware – like mixing our Brushed Copper Flatware and Sea Glass Velvet Linens.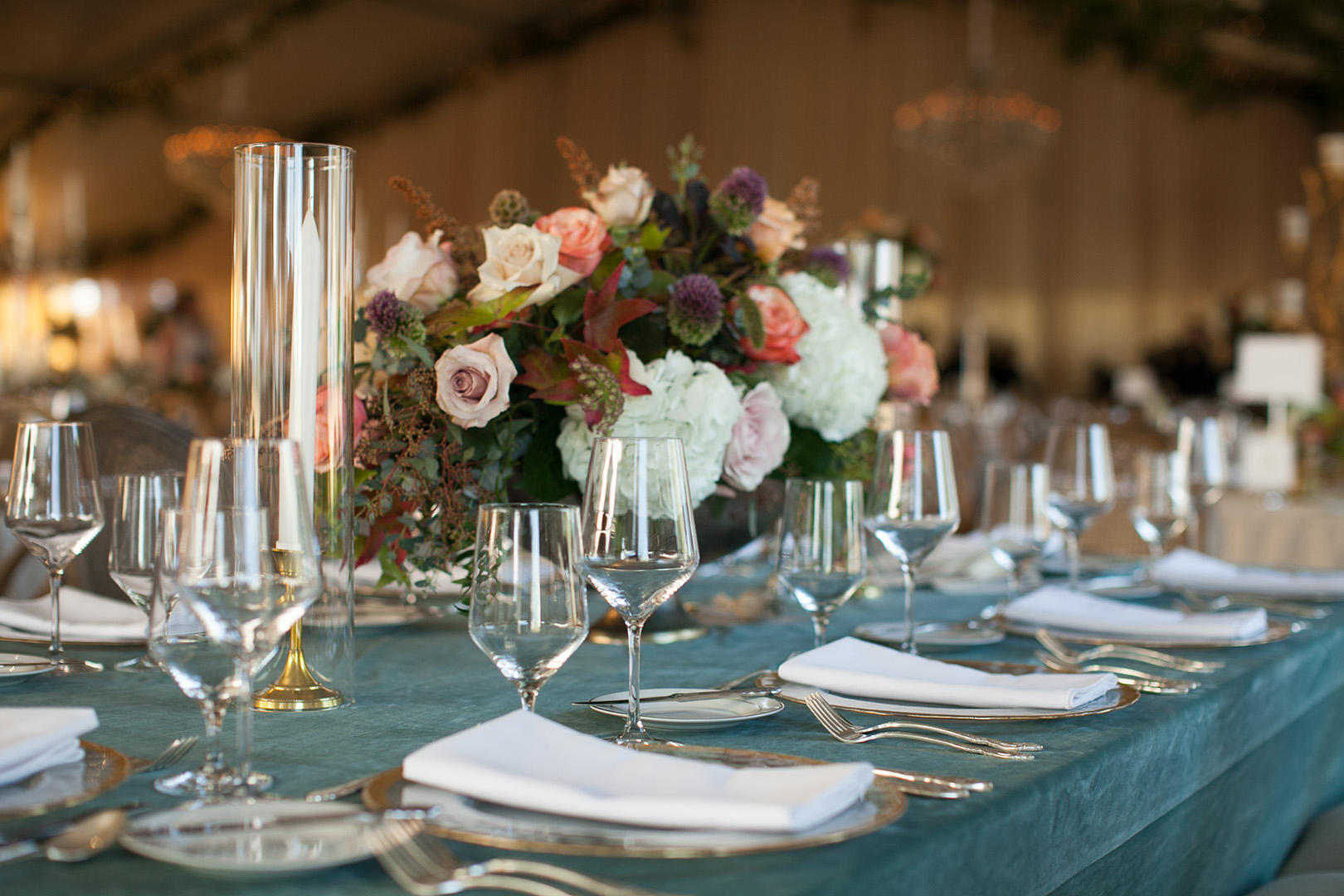 Photo | Phindy Studios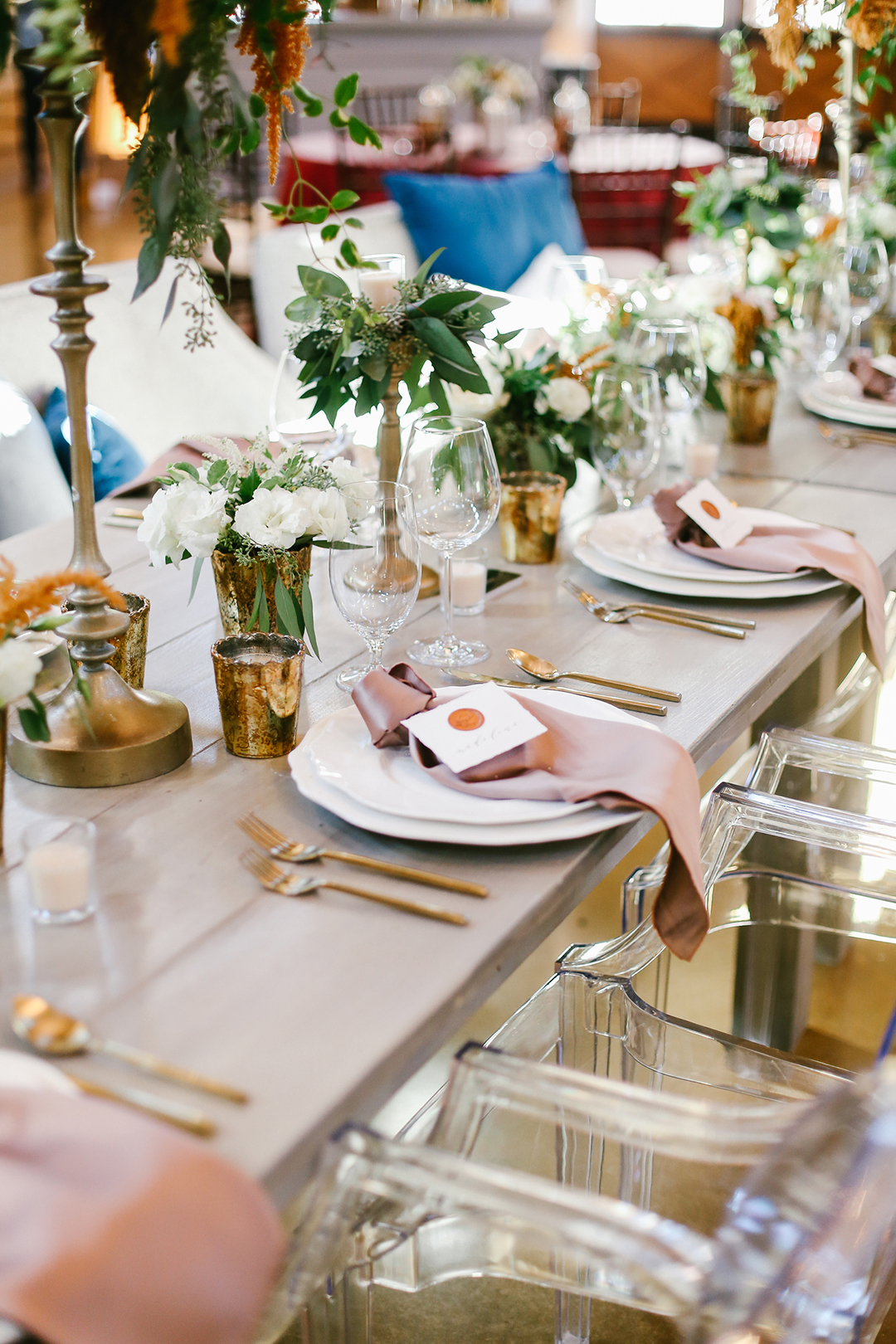 Photo | Jenna Henderson
Loving these season-less event design ideas? Contact our team for more timeless inspiration and rentals for your wedding or event!
TAGS | Southern Events Party Rental, Southern Events Party Rental Company, Southern Events Rental, classic event rentals, classic event style, classic southern wedding, farm, farm table rentals, farm to table, farm wedding, neutral event rentals, southern event rentals, timeless event rentals, timeless event style, timeless southern wedding, timeless southern wedding style
FEATURED RENTALS | Saylor Velvet Sofa, Saylor Velvet Chairs, Ocean Blue Velvet Linens, Coronado Salad Plates, Fern Velvet Linens, Farm Tables, Cross-back Chairs, Bentwood Chairs, Kennedy Textured Linens, Artisan China, Athena Gold Rim China, Hamlet China, Ophelia China, Austin Flatware, White Linens, Grey Linens, Grey Goose Linen, Earthen China, Brushed Copper Flatware, Pure Glassware, Henley Grey Velvet Sofa, Adeline Chairs, Echo Silver Mirror Side Table, Sea Glass Velvet Linen
---