13

Apr

Events and Style Shoots, On Trend, Southern Events Products, Trends and Inspiration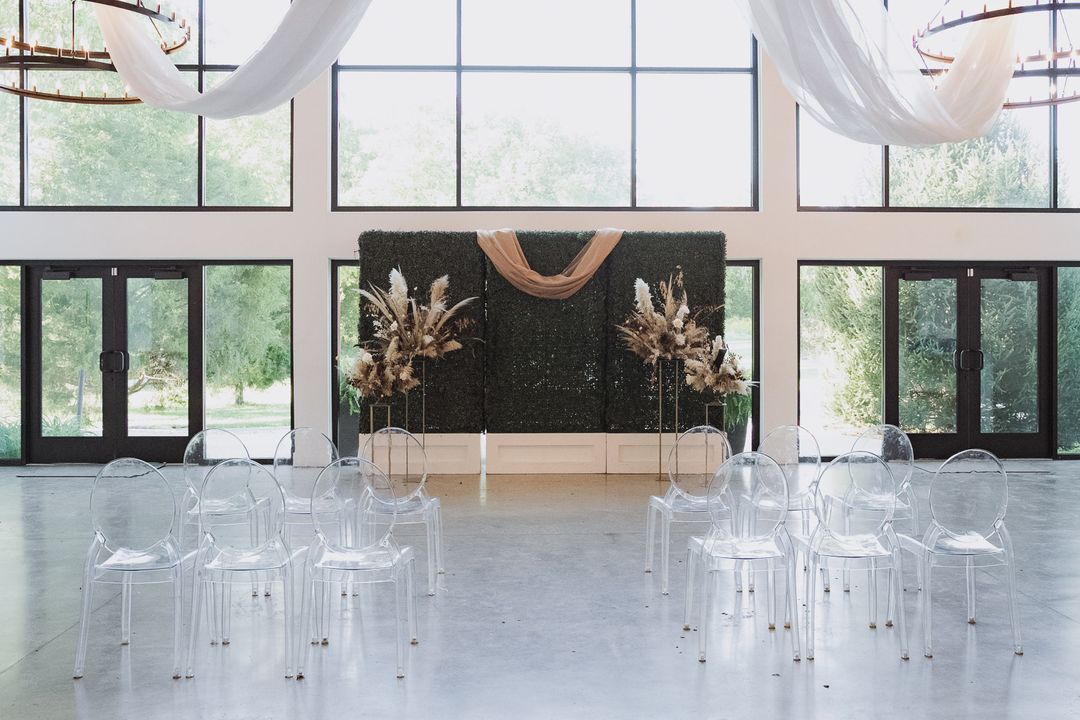 Are you dreaming of a wedding that is out of this world? Check out this modern celestial wedding! A theme that is all about creating a bright and modern atmosphere, with an ethereal touch. It is perfect for couples who want to have a unique wedding that is contemporary yet tasteful! Featuring our stylish rentals and a cool-toned color scheme, check out the details of a styled shoot hosted at Southall Meadows, inspired by the magic of the cosmos.
A Chic Indoor Ceremony
The Hall at Southall Meadows was the perfect setting for a ceremony, with a towering ceiling and blank white walls. It lent an airy atmosphere, softened by romantic white drapery. For the backdrop, a row of lush Boxwood Walls sat in front of a wall almost entirely made of glass. It beautifully illuminated the space, and cast a glow on the wedding party! White bases maintained a crisp look, complemented by our Acrylic Ghost Armless Chairs.
If you have a larger guest count or are feeling inspired by the universe, place them in a half circle for an elegant ceremony in the round. Want to make a memorable first impression? Greet guests at the ceremony space with a colorful mocktail displayed on a White 6-Tier Serving Tower.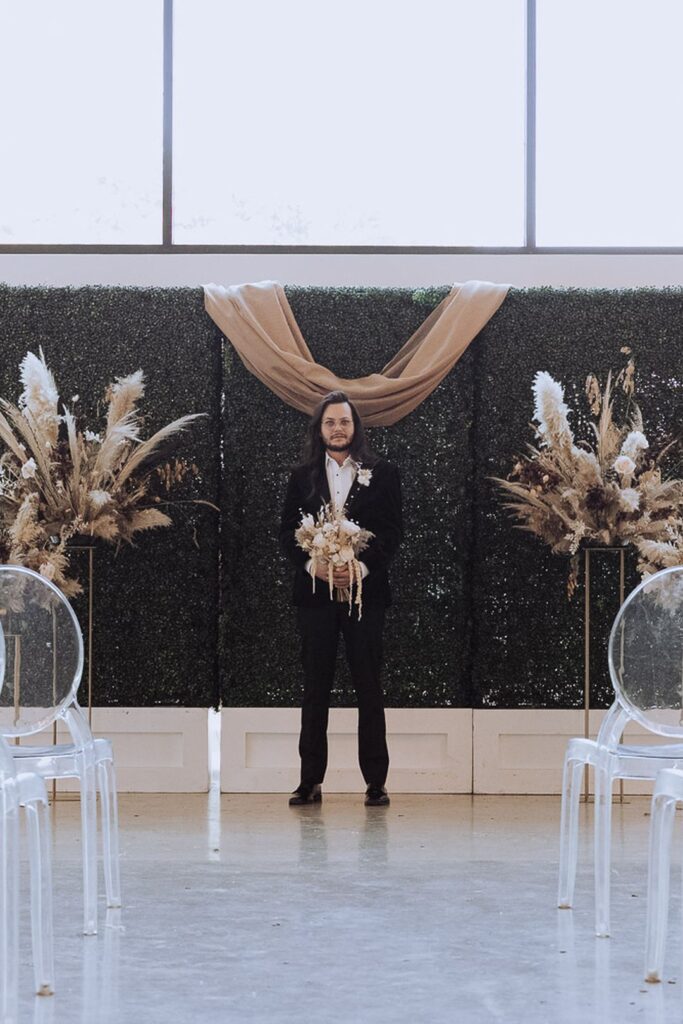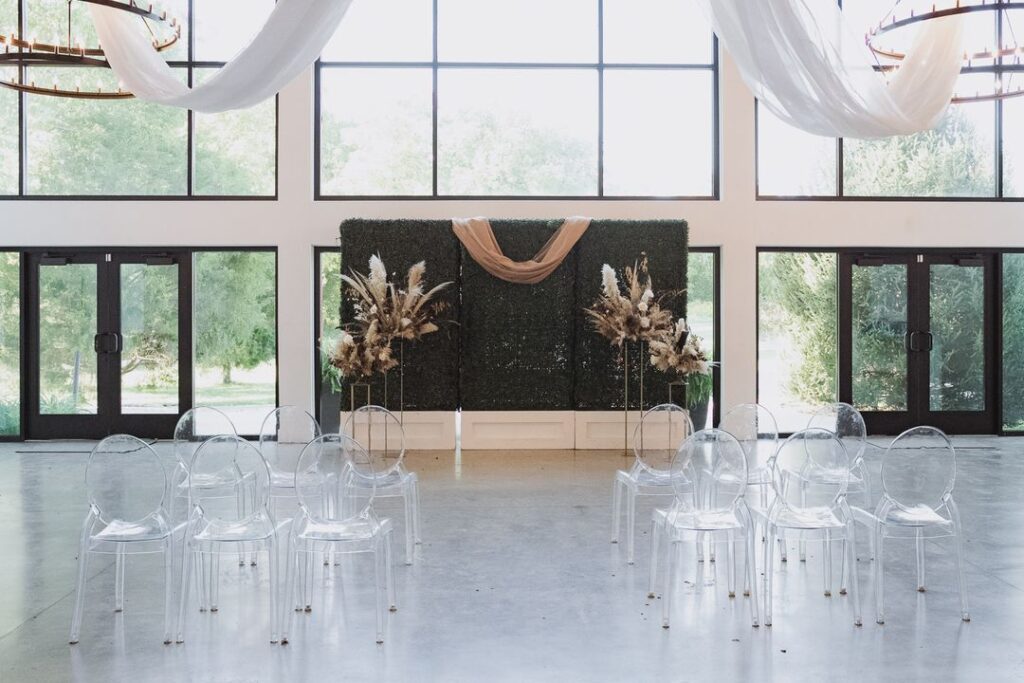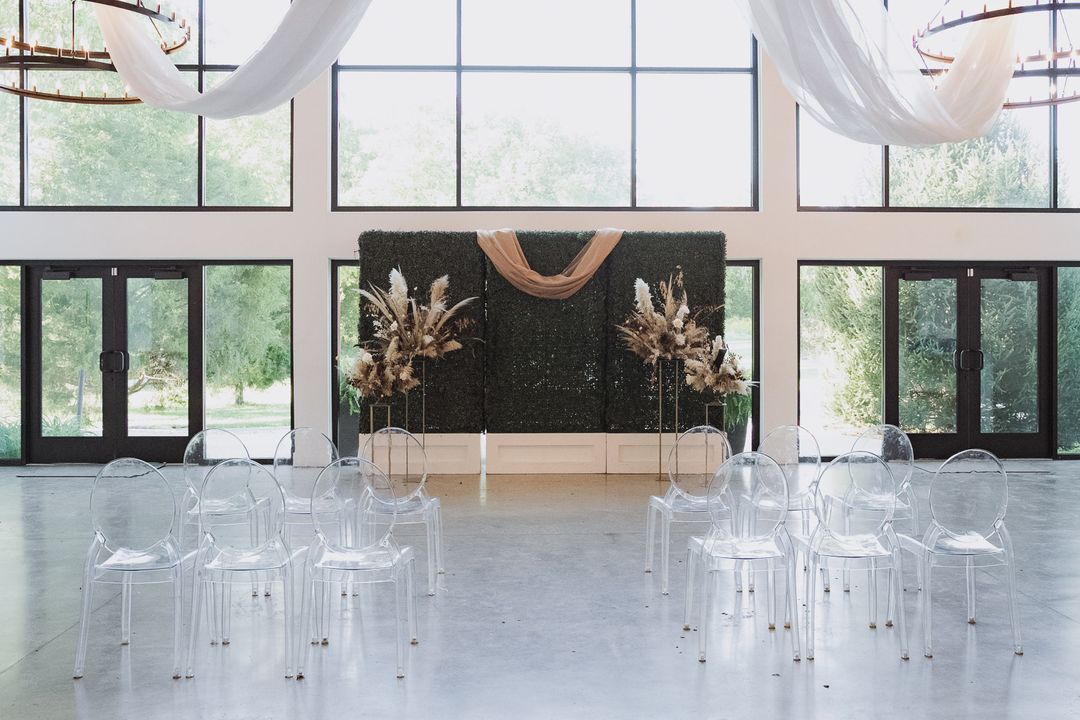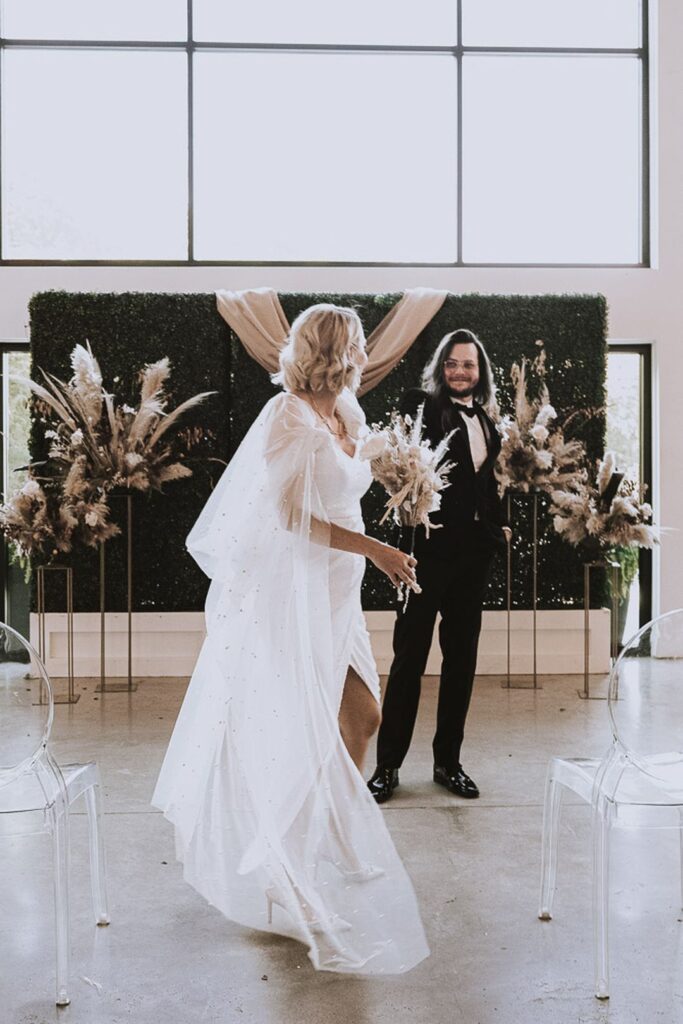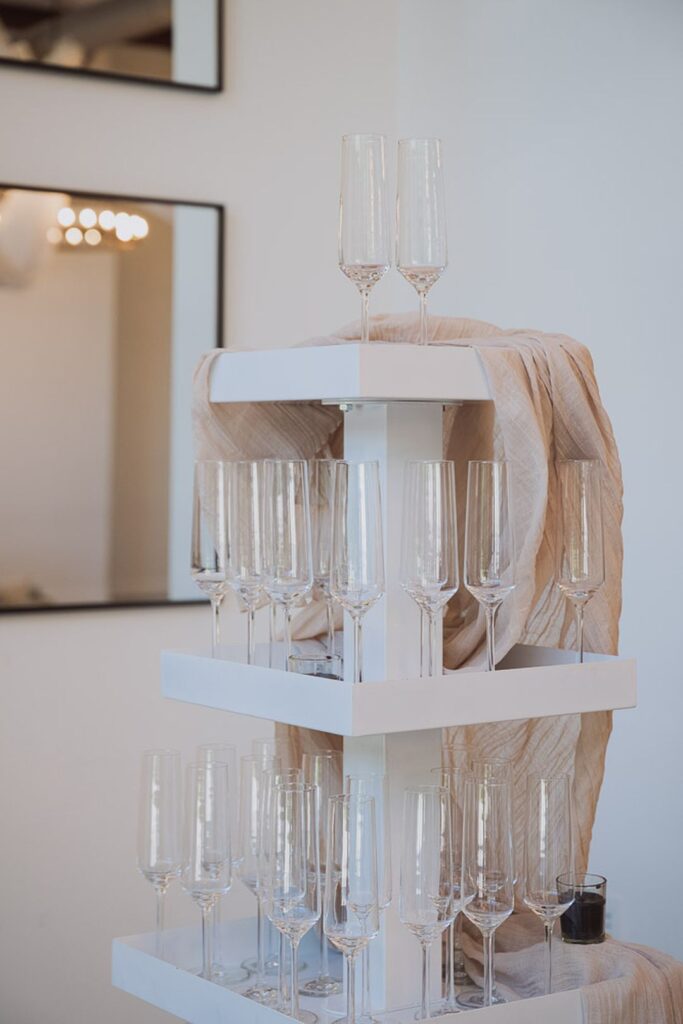 Bright Modern Cocktail Party
A bright celestial-themed cocktail hour is a fun and unique way to celebrate your big day. In line with the ceremony, we created a modern setup where guests could grab a drink, get comfortable and mingle prior to dinner. Starting with an elegant bar, starring the same boxwood walls. It was a gorgeous backdrop for our curved Harpeth Bar. A classic piece that can be customized with your new last name or a custom monogram!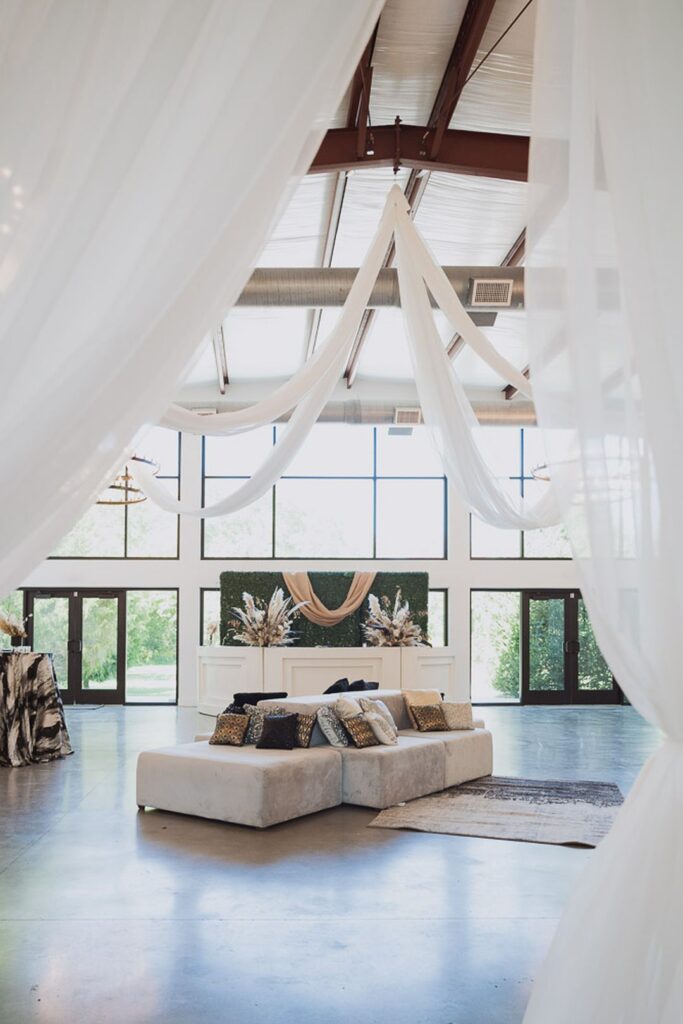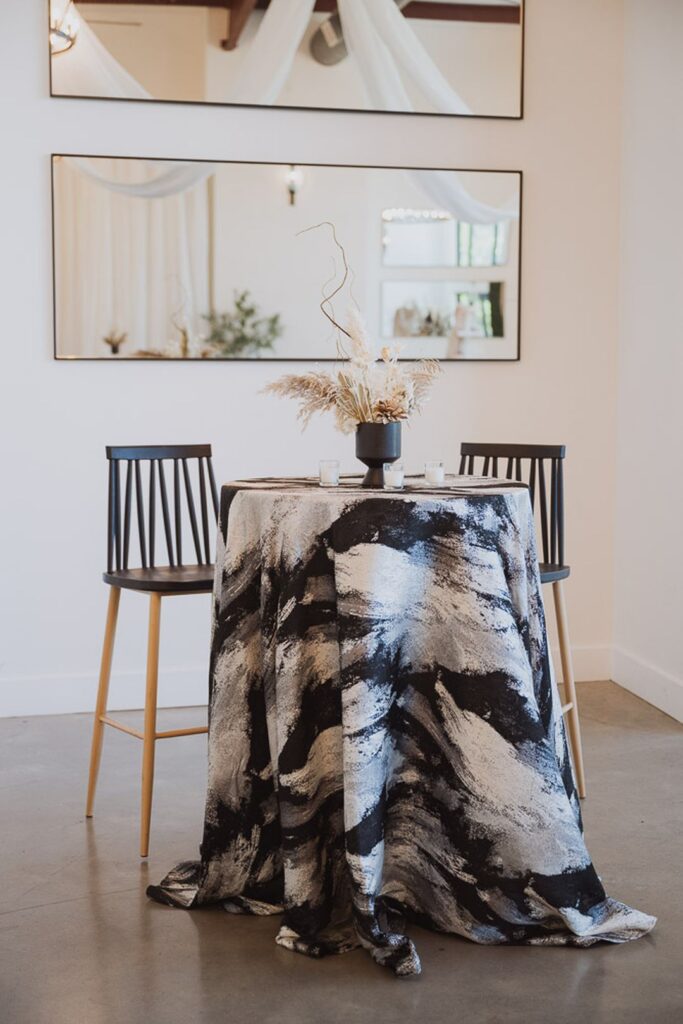 Celestial-Inspired Cocktails
The bar was stocked with a variety of contemporary glassware, including Gatsby Champagne Coupe and Temptations Glasses. The unique shapes are perfect for serving up quirky signature drinks that embody the theme. Such as a blue-colored drink with glitter for a "galaxy" effect! For additional seating, we opted to feature our modular Pearce Lounge with a Black-Silver Rug. We also have cocktail tables outfitted in Black Nova Linens with Mid-Century Barstools, in black or white.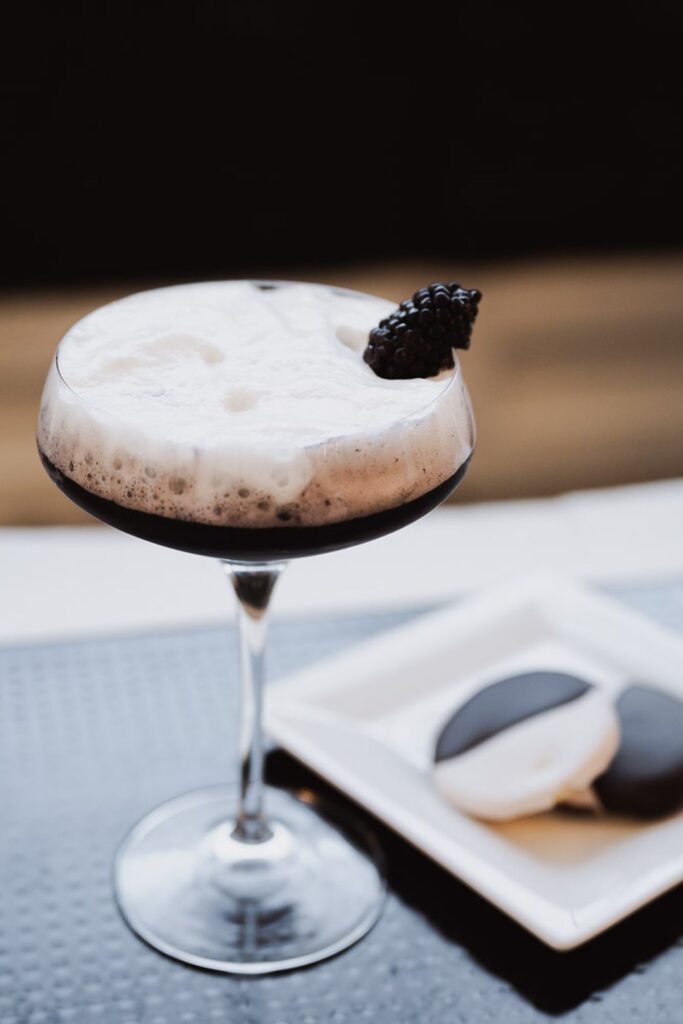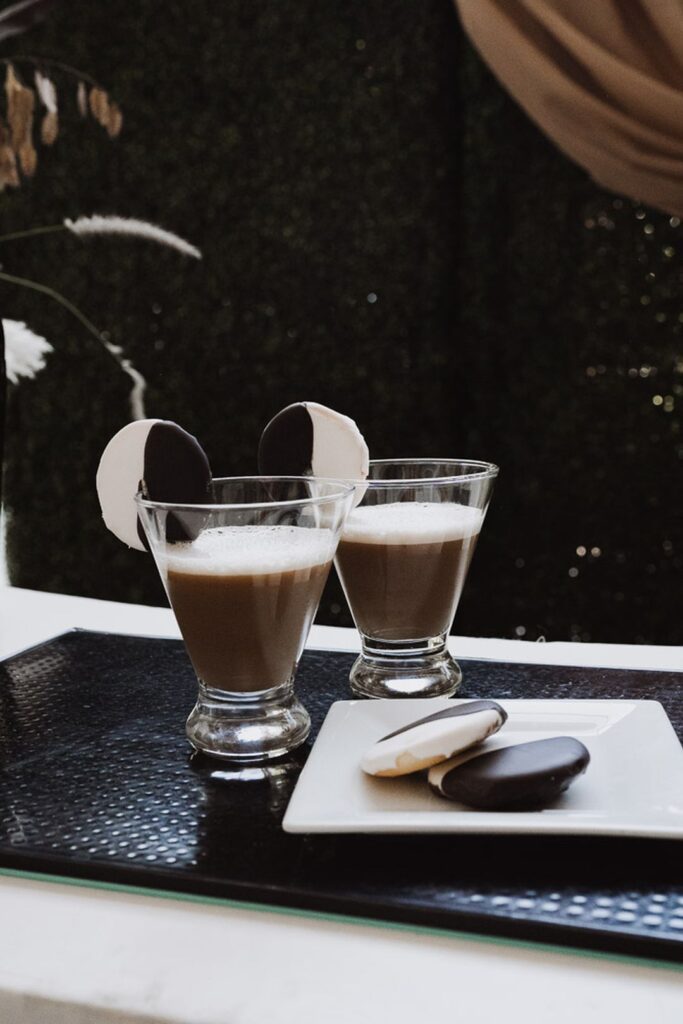 Modern Celestial Wedding Reception
Come dinner time, we wanted to create a slightly more intimate atmosphere. This is why we set up in the historic barn, which lent a more down-to-earth vibe. It also ensured that the tablescapes, starring a splash of celestial-inspired colors, stood out! Wood banquet tables featured a Sahara Runner in Ivory and round were covered with White Etched Velvet Tablecloths. They were contrasted by sleek serving ware: Glass Chargers with a Black Rim, stacked with Earthen Alabaster and Stone China, and Noir Matte Black Flatware. Meridian Blue Tumblers and Dusty Blue Etched Velvet Napkins lent a unique pop of blue! While Acrylic chairs were a modern and elegant touch.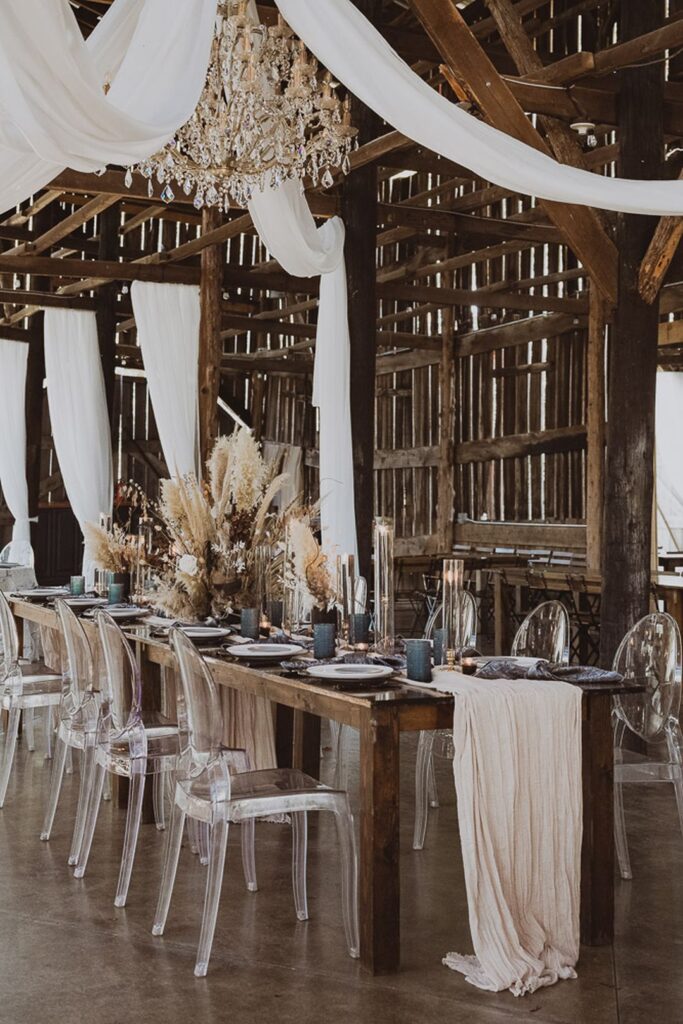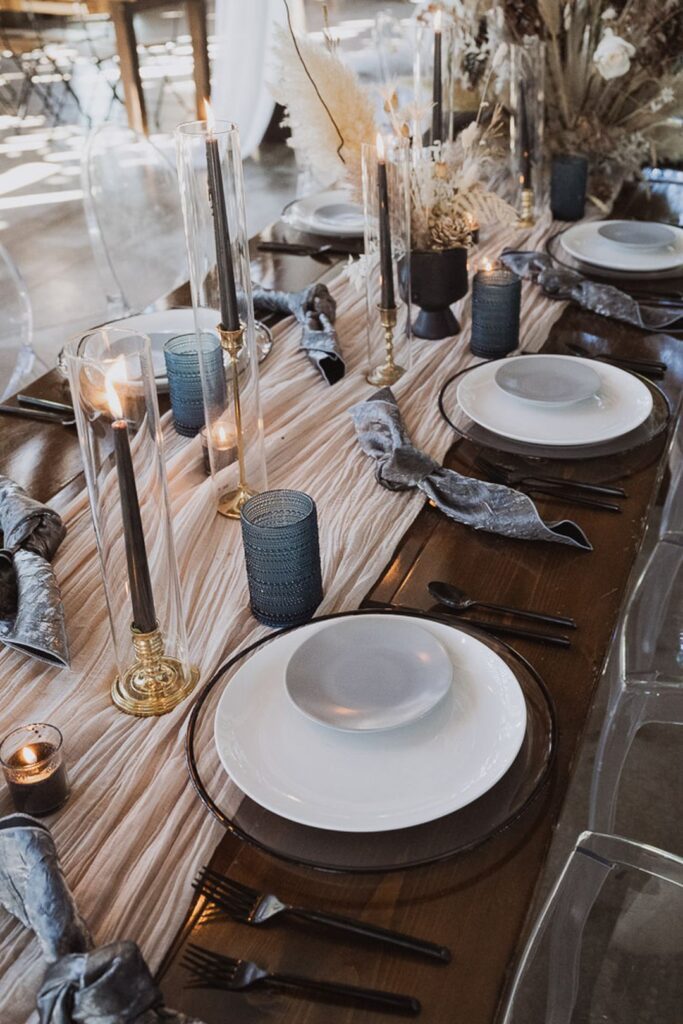 Non-Floral Table Centerpieces
At each table, centerpieces starred voluminous plumes of dried ferns and pampas, for a subtle bohemian vibe. Although if you want to tone down the florals, consider a non-floral centerpiece starring our Gold Metal Intersect Cube. The bright geometric design is ethereal and the shimmering gold will make your serving ware pop. Place candles around each cube or at the center, depending on how much lighting you would like to feature.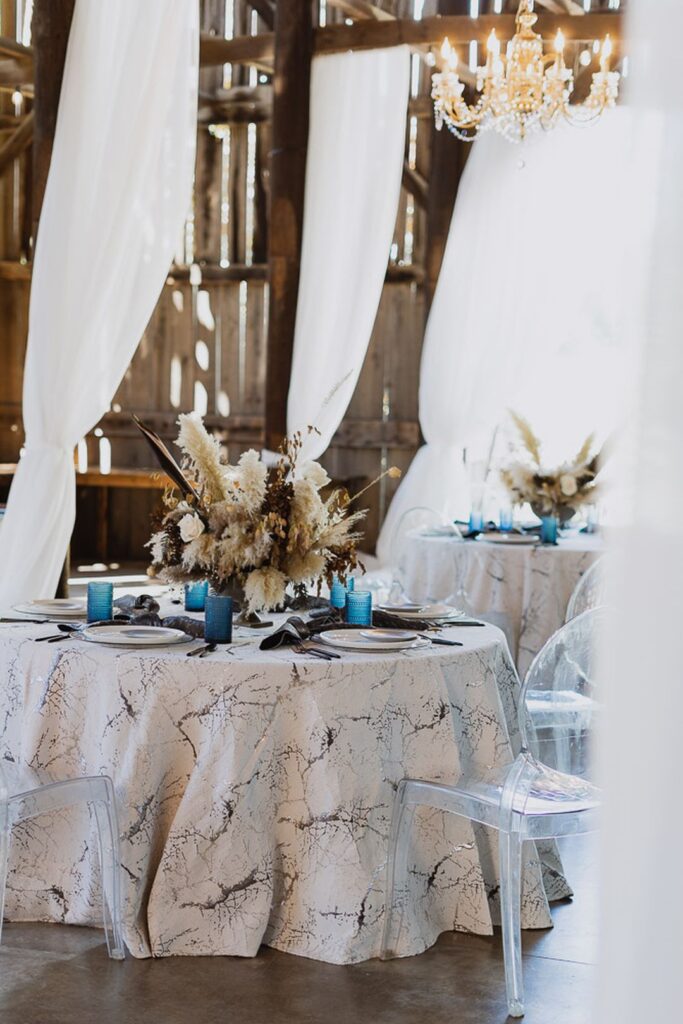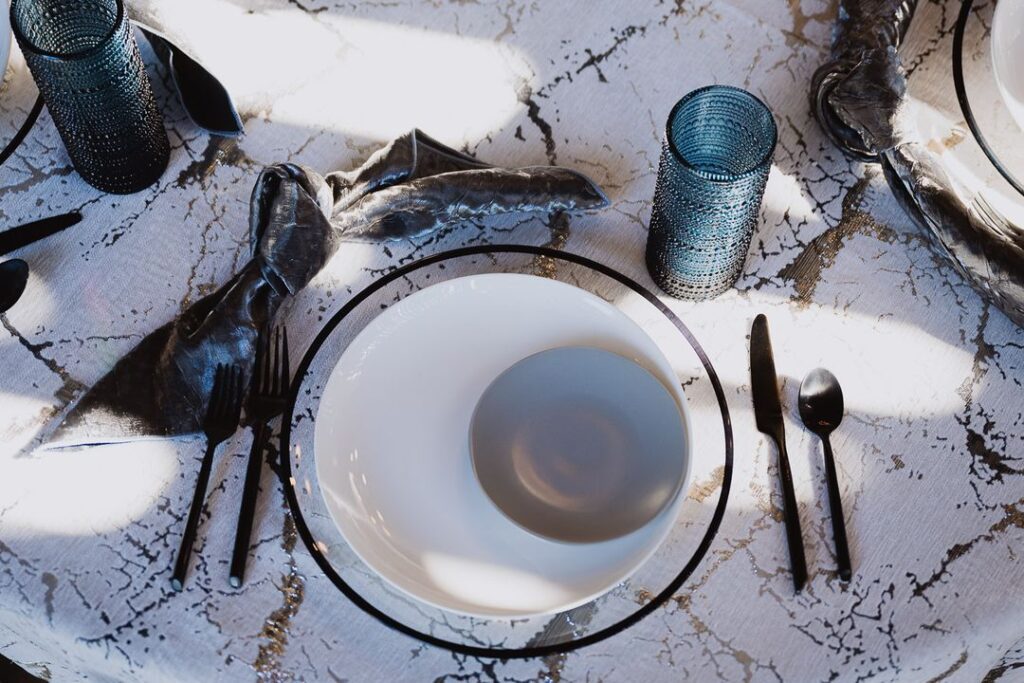 Vendors
Venue + planning | @southall_meadows⁠
Photography | @stokesdunavanphoto⁠
Catering | @beyond_details⁠
Florals | @samanthajayevents⁠
Bar | @jjacksonmobilemixologist⁠⁠
Drapery | @blueherondesigns.tn⁠
HMUA | @theagencyofbeauty⁠
Tuxedo | @jmstreetmenswear
Do you want to plan a modern celestial wedding that will be the envy of every bride? Send us a message at info@southerneventsonline.com, or view our full range of rentals in the catalog. Are you dreaming of a more colorful retro-inspired celebration? Then take a look at these ideas for a Modern Disco Wedding!
TAGS | Barn Weddings, Glassware, Modern Event Lounge, blue event decor, blue event design, celestial wedding, cocktail hour, modern tablescape, modern wedding, southall meadows, tablescape inspiration, wedding theme
FEATURED RENTALS | Sahara Runner in Ivory, Glass Chargers with a Black Rim, White Etched Velvet Tablecloths, Earthen Stone China, Earthen Alabaster china, Noir Matte black Flatware, Meridian Blue Tumblers, Dusty Blue Etched Velvet Napkins, Gold Metal Intersect Cube, Round Harpeth Bar, Boxwood Walls, White 6-Tier Serving Tower, Acrylic Ghost Armless Chairs, Gatsby Champagne Coupe, Temptations Glass, Black Nova Linens, Pearce Lounge, Black-Silver Rug, Mid-Century Barstools,
---
29

Dec

Southern Events Products, Trends and Inspiration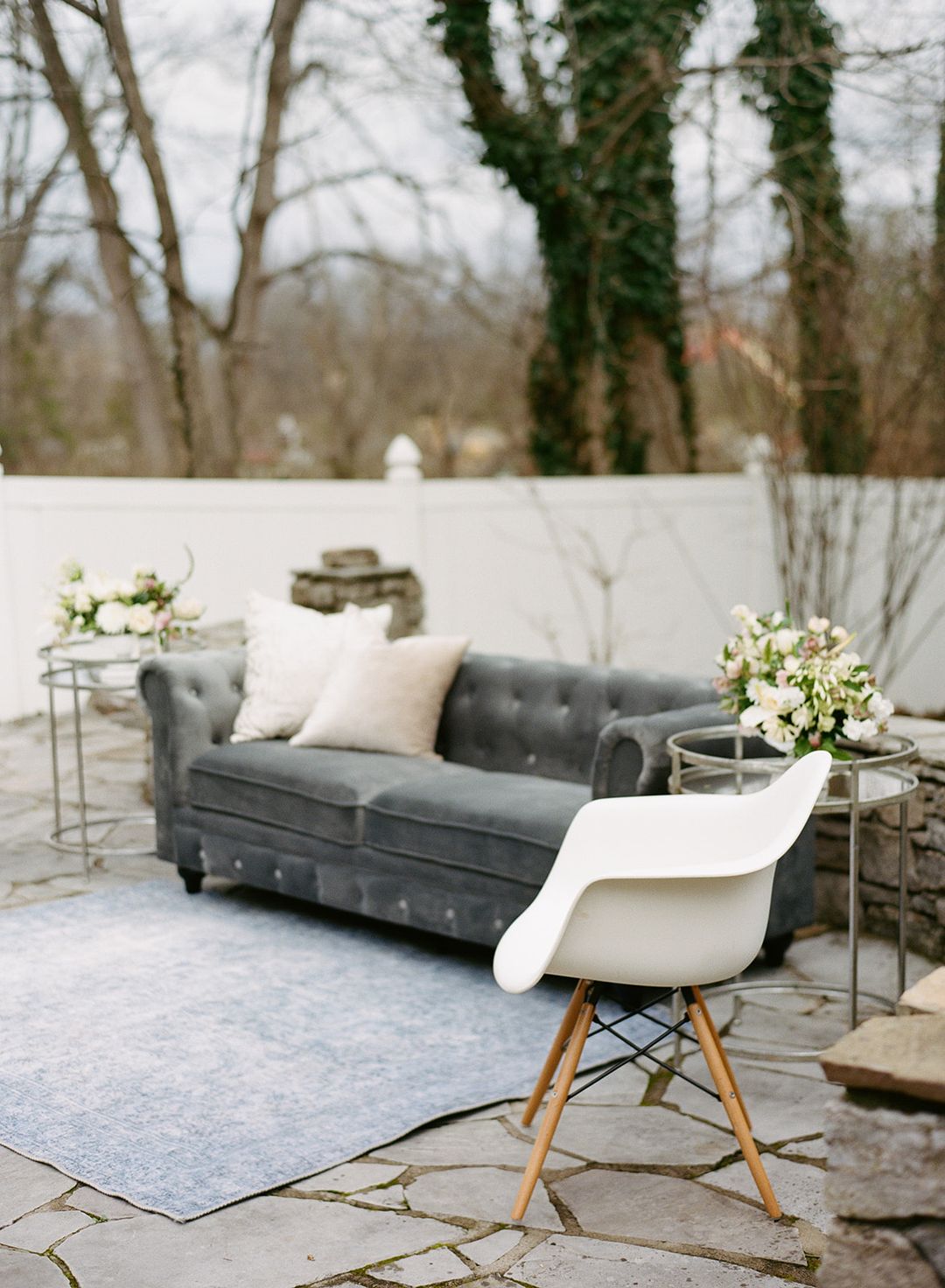 Winter wonderland parties are where it's at, with a wintry white color scheme, rows of cozy candles, and lots of twinkling lights. Bring the magic of the outdoors inside when you create a glittering wonderland that is equal parts chic and nostalgic. Learn how you can host a beautiful ice-inspired event with our blue party rentals, from luxe lounge furniture to bold velvet linens.
Elegant Ice-Inspired Serving Ware
Serving up dinner and/or drinks? We've got the perfect serving ware for a festive ice-inspired celebration! For a chilly winter vibe, we recommend sticking to silver accented serving ware. Like a Glass Charger with Silver Rim or Silver Round Lacquer Charger. On top, stack crisp White Round China or Earthen Alabaster China, for a softer look. If you prefer to spice things up, our Carrera Marble Dinner Plates are super luxe. Or, consider Onyx Earthen China and Noir Matte Black Flatware for a moody modern touch! When it comes to glassware, go simple. Choose a clear glass that aligns with your style, whether it be our quirky Cybil Champagne Flutes or vintage-inspired Monaco Water Goblets.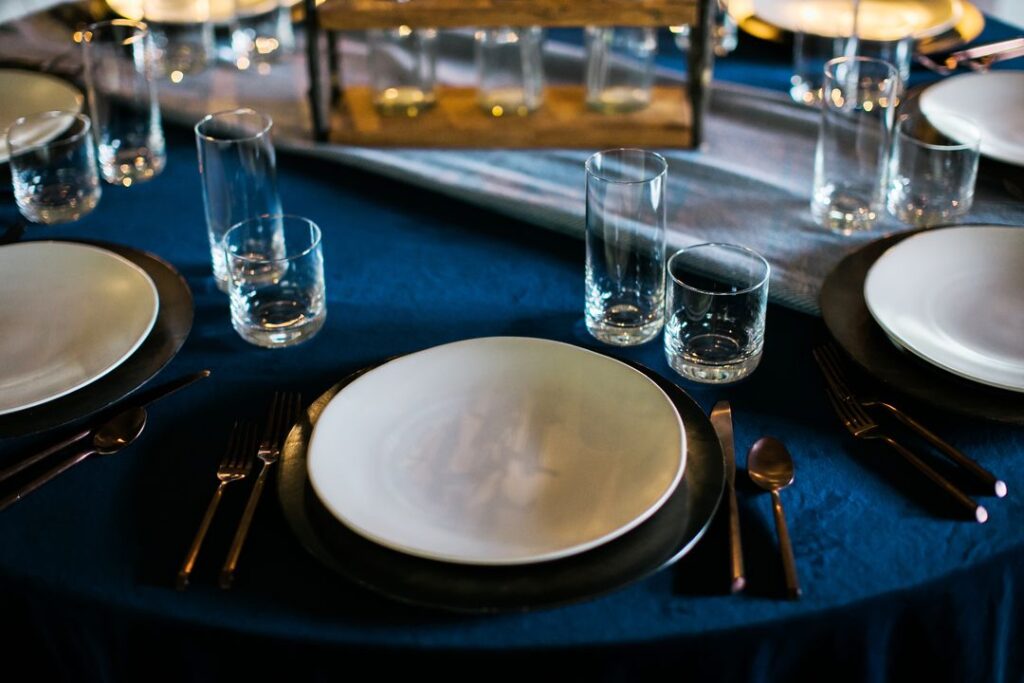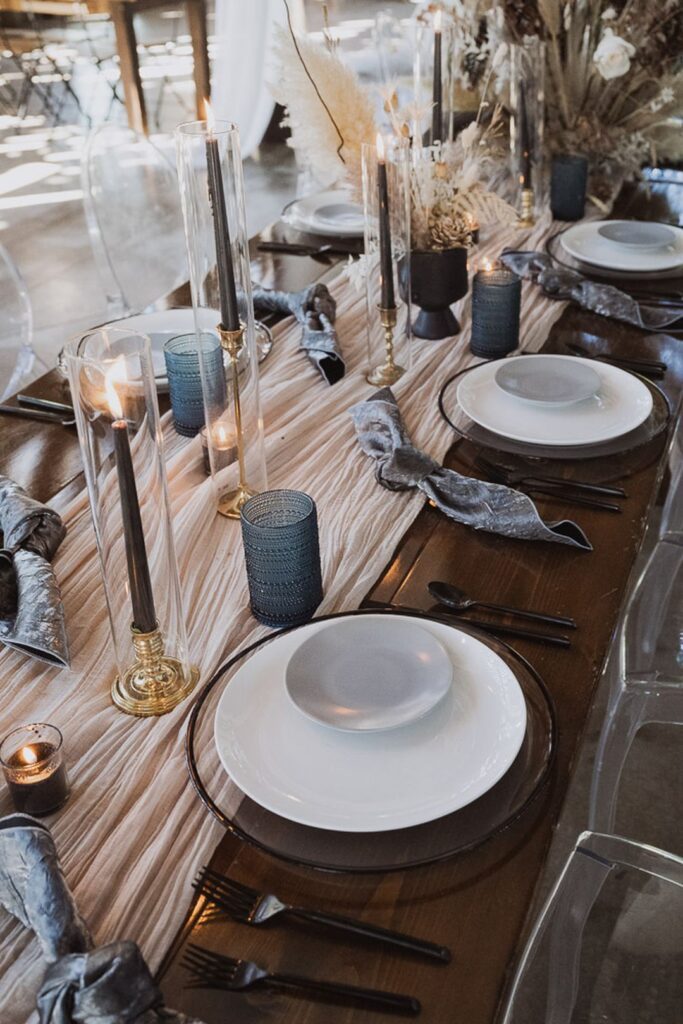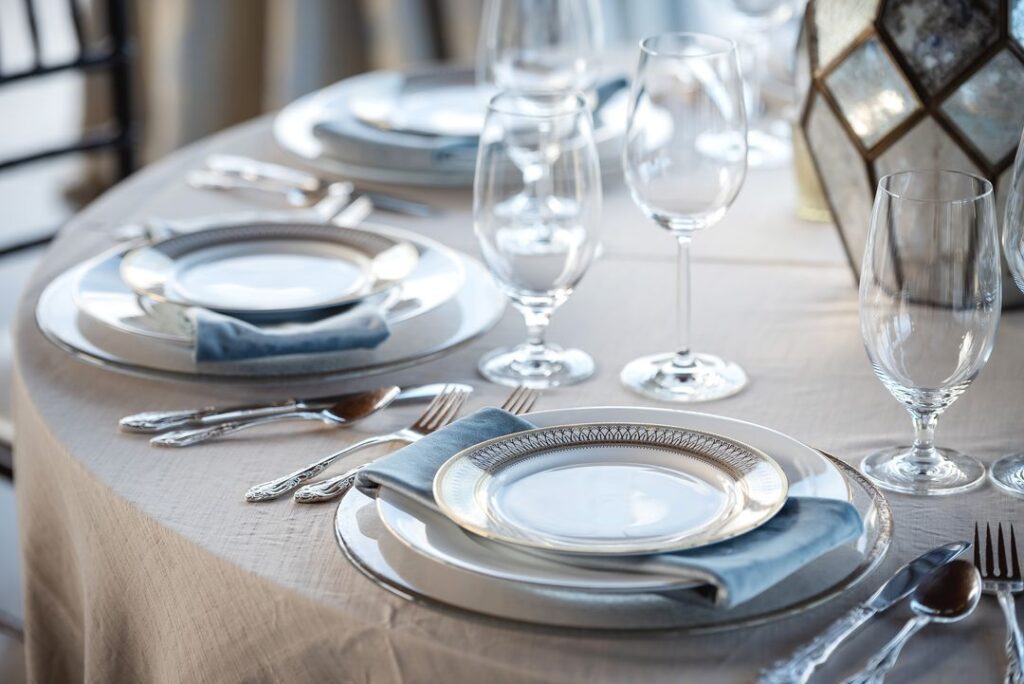 Luxe Linens & Seating
Solid foundations are essential for a stylish dinner table. We stock a variety of luxurious linens in an array of colors – blue included! For a modern luxe look, feature bright blue hues such as Ice Blue Poly or Light Blue Pindot. If you prefer a more cozy vibe, consider dark blue linens made of ultra-plush velvet – say a classic Navy Blue or cool London Fog. Just don't forget napkins! You will also need chairs, which we have a fun selection of. Pair bright fun cocktail tables with Mid-Century White Barstools, for a trendy retro accent. Or go simple and elegant, with our Antique White Bentwood Chairs. Our favorite choice is Acrylic Ghost Armless Chairs. They look like slick ice under the right lighting (don't worry, they're much more comfortable)!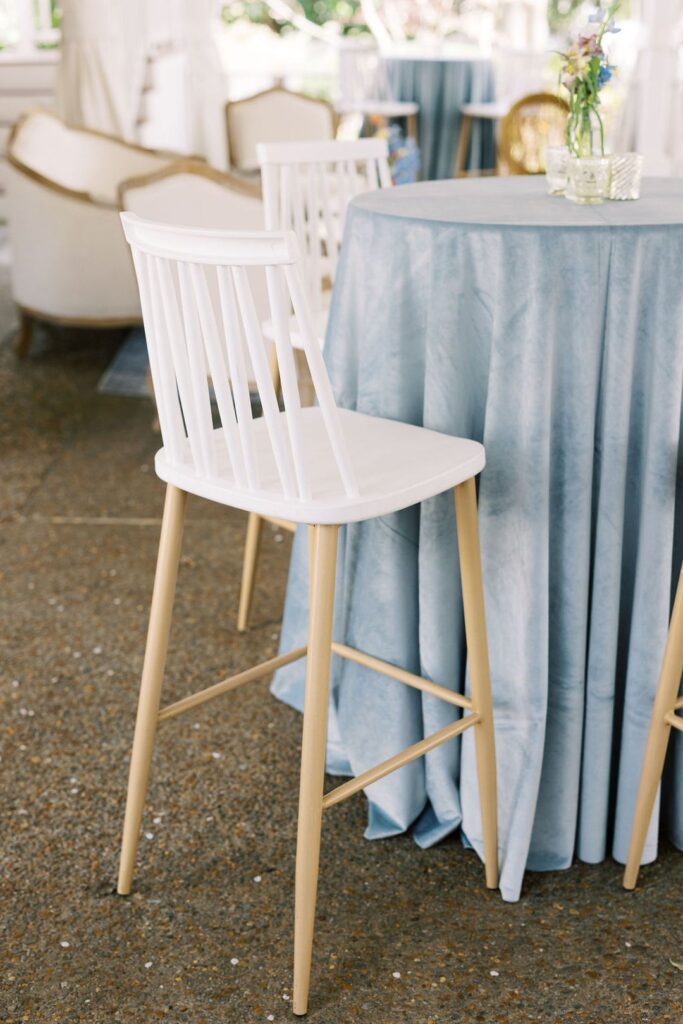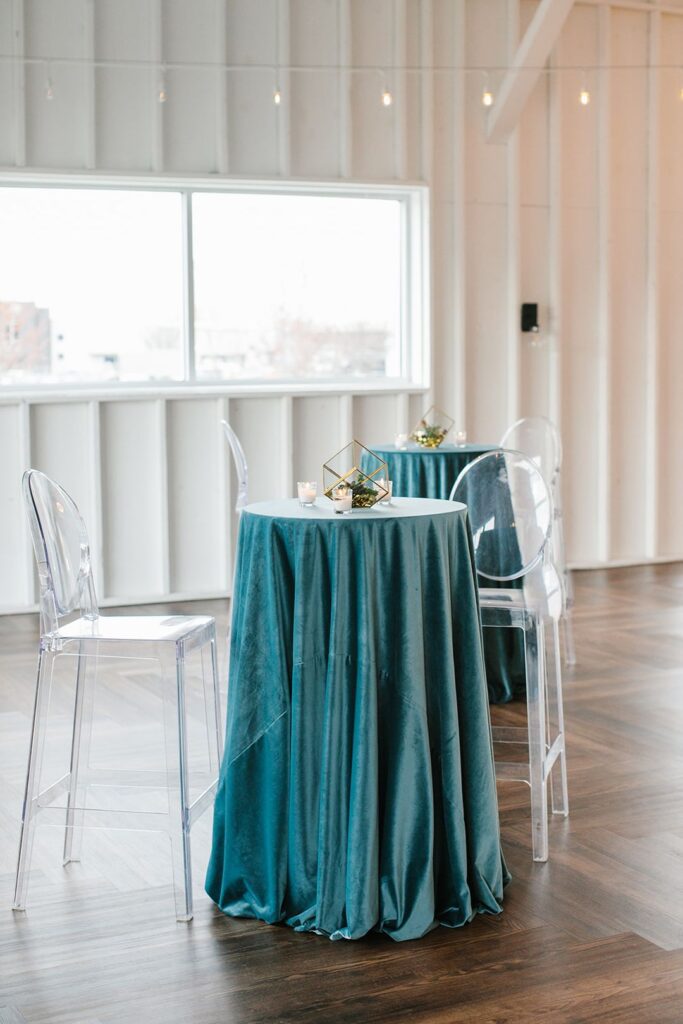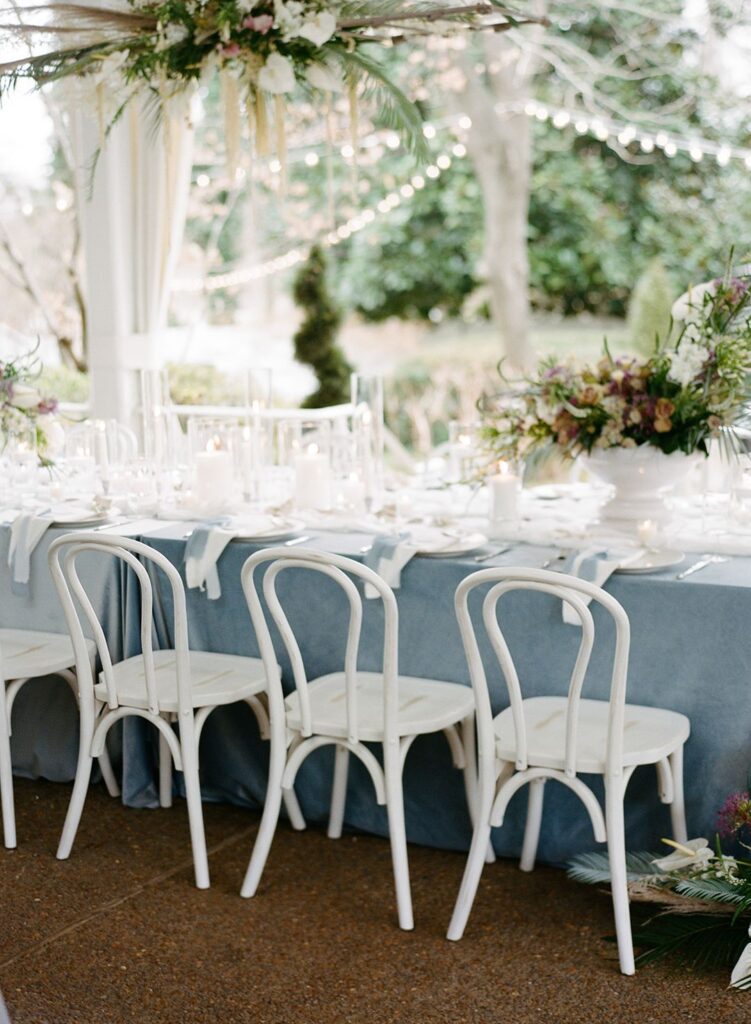 Cozy Winter Lounge Areas
Winter events can feel cold without a cozy lounge! We have everything you need to create a stylish space for guests to sit back and relax. Velvet sofas, trendy armchairs, and plush rugs! Start with a focal point, such as a large sofa or loveseat. The Saylor Navy Velvet Sofa is a fan-favorite, as is our Henley Grey Velvet Tufted Sofa. Next, grab a set of stylish chairs, such as the sleek Acrylic Fantasma Side Chairs or retro White Eiffel Arm Chair. Or the accompaniments to the mentioned sofas. You will also need a place for guests to set drinks or appetizers. The Echo Mirror Side Table features bright silver, or opt for the more down-to-earth Wood Distressed Side Table.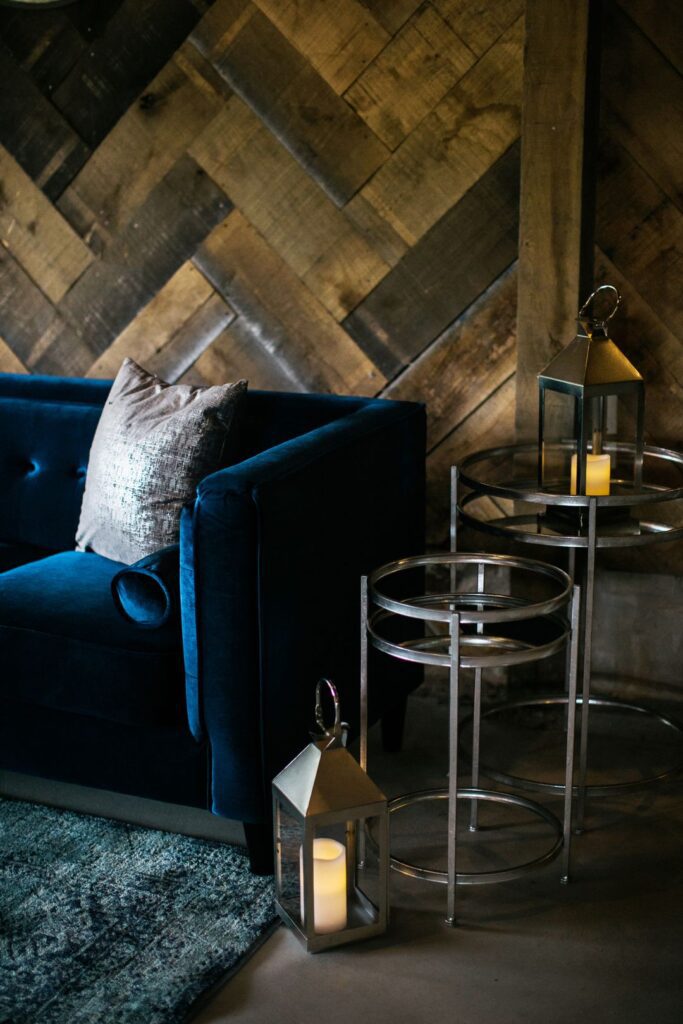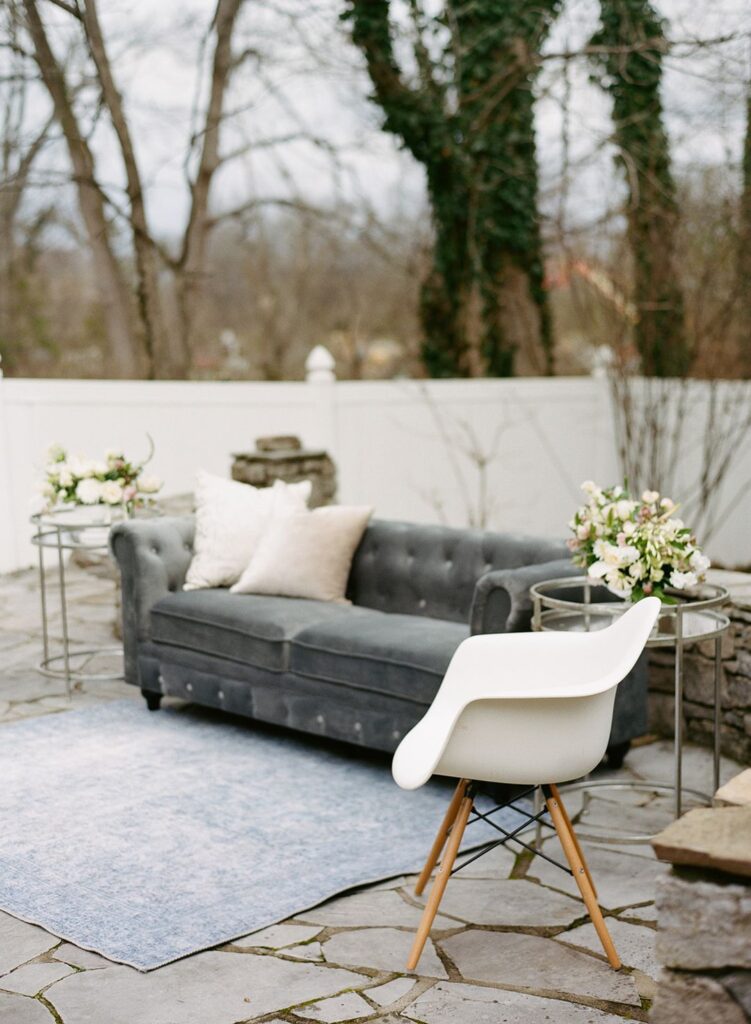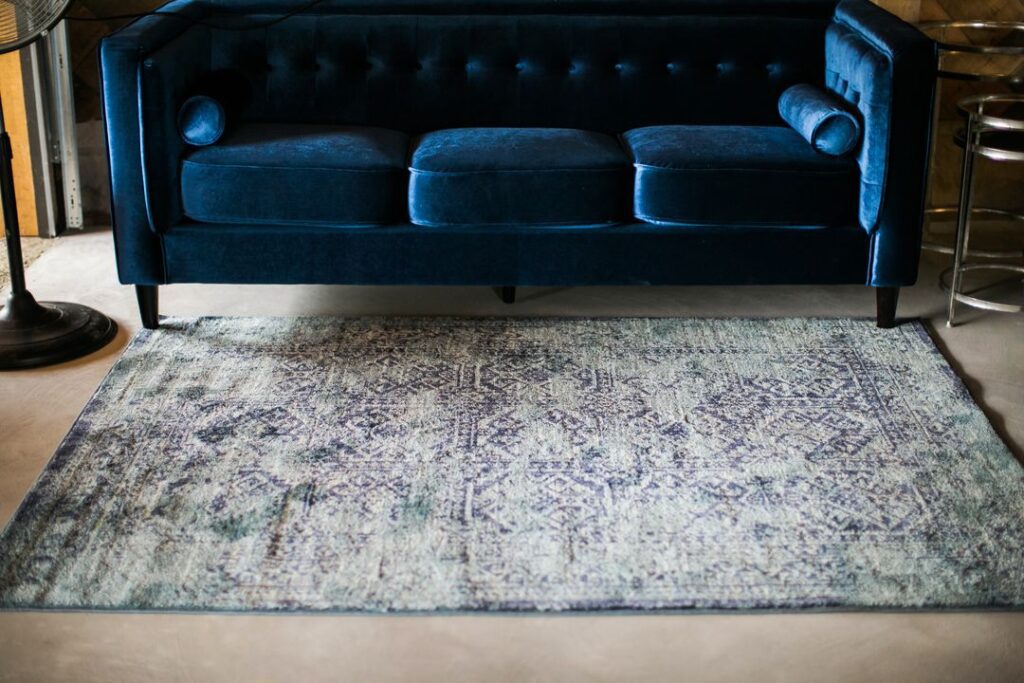 Feeling inspired by our ideas for Winter Wonderland Parties?
Send us a message at info@southerneventsonline.com for assistance designing a blue-hued seasonal get-together. Need to expand your event space or construct one in your backyard? Take a look at our tent packages.
TAGS | Holiday Party Decor, Holiday Party Ideas, Winter Event Decor, blue event decor, blue event design, holiday decor, holiday party, holiday tablescape, winter event rentals, winter events, winter wonderland parties
FEATURED RENTALS | Ice Blue Poly, Light Blue Pindot, Navy Blue Linens, London Fog Linens, Mid Century White Barstools, Antique White Bentwood Chairs, Acrylic Ghost Armless Chairs, Complete the look with the rug of your choice! Saylor Navy Velvet Sofa, Henley Grey Tufted Sofa, Acrylic Fantasma Side Chairs, White Eiffel Arm Chair, Echo Mirror Side Table, Wood Distressed Side Table, Serving up dinner and/or drinks? We've got the perfect serving ware for a festive ice-inspired celebration! For a chilly winter vibe, we recommend sticking to silver accented serving ware. Like a Glass Charger with Silver Rim or Silver Round Lacquer Charger. On top, stack crisp White Round China or Earthen Alabaster China, for a softer look. If you prefer to spice things up, our Carrera Marble Dinner Plates are super luxe. Or, consider Onyx Earthen China and Noir Matte Black Flatware for a moody modern touch! When it comes to glassware, keep it simple. Choose a clear glass that aligns with your style, whether it be our quirky Cybil Champagne Flutes or vintage-inspired Monaco Water Goblets. Glass Charger with Silver Rim, Silver Round Lacquer Charger, WHite Round China, Earthen Alabaster China, Carrera Marble Dinner Plates, Noir Matte Black Flatware, Cybil Champagne Flutes, Monaco Water Goblets
---