28

Apr

Events and Style Shoots, Nashville Venues, On Trend, Trends and Inspiration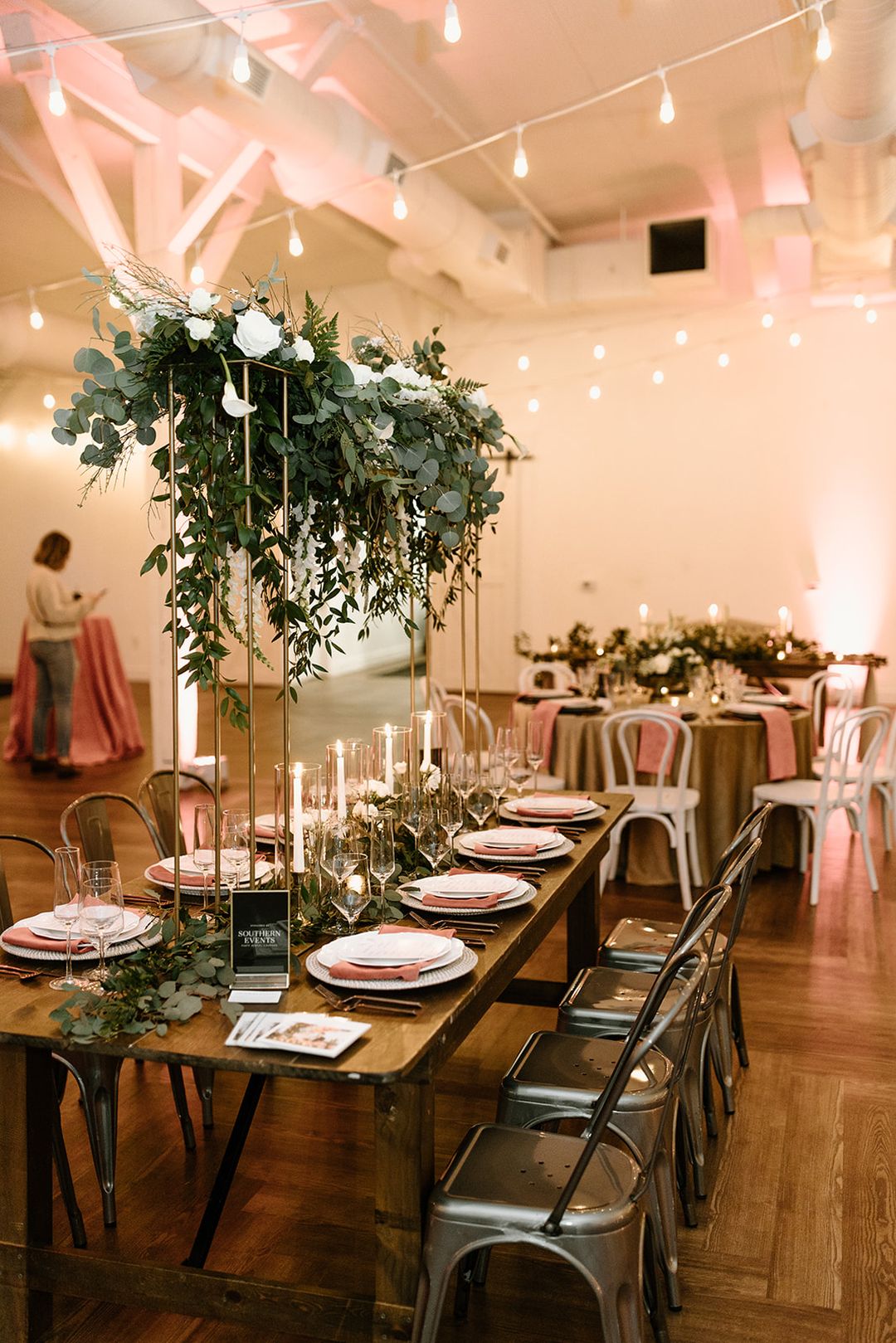 ​If you've been dreaming of an urban downtown wedding but want to create a warm & romantic space, then you can't go wrong with an urban chic wedding at 14 Tenn! Featured in the modern & airy event space, our upscale lounge furniture and velvet linens make for a beautiful event design that combines a touch of both the old and new. Keep reading to check out our on-trend rentals, perfect for an elegant urban wedding in Downtown Nashville.
Modern Industrial Reception Tables
As far as receptions go, an elegant urban design is a great option for couples who prefer a romantic yet modern space. The classic elements and rich linens in the industrial venue only need the glow of candlelight. Mixing textures and keeping the colors neutral with a few pops of color creates a timeless event design.
For this style shoot, we featured two different styles of tables and place settings, one leaning towards a more industrial look and the other more modern. The industrial table started with our Fruitwood Farm Tables, complemented with contrasting Rattan White Washed Chargers and crisp white Darcy China. Round tables were outfitted with Velvet Driftwood Tablecloths, Scalloped Wood Chargers, and Artisan China. Bold pink napkins and sleek Brushed Copper Flatware were used for both tables!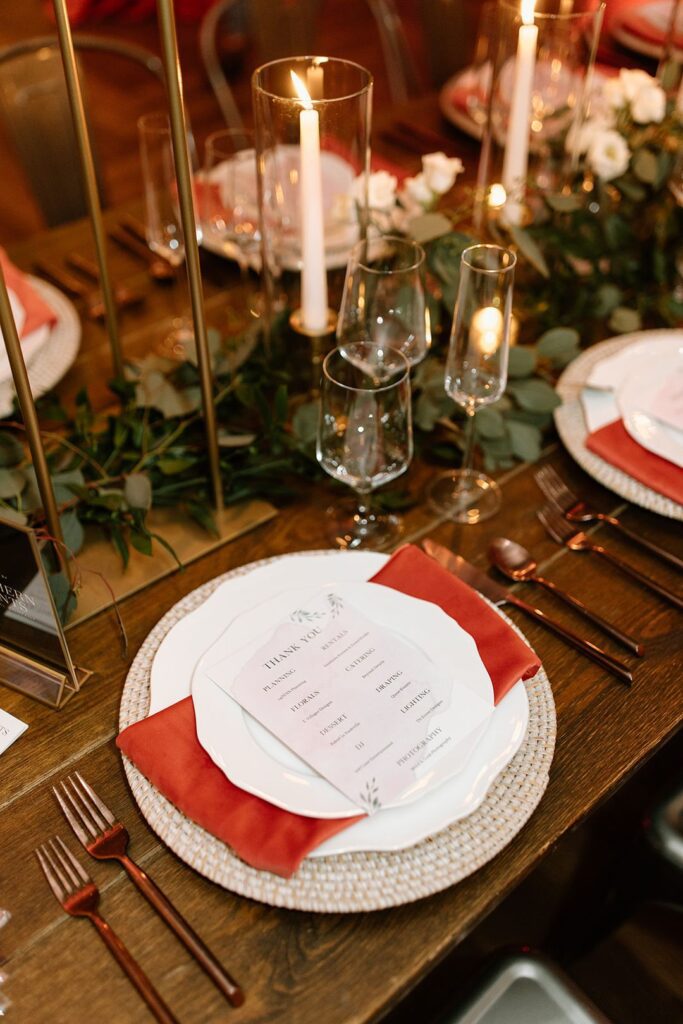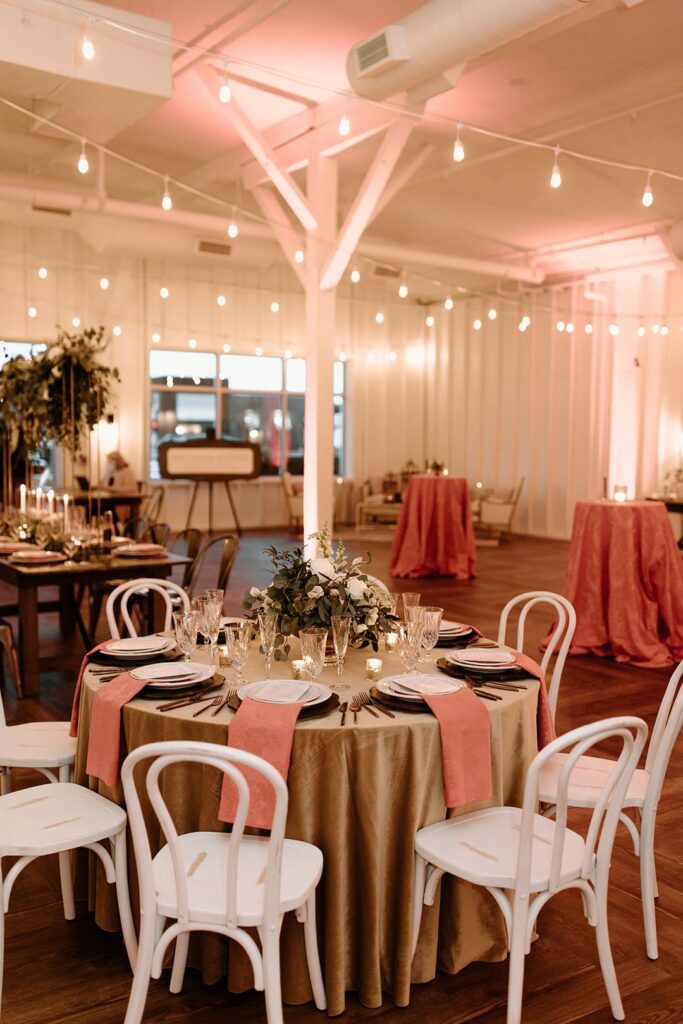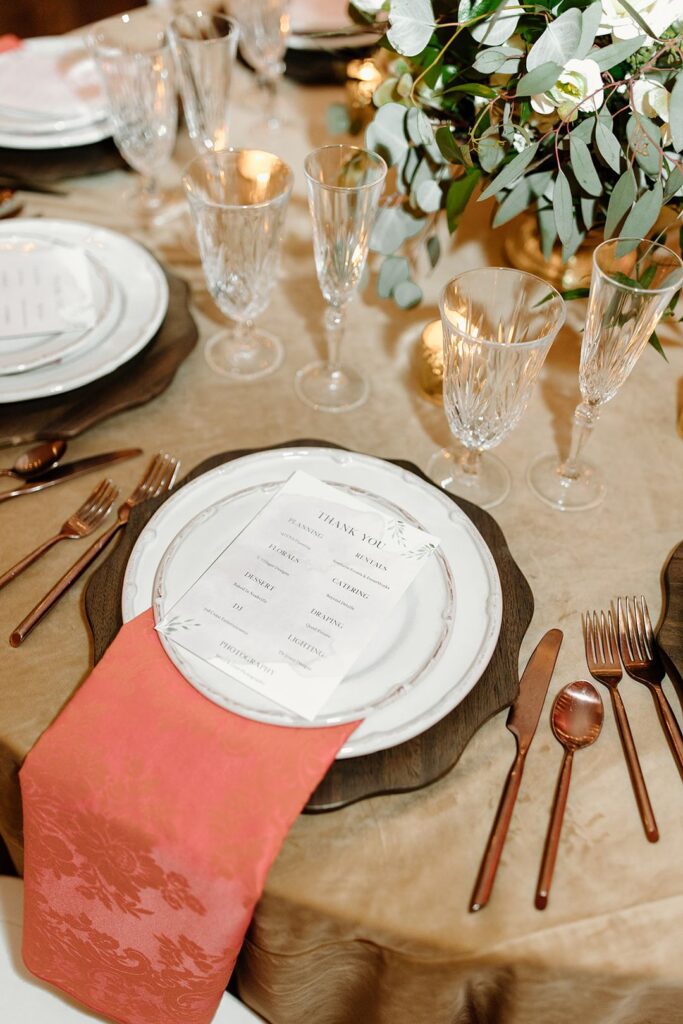 Of course, we can't forget a sweetheart table for the newlyweds, featuring especially elegant place settings. These stood out thanks to the Copper Glass Charger and Blair Geometric China. Whereas Tawny Satin Napkins and an Ivory Sahara Table Runner lent a romantic touch! The bride and groom sat comfortably on one of our most popular lounge pieces, the Tessa Tufted Linen Loveseat.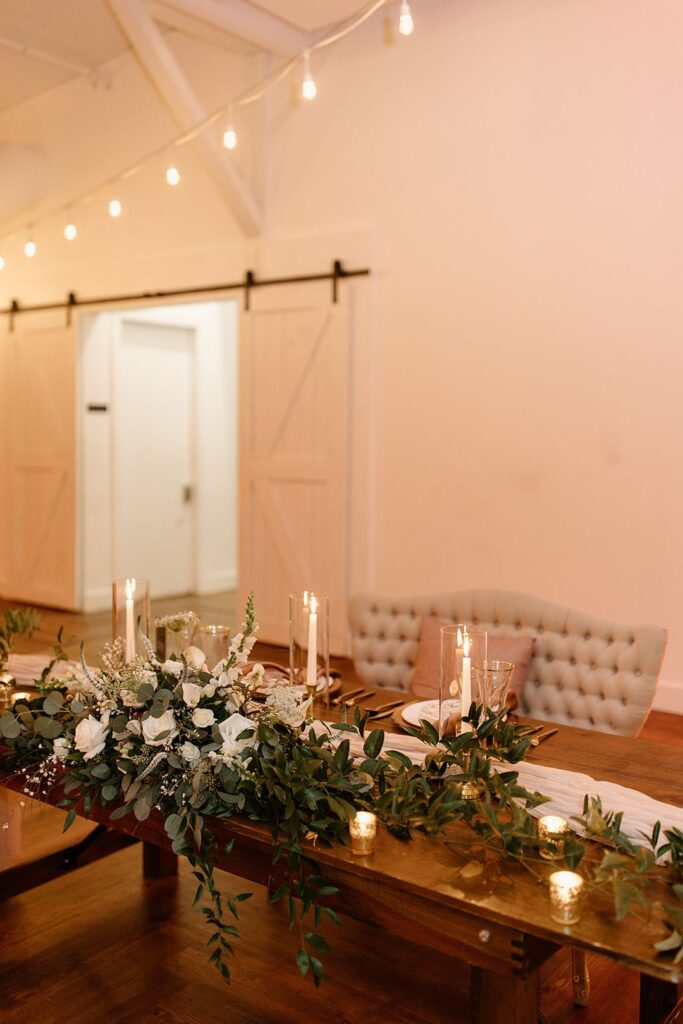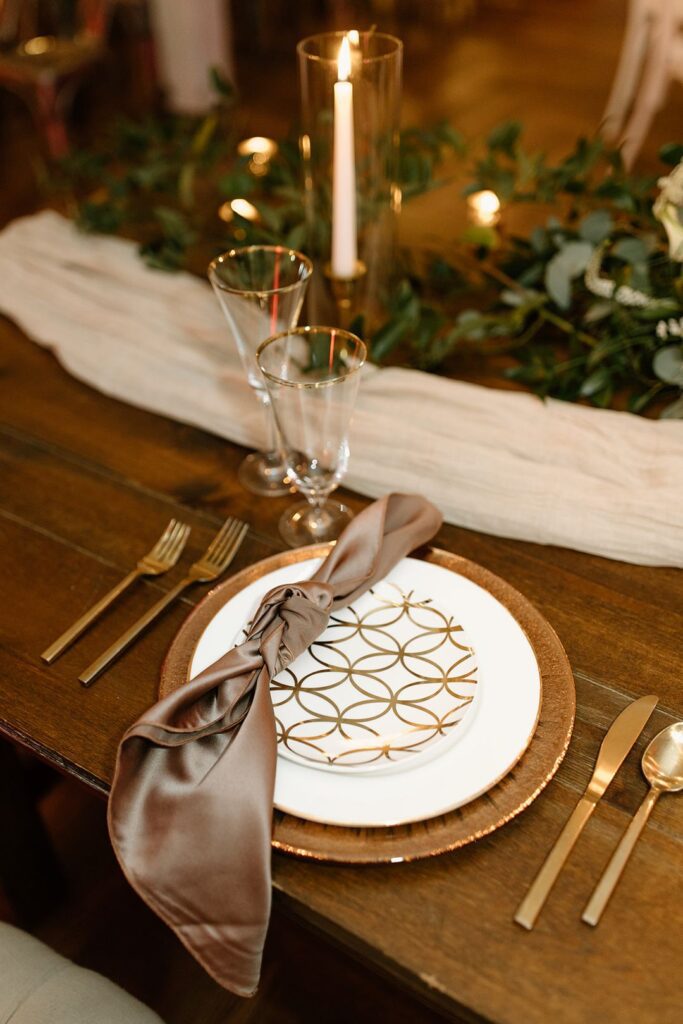 Classic + Elegant Wedding Lounge Area
With the open floor plan, there was no reason not to have a stylish lounge area for guests to convene around! This setup was elegantly modern with a timeless feel. It starred our Everly Sofa and matching chairs, along with the Blanche Coffee Table and Cheval Gold Mirror Side Tables. The metallic gold elevated this area, whereas a vintage Blush Rug kept the vibe cozy.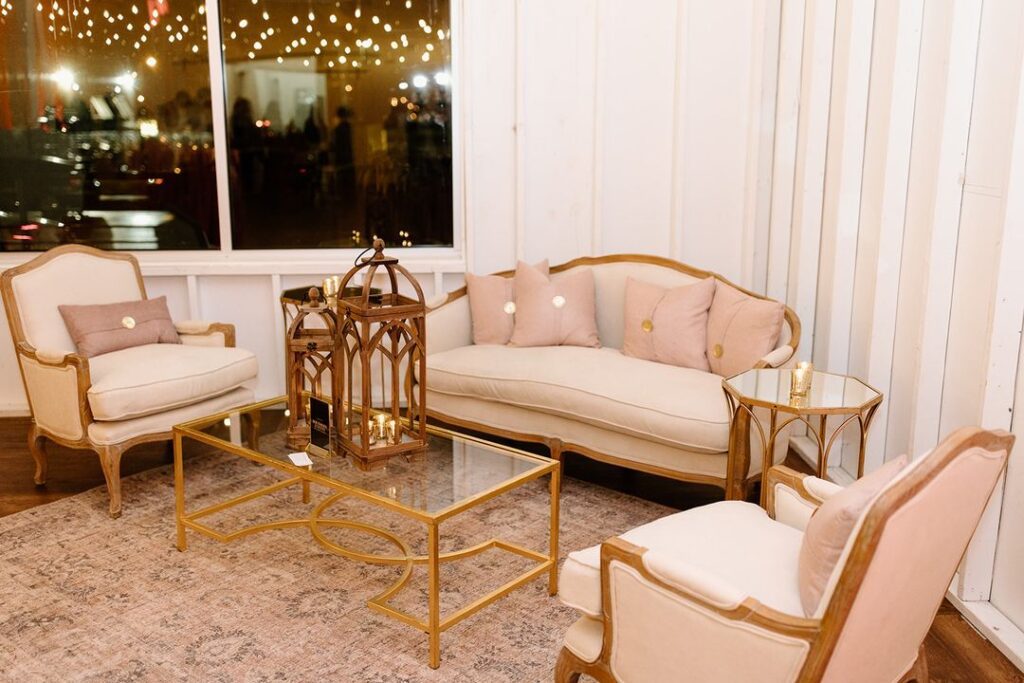 A special thank you to Wind and Gold Photography for sharing the photos from this event with us!
Love the look of this elegant urban wedding at 14 Tenn? Send our team a message at info@southerneventsonline.com for help recreating this design for your big day!
TAGS | 14Tenn, 14Tenn Nashville, Urban Dining Chairs, urban chic wedding, urban industrial furniture rentals, urban wedding decor
FEATURED RENTALS | Everly Sofa, Cheval Gold Mirror Side Tables, Blush Rug, Blanche Coffee Table, Copper Class Charger, Blair Geometric China, Tawny Satin Napkins, Rattan White Washed Chargers, Darcy China, Fruitwood Farm Tables, Velvet Driftwood Tablecloths, Scalloped Wood Chargers, Artisan China,Ivory Sahara Table Runner, Tessa Tufted Linen Loveseat,
---
26

Nov

Nashville Venues, Real Nashville Weddings, Southern Events Products, Trends and Inspiration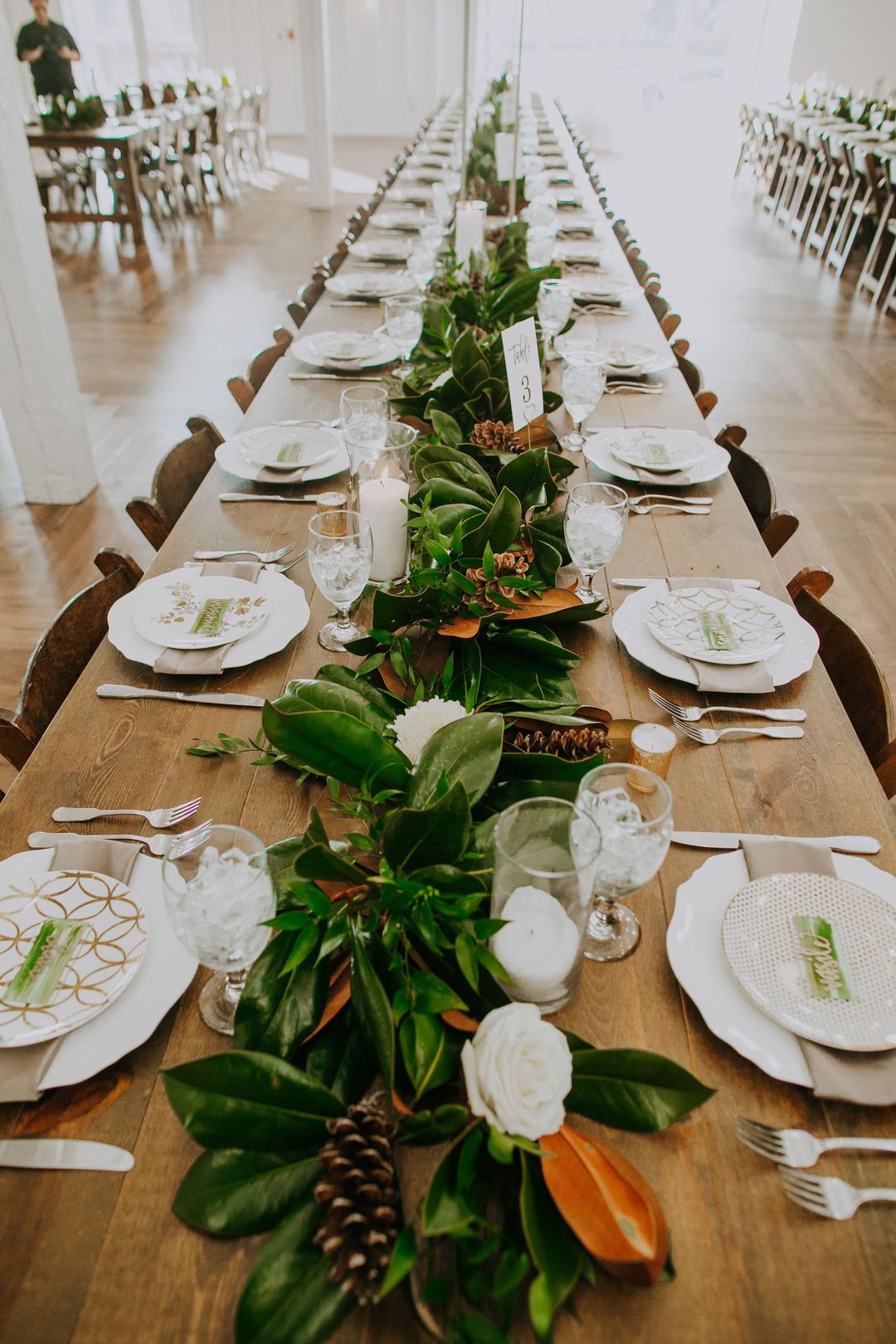 Victoria and Ben's rustic chic wedding at 14Tenn in Nashville, Tennessee was a breath of fresh air. They carefully selected their decor and which colors to feature for a beautiful mix of bright whites and muted warm-toned neutrals. Get inspired for your own event with this luxe reception decor, including neutral themed tablescapes.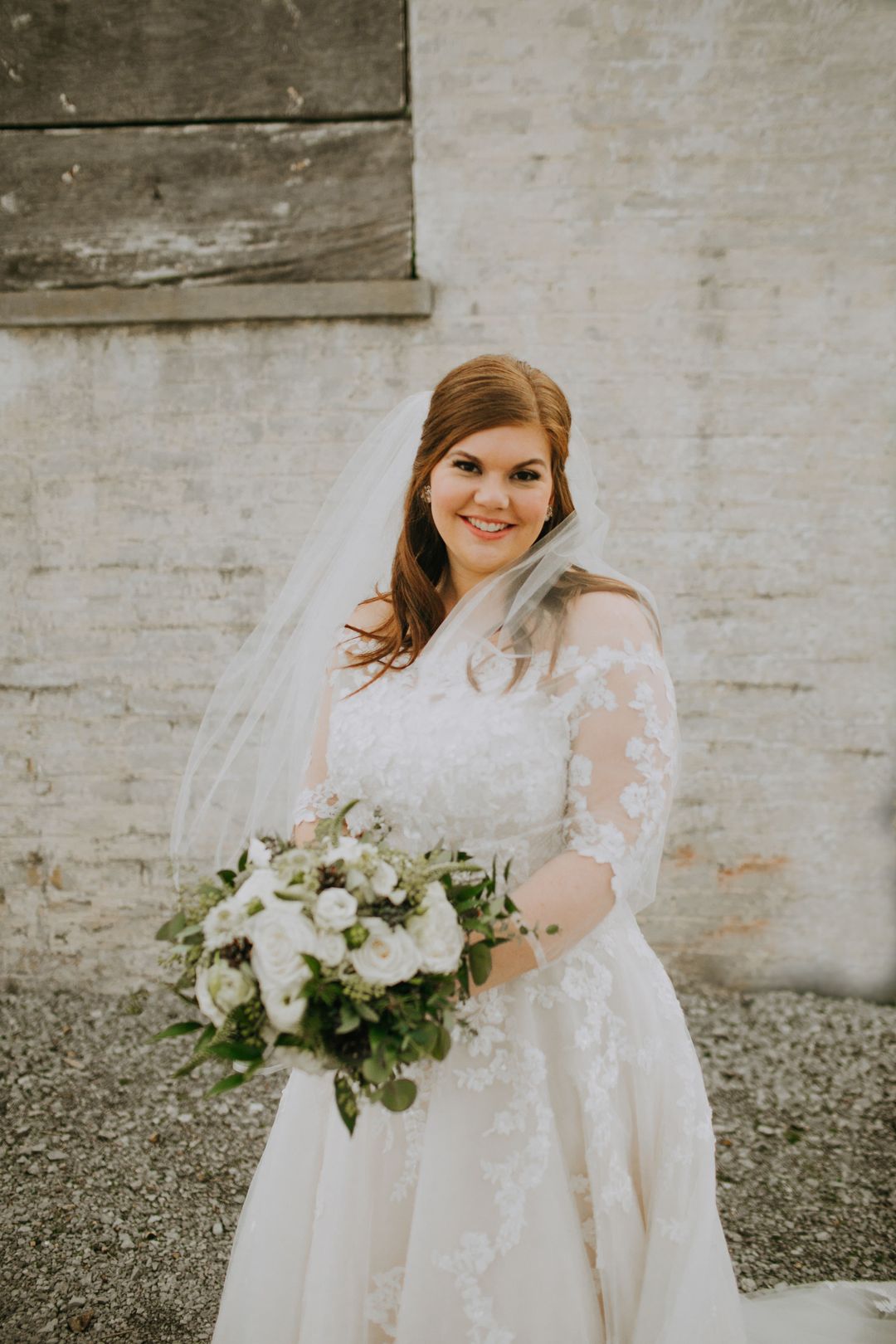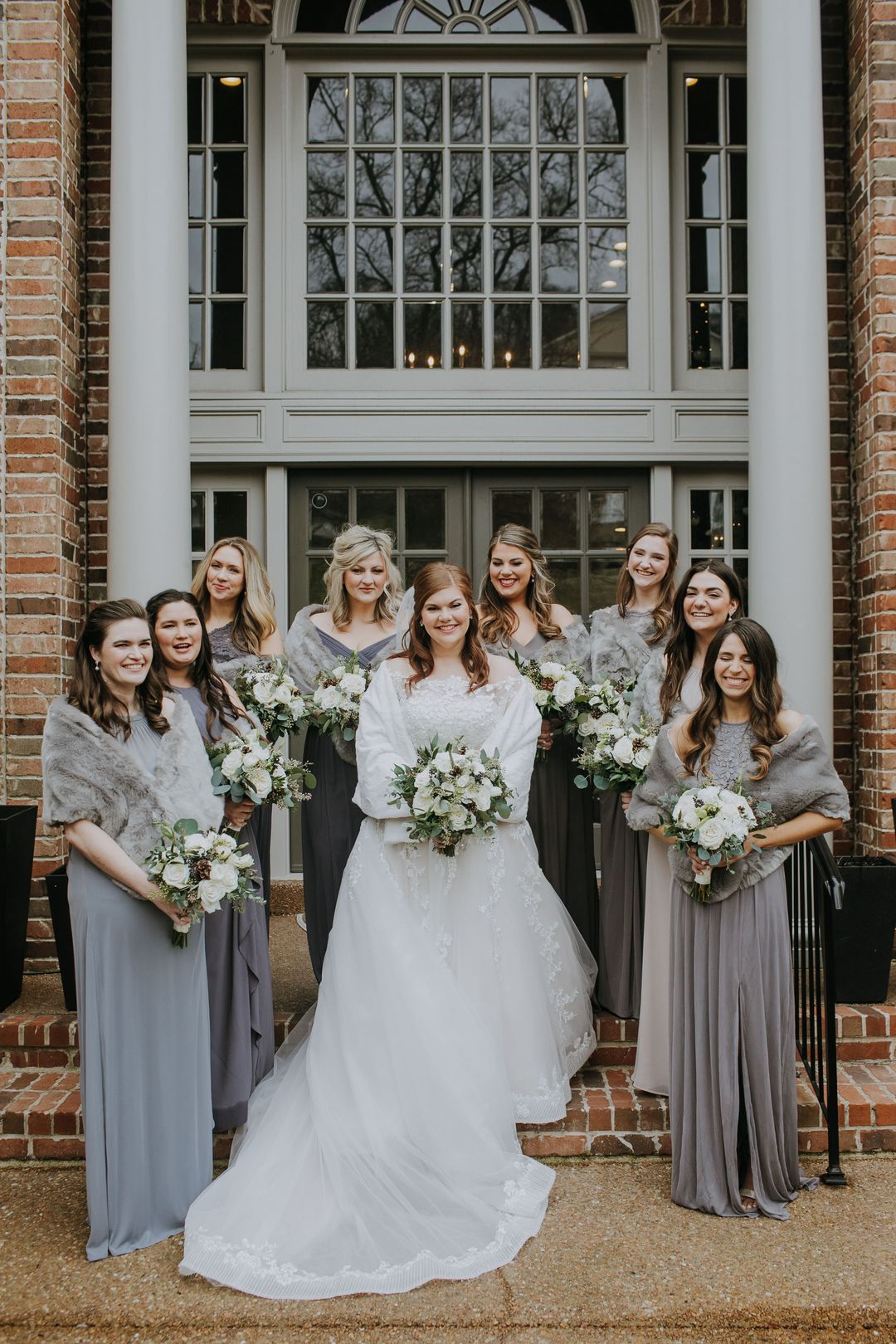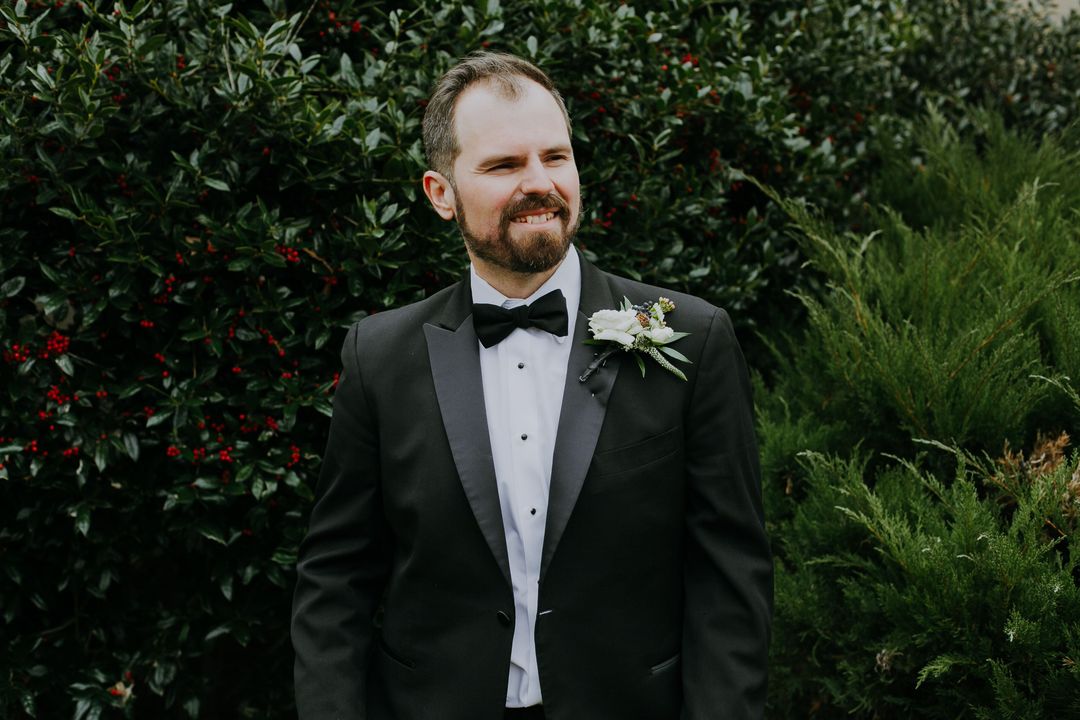 While some couples want a table to make them stand out, Victoria and Ben opted for a more understated look. We paired our Fruitwood Farm Table with classic folding chairs. Meanwhile, our Davis Glass Cylinders were used to cast a warm glow around the two. 14Tenn's elegant event space made for a simple but beautiful backdrop.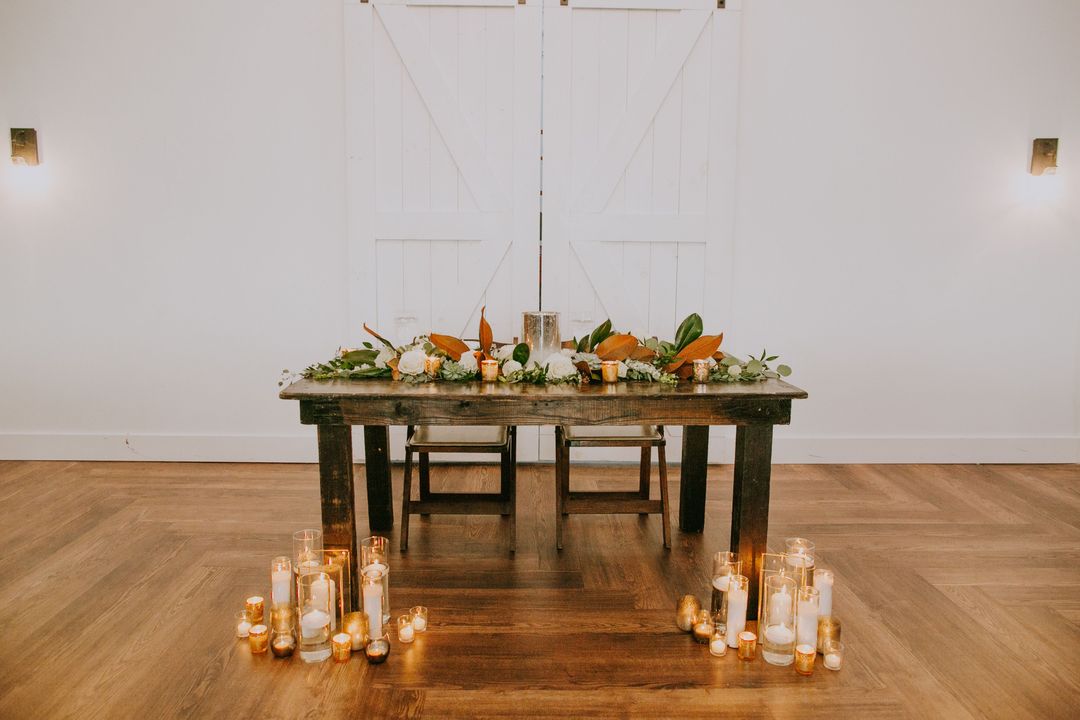 The first place setting we created was designed for long wooden tables. The use of our bright Darcy China as a base ensured that they stood out against the dark colors. While our Blair Geometric China and Hammered Flatware were a luxe metallic touch. We opted to feature our Carly Glassware, which is sleek with a thick base.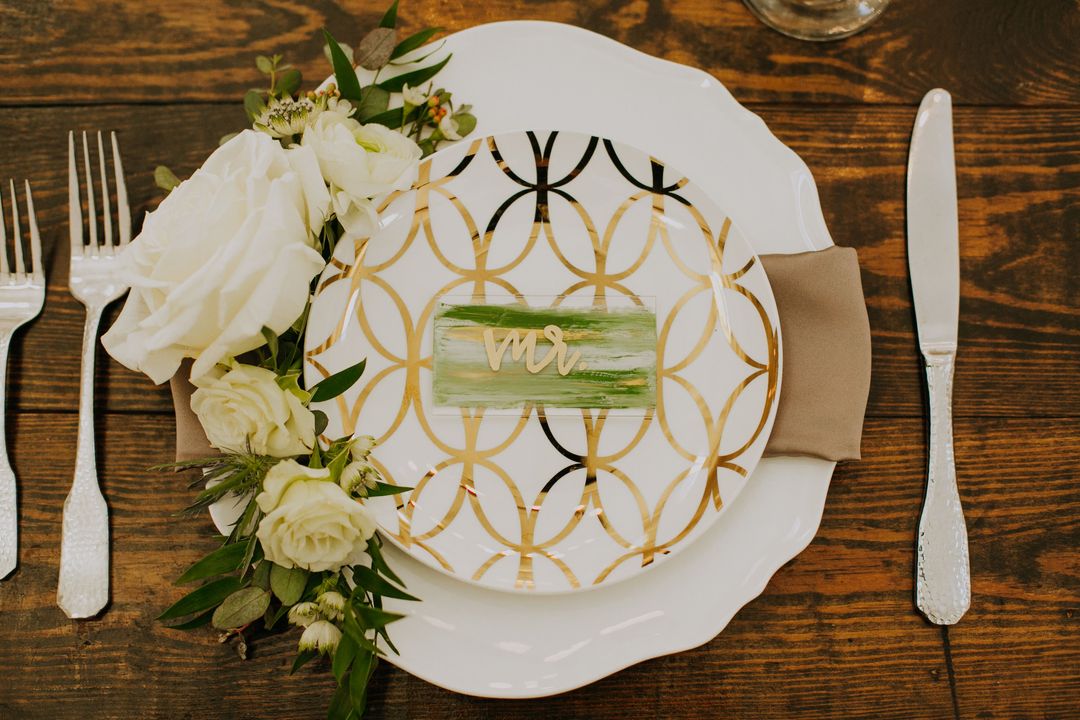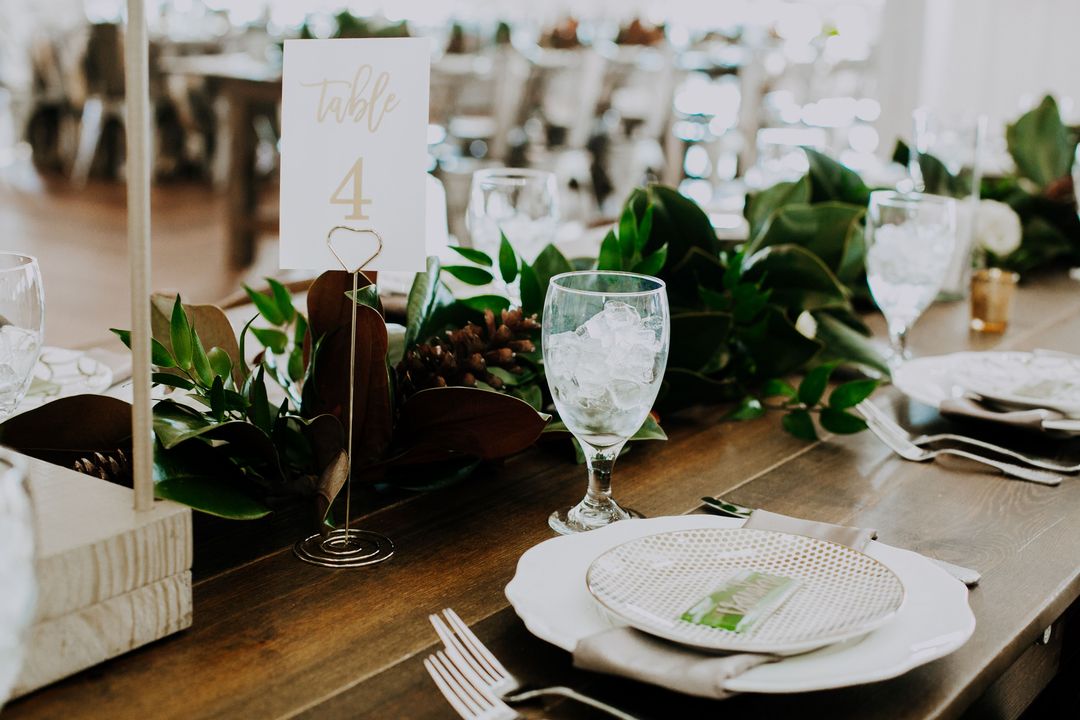 To complement the warm tones of their overall design, they opted to use our Fruitwood Folding Chairs. They pair beautifully with any wood table. To draw from the rustic elements, galvanized chairs were added to the mix.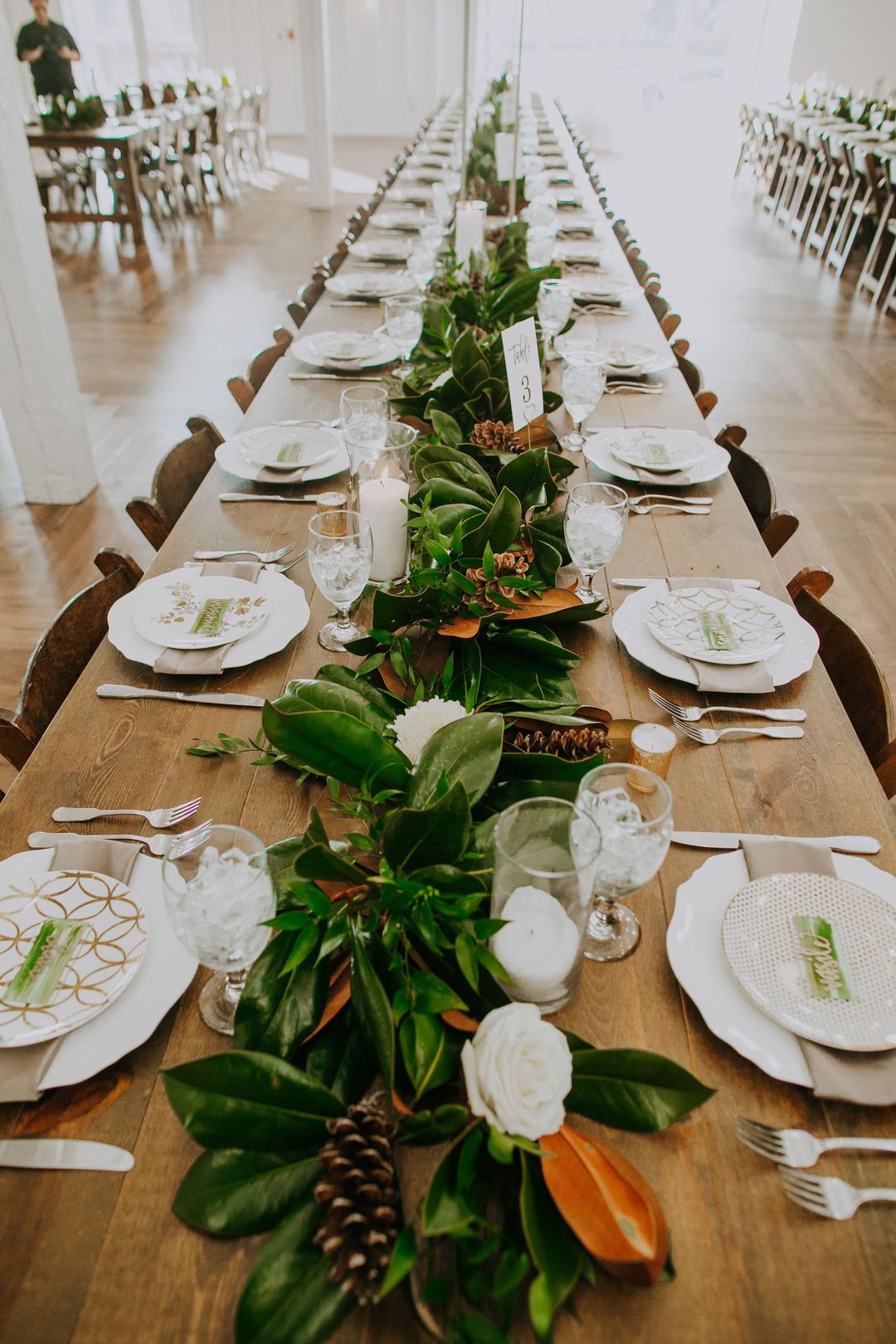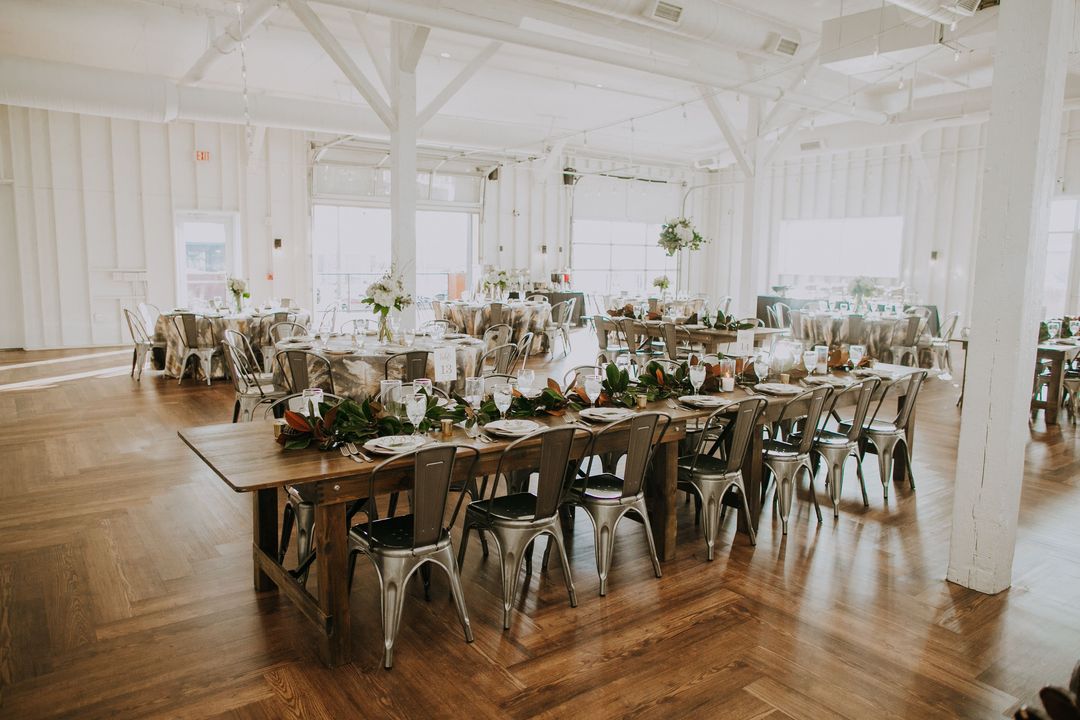 For the round tables, we created a separate but complementary place setting. Featuring the same Darcy China and Hammered Flatware, but with a different gold accent plate. In this case, our chic Kate Polka Dot China. It was all placed on our stunning Grey Nova linens.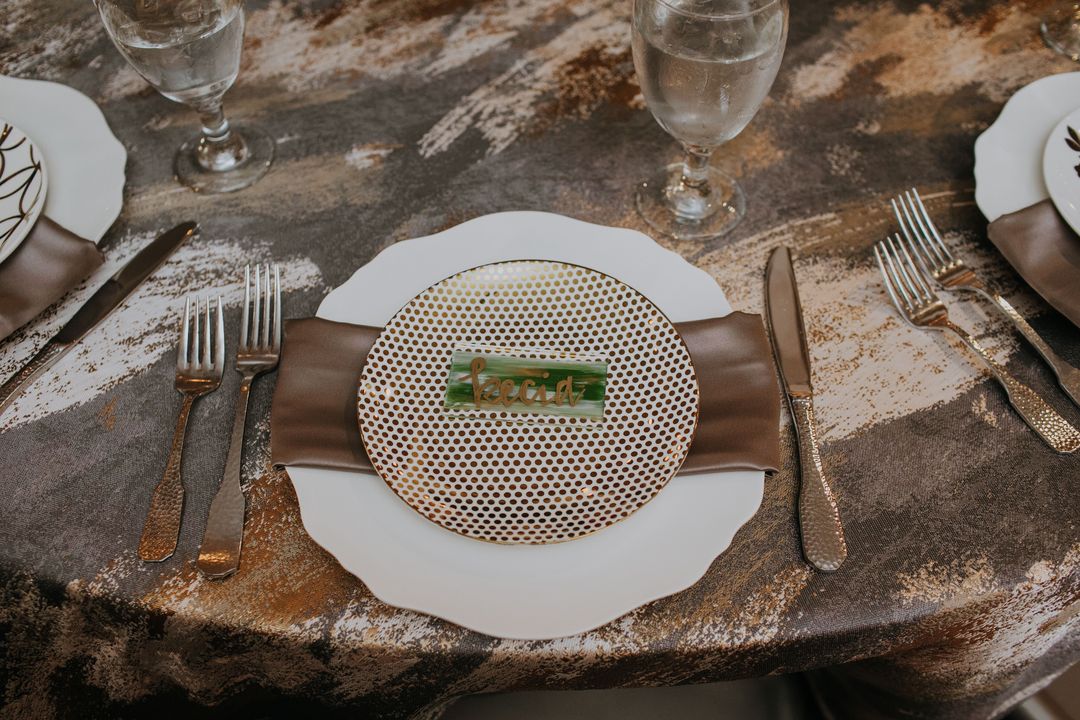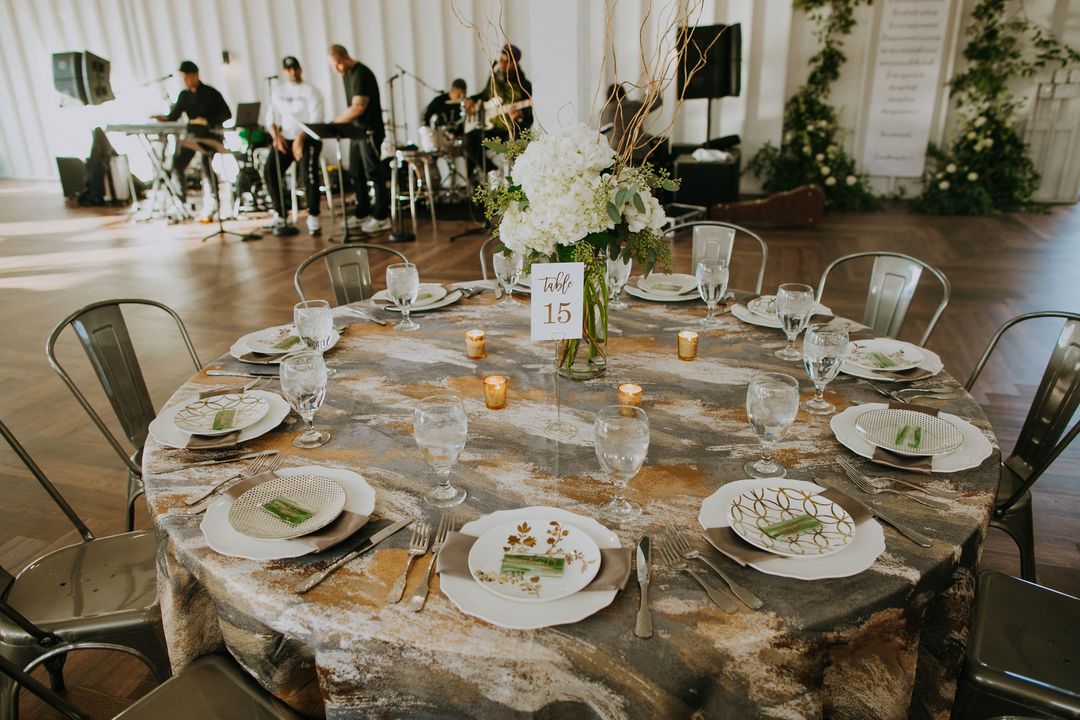 It was a joy to work with Victoria and Ben to create the wedding reception of their dreams! We wish them a long and happy lifetime together.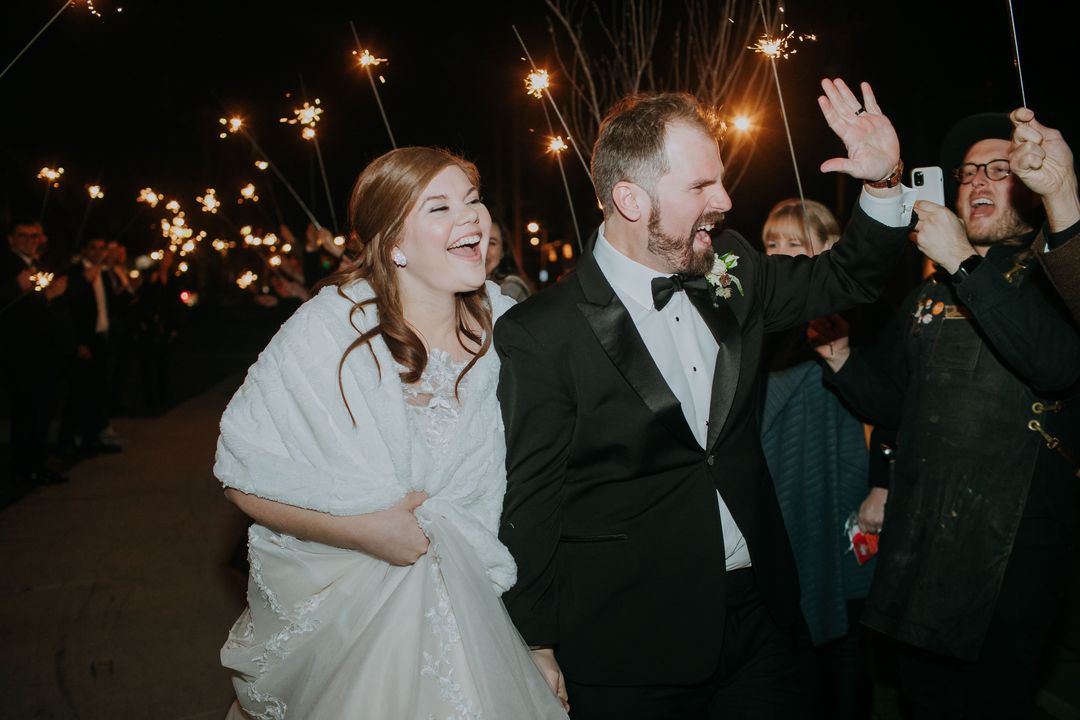 Photos: Teale Photography
Planning & Florals: Still Weddings & Events
Want to feature some of these rustic chic rentals at your next event or for an upcoming Nashville wedding? Contact our team to secure your rentals today!
TAGS | 14Tenn Nashville, rustic wedding decor, upscale winter wedding, wedding tablescapes, winter wedding, winter wedding decor
FEATURED RENTALS | fruitwood folding chairs, Fruitwood Farm Table, Davis Glass Cylinders, Hammered Flatware, Carly Glassware, fruitwood farm table, Kate polka dot chine, grey nova linens, Blair geometric china,
---
22

Oct

Events and Style Shoots, On Trend, Southern Events Products, Trends and Inspiration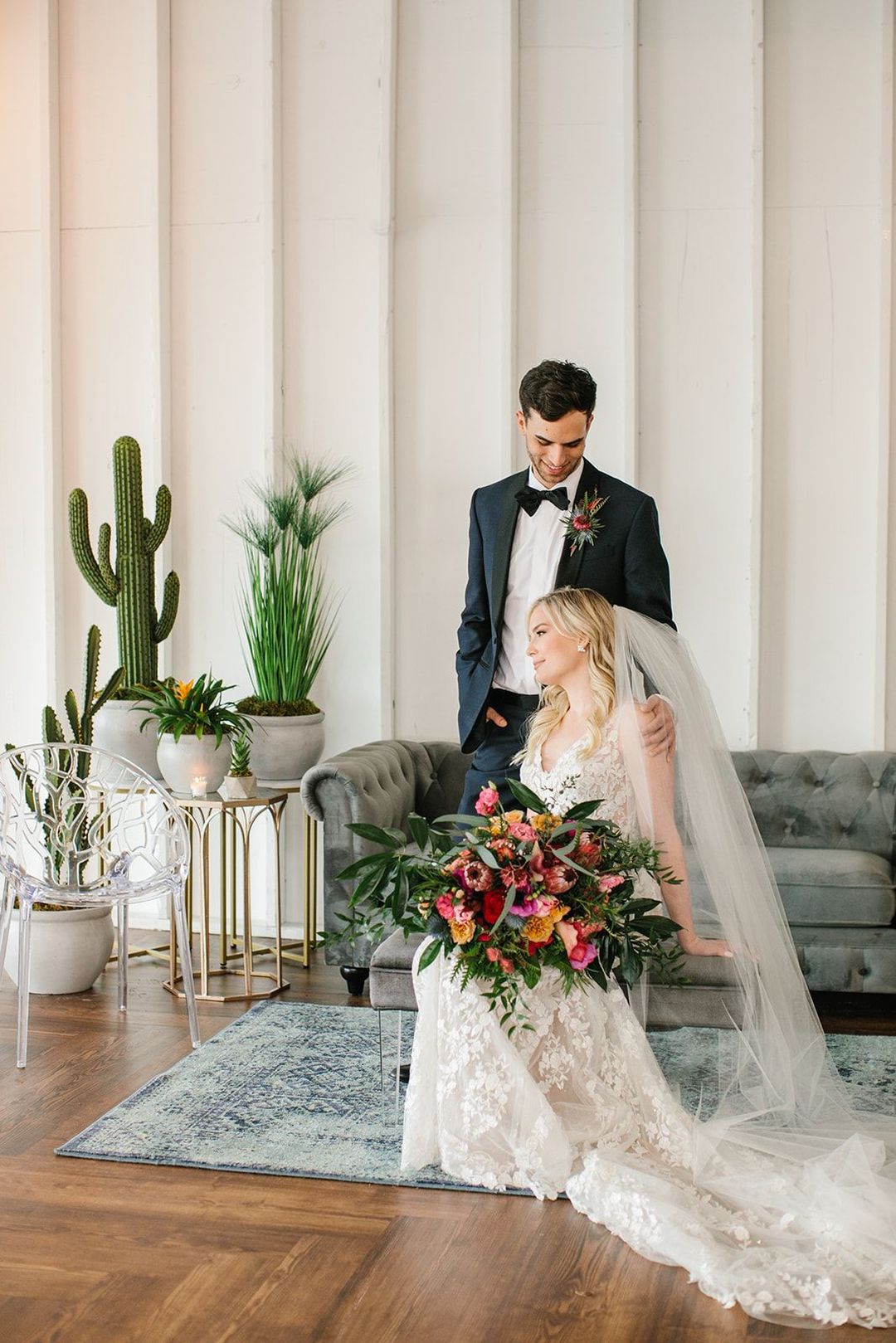 If you're looking for a bright and chic look for your upcoming wedding, look no further! Earlier this year our team at Southern Events collaborated with other local vendors for a fresh and fun desert bloom themed style shoot at 14Tenn in Nashville, Tennessee. Enjoy the breathtaking image by Gray Kammera Photography as we show off some of our featured rentals!
For the intimate indoor reception, we opted to use our modern Acrylic Ghost Armless Chairs. Meanwhile, our Davis Glass Cylinders with white pillar candles lined the aisle way, extending the airy look and creating a warm ambiance. Of course, the floral backdrop created by SS T Villager Designs stole the show! Their bright whimsical florals took this reception set up to another level, with lush greenery and bold colors.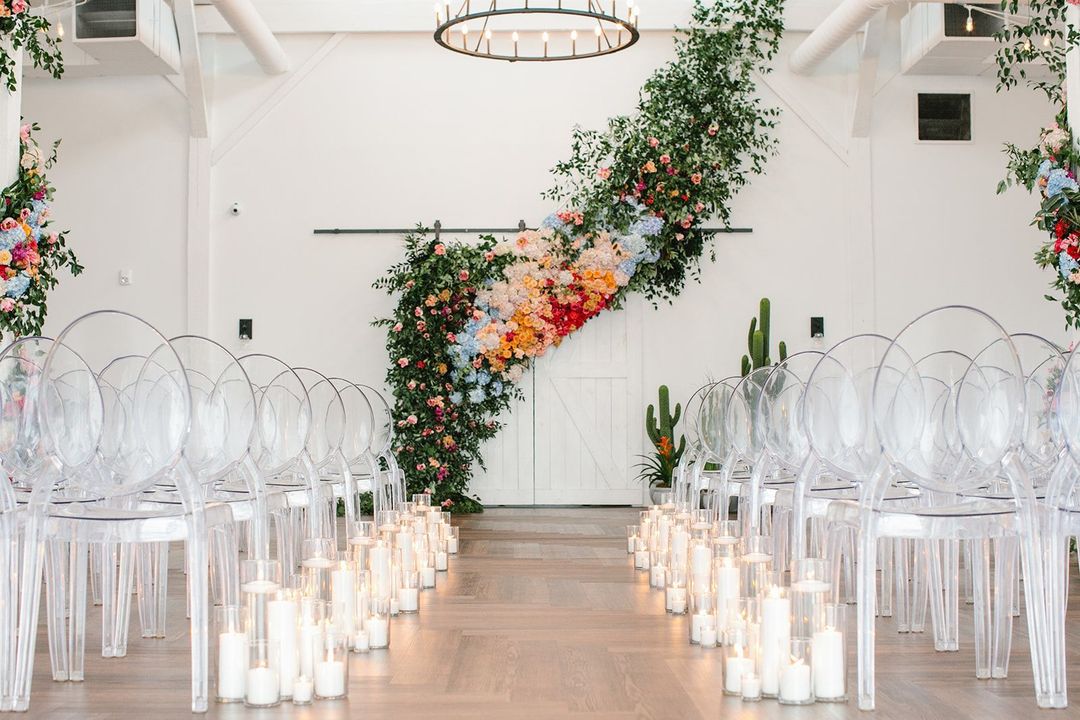 Shifting to the reception, we featured more of our popular acrylic furniture. This time our Acrylic Carrigan Side Chair. A mix of contemporary and industrial/rustic furniture makes this set-up stylish yet inviting.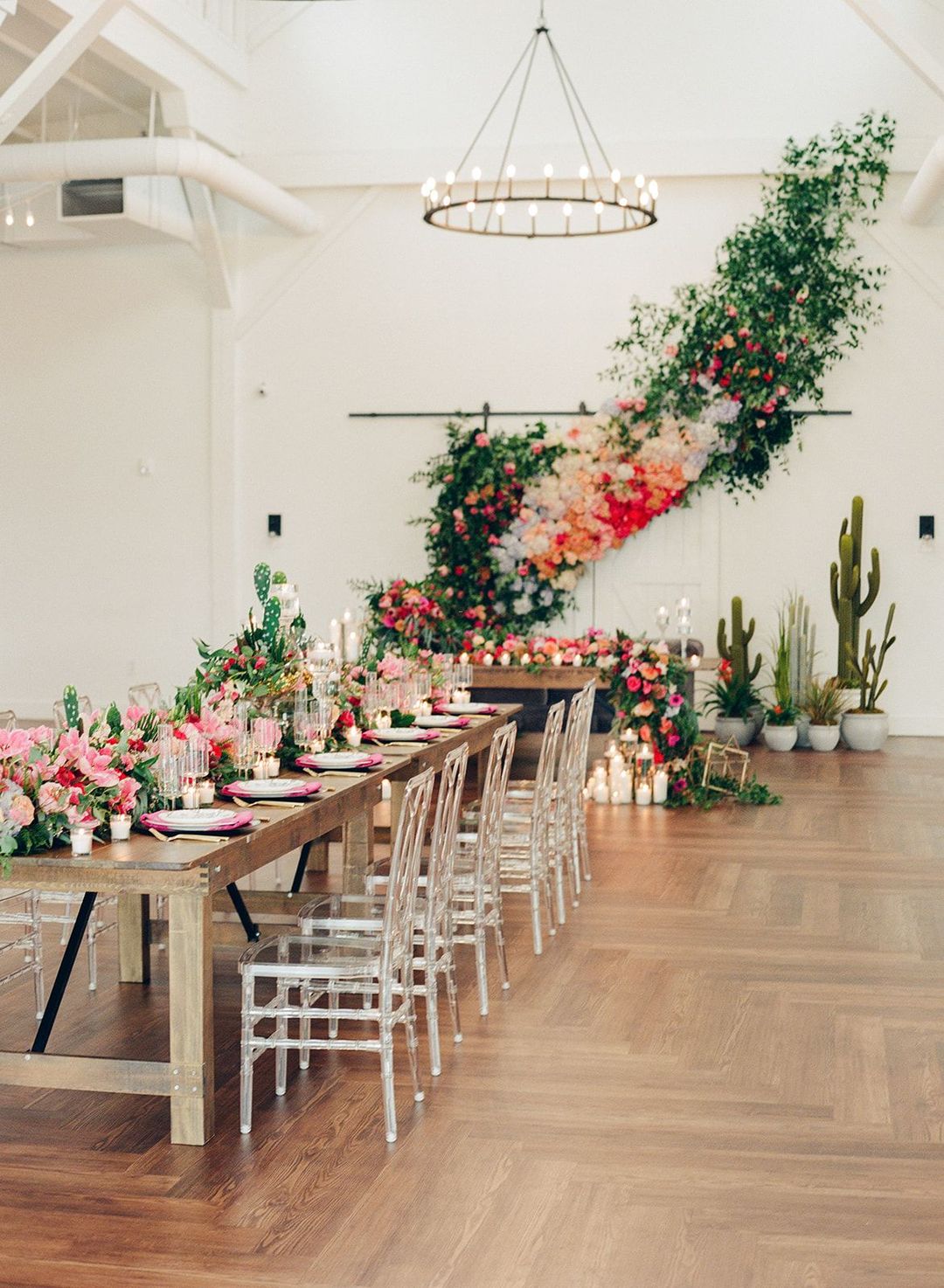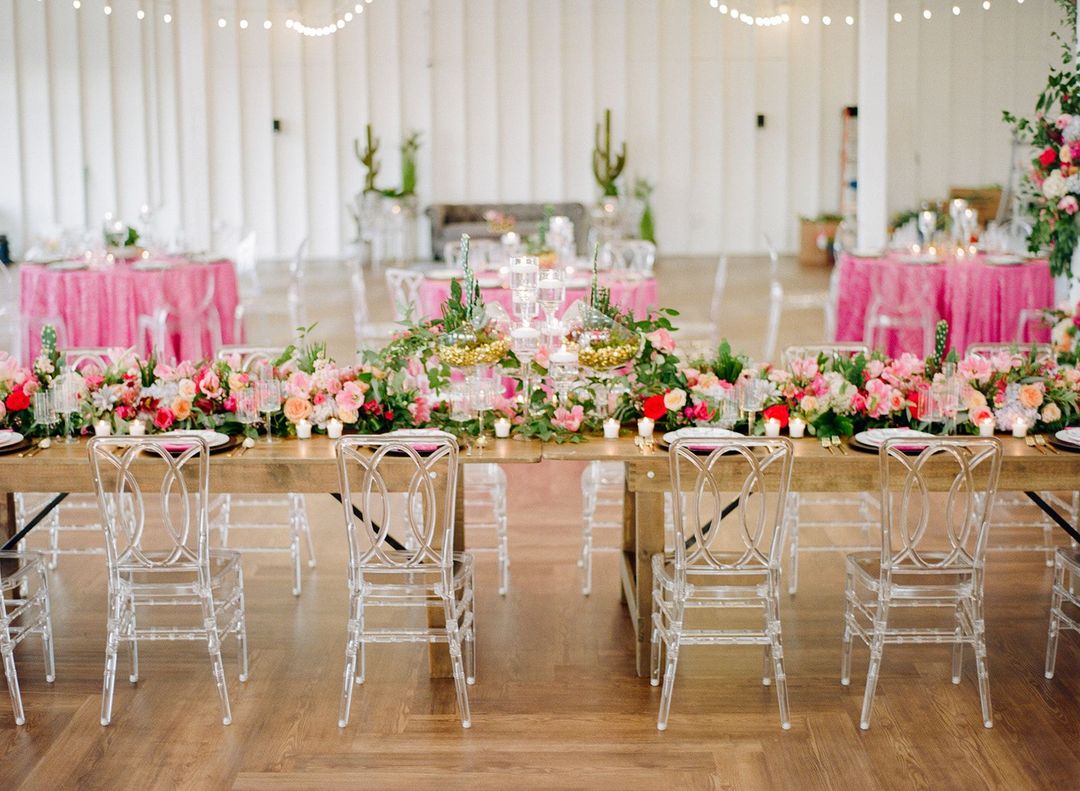 On the long dinner tables, we created place settings using our Coronado China, Athena China, Faux Wood Round Chargers, and Austin Flatware. Our Fuchsia Etched Velvet Napkins brought a POP of color that complimented the bright floral centerpieces. For drinks, we selected our classically elegant Cybil Glassware.
Also, note the beautiful calligraphy escort cards by Fanciful Ink!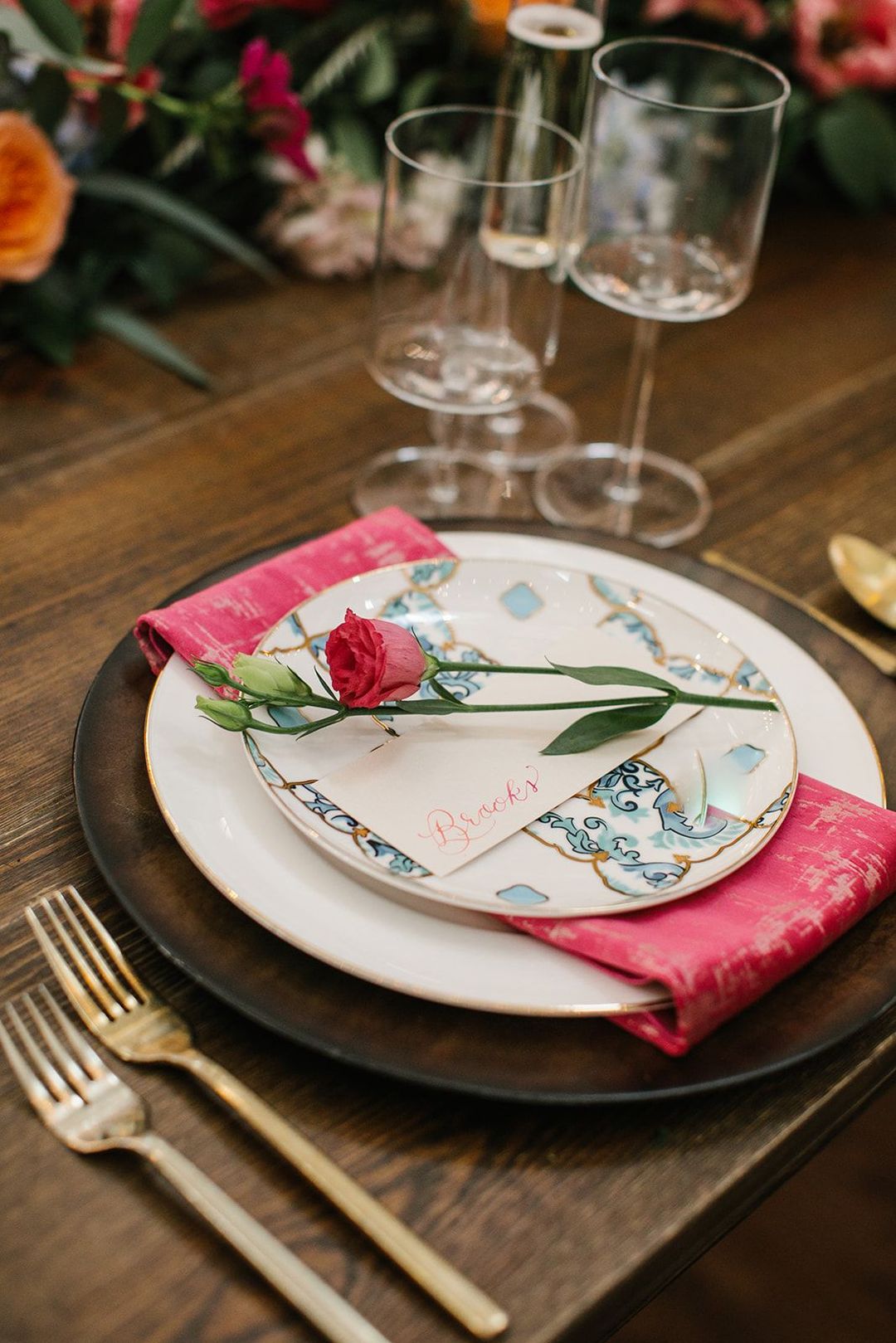 When styling the bride and groom's table, we always like a little extra drama. The bold florals dripped all the way to the floor where they met our Gold Metal Intersect Cube and Davis Glass Cylinders, for a warm and luxe look.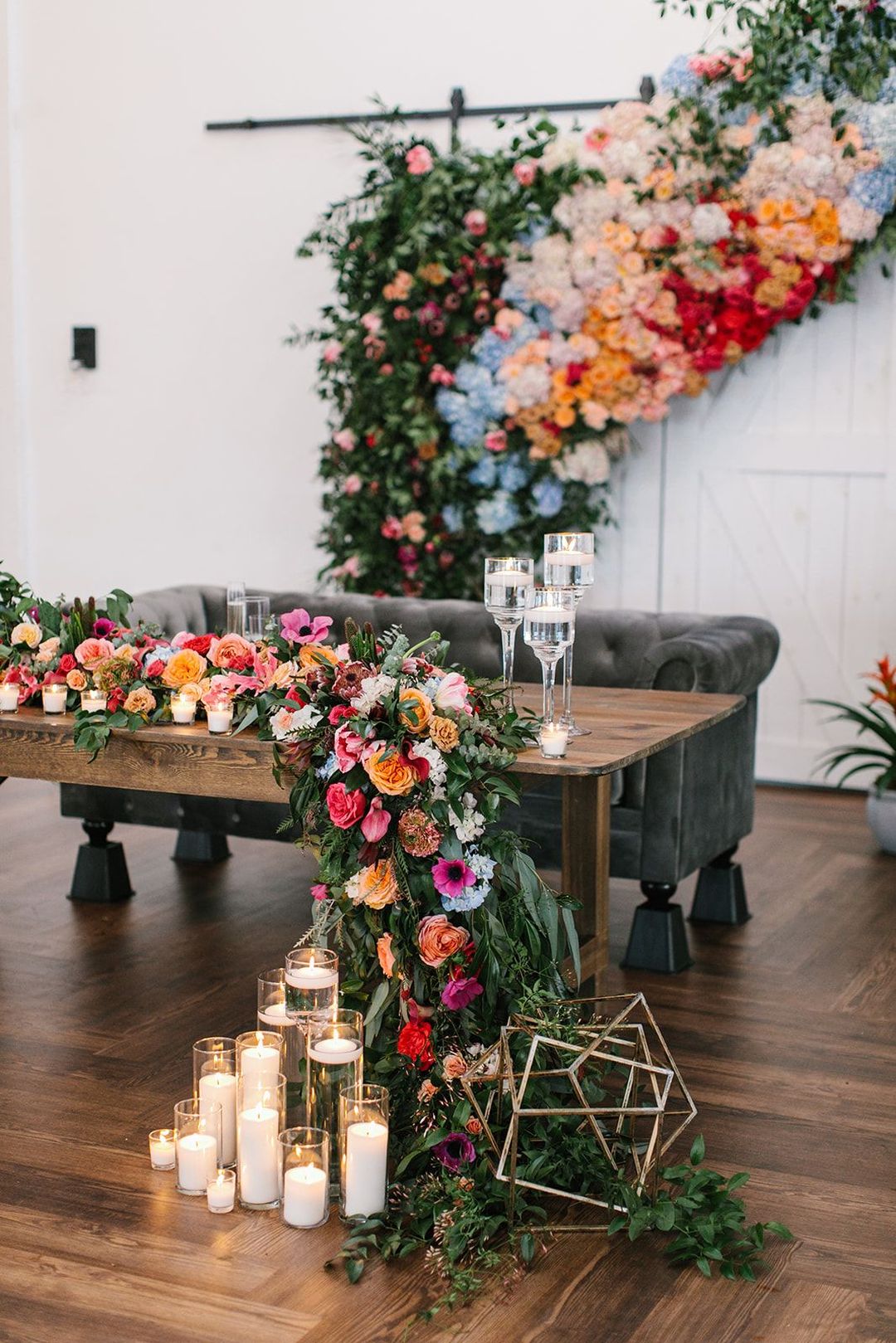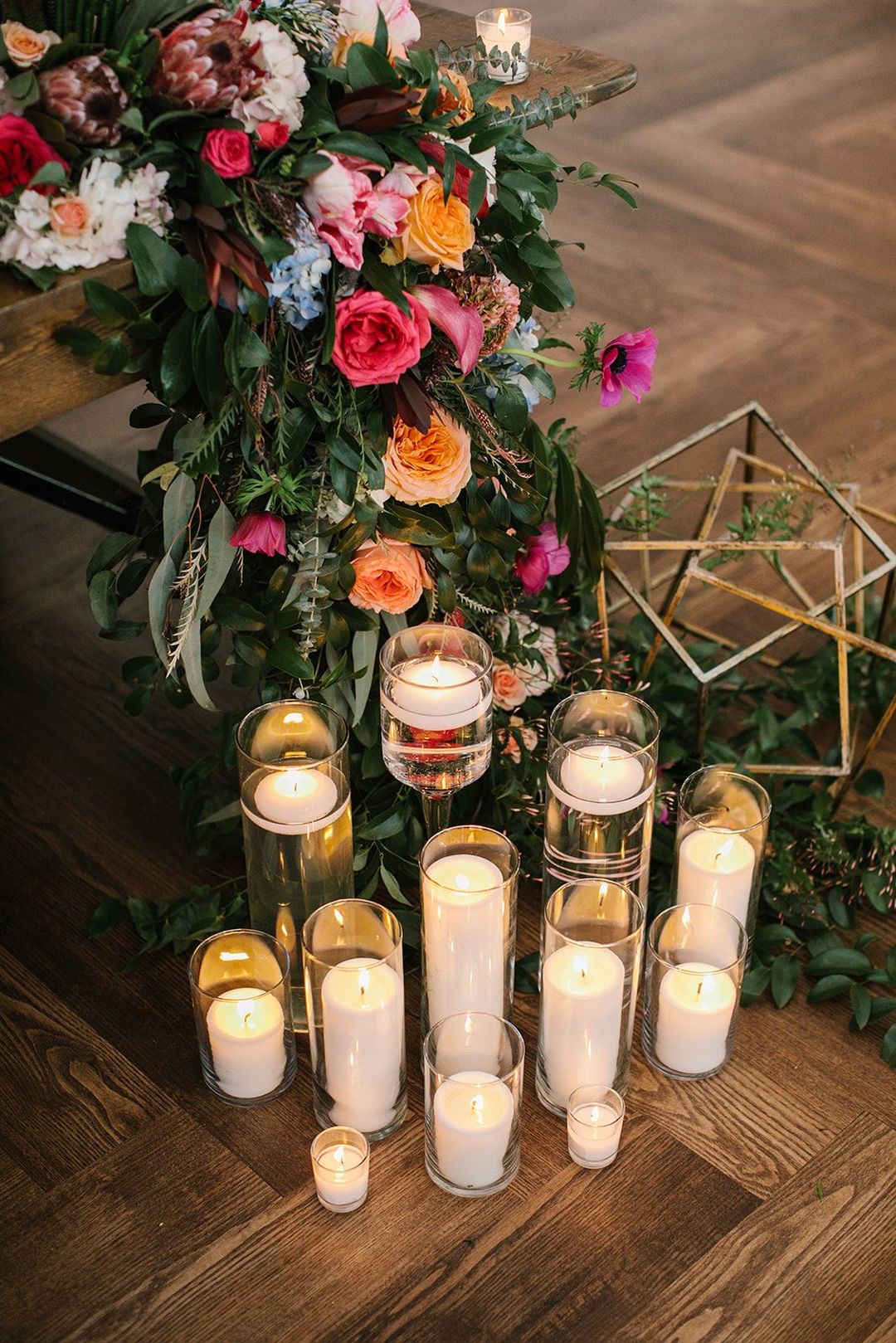 In addition to long dinner tables, we also used round tables. For these, we selected our stunning Fuchsia Etched Velvet Linens. A mix of our acrylic chairs were featured, for that popular mix and match vibe.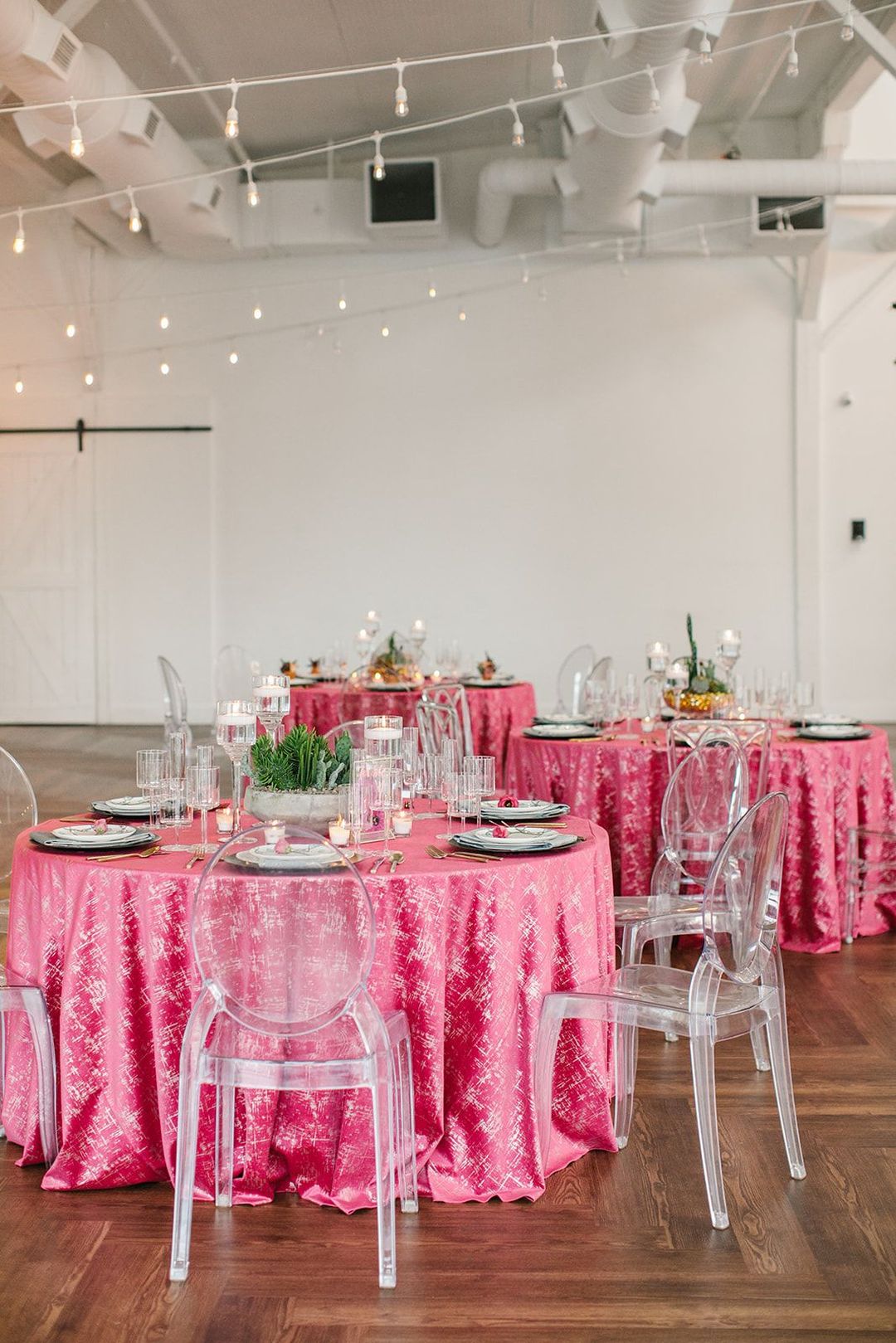 While the place setting were identical to those on the long dinner tables, we switched out the napkins. Our London Fog Etched Velvet Napkins provided a much-needed neutral contrast to the otherwise bold table. Our favorite element? The super cute potted plant wedding favors/place settings!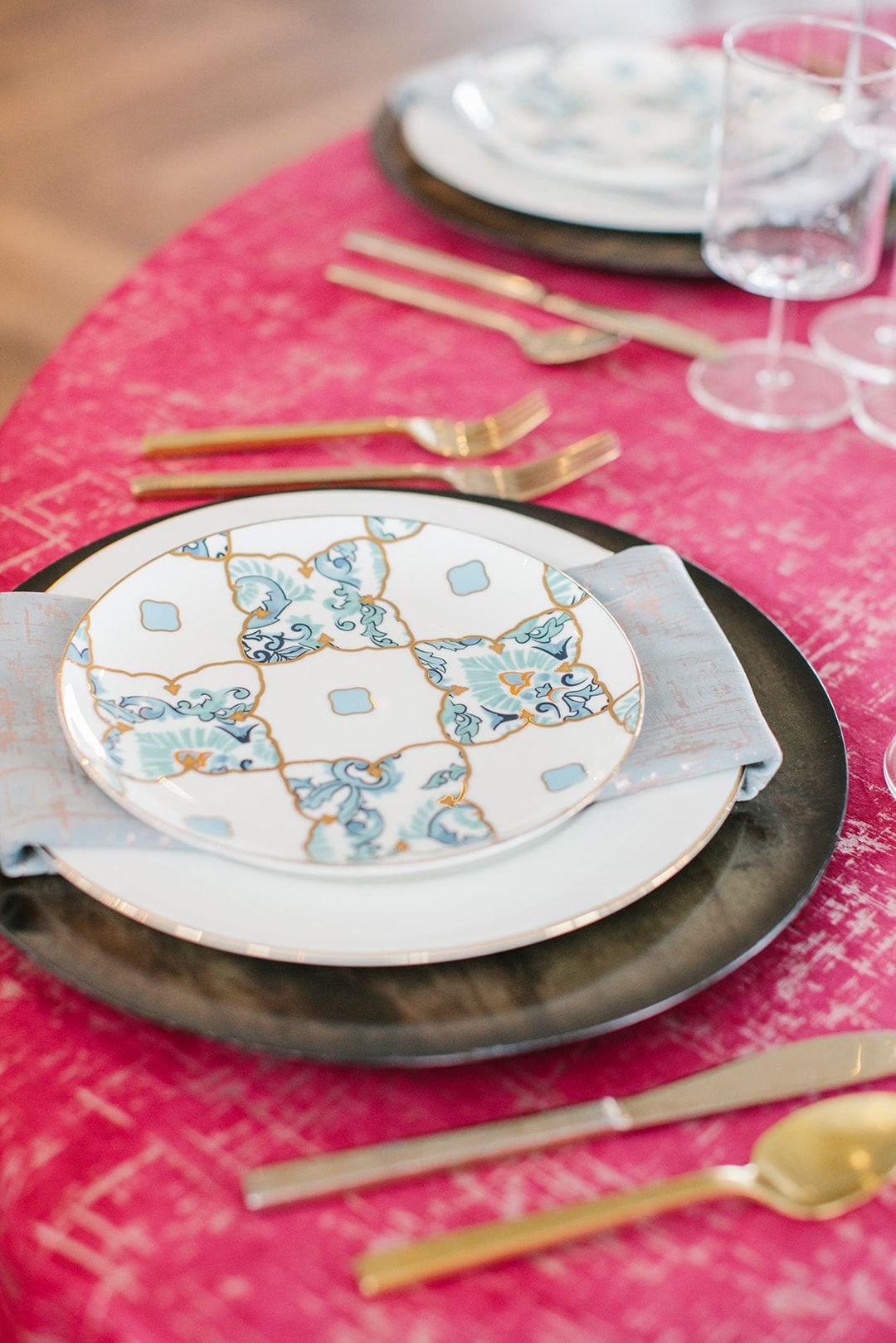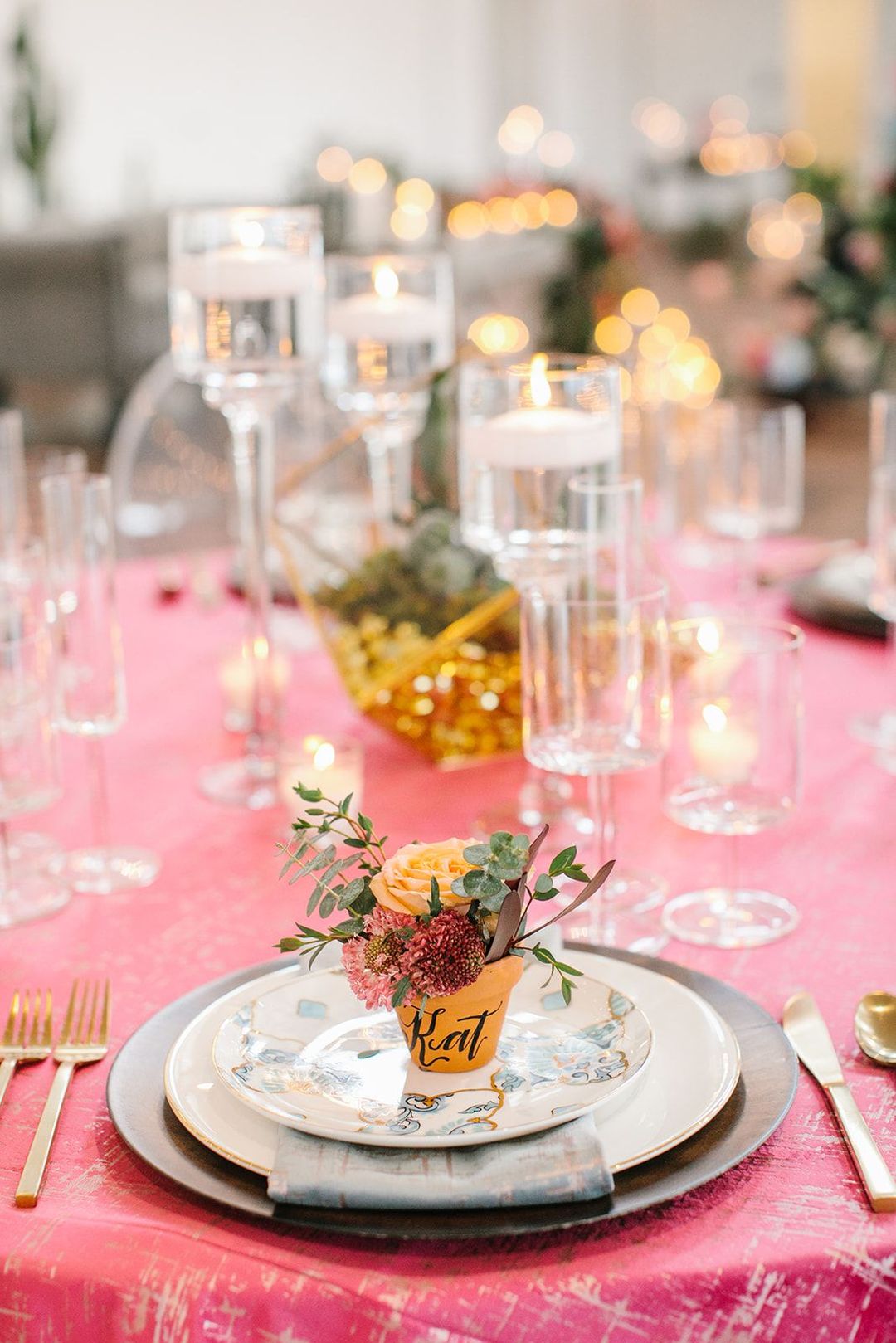 Lounge areas are a must-have for any wedding with a cocktail hour. This cozy lounge was created using our Nickel Grey Bench, Henley Grey Velvet Tufted Sofa, and Acrylic Fantasma Side Chairs.  Cheval Gold Miror Side Tables were decorated with lush plants for that chic desert vibe. Nearby, bistro tables were set up with our Ocean Blue Velvet Linens.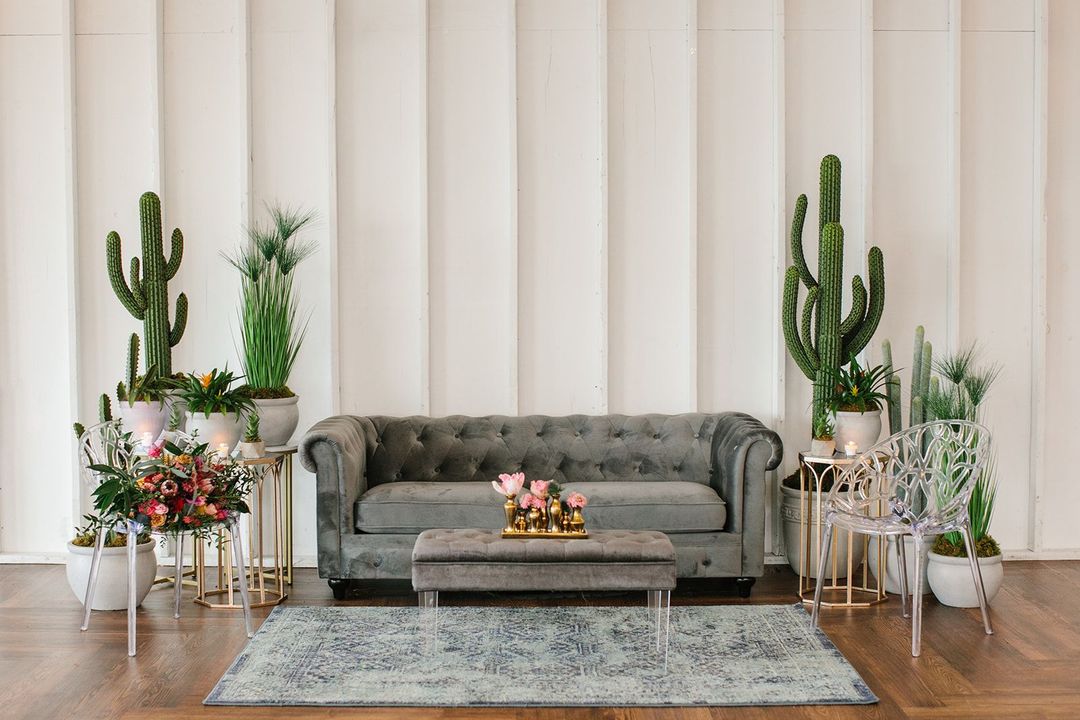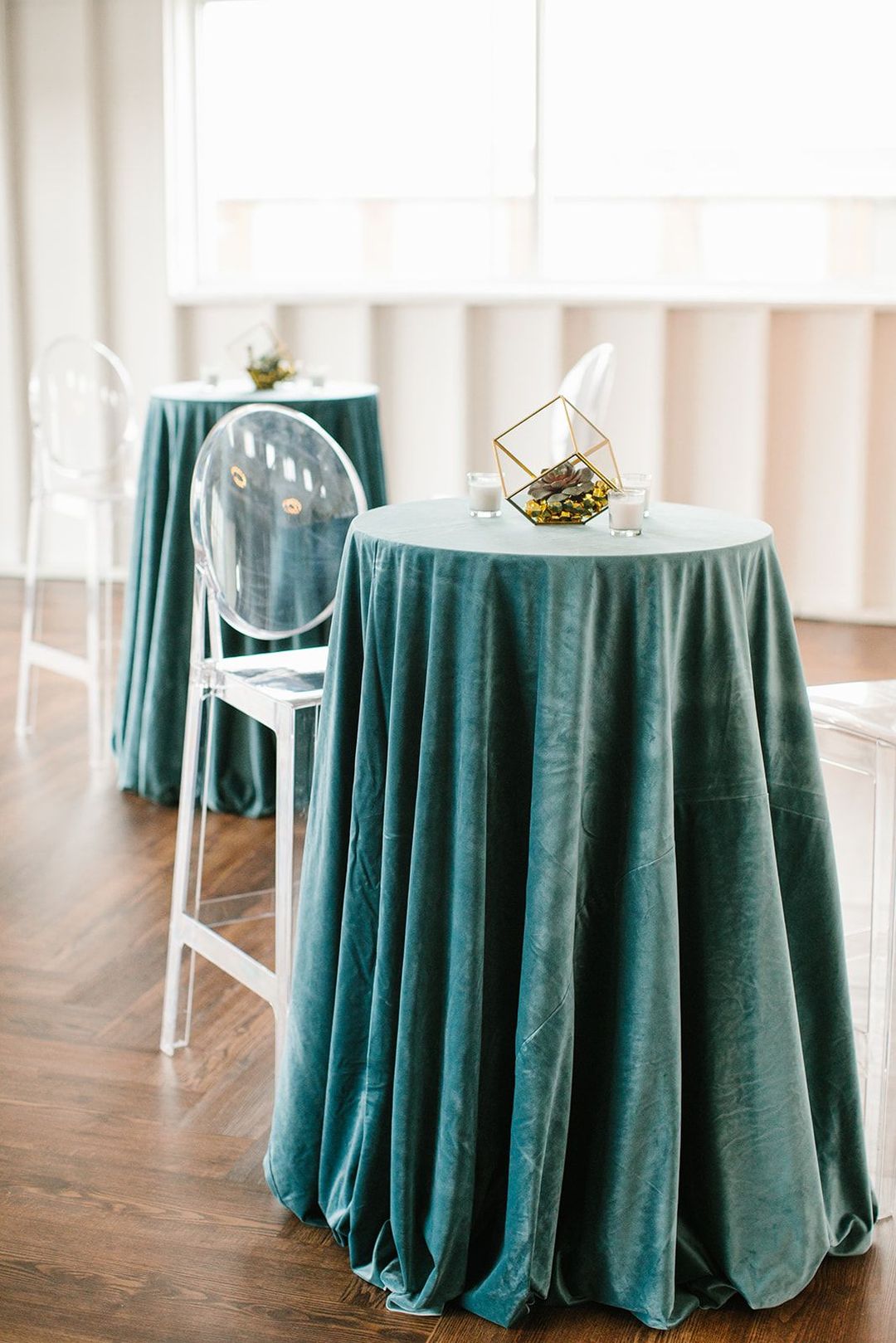 Other vendors:
Dress  Adorn Nashville
Suit The Black Tux
Want to features some of these gorgeous modern rentals at your next event or for an upcoming Nashville wedding? Contact our team to secure your rentals today!
TAGS | 14Tenn Nashville, Bright & Colorful Rentals, Chic Modern Design, Colorful Wedding Decor, Style Shoot, desert bloom style shoot, modern event decor
FEATURED RENTALS | Nickel Grey Bench, Henley Grey Velvet Tufted Sofa, Acrylic Fantasma Side Chair, Cheval Gold Miror Side Tables, Coronado China, Athena China, Faux Wood Round Charger, bistro tables, ocean blue velvet linens, Cybil Glassware, Austin Flatware, Acrylic Carrigan Chair, Acrylic Armless Ghost Chair,
---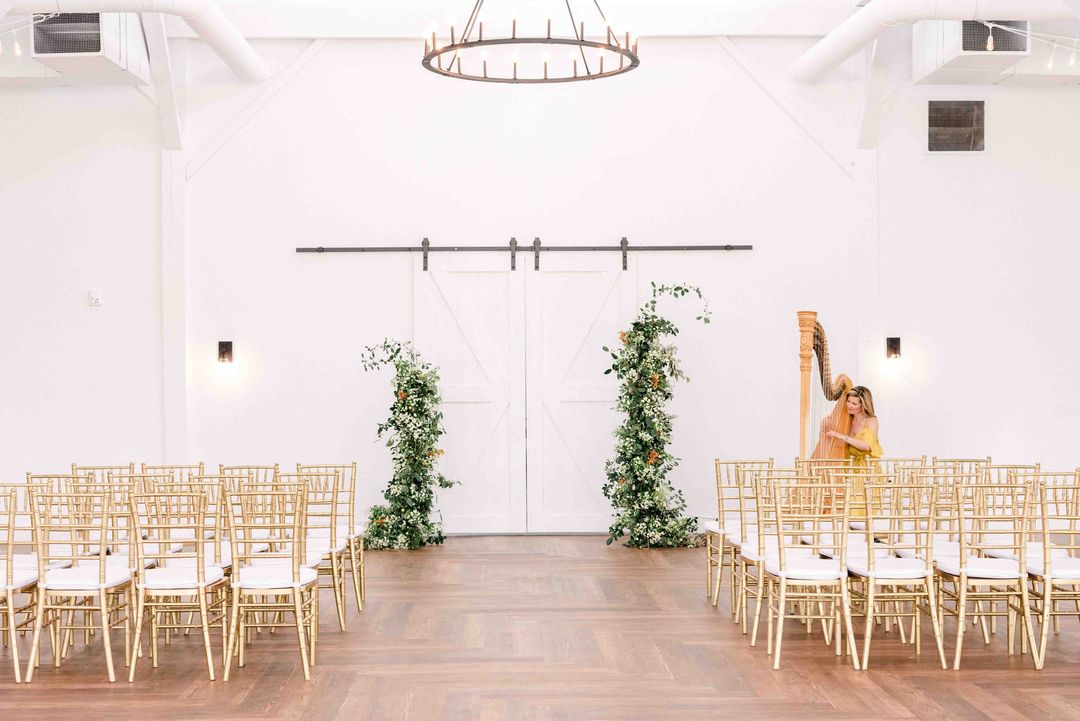 With natural light pouring into the wedding venue from all angles, 14Tenn in Nashville, Tennessee is a sought-after event space for holding weddings and events of all shapes and sizes. As one of the venue's exclusive vendors, we adore designing and dressing this space with our unique wedding and party rentals. The gorgeous, well-lit event venue becomes something new each and every time we get the opportunity to create events there. Crisp white walls, warm wood floors, and obscenely large windows create the perfect canvas.
For a recent style shoot with Styled Shoots Across America, we had the opportunity to create a luxe and inviting wedding look at this Middle Tennessee wedding venue. Our Saylor Navy Velvet Sofa and Chairs brought a welcome pop of color to the serene and modern space. We added our Navy Rug for warmth and comfort (guests always love an inviting space to sit and chat). When working with white walls and wood floors, we jump at the chance to bring in gold accents. The color combination always creates a swoon-worthy – almost ethereal – look that brides and grooms look for on their wedding day. We brought in our Gold Chiavari Chairs to evoke that magical, blissful feeling that all wedding days should have!
For the wedding reception portion of the design, we combined rustic elements with rich, warm colors. Our Fruitwood Farm Table and mismatched white vintage chairs were both inviting and rustic. To up the elegance a bit, we added Magnolia Green Velvet Linens, Hob Nob Glassware, and Gold Accent China.
Photography by Cee Cee Photography.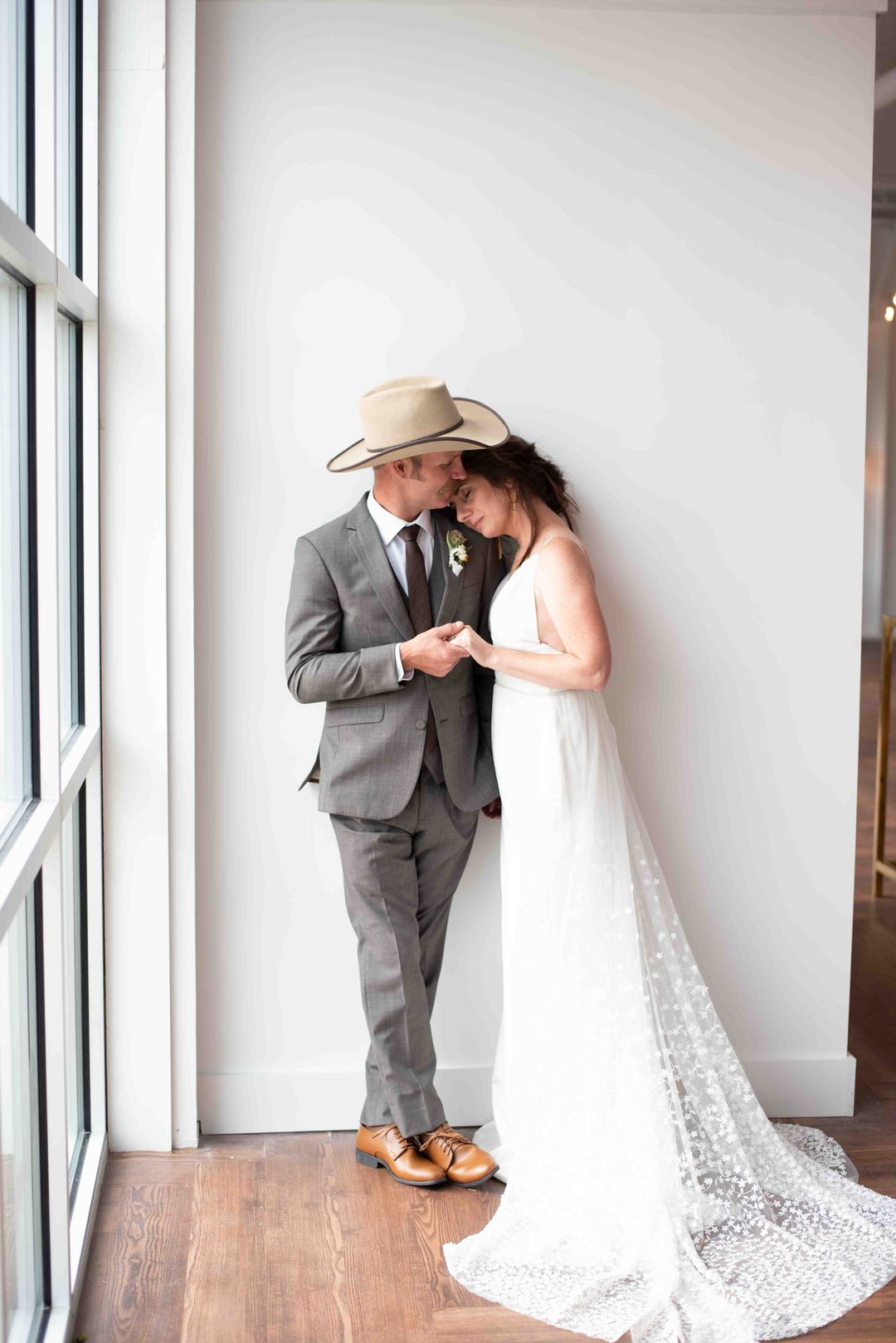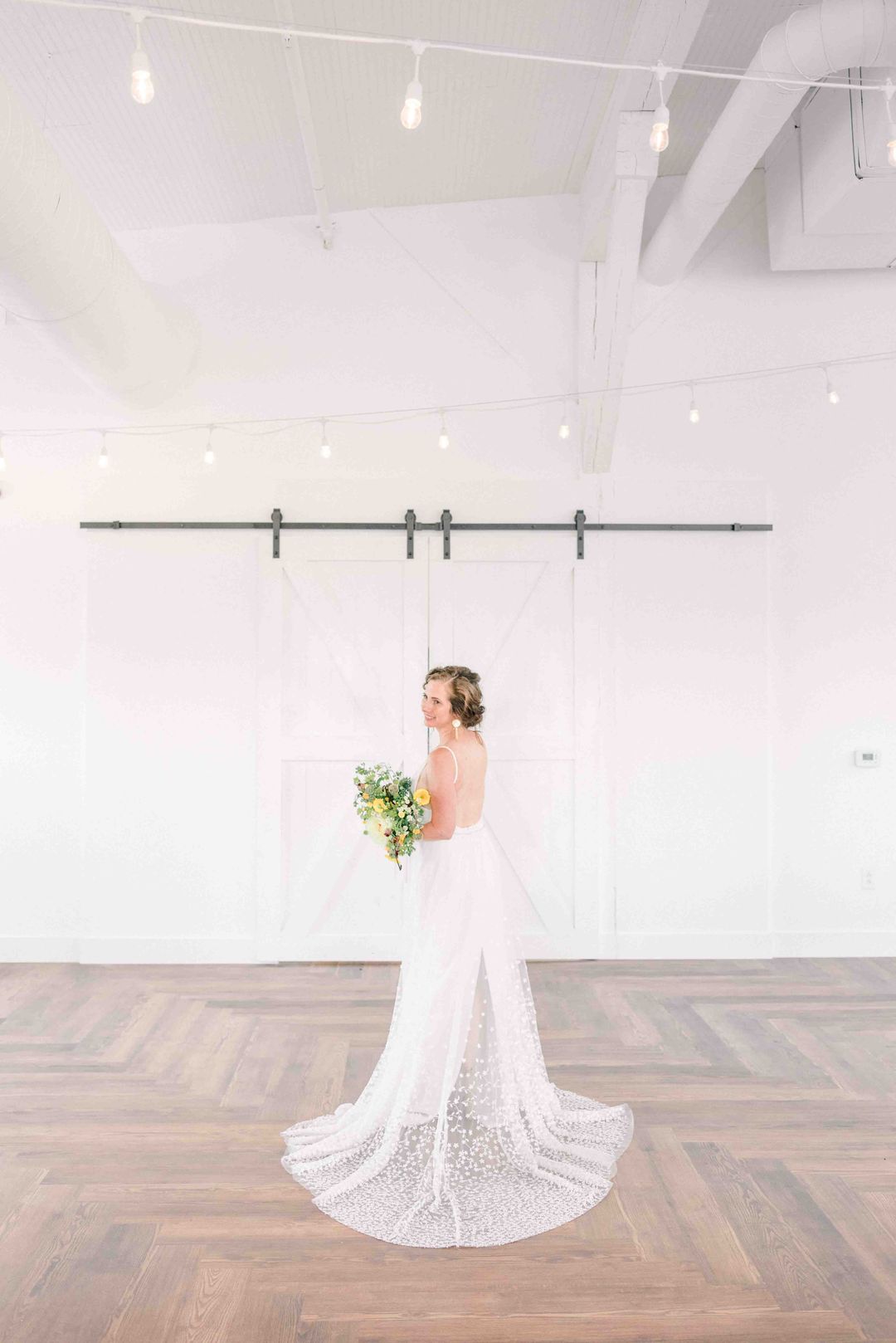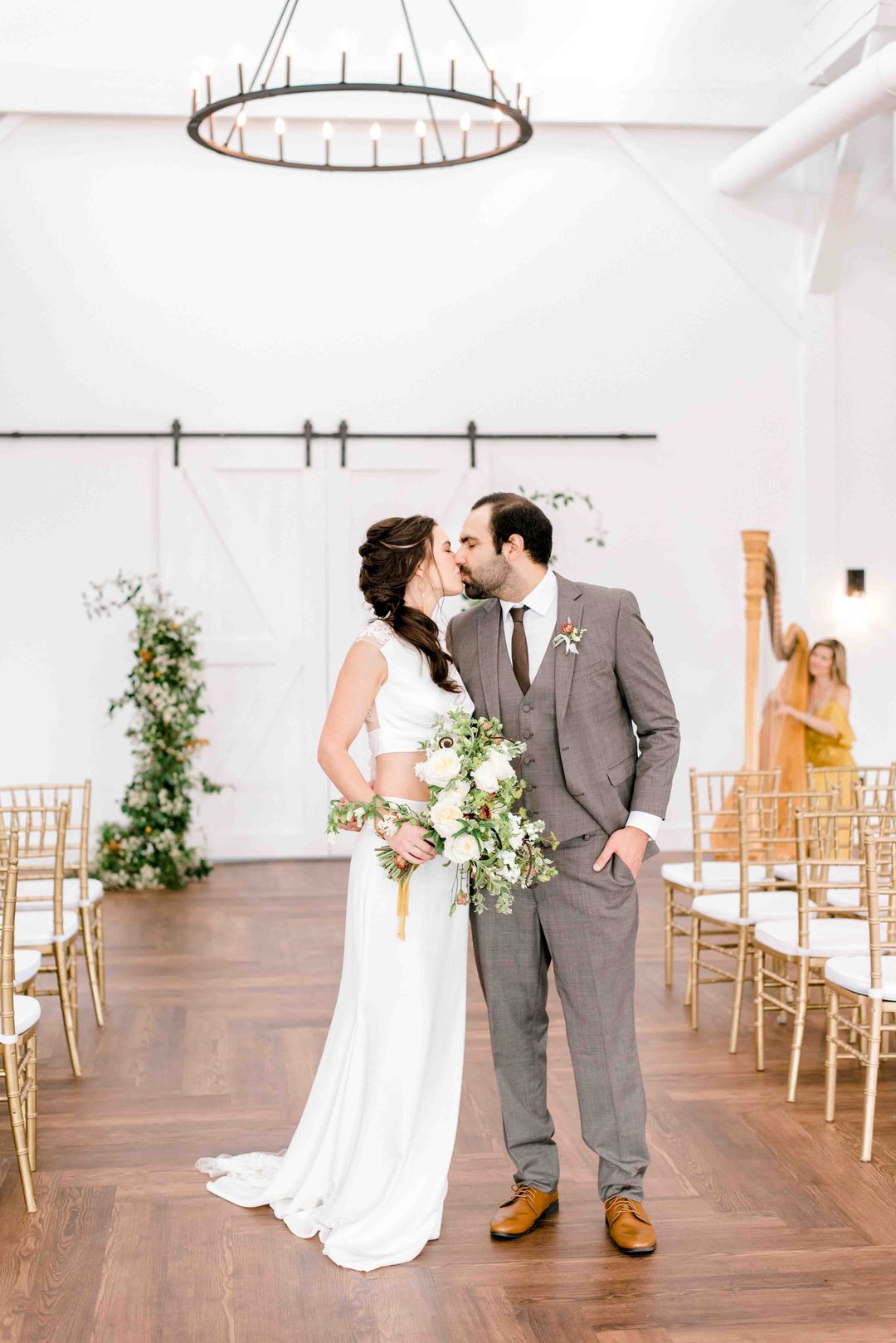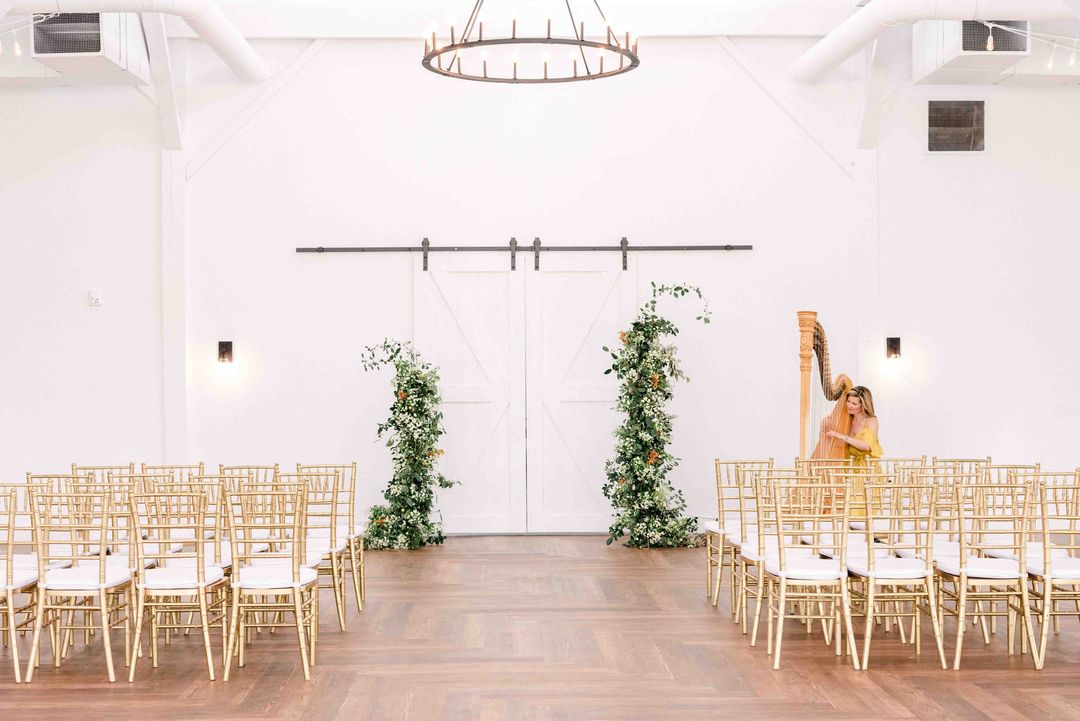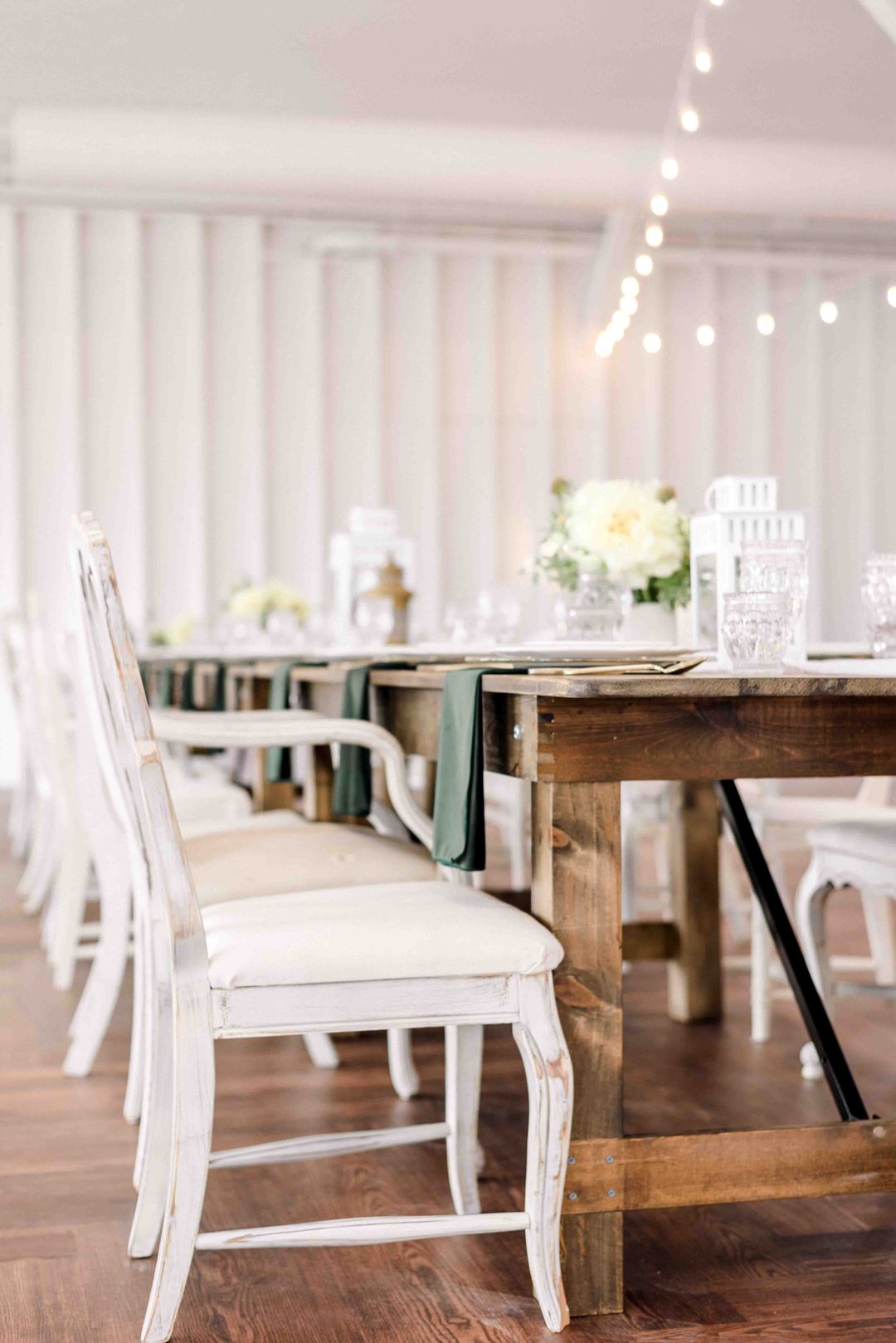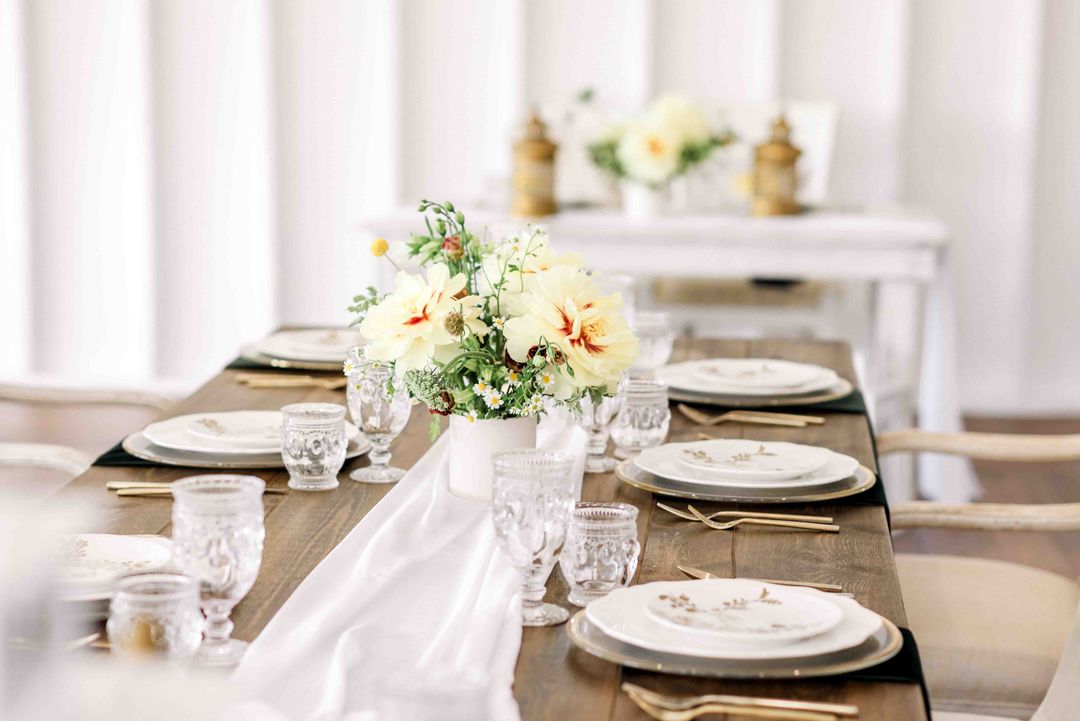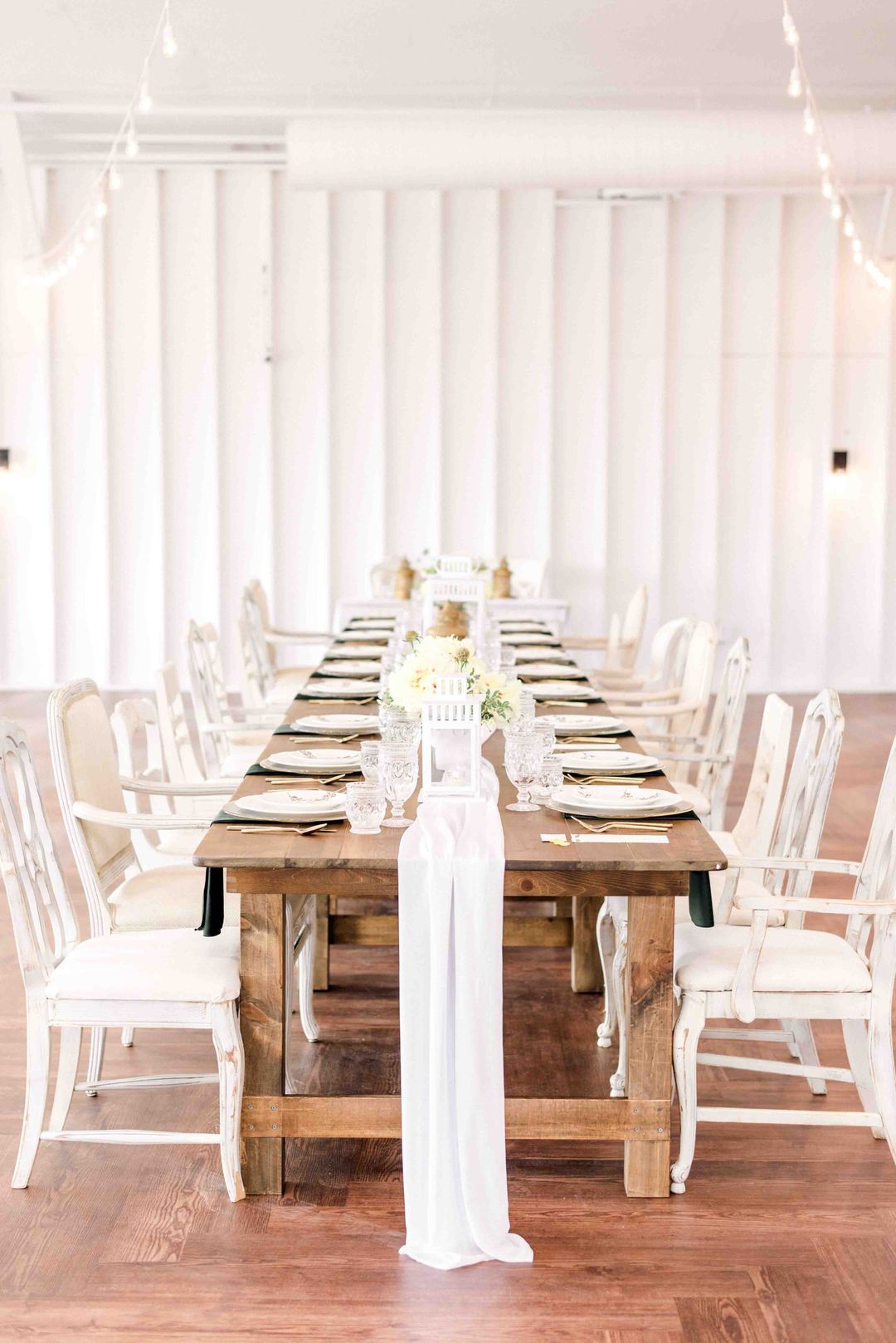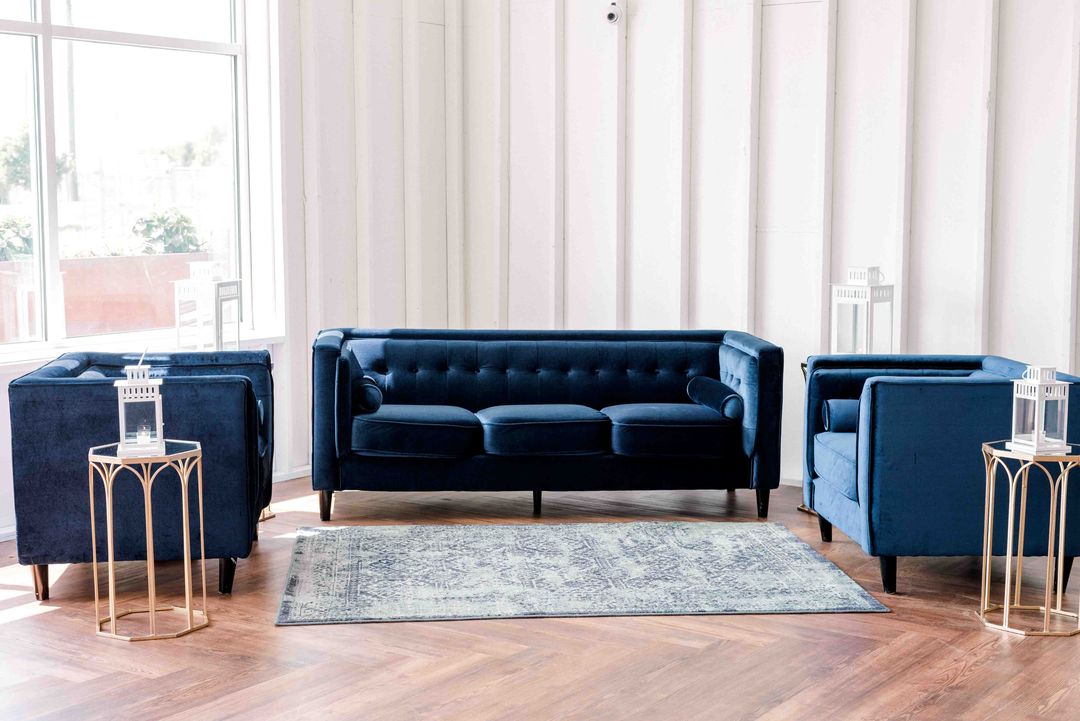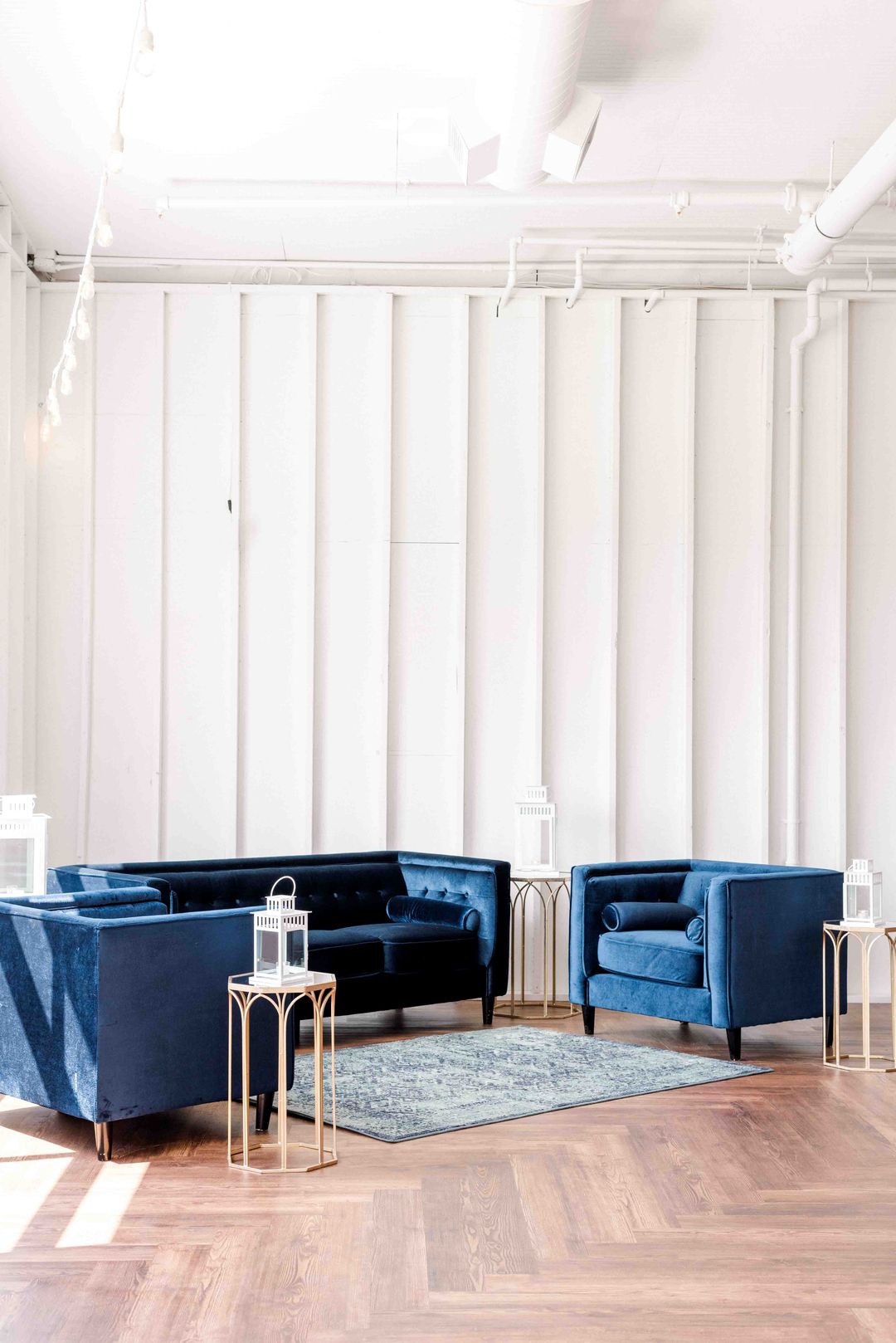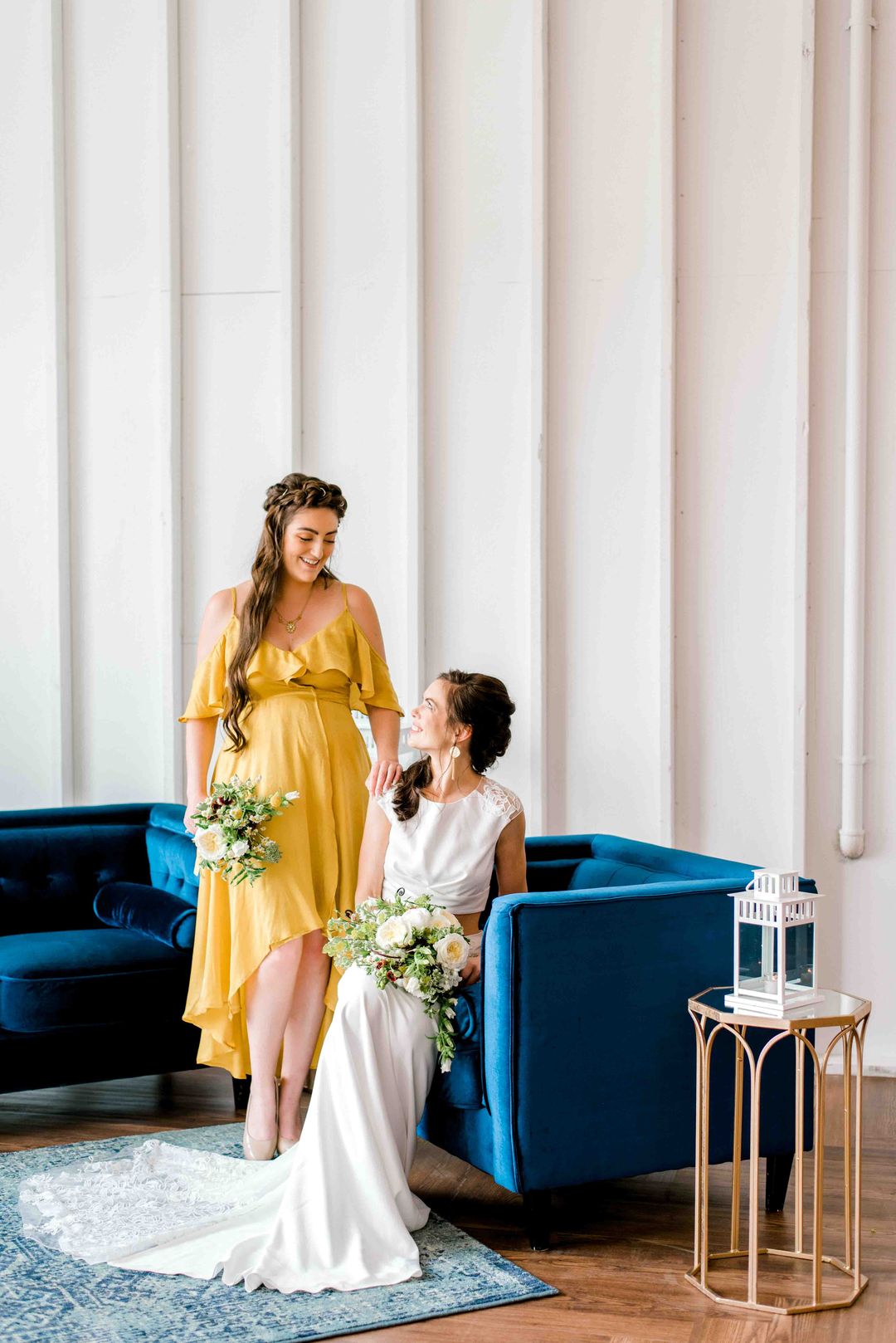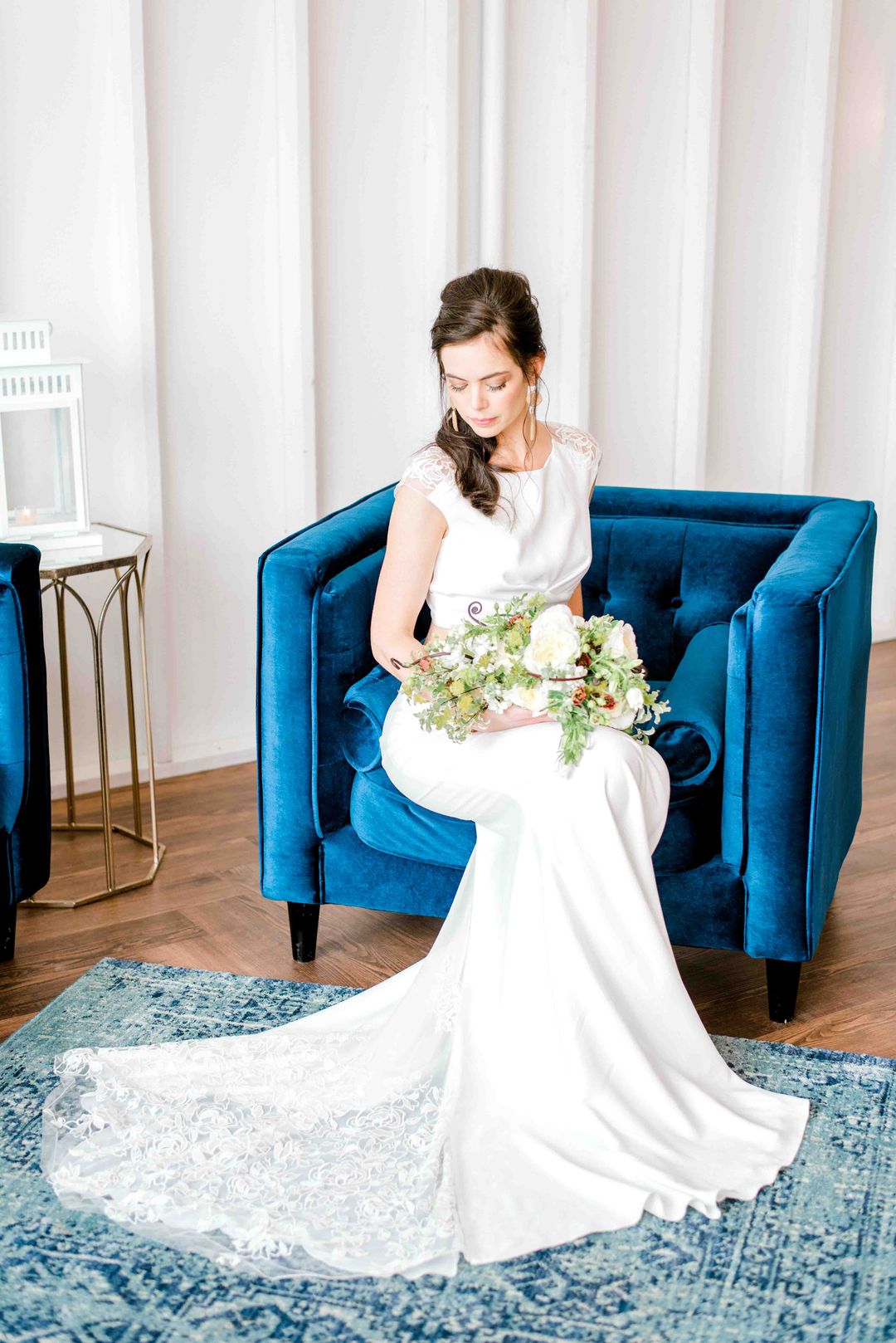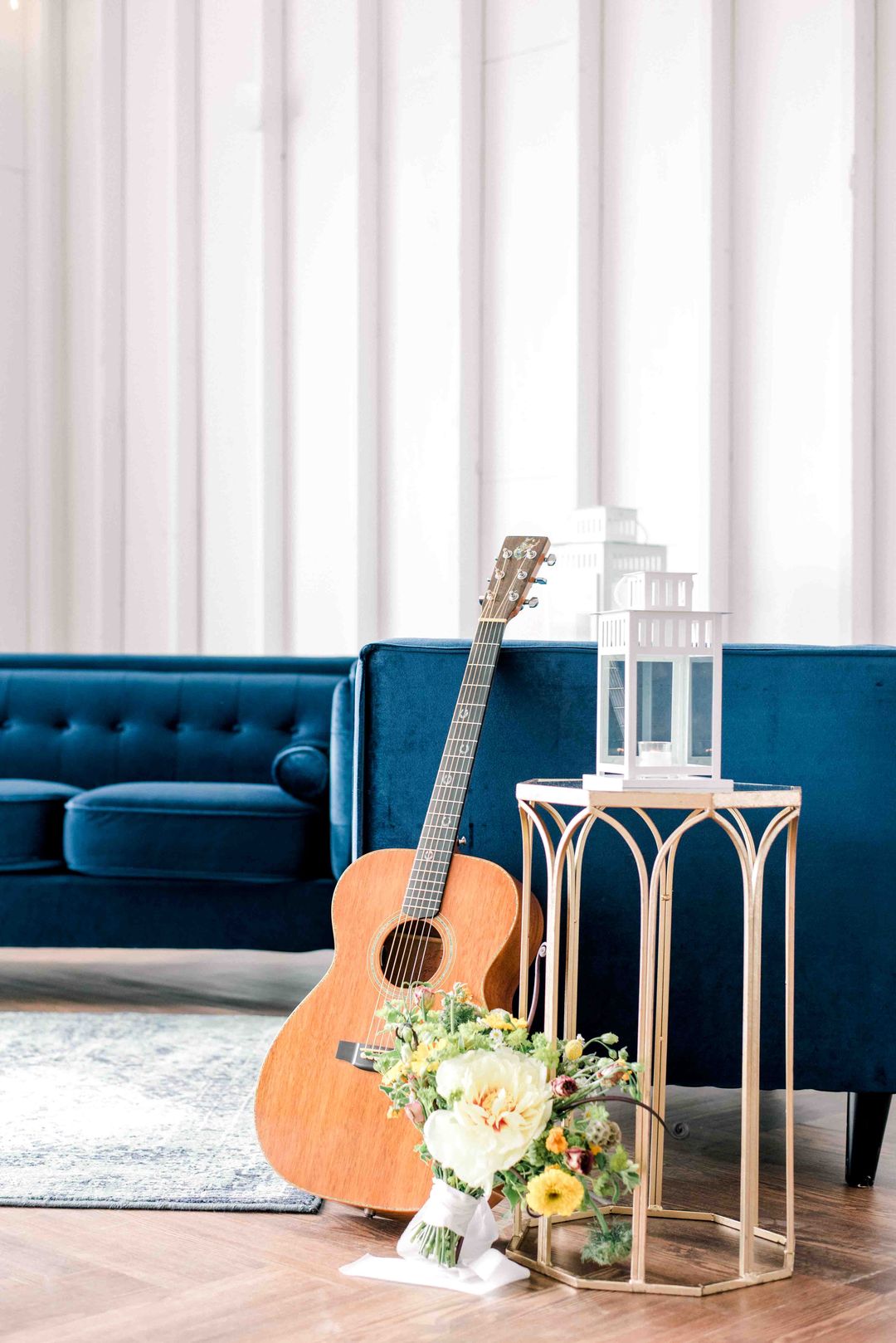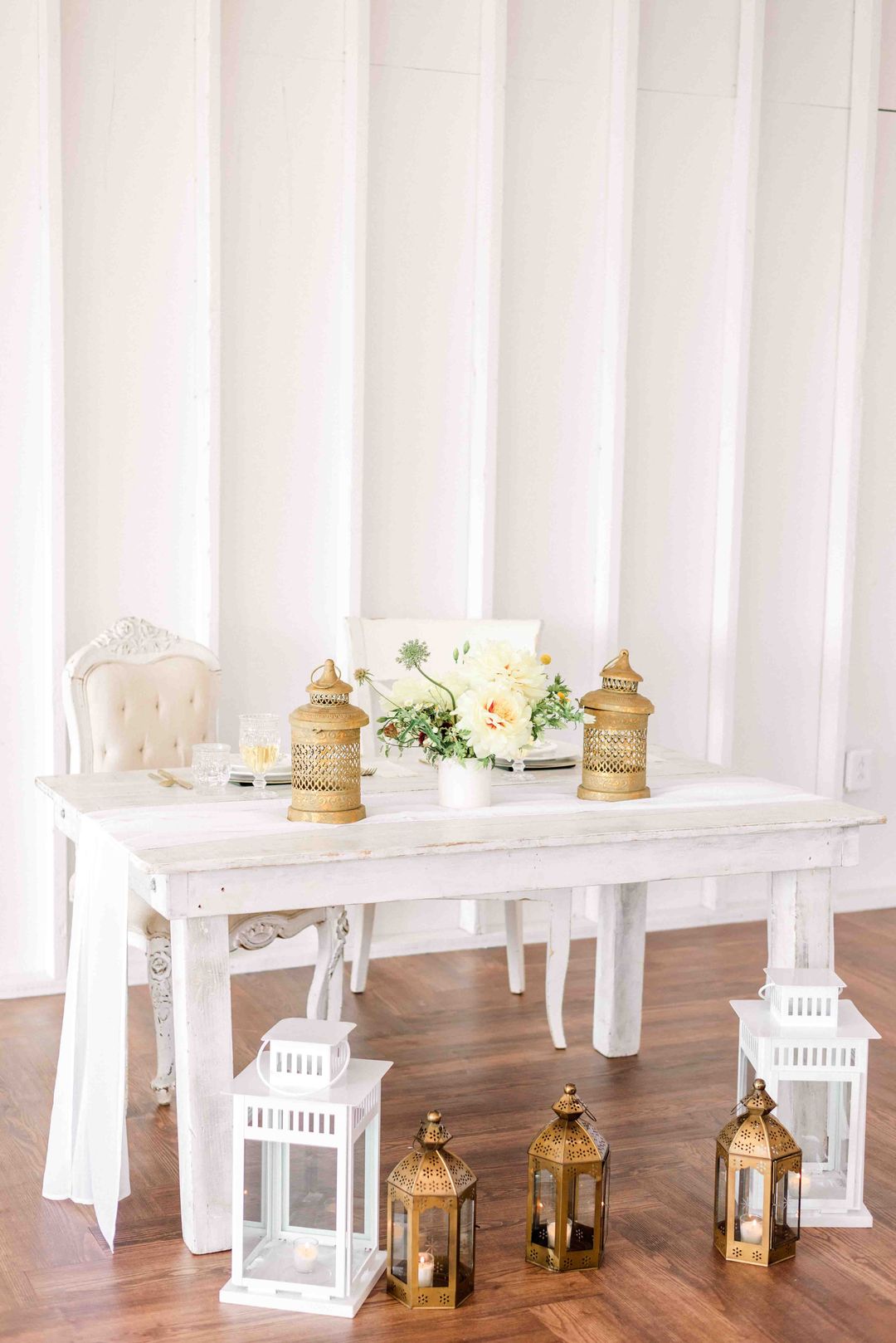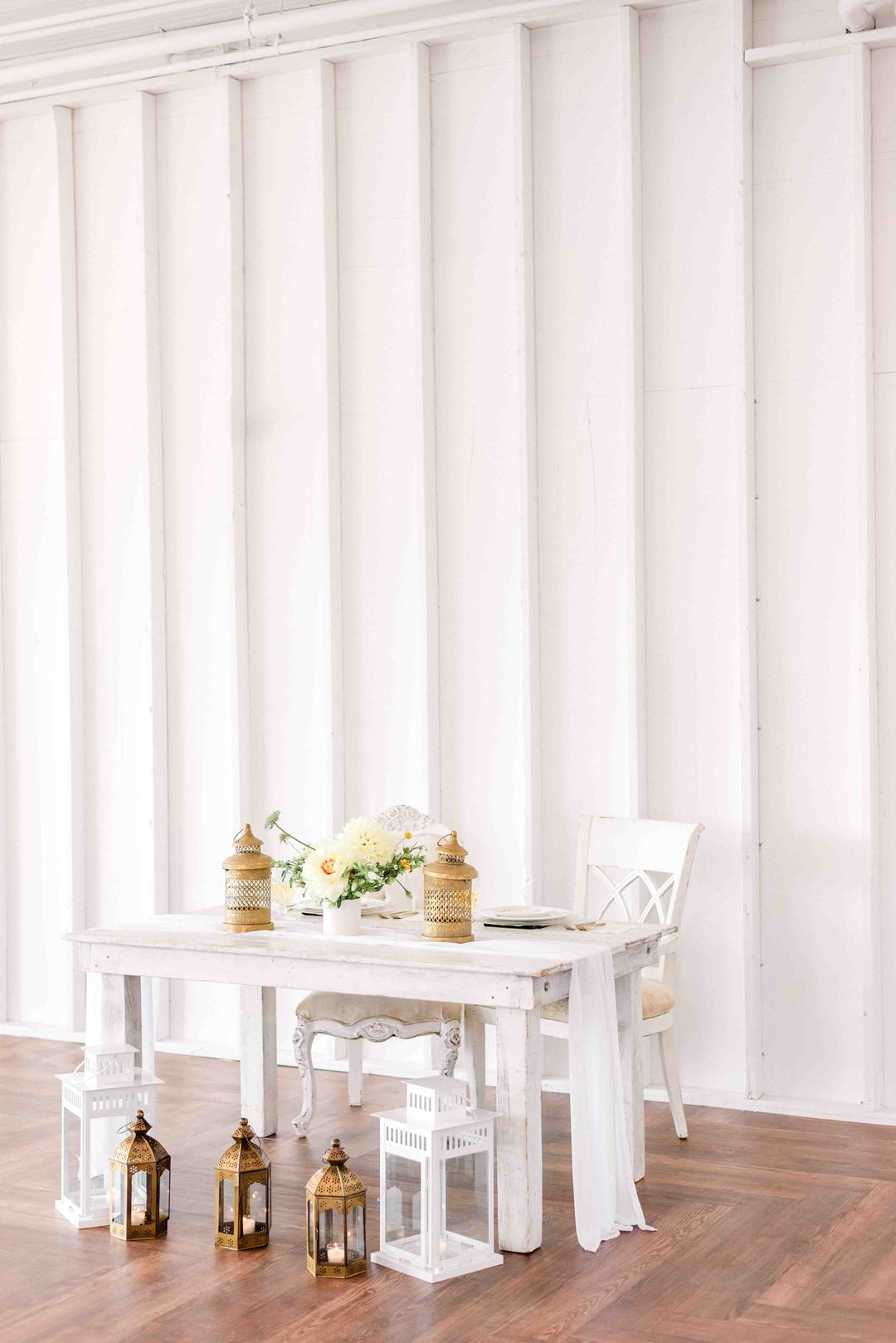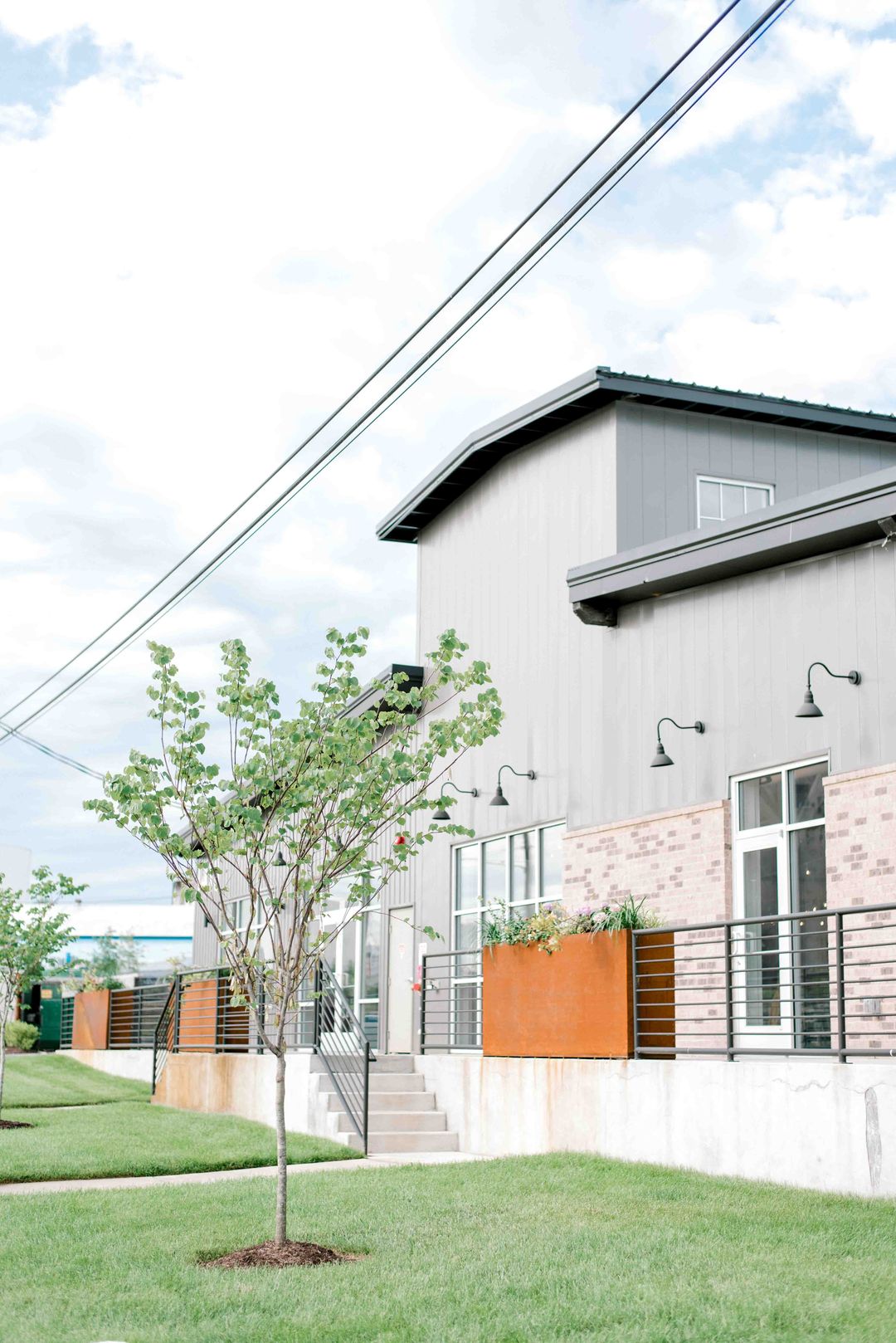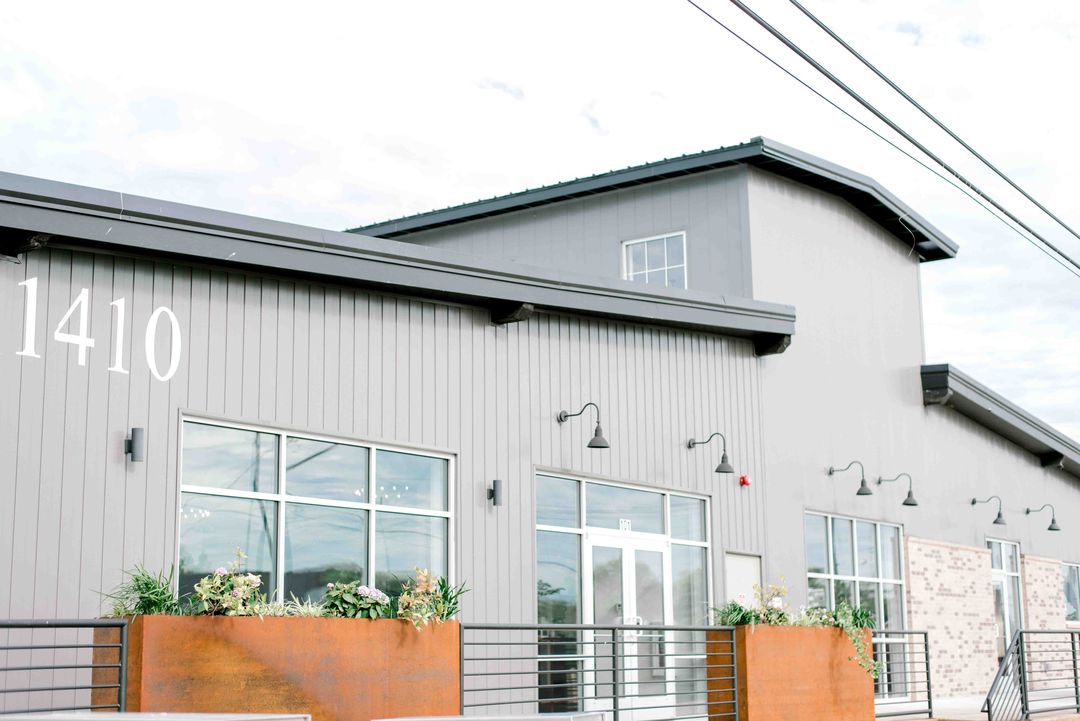 14Tenn in Nashville, Tennessee is a creative blend of natural light and blank spaces. We'd love to help you get started designing an event at this gorgeous venue! Send us a message at info@southerneventsonline.com.
TAGS | 14Tenn, 14Tenn Nashville, Nashville Event Venues, Nashville Wedding Rentals, Nashville Wedding Venues, Nashville party rentals, Southern Events Party Rental, Vintage Chairs, southern style events, southern weddings
FEATURED RENTALS | Saylor Sofa and Chairs, Fruitwood Table, Navy Rug, Magnolia Green Linens, Gold Chiavari Chairs
---