12

Oct

Southern Events Products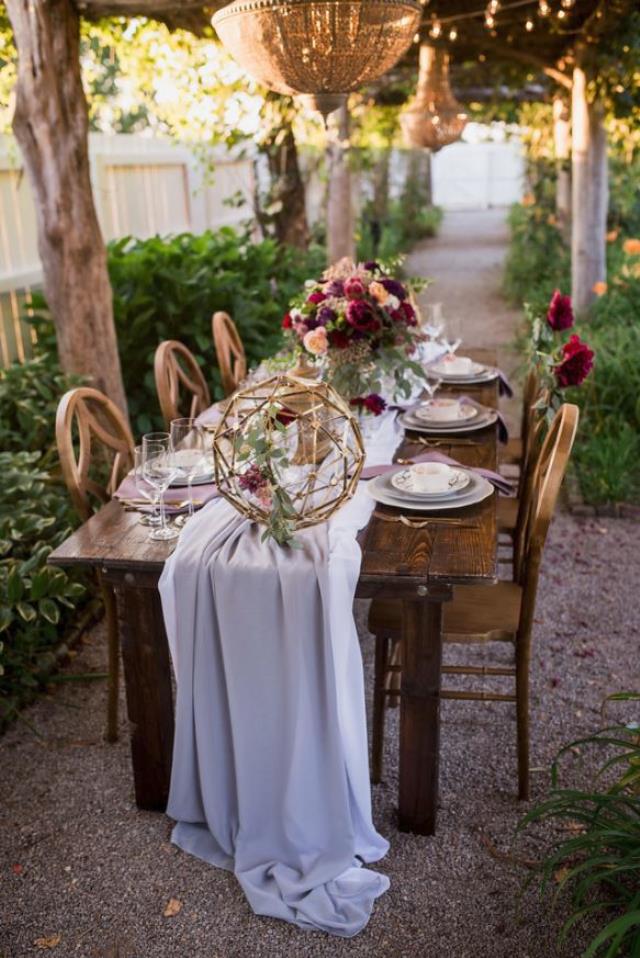 The crisp air and the sweet smell of pumpkin – it's fall, y'all! If you've planned an autumn affair, we're excited to share these gorgeous fall wedding rentals to make your Nashville event the soiree of the autumn season. From our most popular Whiskey Barrels and Crossback Chairs to our Wooden Chargers and Artisan China, we've got the rentals in stock for your upcoming fall nuptials in Middle Tennessee.
Chiffon Runners
Lightweight and slightly transparent, our Chiffon Runners in blush, dove gray, or ivory are a subtle yet chic addition to fall wedding decor. The muted colors coordinate easily with any other design elements, and the sheer fabric adds an enchanting bit of romance to your guest tables, your bar or even a ceremony arch for your autumn wedding.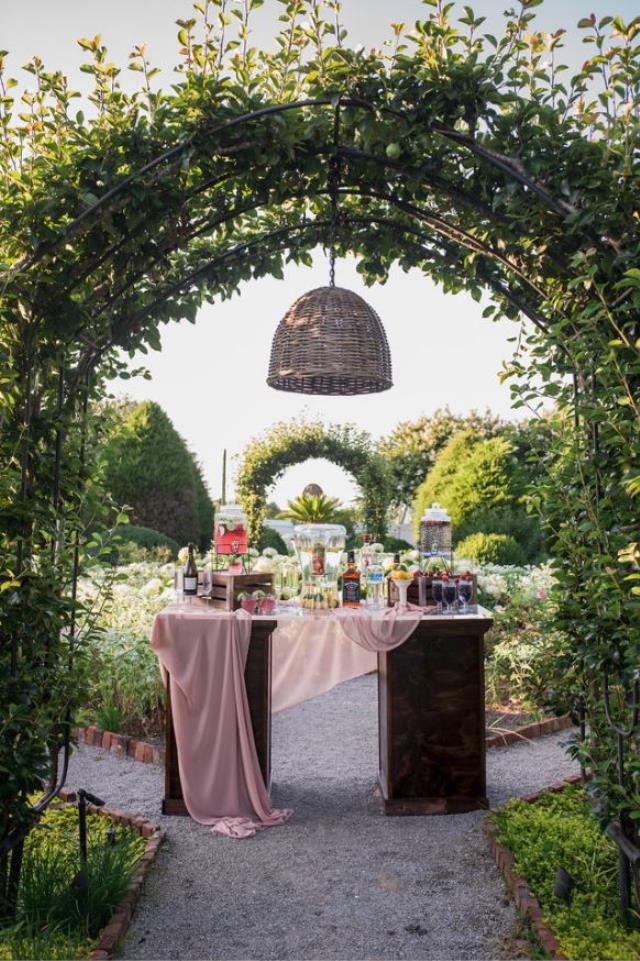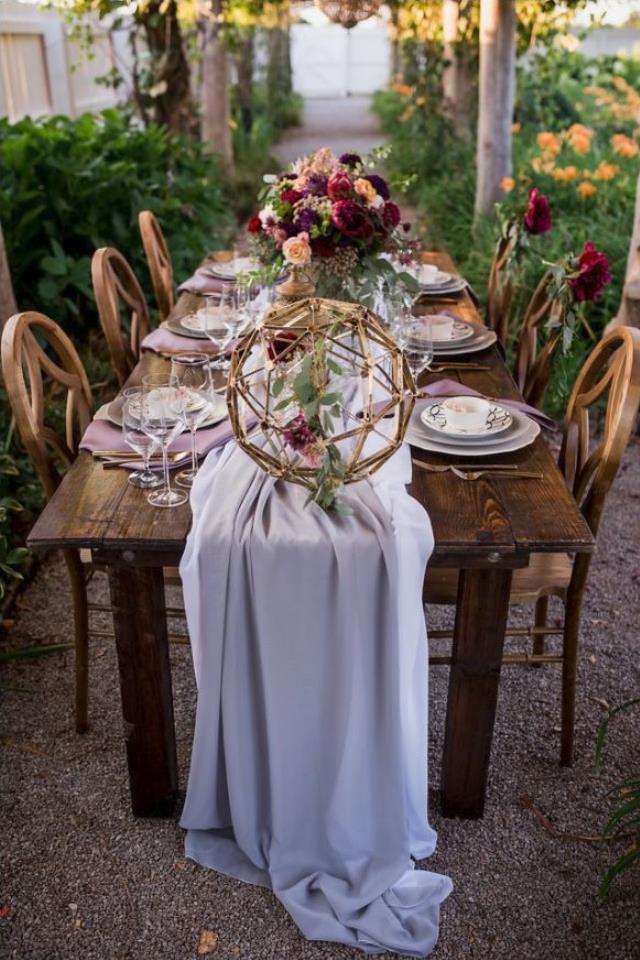 Photo Credit: John Myers Photography
Wyatt Pedestal Cake Stands
Desserts seem even more delectable on one of our Wyatt Pedestal Cake Stands. These popular wooden cake stands come in multiple different sizes and atop our Barnwood Cake Plateau, your table of sweets is distinctly rustic and fall ready!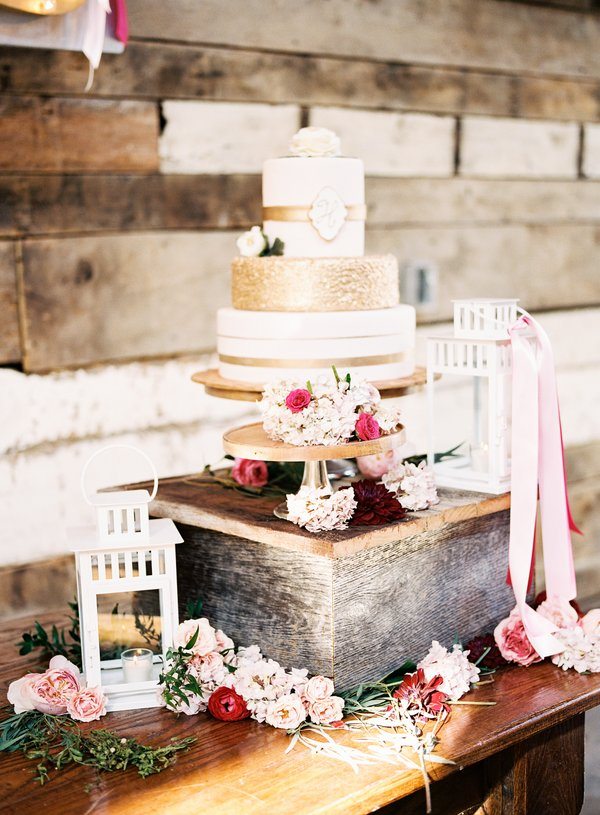 Walnut Ceremony Doors
We love a grand entrance, but if your space doesn't have a way, allow us to help you design something unforgettable. Our Walnut Ceremony Doors add upscale vintage drama without taking away from the built in style of your chosen venue.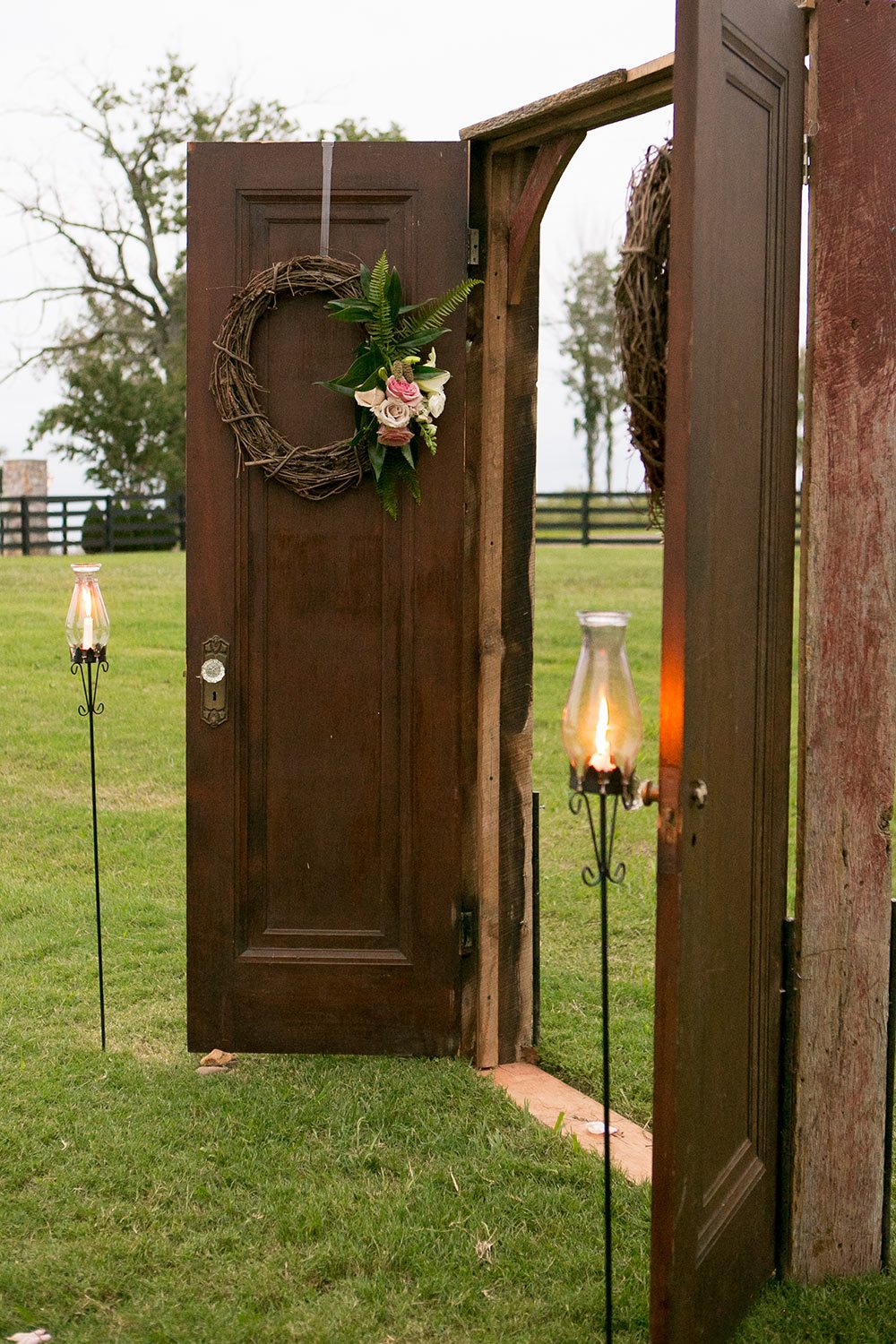 Whiskey Barrels
There's nothing more Southern than Whiskey Barrels, and they look even better when the leaves are changing. Whether fall chic or traditionally southern, these can be designed as side tables, cocktail tables, or a spot for a sweet floral arrangement.
Rustic Benches
Fall is all about deep and rich colors, and our Rustic Benches don't miss a beat. Perfectly imperfect finishing allows for the color and grain stand out, making them a great add on to an autumn wedding designed around natural elements.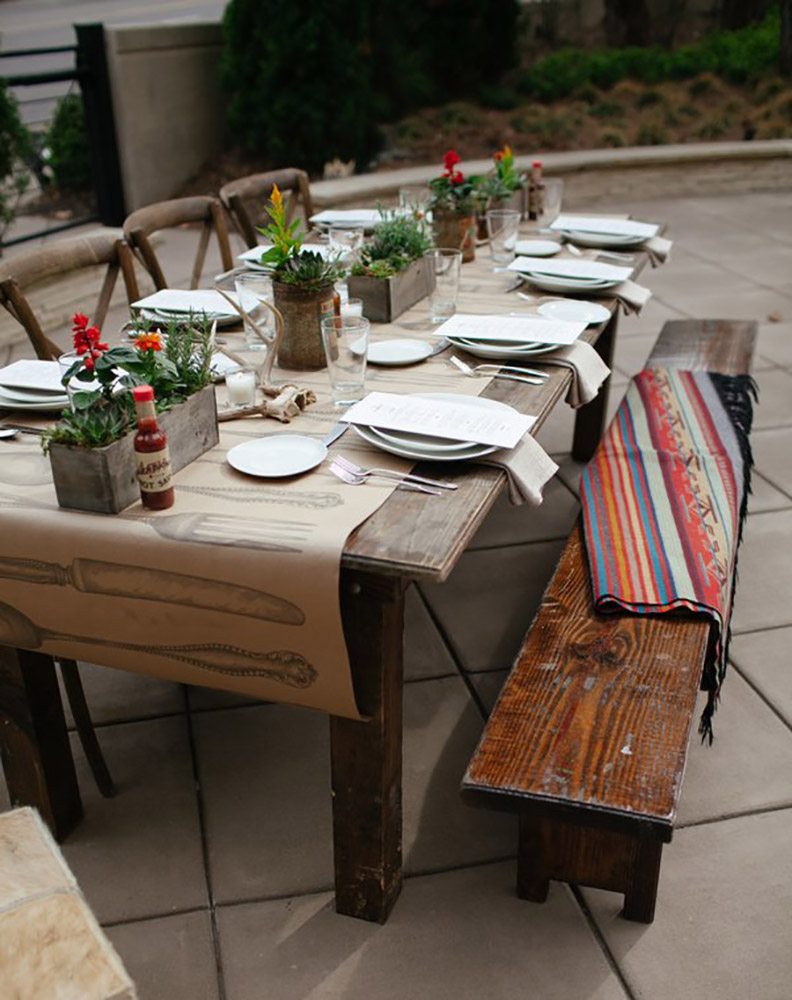 Wood Chargers
When rustic and fall meet, only beautiful things can happen! We love our Wood Chargers and how easily they can be styled – next to pumpkins or ranunculus, with yellows or purples – they truly look like autumn elegance in any setting.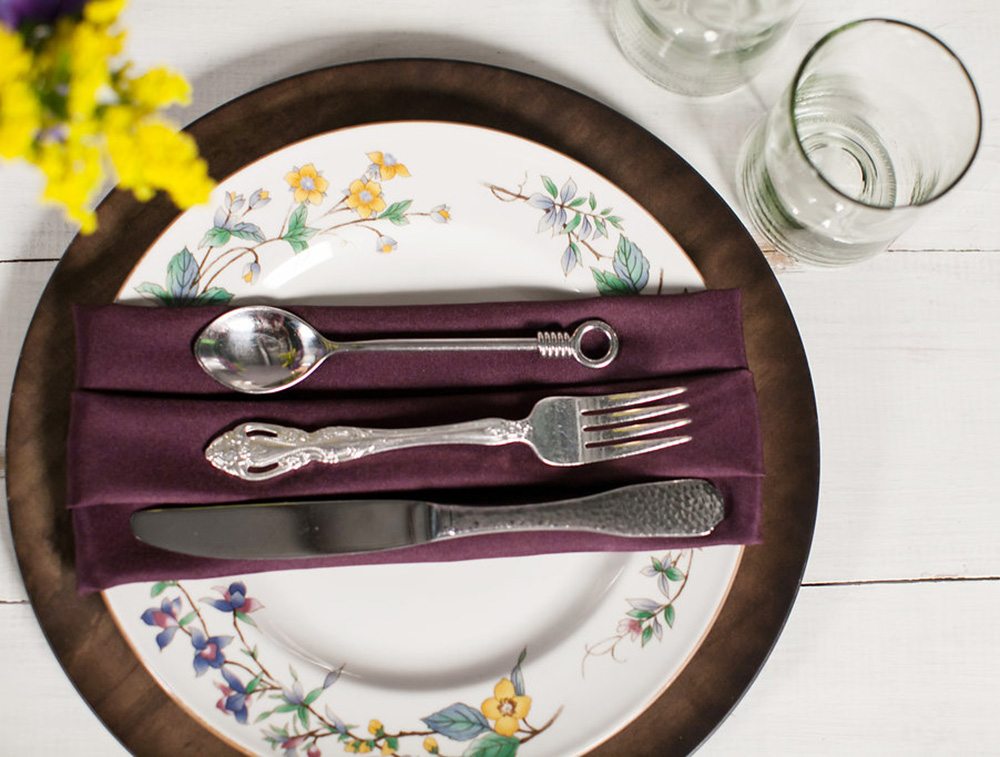 Crossback Chairs
Our most loved chairs look even prettier in the fall weather! Dark wood with a craftsman-like feel makes our Crossback Chairs incredibly popular, especially when temperatures start to drop. Elevate your table settings even more by draping a soft linen in your chosen color for a unique touch!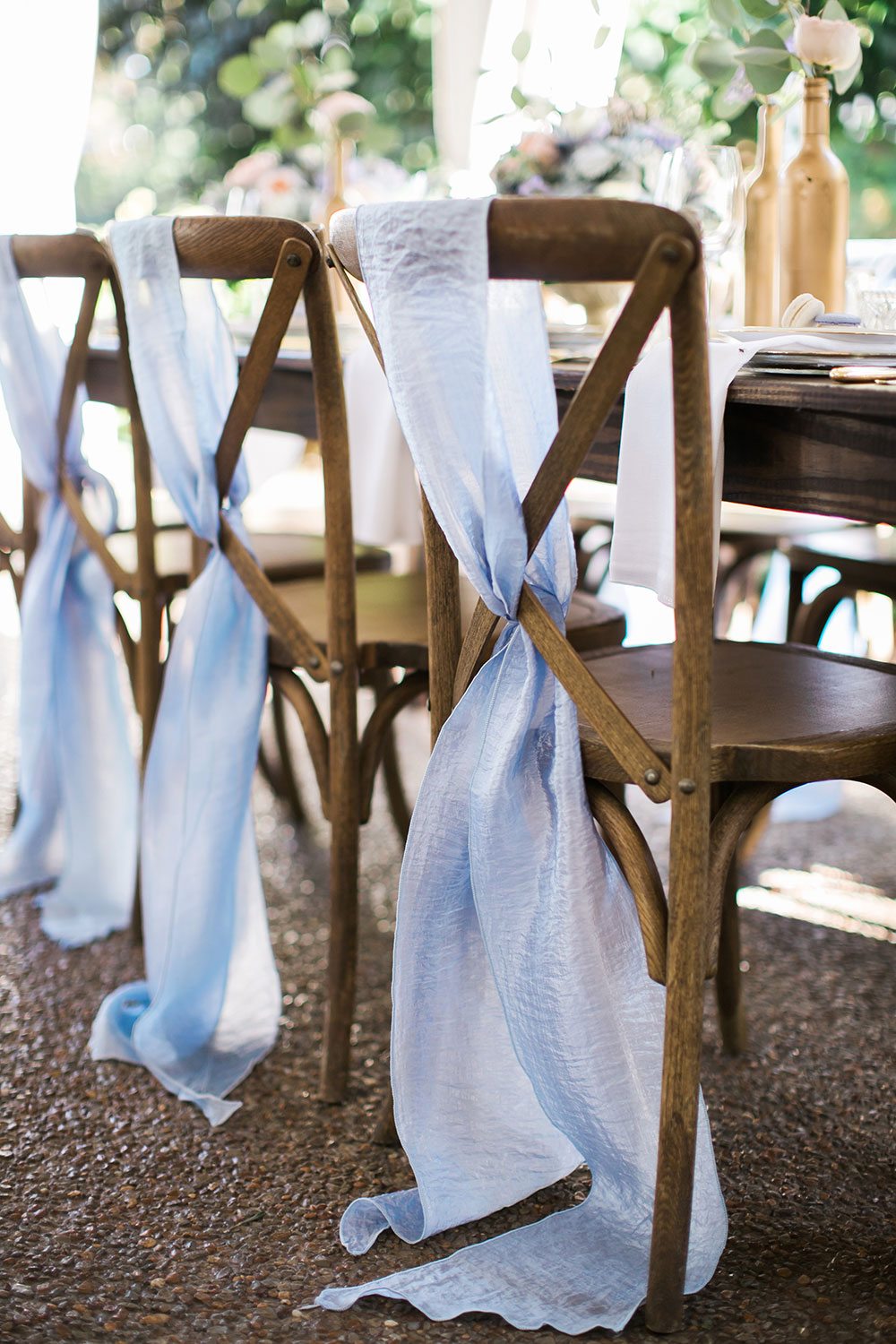 Chalkboards
We love a good chalkboard sign no matter the time of year, but they feel even more on-trend in the fall during the back to school season. Display a wedding welcome message, your dinner menu, or a sweet thank you note to guests on any of our chalkboards – can't help loving decor that is pretty and purposeful.

Artisan China
Off-white, vintage styled plates are the perfect beginning to any Fall tablescape. The Artisan China collection is the answer to a neutral, textured place setting that is anything but boring. And when added atop our Wooden Chargers? You simply can't go wrong.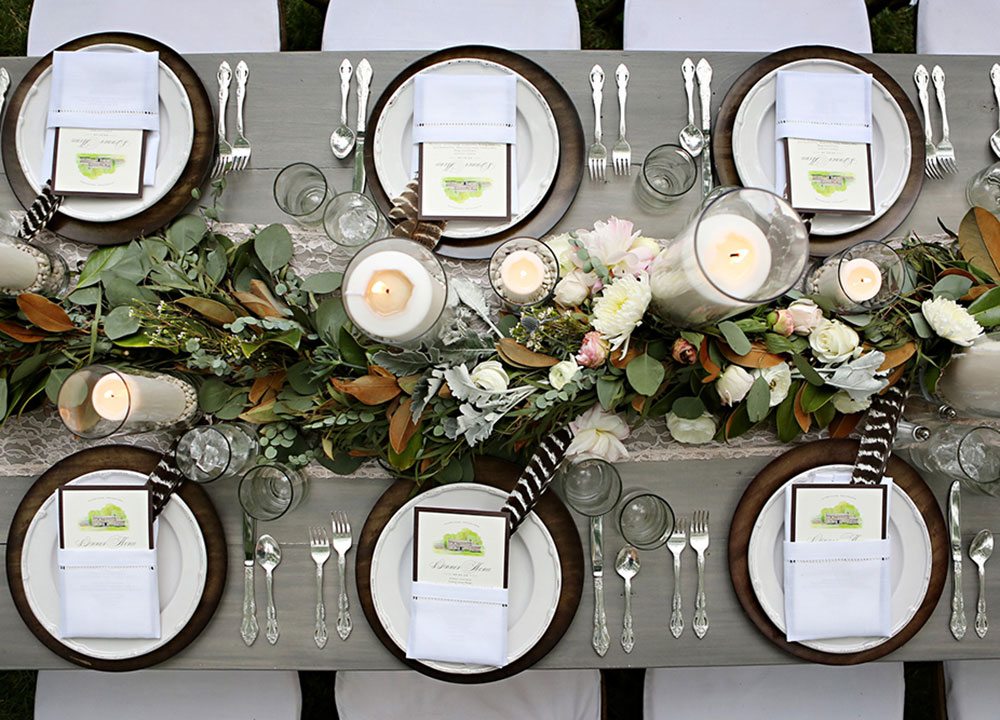 Recycled Wine Glassware
Our Recycled Wine Glassware provides a soft vintage feel that simply completes a place setting. The upcycled design matches effortlessly alongside your favorite autumn inspired centerpieces, whether it's sage garland or mauve florals.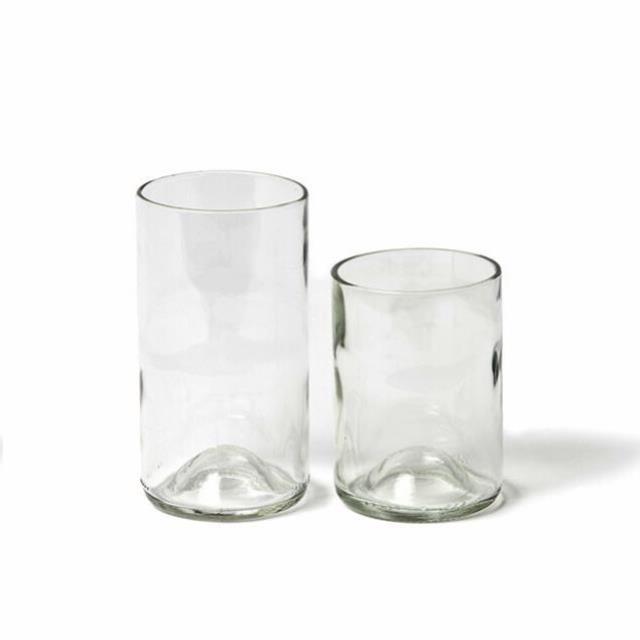 Ready to start designing the rentals for your autumn wedding? Contact our team about our party rentals in Nashville, Franklin & Middle Tennesee at info@southerneventsonline.com to get started!
TAGS | Artisan China, Chalkboards, Chiffon Runners, Crossback Chairs, Fall Wedding Decor, Fall Wedding Rentals, Nashville Wedding Rentals, Recycled Wine Glassware, Rustic Benches, Rustic Wedding rentals, Rustic event rentals, Tennessee fall wedding, Walnut Ceremony Doors, Whiskey Barrels, Wood Chargers, Wyatt Pedestal Cake Stands, autumn wedding decor, fall events, nashville bride, rustic event style, rustic wedding design, wooden wedding rentals
FEATURED RENTALS | Recycled Wine Glassware, Artisan China, Chalkboards, Chiffon Runners, Wyatt Pedestal Cake Stands, Walnut Ceremony Doors, Whiskey Barrels, Rustic Benches, Wood Chargers, Crossback Chairs,
---
23

Feb

Southern Events Products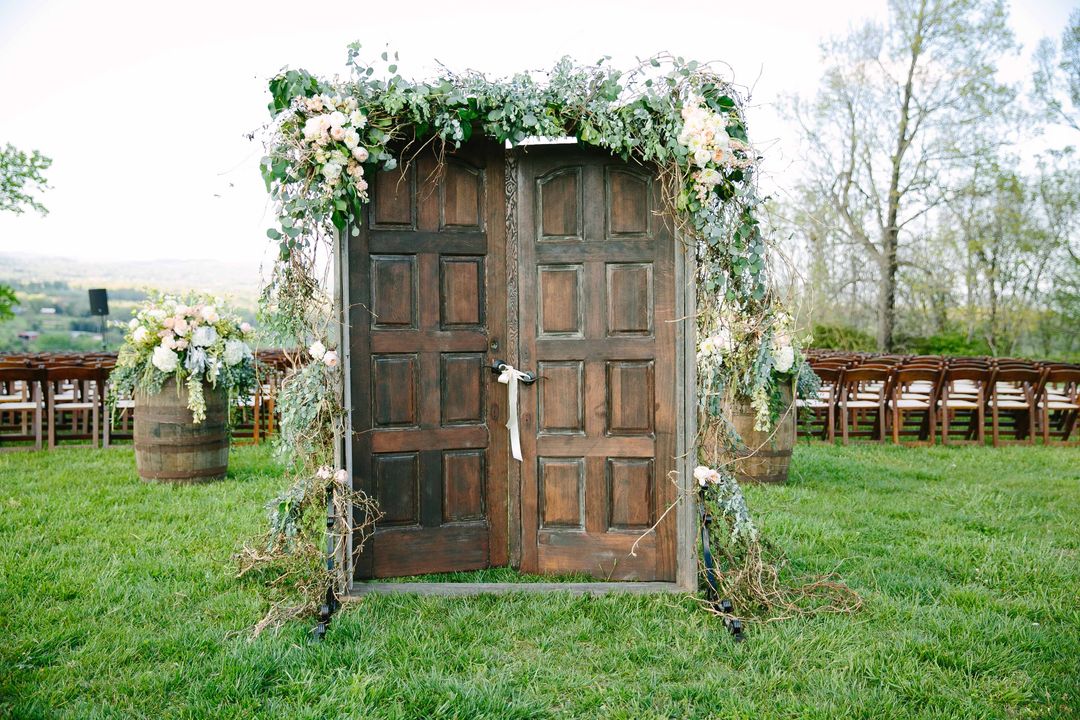 Wherever your ceremony is, we have unique decor to make the place you and your partner say "I Do" even sweeter. Whether you're looking for something rustic or want to create comfortable seating for your guests, we have it in stock!
Vintage Ceremony Doors 
We love outdoor ceremonies, but oftentimes miss the excitement and build up that comes with walking down an indoor aisle. Adding our Fruitwood Ceremony Doors or Walnut Ceremony Doors (shown below) makes your entrance extra special – imagine them opening right before you take that first step towards the love of your life! These doors look amazing on their own, or can be decked out and decorated with hanging blooms and branches.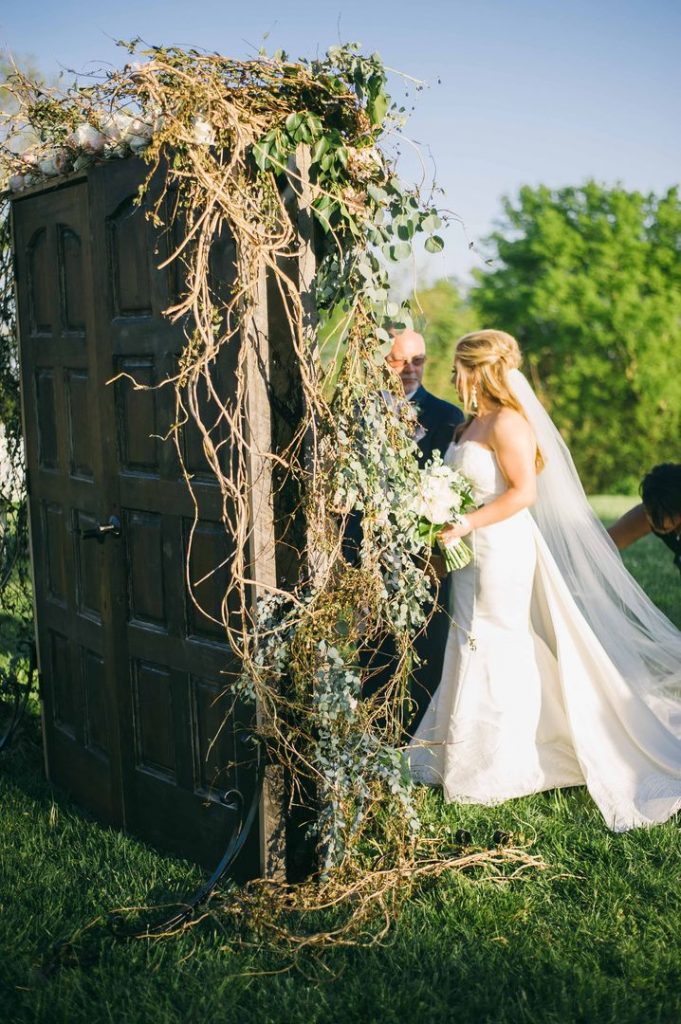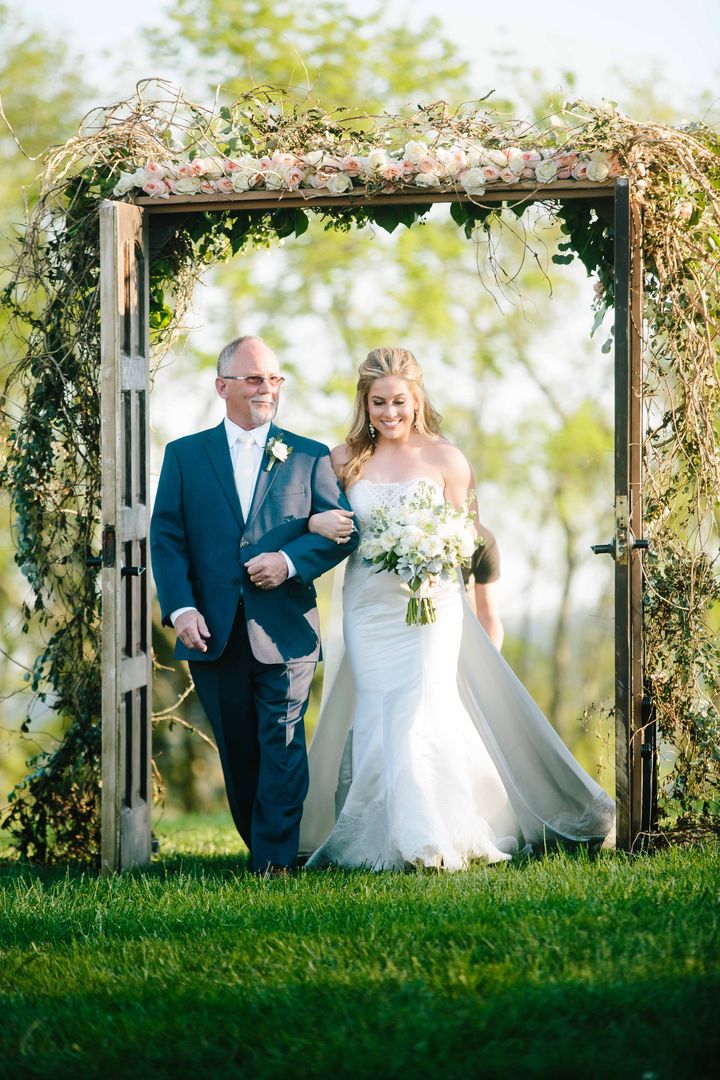 Photo by Lindsey Grace Photography
Whiskey Barrels 
Whiskey Barrels are classically southern, but become unique in their own way when you add flower arrangements on the top! Perfect as aisle markers or as a great way to lead guests to the ceremony site, our Whiskey Barrels (Fruitwood or White Wash) are available and a great way to add a rustic feel and personalize your ceremony space.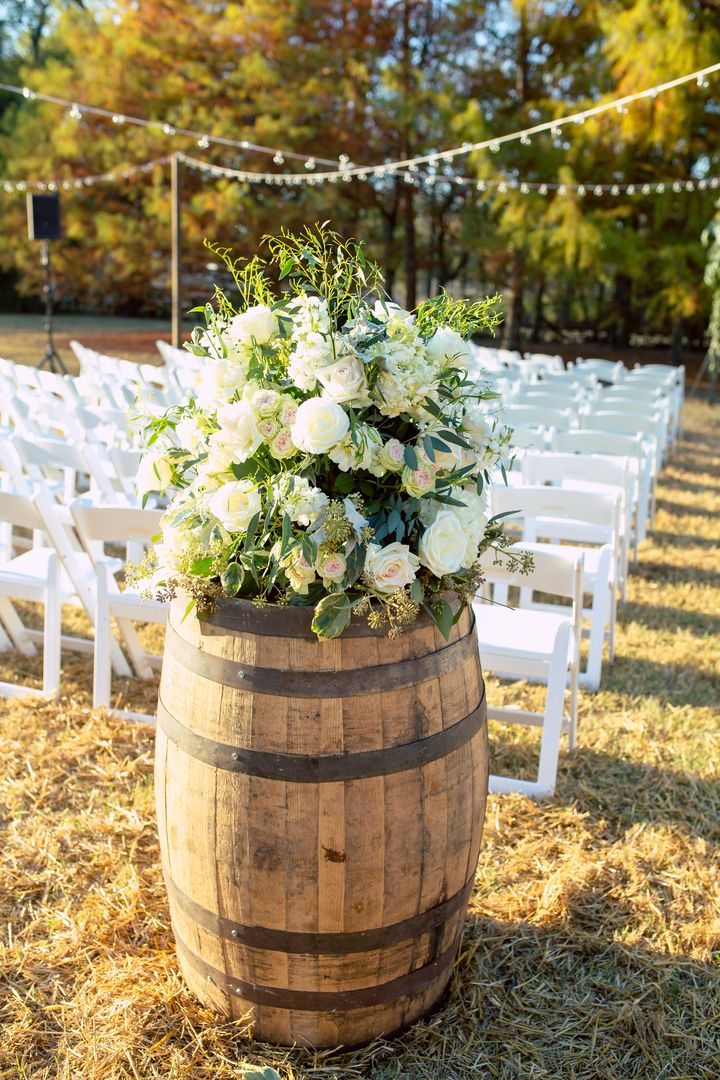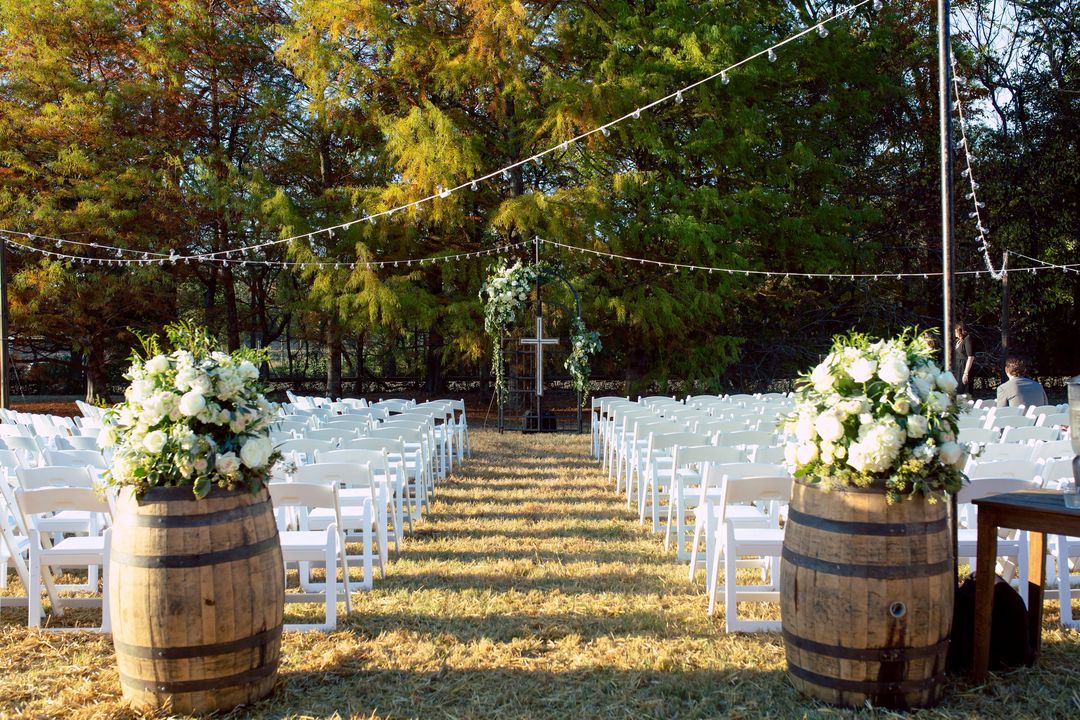 Photo (Once Like a Spark) Photography
Champagne Pipe & Drape 
Perfect for adding a dramatic flare to your ceremony, our Champagne Pipe and Drape is the ultimate way to make a wedding ceremony unique and totally yours. It quite literally sets the stage for a couple to say their vows. And while it can be dressed up as traditional mandap, design possibilities are endless. It adds a unique touch to your big day, whether outside or in.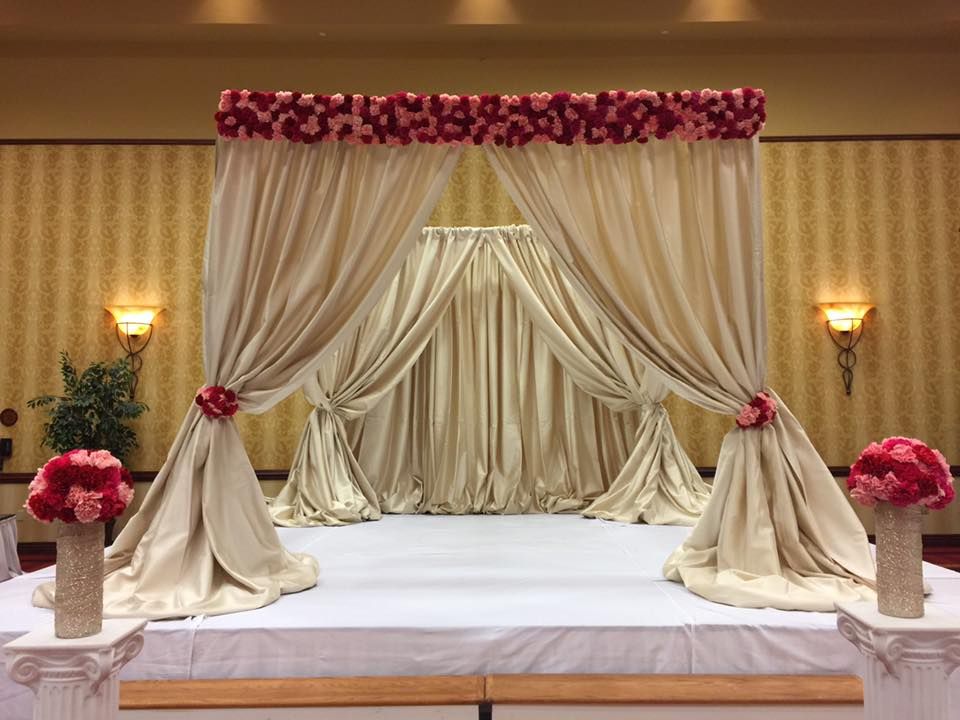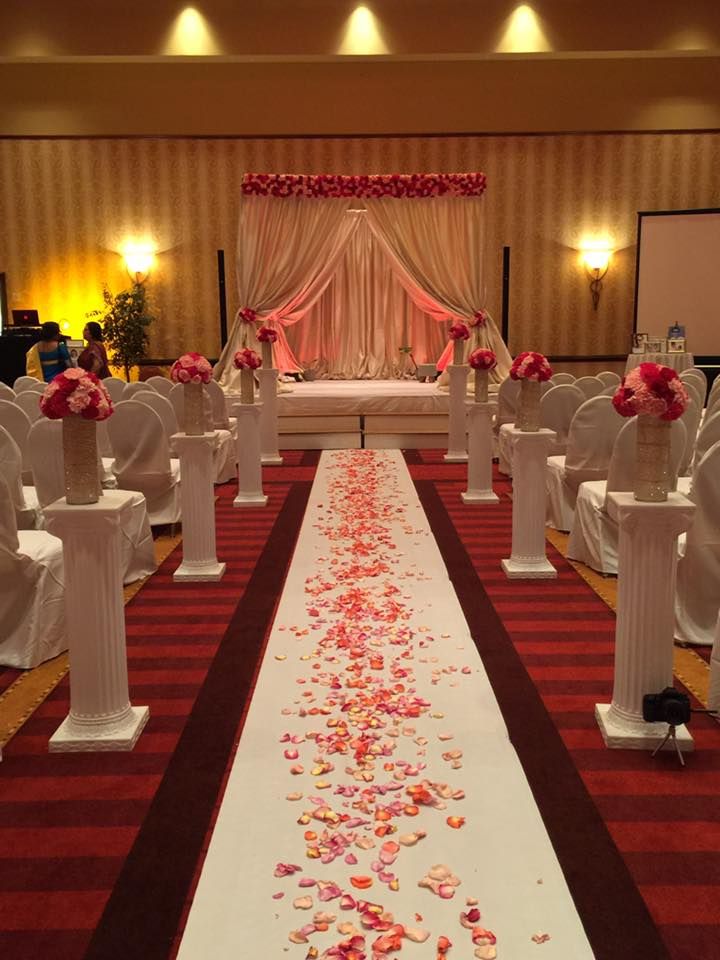 Guests' Soft Seating 
We absolutely love the idea of forgetting uniformed seating for your ceremony. Keep guests comfortable, especially if you'll be having a longer ceremony. Mixing and matching our loveseats and benches will leave your family and friends grateful for the extra cushion, while you can take pride in knowing your ceremony was completely unique.
Set in front of the Barn at Historic Beech Grove Venue, our Tessa Loveseat, York Loveseat, London Loveseat and Bellamy Bench set the scene for a unique outdoor wedding ceremony.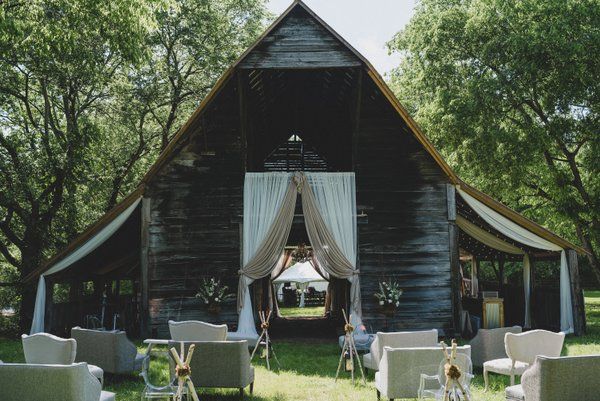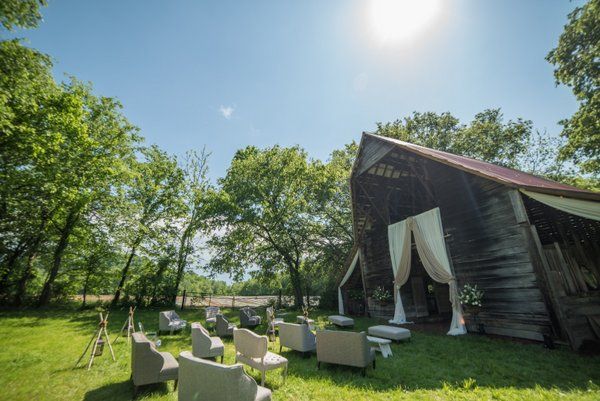 Photo by Details Nashville
TAGS | Bellamy Bench, Champagne Pipe & Drape, London Loveseat, Nashville Event Rentals, Nashville Wedding Rentals, Outdoor Wedding Ceremony, Southern Events Party Rental, Tessa Loveseat, Unique Wedding Rentals, Walnut Ceremony Doors, York Loveseat, upscale outdoor wedding, wedding rentals, wedding style trends
FEATURED RENTALS | Walnut Ceremony Doors, Tessa Loveseat, York Loveseat, London Loveseat, Bellamy Bench, Champagne Pipe & Drape, Whiskey Barrel,
---