8

Nov

Southern Events Products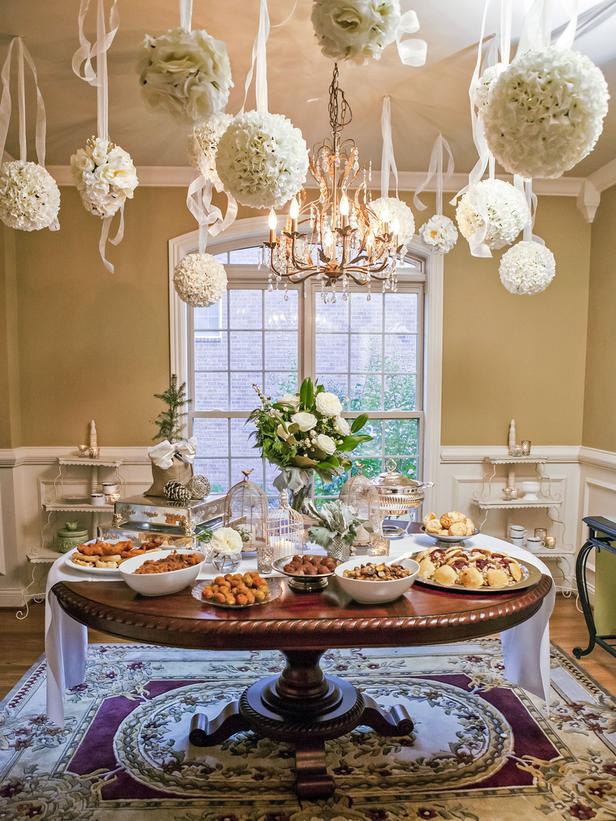 Cozy home holiday parties are a wonderful and intimate way to share your love with family and friends. But who says you have to handle everything on your own? Don't bother stocking up on serviceware or specialty items for this one event. Southern Events has all the event rentals you need for your next Nashville celebration – we'll help make your season bright and your gathering memorable with our catalog of event rentals.
Glassware
Do you own 12 wine glasses but have 24 guests? Southern has got it covered. From our modern Cybil Wine Glasses to our classic Upton Glassware, we can make sure your home holiday party is fully stocked. Southern Events has wine glasses, champagne flutes, and even Irish coffee mugs for all the cocktails or beverages you choose to serve. Whatever specialty drinks you whip up for your Nashville gathering, we have the glassware event rentals for it.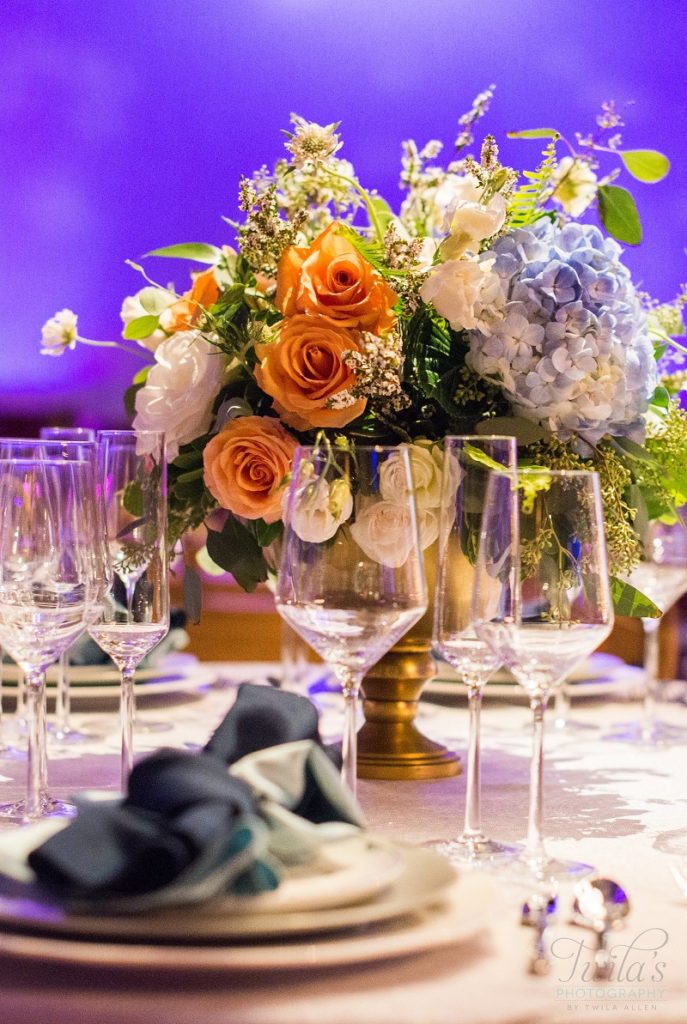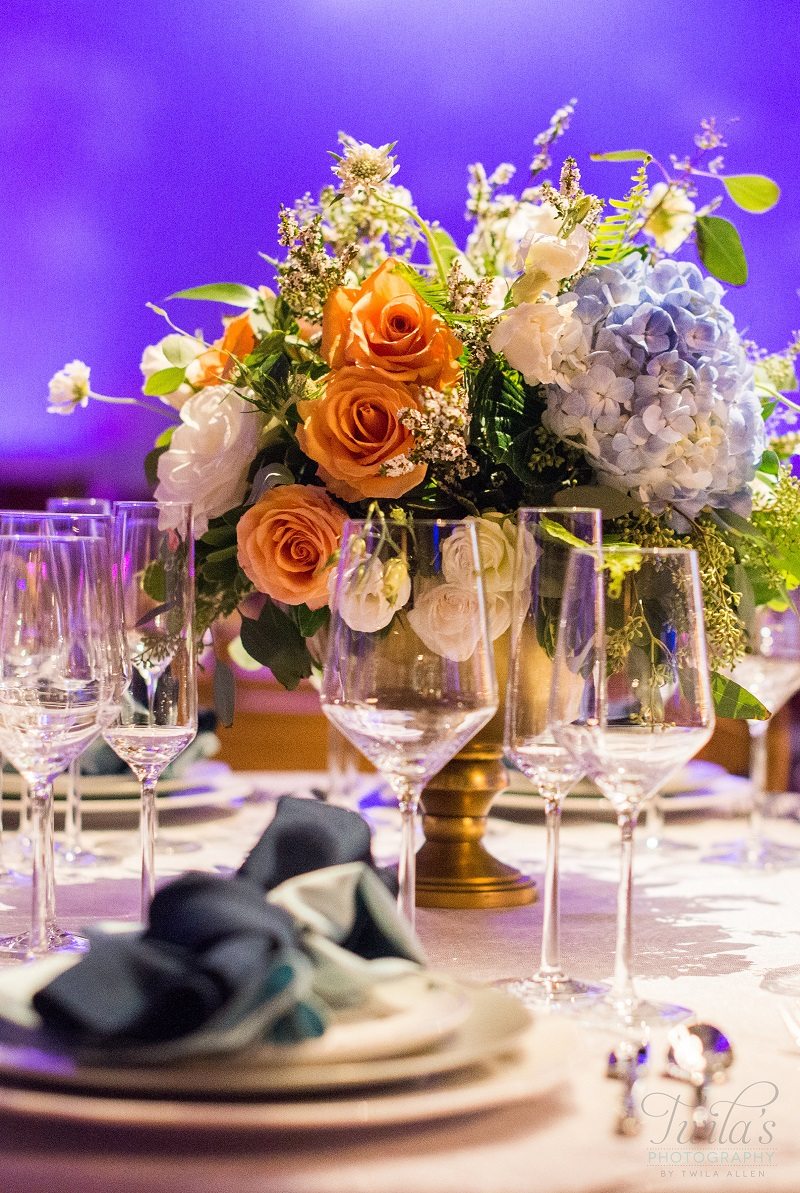 China and Chargers
If you don't have enough fancy china to feed all your hungry guests, leave it to Southern! From our Onyx Dinner Plates and Carrera Marble Dinner Plates to our Gold Rimmed Chargers, we have more than enough fine china and chargers to make your home holiday very merry and bright.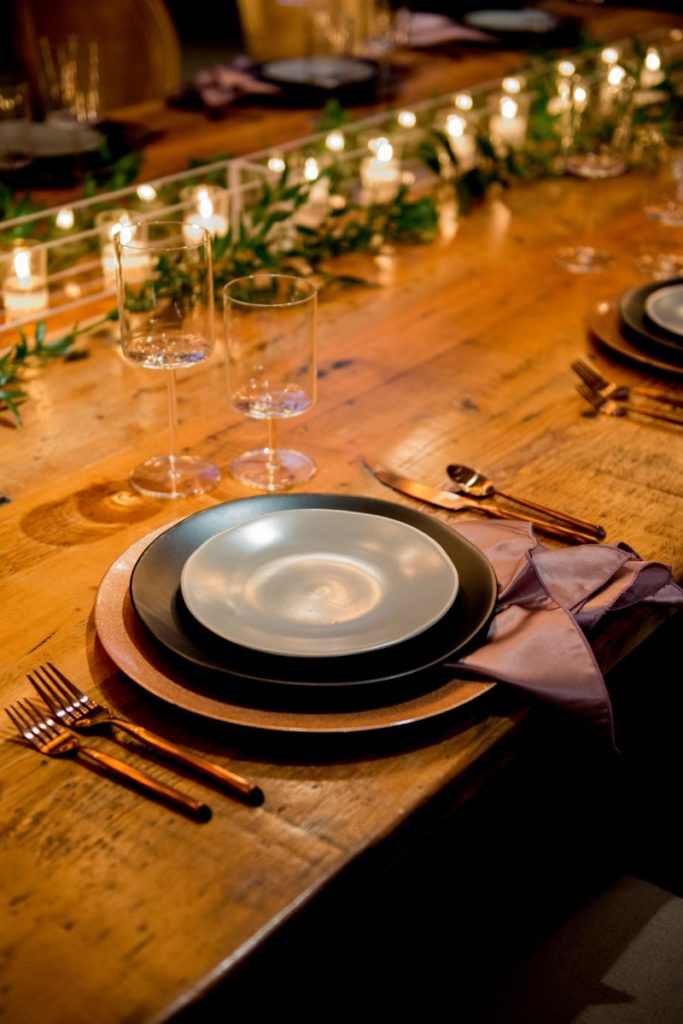 White Plates
Looking for a more neutral design to match your home's decor? Southern Events' has all you need, with a range of china including our Round White China & Darcy China.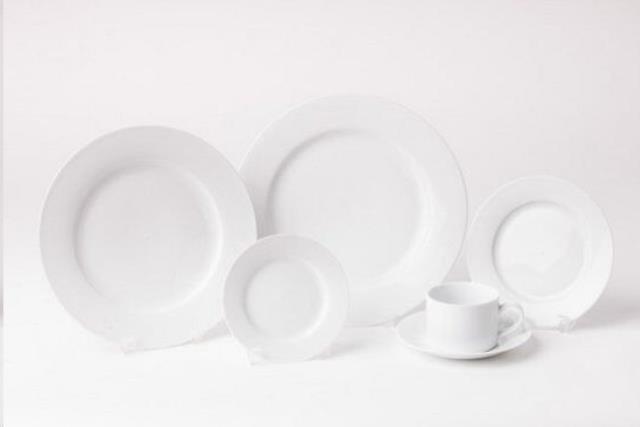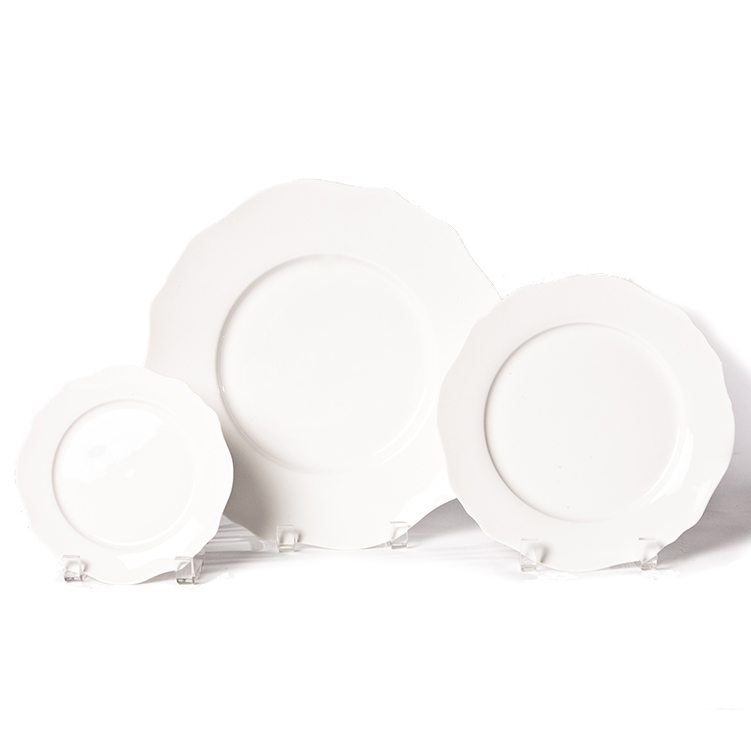 Serviceware and Buffet Dishes
Holiday buffets are easiest as a host, and allow people to customize their plates. Plus, with all the delicious seasonal options your guests will likely come back for seconds. Southern's Pewter Serviceware and Chafing & Serving Dishes keep things simple while still looking classic and timeless. Useful while still matching perfectly with your home and event's theme? Perfection!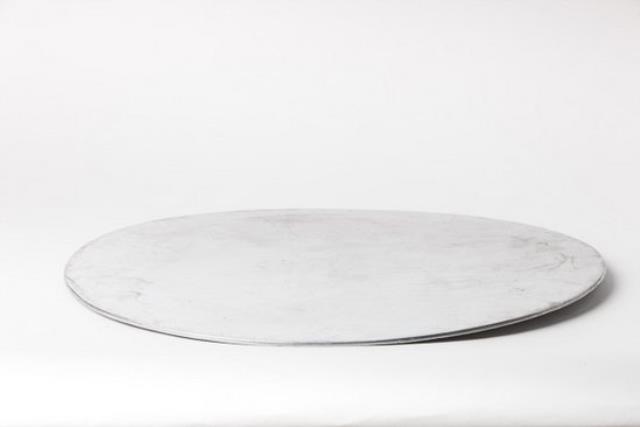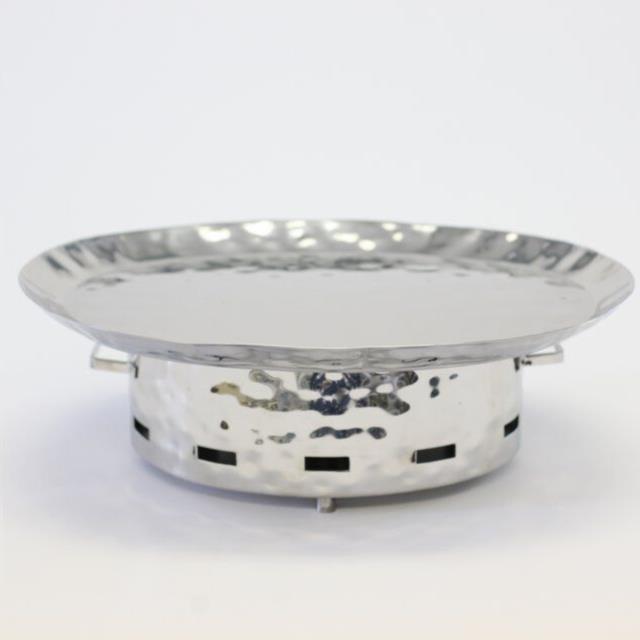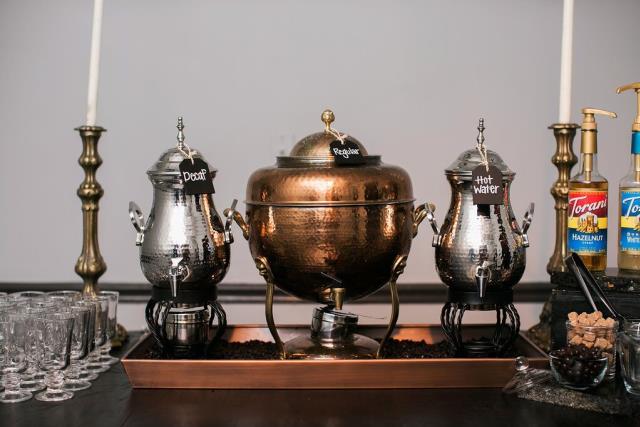 Davidson Beverage Jars
Infused water is just another way to wow your guests. One of our Davidson Beverage Jars makes a beverage station easy, whether it be an infused water or another delicious cocktail. Whether you're having a bevy of beverages or just one, display it beautifully.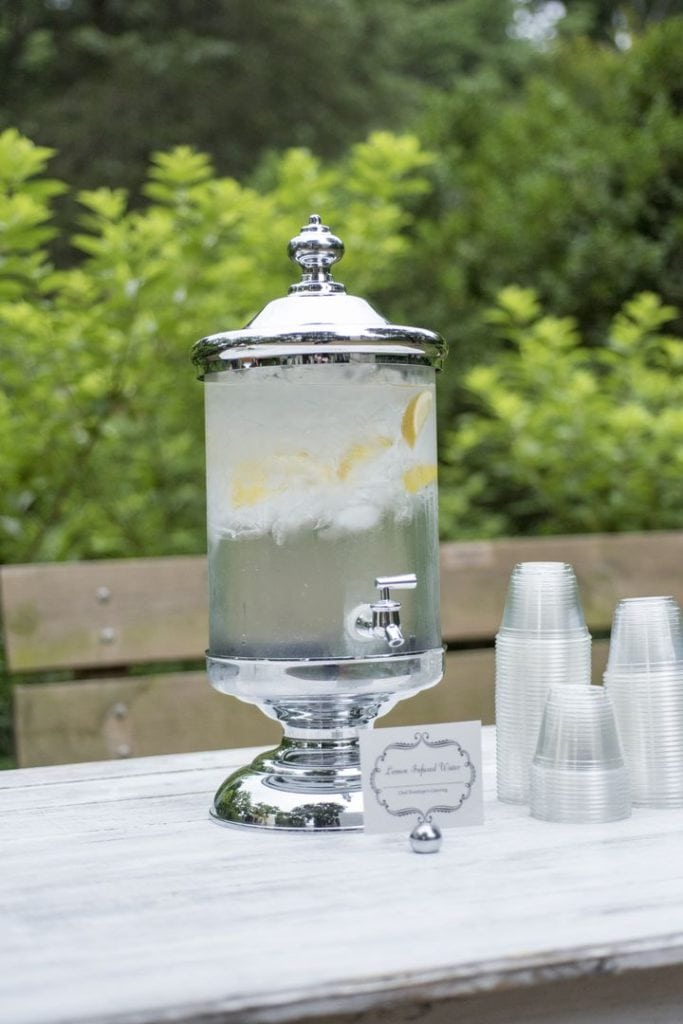 Side Tables
Even if you're having a sit-down dinner, guests will be walking and talking, and likely need an extra surface or two to put their plates and drinks. With Southern's distinct party rentals, you're one step ahead: our side tables come in a variety of designs to match your home's decor. Whether you want gilded gold (like our Cheval Side Table) or striking silver (like our Cece Side Table), our selection of Side Tables will be sure to delight.
Cocktail Tables
All your guests will want to mix and mingle, and what better way to do so than around tall cocktail bistro tables? Rather than worrying about seating for everyone, you'll be easily providing your guests with a place to put their drinks while they get to enjoy a pleasant conversation. Southern Events offers a variety of styles from a classic table with festive red linen to our Remington Gunmetal Bistro Table, Jackson Bistro Table or Farm Bistro table. As a bonus, these are small and easy to move, making them perfect for adding extra space and reconfiguring your layout to best suit your home!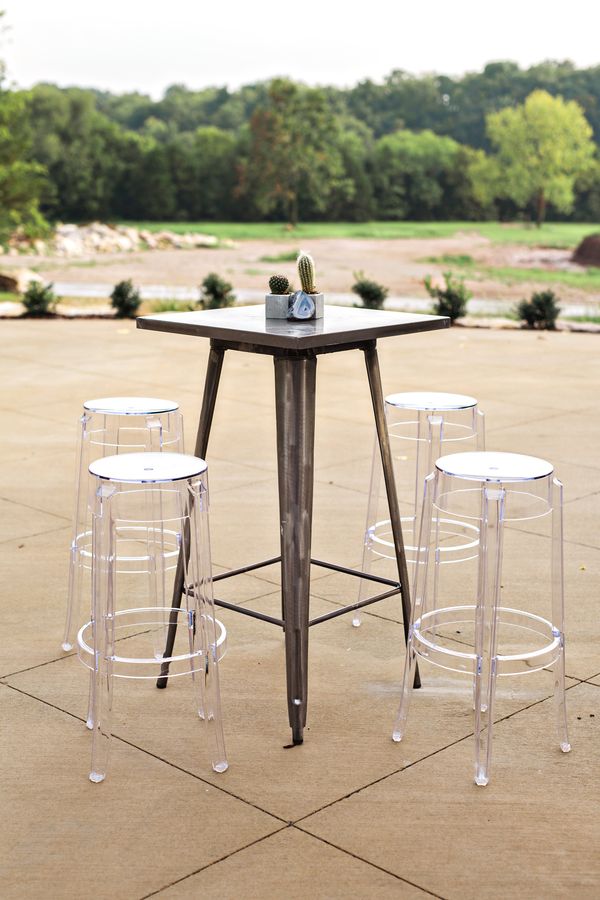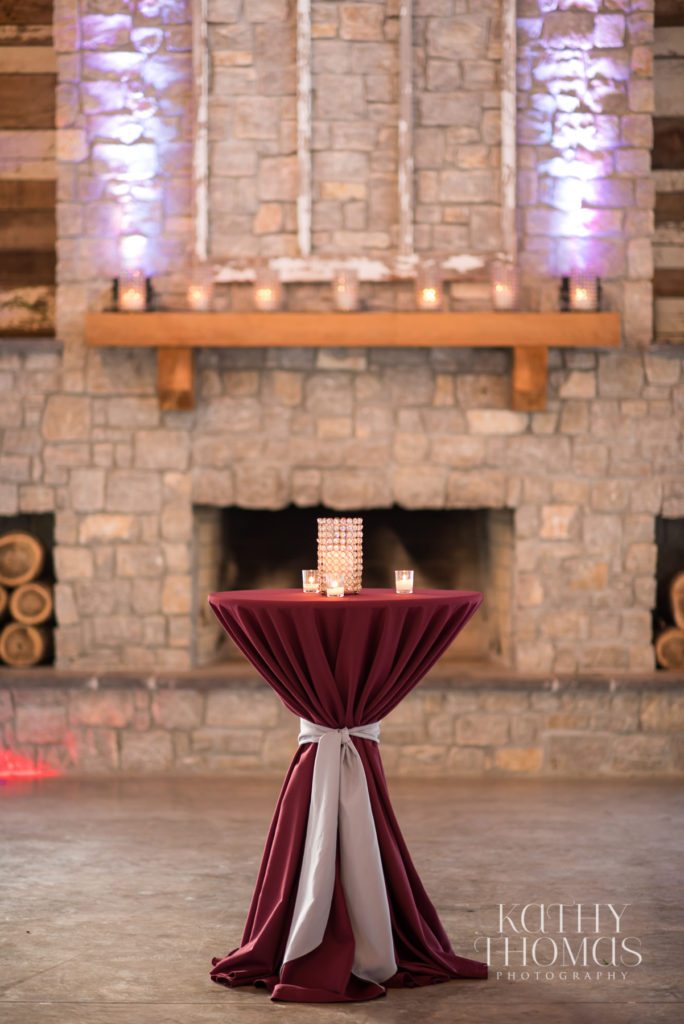 Ready to rent your party essentials to host the soiree of the season? We've got whatever you need for all your Nashville, Franklin, and Middle Tennessee holiday parties! Contact our team at info@southerneventsonline.com for more information!
TAGS | Cece Side Table, Chafing Dishes, Cheval Side Table, Cocktail Tables, Cybil Glassware, Darcy China, Davidson Beverage Jars, Farm Bistro Table, Gold Rimmed Chargers, Jackson Bistro Table, Marble Plates, Pewter Serviceware, Remington Gunmetal Bistro Table, Round White China, Upton Glassware, franklin party rental, nashville parties, nashville party rental, party rentals, tennessee party rentals
FEATURED RENTALS | Cheval Side Table, Cece Side Table, Cocktail Tables, Remington Gunmetal Bistro Table, Jackson Bistro Table, Farm Bistro Table, Davidson Beverage Jars, Chafing Dishes, Pewter Serviceware, Round White China, Darcy China, Cybil Glassware, Upton Glassware, Marble Plates, Gold Rimmed Chargers,
---
28

Sep

Southern Events Products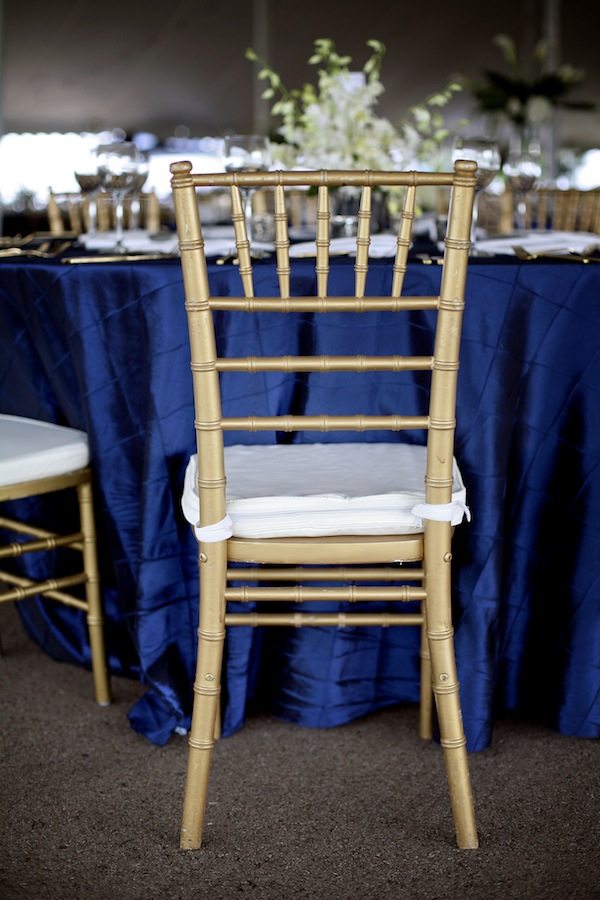 Metallic finished rentals help dress up any soiree, whether a casual cocktail party or a formal dinner. Make your Nashville or Franklin TN holiday party sparkle and shine with our gold and silver party rentals. Here are a few of the metallic chairs, tableware and lounge accessories for your company holiday party.
Gold Chiavari Chairs
These classic chairs are the perfect way to dress up a more casual venue, or a wonderful way to keep the overall design more formal. Gold never goes out of style, and the comfortable seat cushion makes this on-trend staple an enjoyable one, too!

Photo by The Photographix
Gold Conga Drum Tables
Add a little more gold to your event with the metallic Gold Conga Drum Tables. Perfect for a lounge area, these tables add a little bit of sparkle and personality to an otherwise neutral area. Pair it with our white Mercer Loveseats or Couch for a modern look or our London Loveseat (shown below) for a contemporary event lounge.
Photo by Phindy Studios
Austin Flatware
The ever popular Austin Flatware dresses up a tablescape with everyone's favorite metallic of the moment: gold! Pair them with red napkins and green garland to keep the design very holiday friendly, or place them next to our Belmont Chargers with beaded details for a winter wonderland look.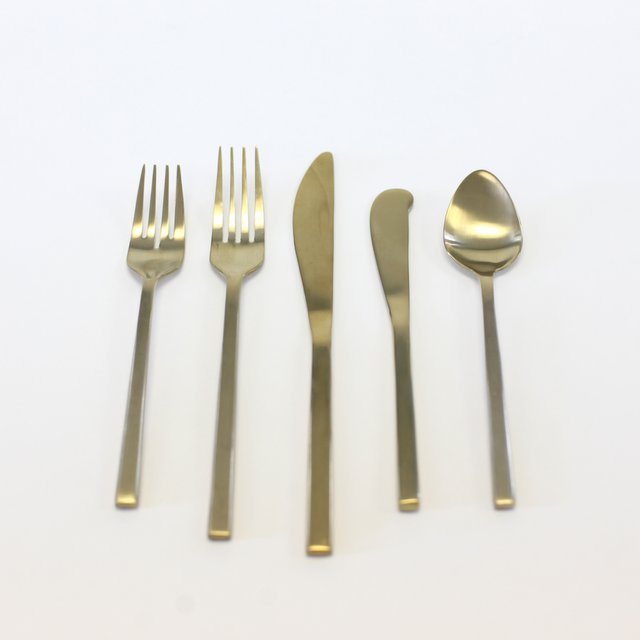 Glass Charger with Gold Rim
Add just a touch of gold to your tablescape with the Glass Charger with Gold Rim. Perfect for your holiday soirees, these chargers pair well with our Hamlet & Ophelia China making a statement at each guests' seat.
Silver Leaf Linen
Let your linens sparkle and shine with our Silver Leaf Linen – placed a top cocktail high tops, guest book or gift tables, or even the buffet table adds a winter shimmer to your holiday party gathering.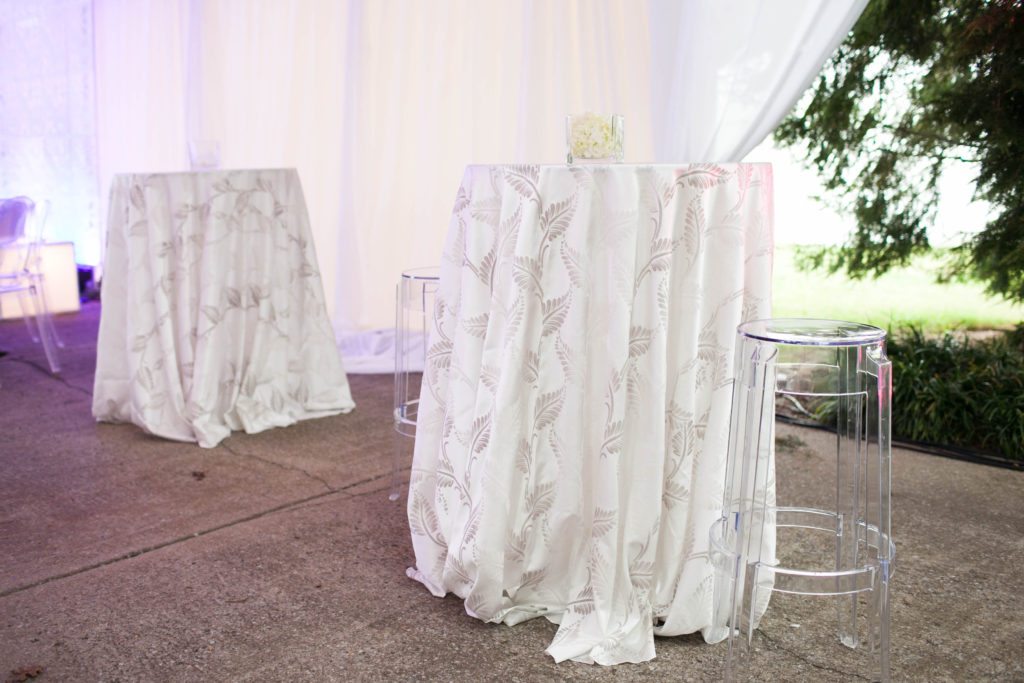 Photo by Phindy Studios
---
Bonus Tip! Neutral Accents
Too much of a good thing applies when styling an event with metallics: ground your design with neutral elements, like our Grayson Farm Tables or Ghost Chairs. Better yet, combine them together for an optical illusion: the lucite and gray can combine to look silver with the right lighting & design. Add a Chiffon Runner and set with your favorite metallic tableware for a winter wonderland-inspired tablescape.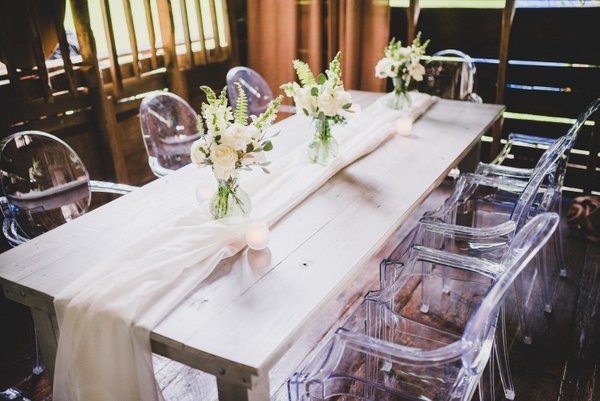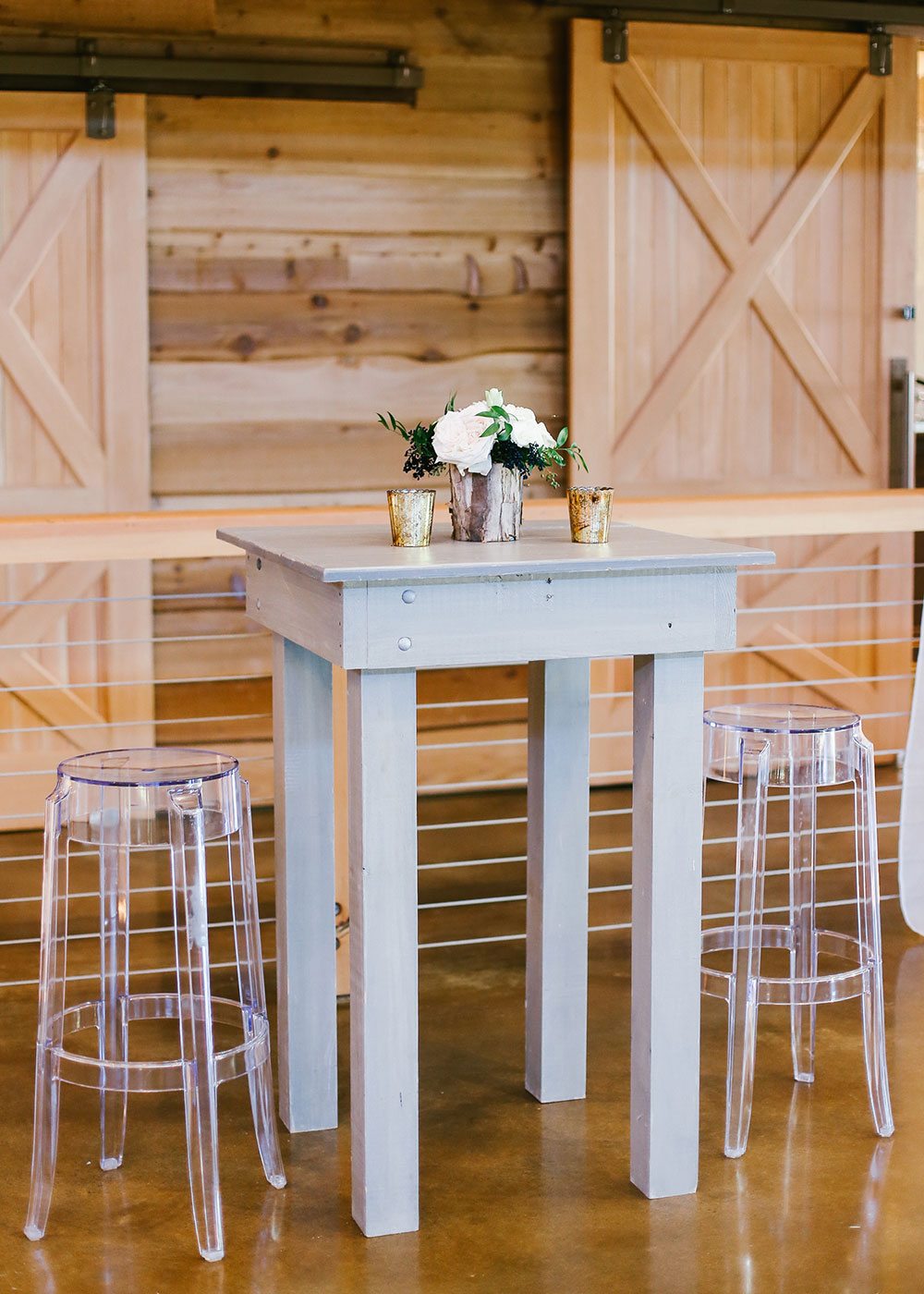 Photo by Details Nashville (top) and Jenna Henderson, Photographer (bottom)
Pure Glassware and Reese Glassware
With sleek lines for an unassuming silhouette, the Pure Glassware and Reese Glassware make for the perfect complement to metallic tablescape pieces you choose.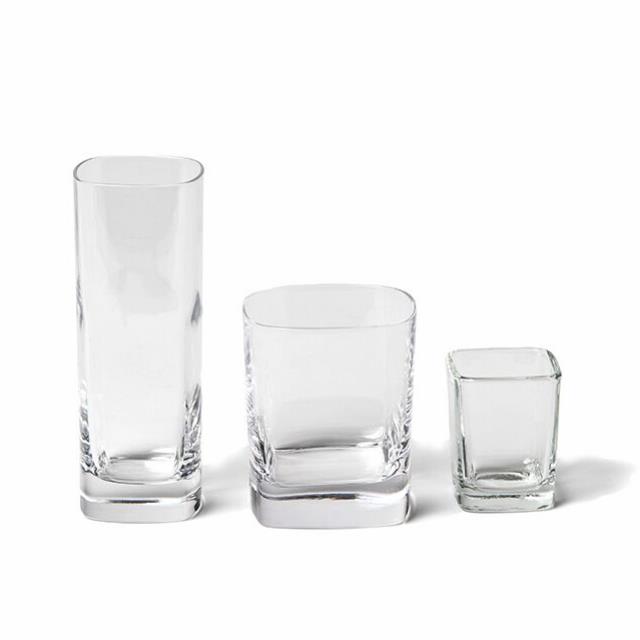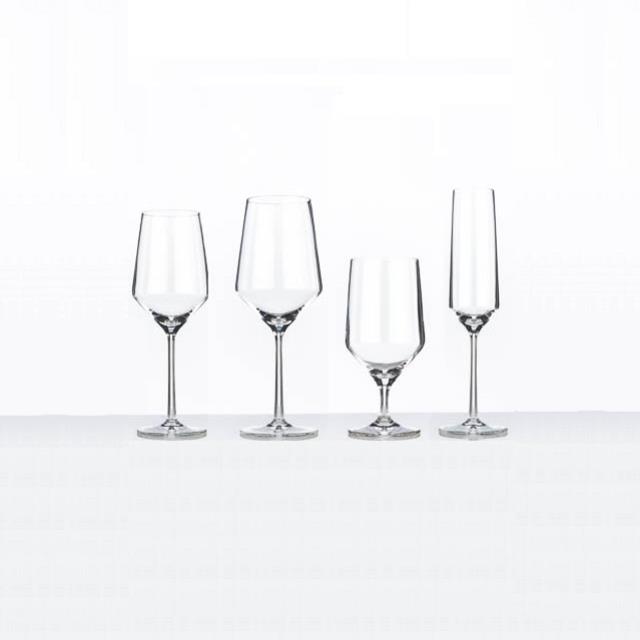 Want to add metallic details to your company holiday event in Nashville, Franklin or Middle Tennessee? Contact our team about rentals at info@southerneventsonline.com to get started!
TAGS | Austin Flatware, Glass Charger with Gold Rim, Gold Chiavari Chairs, Gold Conga Drum Tables, Nashville party rentals, Pure Glassware, Reese Glassware, Silver Leaf Linen, franklin tn party rentals, holiday party rentals, metallic party rentals, nashville, tennessee event rentals, tennessee party rentals
FEATURED RENTALS | Gold Conga Drum Tables, Pure Glassware, Reese Glassware, Silver Leaf Linen, Glass Charger with Gold Rim, Austin Flatware, Gold Chiavari Chairs,
---