2

Mar

On Trend, Southern Events Products, Trends and Inspiration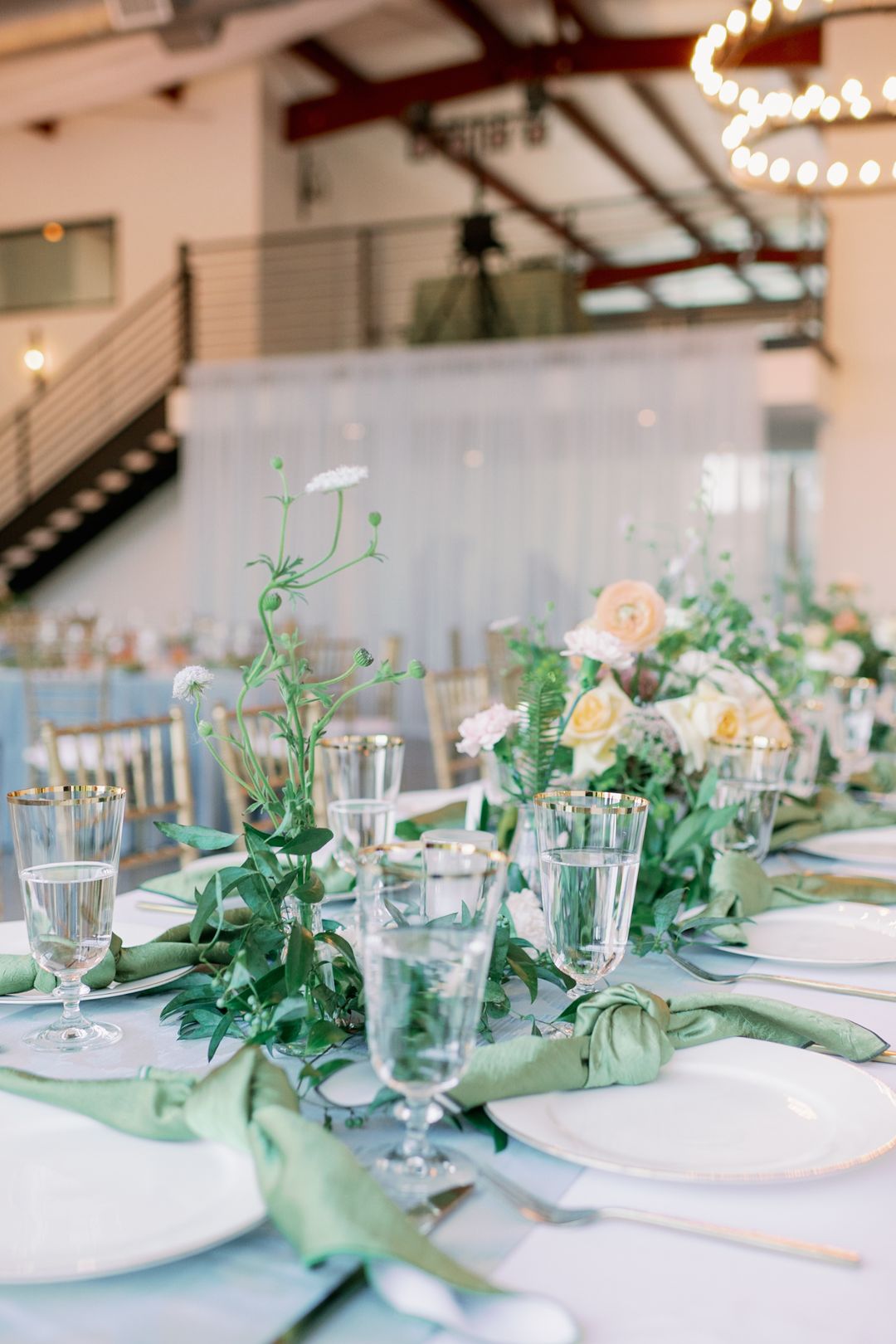 Bright, floral-focused weddings are trending! Perhaps due to the renewed interest in maximalist design or a desire to shift away from neutral palettes. In either case, a vivid color scheme will lend a luxe and modern look for the spring and summer seasons. Get inspired to host a colorful spring wedding with these on-trend ideas starring our stylish event rentals. Southern Events Online has everything you need to pull off a chic celebration, from a whimsical garden ceremony to a bold maximalist reception.
Bold Monochromatic Scheme
One of our favorite bright wedding color schemes is a monochromatic palette. Red, blue, orange, pink, or purple – mixing the hues from any one of these colors are perfect for a bold wedding. For example, this gorgeous tented wedding with bright red and pink tablecloths is classically romantic. Especially when complemented by brilliant floral centerpieces and fresh bundles of greenery. Meanwhile, crisp napkins paired with White Round China and Bradley Flatware kept the look modern and airy. Our Gold Chiavari Chairs are a sophisticated touch, as is the Tessa Tufted Beige Linen Loveseat, overall, a super cozy detail the newlyweds will enjoy.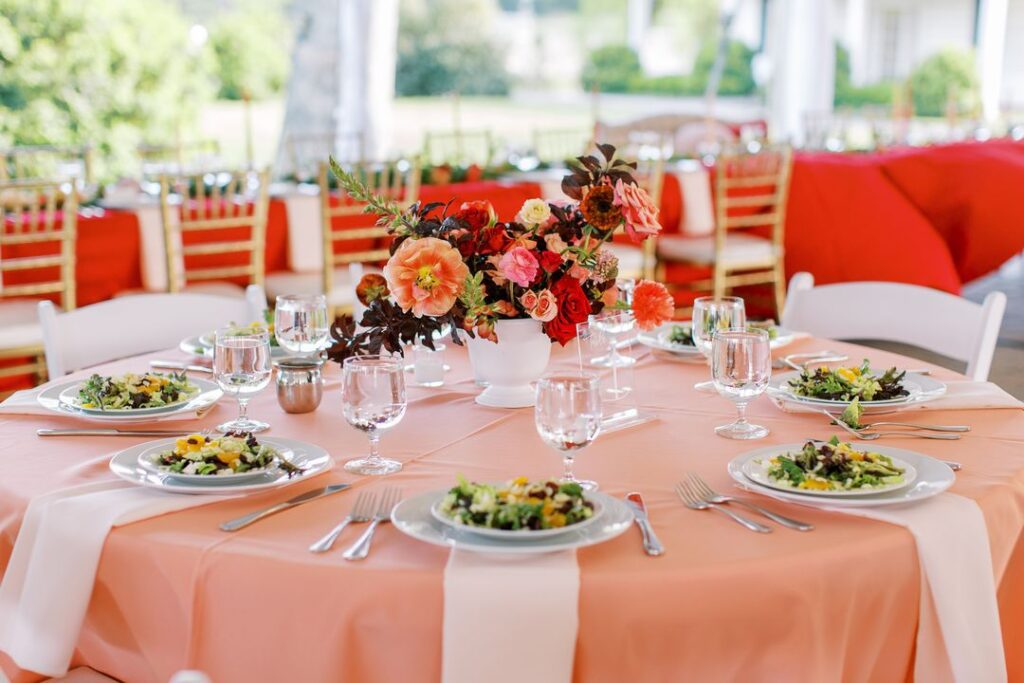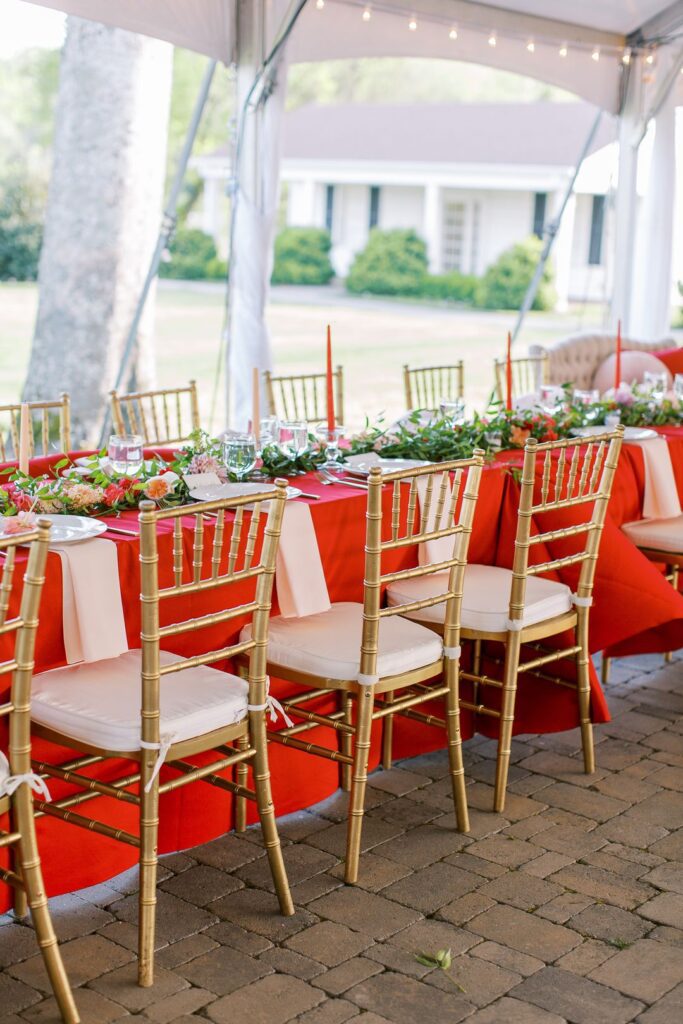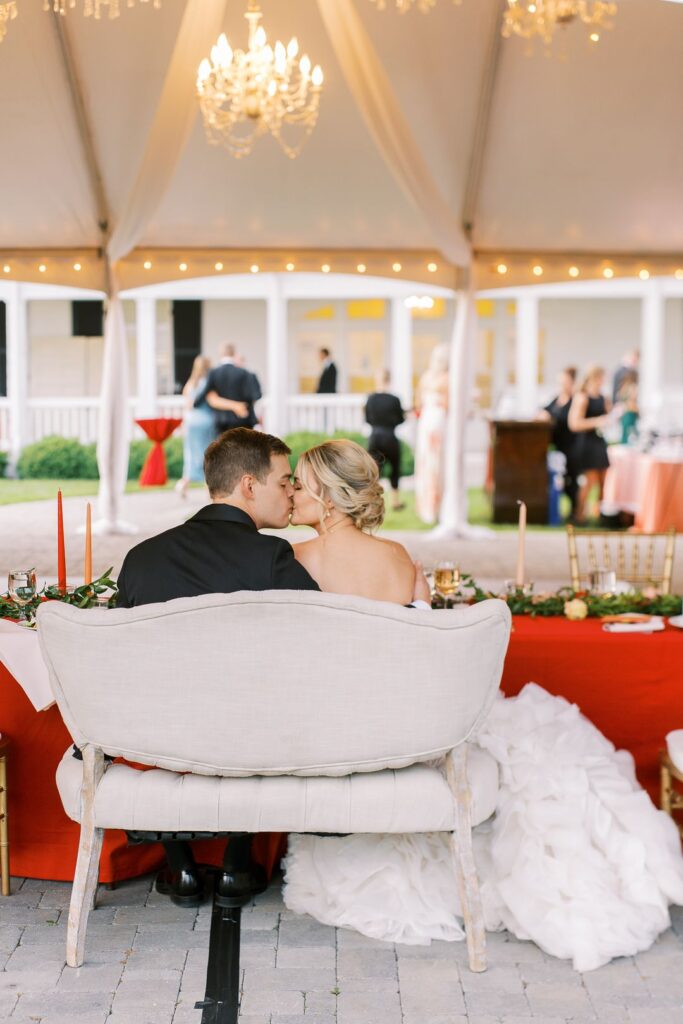 Refreshing Blue & Green Hues
This spring wedding inspiration stars refreshing blue and green hues, for a soft and organic vibe. It's a gorgeous look for an early spring wedding as we come out of a cold and dreary winter! Start with romantic tablecloths starring bright blues, like our Light Blue Pindot, or you might consider the Blue Kensington linens, for a chic maximalist design. Furthermore, tie in splashes of green using buttery napkins in the color Fern, and create an elegant drink station to greet guests using our Green Goblets. For a fun interactive element, display them on White Barback Bookshelves. If the weather is nice we always recommend an outdoor lounge! Take a look at our romantic Everly Sofa and Chairs, paired with the Blanche Coffee Table and aqua rug.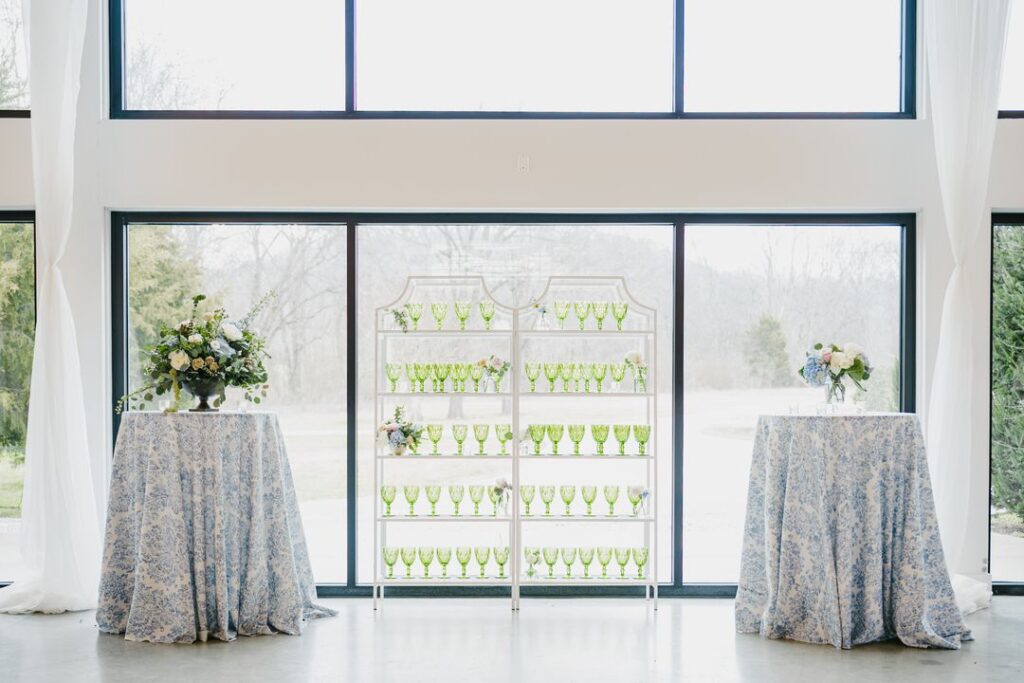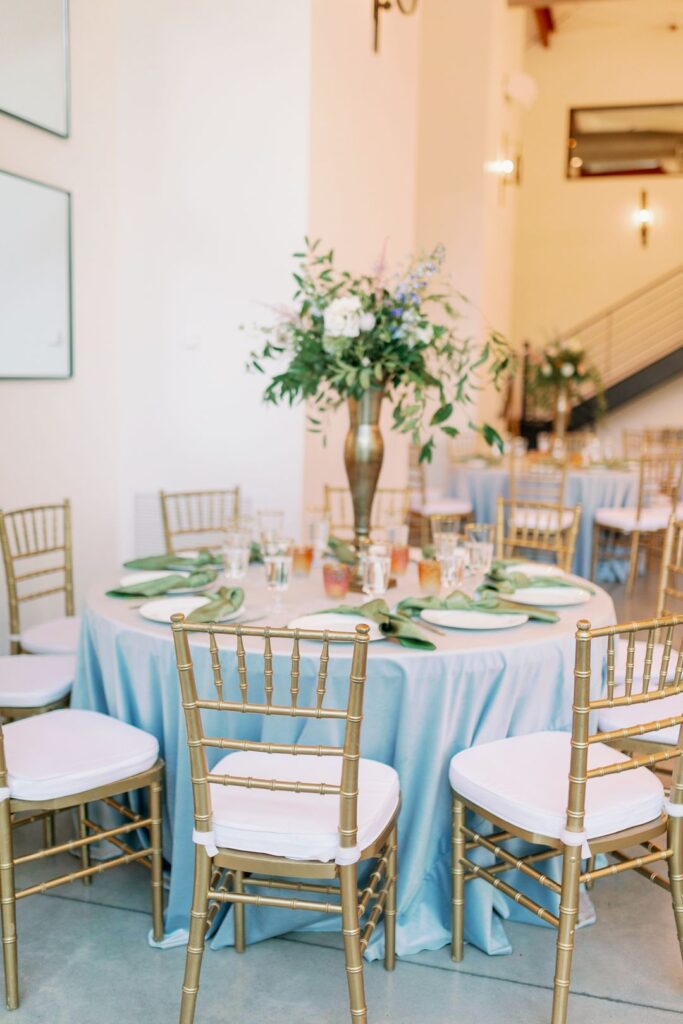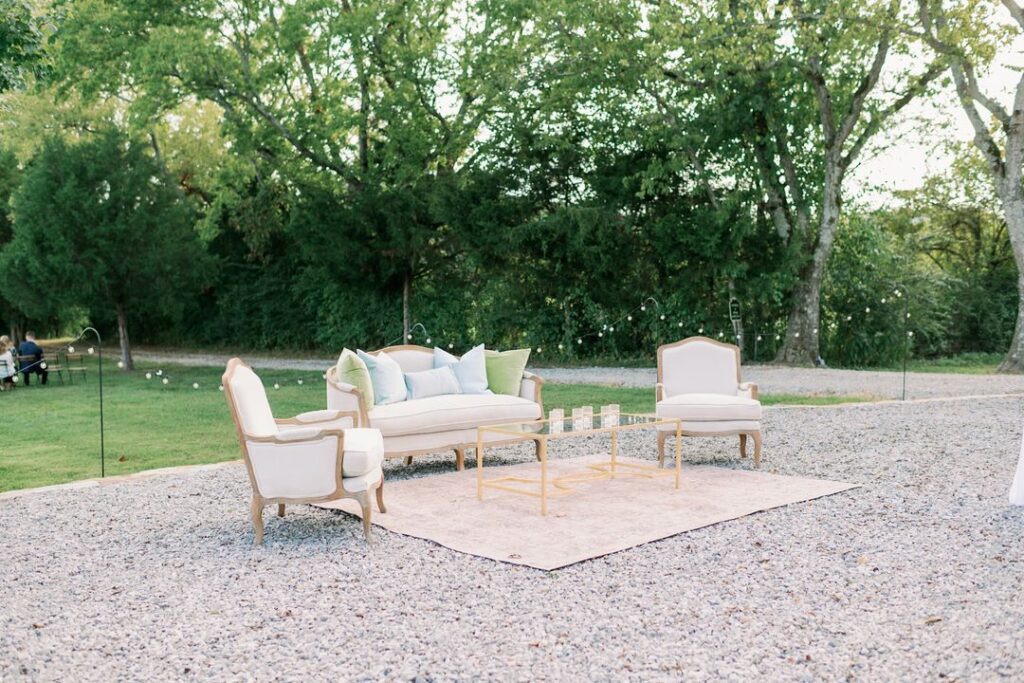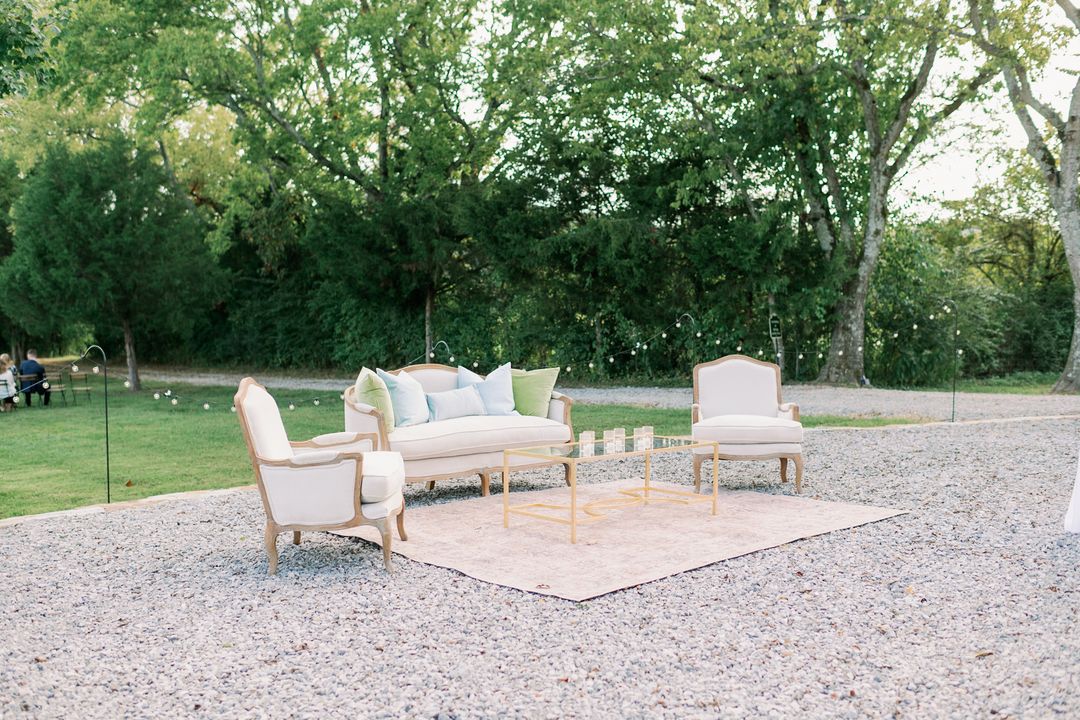 Rich & Retro Chic
Dreaming of vibrant wedding colors that will bring a sense of retro charm to your big day? Check out this romantic spring wedding starring a bold palette of teal and amber! Our Sea Glass Velvet Tablecloth is a dark base, complemented by Kennedy Storm Napkins, and Earthen Alabaster China with Austin Gold Flatware provides a chic touch. Our favorite detail is the retro-inspired furniture! From the Antique White Bentwood Chairs to the gorgeous Jaqueline Sofa. Do you love this color scheme and the modern retro rentals? Be sure to check out our blog on ideas for a Modern Disco Wedding Design.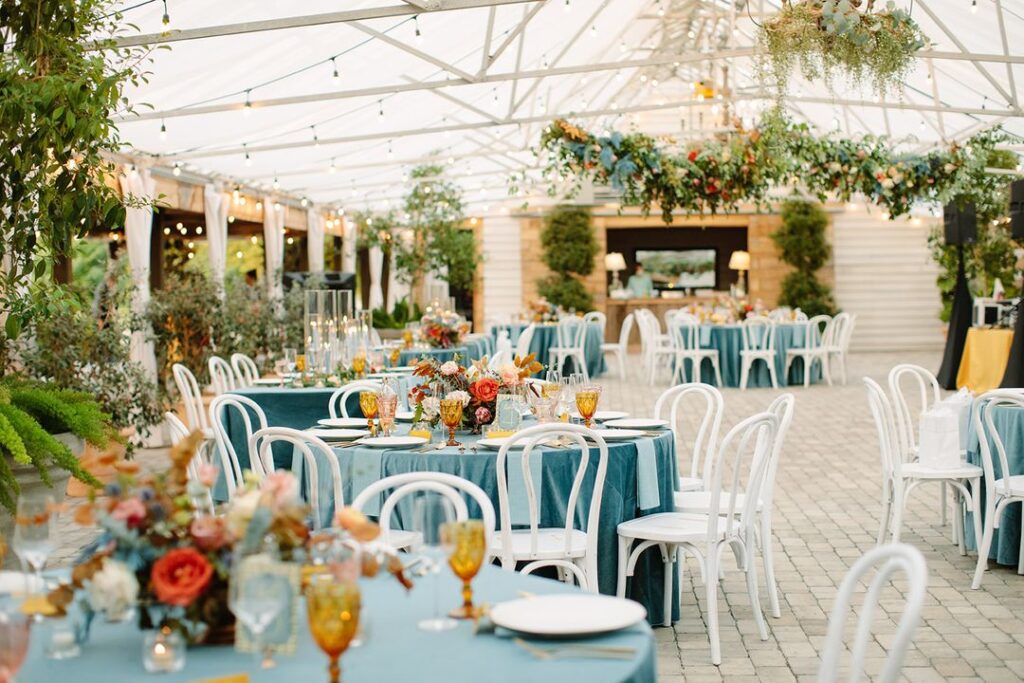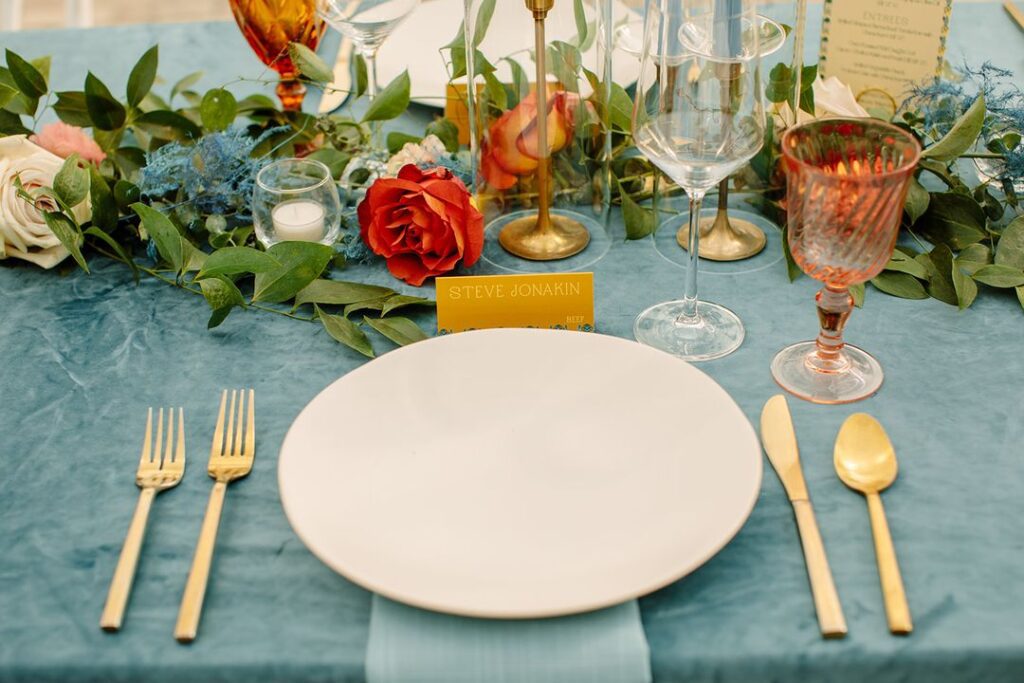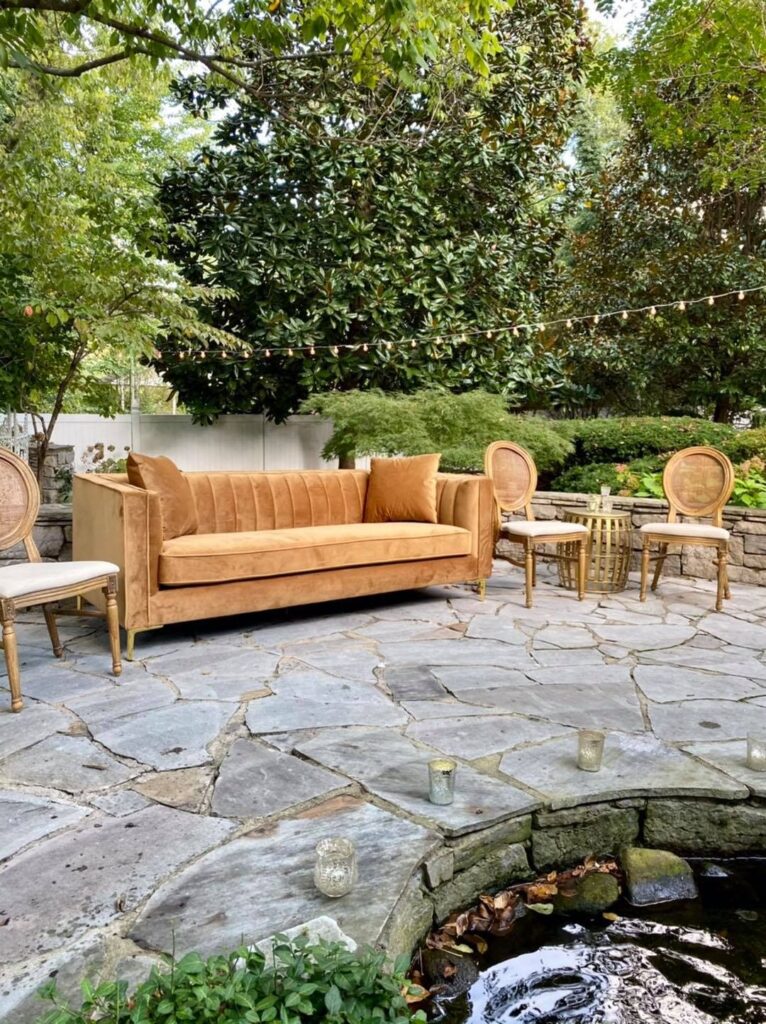 Let our team help you plan a colorful spring wedding that will be the envy of every bride! Send us a message at info@southerneventsonline.com, or view our full range of rentals in the catalog.
TAGS | Ceremony Decor, Colorful and Fun Outdoor Wedding, On Trend, colorful event design, colorful event rentals, wedding reception ideas, wedding style trends, wedding tablescapes
FEATURED RENTALS | wedding tent, white round china, bradley flatware, gold chiavari chair, tests tufted beige linen loveseat, light blue pindot, blue Kensington, fern velvet linens, green goblets, white barback bookshelves, Beverly sofa, blanche coffee table, aqua rug,
---
26

Jan

On Trend, Southern Events Products, Trends and Inspiration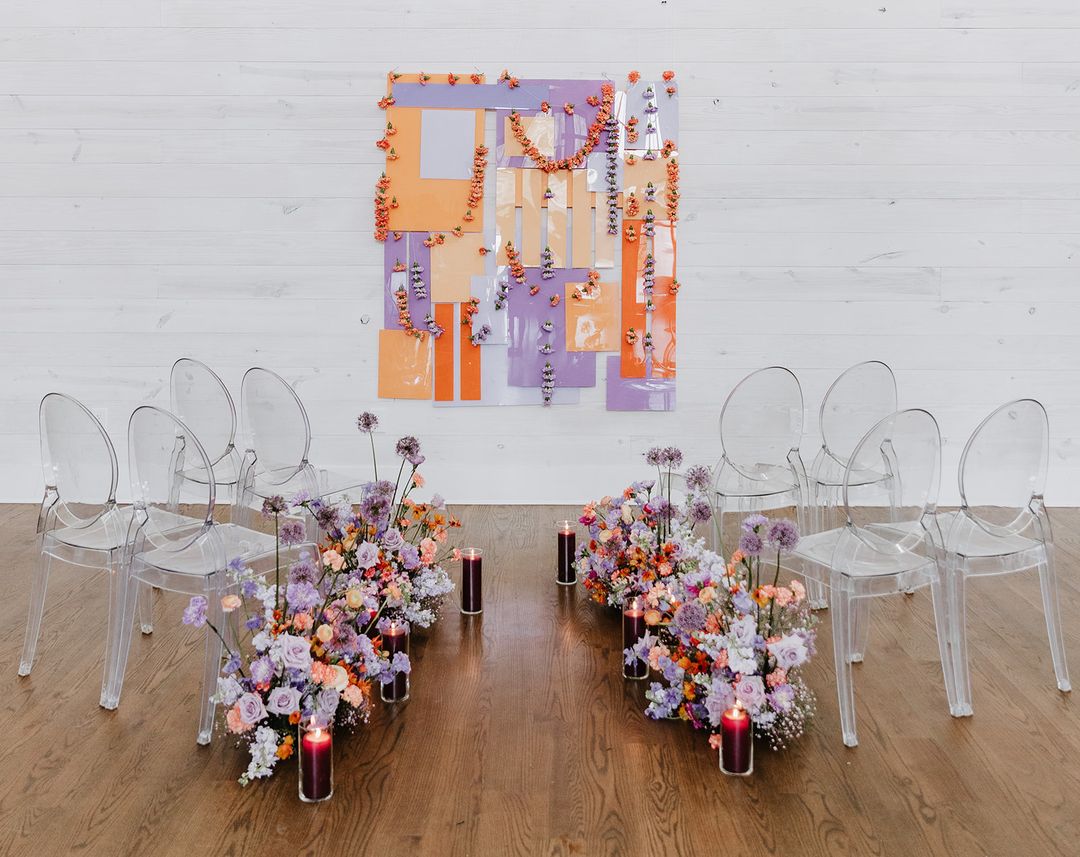 Retro event design is getting lots of love, especially among brides and grooms. And what's not to love about the vibrant color schemes, modern retro furniture, and nostalgia-inducing decorations? Even better, this theme can encompass a variety of styles. Whether you prefer a minimalist look, a bright whimsical vibe, or a dark and moody design. Check out some ceremony and reception ideas that can be used to host a colorful retro wedding, featuring our stylish event rentals.
Retro-Inspired Wedding Ceremony
Planning a retro-inspired wedding ceremony is easy with our on-trend seating and decor. Pick from a variety of chairs, such as our Acrylic Ghost Armless Chairs or Acrylic Ghost Arm Chairs. Our Black Resin Folding Chairs are a classic choice for a moody retro vibe. If you need a backdrop, customize a Boxwood Wall with a neon or acrylic sign. With three bases to choose from, we can complement any color scheme! One of our favorite retro wedding ideas is the use of layered rugs to decorate the aisle way. Use a mix of cowhide or vintage rugs, depending on whether your theme leans toward modern or bohemian.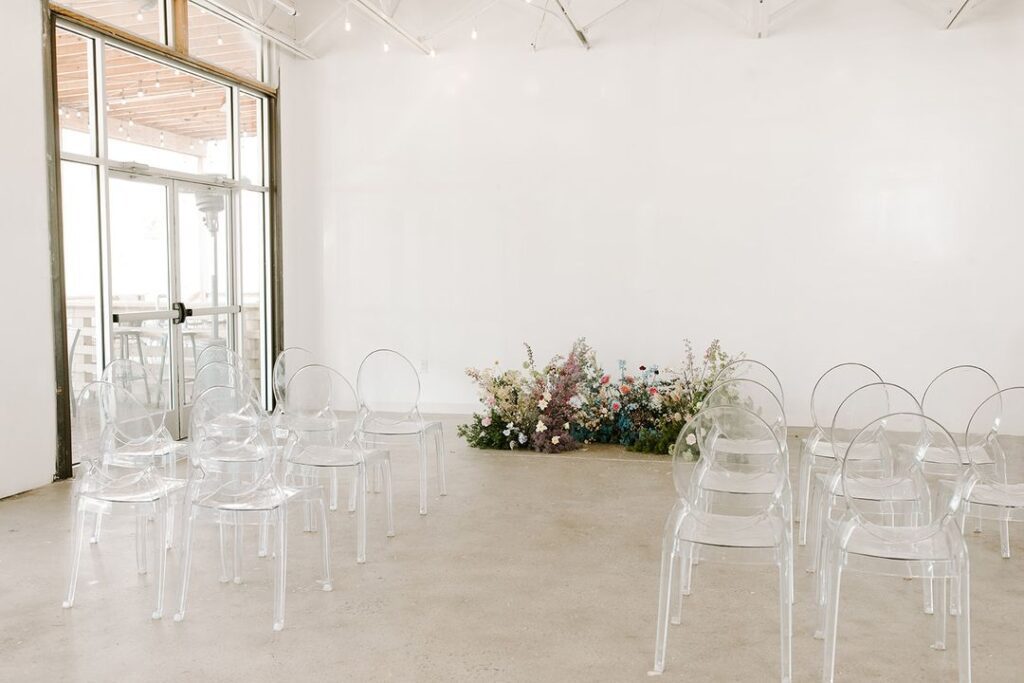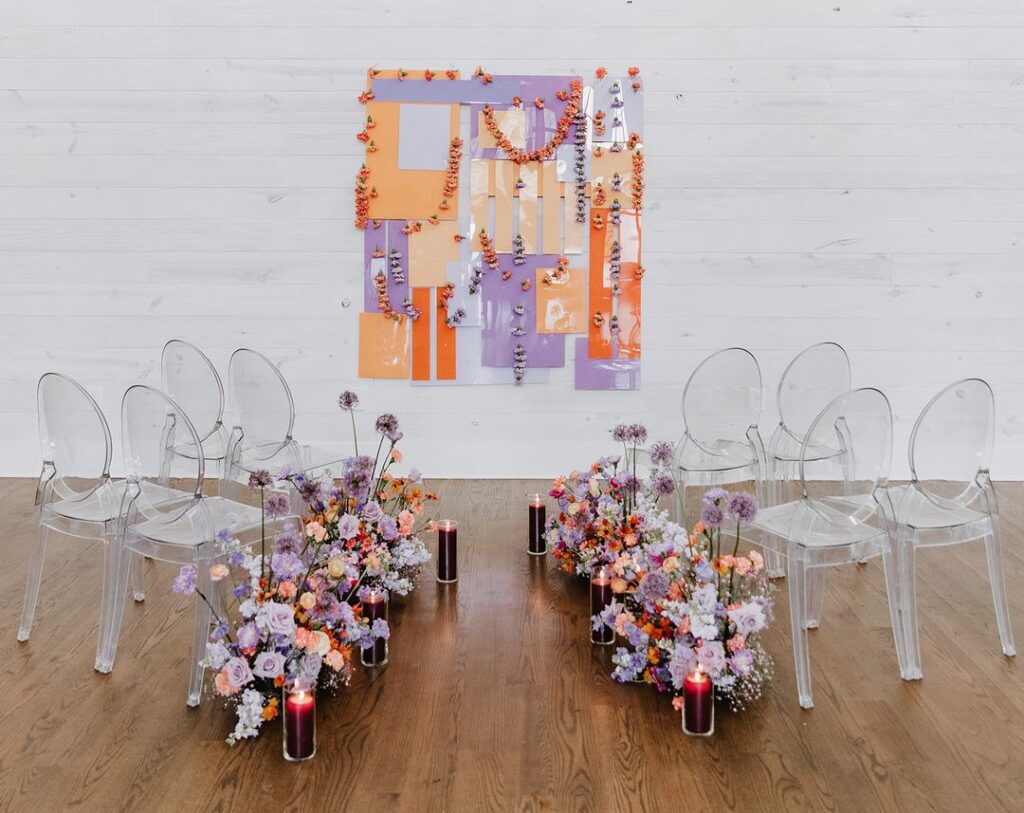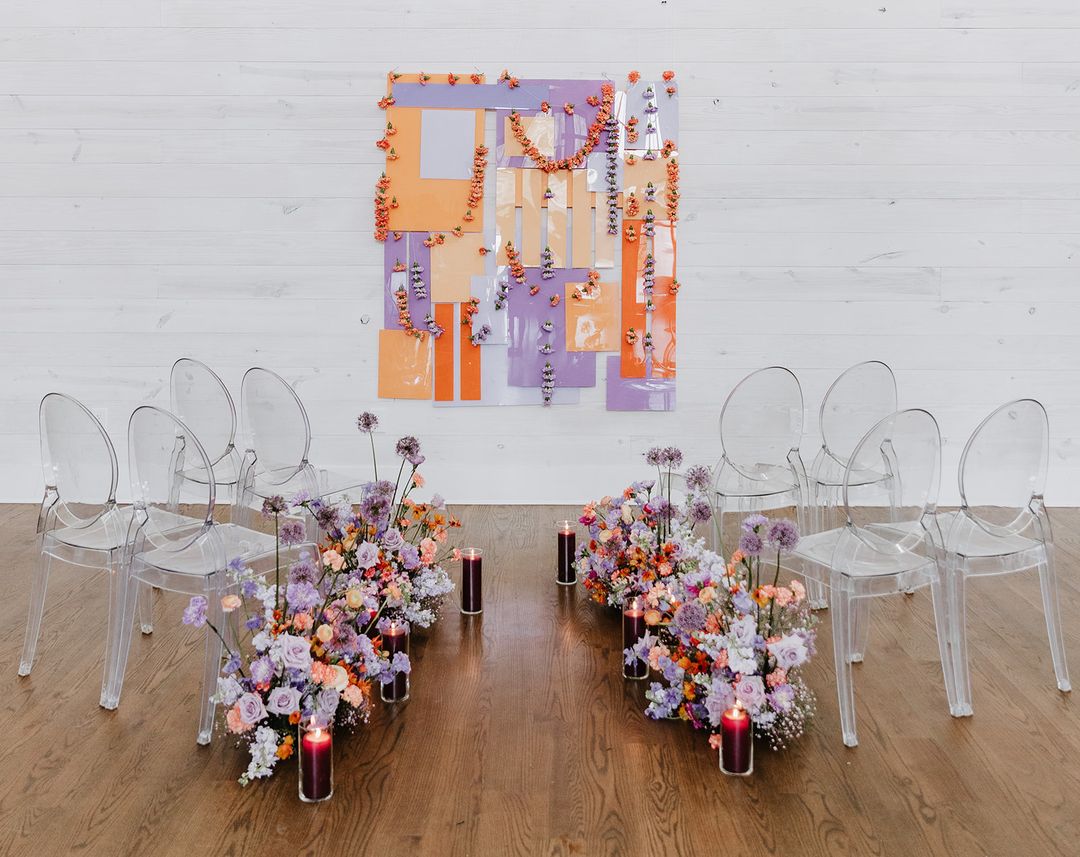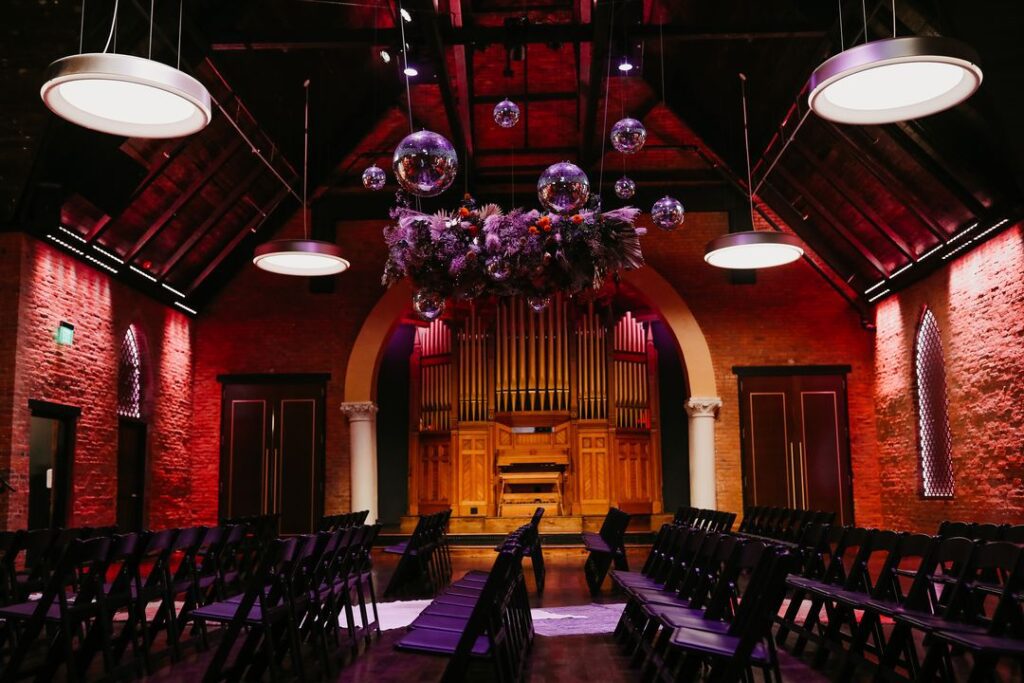 Colorful Retro Reception Tables
A retro wedding calls for bold trendy tablescapes! We have countless pieces of serving ware and luxe linens that can be used to create colorful retro reception tables. Whether you are running with a cool or warm-toned palette, or a minimalist or maximalist design. Should you prefer a bold luxe look, start with a vibrant tablecloth in a rich Magnolia or Coral. Pull off an alternative look by stacking colorful serving ware on top of Black Velvet Linens. For a warm metallic table, stack our Darcy China and Kate Polka Dot China. Pair it with Amber Goblets and Austin Flatware to round out the look. Use runners for a layered maximalist design, or keep the look simple yet luxe with vibrant napkins. Or use mismatched napkins in retro tones, placed atop Earthen Alabaster China, for a whimsical touch!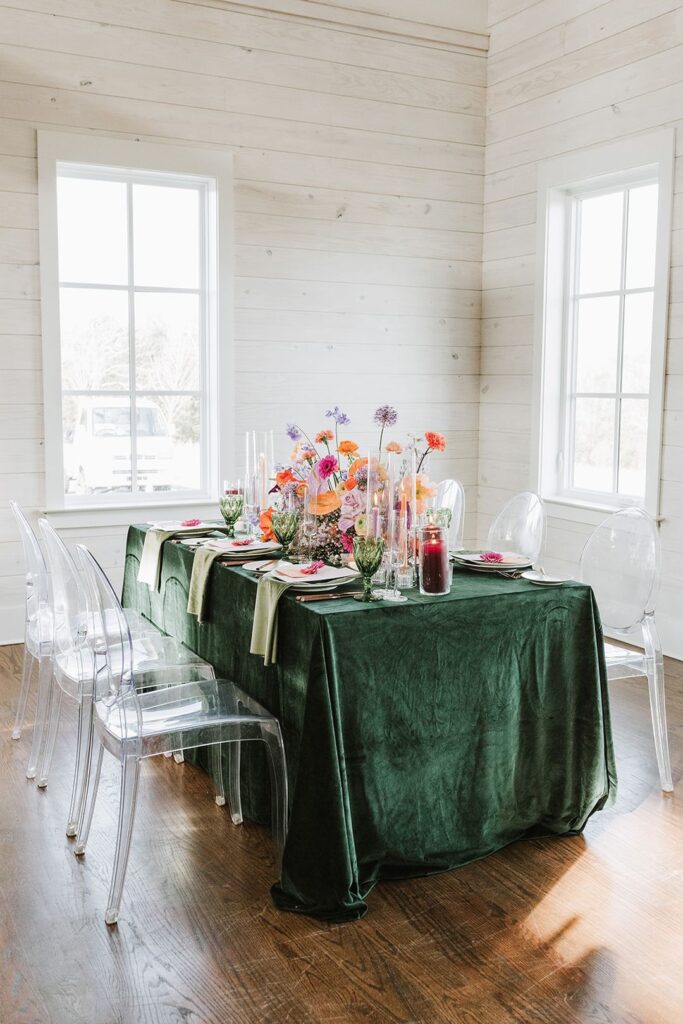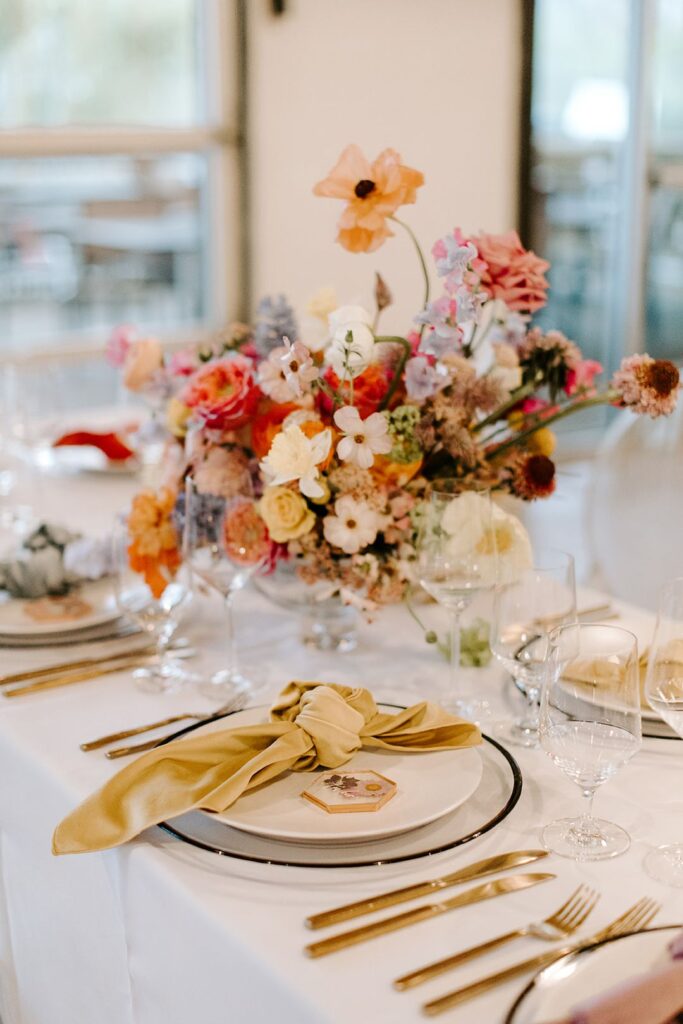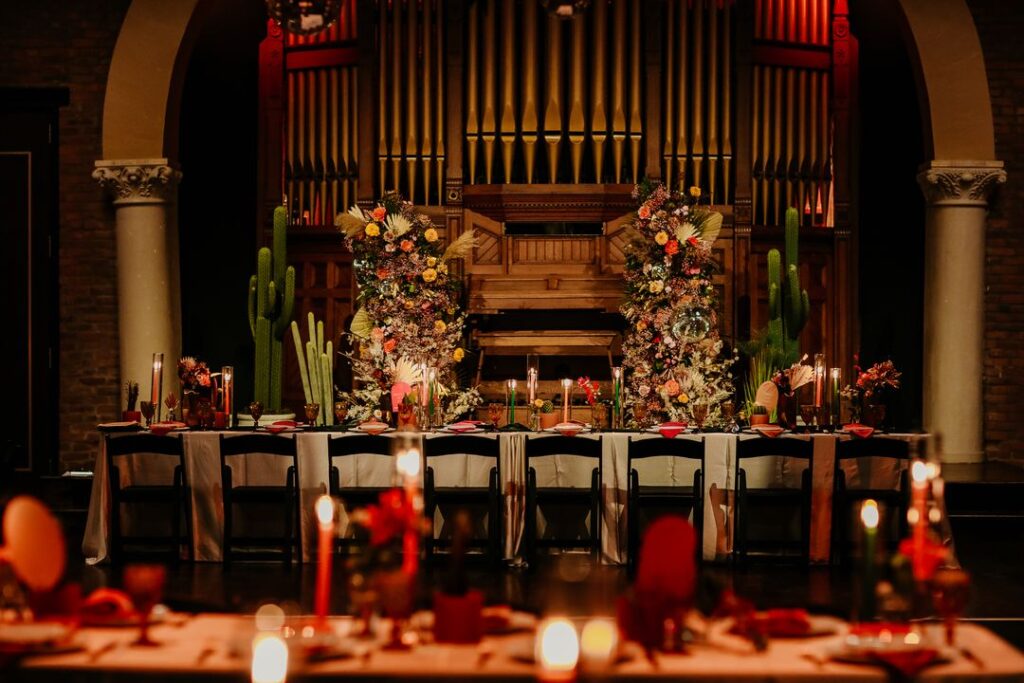 A Retro Chic-Cocktail Hour
Planning to host a cocktail hour on the big day? Colorful wedding rentals are our favorite, and that's exactly what a retro-chic cocktail hour calls for! Check out our cozy sofas, such as the Fern Velvet Sofa, Jacqueline Sofa, and Saylor Navy Velvet Sofa. Pair them with a set of trendy armchairs or ottomans, like the Gloria Velvet Armchair or a Turkish Rug Ottoman. Especially popular are the White Eiffel Arm Chairs – a design straight from the '50s. Or grab the Regent Black Velvet Sofa and a set of acrylic chairs for a moody look. If you need more social areas, set up cocktail tables outfitted with bright linens and our Midcentury Barstools in White or Black.
P.S. Be sure to stock your bar to match! Rent a selection of trendy glassware, including our Cybil Champagne Flutes, Gatsby Champagne Coupes, and Davis Hi-Ball Glasses.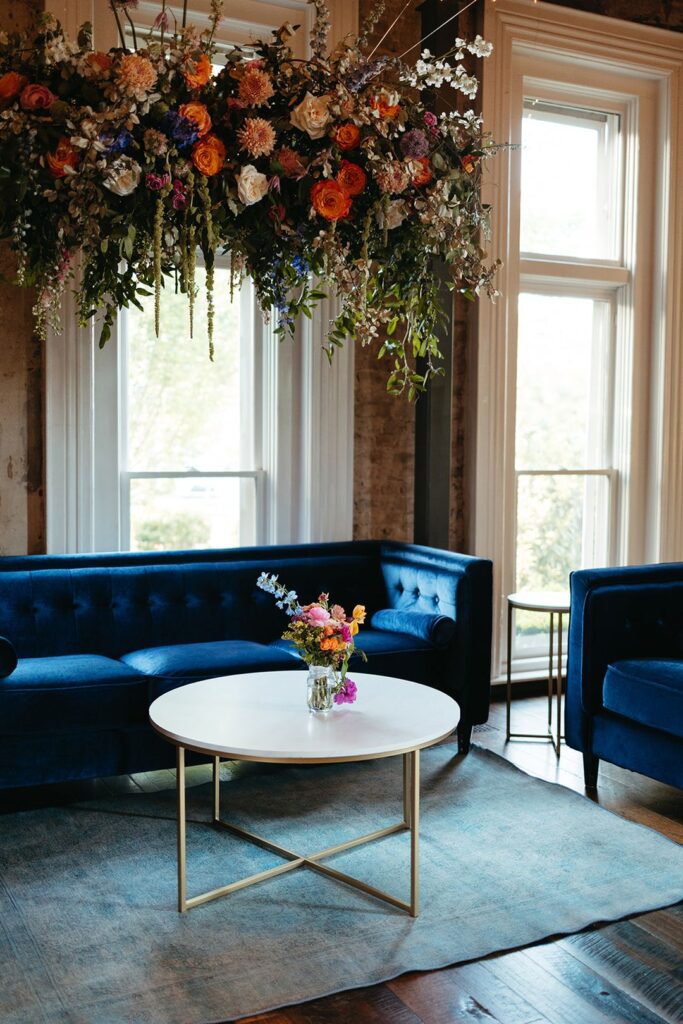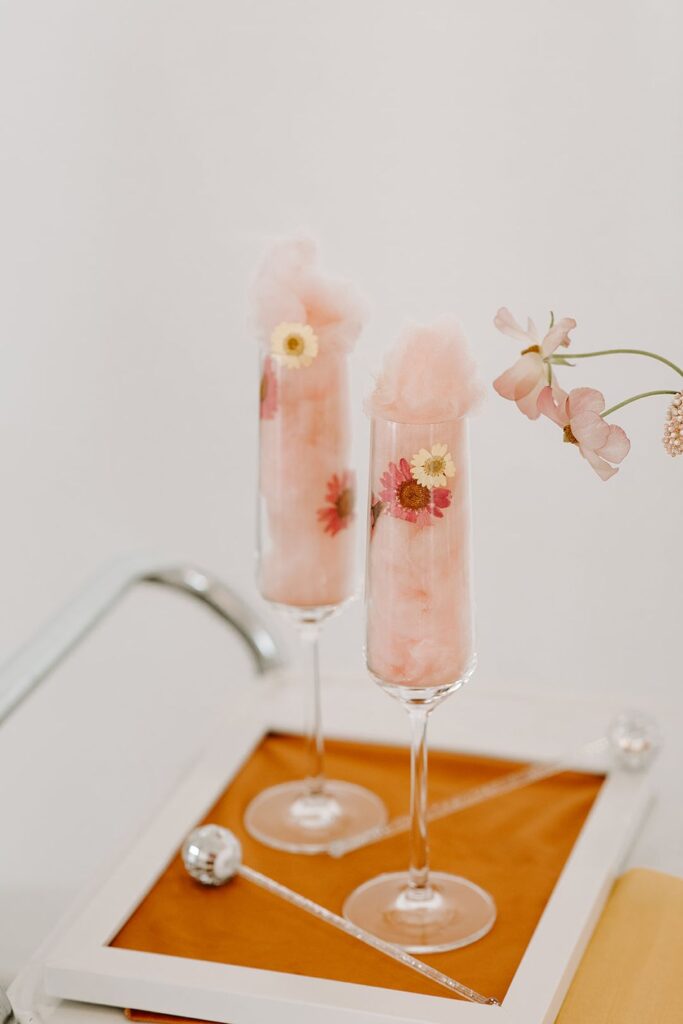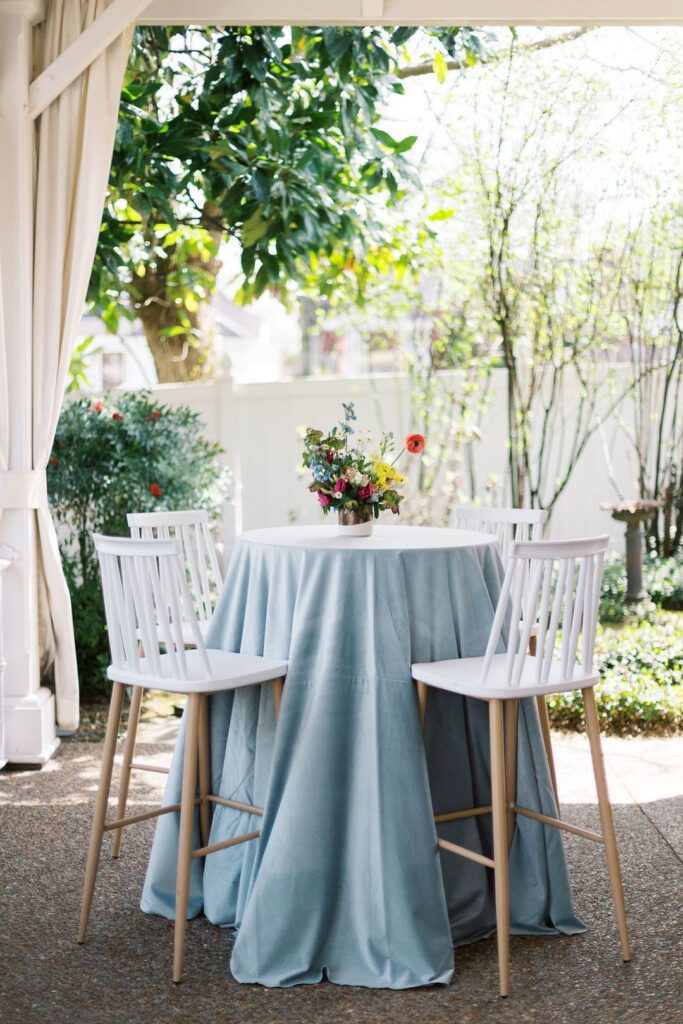 Let our team help you plan a colorful retro wedding that will be the envy of every bride! Send us a message at info@southerneventsonline.com, or view our full range of rentals in the catalog. Dreaming of a more low-key, modern rustic event design? Take a look at this Sweet & Simple Garden Wedding at the Cordelle.
TAGS | Colorful Wedding Decor, Southern Events linens, colorful event design, colorful event rentals, disco wedding, modern retro, retro-inspired, wedding event design, wedding style trends
FEATURED RENTALS | Cybil Champagne Flutes, Gatsby Champagne Coupes, Davis Hi-Ball Glasses, Black Velvet Linens, Darcy China, Kate polka dot china, amber goblets, austin flatware, runners, earthen alabaster china, acrylic ghost armless chairs, acrylic ghost arm chairs, black resin folding chairs, boxwood walls, cowhide rug, vintage rug, Fern Velvet Sofa, Jacqueline Sofa, Saylor Navy Velvet Sofa, White Eiffel Arm Chairs, Gloria Velvet Armchair, Turkish Rug Ottoman, Regent Black Velvet Sofa, White Midcentury barstool, Black Midcentury Barstool,
---