1

Mar

Events and Style Shoots, Southern Events Products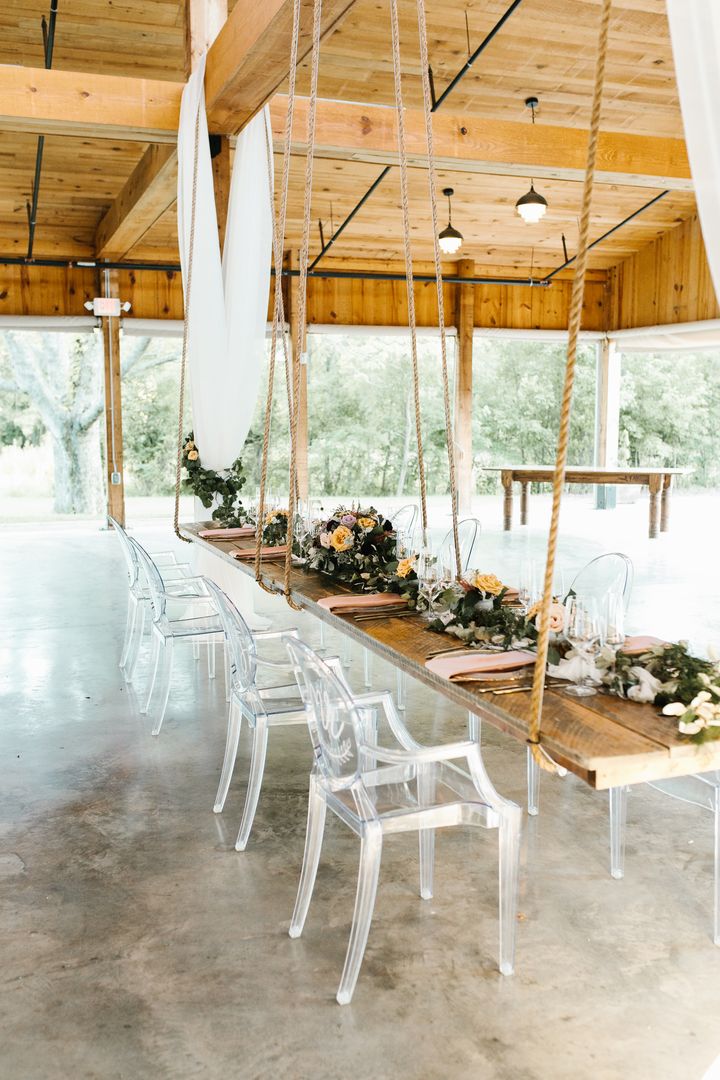 Clean, sophisticated lines and chic rustic details were a match made in Nashville heaven at our most recent Styled Shoot. We teamed up with Ruffled Feathers Events and Homestead Manor to transform their space with an inspiring aesthetic. Rustic beauty was literally suspended midair!
Golden metallics sat upon raw, natural wood to create a stunning design – it's classic rustic southern style all grown up, with modern flourishes and gilded details! For the first setting, our most-loved Austin Flatware sat elegantly next to the Gold Rim Glass Charge, topped with a copper-meets-mauve Russet satin dinner napkin. The second table setting saw Artisan China, Rouge Round Laquer Charger, and Gatsby Champagne Coupes, next to Pure Glassware – such a beautiful metallic rustic modern design!
Acrylic Ghost Chairs provided an enchanting touch of modern to the suspended wooden table. Our Pure Glassware completed the modern touch with sleek, crystalline lines.
Thank you to Madi Flournoy Photography for sharing these beautiful photos with us!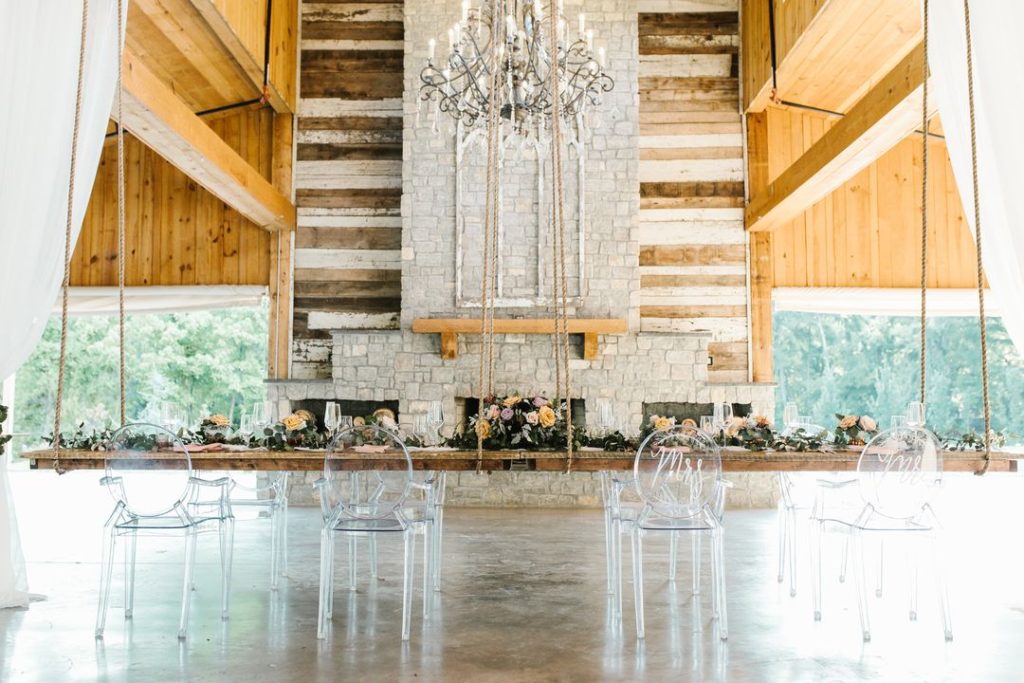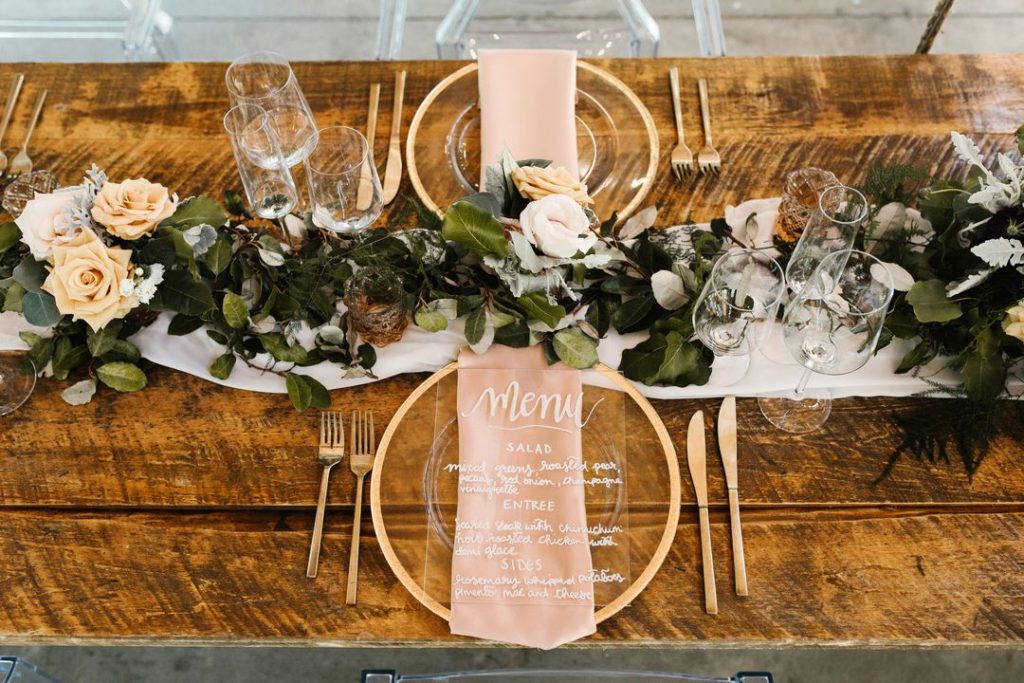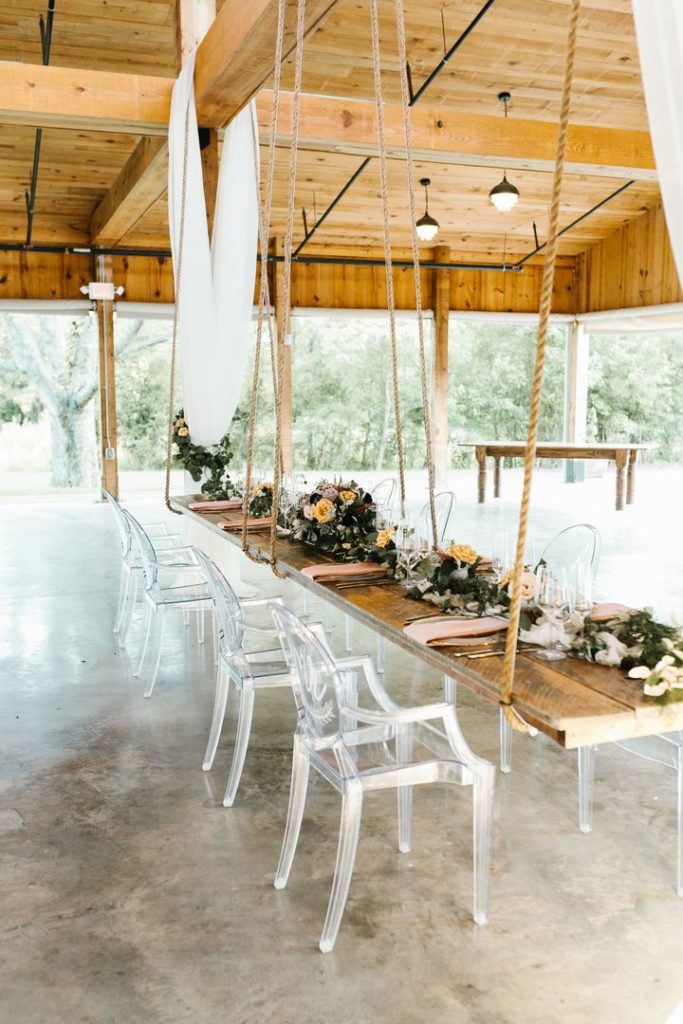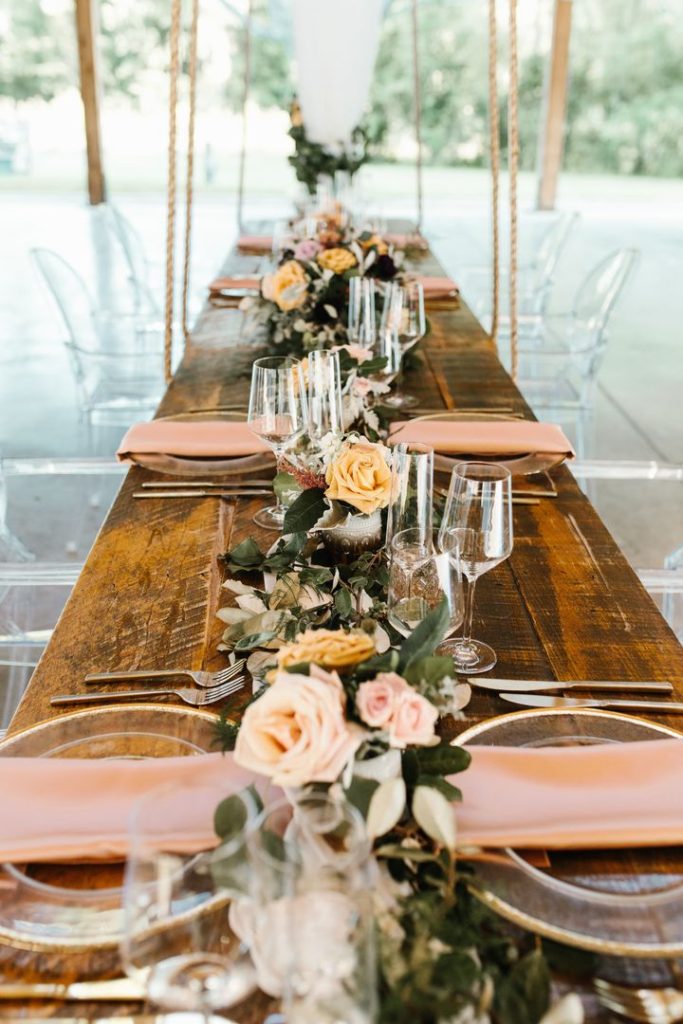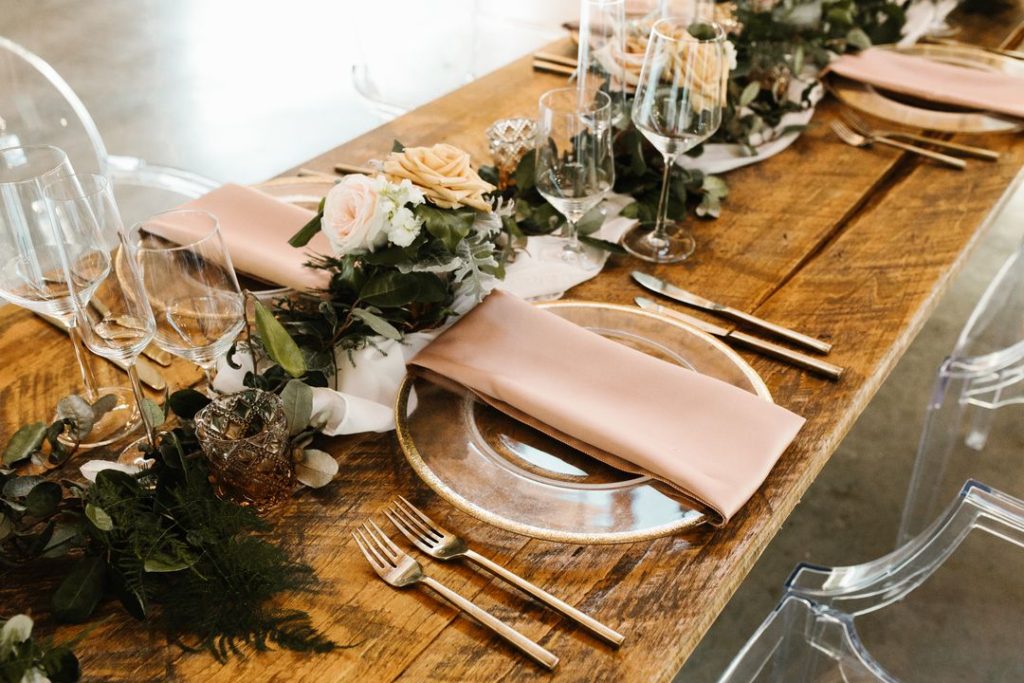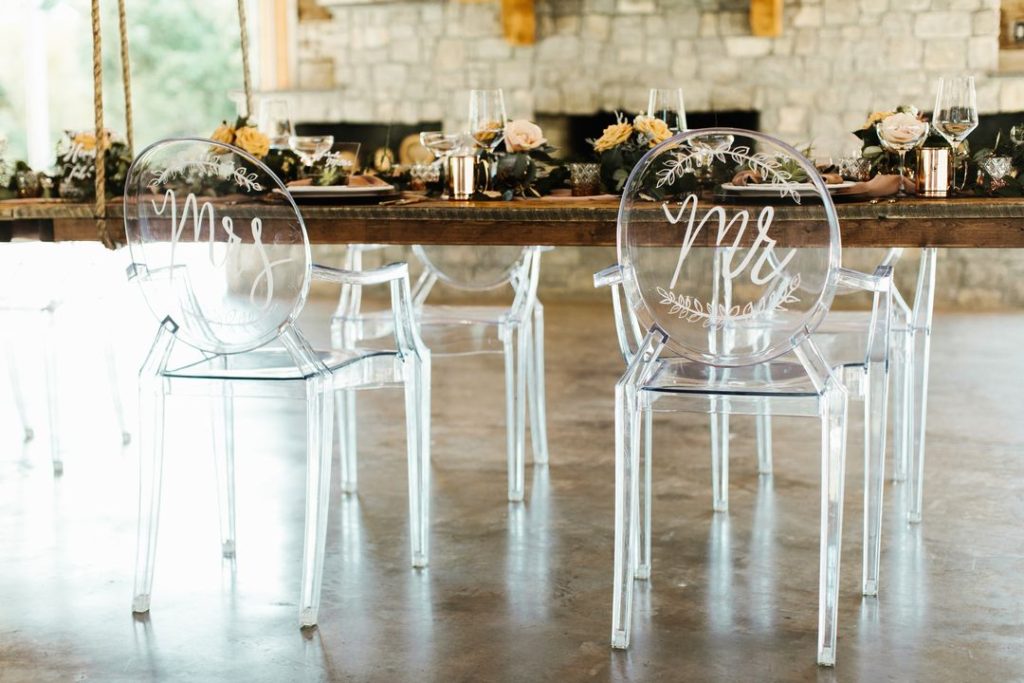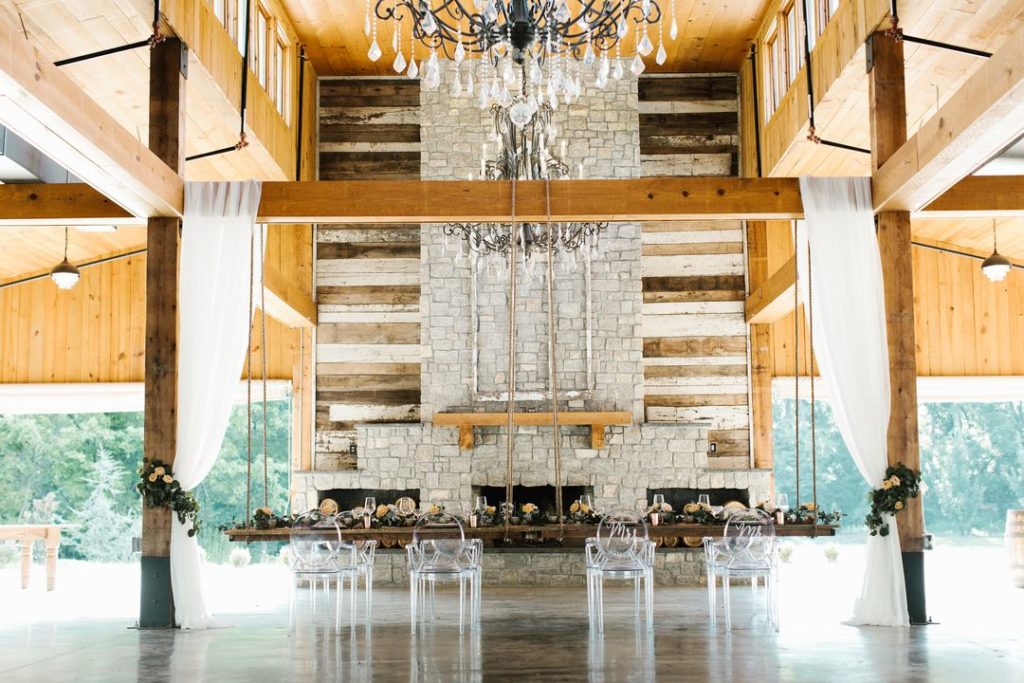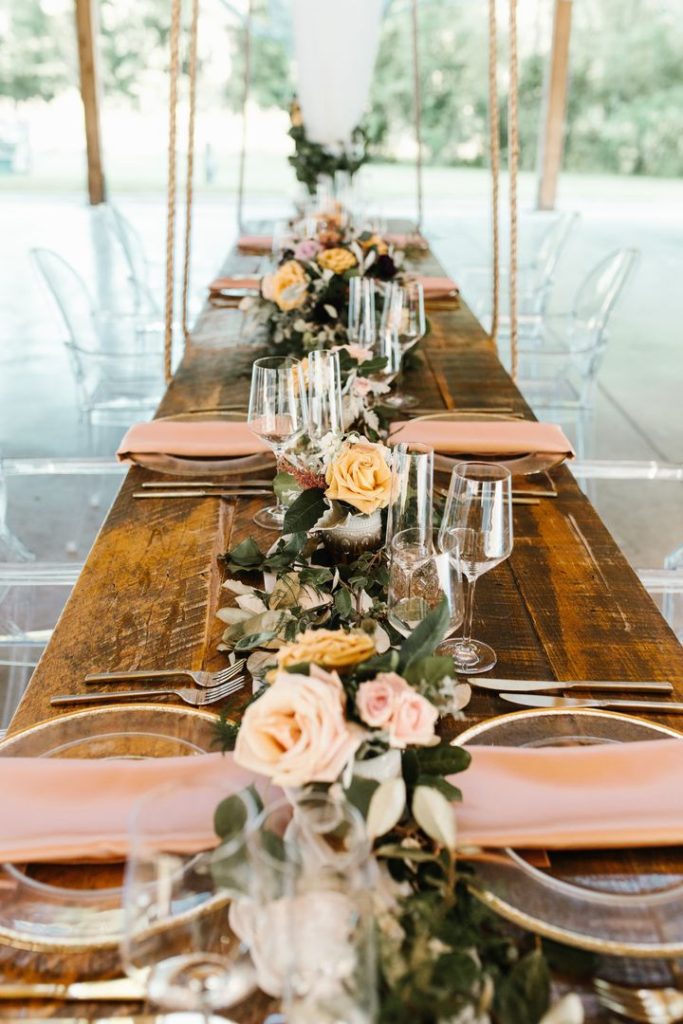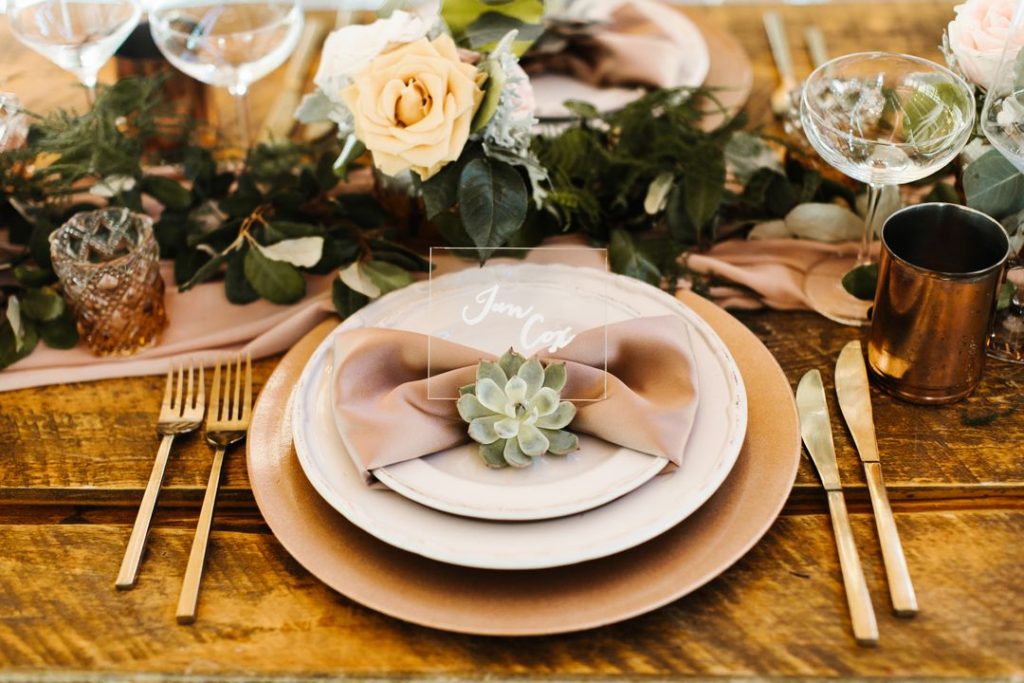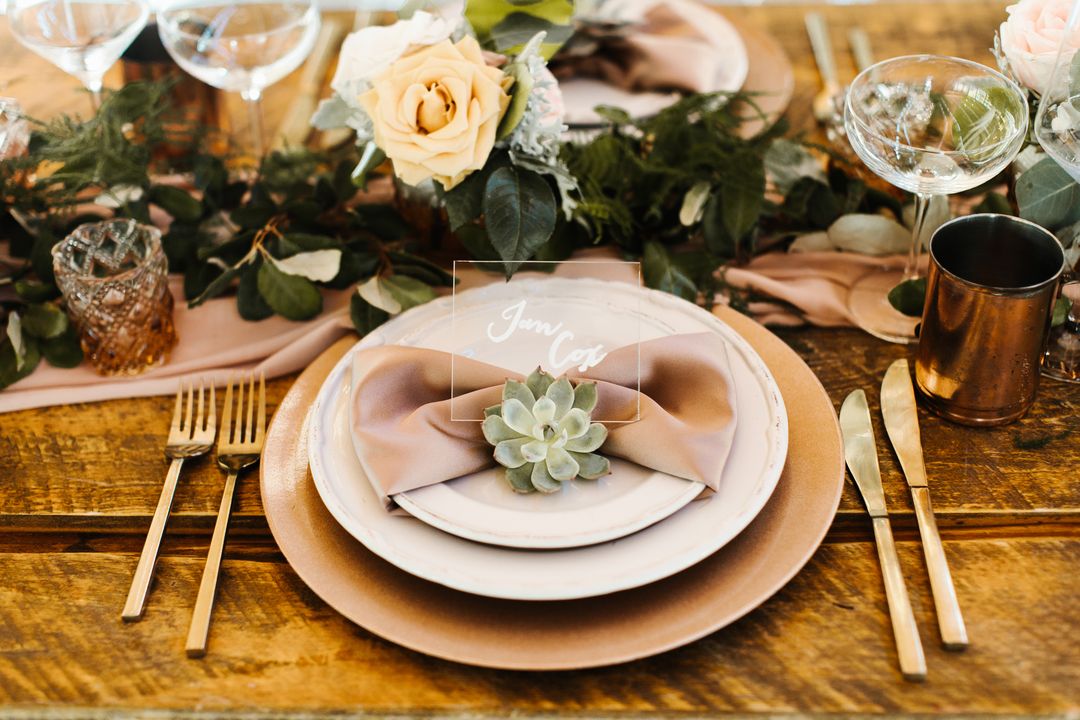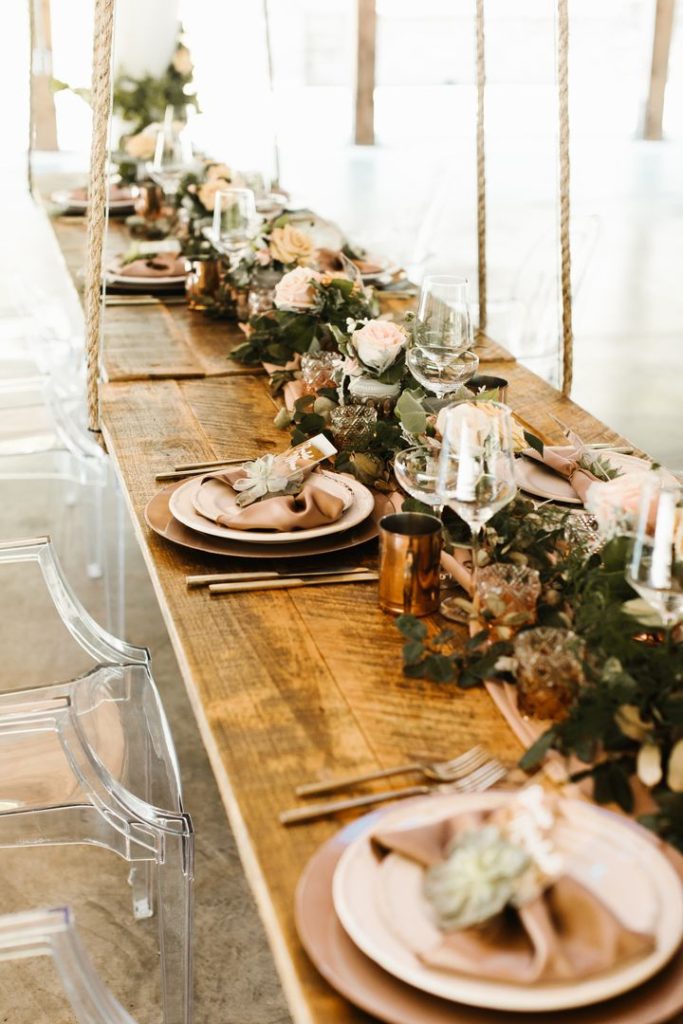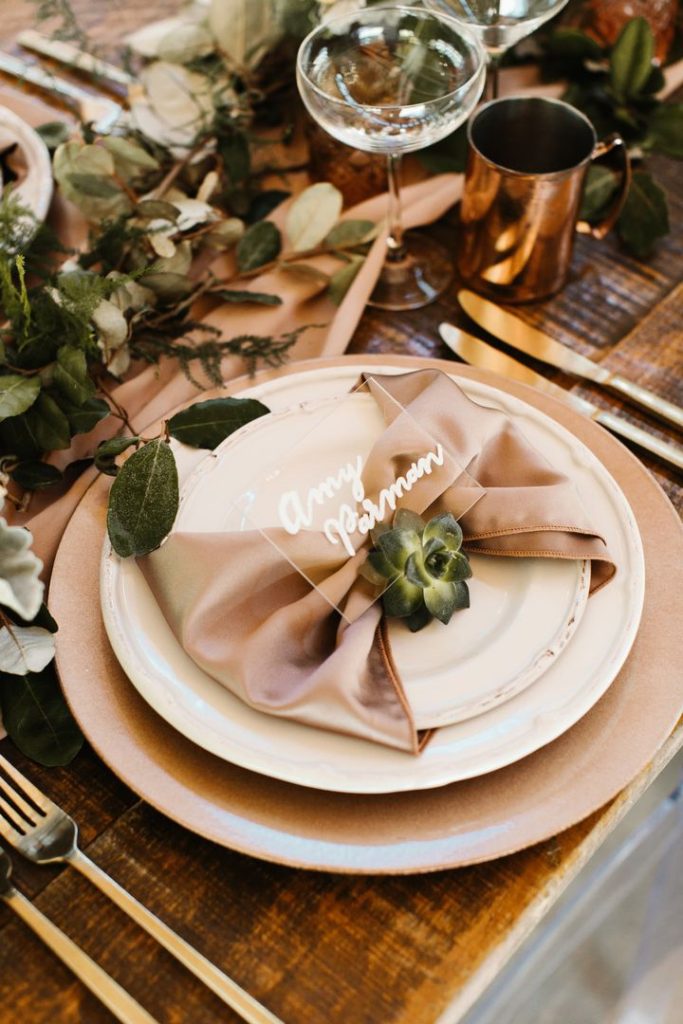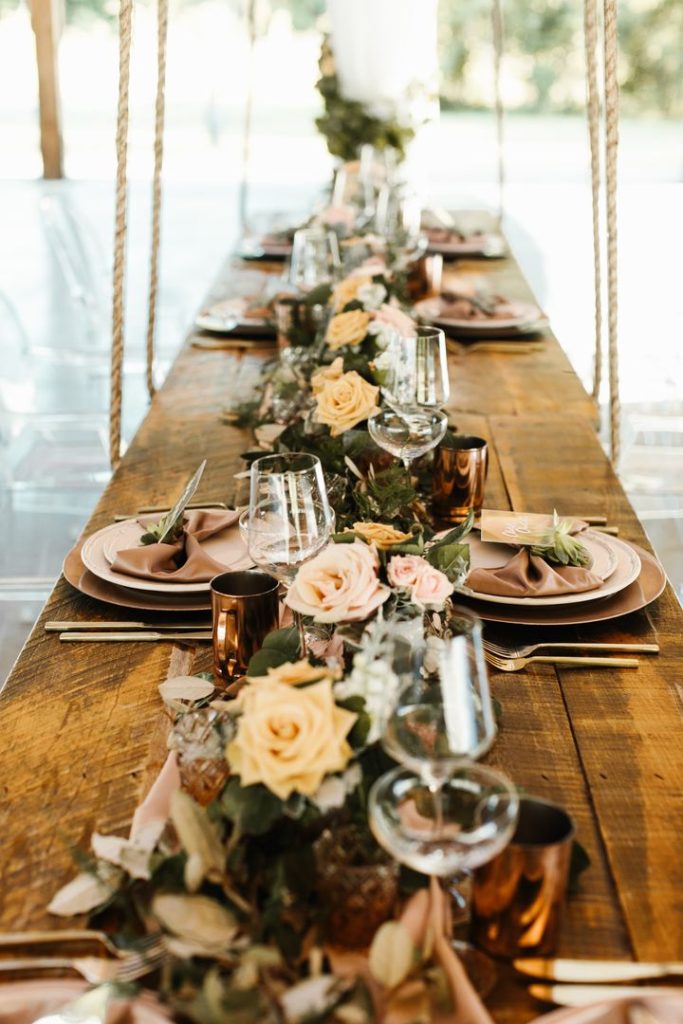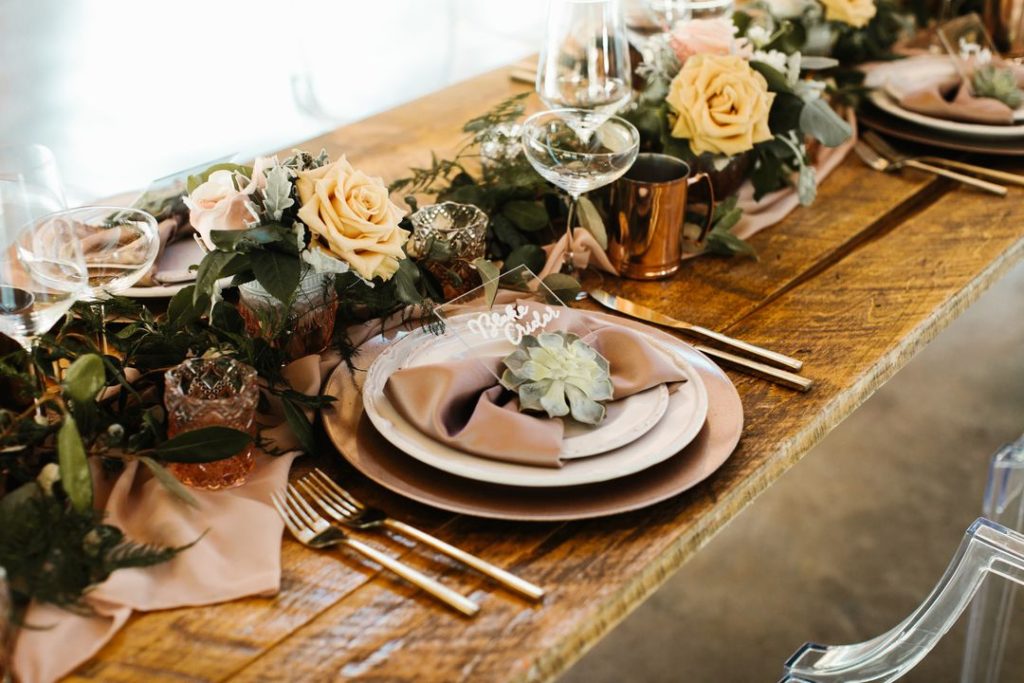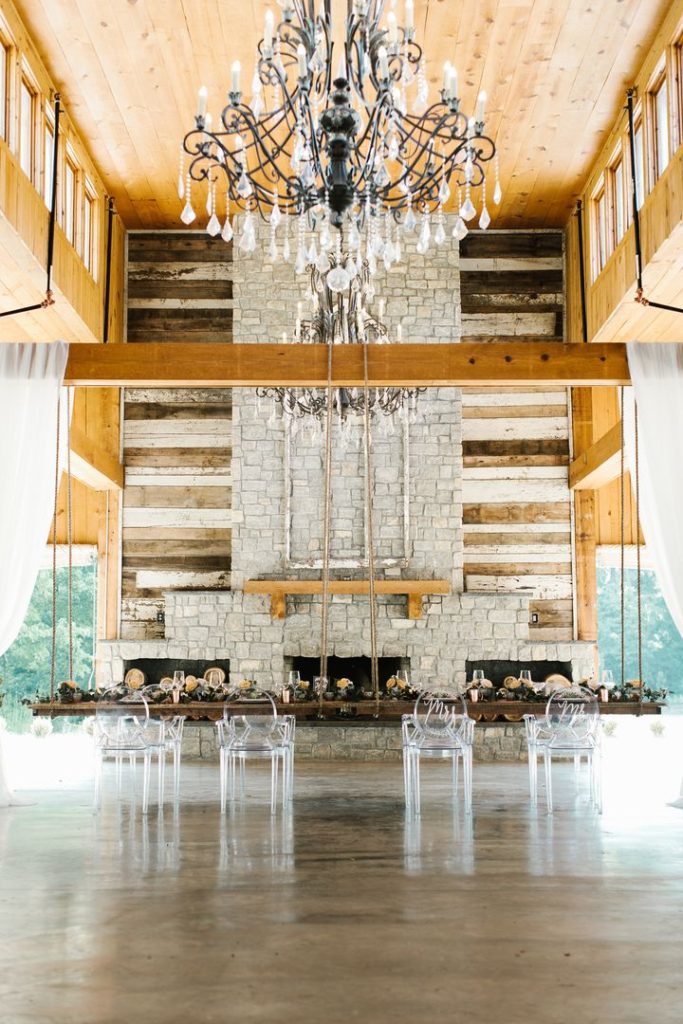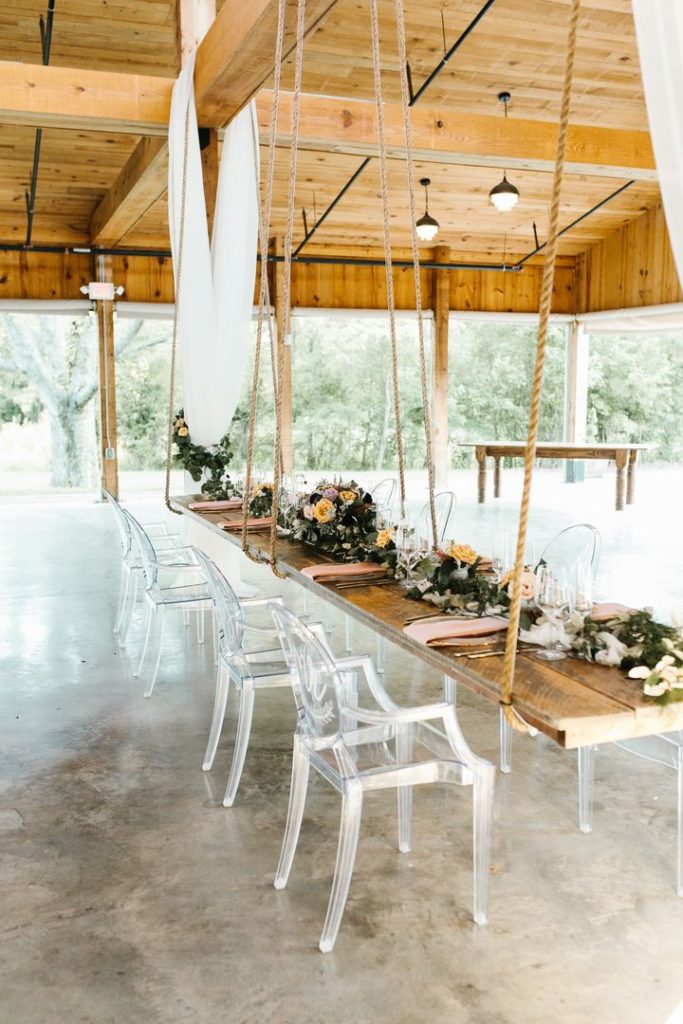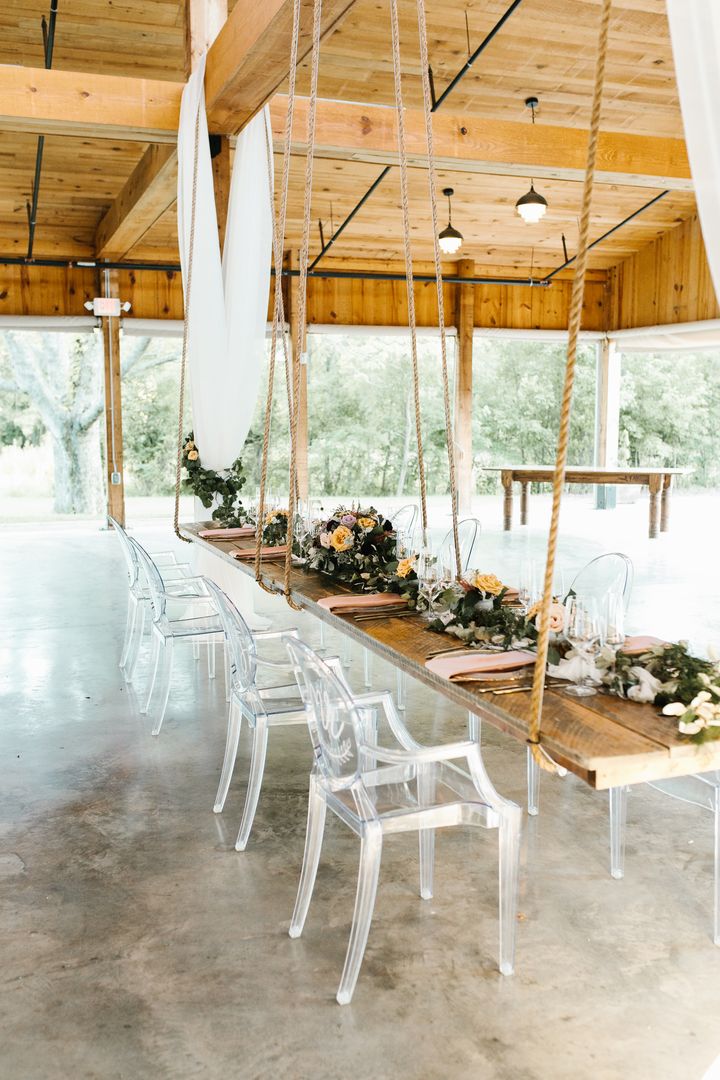 TAGS | Artisan China, Austin Flatware, Enchanted Florist, Gatsby Champagne Coupe, Ghost Chairs, Glass Charger with Gold Rim, Homestead Manor, Nashville Event Rentals, Nashville Wedding Rentals, Pure Glassware, Southern Events Party Rental Company, Tablescape, Unique Wedding Rentals, gold place setting, modern events, modern wedding, place setting, rouge chargers, rustic events, rustic wedding, southern events online
FEATURED RENTALS | ghost chairs, pure glassware, gatsby champagne coupe, artisan china, rouge chargers, austin flatware, glass charger with gold rim,
---
11

Jan

On Trend, Southern Events Products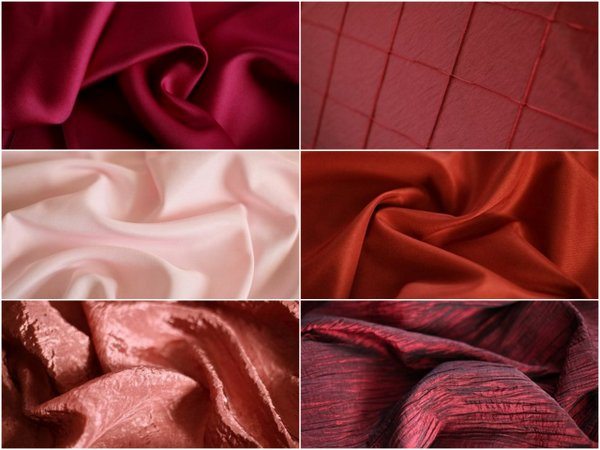 A softer, more delicate side of the season is captured through a rosy blush alongside bright white and dove grey rentals. This Rosy Winter Wonderland features a feminine hue upon refined metallic and alabaster details for a marvelous event design.  Southern Events has all the inspired rentals you need – leave all your Nashville and Franklin, TN party rental needs to us. This muted wintry palette will elevate your holiday gatherings, providing warmth and love during a cold season!
Rosy-hued Linens
Blush and burgundy linens will create a perfect base to your rosy winter wonderland style. Opt for textured linens like a pintuck or velvet to add need richness or layer our chiffon runners (below) for chic texture.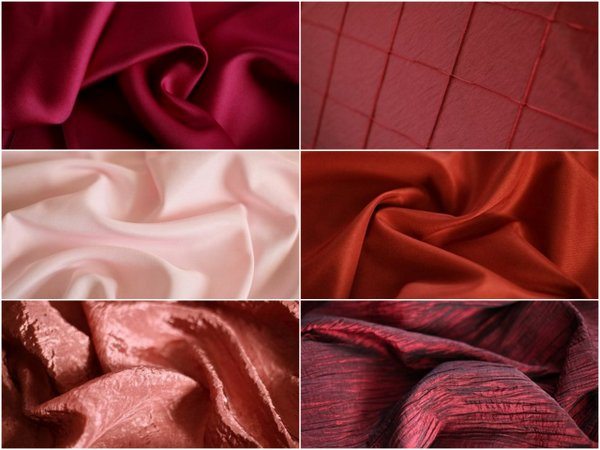 Grayson Farm Table
Chic elements combined with a muted rose quartz make for an enchanting winter soiree. Start with our classic Grayson Farm Table – the perfect neutral setting for a wintry design, with chic craftsman character in a gorgeous gray.
Earthen China
Treat your attendees to dinner on our sleek Earthen China, available in stone and alabaster. The neutral modern elegance gives way to more ornate pieces of decor, including any additional gold or rose elements ready to be highlighted throughout the tablescape.


Sparkling Glassware
Sophisticated martini glasses add a little extra vibrancy to your cold weather event. Serve signature cocktails or mocktails in style while elevating you bar's design.
Dove Grey Chiffon Runner
A slightly sheer fabric with soft texture, the Dove Grey Chiffon Runner is perfect along tables or draped on throughout various bars. Mixed with golden details, it elevates gilded winter design.
Bloom Chiffon Runner
Our Bloom Chiffon Runner is well-loved, and it's no wonder: muted rose quartz make for an enchanting affair. Adding this unexpected color to your winter soiree will leave guests feeling warm and cozy all season long. Drape it over a bar, or beneath floral centerpieces for a thoughtful design.
White Franklin Bars
Functional and beautiful, our White Franklin Bars are a crisp winter white with a timeless design. Serving up plenty of guests? Grab two 8ft Franklin Bars and place a mini bar with a lush centerpiece between them for a decidedly classic look.
Austin or Brushed Copper Flatware
Mixed metals exude a chic and stunning vibe no matter how you style it so naturally, our gold and copper flatware is a must have. We love how it warms up a wintry event and is perfectly suited to bring more depth to bright white plate like our Darcy China.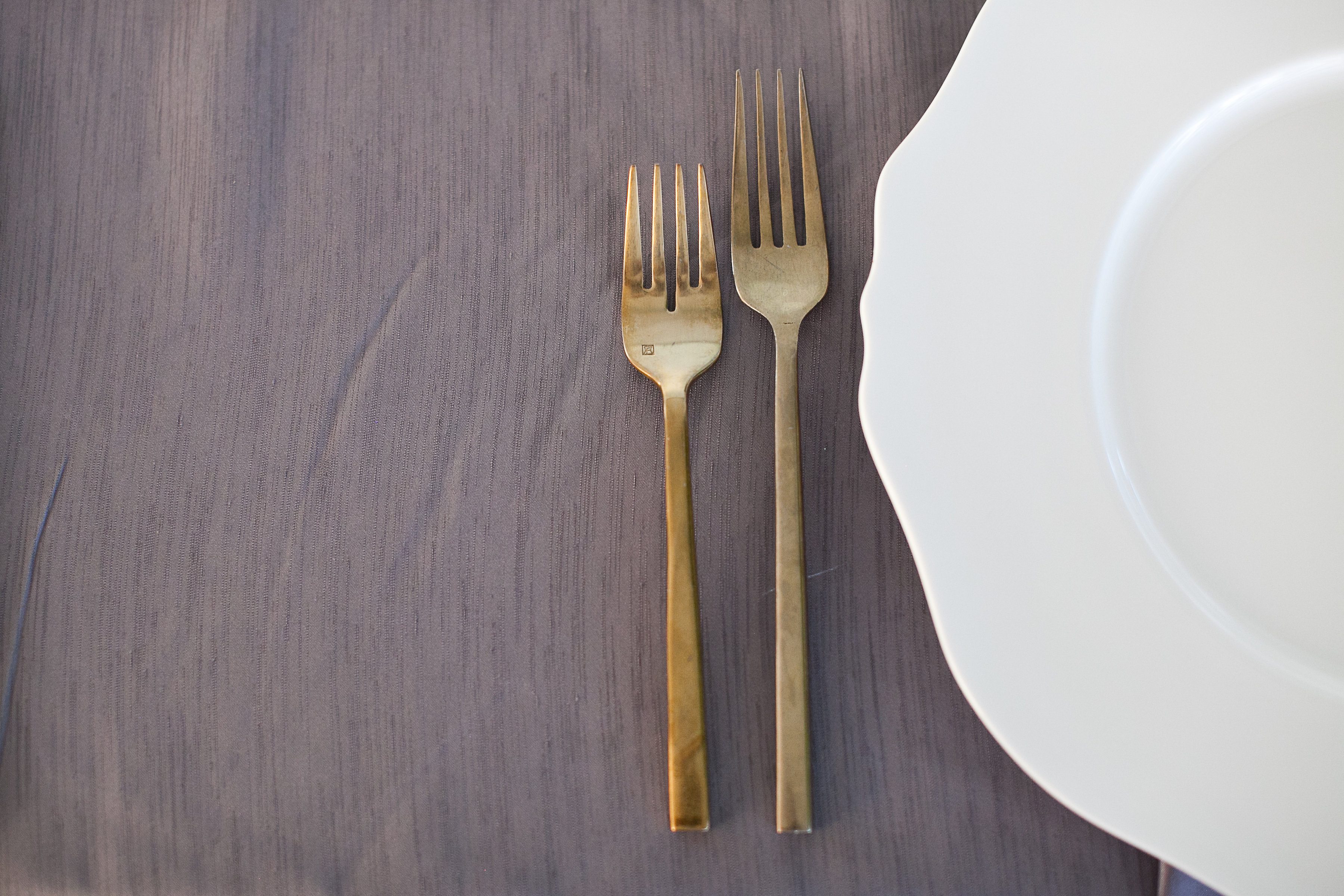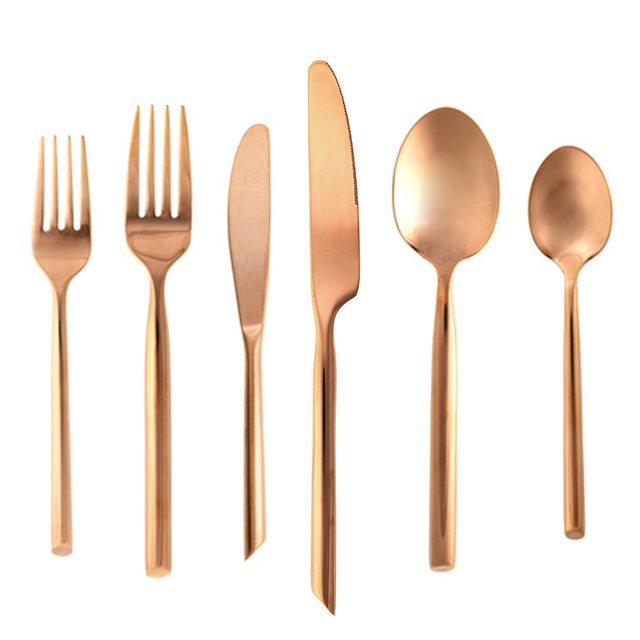 Mercer White Leather Couch with Mercer White Leather Ottoman
Continue your wintry design with the Mercer White Leather Couches, beautiful whether used as dining sofas or lounge areas. Paired with the Mercer White Leather Ottoman, you simply can't go wrong.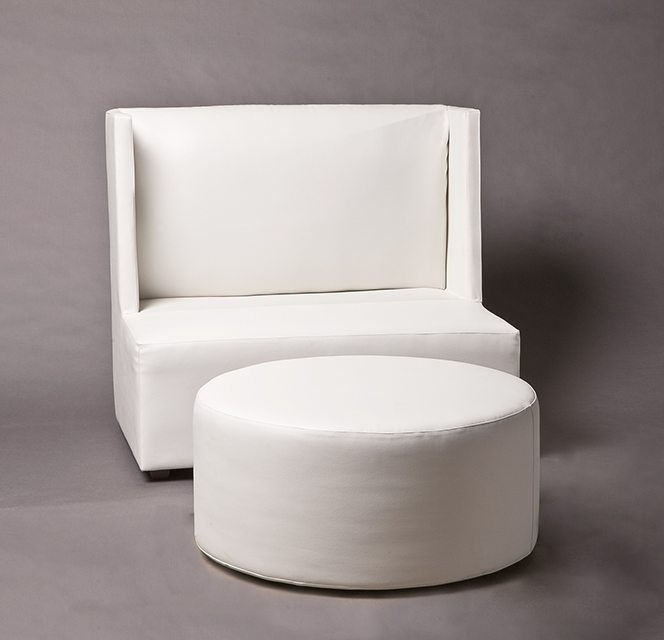 Looking to create a chic and feminine winter wonderland for your upcoming event? Get in touch with our team of experts to learn more and reserve rentals for your Nashville and Franklin, TN events, info@southerneventsonline.com.
TAGS | Austin Flatware, Franklin Bar, Grayson Farm Table, Mercer Ottoman, Nashville Event Rentals, Nashville Wedding Rentals, Nashville party rentals, Southern Events, Southern Events Party Rental, Southern Events Party Rental Company, Southern Events Party Rentals, Unique Wedding Rentals, Vintage Wedding Decor, chiffon table runner, earthen china, franklin party rentals, mercer couch, mercer leather couch and ottoman, southern events online, southern style events, southern weddings, winter event rentals
FEATURED RENTALS | grayson farm table, earthen china, austin flatware, mercer couch, mercer ottoman, mercer leather couch and ottoman, chiffon table runner, franklin bar
---
9

Nov

Southern Events Products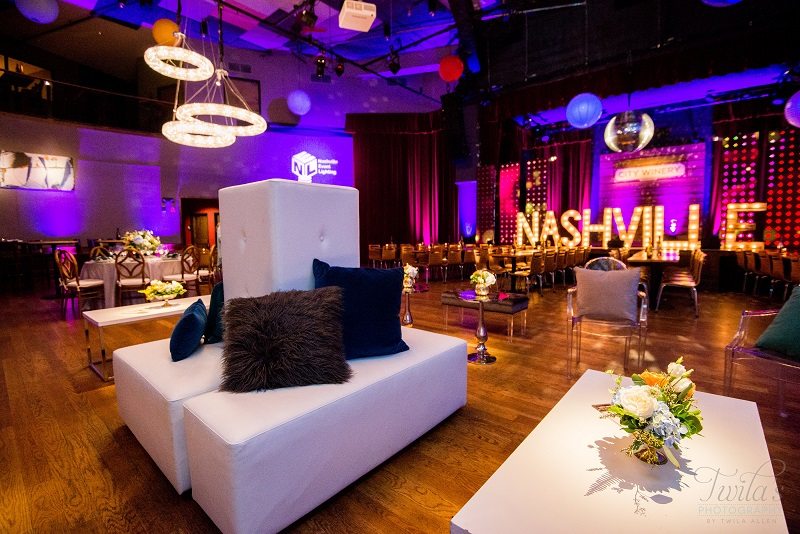 Our most recent corporate event transformed Nashville City Winery's concert and event space into a sleek and sophisticated space for networking over cocktails and dinner. The open house utilized a variety of our comfortable seating options, including the Rhapsody in Blue Side Chairs, our Nickel Grey Bench with acrylic legs, and Ghost Arm Chairs with plush pillows for a stylish lounge area. Seating was accented by our white and chrome Mykonos Coffee Table and chrome Cece Silver Side Tables, keeping the style sleek and sophisticated.
Our new White Leather Mercer Tower with L-Shaped Benches were highlighted and with good reason.  The "L" Tower is powered, meaning it can be used as a charging station for guests! Busy professionals, who come to corporate events with work still on their minds, love this feature. And giving guests an extra charge surely showcases Southern hospitality – who doesn't appreciate a central spot to charge their phone?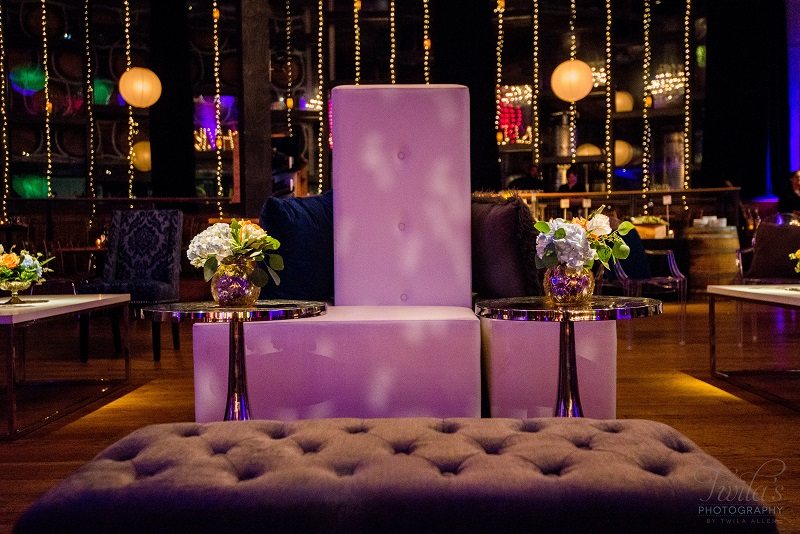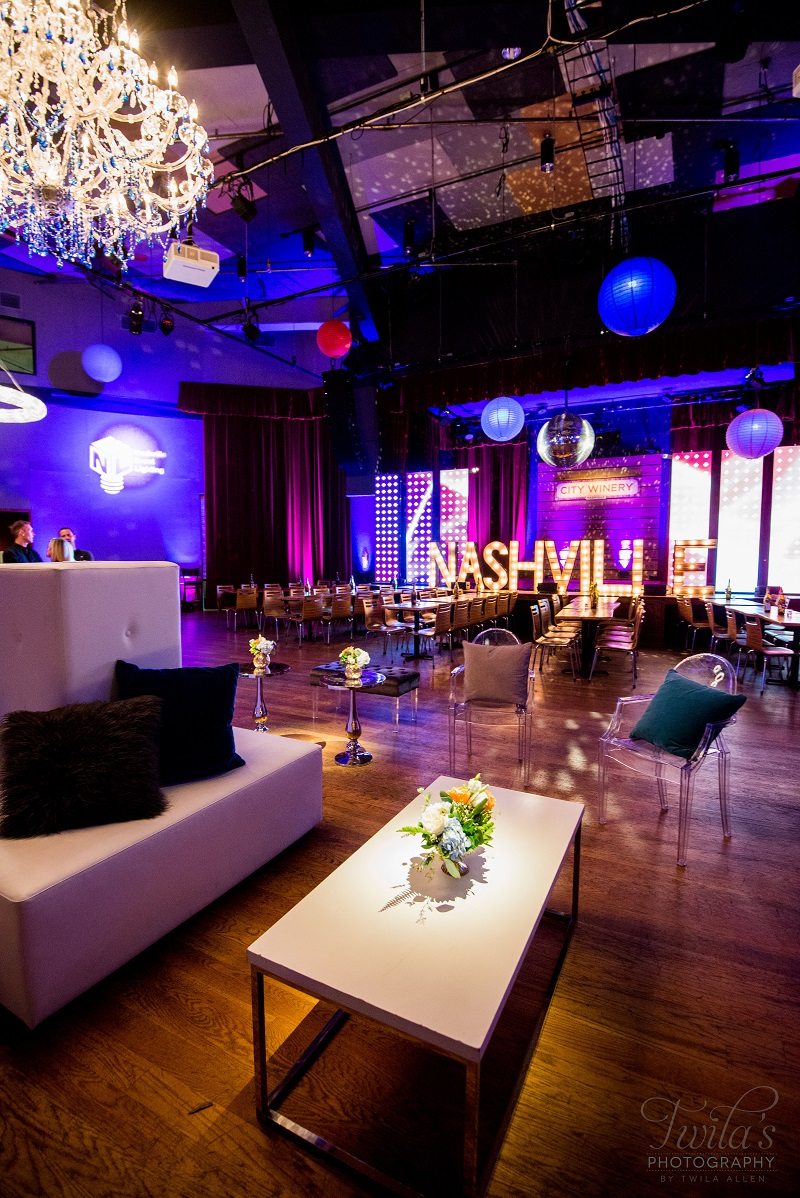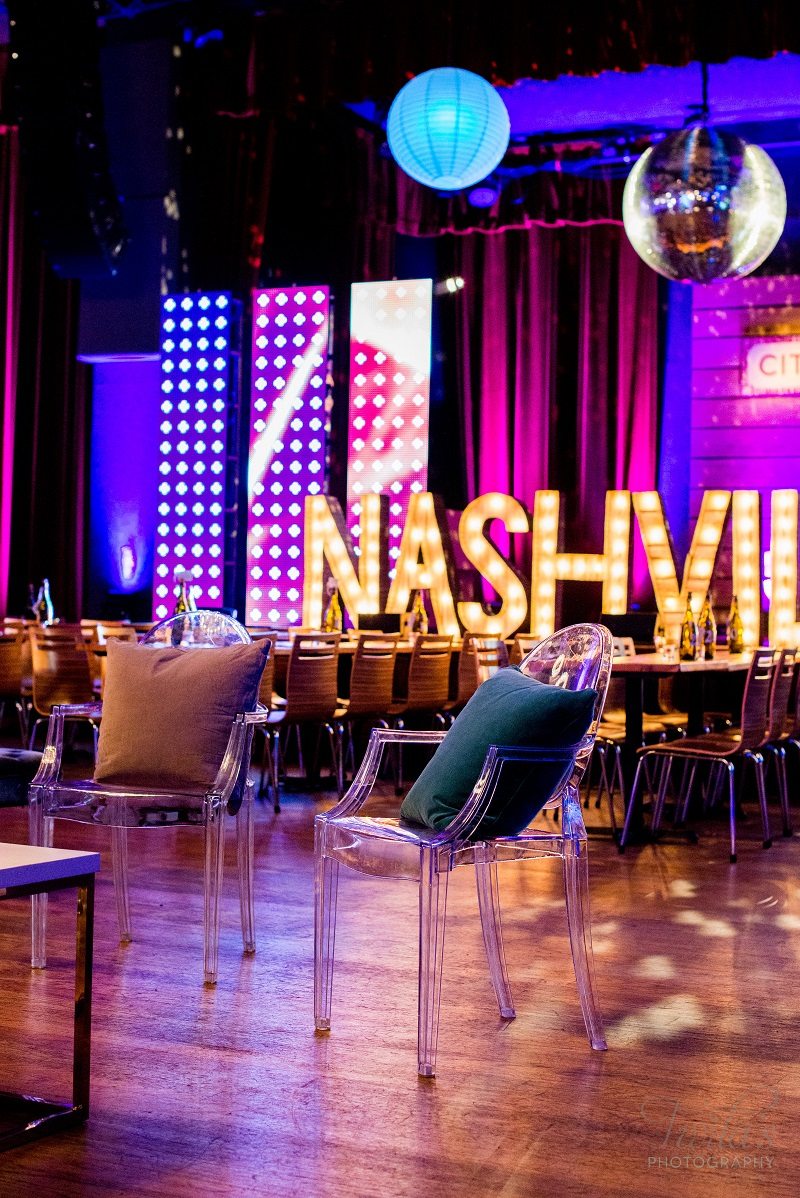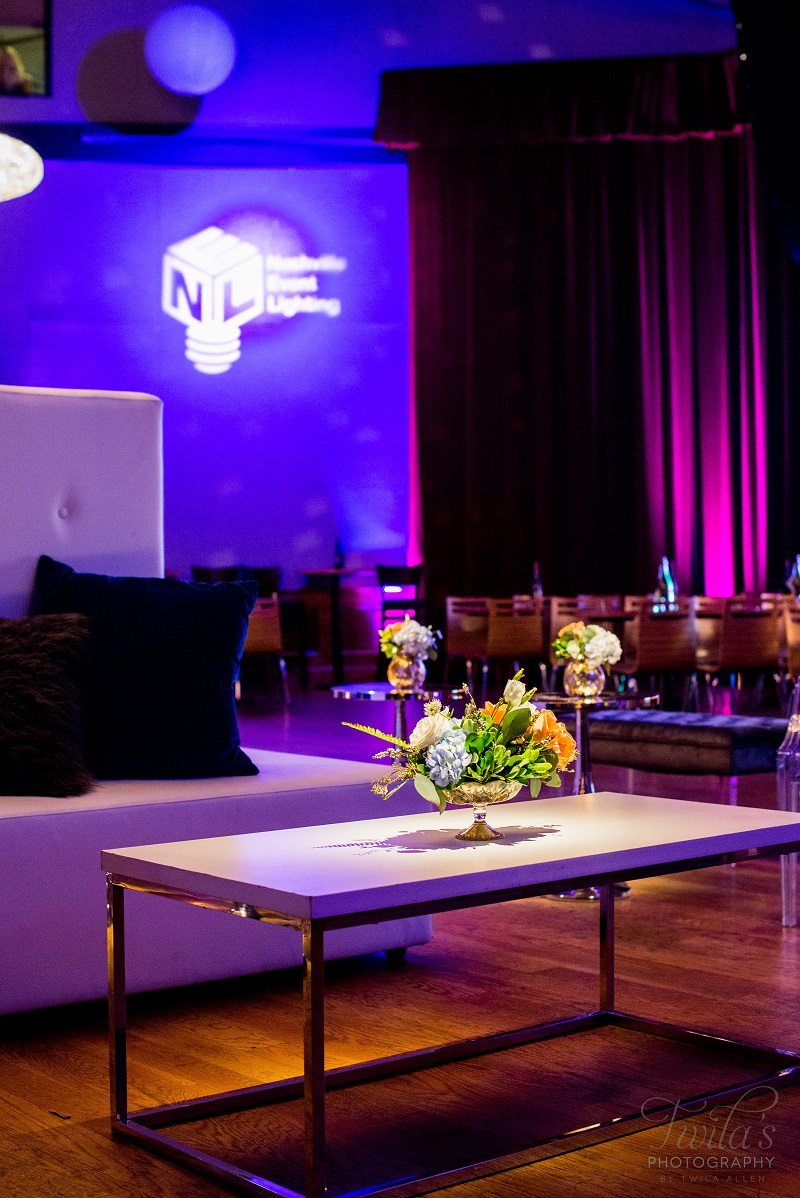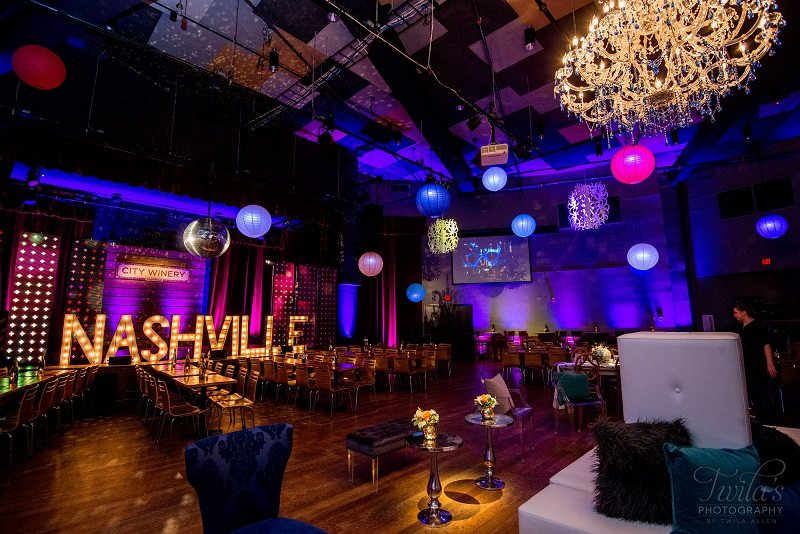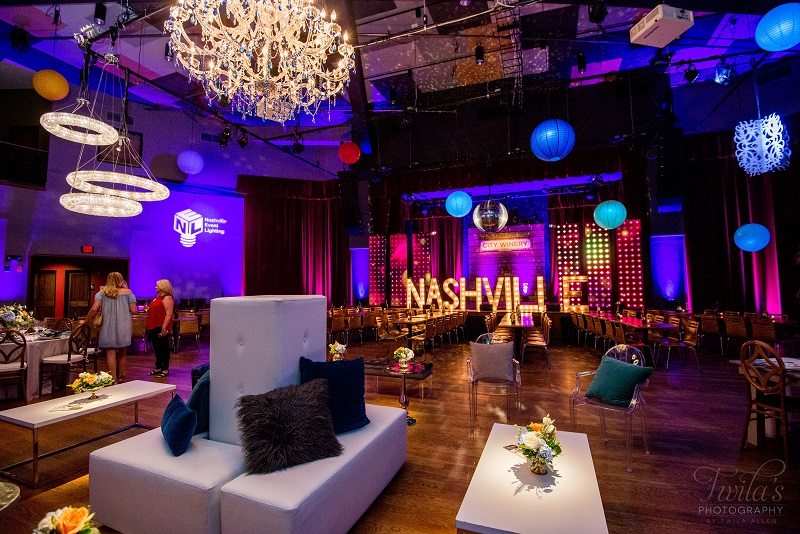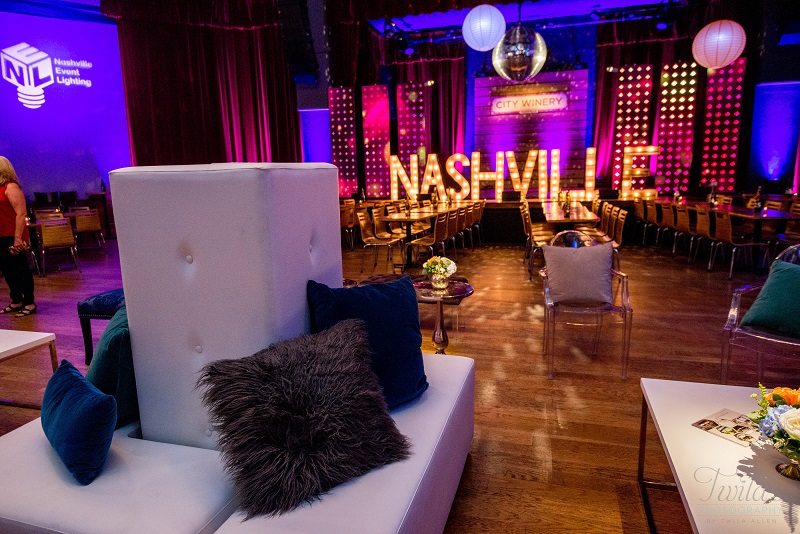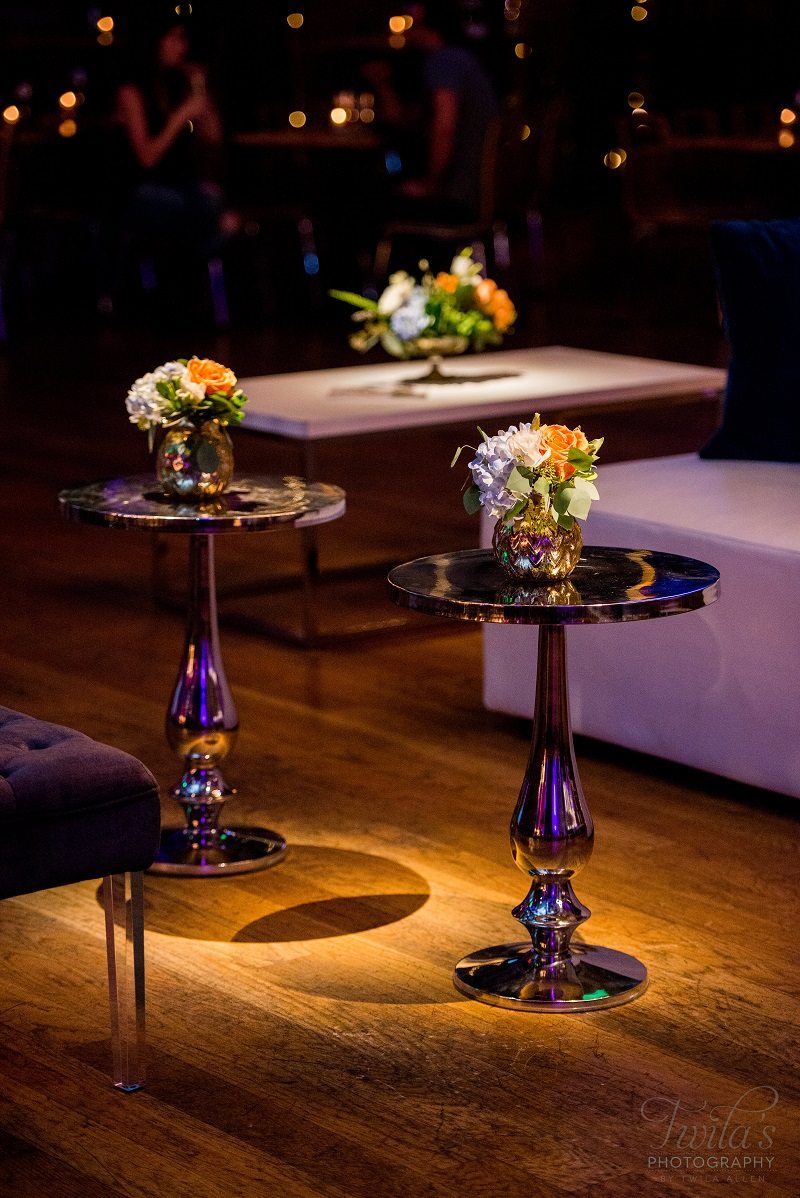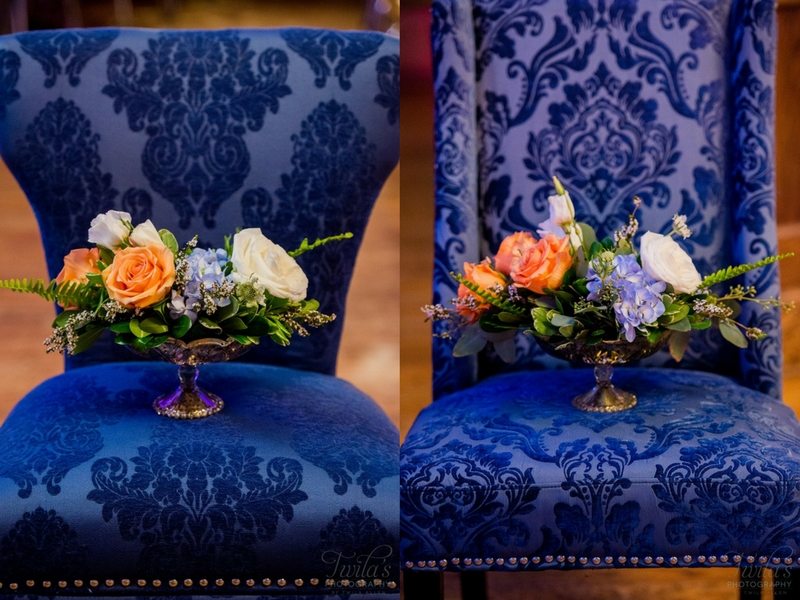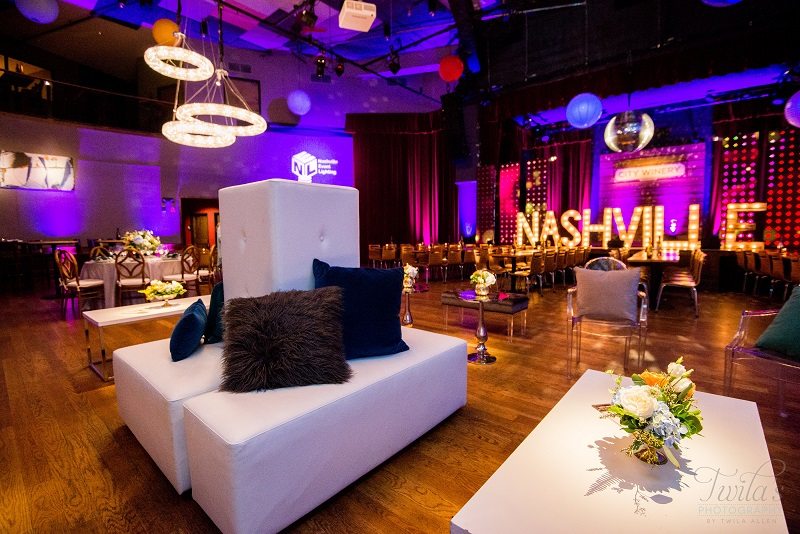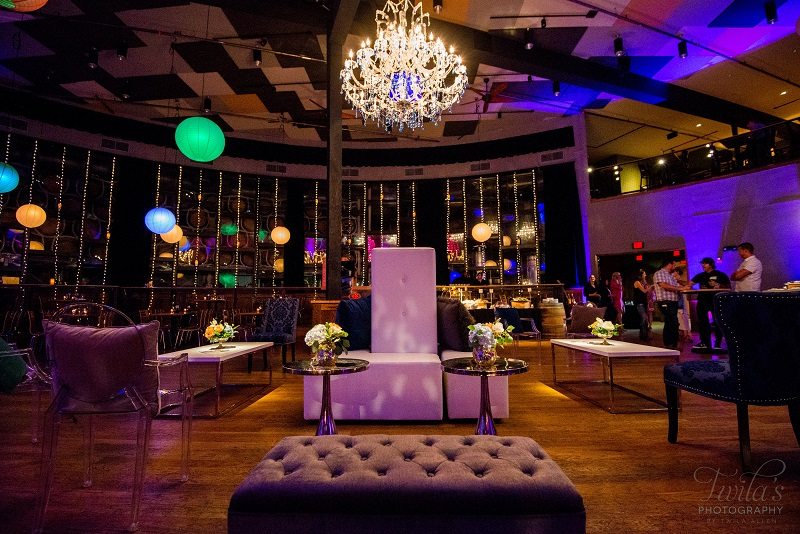 City Winery has tables and chairs of its own so we create a few inspiration tables for guests These paired the ever-popular Grayson Farm Tables with Chiffon Runners and the new Harlin Dining Chairs for a sleek and Southern design. Gold Austin Flatware was placed next to Glass Chargers with Gold Rim, along with our Darcy White China dinner plates and our new Gold Accent China Plates in Coronado and Laguna designs.
Shout out to Nashville Event Lighting for heading up the event and their stunning lighting design – it really made the space shine!  And thanks to Twila's Photography for the photos.  Such a wonderful event – we can't wait for all the events City Winery will hold!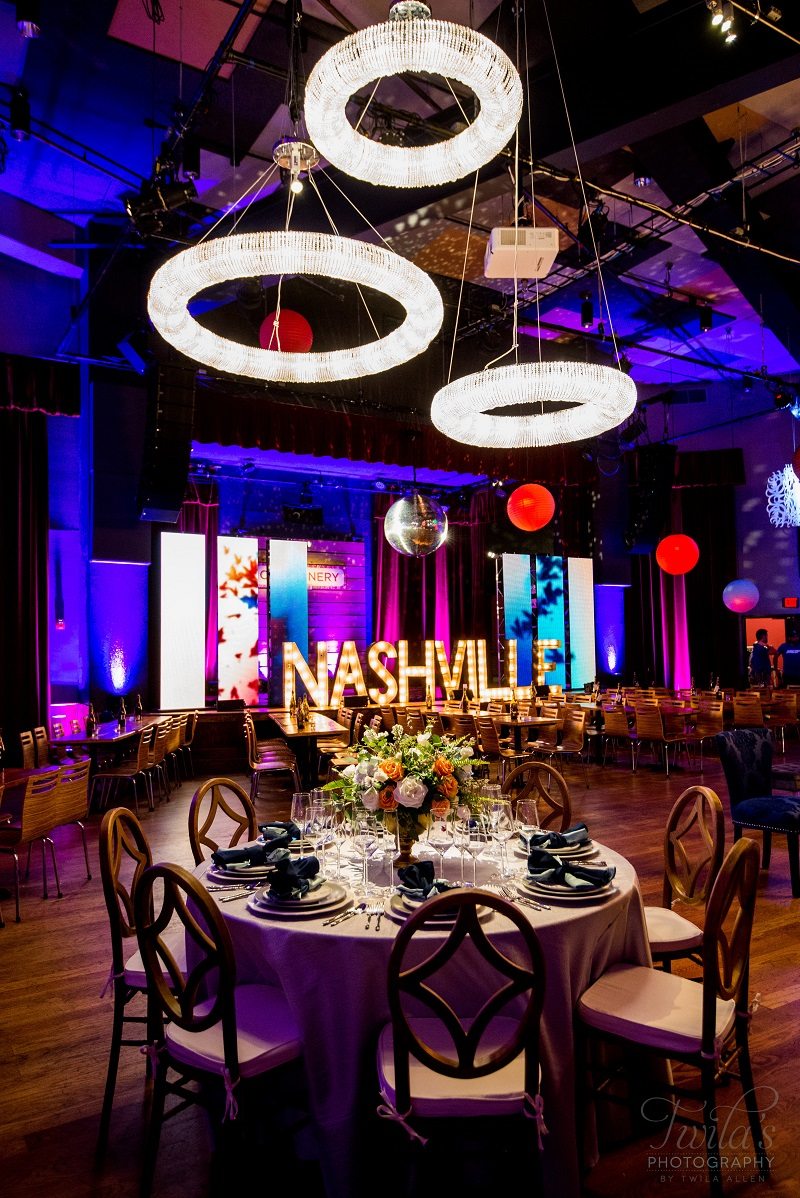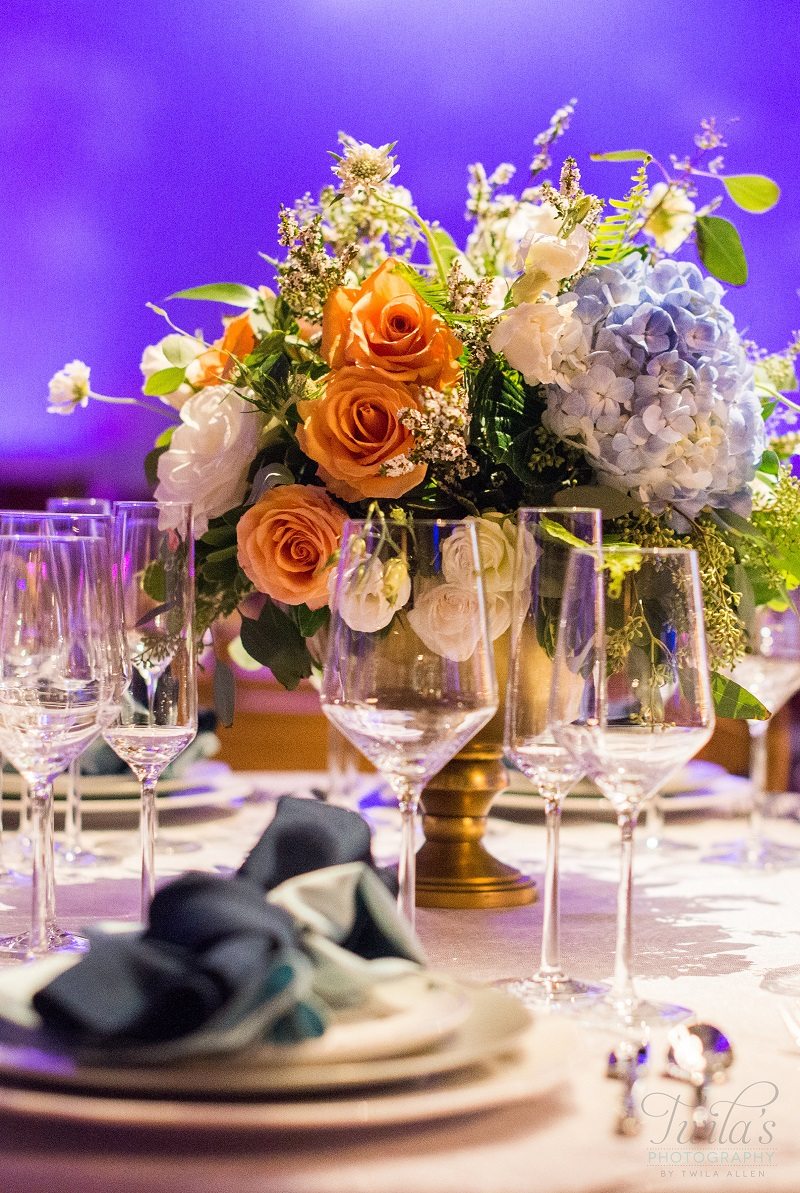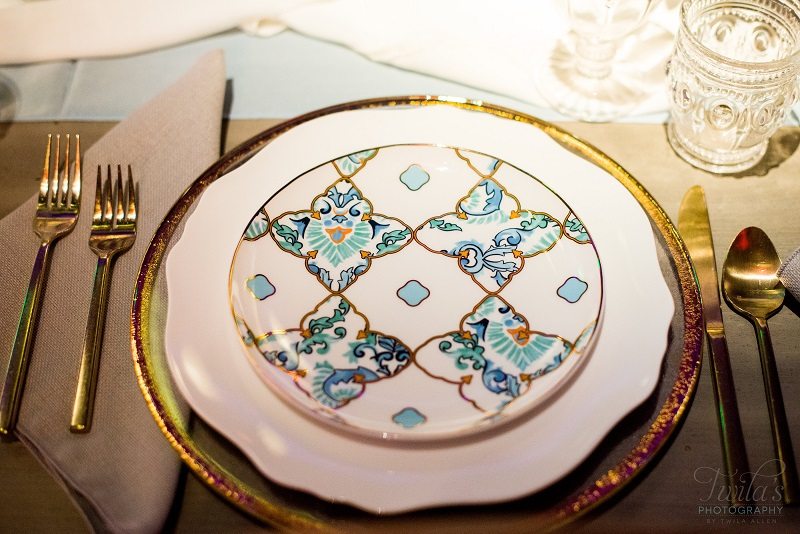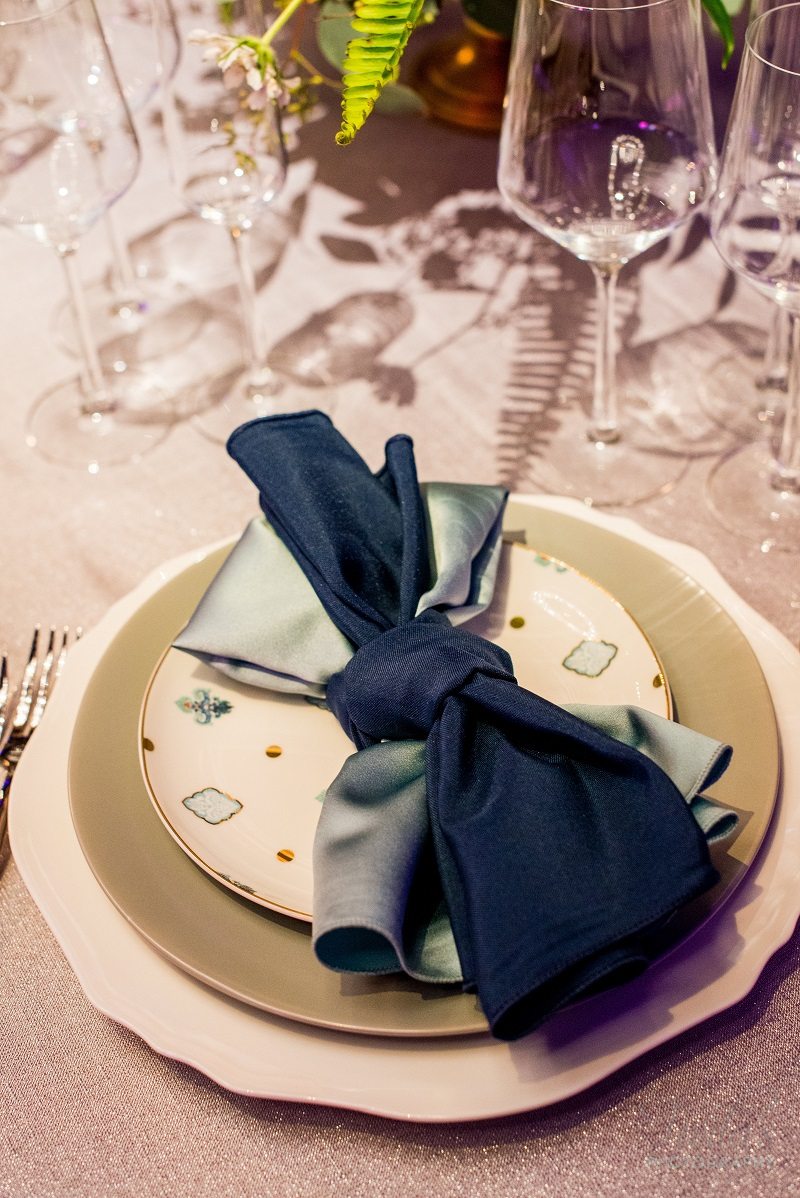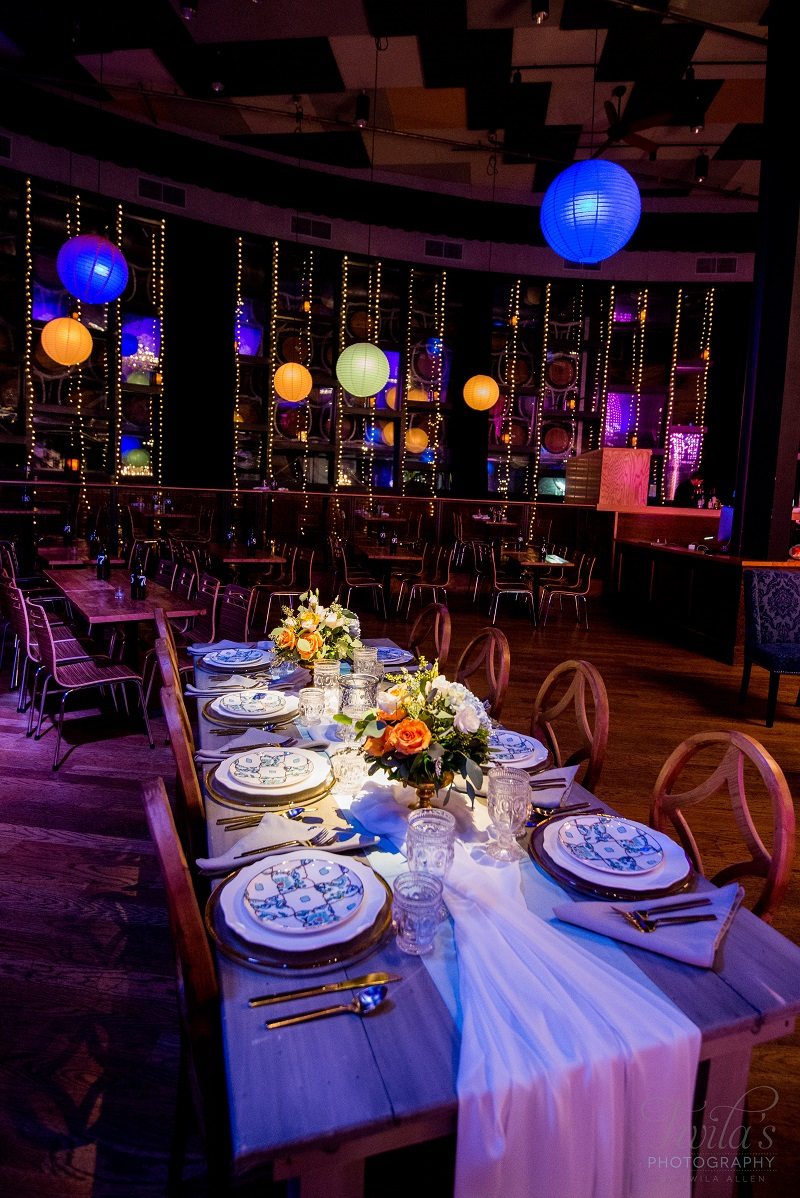 TAGS | Austin Flatware, Chiffon Runners, Darcy White China, Ghost Arm Chairs, Glass Chargers with Gold Rim, Gold Accent China Plate Coronado, Gold Accent China Plate Laguna, Grayson Farm Tables, Harlin Dining Chairs, Nickel Grey Bench, Rhapsody in Blue Side Chairs, White Leather Mercer L-Shaped Benches, White Leather Mercer Tower, city winery, corporate event rentals, event rentals in franklin tn, event rentals in nashville, southern event rentals, southern events online
FEATURED RENTALS | Rhapsody in Blue Side Chairs Nickel Grey Bench Ghost Arm Chairs White Leather Mercer Tower White Leather Mercer L-Shaped Benches Grayson Farm Tables Chiffon Runners Harlin Dining Chairs Austin Flatware Glass Chargers with Gold Rim Darcy White China Gold Accent China Plate Coronado Gold Accent China Plate Laguna
---