1

Mar

Events and Style Shoots, Southern Events Products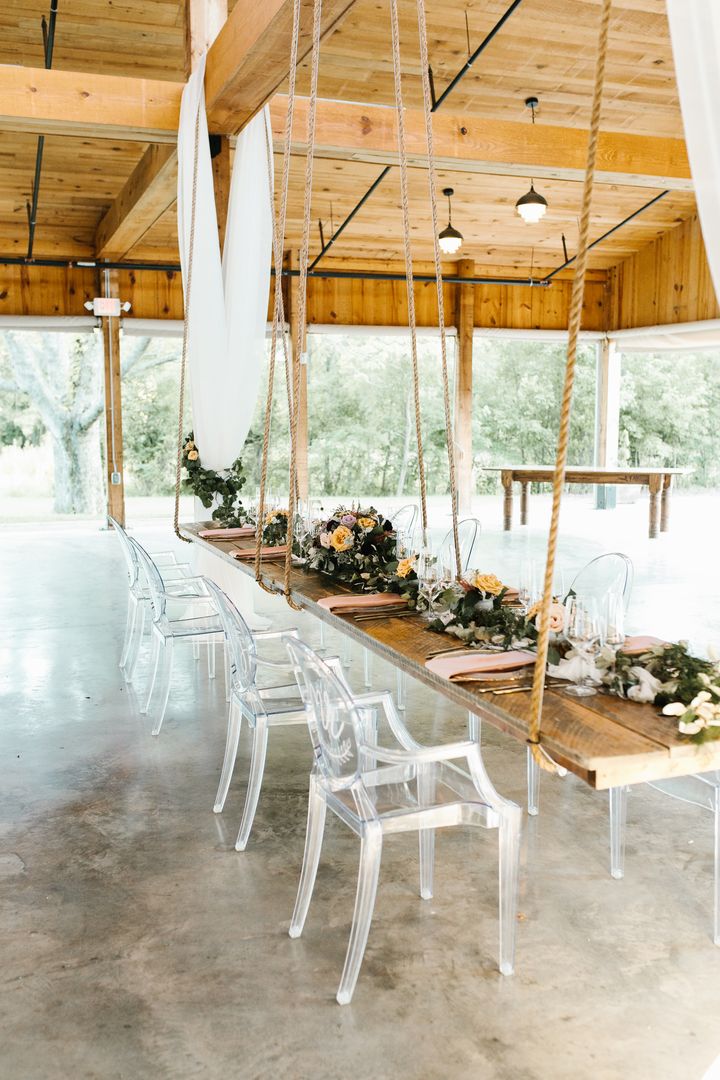 Clean, sophisticated lines and chic rustic details were a match made in Nashville heaven at our most recent Styled Shoot. We teamed up with Ruffled Feathers Events and Homestead Manor to transform their space with an inspiring aesthetic. Rustic beauty was literally suspended midair!
Golden metallics sat upon raw, natural wood to create a stunning design – it's classic rustic southern style all grown up, with modern flourishes and gilded details! For the first setting, our most-loved Austin Flatware sat elegantly next to the Gold Rim Glass Charge, topped with a copper-meets-mauve Russet satin dinner napkin. The second table setting saw Artisan China, Rouge Round Laquer Charger, and Gatsby Champagne Coupes, next to Pure Glassware – such a beautiful metallic rustic modern design!
Acrylic Ghost Chairs provided an enchanting touch of modern to the suspended wooden table. Our Pure Glassware completed the modern touch with sleek, crystalline lines.
Thank you to Madi Flournoy Photography for sharing these beautiful photos with us!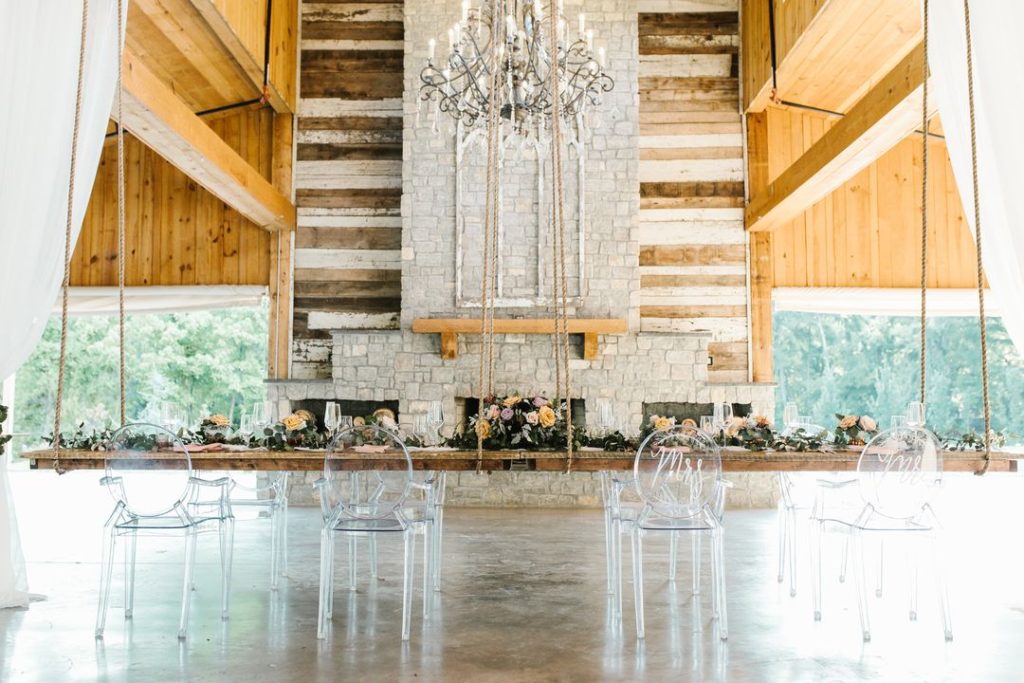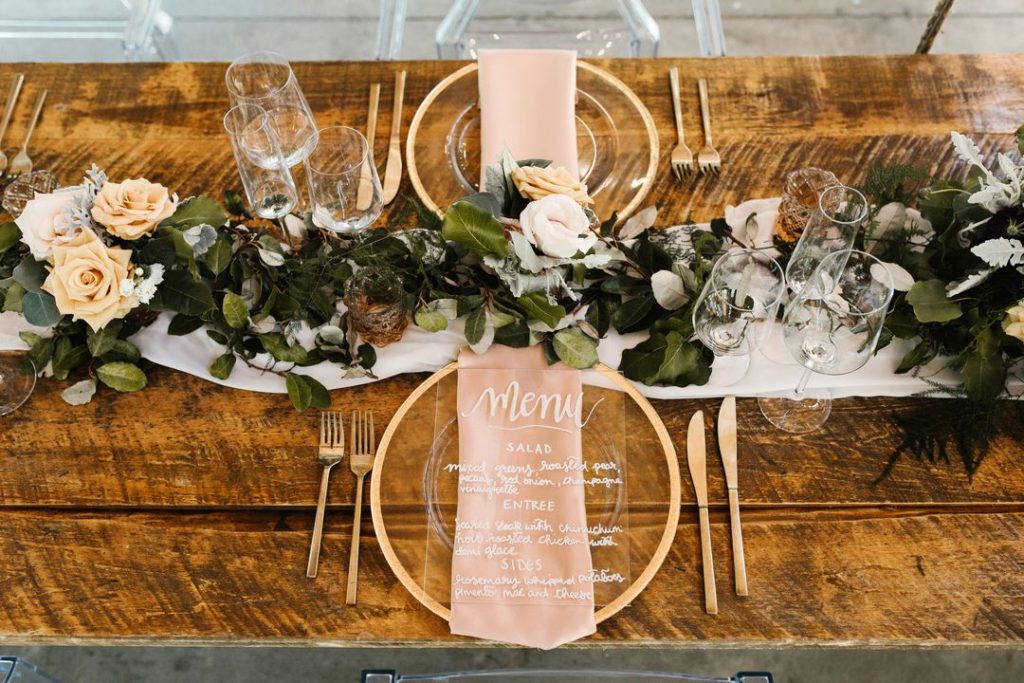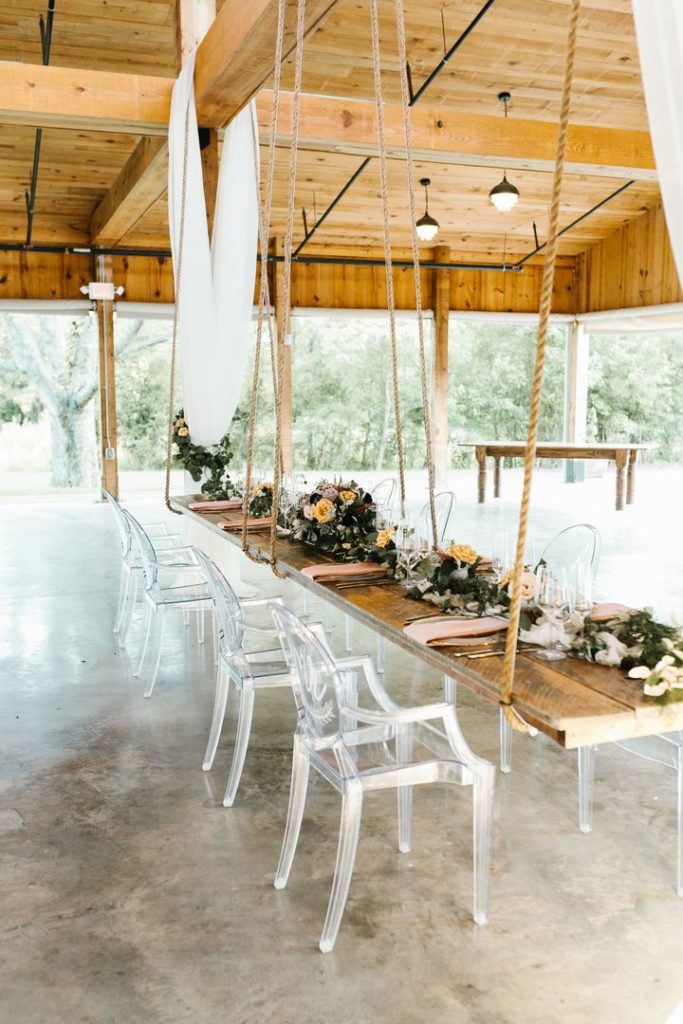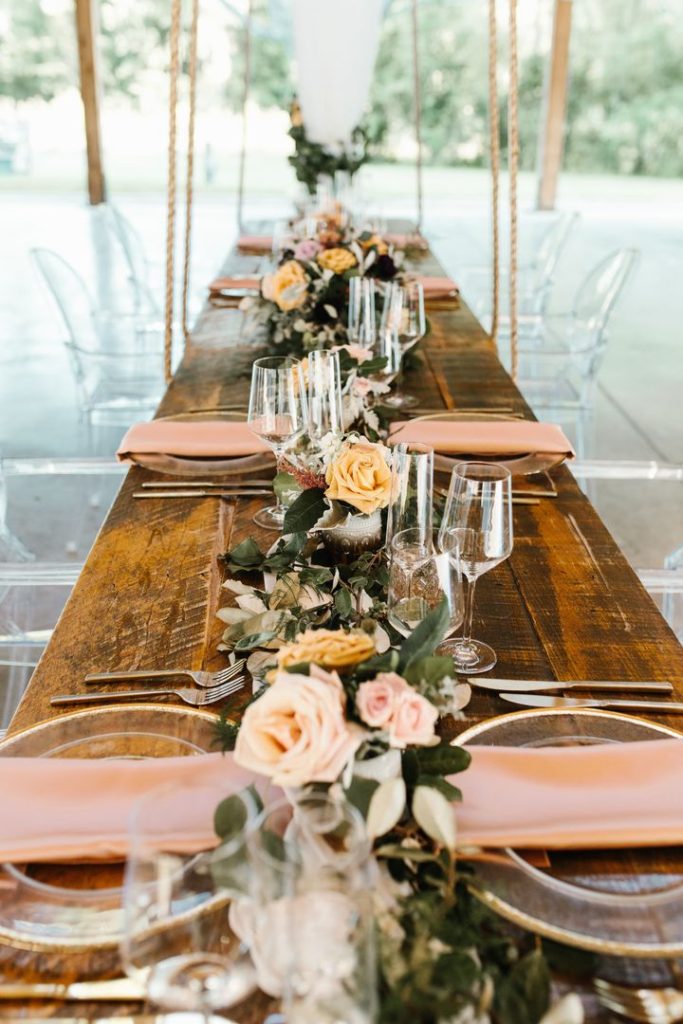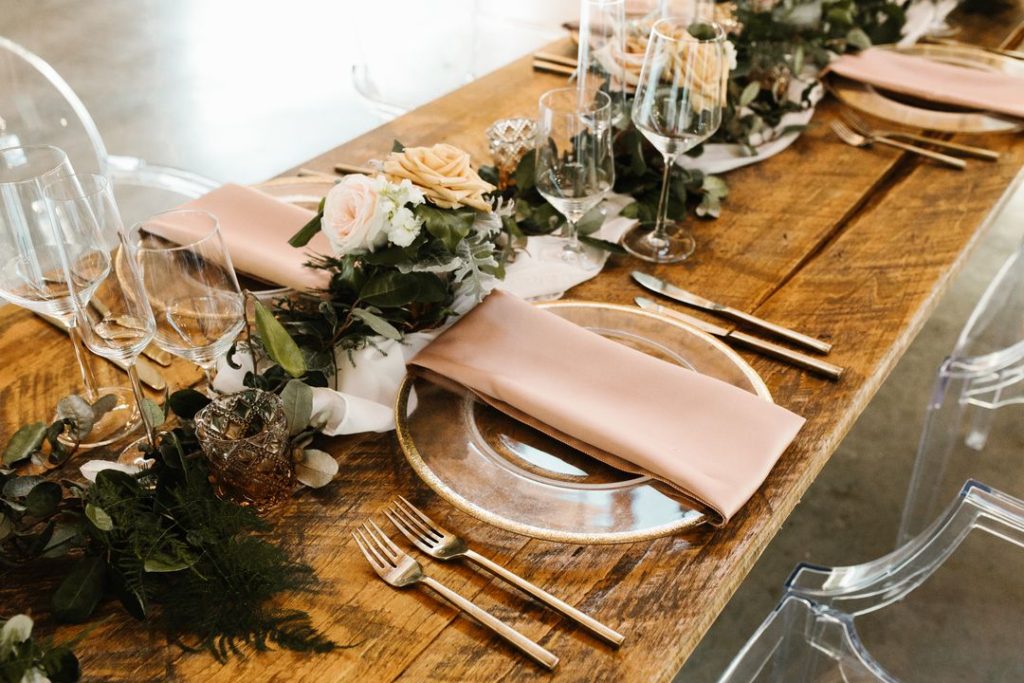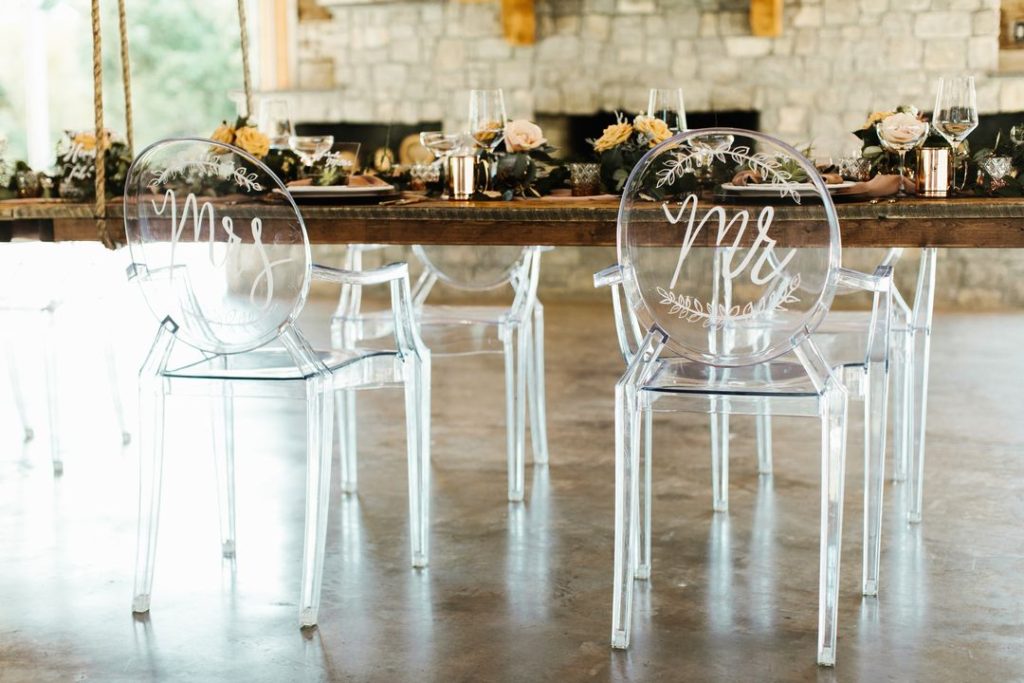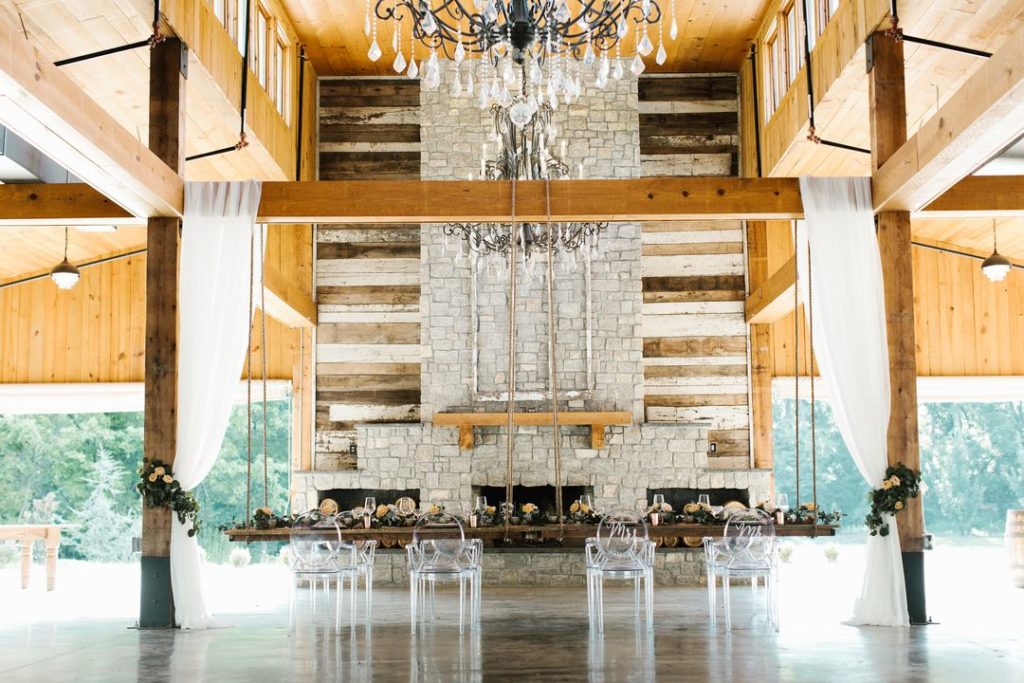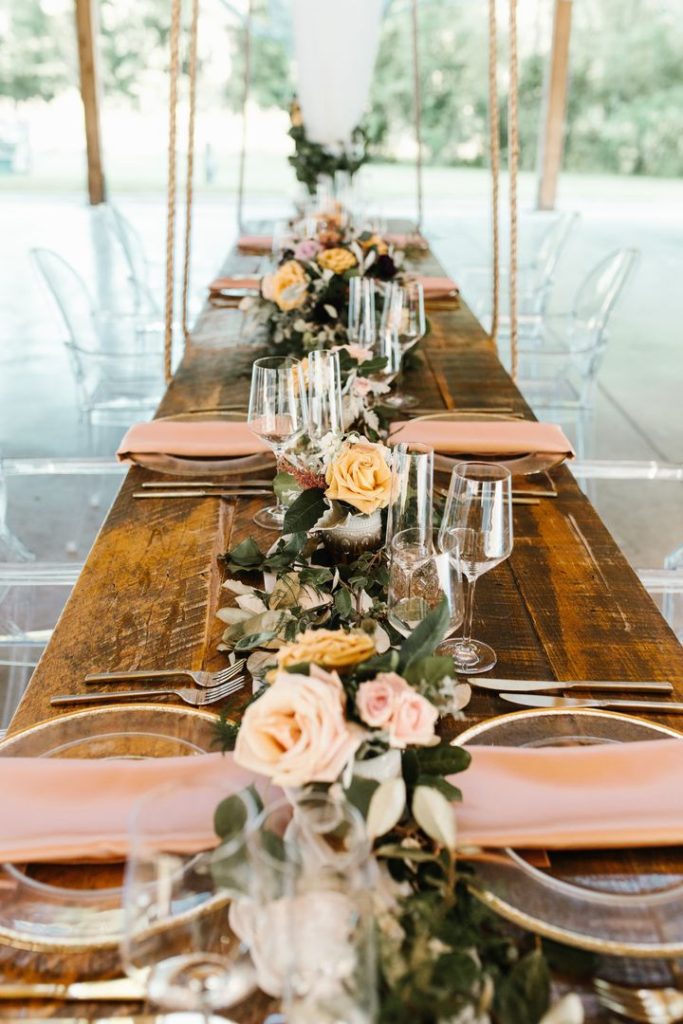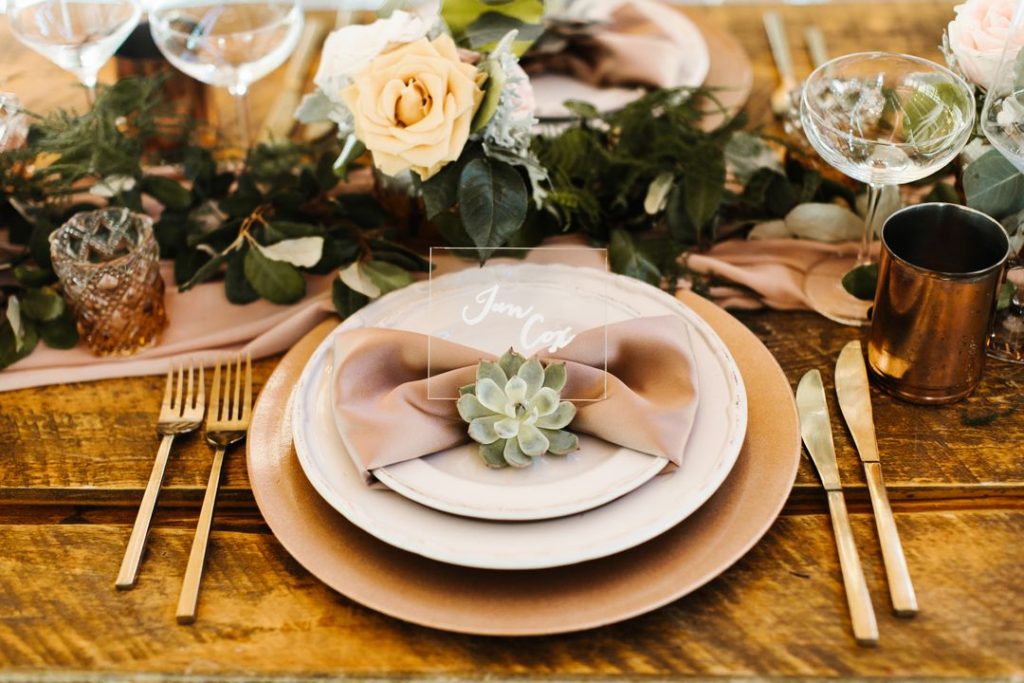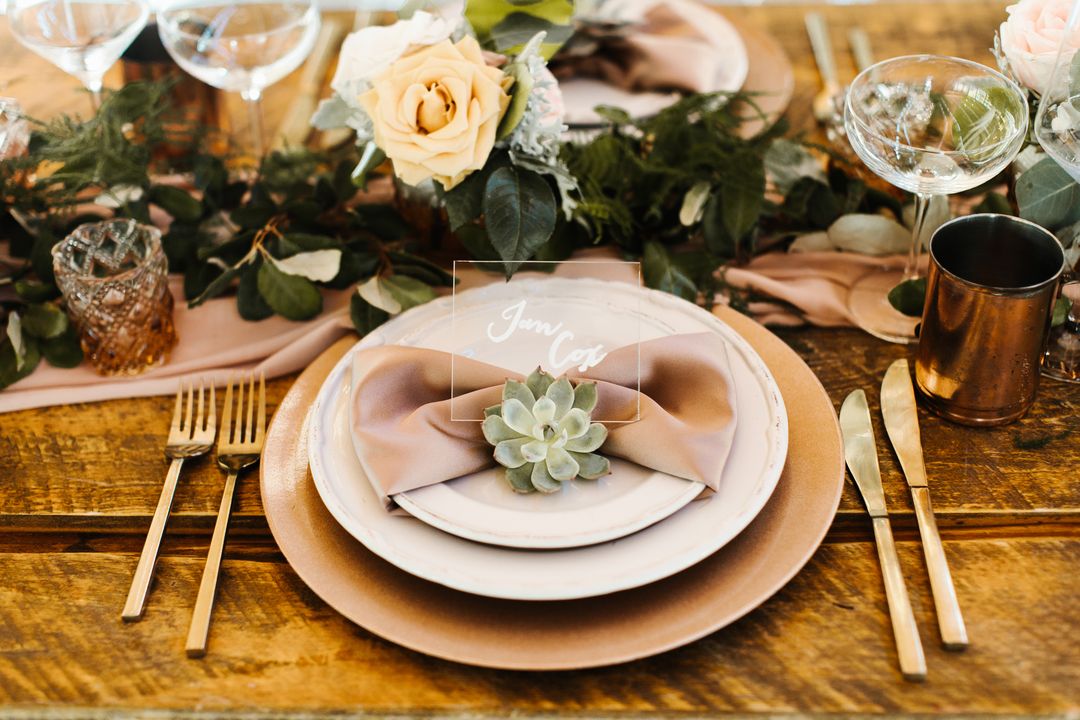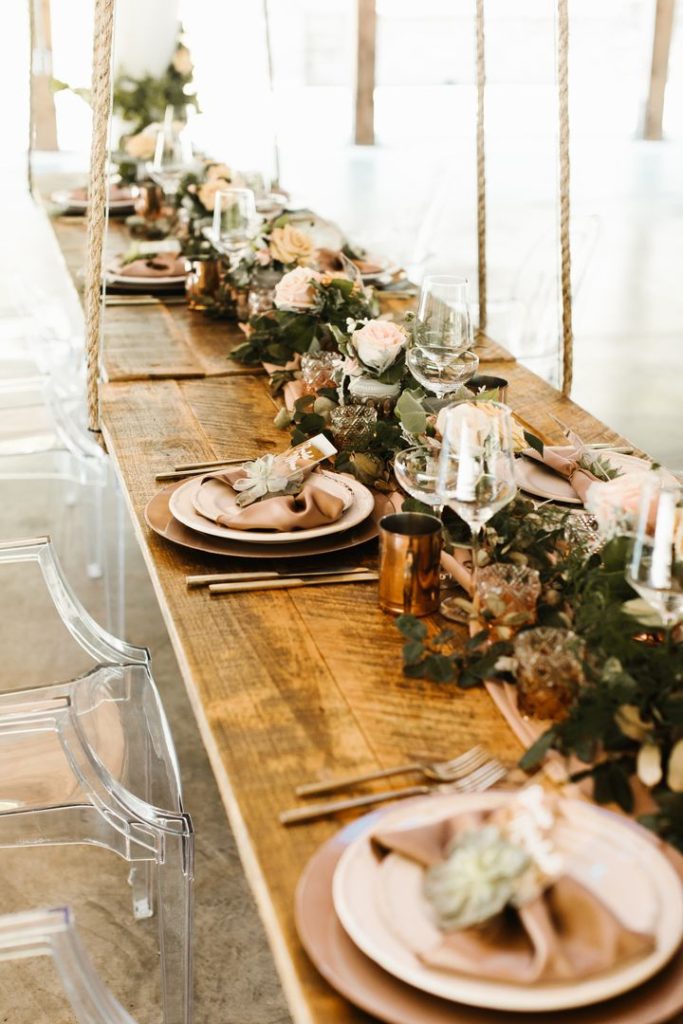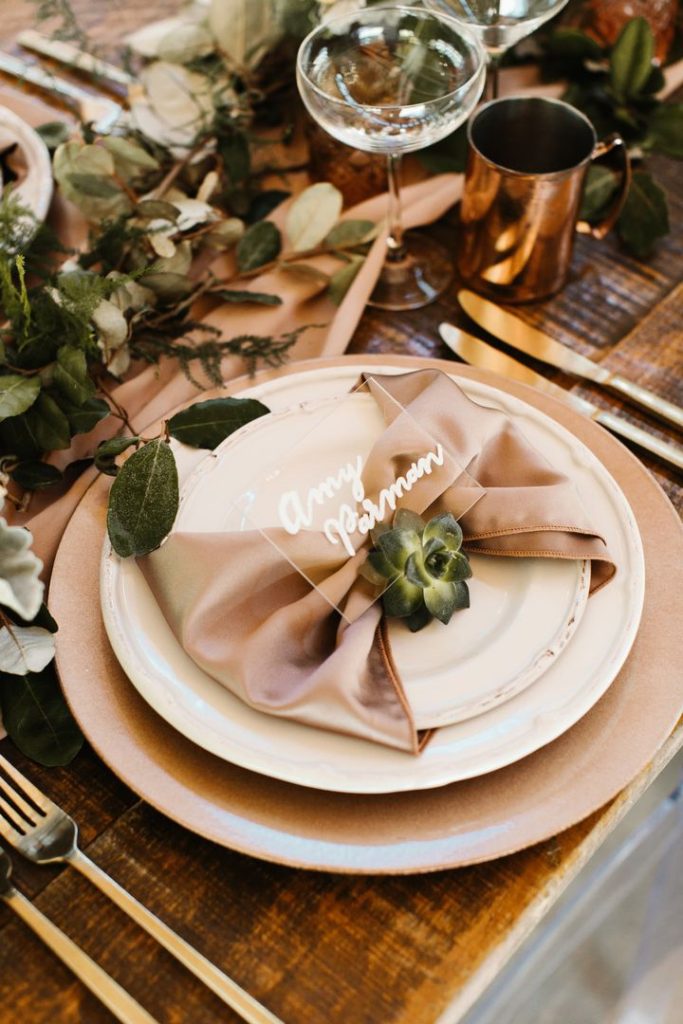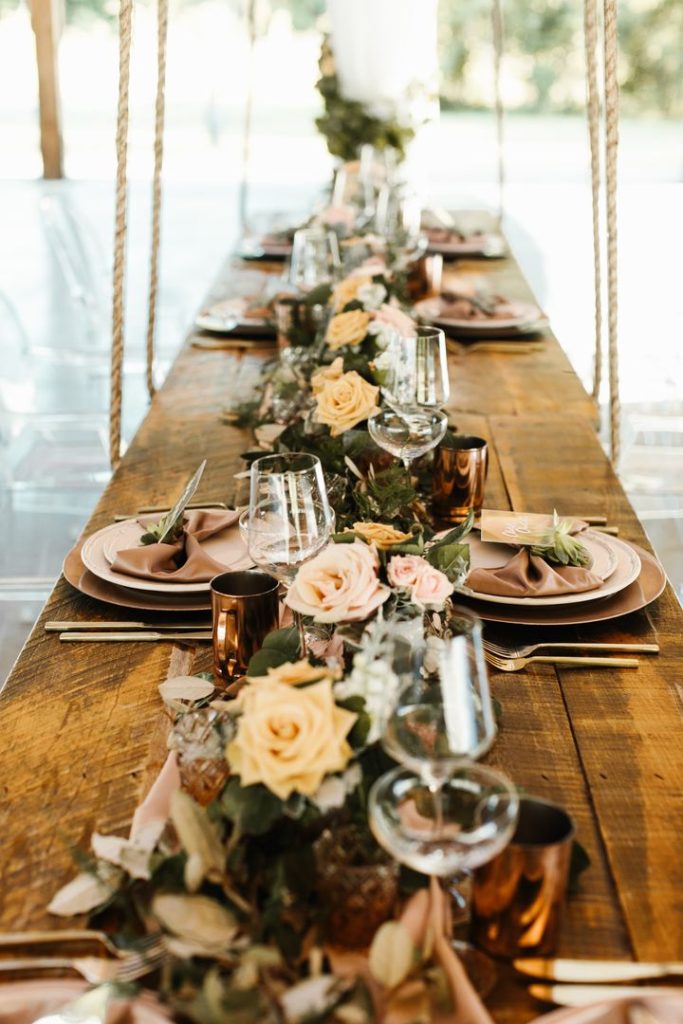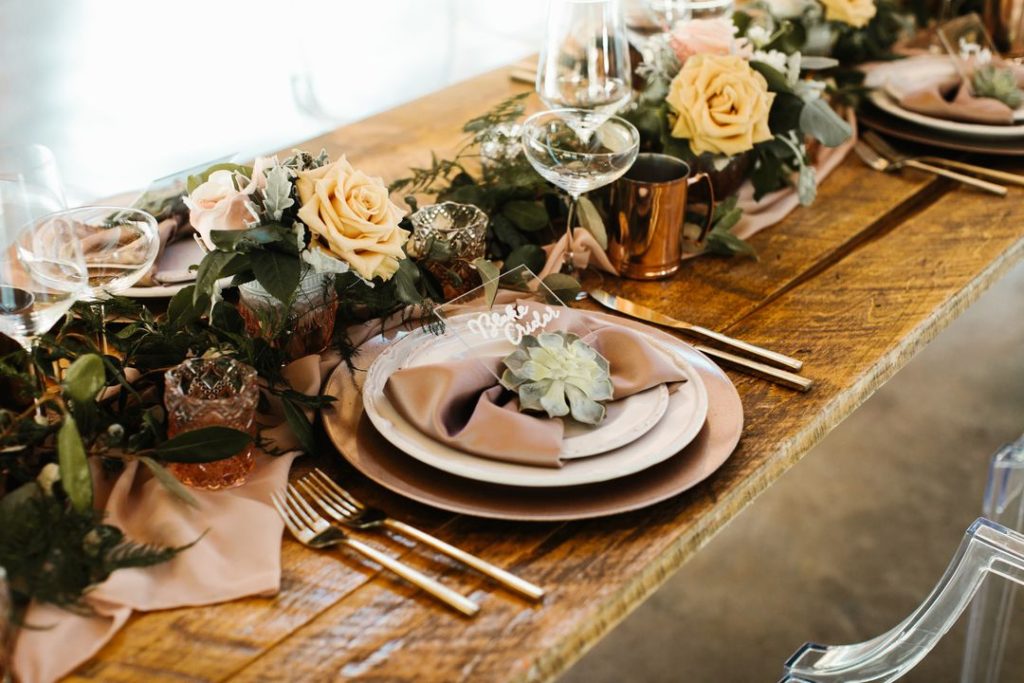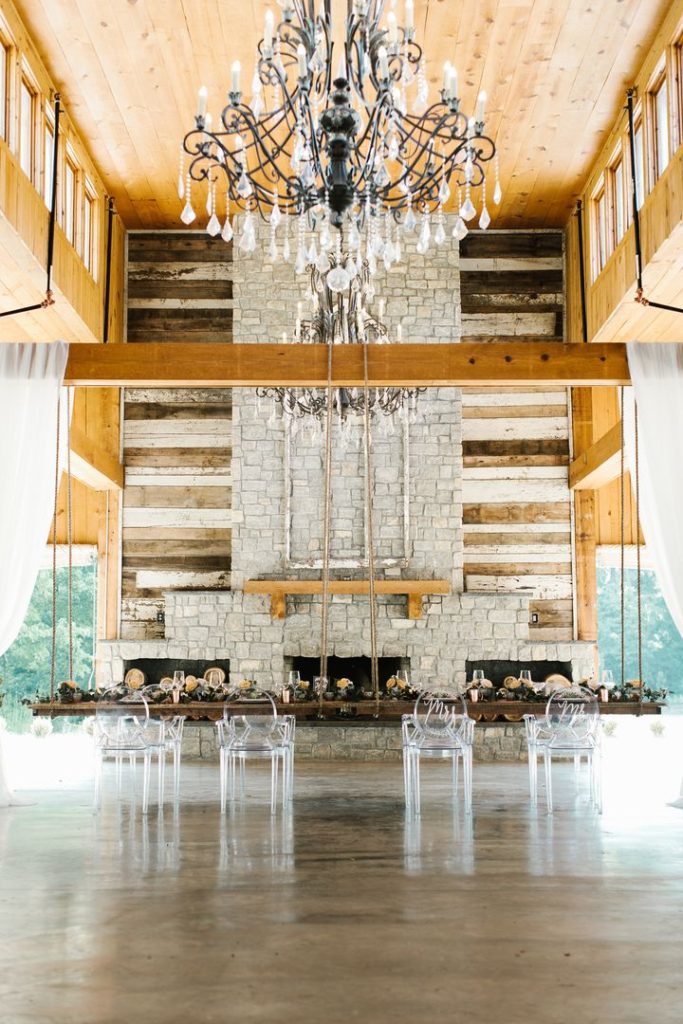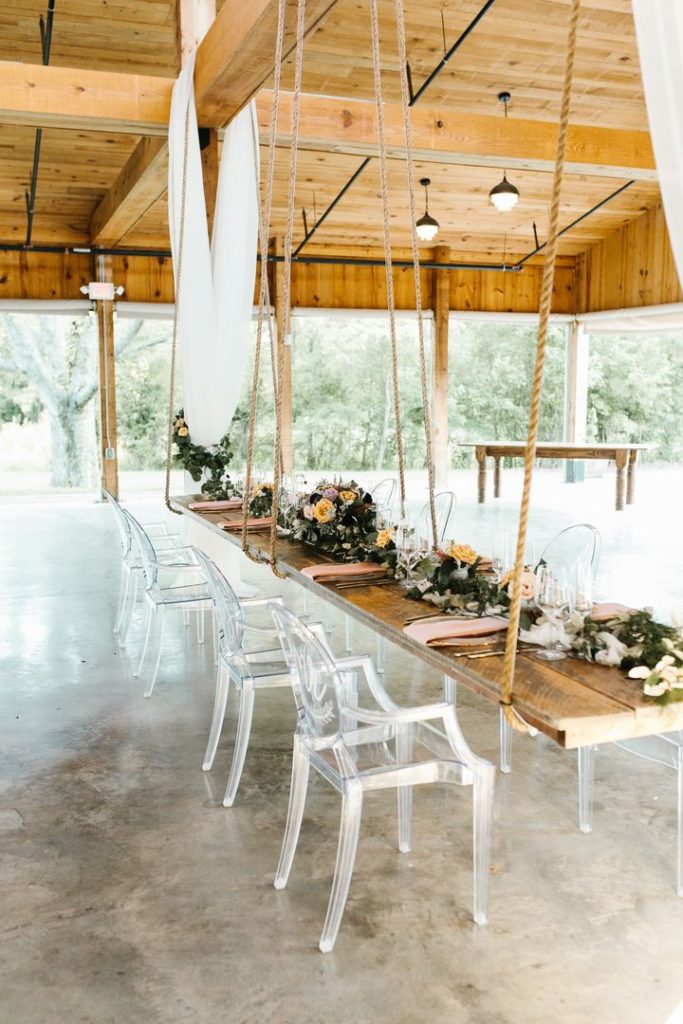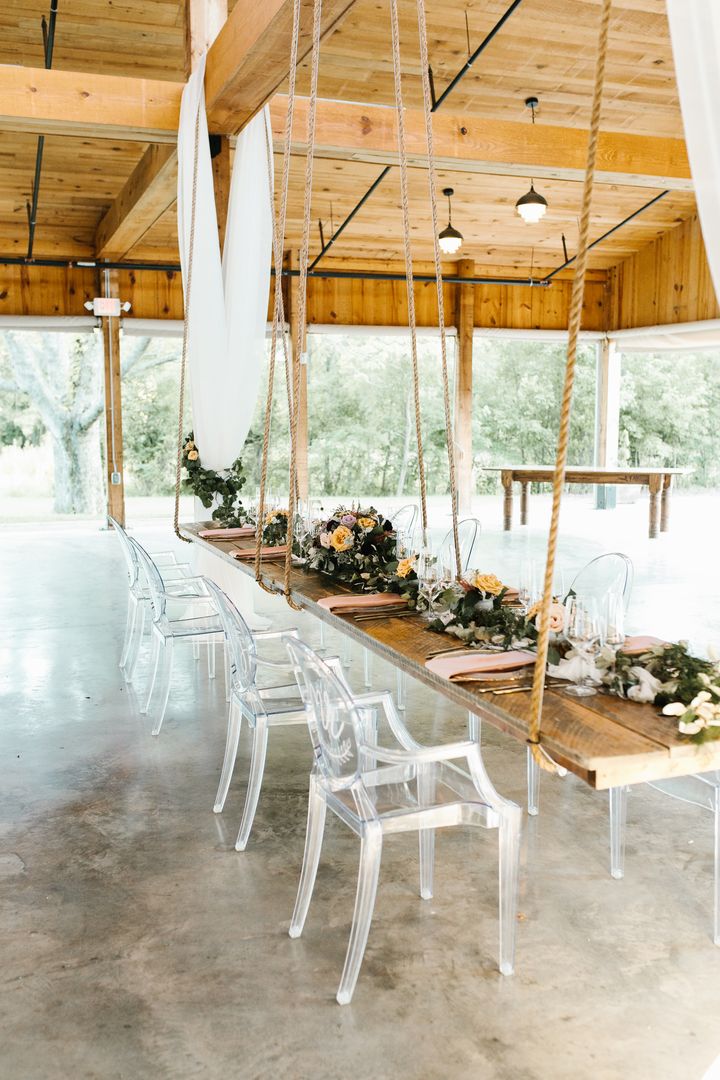 TAGS | Artisan China, Austin Flatware, Enchanted Florist, Gatsby Champagne Coupe, Ghost Chairs, Glass Charger with Gold Rim, Homestead Manor, Nashville Event Rentals, Nashville Wedding Rentals, Pure Glassware, Southern Events Party Rental Company, Tablescape, Unique Wedding Rentals, gold place setting, modern events, modern wedding, place setting, rouge chargers, rustic events, rustic wedding, southern events online
FEATURED RENTALS | ghost chairs, pure glassware, gatsby champagne coupe, artisan china, rouge chargers, austin flatware, glass charger with gold rim,
---
18

Jan

Events and Style Shoots, Southern Events Products, Vintage Prop Shoppe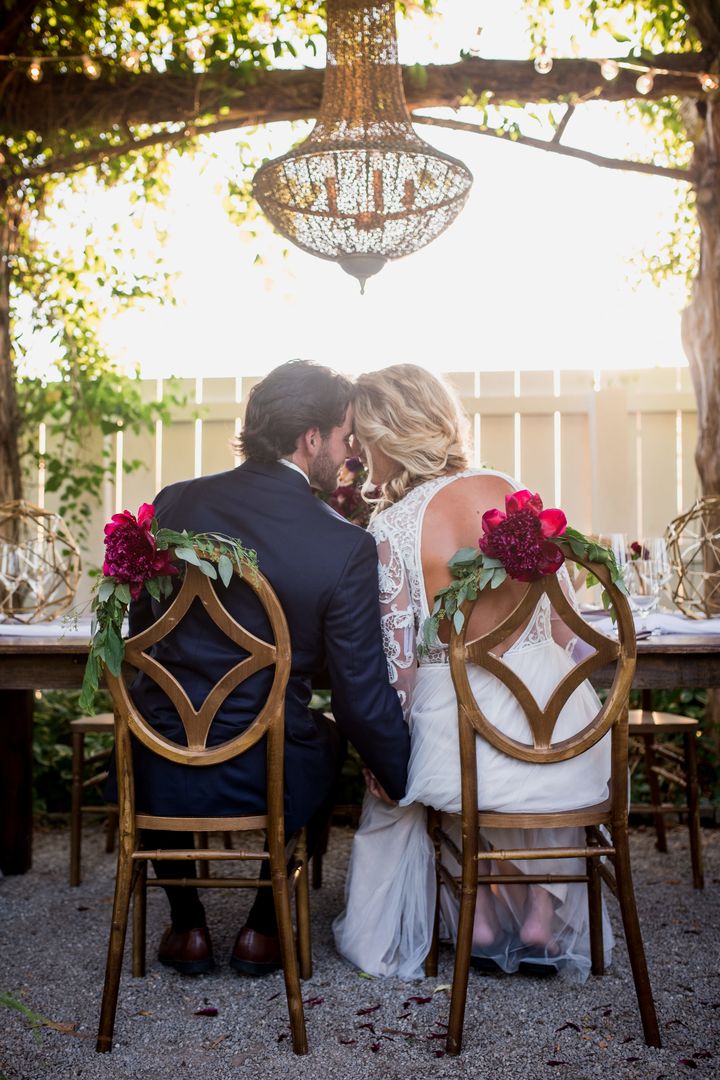 Planning your big day can be an overwhelming endeavor, but designing your big day should be genuinely fun and exciting! The overall style of a big day should reflect the couple's personalities and set the tone for a joyous occasion. No matter what design best encompasses you, adding character to your chosen wedding venue in Nashville or Franklin, TN is easily done with the right rentals.
Not sure exactly how to get started? The experts at Southern have put together different wedding styles to provide a little inspiration for your upcoming Middle Tennessee nuptials:
Wedding Style: Modern Chic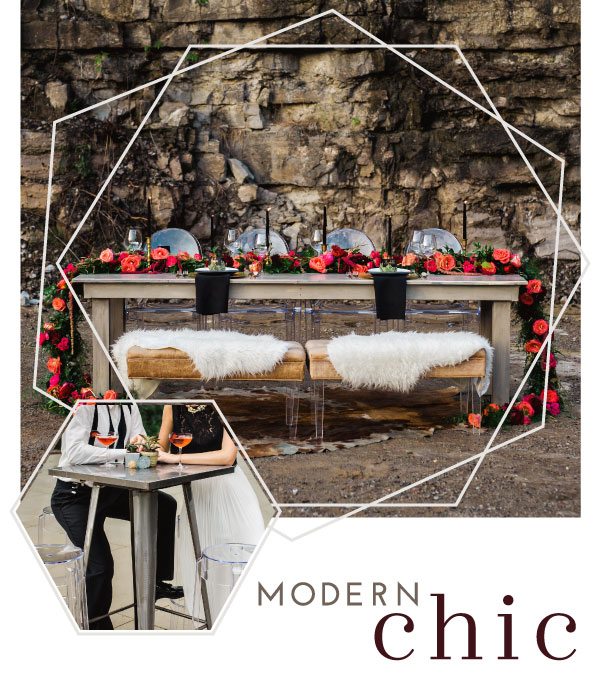 Modern Chic is a darling design that features sleek lines combined with bright colors and lots of texture. Neutral Grayson Farm Tables set the scene and a dressed to the nines with Gold Austin Flatware, Medallion Gold Chargers, and Black & White Triangle Plates. We love the acrylic Ghost Chairs on one side, and the Midas Gold Velour Bench on the other for a unique take on seated dinners.
Looking to add some vintage flair to a modern and chic event? Out Gatsby Champagne Coupes look perfect in any setting and bring the old-world glamour to any occasion.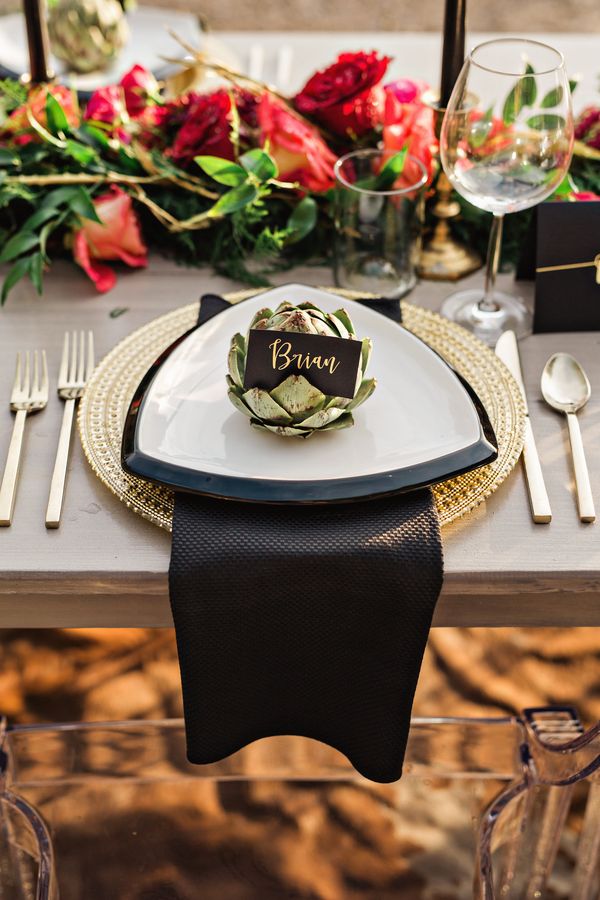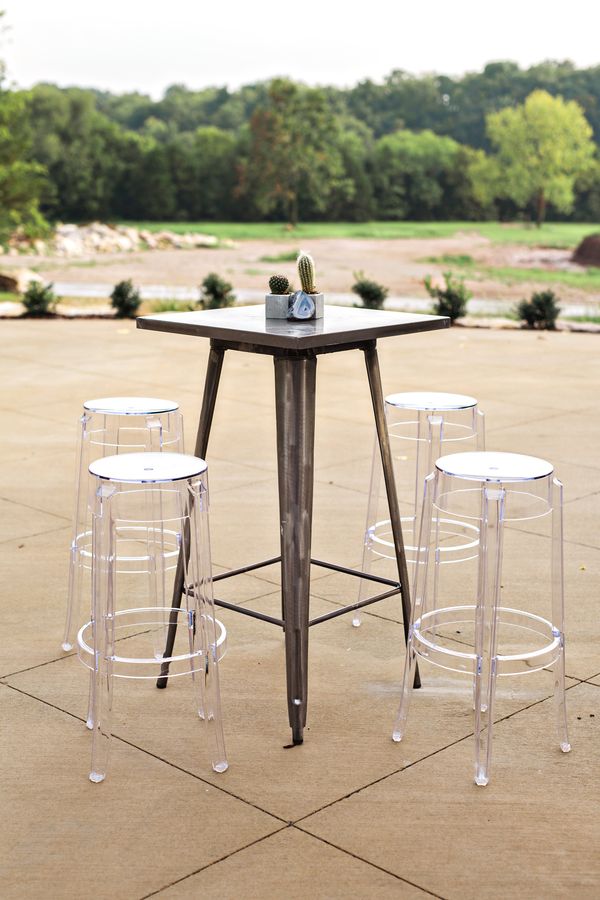 Wedding Style: Garden Romantic
A sweetly romantic garden party is a wonderful and heartfelt way to exchange vows, with a soft color palette and plenty of vintage touches. Distressed Farm Tables in white wash with natural wood Cross Back Chairs or our Harlin Dining Chairs welcome guests into a secret garden, where dreamy rentals set the scene. Tables are adorned with ornate details like our Hob Knob Glassware and Abby Fine Silver Flatware next to satin dinner napkins, or placed perfectly among Chiffon Table Runners. Lounge areas aren't left out, as our Tessa Tufted Linen Beige Loveseat with wooden legs adds natural subtle romance to any area.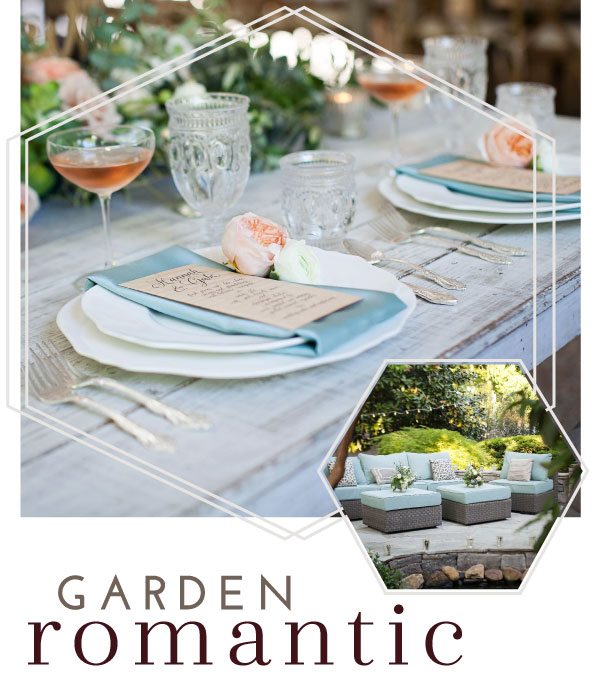 Wedding Style: Textured Boho
Couples with a genuine love of nature and vibrant colors fall perfectly in love with this Textured Boho style – a gorgeous mix of organic elements topped with vintage & metallic details. Wood Chargers, Artisan China, unique Como Flatware, and gold flourishes stun in any setting – not to mention, they are accented perfectly regardless of your chosen color palette. Painted vintage furniture is perfectly Bohemian with bright and vibrant colors – the vividly colored Charlotte Chair and vintage Basil Arm Chair are just two selections from our vast inventory of delightful vintage chairs. Natural texture continues from dinner to dessert as a delicious cake is even more beautiful served atop Barnwood Square Cake Plateaus. Free spirits, happy hearts, and a bohemian design that never disappoints.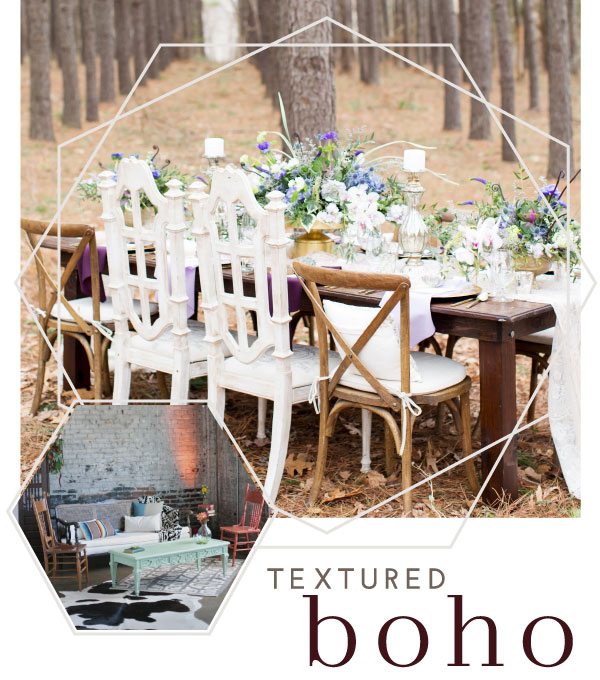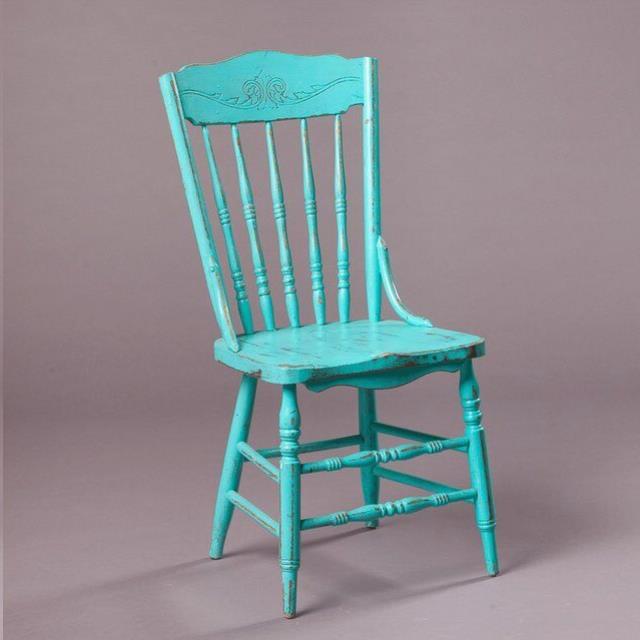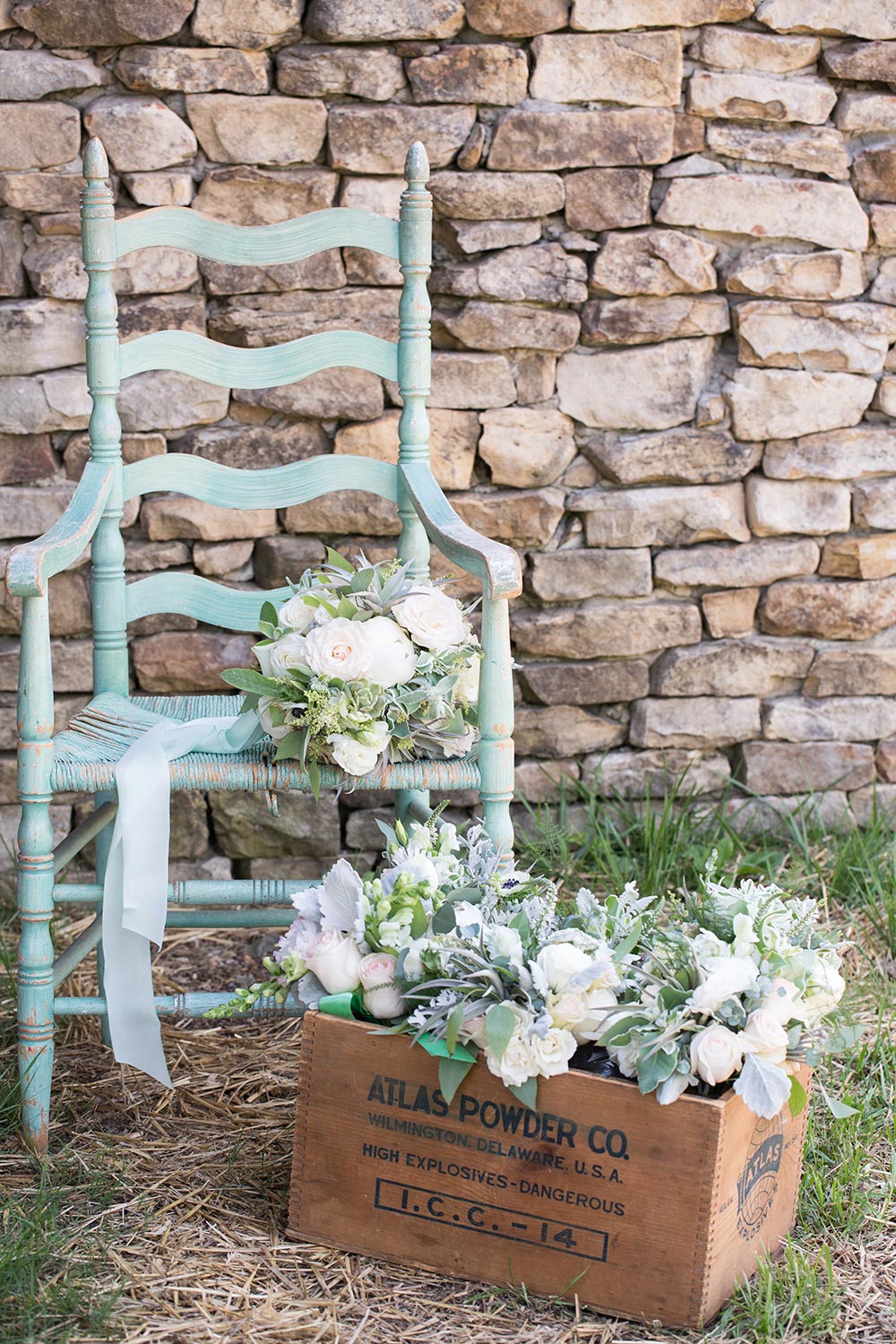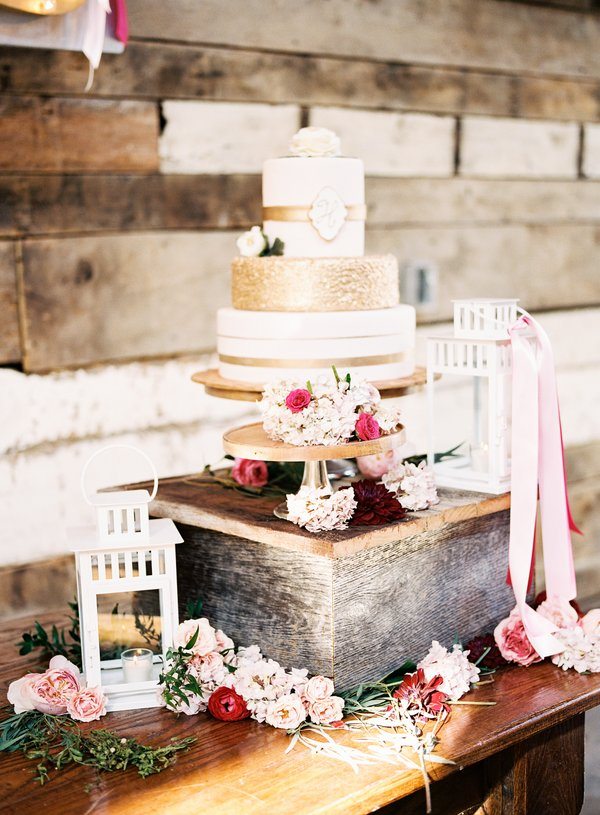 Like what you see? Contact our team to learn more about our distinct wedding rentals for your Nashville and Franklin, TN events at info@southerneventsonline.com.
TAGS | Artisan China, Chiffon Table Runners, Cross-Back Chairs, Farm Tables, Ghost Chairs, Pure Glassware, Vintage Chairs, abbey flatware, barnwood square cake plateau, como flatware, gatsby coup, ghost chair, gold medallion chargers, harlin dining chair, hob knob, tessa lovseeat, velvet bench, wooden chargers
FEATURED RENTALS | hob knob glassware, harlin dining chair, pure glassware, gatsby coup, farm tables, tessa lovseeat, abbey flatware, cross-back chairs, ghost chairs, wooden chargers, artisan china, vintage chairs, barnwood square cake plateau, chiffon table runners, ghost chair, velvet bench, gold medallion chargers
---
12

Oct

Southern Events Products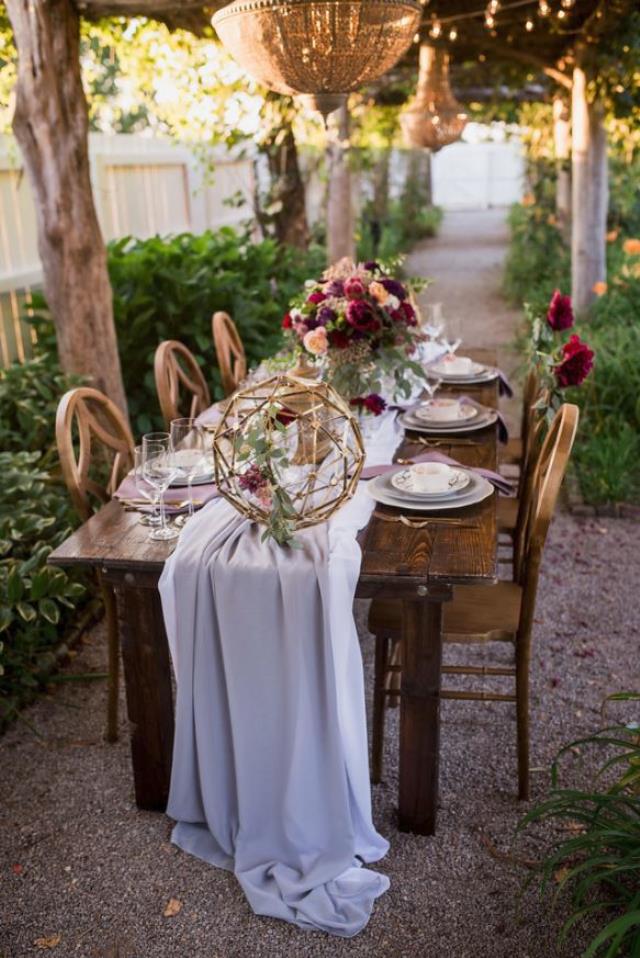 The crisp air and the sweet smell of pumpkin – it's fall, y'all! If you've planned an autumn affair, we're excited to share these gorgeous fall wedding rentals to make your Nashville event the soiree of the autumn season. From our most popular Whiskey Barrels and Crossback Chairs to our Wooden Chargers and Artisan China, we've got the rentals in stock for your upcoming fall nuptials in Middle Tennessee.
Chiffon Runners
Lightweight and slightly transparent, our Chiffon Runners in blush, dove gray, or ivory are a subtle yet chic addition to fall wedding decor. The muted colors coordinate easily with any other design elements, and the sheer fabric adds an enchanting bit of romance to your guest tables, your bar or even a ceremony arch for your autumn wedding.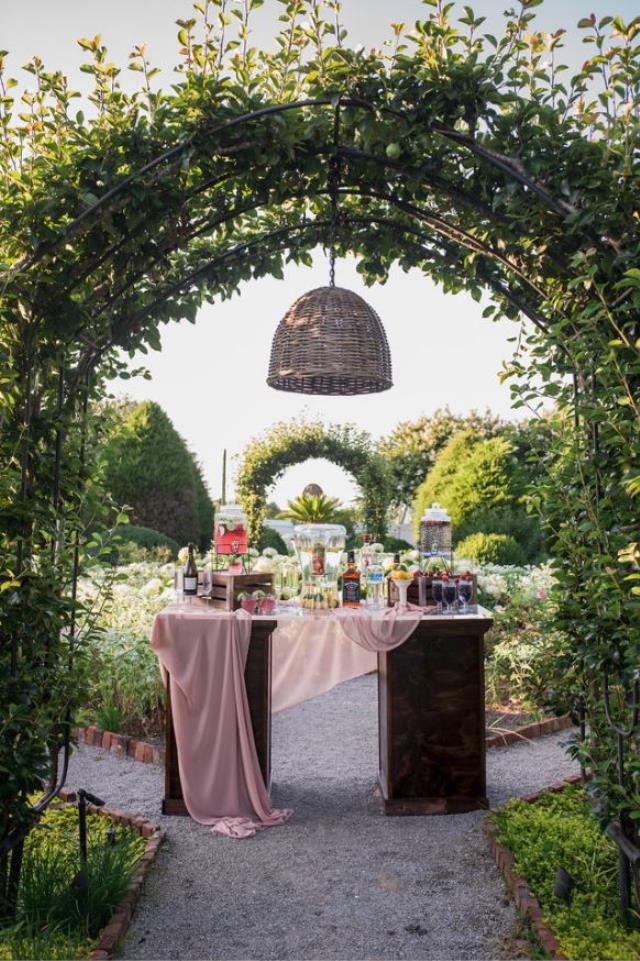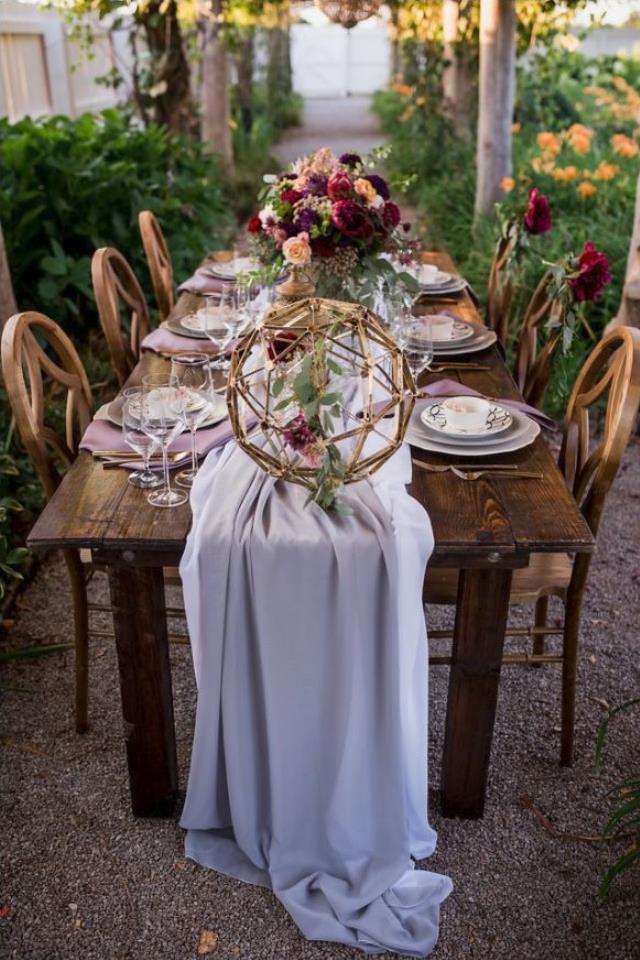 Photo Credit: John Myers Photography
Wyatt Pedestal Cake Stands
Desserts seem even more delectable on one of our Wyatt Pedestal Cake Stands. These popular wooden cake stands come in multiple different sizes and atop our Barnwood Cake Plateau, your table of sweets is distinctly rustic and fall ready!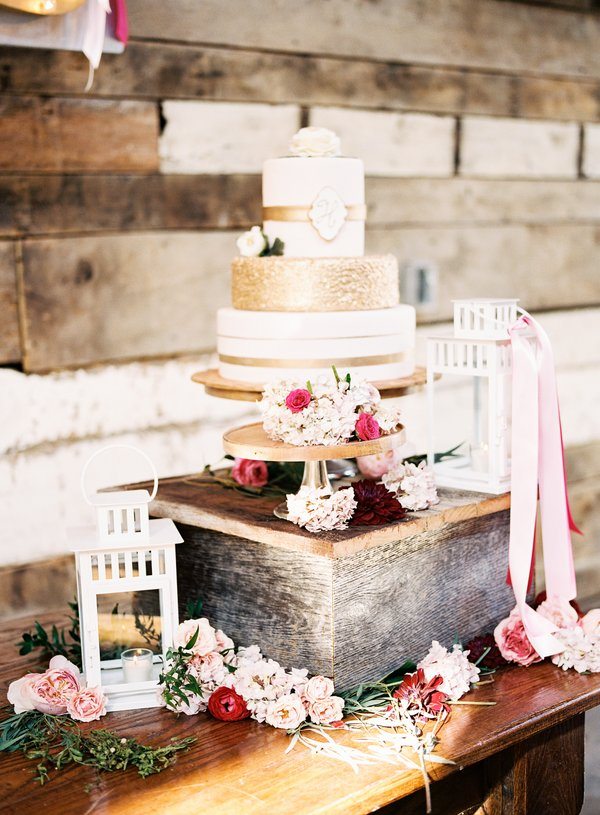 Walnut Ceremony Doors
We love a grand entrance, but if your space doesn't have a way, allow us to help you design something unforgettable. Our Walnut Ceremony Doors add upscale vintage drama without taking away from the built in style of your chosen venue.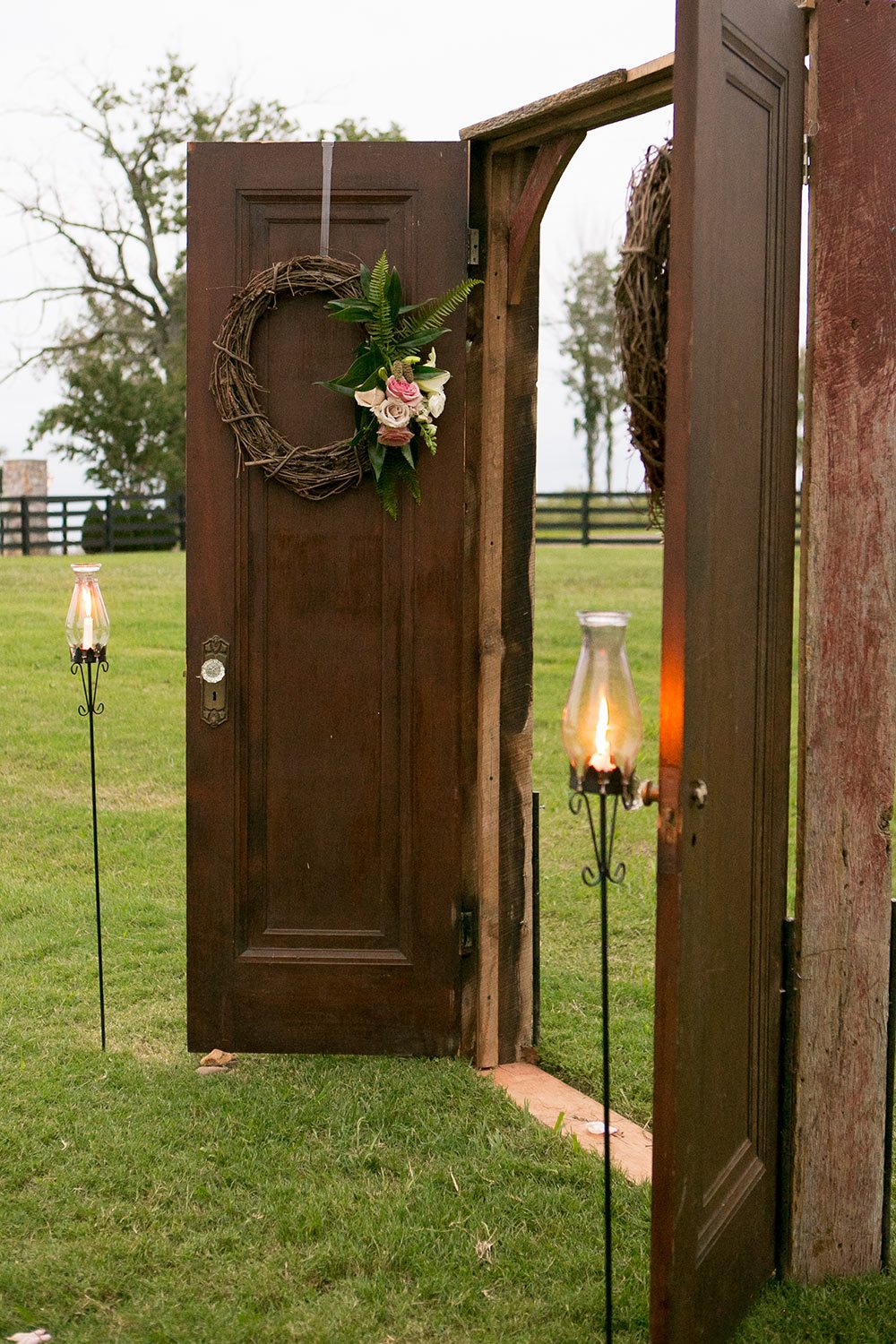 Whiskey Barrels
There's nothing more Southern than Whiskey Barrels, and they look even better when the leaves are changing. Whether fall chic or traditionally southern, these can be designed as side tables, cocktail tables, or a spot for a sweet floral arrangement.
Rustic Benches
Fall is all about deep and rich colors, and our Rustic Benches don't miss a beat. Perfectly imperfect finishing allows for the color and grain stand out, making them a great add on to an autumn wedding designed around natural elements.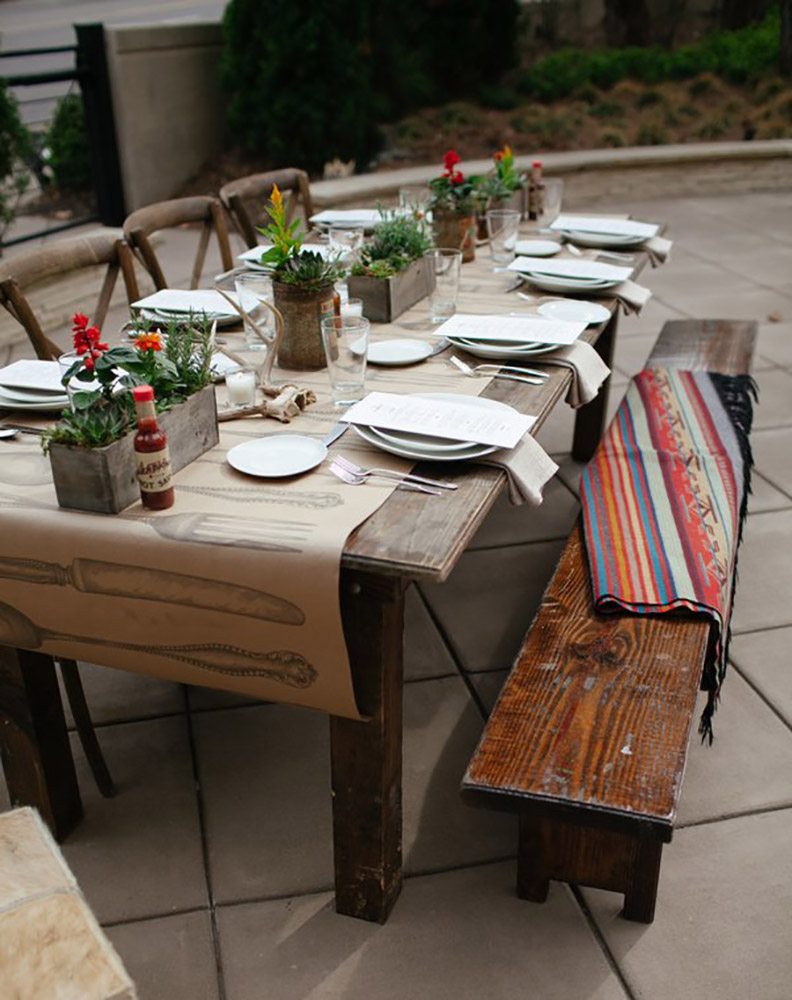 Wood Chargers
When rustic and fall meet, only beautiful things can happen! We love our Wood Chargers and how easily they can be styled – next to pumpkins or ranunculus, with yellows or purples – they truly look like autumn elegance in any setting.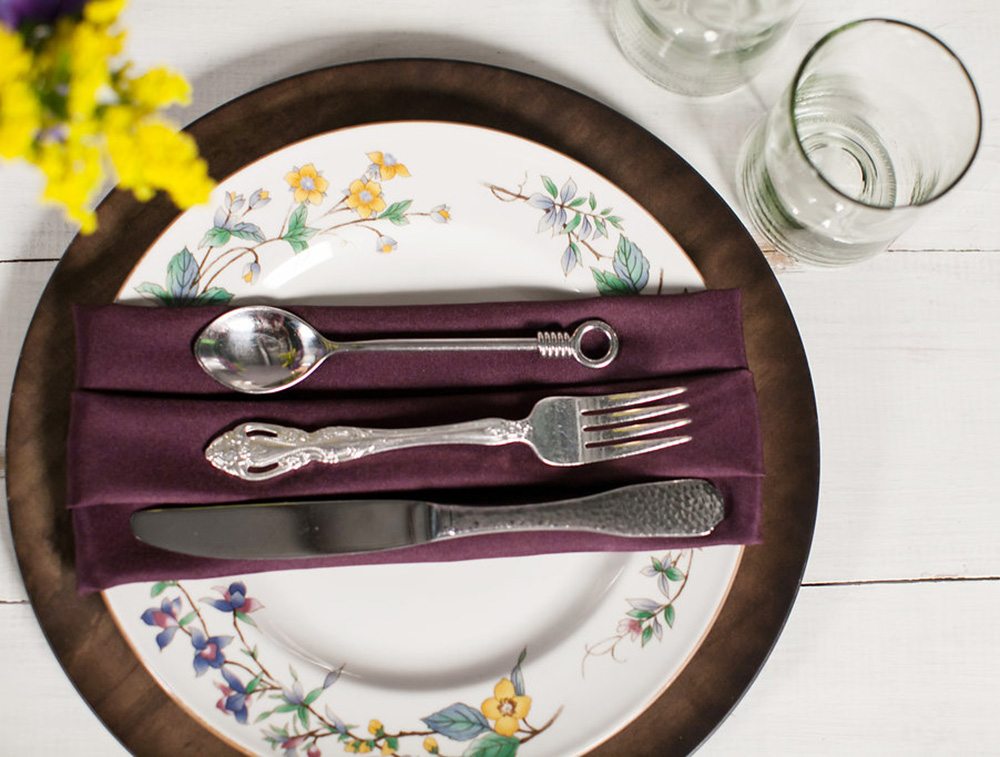 Crossback Chairs
Our most loved chairs look even prettier in the fall weather! Dark wood with a craftsman-like feel makes our Crossback Chairs incredibly popular, especially when temperatures start to drop. Elevate your table settings even more by draping a soft linen in your chosen color for a unique touch!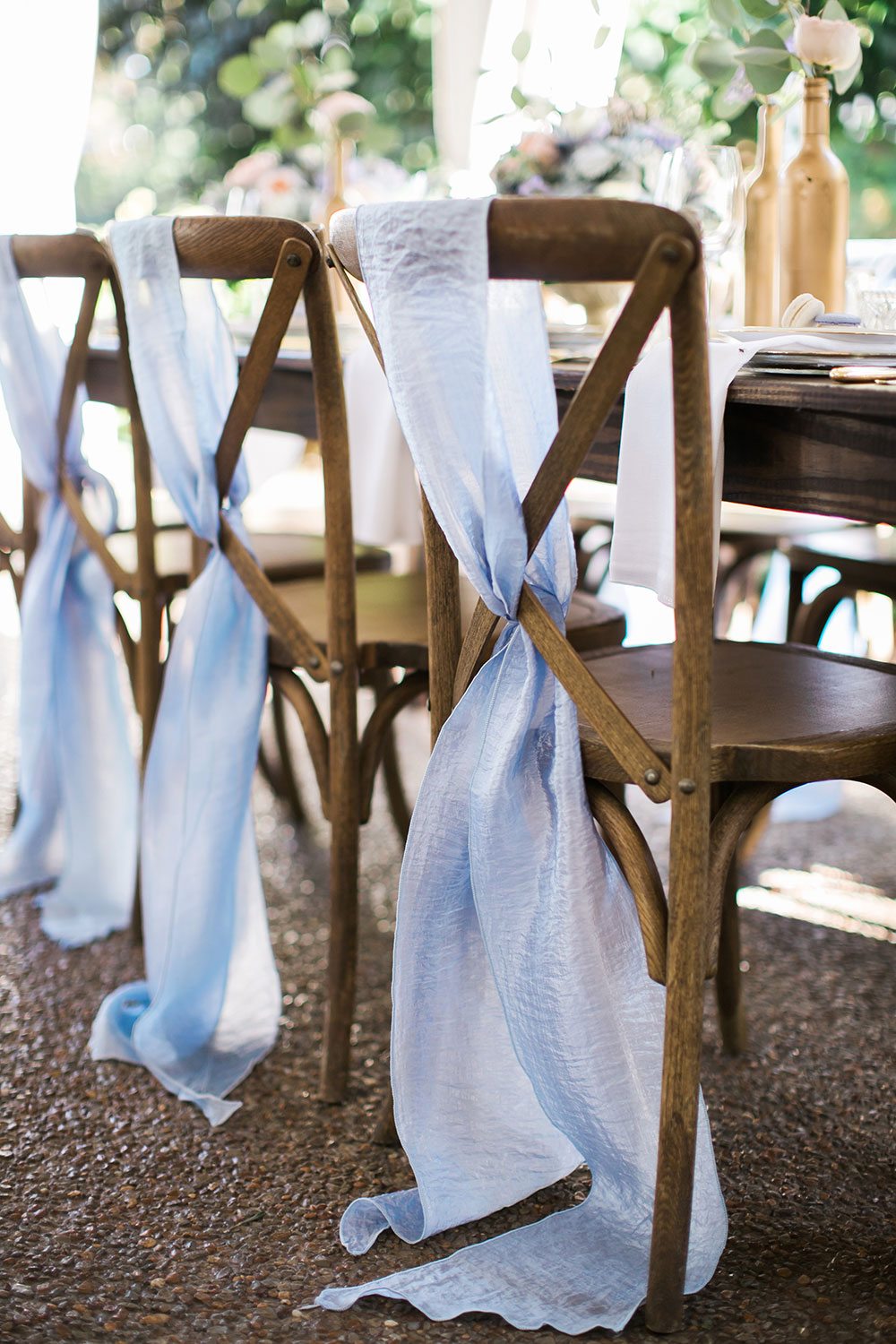 Chalkboards
We love a good chalkboard sign no matter the time of year, but they feel even more on-trend in the fall during the back to school season. Display a wedding welcome message, your dinner menu, or a sweet thank you note to guests on any of our chalkboards – can't help loving decor that is pretty and purposeful.

Artisan China
Off-white, vintage styled plates are the perfect beginning to any Fall tablescape. The Artisan China collection is the answer to a neutral, textured place setting that is anything but boring. And when added atop our Wooden Chargers? You simply can't go wrong.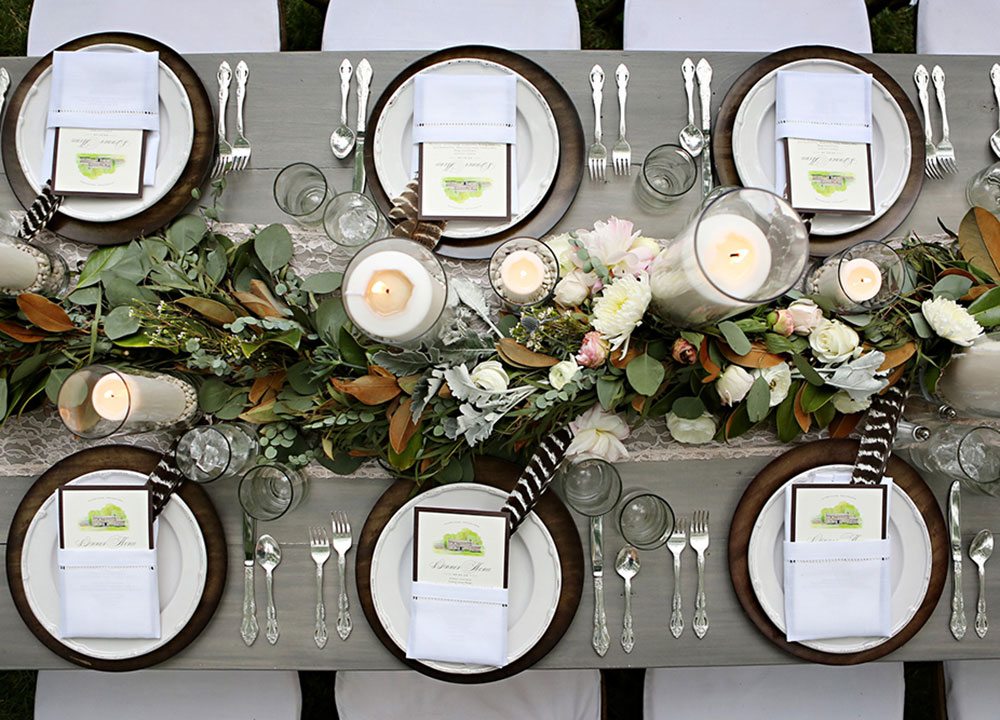 Recycled Wine Glassware
Our Recycled Wine Glassware provides a soft vintage feel that simply completes a place setting. The upcycled design matches effortlessly alongside your favorite autumn inspired centerpieces, whether it's sage garland or mauve florals.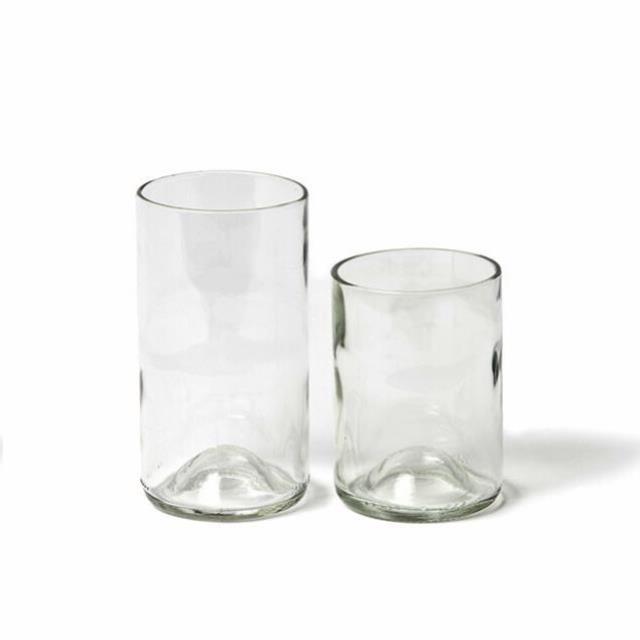 Ready to start designing the rentals for your autumn wedding? Contact our team about our party rentals in Nashville, Franklin & Middle Tennesee at info@southerneventsonline.com to get started!
TAGS | Artisan China, Chalkboards, Chiffon Runners, Crossback Chairs, Fall Wedding Decor, Fall Wedding Rentals, Nashville Wedding Rentals, Recycled Wine Glassware, Rustic Benches, Rustic Wedding rentals, Rustic event rentals, Tennessee fall wedding, Walnut Ceremony Doors, Whiskey Barrels, Wood Chargers, Wyatt Pedestal Cake Stands, autumn wedding decor, fall events, nashville bride, rustic event style, rustic wedding design, wooden wedding rentals
FEATURED RENTALS | Recycled Wine Glassware, Artisan China, Chalkboards, Chiffon Runners, Wyatt Pedestal Cake Stands, Walnut Ceremony Doors, Whiskey Barrels, Rustic Benches, Wood Chargers, Crossback Chairs,
---