21

Aug

Elegant Vintage Inspired Rehearsal Dinner | Southern Events
Today we're featuring an elegant vintage inspired rehearsal dinner – the couple's vision and our inventory were a match made in heaven – second only to their love for each other!  Even as this trend has evolved over the season, we still find it creates a timeless look for many of our brides.  For this couple, we paired delicate glass plates with our whimsical vintage floral handkerchiefs-turned-placements creating a romantic tablescape with a feminine vibe.  Fun and versatile,  our handkerchiefs are just lovely for use as dinner napkins, cocktail napkins, place mats, bread basket or tray liners.  And Southern Events has a large inventory to suit your needs!
Vintage books, bottles and mason jars atop our oatmeal linen runner combined for their centerpieces.  This linen is a great alternative to burlap – durable and soft, it doesn't create the mess and allergies from fraying burlap.  The creative vision of layering the mason jars and bottles creates interest and texture – further adding to the vintage feel.  And the stacked vintage books create a statement along with a conversation piece for your guests – including a  favorite book or volumes on love and romance to the display adds  personal and creative touch that are perfect for the occasion!
Of course we have to thank to Krystal Mann for the gorgeous photos – her talent is stunning as we love featuring her pictures!  Enjoy!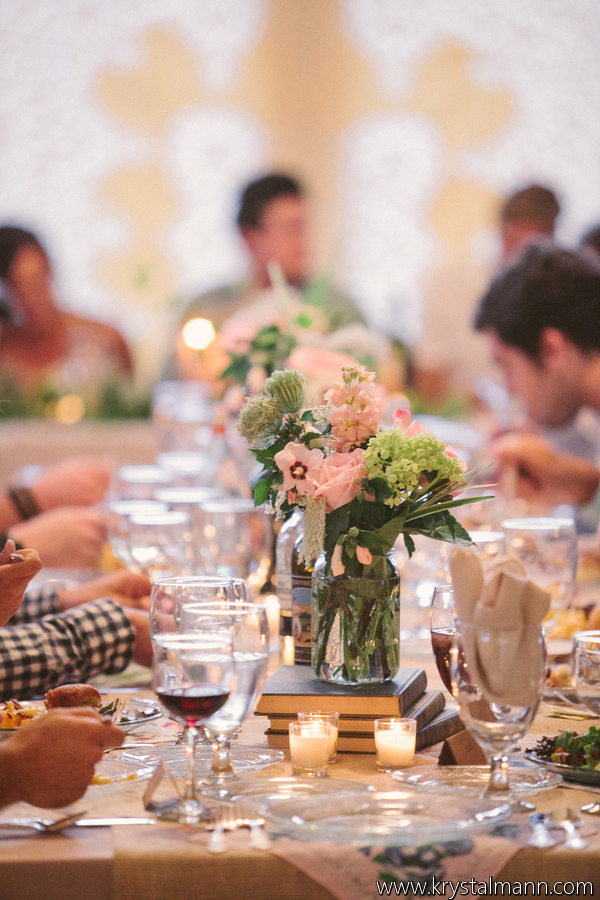 FEATURED RENTALS |
SEE MORE LIKE THIS